15 Famous Celebrities with Alopecia in 2023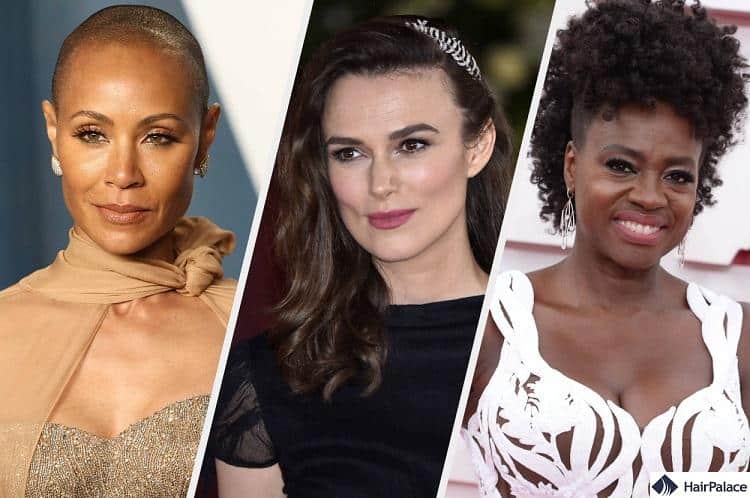 Alopecia can be devastating, where you lose noticeable amounts of hair quickly and without warning. Many celebrities with alopecia are too embarrassed to seek help and cover their bald spots with wigs, hats, or styling.
But recently, several celebrities have broken the stigma and shame attached to hair loss by sharing their own courageous stories. Each has helped normalize losing your hair and can be a great source of strength in the times ahead.
This article will highlight 15 celebrities with alopecia. We'll hear directly from each star's experiences, pick up tips on how best they dealt with their condition, and hopefully remind you that you are not alone in this fight.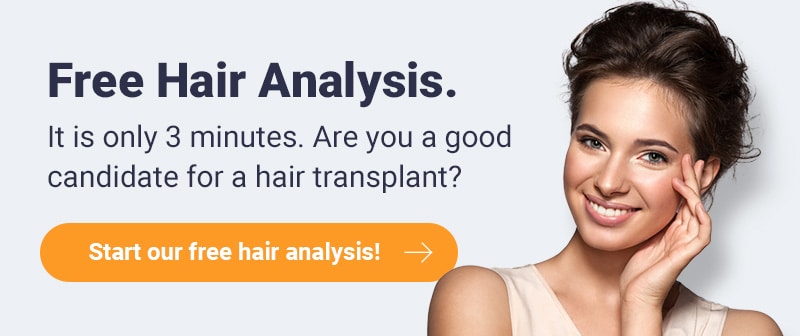 Alopecia celebrities USA
Hair loss affects millions of men and women worldwide, so it's no surprise that there are several known female celebrities with hair loss in the USA.
1. Jada Pinkett Smith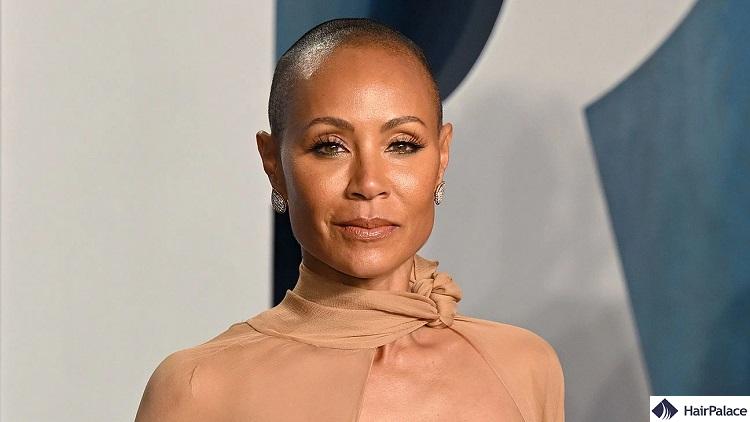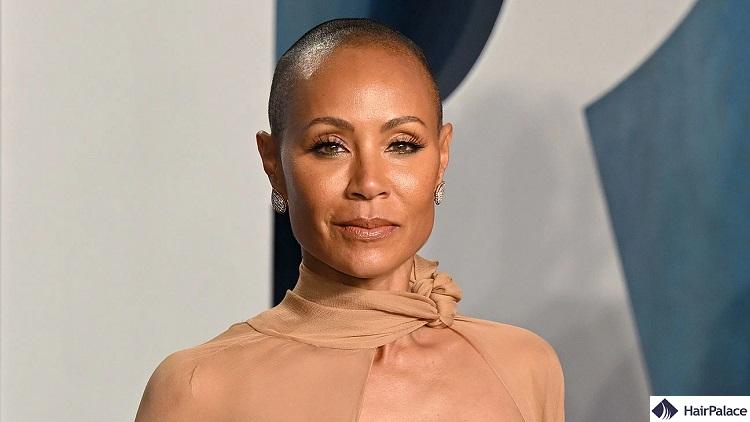 Jada Pinkett Smith is one of the most recognizable female celebrities with alopecia in the world today. Celebrated as an actor, singer, and talk-show host, she continues to advocate for women, especially those suffering from hair loss.
The Matrix star opened up about her experiences with alopecia areata in 2018 in a now-famous episode of Red Talk Table. She said:
"It was terrifying when it first started. I was in the shower one day and had just handfuls of hair in my hands, and I was just like, 'Oh my god, am I going bald?… It was one of those times in my life where I was literally shaking in fear. That's why I cut my hair and why I continue to cut it."
Since then, Jada has become one of the most recognizable celebrities with hair loss. Her courage, confidence, and beauty helped bring alopecia to a worldwide stage, where many sufferers began to talk, discuss and support each other more openly.
But it wasn't an easy journey for her, at least initially. Before this, Jada decided to wear turbans and wigs to hide bald patches in public but was ultimately unhappy.
In an Instagram post in 2021, the star said, "Me and this alopecia are going to be friends…period," while sharing a picture of her shaven hair.
Her courage to bring up hair loss on the world stage, and her refusal to be ashamed of it, have solidified Jada Pinkett Smith as one of the most celebrated and admired advocates of hair loss.
2. Tyra Banks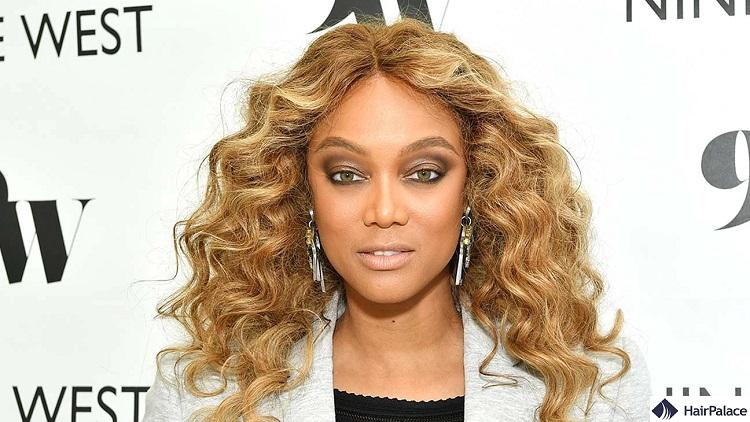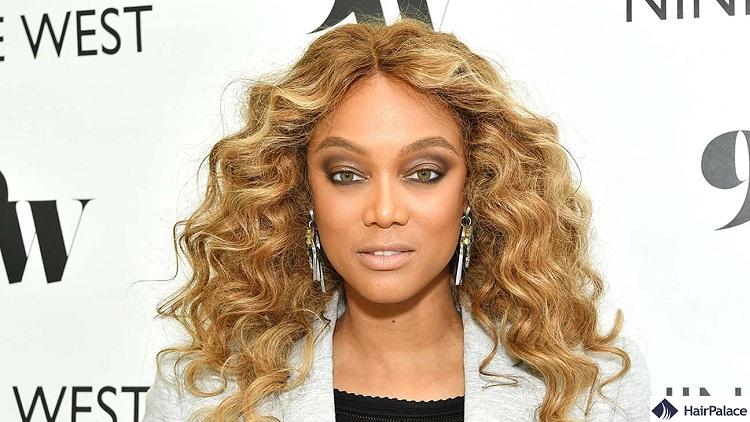 Whether it's from creating America's Next Top Model to hosting her talk show, Tyra Banks has always been in the spotlight for the last two decades.
But the supermodel and entrepreneur have also been widely hailed as one of the first celebrities with alopecia to bring up the issue of hair loss.
Back in 2011, when promoting her first novel, Tyra told The Wall Street Journal about making time to relax with:
"Honestly, chilling for me was eating a meal. I couldn't just look at the ocean. And in hindsight, that wasn't healthy. How can I say this without tearing up? I got a little alopecia from the stress."
Stress-related hair loss is a common condition experienced by many people worldwide. Tyra bringing up this important issue at the height of her career, has been cited as a breakthrough in destigmatizing hair loss for many.
And as she continues to host Dancing with the Stars, she is a constant reminder to be self-confident in the face of alopecia.
3. Viola Davis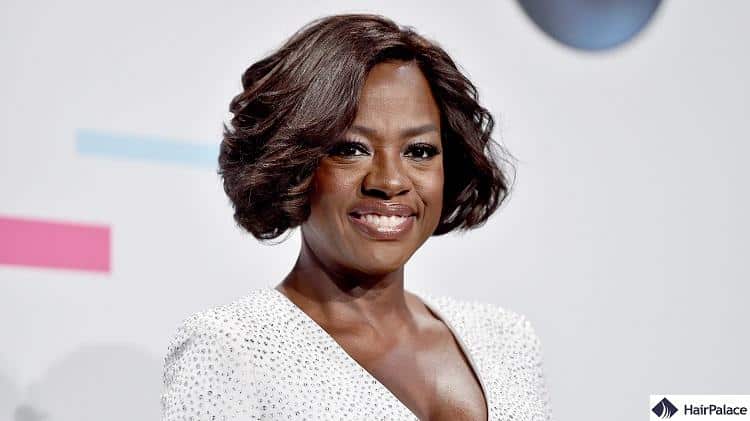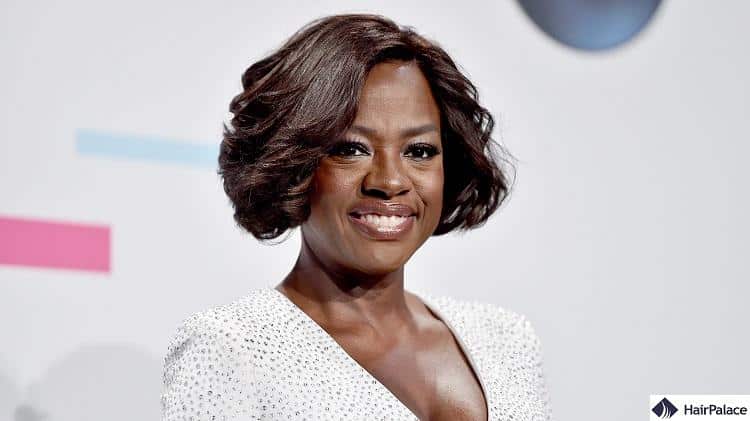 Viola Davis is easily one of the most renowned female celebrities of our time. From her starring roles in hit TV shows like How to Get Away With Murder to award-winning films like The Help, she has become one of the most recognizable faces on our screens.
And yet, the actress has talked at length about the battles she has faced around hair loss. In an interview with Vulture, Viola says that she lost almost half her hair to the autoimmune condition, alopecia areata. In an interview with Vulture, she said:
"I woke up one day, and it looked like I had a Mohawk. Big splash of bald on the top of my head. I was like, What is this? Until I found out it was stress-related. That's how I internalized it. I don't do that anymore."
Viola continued to explain how she wore wigs everywhere to cover her hair loss until the 2012 Oscars when she debuted her natural hair for the world to see.
Since then, she has continued to inspire and raise awareness for alopecia areata, giving many people the courage to find support and seek an alopecia diagnosis.
4. Naomi Campbell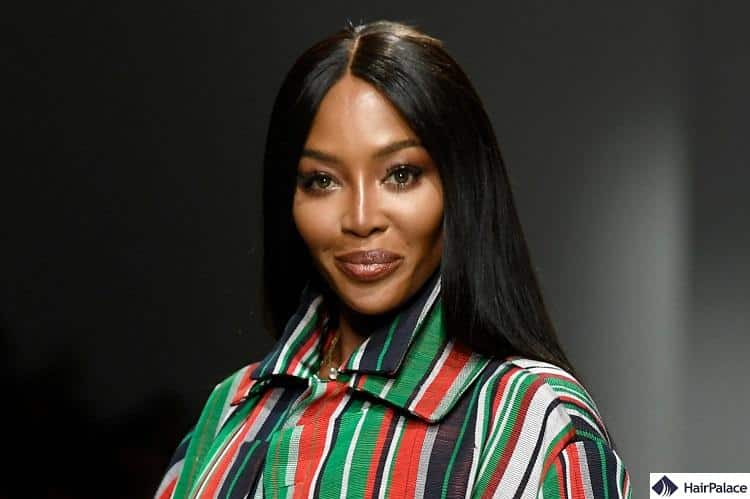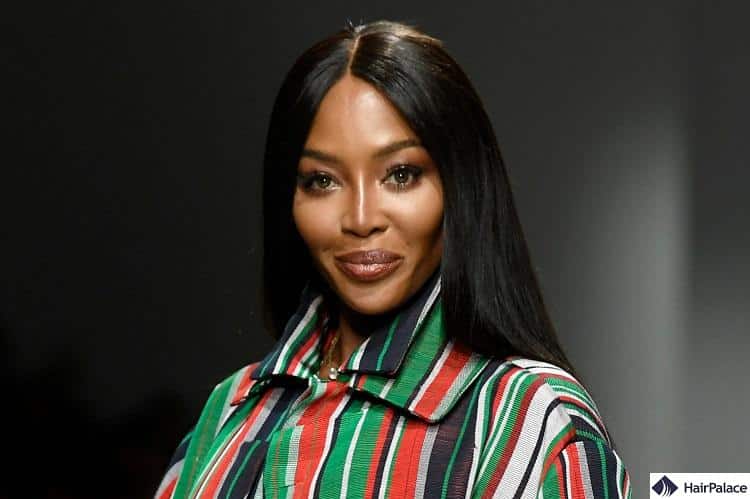 As one of the most recognizable supermodels in the world, Naomi Campbell is also one of the most famous people with alopecia. But the model has been vocal about dealing with hair loss throughout her career, especially when photographs showing bald spots surfaced in newspapers and websites.
Her hair problems have been linked to the stress and demands of her career, where models often have to dye their hair numerous times and wear demanding hairstyles. Over time, these practices can put immense pressure and trauma on the hair follicle.
In an interview with ES Magazine, Naomi said: 'I do take more care of my hair now because I lost all of it with extensions. I am more careful, and I do different things."
While Naomi says her hair did grow back, she doesn't see a problem with wigs and that "everyone is wearing them nowadays."
Naomi improved her nutrition and exercise regime to promote hair growth. She uses products with natural ingredients and has incorporated several haircare treatments into her beauty regime, including vitamin supplements and physical therapies like scalp massages to support hair follicles.
5. Neve Campbell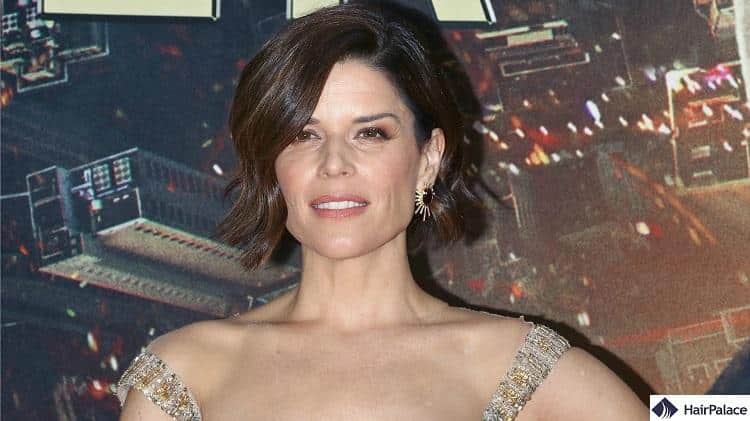 Best known for her role in the teen-drama series Party of Five and the cult-horror films Scream, Neve Campbell has had a long, inspiring career in film and television. And yet, throughout her career, Neve has been candid about her hair loss journey.
She first noticed hair falling out in patches and that her scalp became much more visible over time – common symptoms of alopecia. In an interview with the Daily Meme, Neve said:
"At 23, I developed alopecia. I was horribly overworked and going through a divorce. Also, I had stalkers and started receiving threatening mail. I was so distressed by it all that my hair started falling out. Life hasn't always been a bowl of cherries."
Neve has spoken about her self-confidence, which was initially difficult for her to come to terms with hair loss.
By talking openly about stress-related alopecia, the actress has brought greater awareness to alopecia symptoms.
6. Alyssa Milano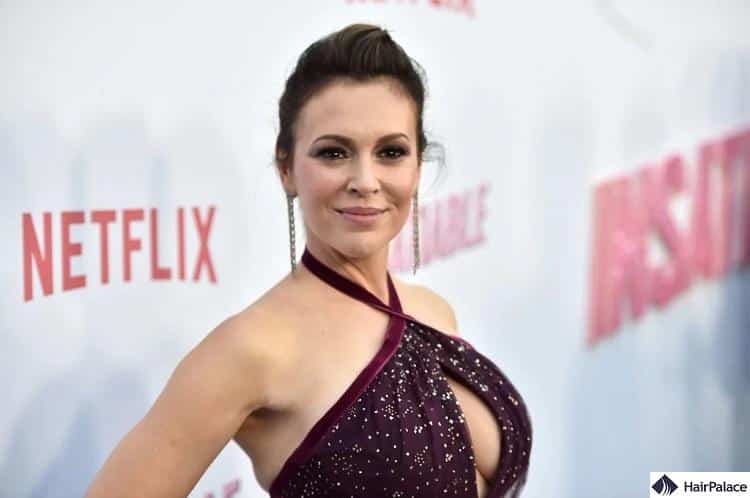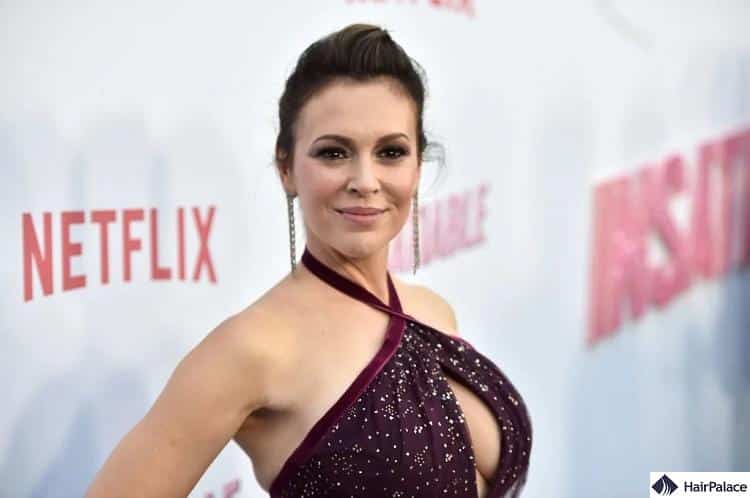 With starring roles in series like Charmed, Melrose Place, Who's the Boss? And Mistresses Alyssa Milano is at the center of television.
Following Covid19 and the pandemic, the star has opened up about the effect it may have had on her hair after she recovered.
Covid hair loss is a delayed response to the trauma of the virus, and people may start to lose their hair in as little as two to three months into recovery.
Using her wide platform, Alyssa has become one of the most vocal celebrities with alopecia and brought this important condition to the attention of many. That said, Alyssa has always been a champion for great hair care.
She has spoken about how she uses a variety of treatments to help support new growth and has experimented with many styles, accessories, and even wigs.
Treatments she has mentioned include acupuncture and medication, and physical therapies like scalp massages.
7. Lea Michele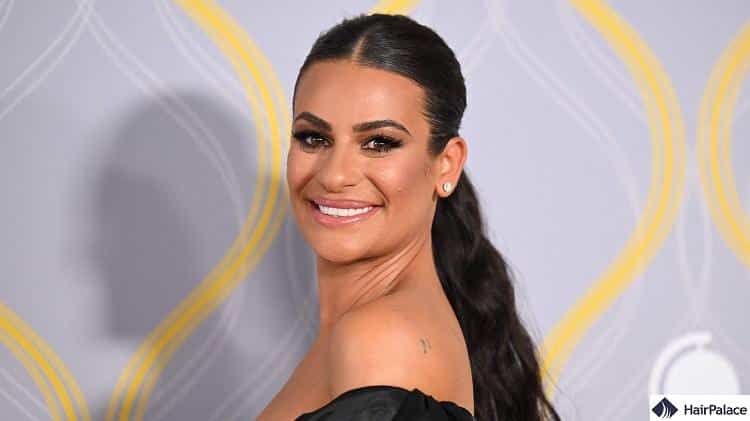 Broadway singer and television actress Lea Michele is another celebrity with alopecia who has opened up and shared their hair loss journey with fans.
In an Instagram post, the Glee star shared a picture of hair loss following the birth of her son, Ever Leo. The picture showed a clump of hair in her hand with the caption, "The postpartum hair loss is REAL."
The Glee star has been hailed by many for bringing up the experience postpartum hair loss to the public eye, as it is a common experience for many women. This hair loss is triggered by a sudden hormonal change and can peak four or so months after birth.
Throughout her career, the star has been open about her haircare regime, using a variety of vitamins, minerals, and hair oils to promote new growth and strengthen her long hair.
But to continue the conversation around hair loss, Lea shared another photo in 2021, debuting a new hairstyle in response to her hair loss entitled "Mom bob."
Since then, the star has been recognized for bringing a new discussion on common hair loss conditions suffered by women, and by sharing her own story, she has inspired countless men and women who are also experiencing hair loss.
8. Christina Milan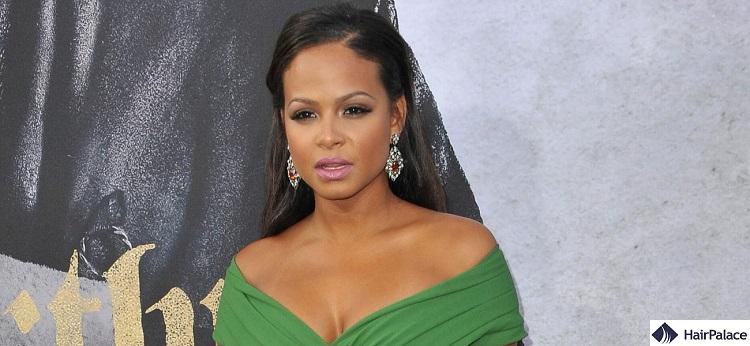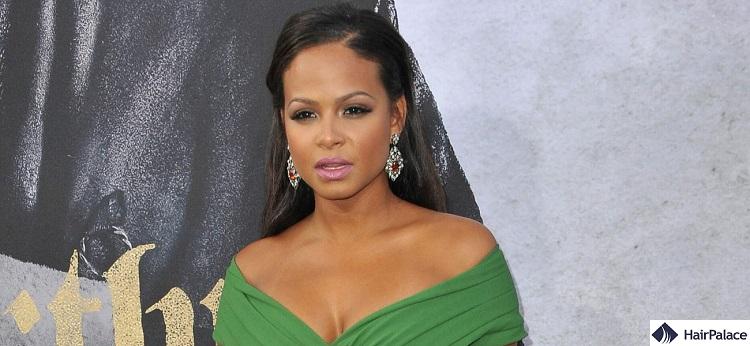 Christina Milan is the final entry on our list of celebrities with alopecia. As both a singer and actress, she is one of the most recognizable women worldwide. In an interview with People, she spoke of the shock and embarrassment postpartum hair loss can bring. She began noticing thinning hair 3-6 months after giving birth, saying:
"I have always taken pride in not being the girl that leaves hair in the shower. Like, you're not going to find my hair all over the soap. Well, I became that girl."
Christina explained how she continued to hide her hair loss, even from her boyfriend, cleaning up the shower before he could see any hair. "Eventually, I had to tell him: I'm losing my hair," she said. "I was so embarrassed by it. There was hair everywhere."
"It's a really disheartening experience. I had times where I wanted to cry because I wasn't sure if I'd ever have my hair grow back again."
Christina shared that she experienced a huge "drop in confidence" while at the same time feeling "overwhelmed" with a newborn baby. Her candid story has inspired countless young women and opened up a once "taboo" discussion on the hair loss conditions women face.
Christina shared that by using a variety of vitamins and oils, she could address her hair loss and recover. Her courage and conviction have allowed others to seek help and support and are a reminder that no one is alone when facing significant hair loss.
Celebrities with traction alopecia
Traction alopecia is a form of hair loss caused by consistent tension or pulling on hair follicles, typically due to tight hairstyles like ponytails, braids, or dreadlocks. Over time, the stress damages the follicles, leading to hair thinning and loss. It is particularly common among individuals who frequently wear these tension-inducing styles, and early intervention can help prevent permanent damage.
9. Ricki Lake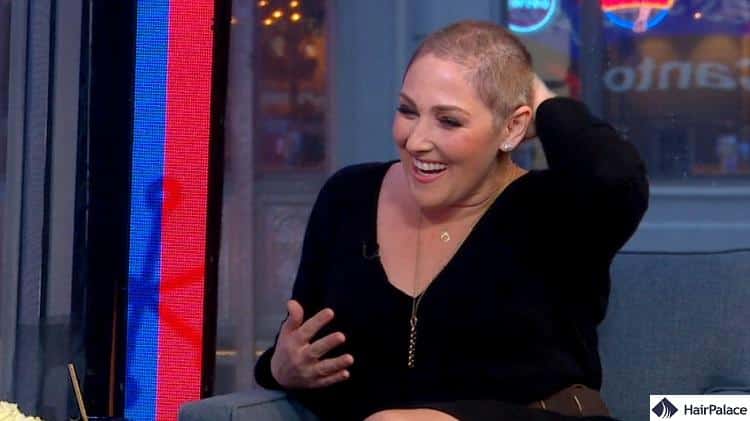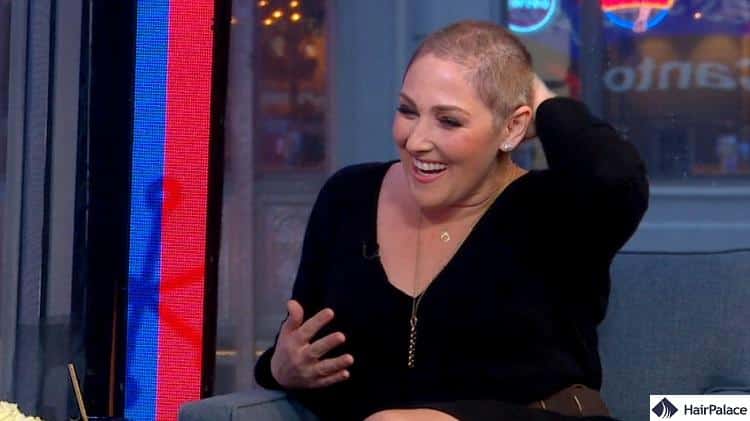 Actress and television host Rickie Lake has always been upfront and open about her experiences with traction alopecia and her stress-related hair loss.
She brought worldwide attention to her condition when in 2020, she shaved her head and shared a now-viral Instagram post documenting the deep pain of her journey.
In the post, Ricki shared that she traced her hair loss back to 1988 when she played Tracy Turnblad in the original movie, Hairspray.
Back then, her hair was triple-processed and teased every two weeks and was "never the same" afterwards. She also said:
"In my case, I believe my hair loss was due to many factors, yo-yo dieting, hormonal birth control, radical weight fluctuations over the years, my pregnancies, genetics, stress, and hair dyes and extensions.
Working as talent on various shows and movies, whether DWTS or my talk show, also took its toll on my fine hair."
Although Ricki states that she got used to wearing wigs, extensions, and hair accessories, she admitted she could never get used to them.
She hopes that by sharing her journey, she will strike a chord with men and women who are going through similar hair loss.
Alopecia celebrities UK
Now that we've covered the states, let's shift our focus to the most well-known celebrities with alopecia in the UK.
10. Olivia Bentley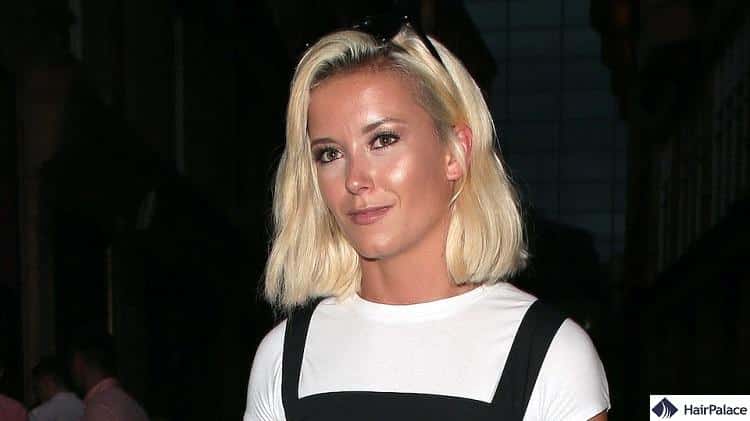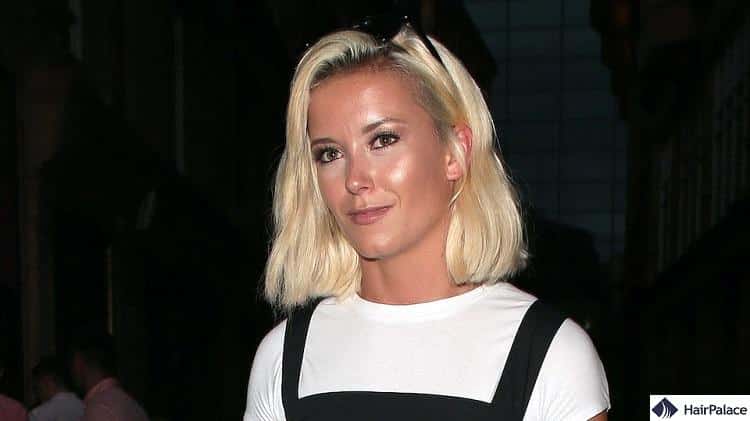 When you're a reality TV star, appearances matter. But for Olivia Bentley, opening up about her struggles with alopecia has been hailed as a game-changer in talking about hair loss.
Speaking in The Sun, the Made in Chelsea star said:
"I've been bullied and trolled for my alopecia journey, which began just after I started taking the Pill, aged 16. At first, my hair would come out in clumps in the shower or sometimes when I ran my hands through it.
"After a few weeks, the bald patches got worse, and my mum took me to the doctor, and they told me it was alopecia."
Olivia explained how she initially felt embarrassed and would cry about her hair loss and felt like wearing hats and wigs in public was the only answer.
And although people don't "physically" suffer from the condition, she highlighted the immense "emotional toll" alopecia can have, especially on women.
Olivia says she has grown confident since then and doesn't need to wear a wig anymore. And although her hair is growing back, her courage to become one of the first celebrities with alopecia to openly share her struggles has been cited as incredibly empowering.
11. Stephaine Davis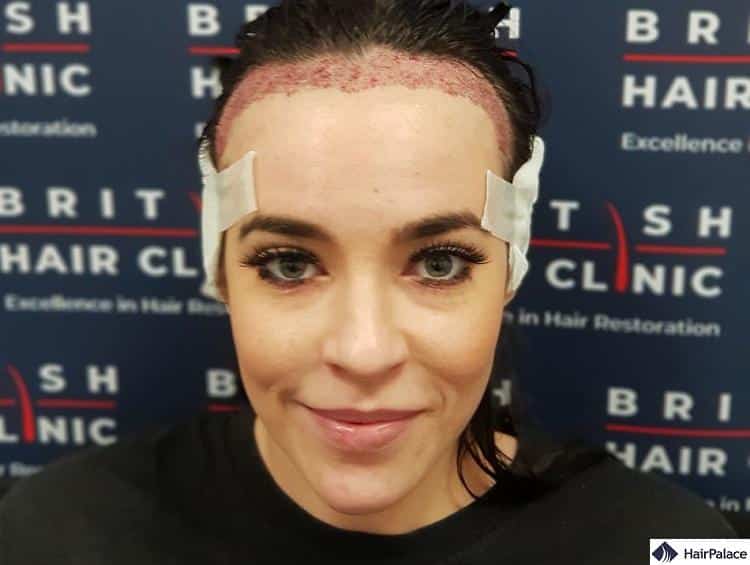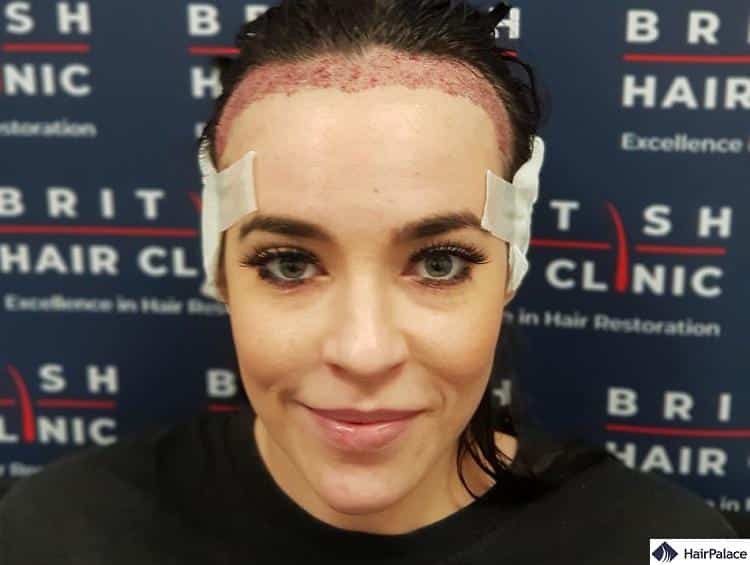 English actress Stephanie Davis has been one of the most vocal female celebrities with alopecia in the entertainment industry on hair loss and undergoing hair transplant surgery for women.
The Hollyoaks star opened up about how stress can cause alopecia hair loss. In a blog post with OK! Magazine, she said:
"When I was 'blonde Steph,' my hair snapped a lot and it also started to fall out with all the stress I was under. I also came up with blotches on my skin.
If I touched it, it would just come out in my hands, and I was told it was all the pressure I was under.
"A lot of people don't know this, but when it was long and blonde, it was actually a wig because my hair was just done for, I'd lost so much. I looked ill without it and just didn't feel human."
However, Stephanie decided the time was right to correct her hair loss by undergoing a hair transplant in 2019.
She shared the entire process with fans to help support and inspire any women who were also losing their hair. Delighted with the results, she is a symbol of hope and perseverance.
12. Jesy Nelson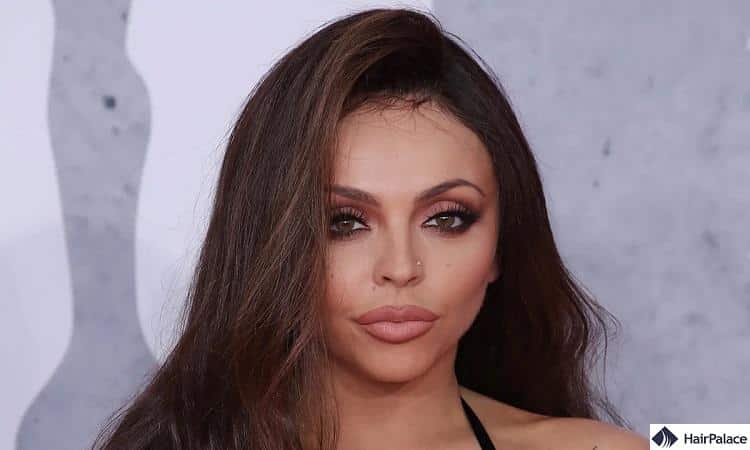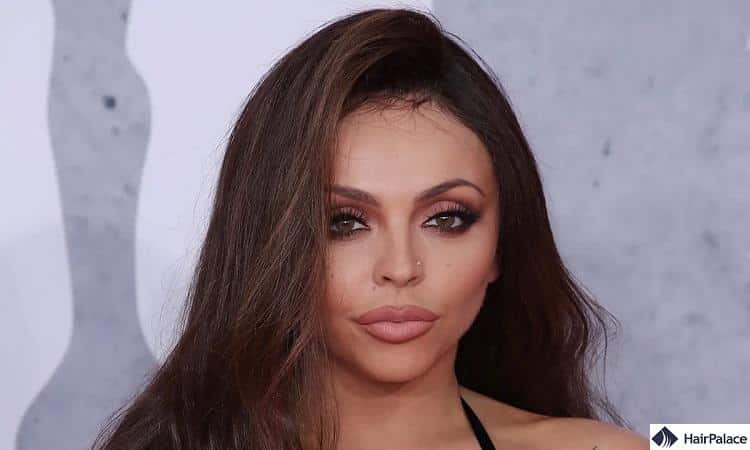 As part of the award-winning girls' group Little Mix, Jesy Nelson has become one of the most well-known celebrities with alopecia.
The singer-songwriter has spoken of how she suffered from stress-related hair loss as early as age 13. At this point, she suffered from depression and anxiety, which caused her hair to fall out. She opened up about the immense challenges that come with being a celebrity with alopecia saying:
"I was probably about 13 when my hair just started coming out. Stress can cause alopecia, and it wasn't nice. I got picked on because I've always liked to dress differently. I've never really wanted to fit in with everyone else."
Because of her openness to talk about bullying, mental health, and hair troubles, Jesy has become a hero in many eyes.
She has continued to advocate for better health services to support people suffering from stress and mental health problems.
She continues to inspire many people with alopecia to love themselves completely.
13. Keira Knightley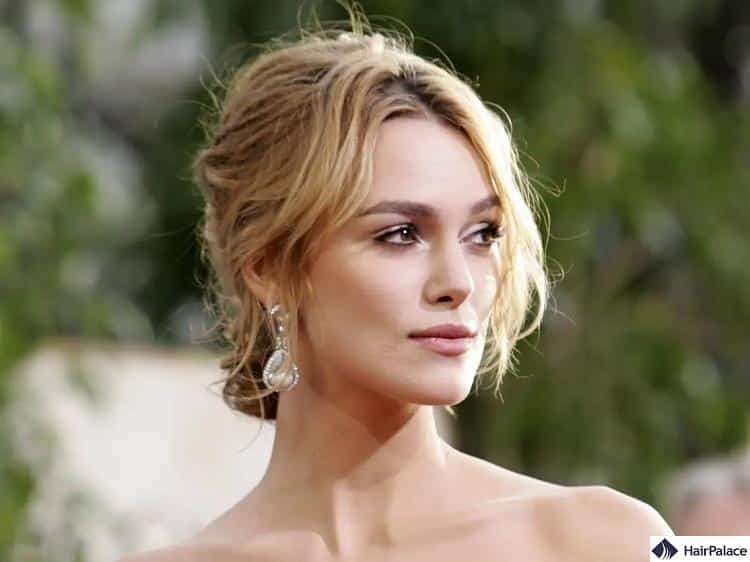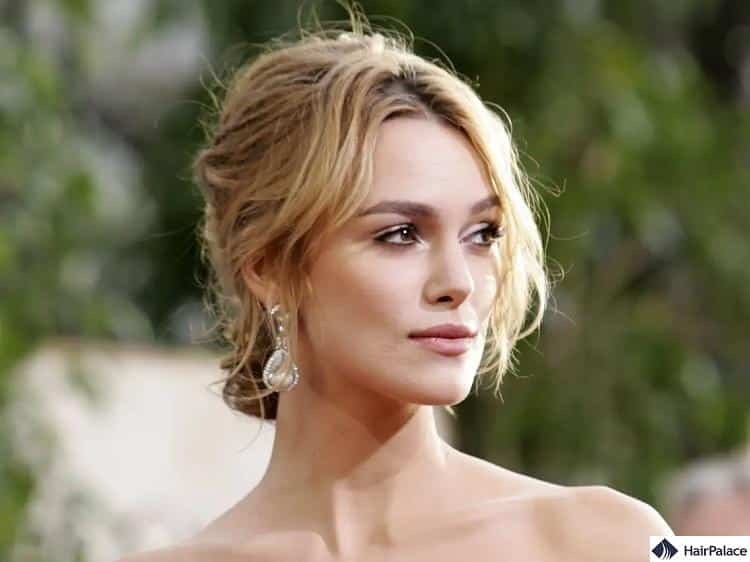 Known for her beauty, actress Keira Knightley is no stranger to the spotlight. Starring in several films, including Pirates of the Caribbean and Pride and Prejudice, and being a face of fashion, you would not think she'd make a list of celebrities with alopecia.
And yet, the British actress has recently opened up about her experiences with losing her hair. Speaking in an interview with InStyle UK, the British actress said:
"I have dyed my hair virtually every color imaginable for different films. It got so bad that my hair literally began to fall out of my head! So for the past five years, I've used wigs, which is the greatest thing that's ever happened to my hair,"
Keira explains that after dying her hair countless times for movie roles, her hair began to fall out of her head. Her condition got so bad that she used wigs in public for some years.
14. Zara Lena Jackson
Social media influencer and star of Ex On the Beach, ZaraLena Jackson, is one of the most well-known and recognized alopecia ambassadors. This recognition started in an interview with the Daily Mail, where the star shared her experiences candidly. She said:
"I could see it getting worse and worse every day,' she said. 'But the doctors didn't have any answers. It was like watching your identity being stripped away before your eyes."
"Losing all your hair, especially at a young age, leaves you feeling like a deer in the headlights. It's not just the hair on your head; losing all your eyebrows and eyelashes is the worst feeling ever. It makes you look ill, and it's devastating. I couldn't get any answers, it felt like I was screaming for help, and nobody could hear."
The star admitted wearing wigs to cover up her baldness but admitted she felt self-conscious. Eventually, she decided her hair loss would not define her.
Using her social media influence, ZaraLena continues championing and advocating for hair loss sufferers, inspiring many to love themselves unconditionally.
Celebrities with alopecia universalis
Alopecia universalis is an advanced form of alopecia areata characterized by the complete loss of hair on the scalp and entire body.
It's an autoimmune disorder where the immune system mistakenly attacks hair follicles. The exact cause is unknown, and while treatments are available, their efficacy can vary among individuals.
15. Matt Lucas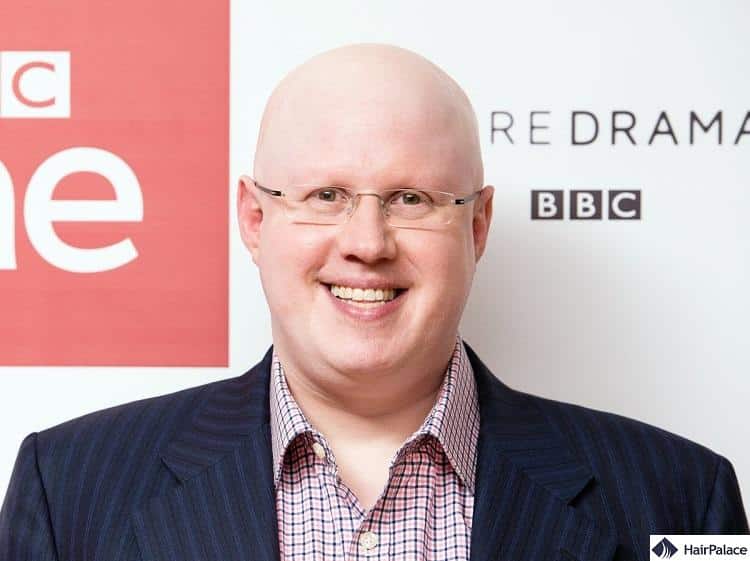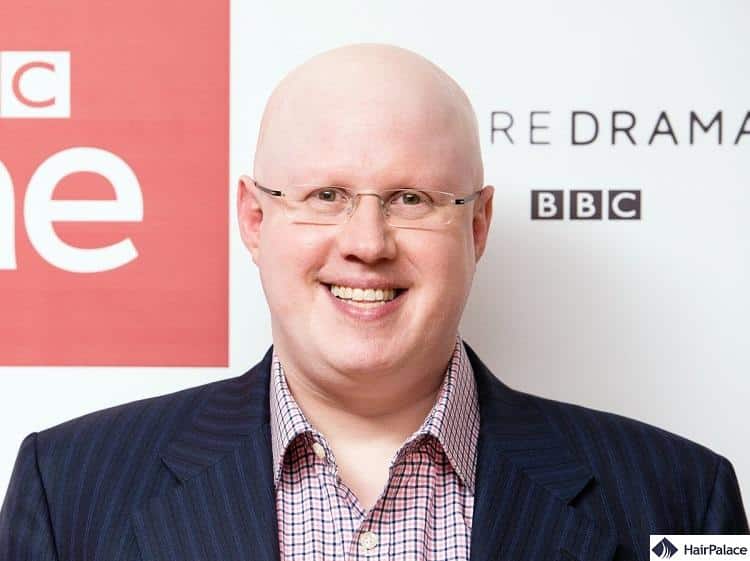 English comedian, actor, and television host Matt Lucas is one of the most widely known case of celebrity alopecia.
Although most men might gradually lose their hair due to the hereditary condition of male pattern baldness, Matt lost his hair at the early age of 6, with a condition known as alopecia totalis, i.e., total hair loss on the scalp.
In 2017, Matt wrote in the Guardian that he felt the condition resulted from a car accident when he was four. And that the hair loss he experienced two years later was a delayed response. He said:
"The doctors – and we saw an endless stream of them – concluded that it must have been a delayed response to the shock of being knocked down by the car in Portugal two years earlier. And so I was the first six-year-old in my class to learn the word "alopecia."
Matt has openly shared the mocking, bullying, and teasing that has followed him throughout life. But his upbeat attitude and ability to turn his hair loss into something advantageous have inspired many people throughout his career.
He's gone from working in television, creating Little Britain and hosting The Great British Bake-off, to starring in films like Alice in Wonderland and Bridesmaids, to name but a few.
Matt remains one of the most recognizable celebrities with alopecia areata. The Little Britain star has in the past worked with Alopecia UK to help support and educate people on these issues.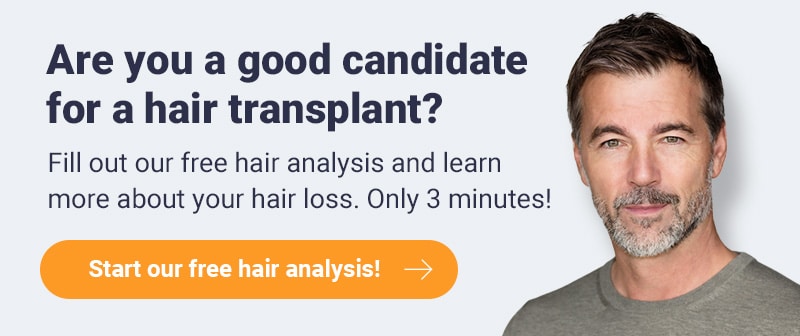 Male celebrities with alopecia
Read about the fascinating journeys of some of the most well-known male celebrities with alopecia.
HairPalace relies on scholarly sources, including peer-reviewed articles, as well as publications of medical associations and academic & research institutions. We follow strict sourcing guidelines and avoid tertiary references. Read our editorial policy for further information on how we keep our content up-to-date and accurate.