Hair Loss Treatment for Men: What are the Best Options?
The latest male hair loss treatments can restore hair growth with natural, seamless results.
Whether you're living with male pattern baldness or any other reasons of hair loss, solutions are available.
Still, it's not always easy to know which treatment is right for you.
To help make your decision easier, we'll explore the best options on the market below. We'll also offer detailed information on common causes and tips on how to prevent hair loss.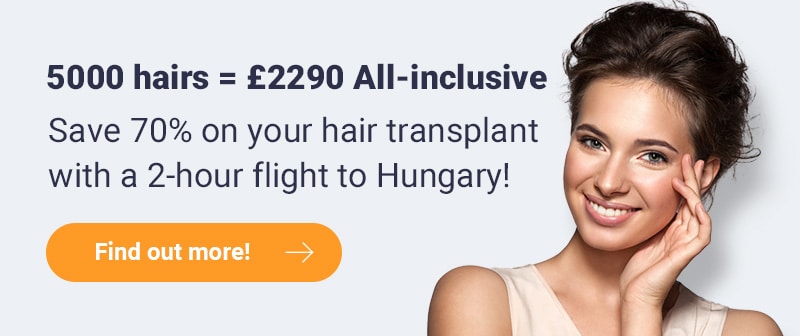 What can you do to prevent hair loss?
You may be able to prevent your hair loss (or slow its progression) in some cases, depending on the exact nature of your shedding and the reasons behind it.
Try the following prevention techniques:
Eat a balanced diet to give your body the protein, vitamins, and minerals it needs to keep hair healthy.
Avoid treating your hair with products containing harsh chemicals and wearing styles that put constant strain on the roots (e.g. braids, tight ponytails).
Use a wide-tooth comb to detangle and neaten your hair without pulling on strands.
Avoid twisting or pulling your hair too often, especially when styling, as you could damage it over time.
Consider trying a new medication (when that's possible and safe) if your current medication is known to cause hair loss as a side effect.
One or more of these tips may help prevent or slow your hair loss. However, when that's not possible, you can try a male hair loss treatment to restore growth in thinning or balding areas on the scalp.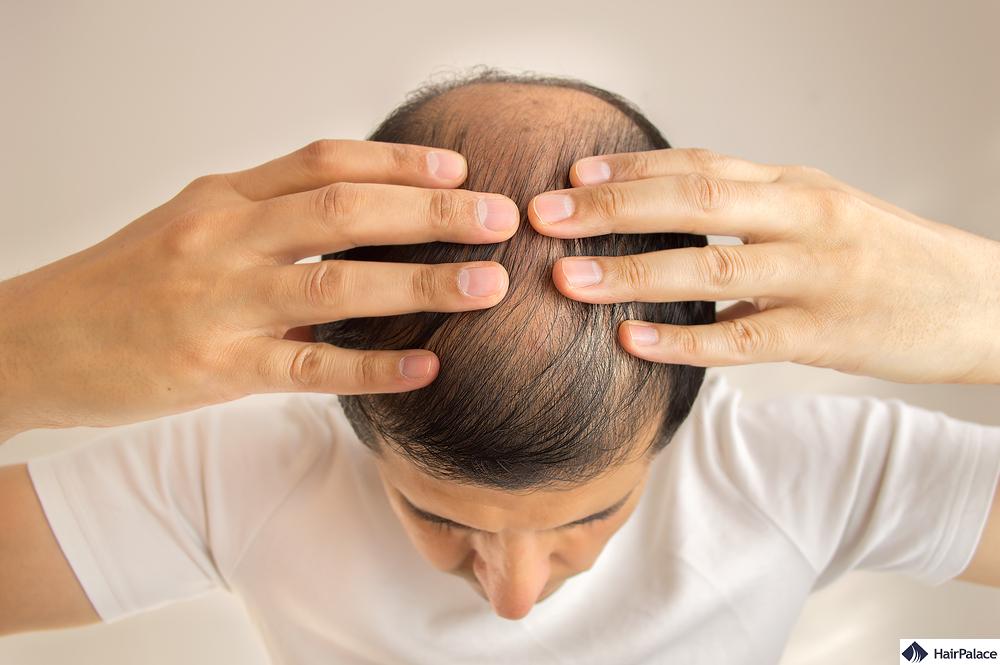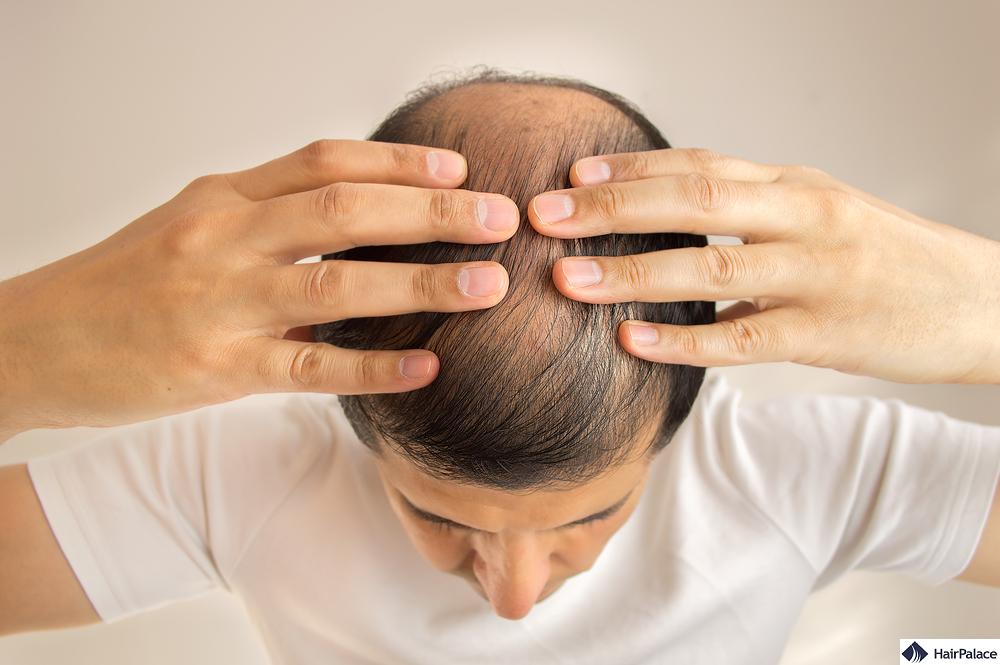 Men's hair loss treatments
Medications, surgery, and non-invasive cosmetic treatments are available to promote new growth. Let's take a closer look at each:
Medications
Various over-the-counter (OTC) medications are designed to combat hair loss and stimulate new growth. You can choose from topical or oral treatments, including finasteride and minoxidil — the two most common options.
Finasteride
Finasteride was developed to combat prostate cancer, but is also prescribed for male pattern baldness. This condition primarily affects the middle of the scalp and the crown (otherwise known as the vertex).
Finasteride reduces DHT hormone levels in the scalp. This hormone causes follicles to narrow and makes it harder for hairs to grow properly. Reducing DHT levels can slow hair loss and boost growth.
However, finasteride is a men's hair loss treatment only: it should be kept out of the hands of children, and may be unsafe for women who are pregnant or breastfeeding.
Minoxidil
Minoxidil was created to treat patients with high blood pressure, but developers soon discovered that one of its potential side effects was unwanted hair growth. That's why minoxidil (as Rogaine) is widely available as a hair loss treatment today.
Experts believe minoxidil causes hair follicles to expand and enables thicker strands to grow. It's also believed to prolong the growth stage of the hair growth cycle, leading to longer strands that grow in bigger quantities. Minoxidil must be applied directly to the scalp regularly to maintain any growth that occurs, so it's a long-term commitment.
Hair loss therapies
You may consider a more holistic approach to hair restoration, incorporating a combination of shampoos, drugs, and other hair growth products. A specialist would create a treatment plan for you based on your hair loss, its probable causes, and your overall health.
Surgical treatments
A hair restoration is typically the best hair loss treatment for men experiencing various hair loss conditions or problems. This involves extracting healthy follicles from the back and sides of the scalp, as hair in these areas is unaffected by DHT. The surgeon then inserts these back into the scalp's thinning and balding zones to stimulate growth.
The stem cell hair transplant technique is similar to traditional transplantation methods: it's one of the latest innovations in the field of hair restoration.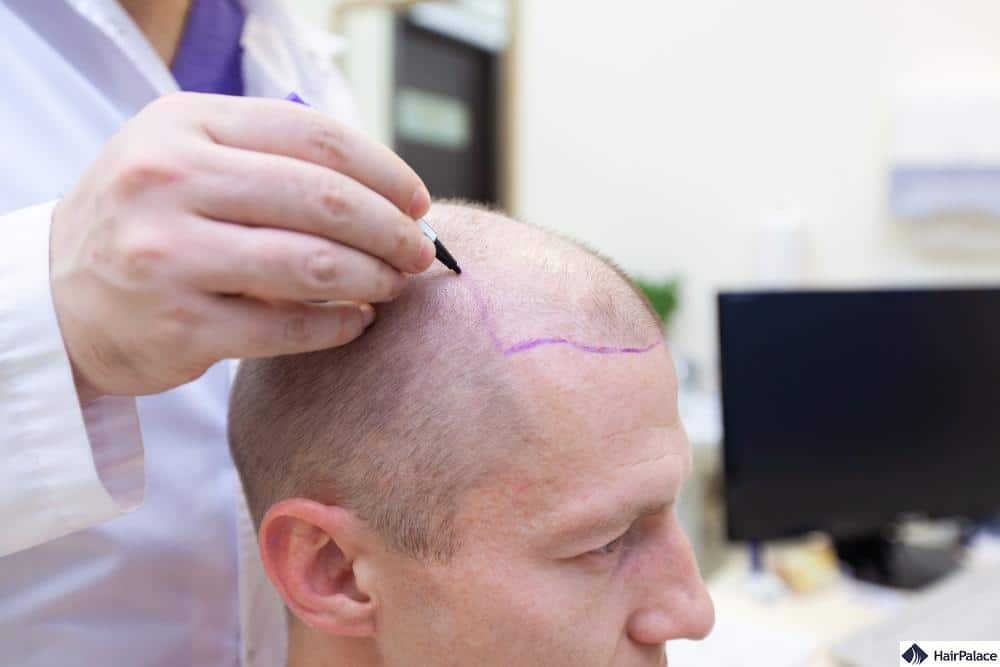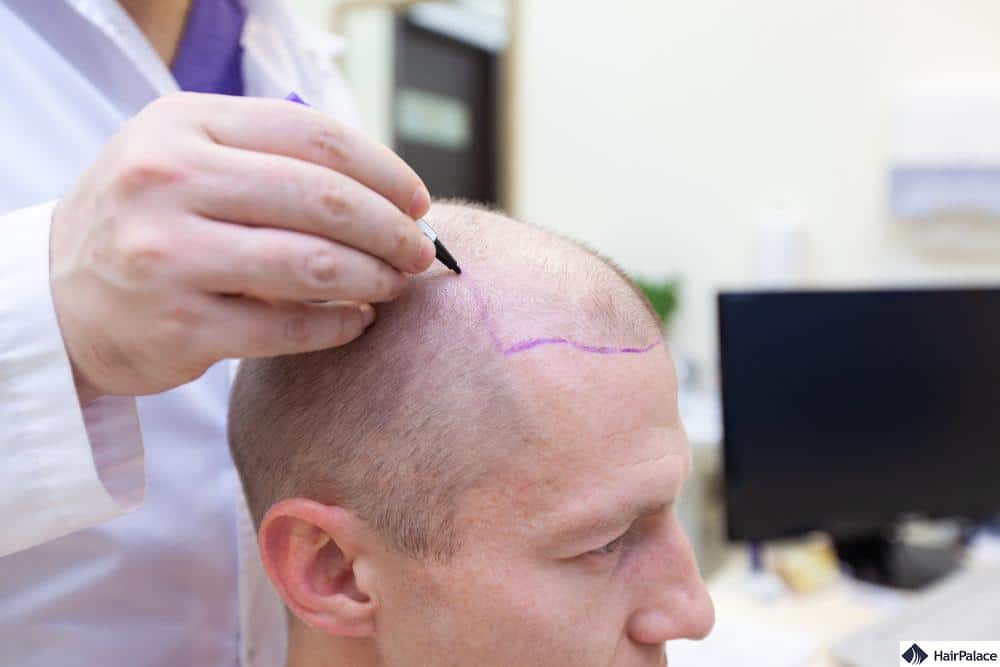 Wigs or hairpieces
Men may prefer to wear a wig or hairpiece instead of trying medication or a surgical treatment. They're a simple way to cover up hair loss, whether it's temporary or permanent. The latest options are more convincing than ever, resembling natural hair.
Laser comb
A laser comb uses concentrated light to stimulate hair follicles and promote new growth. This is still a fairly new treatment, so thorough research is highly recommended before you try it.
What causes hair loss?
To answer the question why is my hair falling out, we need to examine it from different aspects.
Genetics is a leading cause of hair loss: men experiencing pattern baldness inherit hair that's highly sensitive to DHT. This condition can manifest during puberty, or in the twenties, thirties, or later.
However, regardless of age, this hair loss typically progresses in a predictable pattern: thinning occurs around the temples and the front of the scalp. The hair will eventually resemble a horseshoe pattern, though the rate of progression, age, and other specificities depend on genetics.
A specialist may be able to help you determine whether your thinning is due to a hereditary condition or different issue. Other common reasons for male hair loss include:
Hormonal changes
Hormonal shifts and imbalances can trigger hair loss. This is often due to thyroid gland issues.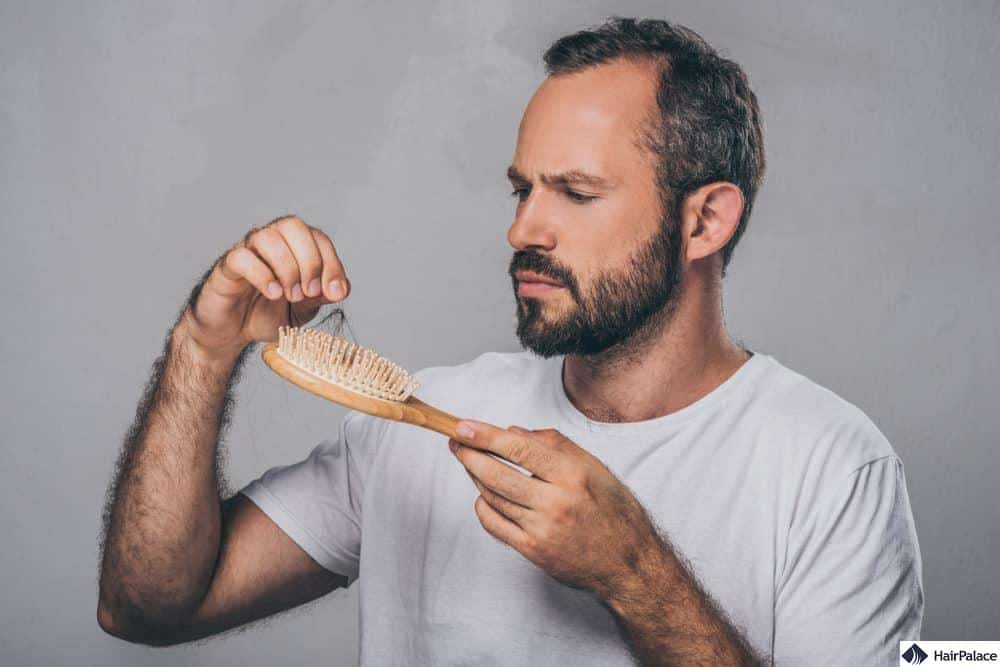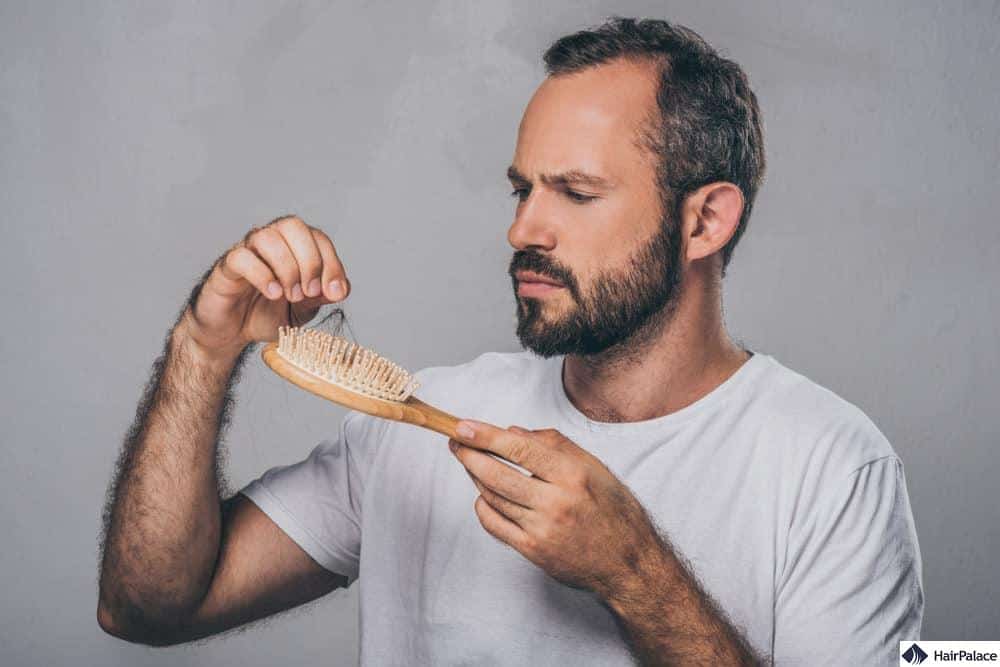 Scalp infections
Ringworm and other infections of the scalp can cause the skin to become scaly. This contributes to hair loss in affected areas.
Skin disorders
Lupus, psoriasis, and other skin problems can lead to permanent hair loss.
Alopecia areata
Alopecia areata causes patchy hair loss. This occurs when the body's immune system mistakenly attacks follicles, which triggers fast thinning in multiple areas.
Medication
Various medications can cause hair loss as a side effect.
Hair-pulling compulsion
Patients living with this disorder have a profound urge to pull their hair out of their scalp, eyebrows, and other parts of their body.
These are some of the most common causes of hair loss. Less-common factors include:
Natural causes
Men may experience hair loss as a result of trauma or stress (emotional or physical). However, the hair may regrow when the period of difficulty ends.
Radiation therapy
Radiation treatments on or close to the scalp may cause hair to fall out and regrow in a different pattern or texture.
Harsh treatments or styles
Certain hairstyles can put excess strain on the roots and follicles, while repeated colouring may contribute to hair loss too.
What step to take next
Hair loss affects men in different ways. Some may accept their baldness easily. Some might wear a wig to cover their thinning scalp each day. And others will take action to restore growth, using one or more treatments.
A hair transplant is the best hair loss treatment for men available today, particularly the Follicular Unit Extraction (FUE) technique. HairPalace provides the most advanced form of this method, the FUE2, designed to achieve the most natural hair transplant results.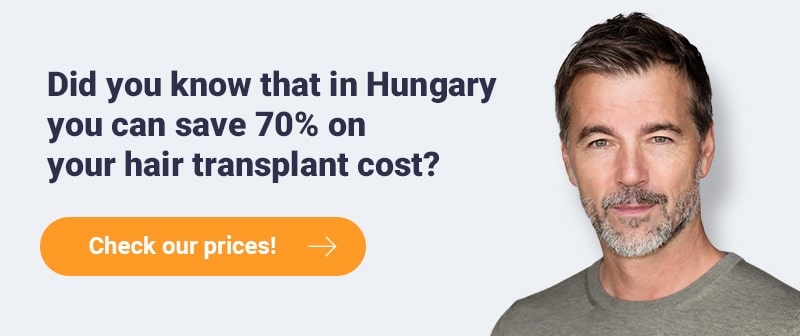 FAQ
What is the best treatment for male hair loss?
Two popular medications for treating male pattern baldness are available. Minoxidil, most commonly sold as Rogaine, is an over-the-counter solution produced as a foam or liquid. Finasteride (sold as Proscar or Propecia) is an oral medication for daily consumption.

Can you treat male hair loss?
No cure is available for male pattern baldness at present. However, certain medications can slow its progression. Minoxidil is an over-the-counter option designed for direct application to the scalp. This reduces the rate of hair loss and can promote new hair growth.

Can dermatologist help with male hair loss?
You may try to cover your hair up if it's becoming thinner or patchy, whether you wear a hat or a hairpiece. However, that could be unnecessary: an experienced dermatologist would be able to assess your hair loss, diagnose the cause, and suggest a treatment to help you address your condition.

Is there an injection for hair growth?
A dermatologist may inject corticosteroids into the thinning or bald areas of the scalp to encourage hair growth. They'll typically administer injections every four to eight weeks as required. You can expect to make numerous return visits until your course of treatment ends.