Ter Stegen Hair Transplant: What is the truth?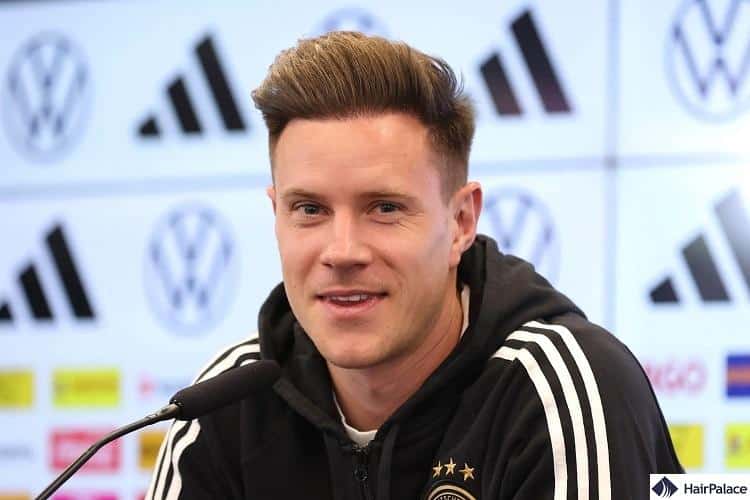 The German keeper is renowned for his commanding presence in goal, and his cat-like reflexes. Ter Stegen's passion and commitment to his duty have made him a beloved figure in both Germany and Spain.
But he recently came under scrutiny for something other than his spectacular saves. The hero of Barcelona has had a stunning change in his appearance and many are wondering how he achieved his transformation.
Did Marc Andre ter Stegen have a hair transplant?
Let's find out!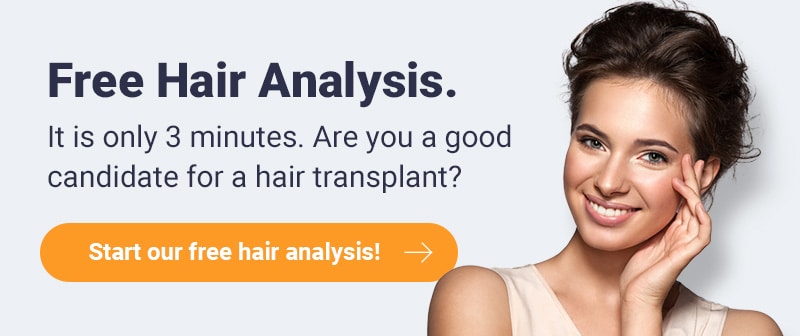 Who is Marc Andre ter Stegen?
Marc-André ter Stegen is a professional German soccer player who is widely recognized as one of the best goalkeepers in the world.
He was born on April 30, 1992, in Mönchengladbach, Germany. Ter Stegen began his youth career at Borussia Mönchengladbach and quickly rose through the ranks to make his senior debut for the club in 2010.
In 2014, ter Stegen transferred to FC Barcelona, one of the most prestigious clubs in the world. He has since become an integral part of the team's success, playing a vital role in winning numerous domestic and international titles.
Ter Stegen is known for his exceptional shot-stopping abilities, agility, distribution skills, and composure under pressure. Overall, Marc-André ter Stegen is considered one of the finest goalkeepers of his generation.
When did ter Stegen's hair loss start?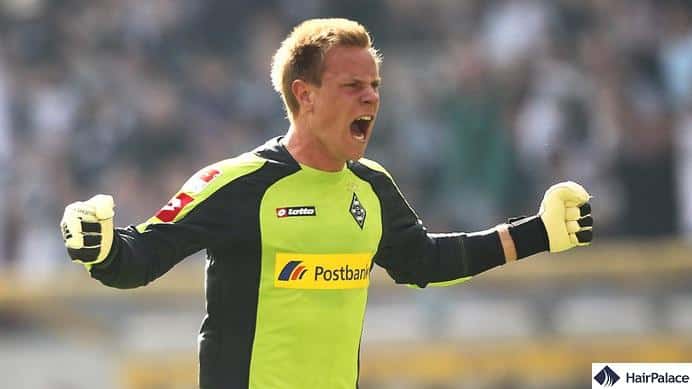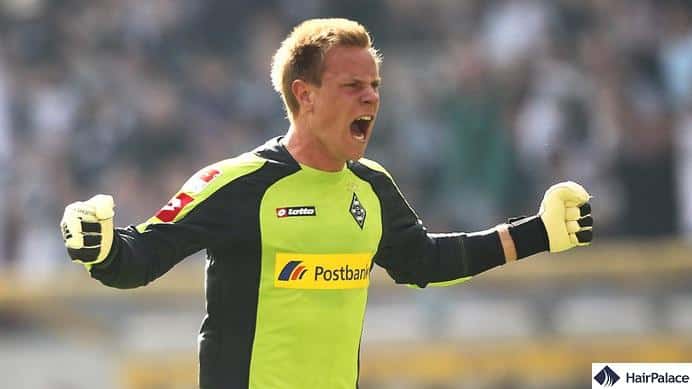 When ter Stegen made his debut for Borussia Mönchengladbach there were no signs of hair loss.
The German international didn't appear to have a receding hairline and his hair looked relatively thick for his age.
However, fast-forward to the end of his stint at Mönchengladbach and the beginning of his career at Barcelona and the situation has taken a drastic turn for the worse.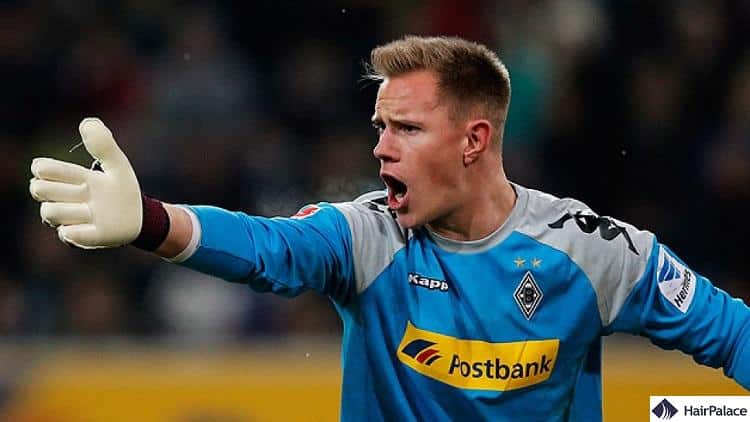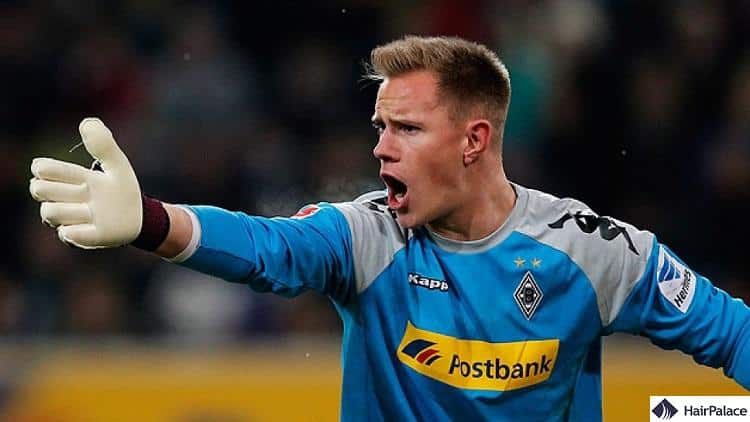 We can see a clear recession of his temples, with his widow's peak becoming more and more pronounced.
So it's safe to say that ter Stegen's hair loss started in his mid-twenties, and unfortunately, it kept progressing at a rather fast rate over the years.
Ter Stegen's hair transplant surgery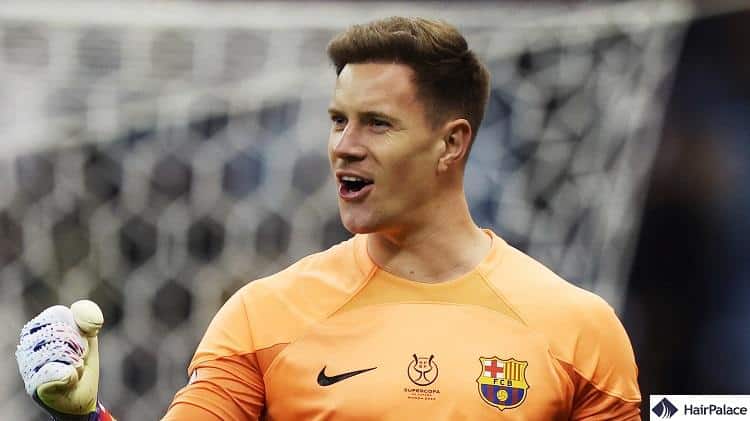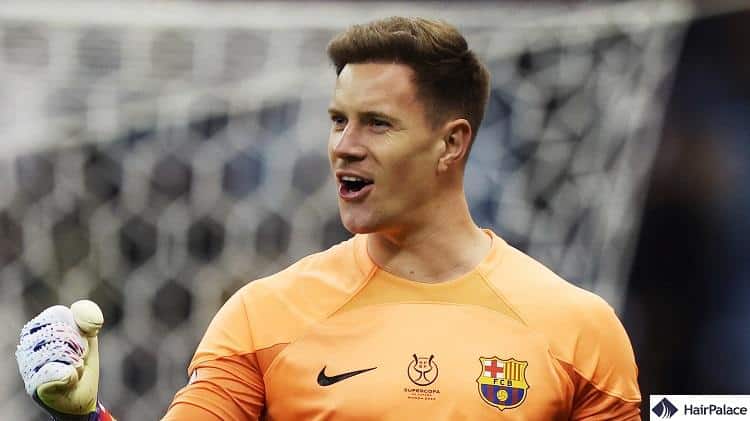 Ter Stegen seemingly has newfound hair growth and his locks look thicker and healthier than ever. This type of stunning transformation is only possible with a hair transplant procedure.
By looking at recent pictures it's safe to say that the ter Stegen hair transplant most likely took place around 2019 as the goalkeeper was spotted several times with the tell-tale signs of a hair transplant.
His temples were noticeably filled in and his hairline looked nearly perfect just a few months after his supposed surgery.
The German keeper reportedly underwent a hair transplant at a clinic in Istanbul, the city that is widely recognized as the Mecca of hair transplants.
According to certain media outlets he paid around €7,000 for his procedure. This price may look reasonable for a hair transplant in the UK, but it's on the pricier side when it comes to a hair transplant in Turkey.
However, it's entirely possible that the star simply chose a high-end clinic where you have to dig deep into your pocket to achieve the results you're looking for.
Which technique was used for his hair transplant?
Ter Stegen opted for a hair transplant with the FUE method or one of its variants, like DHI. This technique involves the extraction of individual hair follicles from the donor area.
The transplanted hairs are then placed into pre-made incisions on the scalp to create a more even appearance.
The German goalkeeper preferred this method for likely the same reasons that the vast majority of patients experiencing hair loss do so as well.
FUE offers the quickest recovery time, something that is crucial when you're a professional football player.
FUE also leaves no trace, unlike its predecessor FUT which left a large linear scar on the donor area.
Follicular unit extraction allows the transplanted hair follicles to anchor in fast and begin producing new hairs just a few months after the implantation.
After about 12 to 15 months the results are complete. Hair transplantation is currently the only permanent solution to baldness, so it's no wonder ter Stegen chose this intervention over non-surgical treatments.
Ter Stegen hair transplant before and after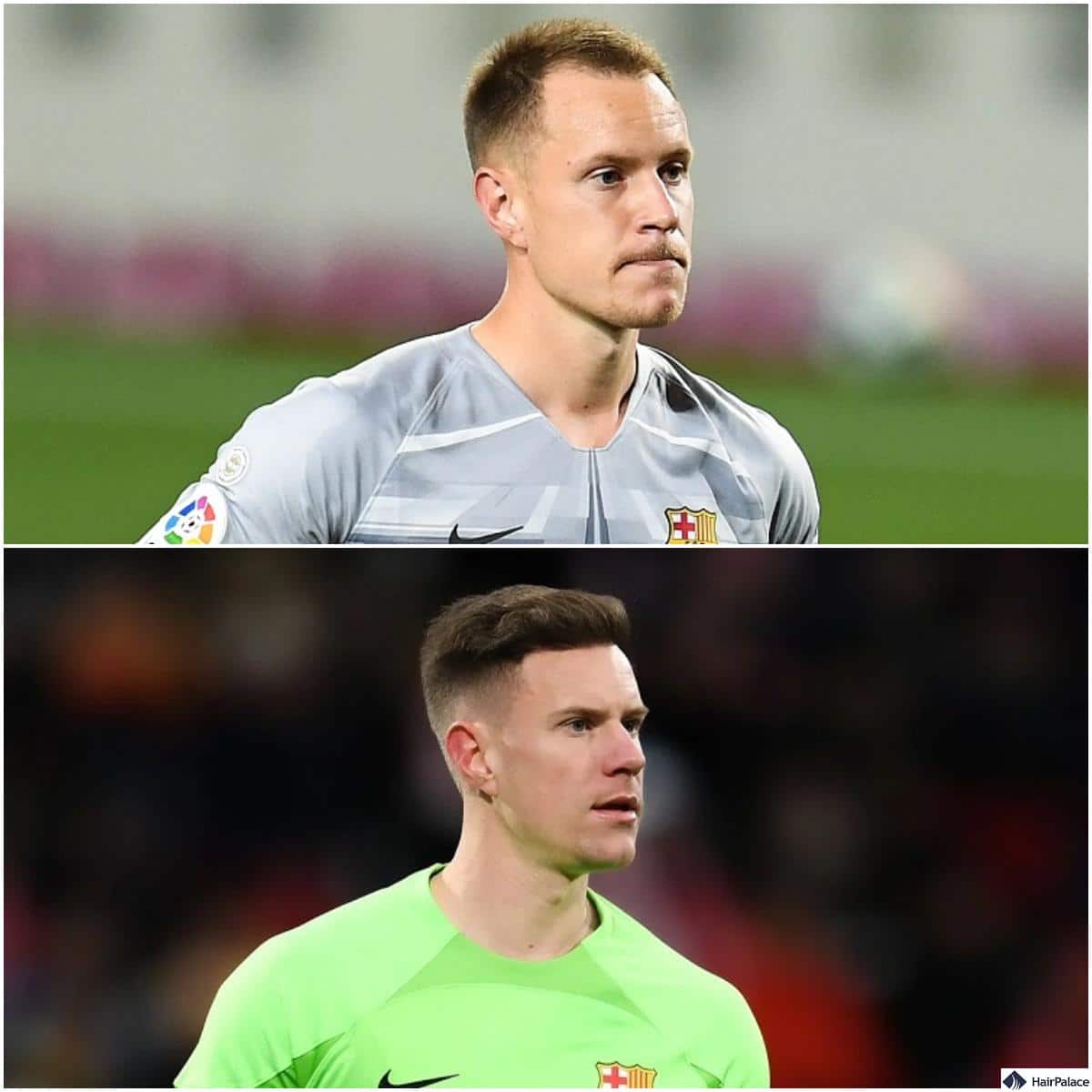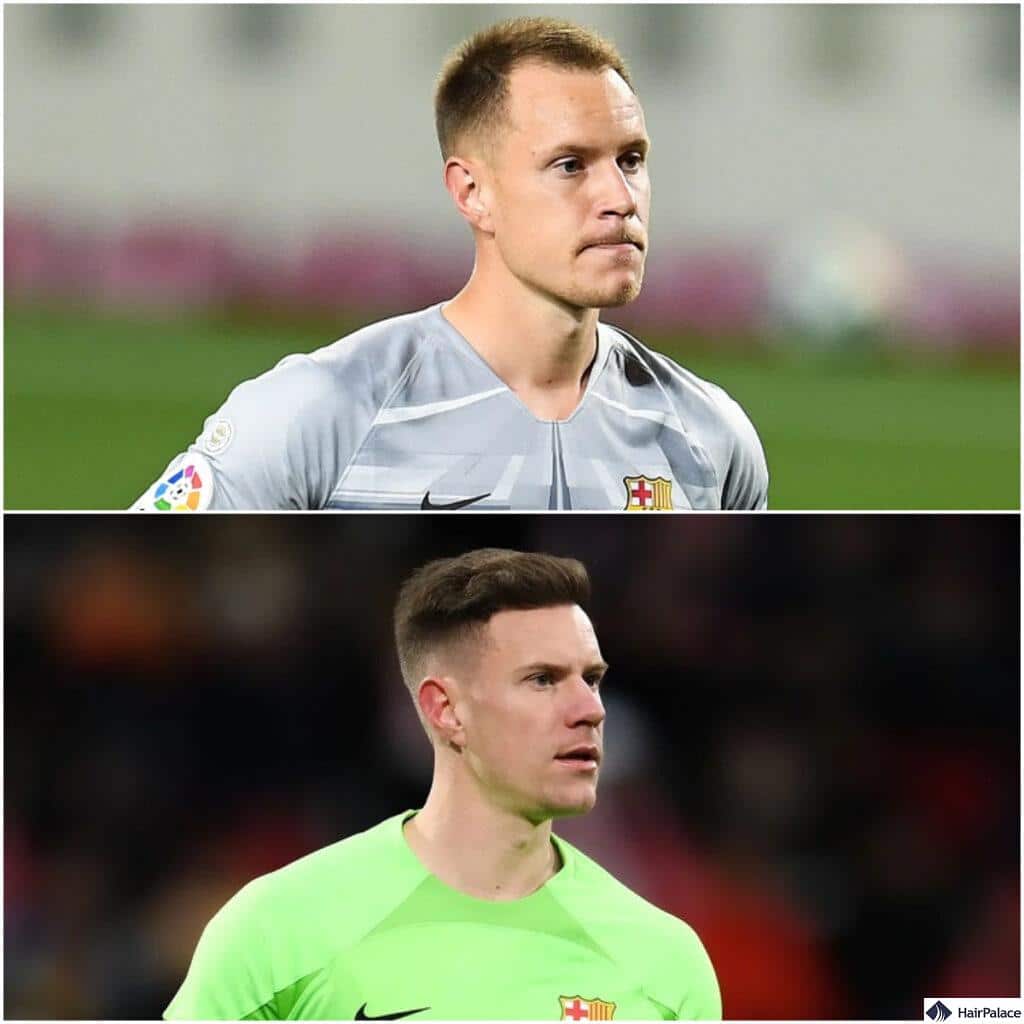 How many grafts did he have implanted?
It's impossible to come up with the accurate number without his clinic making the records public.
However, we can make educated guesses based on the size of the area impacted by his hair loss and the difference between the before and after photos.
Based on the pictures prior to his procedure, ter Stegen was around stage 3 on the Norwood scale. He acted at just the right time as he was getting close to developing an island of hair at the top of his scalp.
One thing is for certain, ter Stegen's treatment gave him enough hair to resurrect his self-confidence and increase his self-esteem.
By carefully analyzing his hair loss, and his results we estimate that he had anywhere between 3000 to 4000 hairs implanted, or roughly 2000 grafts.
Was the ter Stegen hair transplant successful?
Marc-Andre ter Stegen achieved stunning results and now looks several years younger. His hair looks completely natural and dense.
But most importantly, he managed to restore his confidence which seemingly translated to having better performances on the pitch.
His outstanding form following the surgery is largely attributed to his recent hair transplant. His wonderful saves have been pivotal in the Catalan club's success in that season. Thus It's safe to say that his surgery was definitely worth it.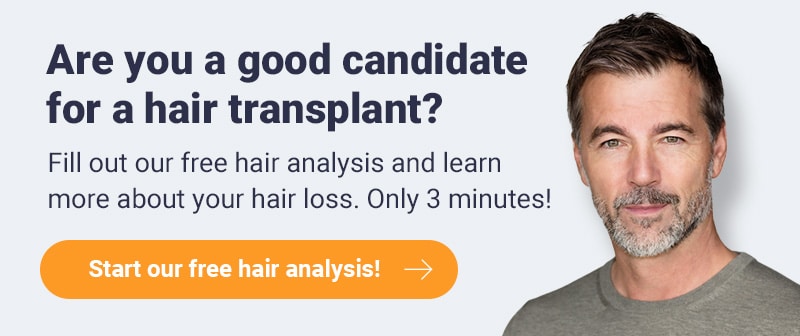 Other celebrity hair transplant stories
Hair transplant surgery is an increasingly popular procedure among celebrities to regain a full head of hair.
Take a closer look at more results:
HairPalace relies on scholarly sources, including peer-reviewed articles, as well as publications of medical associations and academic & research institutions. We follow strict sourcing guidelines and avoid tertiary references. Read our editorial policy for further information on how we keep our content up-to-date and accurate.