How Long Do Hair Transplants Last?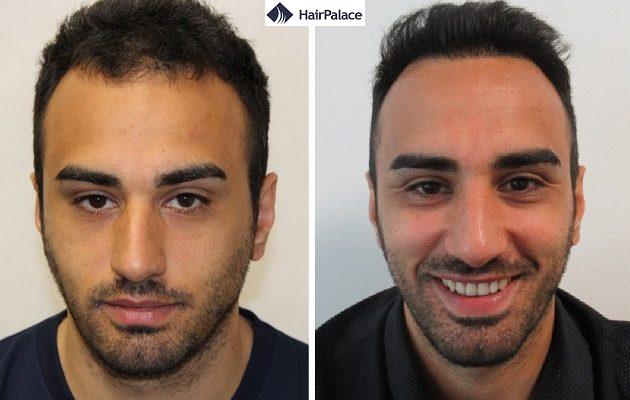 How long does a hair transplant last? Does it last forever?
Hair transplants lead to long-lasting results, which are widely regarded as permanent. These procedures take several hours to complete, and require patients to take time out of their usual routines to heal.
People experiencing substantial hair loss tend to be the ideal candidates. But you're sure to have questions if you're considering a procedure, and one of the most common is "how long do hair transplants last?".
In this guide, we'll answer this question in detail, explore what you can expect after your surgery, and provide info on different procedure types.
Is a hair transplant permanent?
Hairs growing on the back and sides of the head are not sensitive to the DHT hormone responsible for male pattern baldness.
If we transplant these hairs to the crown or the hairline, they will not fall out later on as they remain resistant to DHT.
It's good to know that 2-3 months after the procedure, the implanted strands do fall out as the growth cycle of the roots restarts. As a result, the hairs will regrow gradually.
But the hairs that have grown out after the hair transplant will be permanent, and will not fall out due to male pattern hair loss.
What hair transplant procedure types are available?
Two types of treatment are available: Follicular Unit Transplantation (FUT) and Follicular Unit Extraction (FUE).
FUT involves cutting a strip of skin from the back of the head and removing its follicles. The surgeon transplants these to the thinning or bald areas of the scalp, and closes the wound on the back of the head. This will leave a visible scar.
During FUE procedures, the surgeon uses a micro punch device to transplant follicles from areas of healthy growth (usually the back and sides) to the target areas. This is the most popular form of hair transplantation available.
FUT and FUE treatments provide permanent results.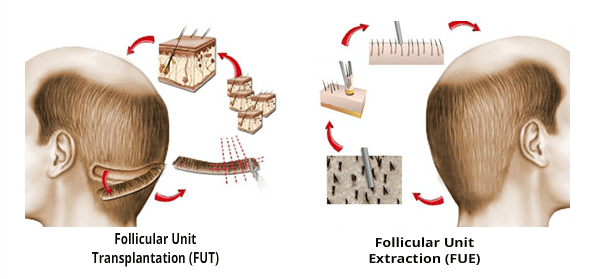 Will I need another hair transplant in the future?
Many candidates are satisfied with their hair growth after their first transplant, but choose to add density to thinning areas later. This is beacause the non-transplanted, original hairs on the top may continue to fall out in the future.
Some patients may need more than one procedure in the first place, to achieve their ideal results.
When can I see results?
Transplanted follicles take time to start growing new hairs, so you won't see results straight away.
You might notice that you shed more of your hair than usual in the first 3 months, but don't panic: it's a healthy part of the process. Your surgeon should make you aware of this and other key stages beforehand.
You'll see your final result after 9-12 months.
Gradually, your new strands will match the length and texture of existing hair.
You can change and style it in any way you like after recovery, whether you want to cut it short, dye it, or experiment with extravagant looks.
What to expect long-term
Hair transplant offers permanent results you can enjoy for years to come. As the transplanted hairs will be resistant to the effects of the DHT hormone, they will stay in place.
However, the procedure will not stop your natural hair loss. The rest of your hair may continue to thin out behind the implanted area.
If your hair loss continues to progress, you may need another surgery in the future to address other areas.
The scope of the second surgery will depend on the characteristics of your hair loss and the capacity of your donor area. But in general, a smaller treatment can be expected.
When should I speak to my doctor?
It's best to talk to your doctor as soon as possible if you're self-conscious about your hair loss, or even find it affecting your quality of life.
Various conditions may cause (or at least exacerbate) shedding, and a number of medications could be to blame, too. Your doctor may need to eliminate potential health concerns before a hair clinic will consider you for a procedure.
Prioritise providers specialising in hair transplants, such as cosmetic surgeons and dermatologists. Look for photo galleries showcasing patients' before and after pictures, so you can assess the quality of the treatment providers' work. Check reviews written by patients to learn more about the standard of service and results.
And talk to the surgeon in-depth during a consultation. Find out everything you need to know for your peace of mind. Ask about the technique used, the tools, the recovery process, aftercare — a trustworthy specialist will be happy to answer your questions.
The final word
Hair transplants offer permanent results, with the implanted hairs staying in place practically for a lifetime.
This is why it is crucial to choose a specialized clinic.
An experienced, skilled surgeon will implant hairs with high density following the natural pattern of your hair growth.
This way, you can enjoy not only long-lasting, but natural-looking and aesthetically pleasing results.
FAQ
Will hair transplant last forever?
Hair transplants offer long-lasting results which are considered to be permanent. Healing and recovery takes a significant length of time, too, particularly for more extensive surgery. Hair transplants are suitable for patients affected by baldness or advanced hair loss on one or more areas of the scalp.
How many years does hair transplant last?
Hairs transplanted during surgery function like any other on the scalp, and will fall out after two to four weeks. Their roots will continue to naturally grow hair for a lifetime. Patients usually take antibiotics for several days following treatment.
Can you go bald again after a hair transplant?
In most cases, patients are unlikely to develop pattern baldness again after their procedure. This is because hair follicles are harvested from the scalp's back and sides, which remain resistant to DHT.
Is 1 hair transplant enough?
Many patients will achieve the results they're looking for after one hair transplant, and their implanted hairs will continue to grow for their lifetime. But some patients will need additional procedures later in life to maintain their results.