Hair loss is a common condition in the UK, affecting around half of men over 50.
Sadly, many people start to lose their hair much earlier — even in their 20s and 30s.
Losing your hair can be incredibly difficult to live with at any age.
You may feel as if you no longer recognise the person staring back at you in the mirror, or that you won't be as physically attractive to your partner.
Fortunately, cutting-edge treatments have the power to restore lost hair and create natural, seamless results.
But what do they involve? What variations are available?
And how long does a hair transplant last?
What is a hair transplant?
During a hair transplant, follicles from a part of the scalp with healthy growth (the "donor area") are implanted into the thinning/bald zone.
Over time, hair will emerge from the transplanted follicles and create new growth.
Two types of hair transplant are available:
FUT (Follicular Unit Transplant)
FUE (Follicular Unit Extraction)
Let's take a closer look at each.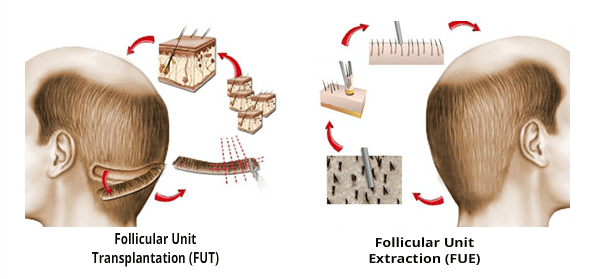 FUT
The FUT method involves removing a strip of the scalp from the donor area, typically the back of the head.
This strip is cut into hundreds or thousands of tiny grafts carefully under a microscope.
Each section comprises between one and four hairs.
Tiny incisions are cut into the recipient area, and the grafts are implanted into them.
FUE
FUE hair transplants are a minimally invasive alternative to FUT treatments.
The FUE Safe System is the most advanced version available to hair clinics today.
Your surgeon will extract one graft at a time with a state-of-the-art micro punch, for unparalleled precision.
This eliminates the need to cut a strip of the scalp away and leaves no visible scarring in the donor area.
This can be a more time-consuming process than FUT, as grafts are removed one by one.
But the FUE Safe System device features an innovative design that prevents doctors from penetrating the scalp further than they need to.
They can also harvest follicles without causing damage.
What factors affect the outcome of hair transplant surgery?
The success of a hair transplant depends on:
The number of hair follicles required to achieve effective growth

The more healthy hair follicles required for your recipient area, the more existing hair you need on the back and sides of your head.

Your overall health

A reputable hair transplant doctor will assess your general health before determining if you're a suitable candidate. Being healthy enough for the surgery is crucial to avoid potential complications and ensure the scalp tissue heals properly.

Your hair type

More follicles may be required when transplanting straight hair than wavy or curly hair, as it provides less coverage to the scalp. Hair loss tends to be less visible with waves or curls, which means fewer follicles may be needed.

The density of your hair

Thick hair covers more of the scalp than thin/fine hair. As a result, surgeons may be able to provide a satisfactory level of restoration with slightly fewer follicles.
Is it okay to experience hair loss after the surgery?
Some, or most, of the transplanted hairs will fall out after your surgery. But don't worry — this is a normal part of the recovery process.
Why? It's known as "shock hair loss": your implanted hairs move into the resting stage of the growth cycle and are shed. And they will grow back.
Your surgeon will advise you on this beforehand, and a reliable hair clinic will arrange check-ups to monitor your progress.
They'll notice any issues, however unlikely, in good time.
If you're affected by male pattern baldness, post-treatment hair loss may continue if the shedding has not run its course on the top of the scalp.
It's recommended that you wait until further hair loss is unlikely.
What other symptoms may you experience after hair transplant surgery?
There is a slight risk that you may experience certain side effects following your hair transplant.
Primarily, you may notice crusting: this is a natural part of the process, and they will disappear if you use the special spray provided and massage the scalp carefully.
Other potential symptoms include:
itching
swelling
bleeding
loss of sensation in treatment area(s)
Frequent post-surgery check-ups allow hair transplant experts to examine your scalp and offer advice to help you heal properly.
How long does a hair transplant last?
The results of a FUE hair transplant should last permanently, as donor follicles are taken from areas of healthy growth.
However, as mentioned above, male pattern baldness could cause the non-transplanted hair to fall out until the condition has affected the entirety of a specific area.
This can vary from a small part of the scalp to most of the top.
Other health conditions may also trigger hair loss, such as specific medications or treatments.
Generally, though, a hair transplant performed by a quality team will achieve the permanent results you're looking for.
Why is aftercare important?
Aftercare is crucial to ensure:
your scalp heals
your transplanted hair grows properly
potential side effects are monitored/treated
your questions/concerns are addressed
HairPalace's specialists will be available to answer your questions and provide you with the reassurance you need throughout your hair restoration journey.
FAQ
How many hair transplant types exist?
Two types of hair transplant are available: FUT (Follicular Unit Transplantation) and FUE (Follicular Unit Extraction).
They involve different methods. FUE causes no visible scarring in the donor area, unlike FUT, in which a strip of flesh is taken from the back of the head.
What affects the outcome of a hair transplant surgery?
The following factors can affect the outcome:
the number of follicles required
your general health
your hair type (curly, straight, etc.)
your hair density
Is it okay if you see some hair loss after surgery?
Some hair loss is expected after surgery, due to "shock loss". This is part of the natural hair cycle, and any hairs that shed after transplantation will grow back.