Neograft hair transplant: Benefits, Costs, Results
For hair loss sufferers around the world, a transplant can be simply life-changing. In just one simple operation, your hairline can be restored to its former glory.
Hair transplant surgery is a cutting-edge procedure that sees a highly-skilled surgeon repositions healthy hair follicles from the back and sides of your head and reimplant them into thinning areas.
It is simple, effective, and offers a permanent solution, and each year, new techniques and specialized equipment are developed to improve results and reduce recovery time.
One of the most cutting-edge procedures to emerge in recent years is the NeoGraft hair transplant procedure. This brand-new technique promises quicker recovery with better results.
This article will explore everything you need about the NeoGraft hair transplant procedure. We will explain how it is performed and see how it compares to traditional methods like FUE and FUT.
Ultimately, we will help you decide if this new method is the right choice for your hair restoration.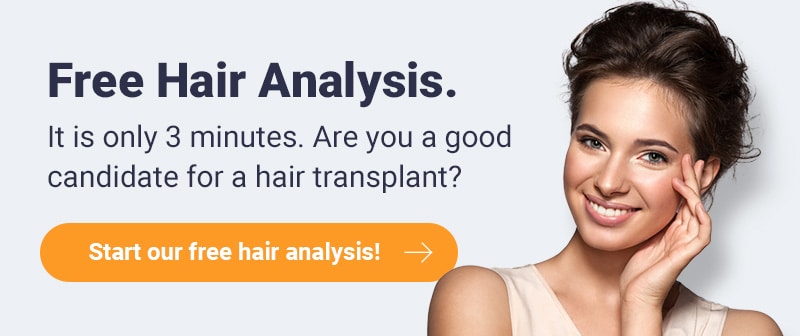 What is NeoGraft?
NeoGraft hair transplant surgery is an innovative twist on traditional techniques that can transform your hair in one procedure.
It is based on the FUE technique and involves a specialized semi-automatic device that harvests hair follicles one by one and implants them strategically into areas affected by hair loss.
Does NeoGraft hair transplant surgery scar? Unlike the rival technique, Follicular Unit Transplantation (FUT), which involves a surgeon cutting a small strip of skin and leaving a noticeable scar, NeoGraft is a minimally invasive robotic hair transplant procedure.
While it can leave hundreds of tiny scars across the donor area where hair follicles have been extracted, they are easy to hide once hair regrows.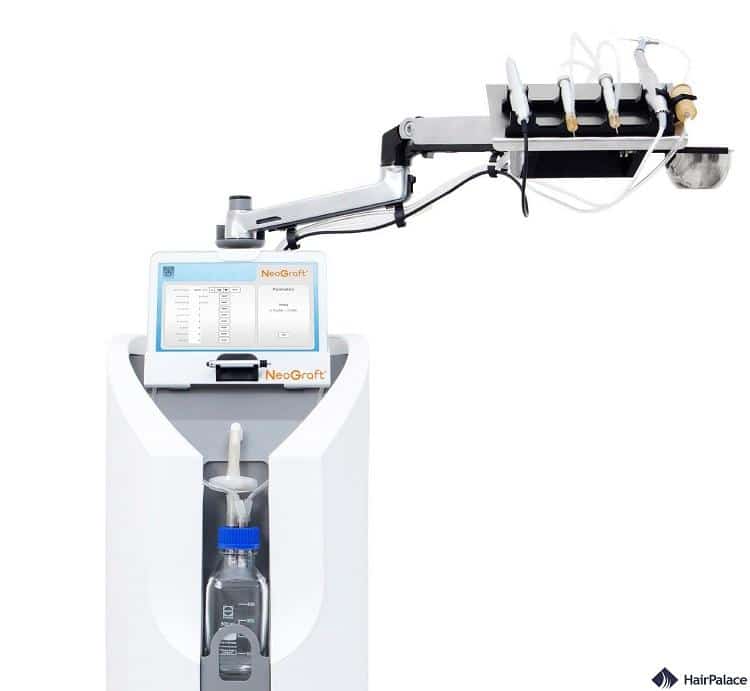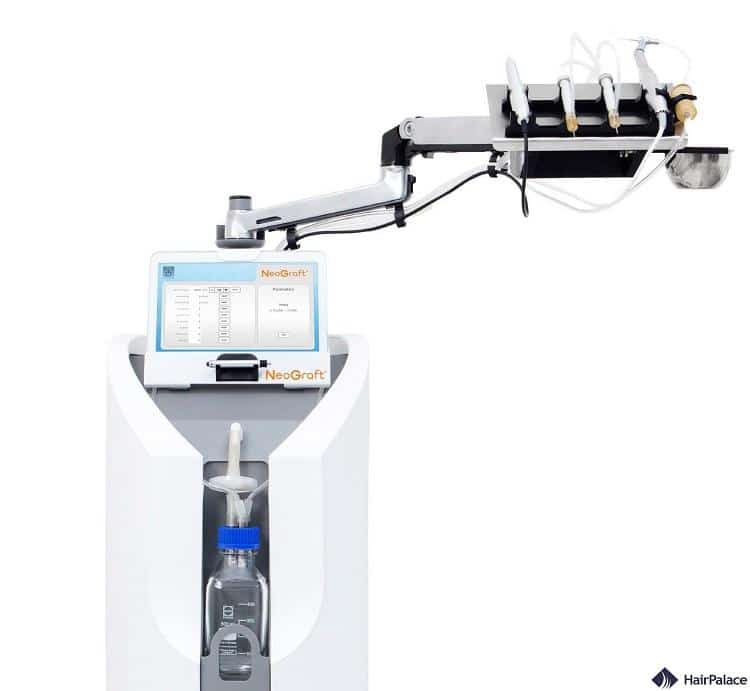 Does NeoGraft hair restoration work?
NeoGraft hair restoration can be highly effective at correcting and restoring a range of hair loss conditions, including partial baldness, hair thinning, and male pattern hair loss.
Results can look incredibly natural because the procedure uses your hair and redistributes it into targeted areas.
That said, it's important to remember that NeoGraft does have certain limitations. Firstly, it does not stimulate hair growth and requires enough pre-existing hair follicles.
Additionally, it may not be a suitable procedure if you have extensive hair loss (e.g., scoring Type 6 or 7 on the Norwood Scale).
Finally, as with any medical or cosmetic treatment, the quality of hair transplants relies heavily on the skill and expertise of the surgeon.
Therefore, you should only choose a surgeon with a proven track record using this technique for the best results possible.
What to expect during a NeoGraft hair transplant procedure
So what exactly is involved in a NeoGraft hair transplant surgery?
Below is a summary of what you can expect.
Time: Your hair transplantation surgery can last anywhere from four to ten hours, depending on the amount of hair being transplanted.
Pre-surgery: Donor hair will be shaved or cut incredibly short before surgery. This is done for two reasons; it allows maximum visibility for the surgeon to see individual hair follicles. It can also improve the look of your scalp post-surgery.
Anaesthetic: After your hair is cut, your surgical team will administer a local anaesthetic to the donor and recipient area of your scalp. This prevents pain or discomfort during surgery and can help you relax.
Extraction: Your surgeon will then begin to extract hair follicles using a specialized device that applies pneumonic pressure to hair. There may be a short break after extraction.
Implantation: Your scalp is re-numbed and prepped for implantation. Your surgeon will implant follicles strategically at an angle into hair loss areas, helping to recreate a natural hairline.
Post-surgery: After implantation, your surgeon may use a solution or bandage to help manage any bleeding.
Because a NeoGraft hair transplant is a minimally invasive technique, it promises a speedy recovery. You can return to your everyday haircare routine in just a few weeks.
In the meantime, you will be given instructions on the best care practices for your scalp. This may include cleaning techniques and what products to use or avoid. You may experience slight discomfort as the wounds on your scalp heal.
NeoGraft hair transplant before and after
The best way to see what a NeoGraft hair transplant can do for you is to see how other patients faired. Below are before and after photos to give you an idea of the expected results.
Who is a good candidate for a NeoGraft hair transplant surgery?
Although hair restoration surgery promises incredible results, there is no guarantee it will work for you or that you're an ideal candidate.
One of the most significant factors which can make or break your eligibility is the amount of hair you've lost and the amount of hair you have to donate.
During your hair transplant consultation, your surgeon will examine the back and sides of your head to see how much hair can be transplanted. Patients with extensive or total hair loss may not be suitable.
Additionally, the condition and quality of your hair may impact results. You must be realistic with your surgeon about the results you hope to achieve with the procedure.
What are the benefits of a NeoGraft procedure?
Developed by Venus Treatments and inspired by the FUT method, NeoGraft is an exciting and innovative method of hair transplantation.
As such, it has numerous benefits and advantages over traditional procedures. There are two main reasons why NeoGraft hair transplantation is fast becoming the procedure of choice:
1. Improved results and hair condition
A NeoGraft hair transplant can help protect hair follicles during extraction and implantation. This is because your surgeon uses a specialized wand and suction to harvest hair, reducing the likelihood that strands become damaged.
This improves the survival rate and condition of the implanted hair, leading to a higher success rate and improved results.
2. Fewer complications and minimal downtime
This is a minimally invasive hair transplant method. It does not require staples or stitches, reducing the risk of infection or scarring and drastically reducing recovery time.
Additionally, because the technique is semi-automatic, this minimizes the possibility of human error during surgery.
This is a significant advantage over traditional methods like FUT, which sees a surgeon make invasive incisions on your scalp.
These procedures can lead to more risks, including infection and scarring, that can hamper results.
Five potential NeoGraft side effects
As with any cosmetic surgery, there are side effects that you must consider when opting for a NeoGraft hair transplant.
Because NeoGraft is a relatively new technique, choosing an experienced surgeon can dramatically reduce potential complications. Side effects to be aware of include:
1."Moth-eaten" appearance
A poorly performed hair transplant can give a moth-eaten appearance on your scalp. This is often when an inexperienced surgeon overharvests hair, leading to sporadic hair loss and thinning.
2. Scarring
Although NeoGreaft is a minimally invasive procedure, it still will leave tiny, pinpoint scars across your scalp. This can become an issue if you have a fear of hair transplant holes, also referred to as trypophobia.
Growing your hair long can help mask these scars, leaving them undetectable. But scars can become very noticeable up close if you keep your hair short or opt for a clean-shaven look.
3. Poor hairline
As with any hair transplantation surgery, if your surgeon fails to strategically implant hair at the appropriate angle and blend your hairline, your NeoGraft procedure will stand out from your original hair and ruin the desired look.
4. Shock hair loss
A temporary side-effect of a NeoGraft hair transplant is postoperative effluvium, otherwise known as shock hair loss. This is when individual hair follicles are out and will only last a short period until the natural hair growth cycle resumes.
5. Other considerations
Following proper aftercare instructions can prevent or limit developing side effects post-surgery.
Some patients may experience poor hair growth, folliculitis, keloid scarring across the scalp, and buried hair, leading to developing ingrown hairs and cysts.
Thankfully, severe or adverse complications from hair transplantation are incredibly rare. But some patients may experience:
cutaneous necrosis (skin infections)
oedema (fluid buildup),
lichen planpilaris (inflammation)
alopecia areata (an autoimmune condition).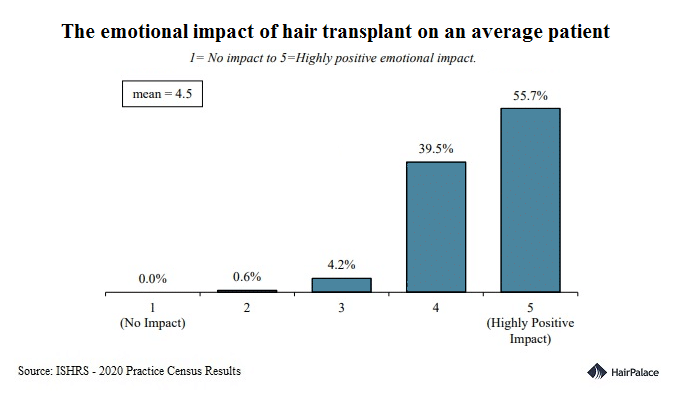 NeoGraft vs. FUT and FUE hair transplants
NeoGraft, Follicular Unit Extraction, and Follicular Unit Transplant are popular and widely available at most hair transplant clinics. And though they can all achieve great results, slight differences set them apart from one another.
A FUT hair transplant is generally a much cheaper hair restoration option but often leaves visible scarring across the donor area of your scalp.
This can limit your hairstyle post-surgery and reduce confidence depending on the scar's severity.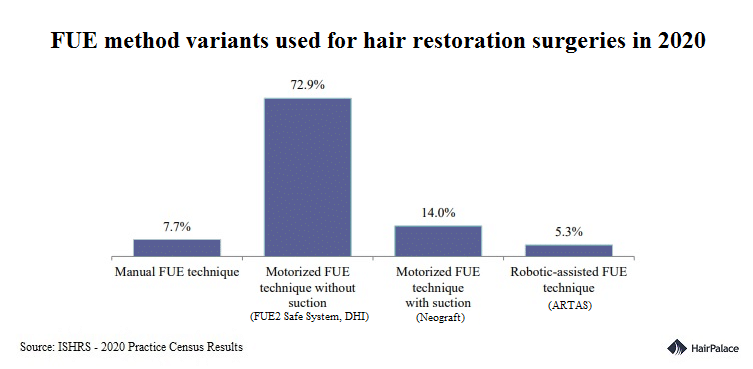 Although NeoGraft is similar to an FUE hair transplant, FUE is performed manually. This means your surgeon extracts and implants hair follicles by hand. Therefore, there is potential human error, especially if the surgeon is not that experienced.
A NeoGraft hair transplant involves a semi-automatic device that better controls the extraction and implantation process.
Ultimately, your surgeon will recommend the most appropriate hair restoration surgery after examining your scalp and asking what your goals are.
What is the cost of a NeoGraft hair transplant?
The cost of your procedure will primarily revolve around the amount of hair you need to be transplanted. Patients with more extensive hair loss may pay considerably more.
Prices can also vary depending on how established a hair clinic is or if they have highly experienced, in-demand surgeons on their surgical team.
Because it is a modern hair transplant technique, not every clinic may offer it. But generally, you can expect to pay between £4,000 to £15,000 for a procedure involving 1,000 to 2,000 hair follicles.
Most insurance providers including the NHS won't cover the price of non-essential cosmetic surgeries. However, some clinics offer competitive package deals and payment plans to help you fund your operation.
How long does recovery typically last?
Because NeoGraft is a minimally invasive procedure that uses advanced equipment, it promises a quicker recovery than FUT and FUE procedures.
According to the originators of the procedure, Venus Treatment, you can expect to recover after just one week. That said, your surgeon will explain specific aftercare instructions for you to follow and for how long.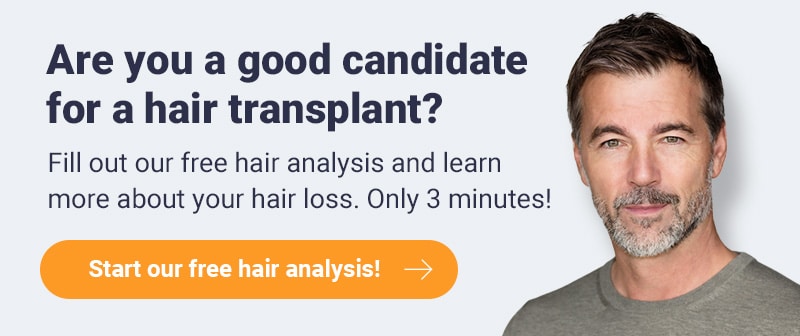 Is NeoGraft worth it?
NeoGraft is an advanced, modern, and effective way to restore your hairline and improve the condition of your thinning hair. It boasts a quick recovery and minimal scarring and can yield better results than older hair transplantation surgery options.
That said, Neograft hair transplants do have certain criteria to qualify. You need sufficient donor hairs on the back or sides of your head to qualify. Therefore, it is an unsuitable option for people suffering from extensive or total hair loss.
Finally, as with any hair restoration option, there are some side effects and potential risks that you must consider. You can reduce this possibility and maximize your results by visiting an experienced surgeon with an established reputation and taking proper care of implanted hair following surgery.
HairPalace relies on scholarly sources, including peer-reviewed articles, as well as publications of medical associations and academic & research institutions. We follow strict sourcing guidelines and avoid tertiary references. Read our editorial policy for further information on how we keep our content up-to-date and accurate.