Hair Transplant Turkey Cost – The Best Prices in 2022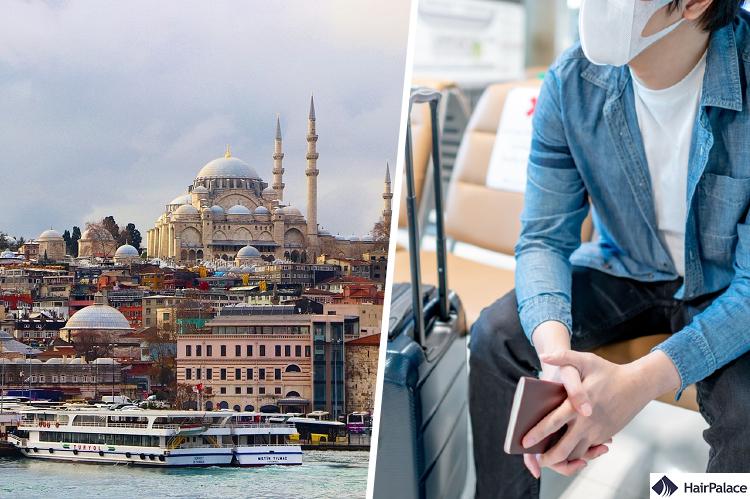 Hair transplant Turkey cost attracts over 35,000 men every year, and statistics show that more and more patients travel from European countries yearly to take advantage of these huge savings.
Turkey has become one of the world's go-to destinations for hair restoration and it's easy to see why.
A plethora of world-class clinics, together with some of the most experienced surgeons, ensures the highest standards of patient care are reached. And most importantly, excellent hair transplant results are achieved.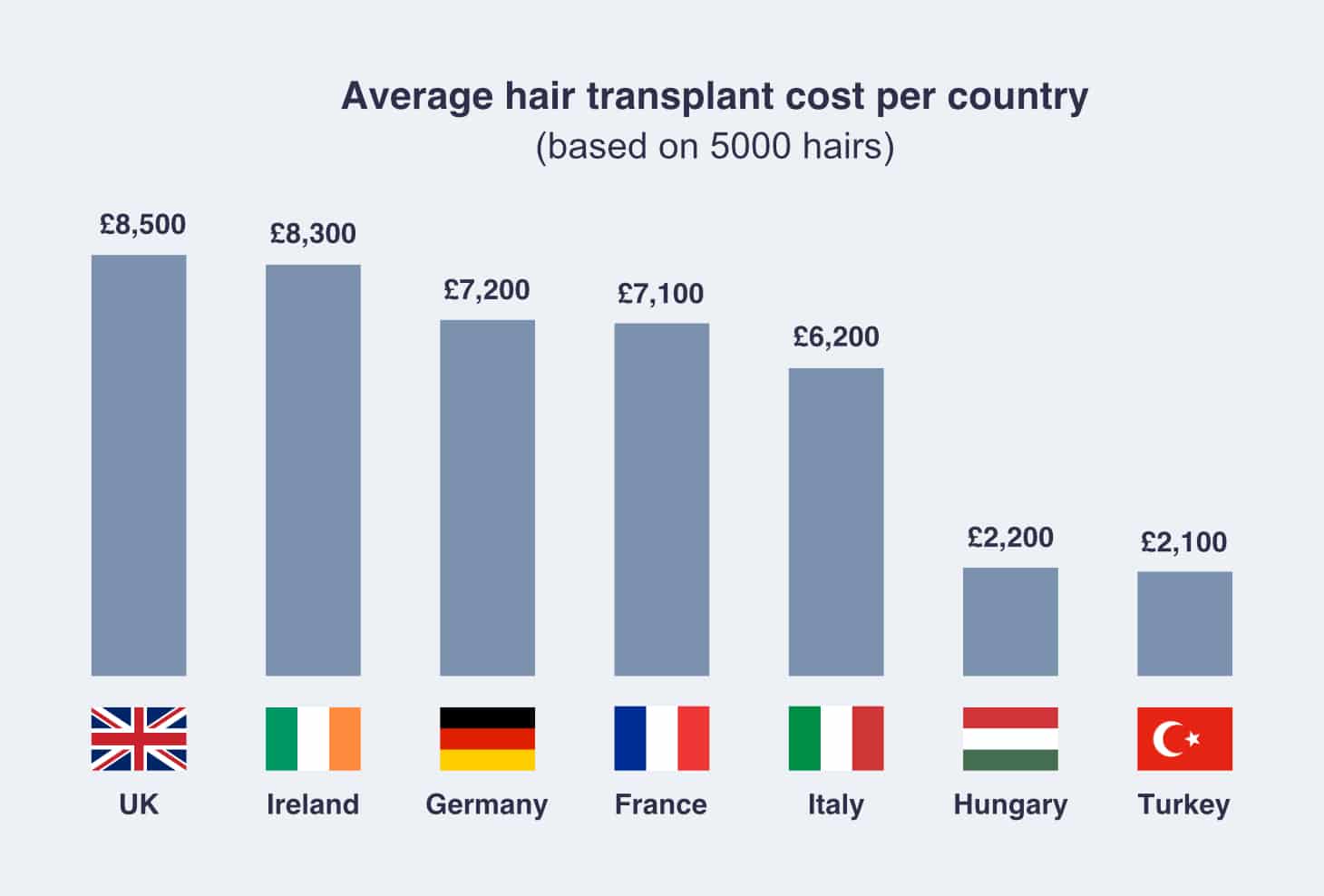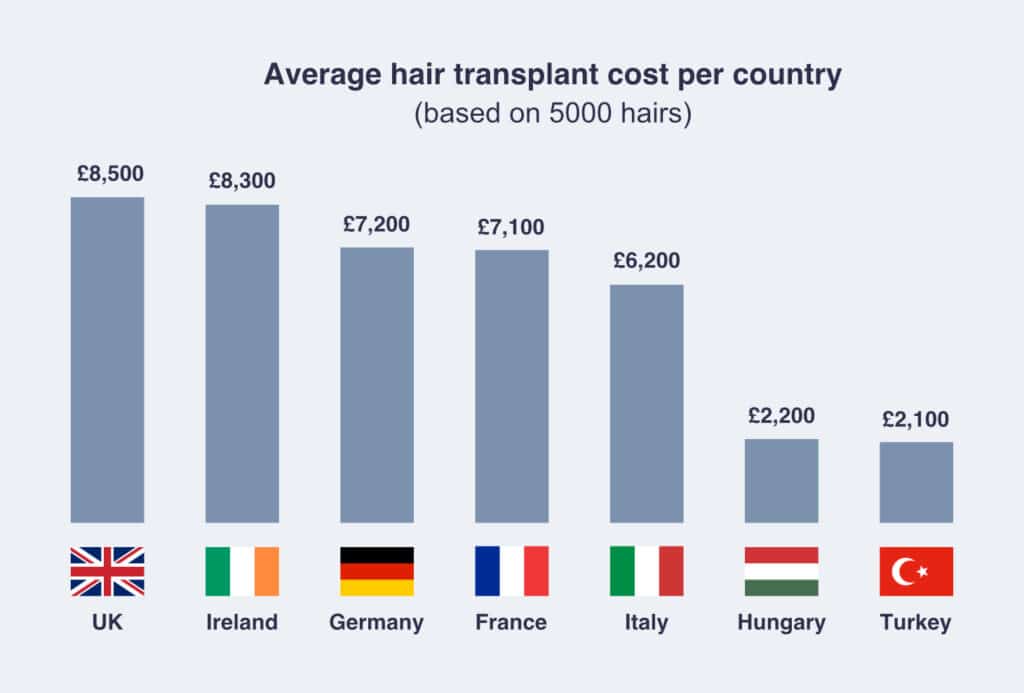 Turkish clinics often offer a range of all-inclusive hair transplant packages to deliver stellar results at an affordable cost. Packages usually include accommodation, hotel, airport transfers, medications, and follow-up visits. Many hair transplant clinics will also provide a free consultation, allowing ordinary men and women the opportunity to become informed about their options.
There are no hidden fees either – the price you are given is the price you will pay; nothing more, nothing less.
Altogether, Turkey is about one-third the price you would expect to pay for the same service in the United Kingdom or any other European country.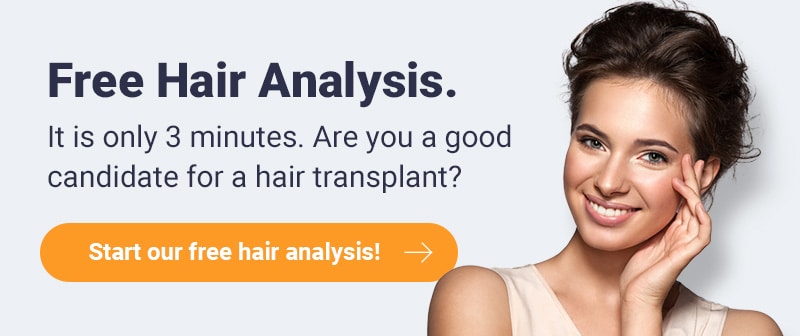 How much does a hair transplant cost in Turkey?
Let's get down to the figures. The average hair transplant cost in Turkey is around £2300 for an all-inclusive hair transplant package. Our research shows the minimum hair transplant cost is £1500, and the maximum is £5000.
How do these prices compare to other European countries?
For the same level of care, a hair transplant in the U.K. would cost approximately £7000. In Germany, hair transplant costs amount to £5,700, in Spain, £5,950, in Poland £5,300, and finally, in Hungary, hair transplant surgeries cost £2,500.
No wonder Turkey is ranked as one of the world's most affordable locations for hair transplant surgery, averaging nearly three times cheaper than competitors.
Hair transplant in Turkey cost calculator
Hair transplantation is available at affordable costs in Turkey, however, the prices do vary clinic by clinic. Check below what you can expect at the best clinics, depending on the amount of transplanted hair you need.
| Clinic name | Price |
| --- | --- |
| Vera Clinic | £ 1850 |
| Clinicana | £ 1850 |
| Smile Hair Clinic | £ 1890 |
| Dr. Serkan Aygin Clinic | £ 2100 |
| ClinMedica | £ 1850 |
| Top Clinic | £ 1700 |
| EsteNove | £ 2000 |
| ASMED Surgical Medical Center | £ 1990 |
| CosMedica | £ 1890 |
| DrT Clinic | £ 2000 |
| Clinic name | Price |
| --- | --- |
| Vera Clinic | £ 1990 |
| Clinicana | £ 1850 |
| Smile Hair Clinic | £ 1890 |
| Dr. Serkan Aygin Clinic | £ 2100 |
| ClinMedica | £ 1990 |
| Top Clinic | £ 1700 |
| EsteNove | £ 2250 |
| ASMED Surgical Medical Center | £ 1990 |
| CosMedica | £ 1890 |
| DrT Clinic | £ 2000 |
| Clinic name | Price |
| --- | --- |
| Vera Clinic | £ 2100 |
| Clinicana | £ 1850 |
| Smile Hair Clinic | £ 1890 |
| Dr. Serkan Aygin Clinic | £ 2100 |
| ClinMedica | £ 2100 |
| Top Clinic | £ 1700 |
| EsteNove | £ 2500 |
| ASMED Surgical Medical Center | £ 2250 |
| CosMedica | £ 1890 |
| DrT Clinic | £ 3000 |
| Clinic name | Price |
| --- | --- |
| Vera Clinic | £ 2350 |
| Clinicana | £ 1850 |
| Smile Hair Clinic | £ 2690 |
| Dr. Serkan Aygin Clinic | £ 2850 |
| ClinMedica | £ 2450 |
| Top Clinic | £ 2250 |
| EsteNove | £ 2750 |
| ASMED Surgical Medical Center | £ 2890 |
| CosMedica | £ 2690 |
| DrT Clinic | £ 4000 |
| Clinic name | Price |
| --- | --- |
| Vera Clinic | £ 2600 |
| Clinicana | £ 1850 |
| Smile Hair Clinic | £ 2690 |
| Dr. Serkan Aygin Clinic | £ 2850 |
| ClinMedica | £ 2800 |
| Top Clinic | £ 2250 |
| EsteNove | £ 3000 |
| ASMED Surgical Medical Center | £ 3450 |
| CosMedica | £ 2690 |
| DrT Clinic | £ 5000 |
| Clinic name | Price |
| --- | --- |
| Vera Clinic | £ 2850 |
| Clinicana | £ 1850 |
| Smile Hair Clinic | £ 2690 |
| Dr. Serkan Aygin Clinic | £ 2850 |
| ClinMedica | £ 2990 |
| Top Clinic | £ 2250 |
| EsteNove | £ 3250 |
| ASMED Surgical Medical Center | £ 3990 |
| CosMedica | £ 2690 |
| DrT Clinic | £ 6000 |
The prices are based on information provided by doctors, users or other portals. The actual prices can only be determined after a medical consultation, taking into account the physical requirements and individual wishes.
What does a hair transplant in Turkey cost include?
The most deciding factor on the cost of a hair transplant in Turkey will be the number of grafts or implanted hair and the procedure type. You will only know of this figure for sure during your consultation.
That said, it's common for many packages to include the following:
Airport and hotel transfers to the hair transplant clinic
Consultations with your hair transplant specialists
Medical checkups
Medication required
Aftercare services
Accommodation in a 4 or 5-star hotel
Translator
The benefit of these hair transplant packages is that everything is arranged for you before you even start your journey to Turkey.
Some factors that may increase the cost of your hair transplant procedures include the use of high-spec equipment, as well as possibly requiring additional staff if the surgery is large-scale and extensive.
No two packages are quite the same, so read the fine print before paying. Although Turkey has some of the lowest prices available, if a hair transplantation clinic charges a suspiciously low fee, you should thoroughly research their services, how long they have been open, and check previous customer reviews.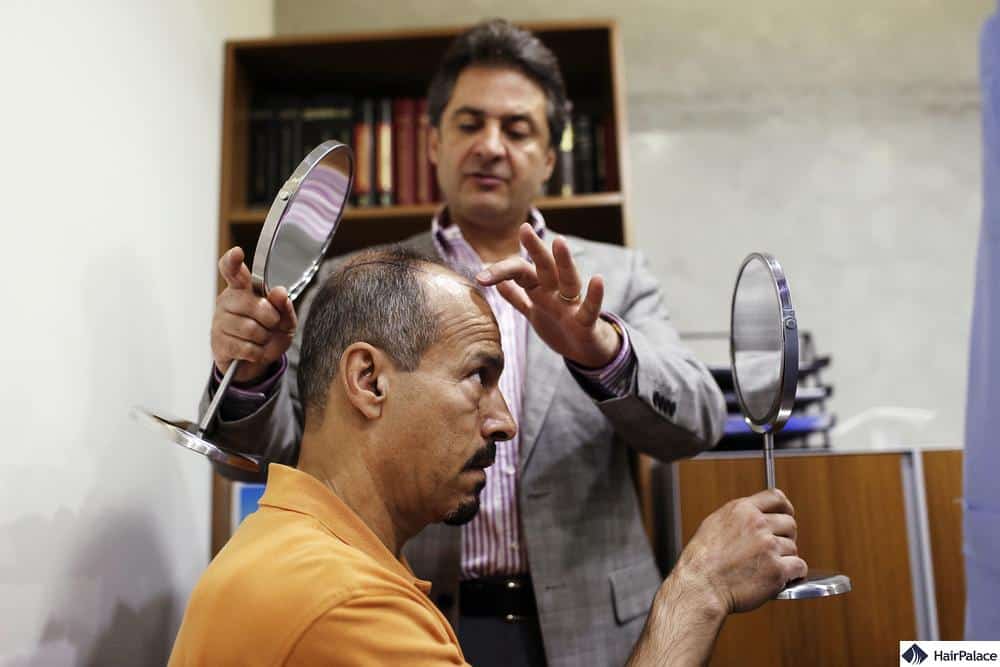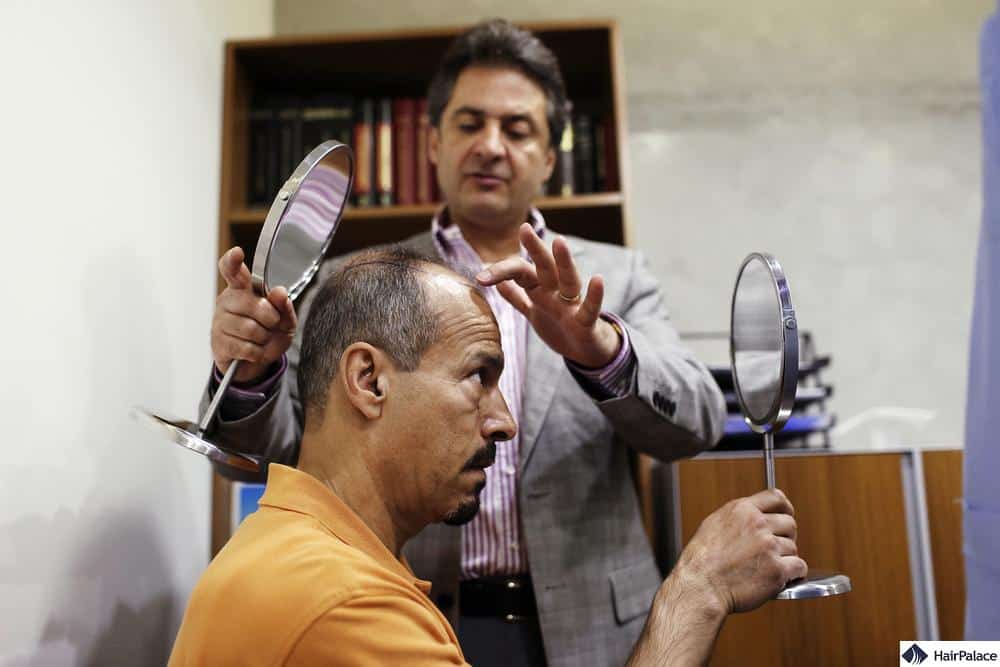 Other costs associated with a hair transplant in Turkey
Some packages may omit certain essential things. These can be additional expenses you should keep in mind when putting an overall cost to your hair transplant in Turkey. These include:
Cost of flights
Many places will arrange flights for you, the price of which will ultimately depend on where you are travelling; the average flight between London and Istanbul ranges between £200 and £500.
Blood tests
Sometimes you may need additional blood work carried out by your doctor before travelling. You may be reimbursed for these tests by your hair clinic or have to pay for them separately.
Medication
Your surgeon will always prescribe essential medication, but sometimes these are not included in the bill. Examples include a range of ointments, lotions, and anti-infection medication. Pain relief might also be extra.
Additional treatments
Sometimes, your doctor will recommend secondary procedures to help secure a natural hair look. These might include techniques like PRP therapy, vitamin supplements, or laser therapy that go in tandem with surgeries. And although they are non-invasive, they may be charged separately.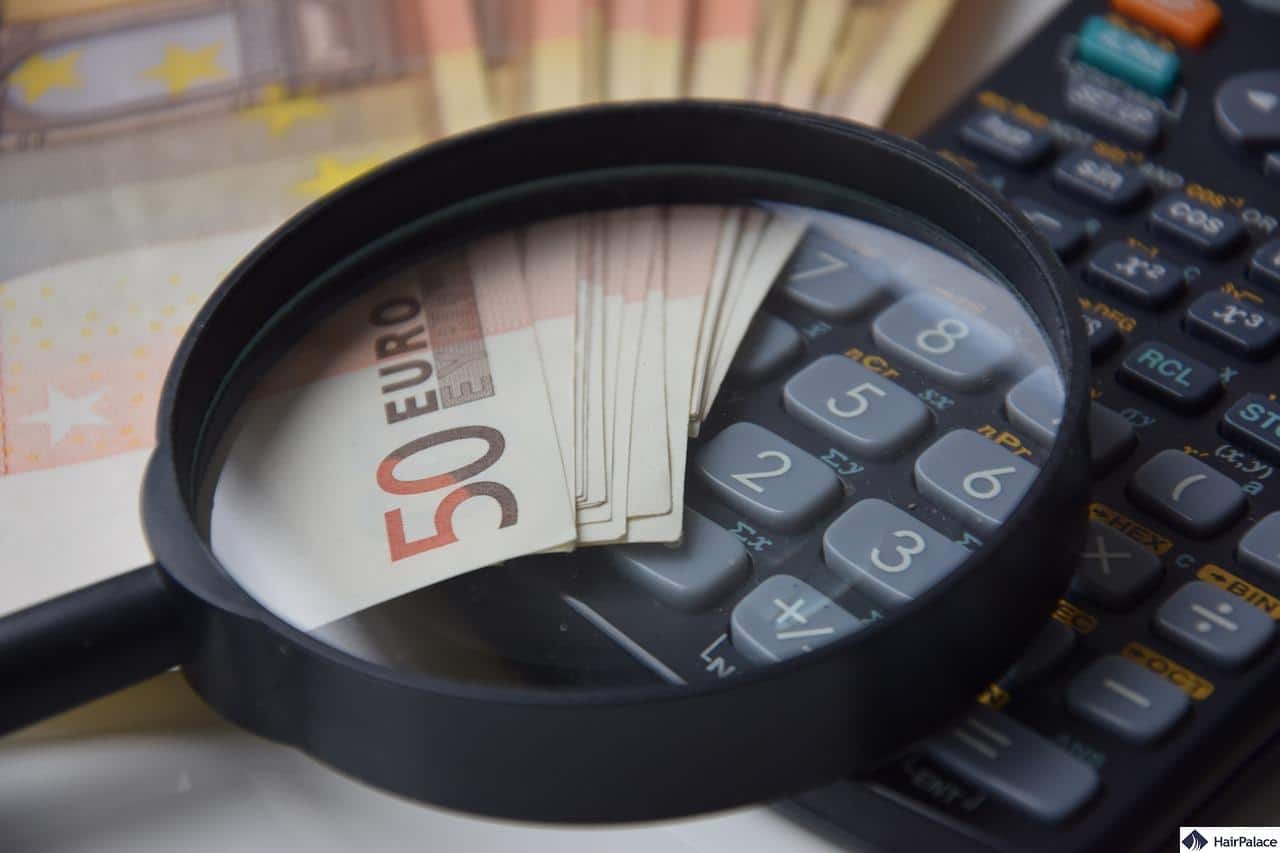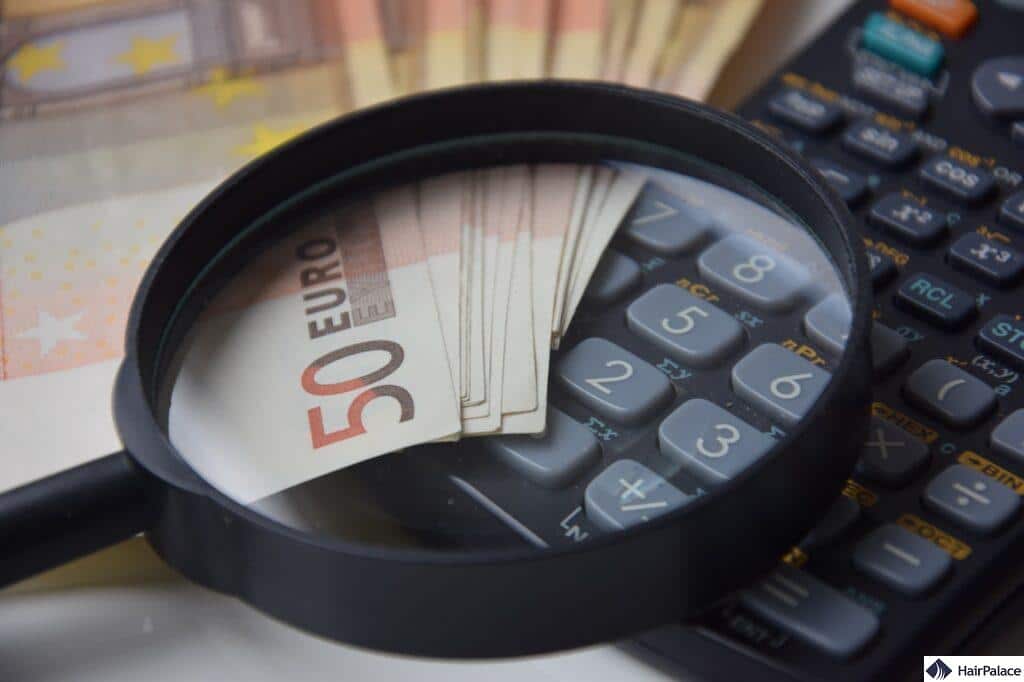 The main factors affecting the cost of a hair transplant in Turkey
Here are some factors which might impact the price of your hair transplant surgery in Turkey.
1. The number of grafts you need
The bigger the surgery, the more expensive it becomes. We often measure hair transplant surgery by the number of hair grafts or hair follicles harvested from a donor area and implanted into scalp tissue.
There will be a minimum cost to your procedure, no matter the size. Don't be alarmed – this is commonplace in many medical settings where staff and equipment must prepare, regardless of the size of the operation.
Minor procedures are usually performed under local anaesthetic and last about two hours. More extensive procedures involving 4000-5000 individual hair grafts will take approximately 4 to 6 hours.
2. The type of hair transplant procedure you choose
It's common for a hair transplant clinic in Turkey to offer several cutting-edge procedures to achieve the best results.
The most popular procedure is Follicular Unit Extraction, otherwise known as the FUE hair transplant. This technique is often the go-to choice because an FUE hair transplant is the least invasive surgery, promises a quick healing process, and leaves virtually undetectable scars.
Some clinics offer specialized FUE operations, including Sapphire FUE, which has sharper blades and helps treat more extensive areas of hair loss. This equipment is often more expensive and can increase your operation's price.
Follicular Unit Transplantation, often shortened to FUT, is another popular procedure for treating extensive balding, though it can leave scars. Hybrid treatments like DHI (Direct Hair Implantation) and FUSS are also very effective, though only available in select locations.
Ultimately, your surgeon will recommend the most appropriate surgery during your consultation and medical examination.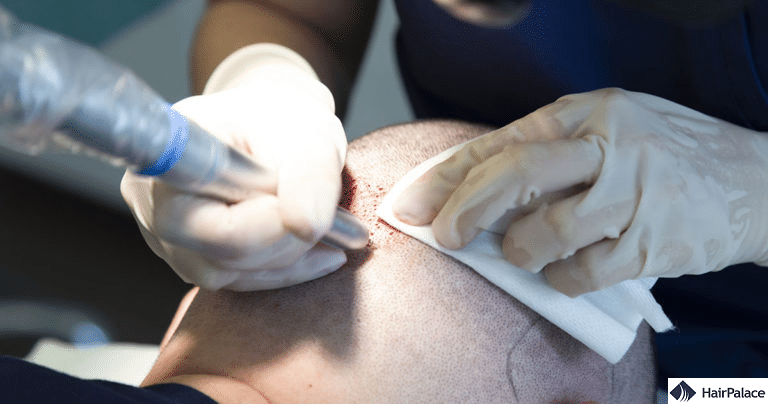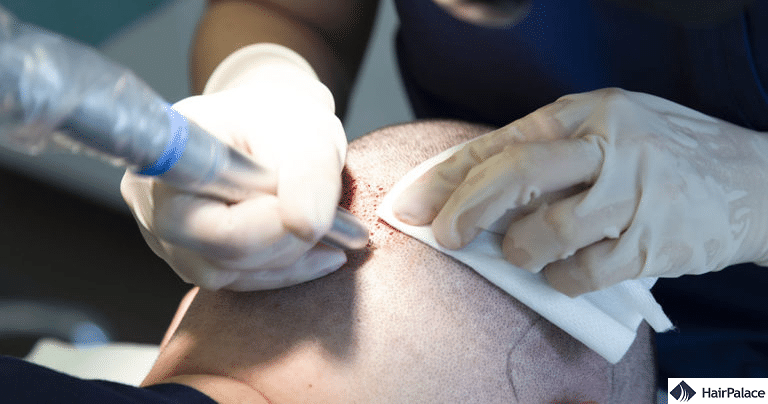 3. The hair transplant clinic and surgeon
Turkey is home to some of the world's best hair transplant surgeons. And as such, this expertise may increase your hair transplant cost somewhat.
Our advice is never to compromise on your hair transplantation surgeon. Although procedures like an FUE hair transplant are widespread, you need someone competent and skilled to get the best results.
We recommend opting for a surgeon with at least ten years of experience as the bare minimum. Your hair transplant journey deserves it!
4. Turkey's cost of living
Turkey's hair transplant prices are often some of the lowest around the world – and because we're talking about cosmetic surgery, you might be a little suspicious. Do lower prices equal lower standards of care? Are hair transplantation services affected?
Let us put your mind at rest. Turkey has a low cost of living, which is one of the main reasons hair transplantation operations are often very affordable. Low wages and low rents mean you can get a high standard of care for your treatment quite easily.
And because hair transplant clinics in Istanbul want more overseas patients to visit them, they want to create irresistible low-cost deals.
How many grafts do they transplant in Turkey on average?
While every patient is unique, industry statistics show that the most common number of hair grafts transplanted to treat a balding area is up to 4,000 follicular units.
The average price of this size procedure is £2500; this equates to an average price of £0.62 per hair graft in Turkey.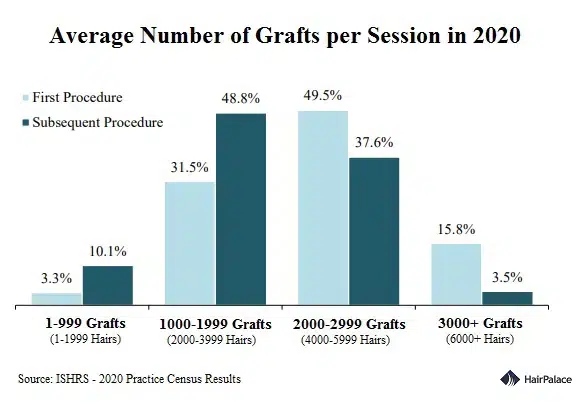 How many grafts will you need?
Every patient is unique, and you will only know for sure how many hair grafts you will need during your consultation. That said, factors that can influence this include:
the size of the recipient area
the natural appearance, density, and texture of your hair
the current density of the recipient area
In general, we can divide the top of the scalp into 6 zones that often require hair loss treatments. Sometimes a hair transplant will cover multiple zones in one procedure. Our helpful diagram below shows the average number of grafts needed for each area.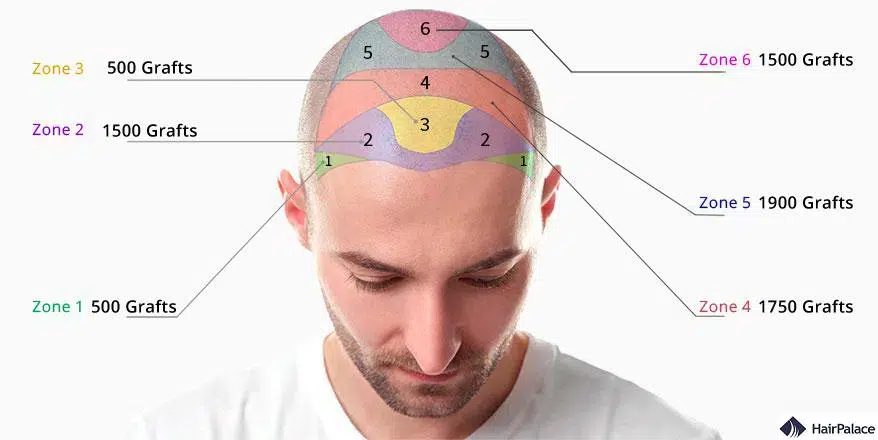 Turkey hair transplant cost: Comparison of FUT, DHI, and FUE hair transplants
Choosing the procedure or technique you will undergo is a big decision. While Follicular Unit Extraction is often the most popular, you must work within your budget to see if you can afford this hair transplant technique.
Below we've compared the average cost of hair transplants, using the most popular methods as a baseline:
| Type of the treatment | U.K. | Turkey |
| --- | --- | --- |
| FUE hair transplant | £7,600 – £11,000 | £1,600 – £2,700 |
| DHI hair transplant | £11,600 – £14,000 | £4,000 – £5,000 |
| Manual FUE hair transplant | £15,750 – £30,000 | £4,500 – £6,000 |
| Sapphire FUE hair transplant | £14,000 – £20,750 | £3,500 – £5,000 |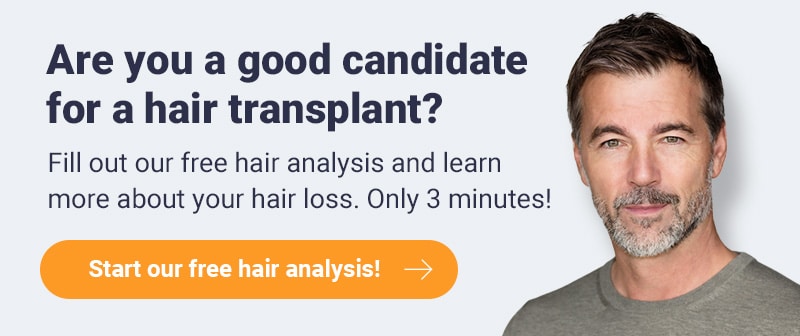 Why is hair restoration so cheap in Turkey?
Over 35,000 people travel to Turkey for hair transplant operations, primarily because of the high standards of care at an affordable base price.
Statistics from the ISHRS show that only 7% of patients were willing to travel to other countries for treatment years ago.
Nowadays, that number has grown significantly to 13.4% and continues to rise as more hair transplant clinics offer even more inclusive packages.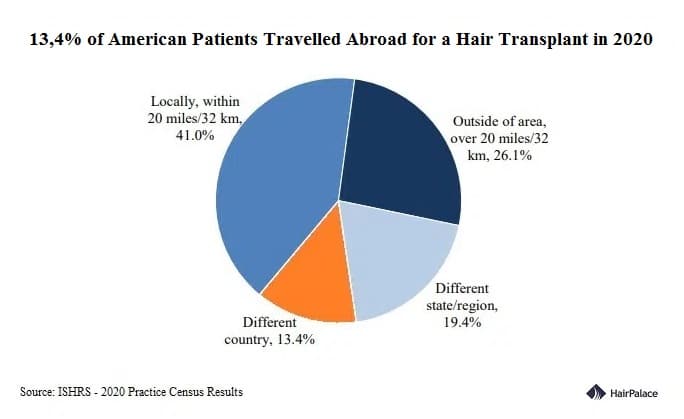 Does low-cost hair transplantation mean low quality?
Hair transplant operations in Turkey are some of the most competitive in price worldwide, and many patients become suspicious that there must be some catch.
Does a low hair transplant price mean you'll receive subpar care? The short answer is no – it doesn't.
The best hair transplant clinics have strict regulations to ensure the highest possible level of patient care. The Turkish Health Ministry must accredit each and routinely visit facilities to ensure they comply with industry regulations.
But why is the price so low? Well, this is down to two main reasons. Turkey has a lower living standard, so services are often cheaper. The country also has a weaker currency, the Turkish Lira, meaning foreign patients' money will be worth much more during an exchange.
Turkey: a leader in medical tourism
Another reason why Turkey is so cheap is because of increased competition across all cosmetic surgeries.
More and more clinics are opening in the country, offering several cosmetic enhancements and procedures, including dental treatments, eye surgery, and hair transplants.
Turkey's reputation in medical tourism is impeccable and always on the rise as overseas patients experience the best medical care.
It stands to reason that patients interested in other operations will often revisit Turkey to avail of the low-cost treatment. And with more clinics in competition with one another, this often leads to lower prices across the market.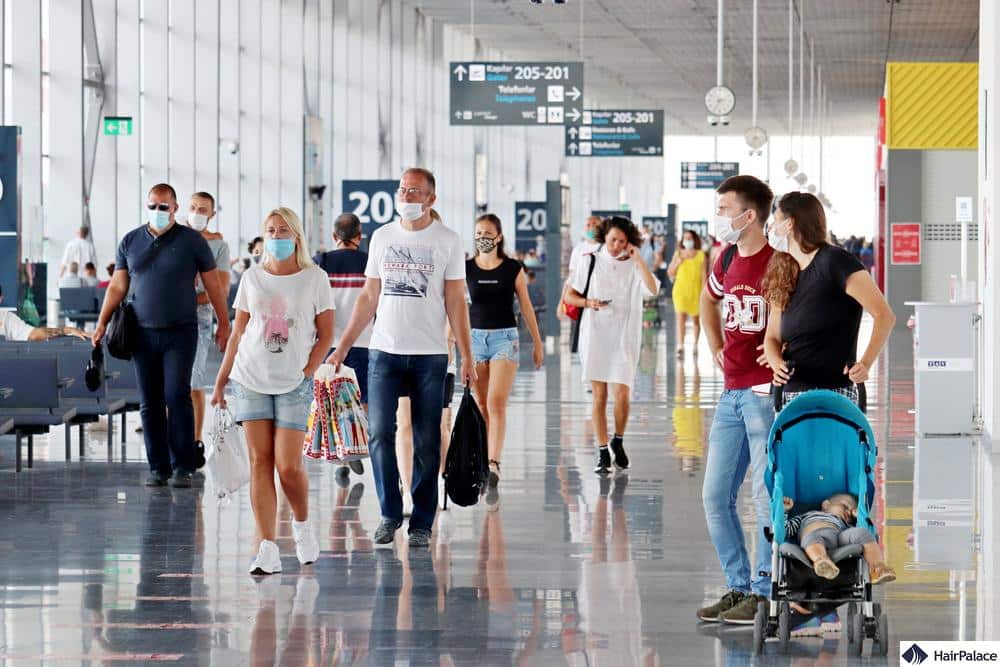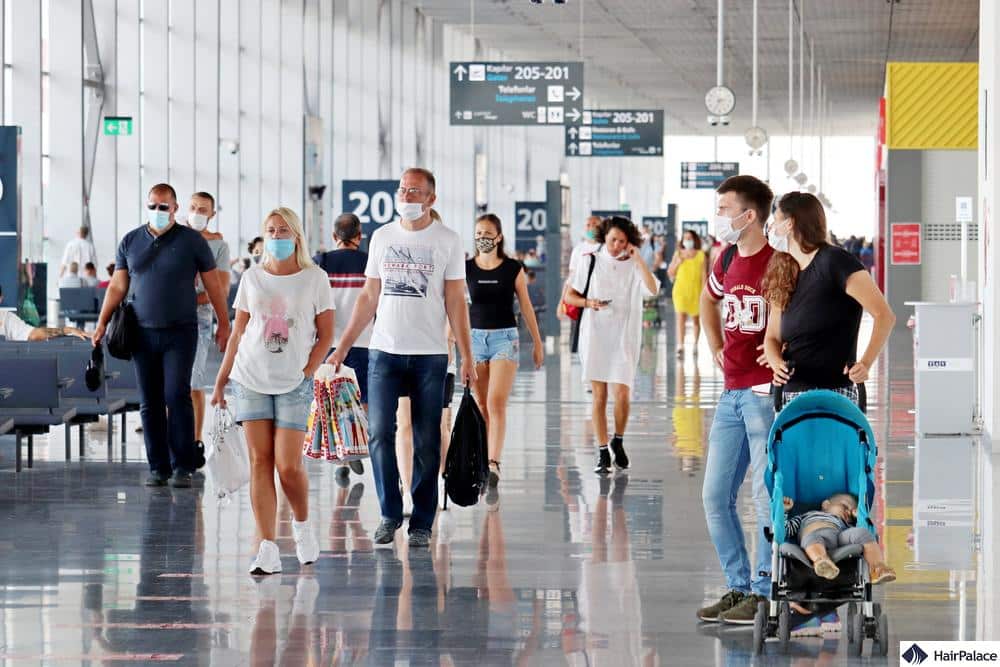 Is it safe to get a hair transplant in Turkey?
Turkey is one of the safest places to get a hair transplant operation. It is a well-regulated industry that promises to provide the latest and greatest in hair transplantation techniques.
Turkish hair restoration clinics have exceptional medical teams with years of international experience. They offer the latest technologies and procedures in the industry. Surgeons are always booked up, completing more complex surgeries daily. And with each surgery completed, their skill level rises.
Moreover, patient care is at the forefront of every hair transplant procedure.
You will be treated exceptionally well before, during, and in the months following your hair transplant.
No matter your stage of hair loss or what technique you ultimately decide, you're guaranteed to be treated safely in Turkey.
Hair transplant Turkey cost vs around the world
With exceptional staff and various treatments available, it's easy to see why Turkey is one of the world's prime destinations for cosmetic surgeries like hair transplants.
That said, most of the materials used in Turkish procedures are imported. Hair transplant costs can be influenced heavily by inflation and currency exchange rates.
Your existing hair quality, current hair loss, and the number of healthy hair follicles needed for restoration will always impact price, regardless of where you go. The more extensive your hair loss, the higher the price.
Your procedure choice will also impact the price, regardless of location. Opting for specialized procedures can cost you more. The two most popular techniques, Follicular unit extraction, and Follicular unit transplant are often the most reasonably priced.
HairPalace relies on scholarly sources, including peer-reviewed articles, as well as publications of medical associations and academic & research institutions. We follow strict sourcing guidelines and avoid tertiary references. Read our editorial policy for further information on how we keep our content up-to-date and accurate.