Hair Transplant in Belfast: Costs and Services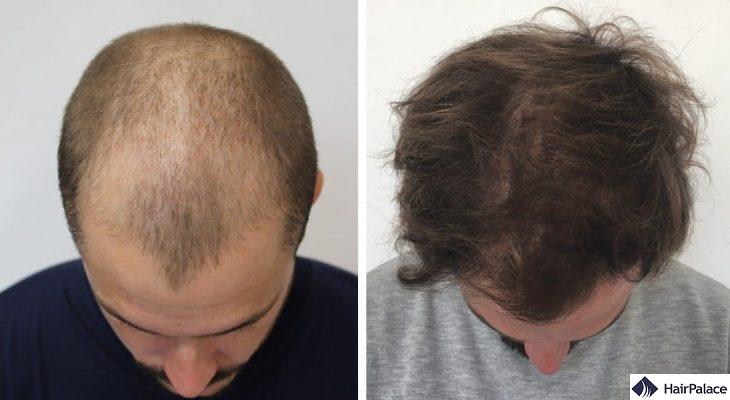 How much is a hair transplant in Belfast?
Several factors will affect the total cost of the hair transplant in Belfast too, many of them are unique to each patient.
One of the most important is how many hairs you will need to be transplanted – the larger the area you would like to address and the more hairs you need the higher the price you can expect.
Hair clinics in Belfast and across the UK typically charge £2-4 per hair, leading to prices between £3000 and £15000 per surgery.
With us, you can get your FUE hair transplant surgery done in London, Paris, or in Budapest. 
The clinics are held to the same standards, and our teams follow identical protocols to ensure that our patients receive the same high level of service and care at every clinic. 
In London, our prices range between  £1989 to £9042.
However, economic differences allow us to offer the same quality and treatment in Budapest for more affordable prices. 
In our flagship hair clinic in Budapest, the FUE2 hair transplants cost between £1390 to £2190, depending on the number of hairs you need.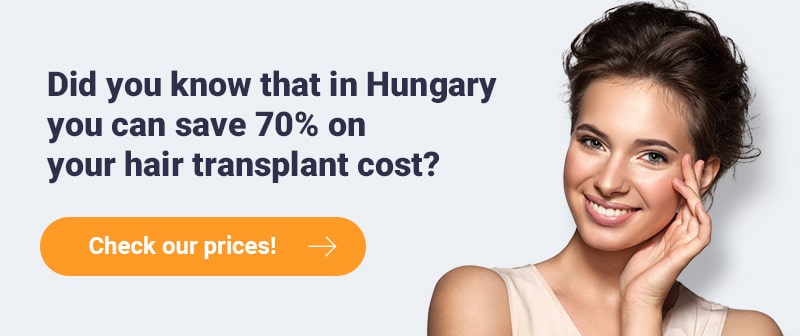 Visit us for a free hair transplant consultation
Before you undergo an FUE hair transplant in Belfast or anywhere else, you will need to be properly examined by a hair transplant specialist.
It is not only needed to ensure that the procedure is safe to be carried out in your case, but also to find the best way to achieve the result you are looking for.
To assess the extent of your hair loss, and the quality of your donor area, we would like to invite you to a free hair transplant consultation.
Appointments take 20 minutes and are carried out by one of our surgeons.
During your one-on-one consultation, the doctor will examine your condition with a professional hair density and scalp camera. Then we will discuss your expectations and options with the surgical hair restoration.
We will also go through your medical history and take all possible medications and conditions into account to ensure the safety of the procedure.
After the examination you will receive a tailored treatment plan and quote, so you can make a well-informed decision about your procedure.
For reservation and further information, please contact us on +44 20 7131 0229!

HairPalace Hair Clinic Belfast:
Arnott House
12-16 Bridge Street, Belfast
BT1 1LU
United Kingdom
Phone: +44 20 7131 0229
Which hair transplant method do we recommend?
At our hair clinics, we use the FUE2 SafeSystem method exclusively.
The grafts are extracted one by one from the back of the head, and after being properly prepared, they are implanted to the thinned out parts of the scalp.
This state of the art technology features a blunt micro punch that ensures that the grafts remain unharmed during the extraction. As we can transplant healthier grafts, the regrowth is much better than with earlier methods such as the FUT and FUE.
Why do we recommend the FUE2?
It's a minimally invasive hair restoration procedure

Doesn't leave visible scars

The surgery doesn't hurt

The success rate is exceptional, with up to 90-95% of the implants growing out

It offers a short recovery period
Our hair transplant specialists in Belfast
Without our trained and experienced specialists, we wouldn't be able to achieve outstanding results. Our 6 surgeons are highly skilled and have 5-10 years of experience in FUE hair transplants.
They are dedicated to our patients and are available to give you top-tier advice about your hair transplant in Belfast.
Why choose HairPalace?
Finding the best hair transplant in Belfast is not easy.
At HairPalace we are dedicated to providing patient-focused, customized care and excellent service all-around.
What can you expect from us?
Experienced hair transplant surgeons

Our highly qualified, skilled and knowledgeable professionals are committed to helping you restore your thinning hair from the examination to your last check-up.

Natural-looking hair transplant result

While the FUE2 method enables us to achieve up to 90-95% regrowth and great density, we always tailor the procedure and apply a customized approach to achieve the result you are looking for.

Written guarantee

Our hair transplant surgeries come with a written guarantee. If less than 80% of the implants grow back, we reimplant the missing amount.

No visible scars

The FUE2 is minimally invasive, it uses a blunt micro punch to extract the hairs. As a result, it doesn't leave visible scars leaving you the option to go for shorter hairstyles later on.

Post-op care

Your treatment at our clinics will be complete with regular check-ups. In addition, your surgeon and coordinator will be available if you have any questions along the way.

Affordable price

We offer comprehensive treatment plans customized to your unique needs. At our clinics, high-quality hair transplants are available at affordable prices.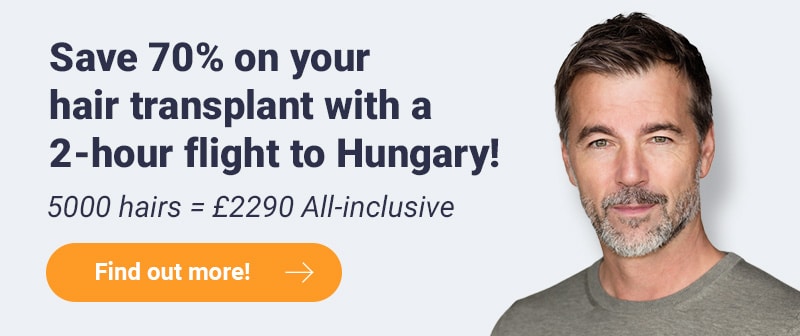 Belfast hair transplant reviews
We are proud that the majority of our patients find us through recommendation. We would be happy to help you solve your hair loss problem too and give you all information about the treatment.
But we believe that previous patients can tell you best how it feels to undergo the procedure.
So please feel free to browse our reviews to find out what you can expect by choosing HairPalace!
I'm sure like many before me, i thought about this and whether I should go to hairpalace or not… worry about the flight, the foreign country and the worry that they would do a good job. Im so glad I chose them. I can honestly say they were so professional, organised and lovely people. Clinic was excellent and doctor, interpreter, assistants and everybody were brilliant. Everything explained and organised. It's obviously too early to see the final the result…I'll have to wait for that and I'll feedback on here but I'm very pleased with the initial result. I can't recommend them enough!
   JP | Oct 9 2020
Very professional service from start to finish. Team was excellent at explaining every step of the process and would happily answer all questions. Highly recommended!
   R, Belfast | Nov 21 2017