Hair transplant in Paris: Costs and Services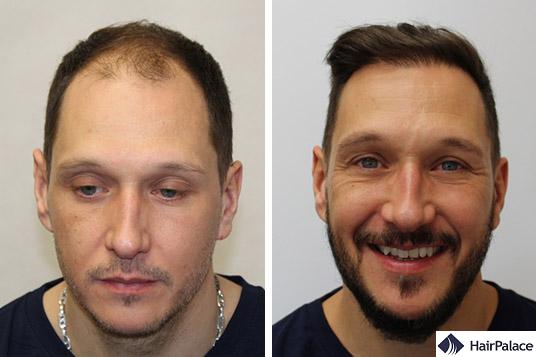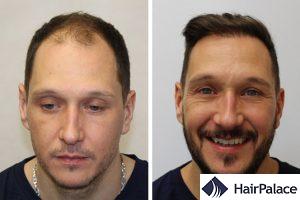 Jessy from Paris
Number of hair transplants: 1
Total number of implanted hairs: 5174 hairs
Jessy had lost most of his hair in the front gradually over the years. We have built out a dense and natural-looking hairline he was happy to see in the mirror!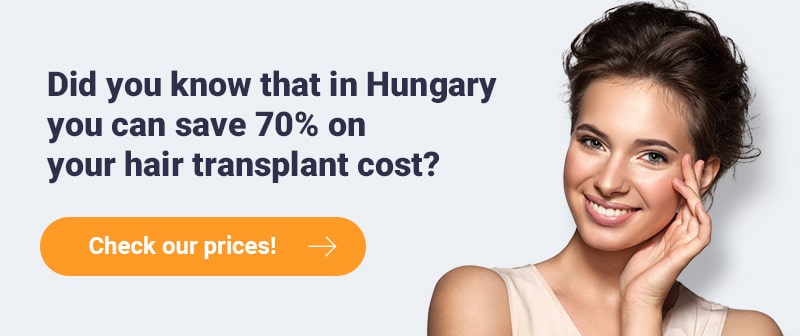 Visit our hair transplant clinic in Paris
A hair transplant in Paris can offer an ideal solution whether you are looking to correct your hairline or to fill a bald spot on your crown with lasting results.
HairPalace has a hair clinic in Paris, London, and Budapest, where we offer comprehensive FUE hair transplant procedures. As a result,  we can guide you through the whole hair transplant in Paris: from the examination, through the actual surgery, to your last check-up.
In addition, the clinic of your choice will not affect the quality you get. You will find the same high standards and procedures at each of our clinics and offices.
However, due to economic differences, the prices do differ.
HairPalace Hair Clinic Paris:
Place Vendôme 10
Place Vendôme 75001
Paris, France
Phone: +44 20 7131 0229
How much is a hair transplant in Paris?
The main factors defining the hair transplant cost are the number of hairs you need and the hair transplant method. 
Yet, you will find that it is not irrelevant where your clinic is located.  Clinics must consider high running costs and salaries to pay, which drives Paris hair transplant prices high. At HairPalace, we offer comprehensive treatment packages. With us, having your FUE hair transplant in Paris would cost you between 2189€ and 8890€. Luckily, there are considerable economic differences between France and Hungary, allowing us to offer an alternative if you are looking for affordable prices without compromising the quality.
Thanks to these differences, running a private aesthetic clinic and meeting the same standards quality-, equipment- and labour-wise, is much cheaper. 
As a result, at our hair clinic in Budapest, our treatment packages are available between 1590€ and 2490€.
Meet us for a free consultation in Paris
To find out the specific details, and the cost of a hair transplant in Paris, you need a thorough examination.
We offer one-on-one consultation with our experts at our Paris hair clinic, and in multiple locations across France. First, we examine you with a digital hair density and scalp camera to properly assess your condition and needs.
Then, we will discuss the hair restoration procedure in-depth, and provide you with tailored advice. We will also make you a treatment plan and quote fitting your needs, so you can make a well-informed decision about your surgery. The consultation takes about 20 minutes, and it is free of charge.
Whenever you are ready, feel free to contact us on  +44 20 7131 0229 to book a suitable appointment!
Our hair transplant experts in Paris
The success of hair transplant surgery depends greatly on the doctors' skill and care.
At HairPalace, we work with 6 highly trained and experienced surgeons, who are experts of FUE hair transplants. They are committed to providing you with tailored advice and the best hair transplant result in Paris, London, and Budapest!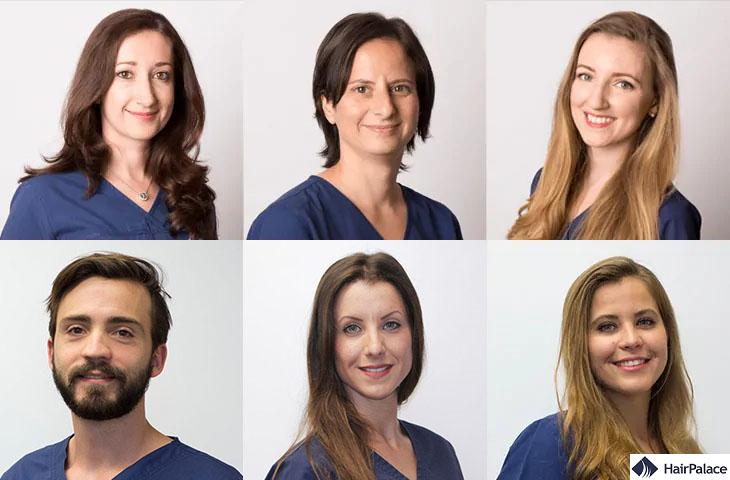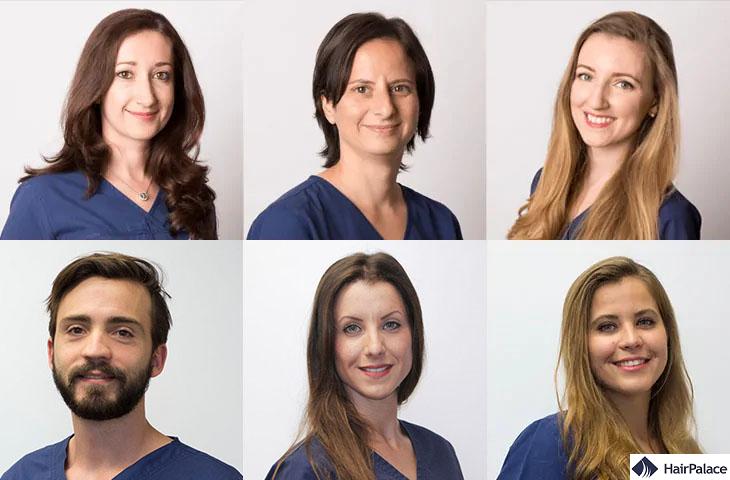 Why choose us?
The result of the hair transplant is permanent, so choosing your clinic and doctor can be stressful. Whether you decide for our hair clinic in Paris, or in Budapest, our team will guide you to find the best solution to restore your hair.
What can you expect from HairPalace?
Experienced doctors

Our surgeons have 5-10 years of experience in hair restoration procedures.  Together with our team, they are dedicated to providing you with a tailored solution to achieve the best hair transplant results.

Natural hair transplant results

With the FUE2 hair transplant method up to 90-95% of the transplanted hairs grow back. This helps us to achieve natural and dense results.

Written guarantee

As our skilled experts work with an effective hair transplant method, we provide a written guarantee on your hair transplant. If less than 80% of the transplanted hairs grow out, we reimplant the missing amount free of charge.

No visible scars

The FUE2 technique extracts the grafts one by one with a micro punch. As a result, the procedure leaves no visible scars on the scalp.

Postoperative care

Proper aftercare is crucial for great hair transplant results. We will follow the healing process to ensure that everything goes well. The check-ups can be carried out online, or you can visit our hair clinic in Paris or our other locations.

Excellent price

We offer competitive hair transplant prices in Paris and in Budapest. In addition, with our comprehensive treatment packages, you don't have to worry about hidden charges.
Which hair transplant method do we use?
At HairPalace clinic, we work with the most modern FUE2 SafeSystem method. With this technique, the grafts are transplanted one by one from the donor area to the recipient zones.
Thanks to its blunt drill-head, it makes the hair transplant surgery minimally invasive and reduces the risk of damaging the grafts during the extraction.
Our experts prefer the FUE2 technique because of the benefits it offers for patients:
no visible scars

no pain during the surgery

success rates can be up to 90-95%

short recovery time

minimally invasive

effective in preserving the donor area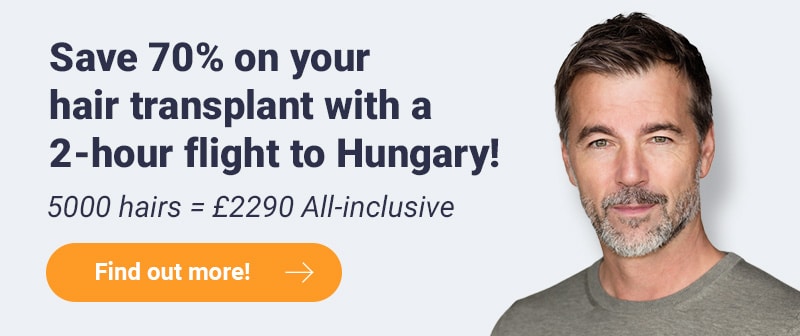 Are you looking for a hair transplant clinic close to you?
Besides having your hair transplant in Paris at one of the clinics above, you have several more options across the country and abroad:
Paris hair transplant reviews
At HairPalace, we are committed to delivering industry-leading quality, and offer tailored solutions for your hair loss. We are proud that the majority of our clients find us through recommendations. Over the years, we have received hundreds of reviews and testimonials from our patients.
With these in-depth, first-hand accounts on public platforms, such as Trustpilot, Google and Facebook, you can get the inside story from patients who were in your shoes. Take a look at some of our hair transplant reviews in Paris!
I went to hair palace last January after hearing great reviews from people who had positive experiences there and great results. My experience was no different. There were professionals and we'll organise and very nice people !!. I had great results from transplant and that's why I went back there for my second one. Very happy and I would definitely recommend !!
   MR A CODRINGTON | Mar 5, 2020
I'm a 53 old male, living in Paris (but I'm not French!) and I started to lose my hair around the crown from 40 years on. The area of baldness is approximately 7cm in diameter, the hair around is normal. I started investigating options with my dermatologist and checked out clinics in Paris. Shocked by the prices I went on the internet and found Hairpalace. The reviews were very encouraging so I contacted them. …
I'm not an expert but the clinic looks state of the art, very clean and goes over 2 floors with several ops rooms. The team is young as the pictures suggest on their website. We completed the admin stuff, selected my lunch from 4 different restaurant menus, I handed over the cash, got my hair cut to 1mm and the surgery started around 9:00 am with a team of 2 doctors and 2 nurses. The morning session was to collect the hair from the donor area. The procedure was practically painless. I had lunch around 11:30 and we continued the transplant 30 min after. We were done by 3:00 pm and I went back to the apartment. Binge watching Netflix and a quite normal sleep after I went back to Paris. I'm writing this on day 3 after the surgery, no problems experienced, results are as expected and described by the doctors and I will update this post over the next weeks. So far, they deserve the 5 stars ….
Update 1 week post operation: No issues so far, the crust is starting to fall off. 2 smaller side effects: If you follow the procedure and you soak your hair under the shower to get the crust off then the skin on scalp gets very dry. Second, the donor area feels sometime a bit numb but that feeling comes and goes. Will monitor and update this post in 2 weeks again. update Nov 2019: All great, really happy with the quality of the intervention
  Thomas K | Updated Nov 24, 2019