Beard Roller: How to use for beard growth and care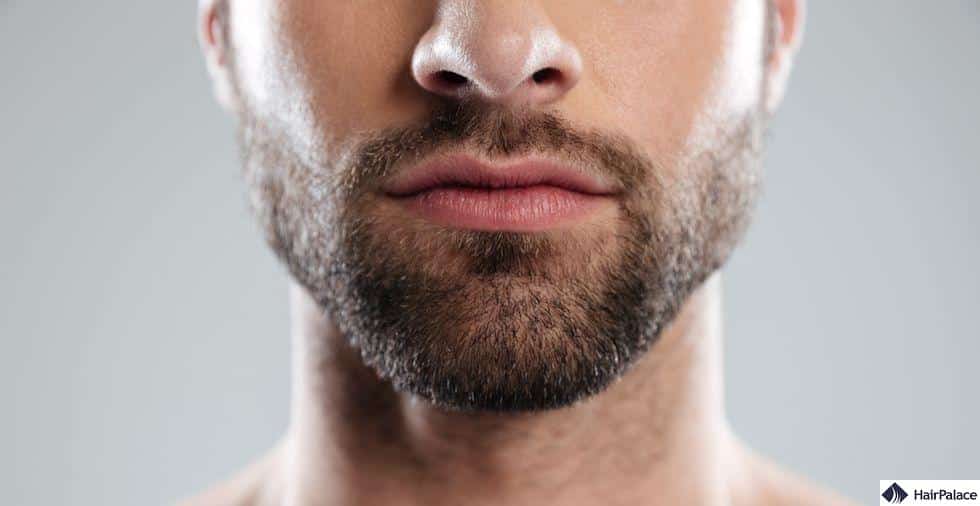 Do you have a patchy beard? Is your facial hair looking worse than ever? And despite all the topical treatments you've used, you can't seem to notice any new hair growth. Derma rolling might just be the solution you've been looking for.
Derma rollers are small, handheld devices used to trigger your body's healing factors, in turn stimulating hair growth, improving texture, and increasing hair quality.
While often a popular device to use on the scalp on the scalp, many men use specially designed rollers to work for beard growth and facial hair.
These beard rollers can effectively treat delicate regions around your face, including your chin, neck, and sideburns.
But like any cosmetic treatment, there are some things you must be aware of before using beard rollers. And we're here to help.
This article will explore everything you need to know about beard rollers. We'll explain how the process works, how often you should practice it, and recommend five of the best devices to invest in.
We'll also share before and after pictures to give you a clear idea of what results you should expect from this treatment.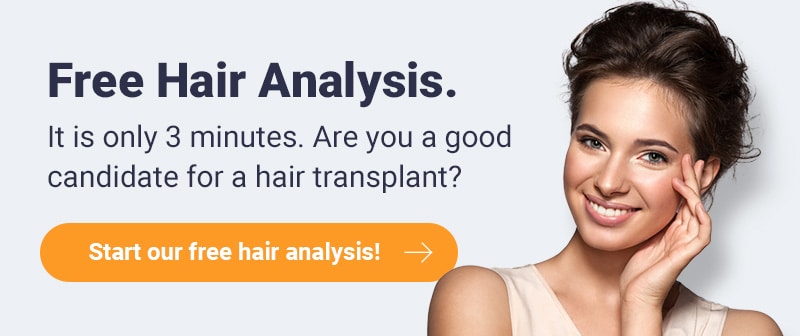 How does a beard roller help beard growth
Derma rollers can stimulate beard hair growth and are fast becoming a popular treatment for men wanting a thick, fuller, and healthier-looking beard.
So how do rollers work for beard growth?
A derma roller is a cylindrical-shaped roller that has many tiny needles covering its surface. When gently dragged, these needles puncture the skin beneath to stimulate your body's natural healing factor, creating the perfect conditions to grow a full beard.
These "wounds" that appear trigger collagen and keratin production in your skin, two necessary building blocks for healthy beard growth.
It can also promote better blood circulation, ensuring your facial hair receives all the care and nourishment they need to reach their potential.
Though still relatively new, beard rollers have been found to increase growth in the facial area, with one study claiming an overall thickness of up to 20% can be achieved through consistent use. Additionally, that same study suggests the practice can reduce the number of ingrown hairs.
Besides the promising results, beard rolling is quite easy to perform independently. Devices can also be very affordable, especially against other treatment options.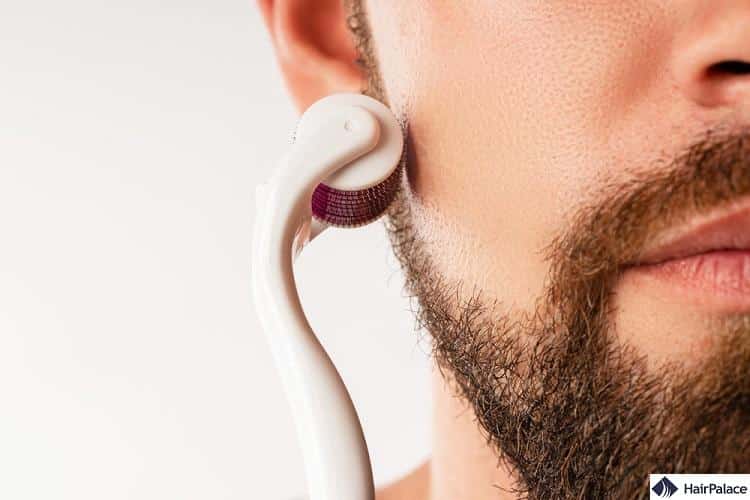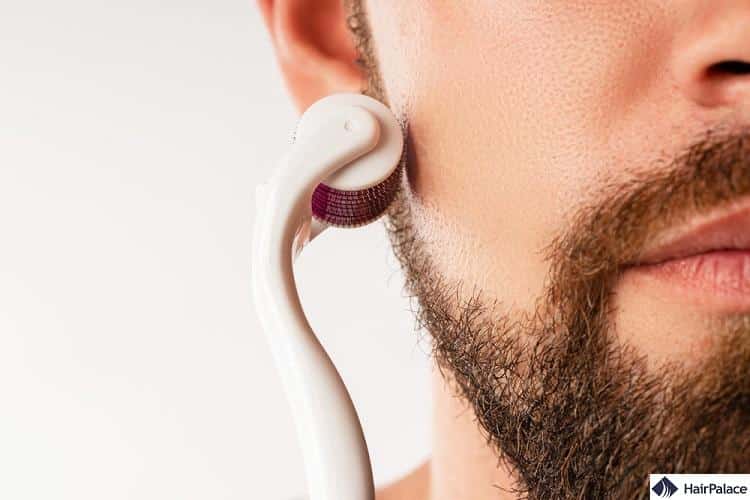 The role of blood circulation in hair growth
The importance of good blood flow and circulation for hair growth cannot be understated. It is an essential part of growing new hair and sustaining your current strands
That's because hair follicles will demand a variety of nutrients and oxygen to grow. When your scalp tissue is not supplied with this, hair will become weaker and shed earlier than expected.
Poor blood circulation around the scalp can be a key culprit to developing hair loss conditions, including hair thinning and baldness. It can also lead to a build-up of toxins around your scalp, which further inhibit growth potential.
As well as beard rolling, there are many easy ways to ensure your scalp and surrounding areas have good circulation.
Scalp massages, for example, can help reduce inflammation and promote a nutrient-rich blood flow. Apply pressure to your skin with your fingertips, and move in a circular motion for about five minutes each time.
Other proven ways to improve blood circulation include eating a healthy diet and exercising regularly. Quitting smoking and taking appropriate supplements recommended by your doctor can also have an enormous impact.
What is the role of collagen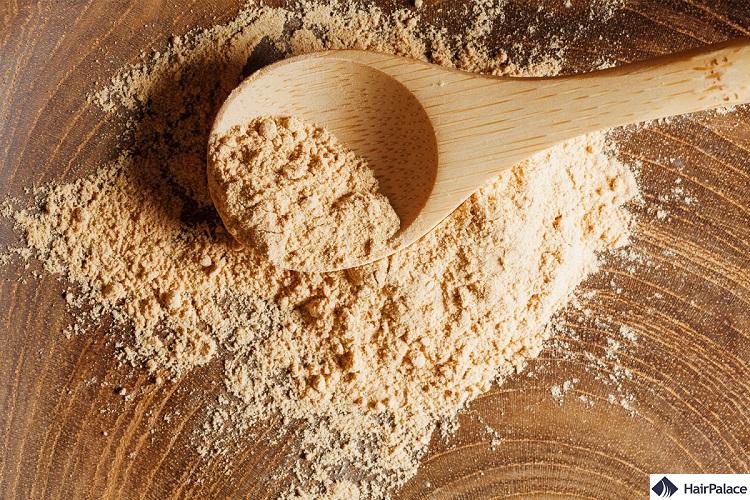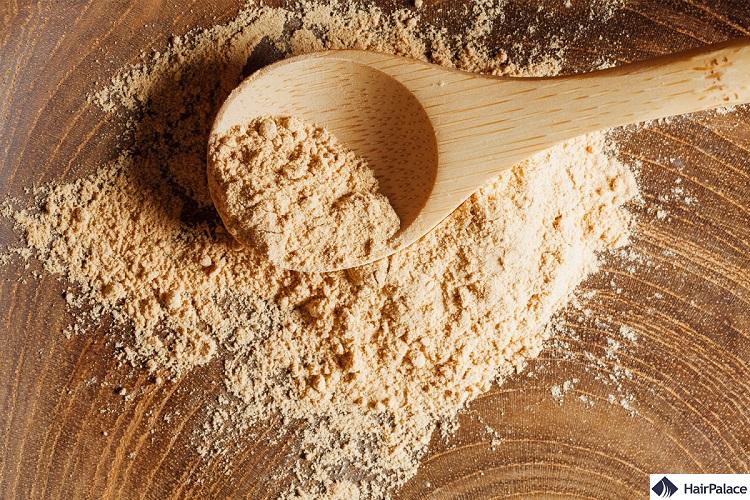 Collagen is one of the essential proteins needed for healthy hair growth, including around your facial area. It offers structural support to hair follicles, and provides elasticity to the shaft, ensuring it remains strong, sturdy, and anchored.
The protein is known to keep your scalp tissue moisturized, which helps keep hair lubricated and hydrated. Furthermore, collagen prevents your skin from drying out, reducing the likelihood of developing dry, flaking skin.
This means that with the right level of collagen, your scalp will become the ideal environment for healthy hair growth.
As we've said, using a beard roller along your facial area effectively triggers additional collagen production. This will increase the amount of collagen that reaches follicles, thus improving their potential considerably.
How to use derma roller for beard
Derma rolling is a pretty straightforward treatment to improve your beard's growth. Below, we'll explain the easiest and most effective way to use the device:
Preparation
First, ensure you work on healthy skin. You should also clean and dry it before your session, using an exfoliating cleanser to eliminate dirt, makeup, and impurities. It would be best to use a gentle moisturizer to ensure your skin remains hydrated. This ensures the device can roll across your skin in the desired way.
Picking the right size roller
The size of your beard derma roller will often depend on the area you are treating. Because the facial area is smaller than, let's say, your scalp, you may opt for a smaller, more delicate-sized device.
Especially if you are new to derma rolling, start with smaller needles until you grow in confidence. This can reduce the chances of skin irritation considerably.
Technique
To use the roller, roll the device slowly over your skin in a back-and-forth motion, going in horizontal and vertical lines. Don't roll diagonally, as this is ineffective for facial hair.
Avoid pressing too hard into your skin, as this can irritate and damage the skin and hair follicles beneath. It's always better to be gentle, especially at the start.
Once you've finished rolling, apply beard oil or moisturizer to help support beard growth. Thoroughly clean your derma roller after each use, using a disinfectant like isopropyl alcohol to kill off bacteria.
How often should you use a derma roller for your beard?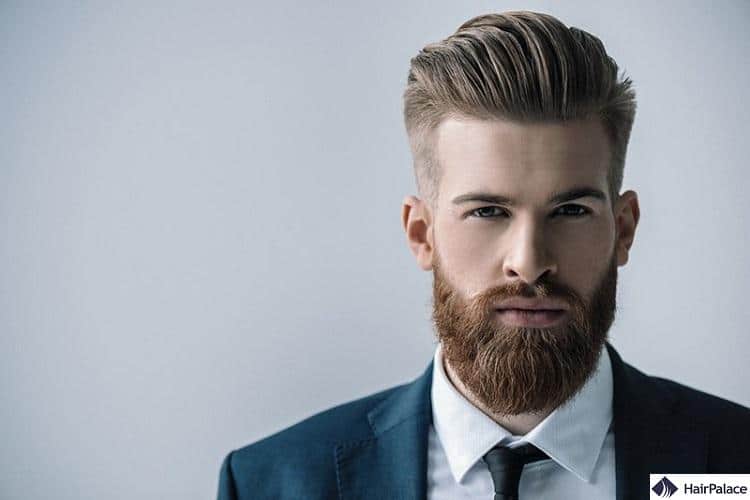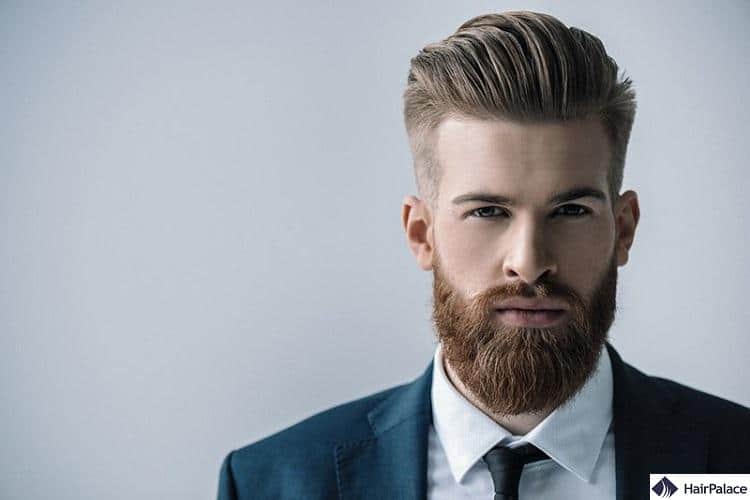 While consistent use of a derma roller can help achieve the best results, you must still be cautious and conscious of your skin.
You should use derma rolling twice weekly, waiting at least 48 hours between sessions. This allows your skin time to recover while also providing you an opportunity to clean, disinfect and prepare your derma roller appropriately.
The length of the needle is also something to consider. For beginners, staying with the smallest needle size of 0.2mm is recommended, which reduces the chances of causing any complications with your skin. Longer needles can help stimulate new hair follicles and are particularly effective for more extensive hair loss.
If you have a bad reaction at any stage during or following treatment, reduce the amount of derma rolling to just one session per week.
It would help to address your concerns with your doctor or dermatologist. They might be able to recommend an alternative therapy that has fewer side effects.
Beard roller before and after
5 Best beard rollers and beard roller reviews
Now that we know how to use a derma roller and its benefits, you'll be curious to know which beard derma roller you should buy first.
Below, we've highlighted five of the best beard rollers in the industry that can help with beard growth:
| Product | Reviews | Price |
| --- | --- | --- |
| Wattne Derma Roller | | £25 |
| Jurgen K Beard Growth Kit | | £21 |
| Naland Beard Growth Kit | | £25 |
| Yoobeaul Derma Roller | | £8.50 |
| Raffin Beard Growth Oil Serum Kit | | £16.50 |
1. Wattne Derma Roller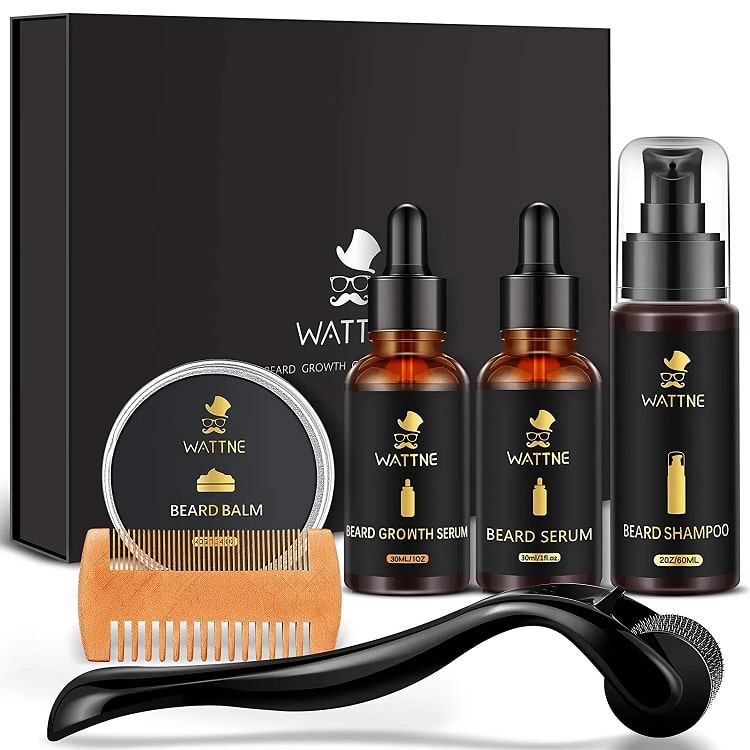 Price: £25
Reviews:

based on 3,716 reviews
The Wattnew derma roller is arguably one of the best investments you can make for beard growth. Firstly, the design of the derma roller is exceptional.
It's equipped with over 540 titanium needles, ensuring that each session achieves even coverage throughout your facial area.
Moreover, the needles are 0.25mm long, making them an ideal buy for beginners and experts. And because they're made of titanium, they are easy to clean and sterilize and quite strong.
Finally, the complimentary comb, beard oil, balm, and serum included in the purchase ensure that hair growth is well cared for, supported, and protected.
2. Jurgen K Beard Growth Kit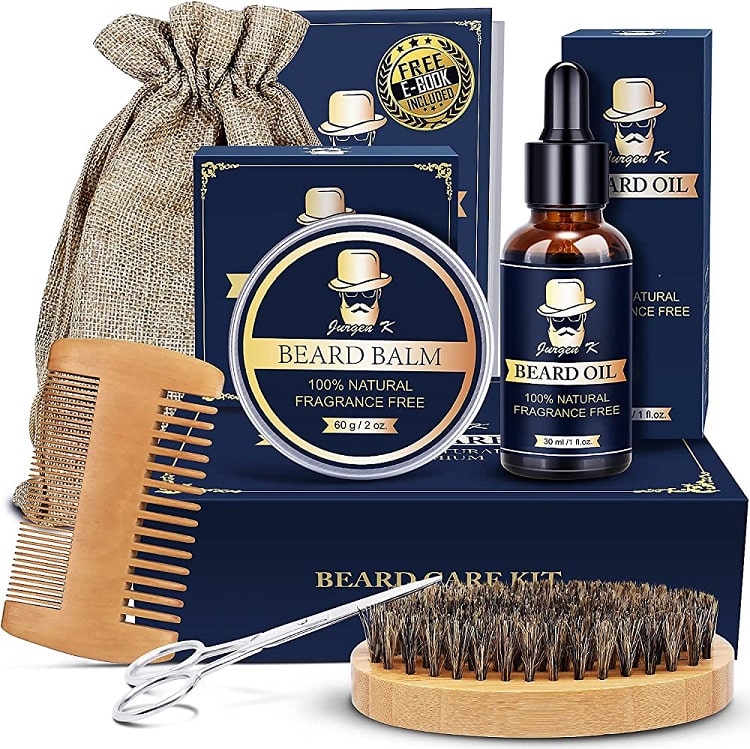 Price: £21
Reviews:

based on 5,201 reviews
The Jurgen K Beard Growth Kit is an equally impressive derma rolling kit we think you'll be interested in. With needles set at 0.25mm in length, it offers the best experience for sensitive skin around your face and promises an easy-to-use experience for people of all experiences.
Made from titanium, the needles are high-quality, easy to clean, and ultimately will reduce the chances of infections or complications following treatment.
We also love that the derma roller comes with a comb, balm, and oil, ensuring you can help nourish and revitalize skin between treatments and help promote healthier hair to develop.
And to prove their confidence in their product, Jurgen K offers customers a 100% money-back guarantee.
3. Naland Beard Growth Kit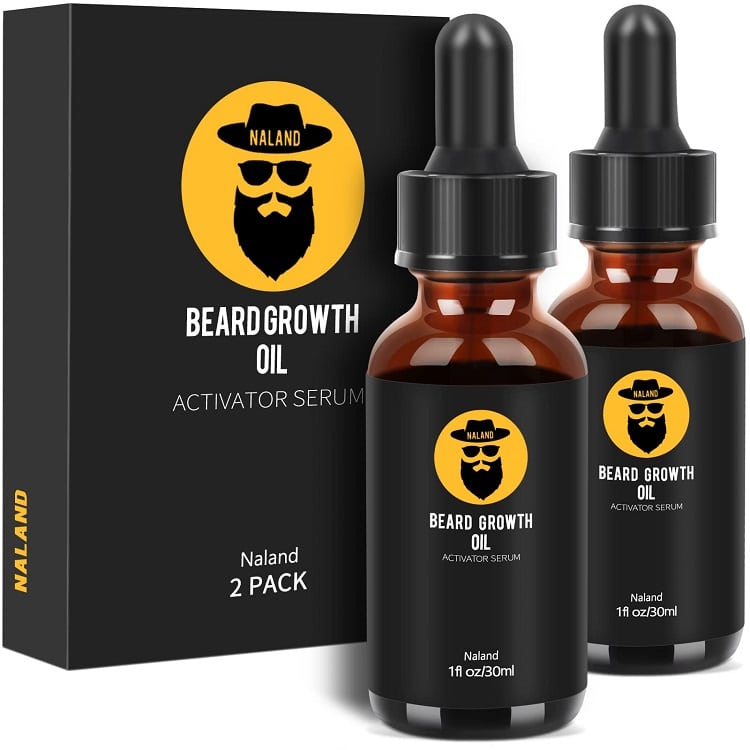 Price: £25
Reviews:

based on 182 reviews
Achieve the beard of your dreams at an affordable cost with the Naland derma roller kit. Like other competitors, this device has a series of 0.25mm titanium needles, ensuring a clean and gentle rolling experience every time.
One advantage this kit has over others is that you can use it on your scalp, making it an ideal purchase if you suffer from hair loss in more than one part of your body.
The kit includes high-quality tea tree beard serum, which has anti-inflammatory properties that can help stimulate further hair growth can help stimulate hair growth.
4. Yoobeaul Derma Roller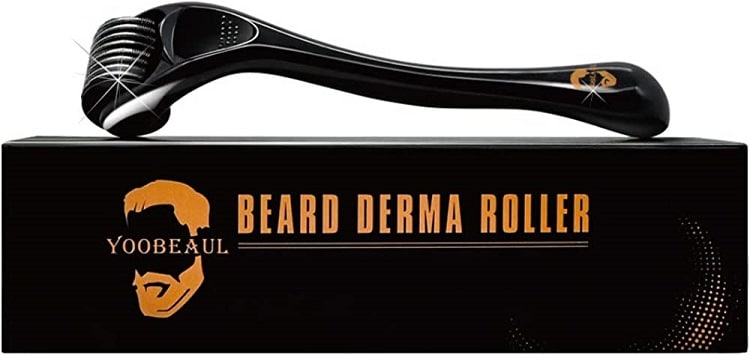 Price: £8.50
Reviews:

based on 9,457 reviews
Though no ointments, serums, or oils are included, this beard roller from Yoobeaul is still a highly-effective, well-made product you should consider.
Made from grade A titanium, its needles are made to last, are easy to clean, and, most importantly, will help trigger new beard growth around your face.
5. Raffin Beard Growth Oil Serum Kit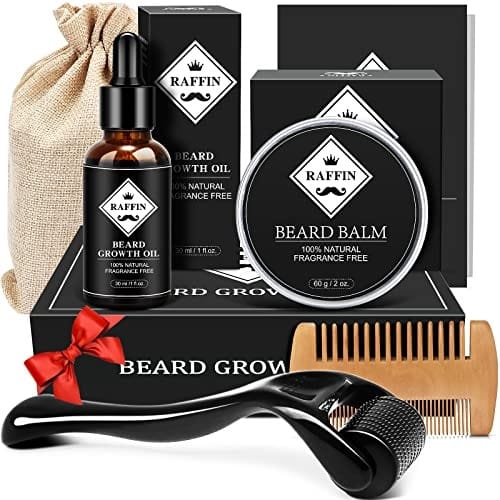 Price: £16.50
Reviews:

based on 11,388 reviews
Our final recommendation is the Raffin beard growth kit. This includes everything you need to transform your beard for the better.
With over 540 titanium needles, each measuring 0.25mm, it can help stimulate hair growth without irritating your skin.
The kit comes with specially infused oils like jojoba, rosehip, and argan oil, which can help support further development and offers a great introduction to caring for your beard into the future.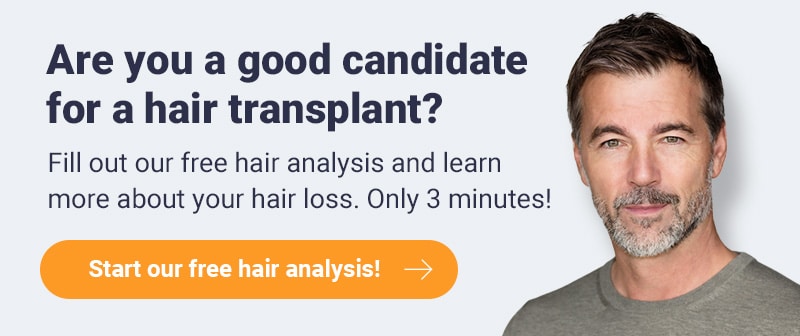 Conclusion
Although a relatively new treatment, clinical studies have shown that derma rolling your facial area can effectively stimulate beard growth.
By triggering your body's support and healing factors, you can improve the quality and quantity of hair and your skin's condition.
But like any cosmetic treatment, you must have realistic expectations of what derma rollers can do. Though research is promising, we still need more to determine the long-term gains and results achieved by derma rolling.
As our article has shown, it can be quite easy to use a beard roller. All you need to do is invest in a high-quality device, and adopt the right method.
If other treatments have failed thus far, microneedling could be the method that finally yields that fuller beard you've always wanted.
HairPalace relies on scholarly sources, including peer-reviewed articles, as well as publications of medical associations and academic & research institutions. We follow strict sourcing guidelines and avoid tertiary references. Read our editorial policy for further information on how we keep our content up-to-date and accurate.