Sylvester Stallone Hair Transplant: Did He Get It Done?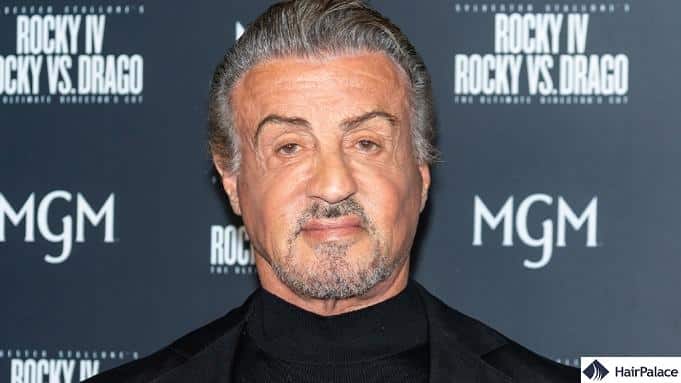 Ever since his debut as Rocky Balboa in 1976, Sylvester Stallone has been a symbol of strength, toughness, and masculinity.
The Hollywood actor has always been the go-to 'Tough Guy' to star in action movies, with his signature buff physique, chiseled jaw, and most of all, thick, black hair. And although the actor is now in his mid-70s, he's only gotten better looking through the years.
It's hard to imagine when the action star hasn't looked his best. Which makes us wonder – what exactly is Stallone's secret?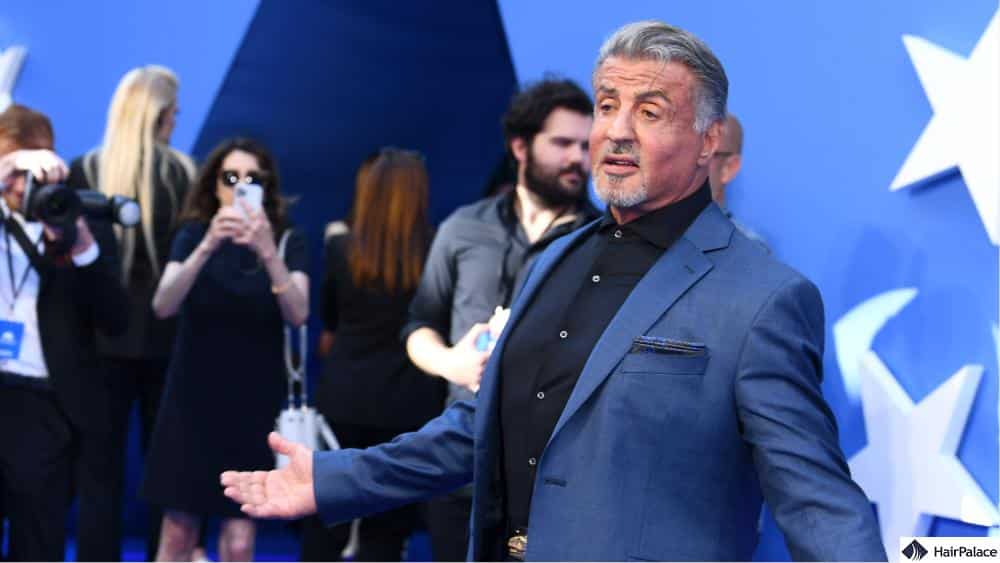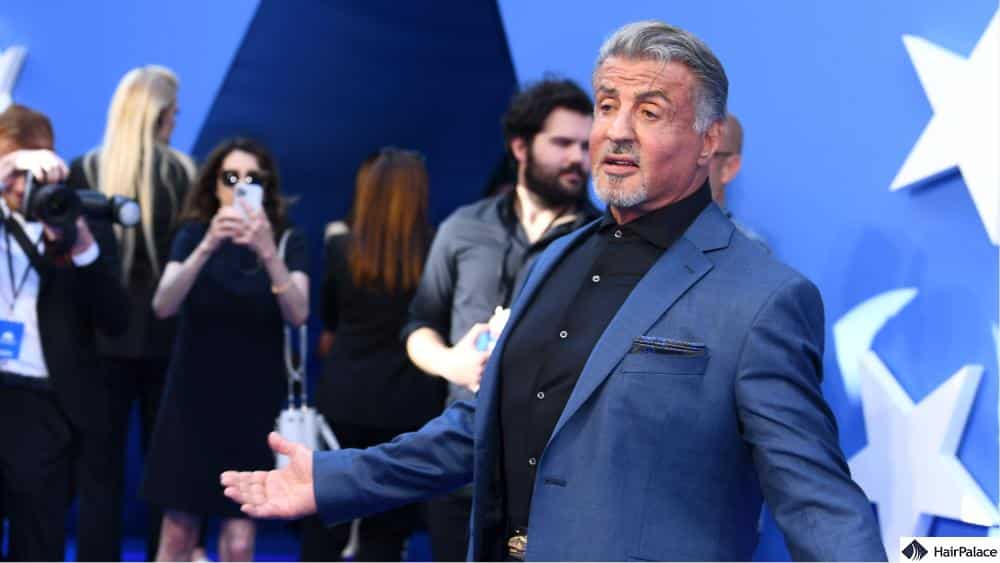 Like any celebrity, we can spot possible signs of cosmetic surgery throughout the years by looking through a catalog of pictures. Over a career spanning five decades, Stallone's hair, in particular, has gone through some slight changes that have raised some suspicions.
Did Stallone's hairline recede? And did he undergo a hair transplant operation to correct it? Or was he wearing a hairpiece or styling it differently through the years?
Many die hard fans reject the idea of him undergoing hair transplantation surgery. But a growing number are dubious – how else could the Hollywood legend have kept such a full head of hair all these years? And some incidents throughout his career indicate using growth hormones for an undisclosed condition.
Let's look at all the evidence to date to answer the age-old question of the Sylvester Stallone Hair Transplant debate once and for all.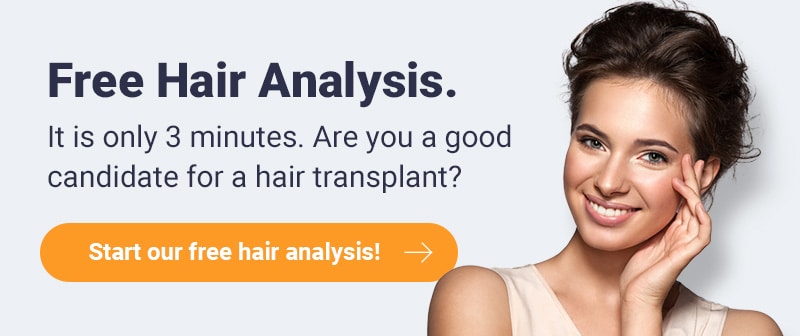 Sylvester Stallone's hair loss through the years
Like many celebrities, we can easily spot differences in appearance (and hairline) by looking at their bodies of work. Sylvester Stallone's career spans over five decades, starting in the 1970s. He starred in many popular films, so finding examples of his changing hair isn't too tricky.
Let's take a quick look at how his hair structure and style have changed.
Sylvester Stallone in the 70's
Sylvester Stallone's first major appearance in a Hollywood movie was in 1976, with the iconic 'Rocky.'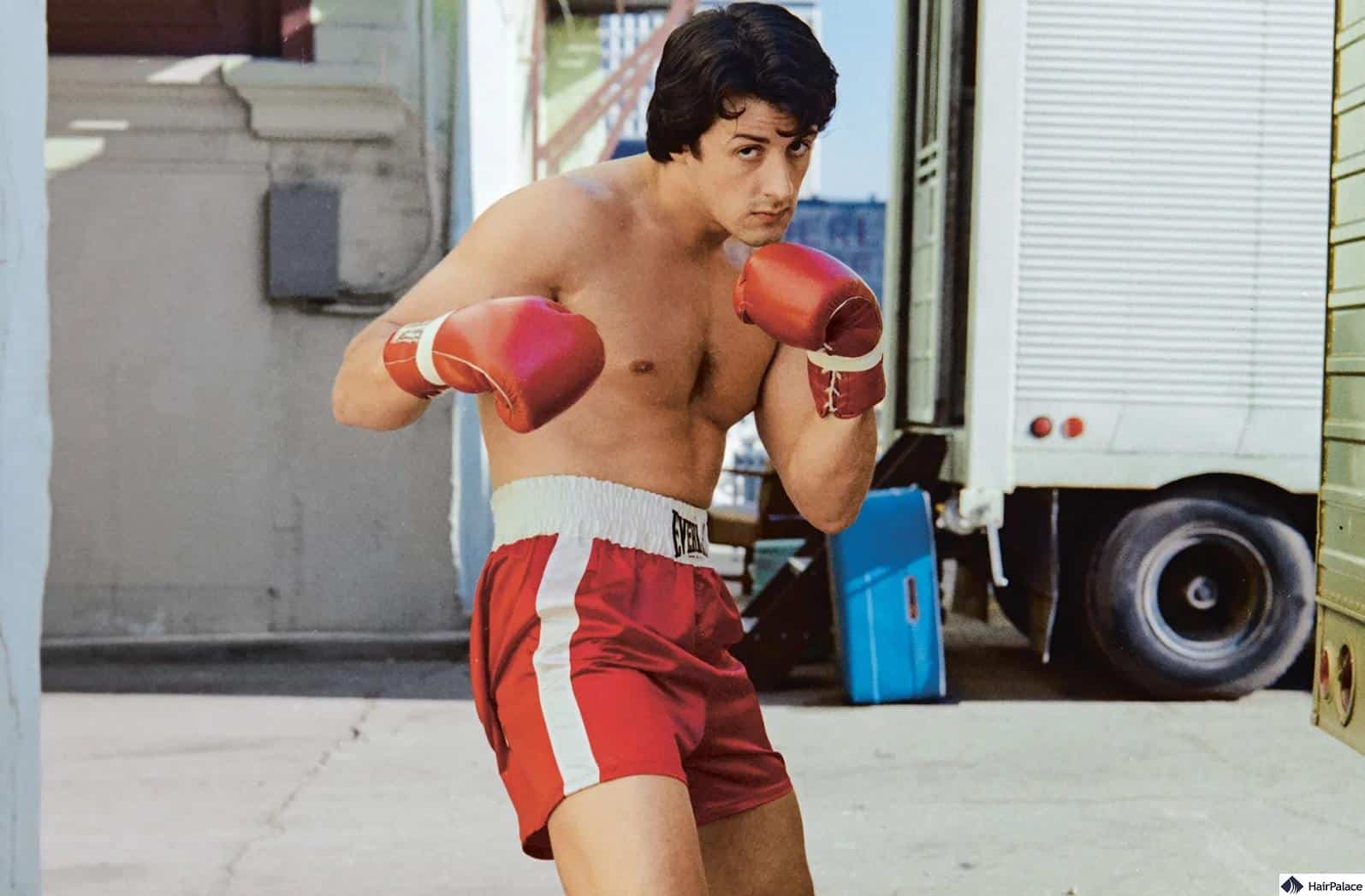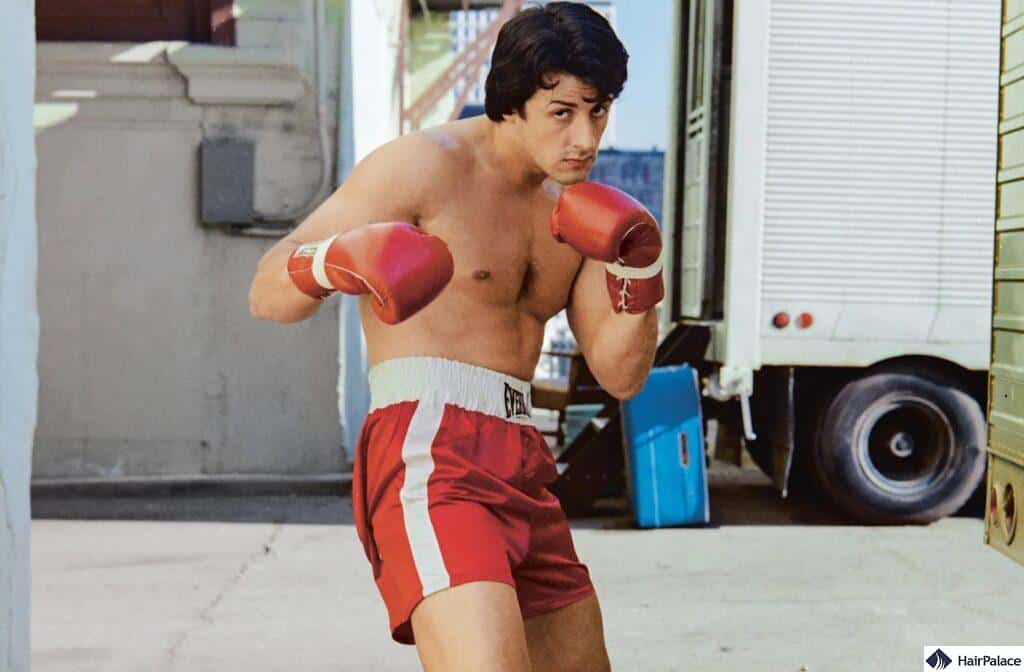 The film became so popular that it inspired several sequels and copycat films in the subsequent years. And with his chiseled features and thick hair, Sly became a bonafide poster boy for masculinity in the 70s.
When Rocky II came out in 1979, Stallone still had a lot of natural hair. There were no signs of hair loss or hair transplantation this early in his career.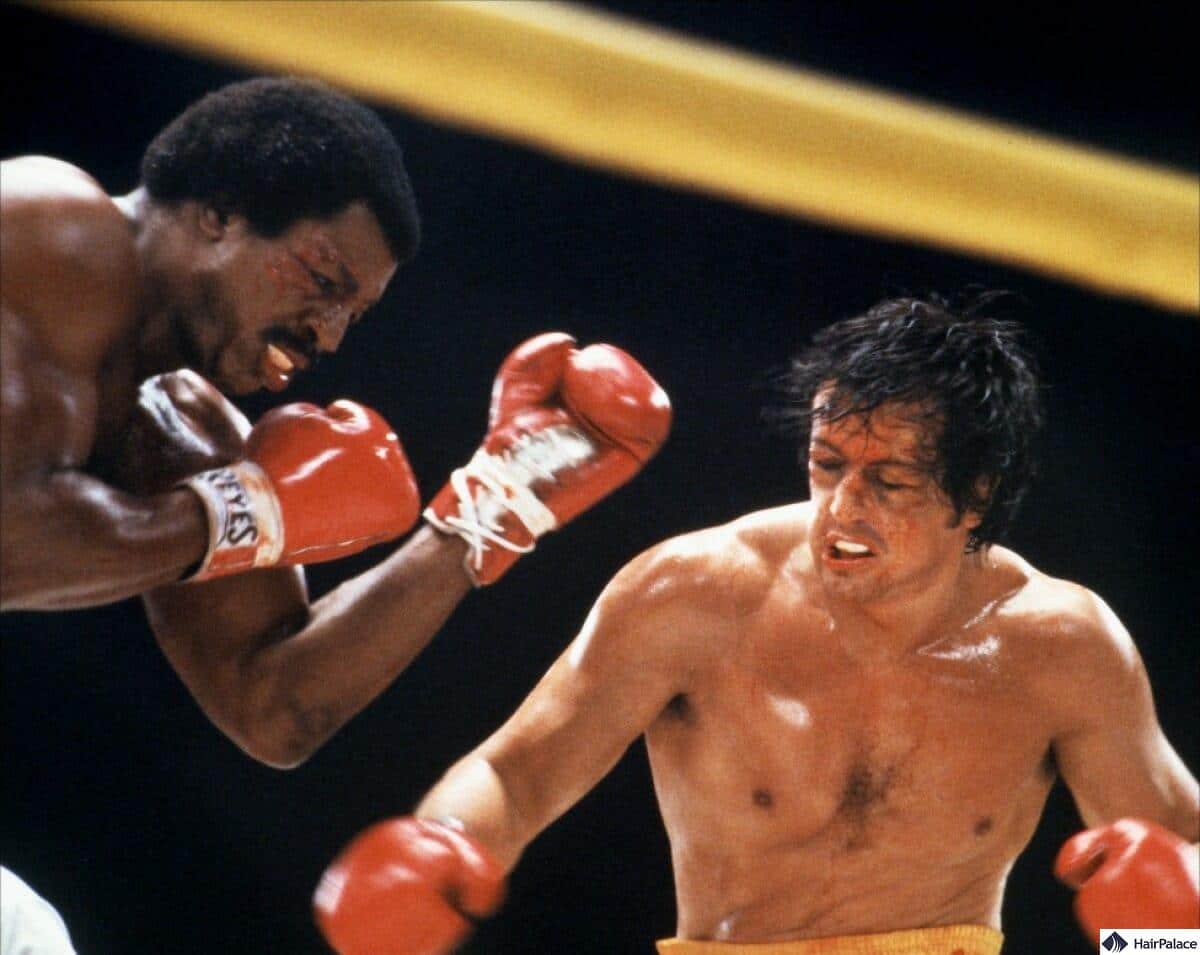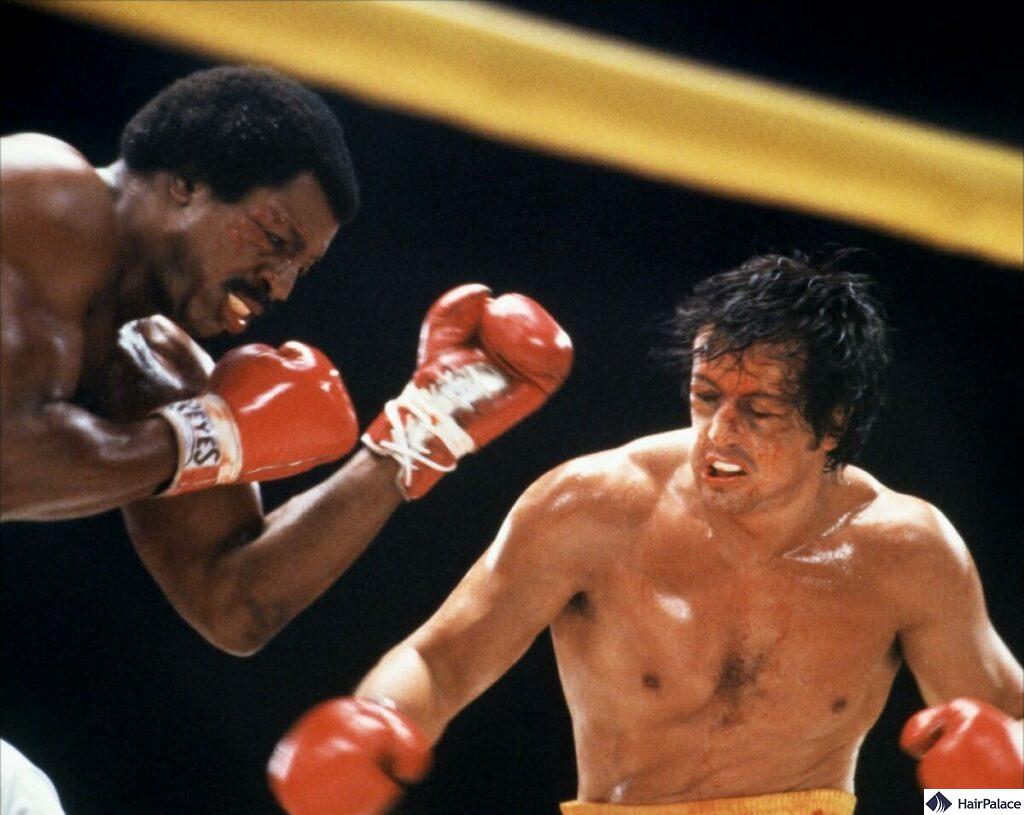 Sylvester Stallone in the 80's and 90's
Throughout the 80s and 90s, Sylvester Stallone's hair showed no signs of receding or significant hair loss either, despite his growing age. Hair transplants were only beginning to be talked openly about in mainstream media.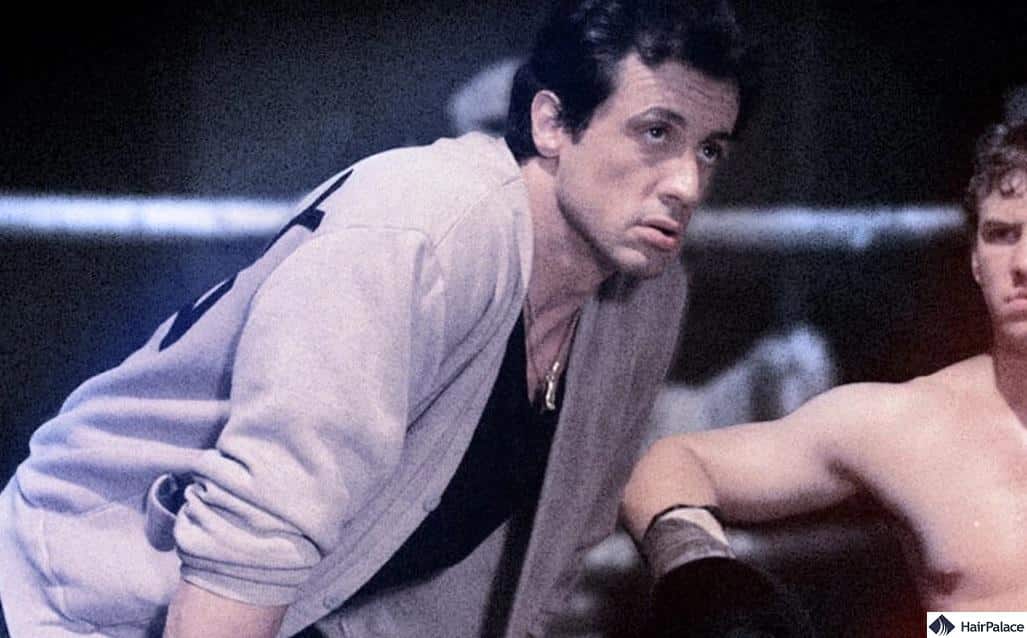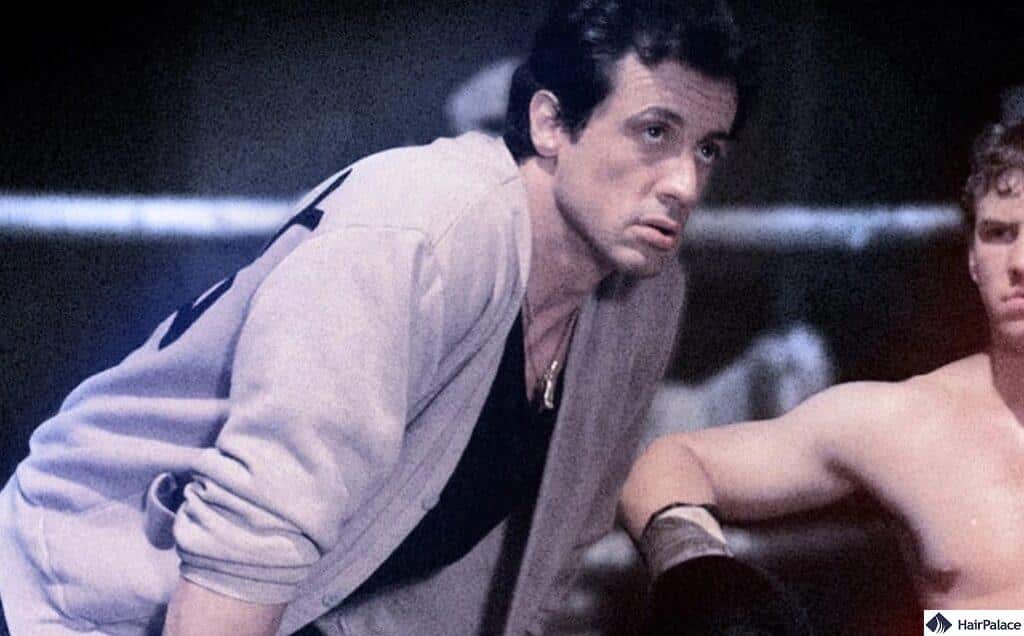 The famous actor starred in a string of hit movies throughout these two decades, including Rambo, Rocky III, IV and V, and Demolition Man.
Towards the end of the 90s, rumors began about Sly potentially receiving hair transplant surgery. Stallone often grew his hair very long in many of these roles, which can be a great way to hide any potential patchy hair.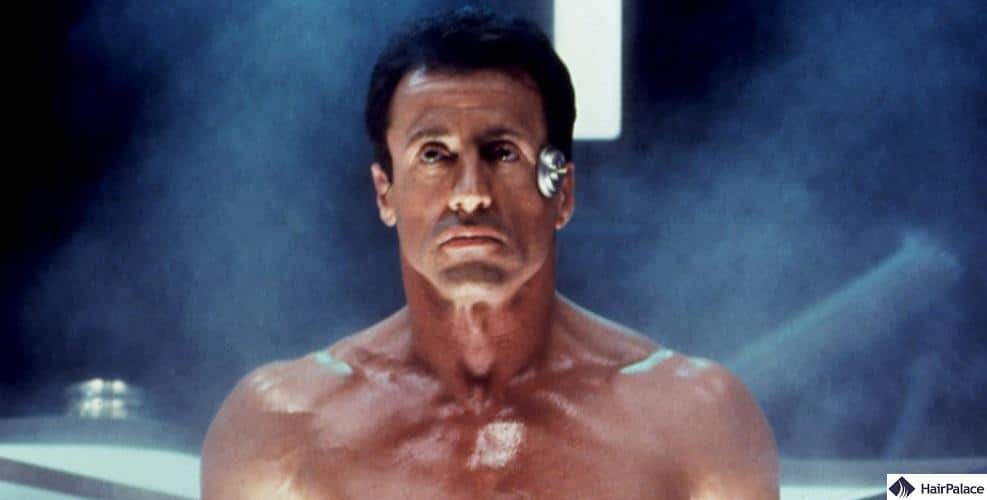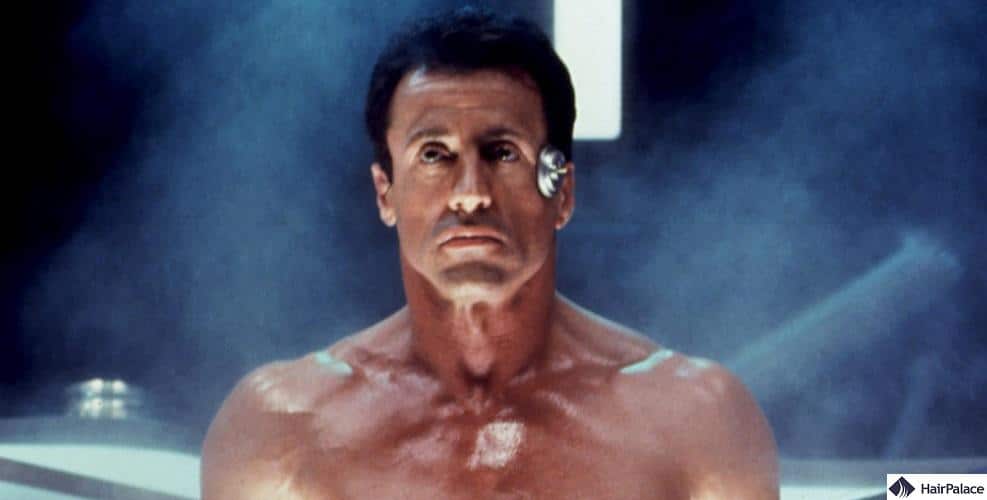 What causes hair loss?
Male pattern baldness is one of the most common conditions experienced by men all over the world. It is usually caused by genetics, and people tend to inherit this hair loss from someone in their extended family.
If someone related to use has suffered from extensive hair loss, you have a high chance of experiencing symptoms of male pattern baldness, too.
Of course, other environmental factors can play a role in the condition, though they usually aren't as influential as genetics. Factors include suffering from huge amounts of stress, weather, old age, and a poor diet.
Hair transplantation rumours started circulating in the early 2000s
Given how big a star Sylvester Stallone is, rumours about every part of his life were rife in the industry. But theories about him undergoing hair transplants were very common during the early 2000s.
Fans were surprised by these stories, as the famous actor showed no apparent hair loss throughout the years. In fact, he almost always seemed to have normal, thick hair.
But perhaps worried about eventually balding, Sylvester may have taken decisive action to prevent male pattern baldness from taking hold. As a man of a certain age, looks were everything to his career.
And, of course, there are the suspicious events that took place in Australia to consider.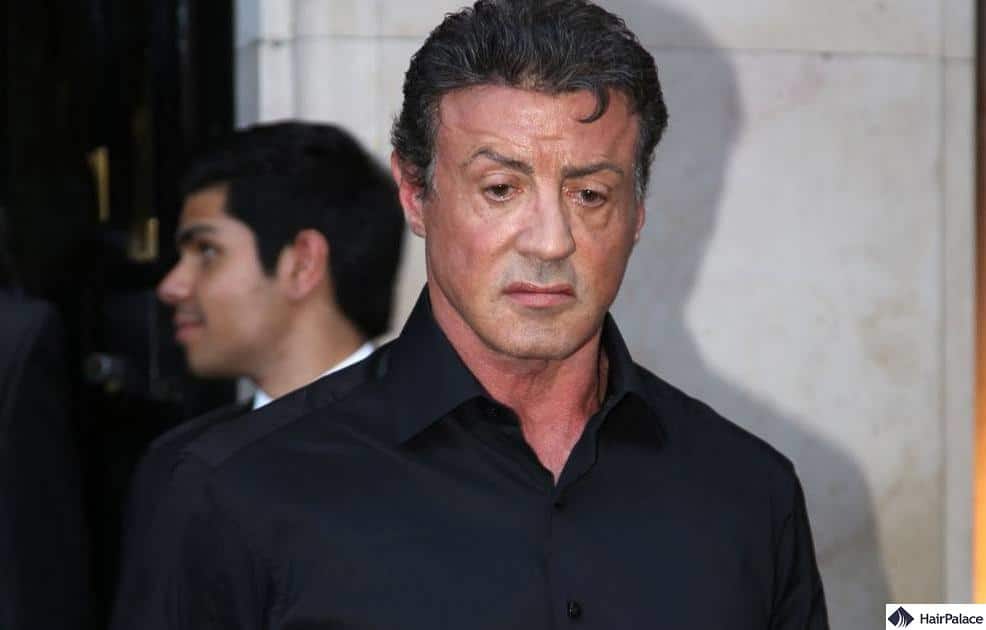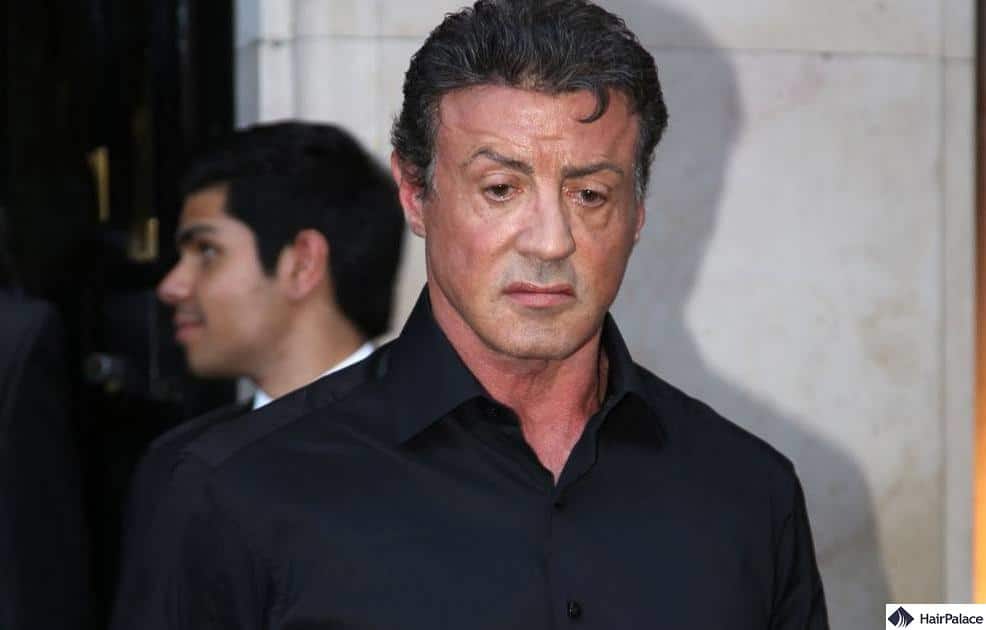 In 2007, Sylvester Stallone was fined for illegally importing 48 vials of human growth hormone into Australia during a promotional visit.
The reasons for his use of the hormones are still vague. His lawyers told the courts he was taking the hormone for an 'undisclosed medical condition.' The famous actor said his body needed a boost when filming action scenes in Rambo. But perhaps, so did his head?
We know that certain steroids can contribute to hair loss. A side effect of their use is an increased level of DHT in the body, which is known to increase the prevalence of male pattern baldness.
Although his hair looked fine with no visible signs of a receding hairline or surgery, this charge over growth hormones reinforces the long-held belief that Sylvester had a hair transplantation operation during this time.
So when did Sylvester Stallone's hair transplant take place?
If Sylver did undergo a hair transplantation surgery in the early 2000s, he was taking a considerable risk. Hair transplantation was still relatively new, and the results varied widely. There was still a lot of hesitation on the procedure's effectiveness.
Nowadays, hair transplantation surgery has evolved considerably, both in terms of the technology and equipment used and the skill and experience of surgeons. Celebrities are much more open today about their experiences because of how safe and regulated the industry has become.
Despite having his procedure almost two decades ago, we think you'll agree Sylvester's hair looks incredible. Whether it's the rich color, density, or high-quality hair structure, no doubt, he researched only the best hair transplant clinic to guarantee these outstanding results.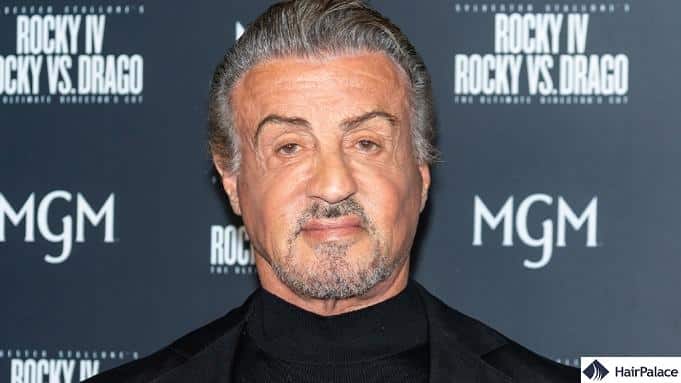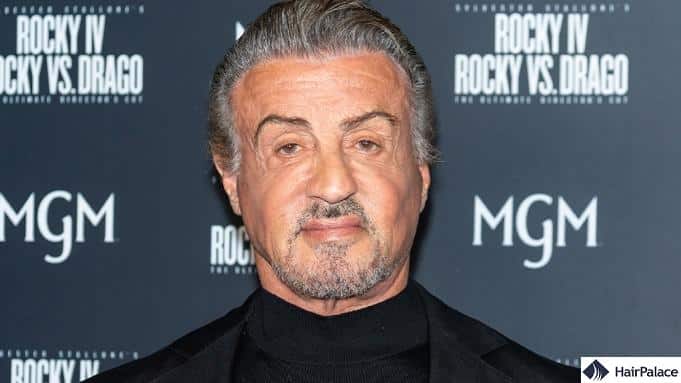 Sylvester Stallone hair transplant: Which method did he choose?
Although the specifics of Stallone's hair transplantation remain a mystery, we can make some educated guesses as to what type of procedure he likely opted for. Let's take a look at the hair transplantation process:
Stallone most likely opted for FUE (Follicular Unit Extraction). The reasons for this are simple. FUE is the least invasive hair transplantation procedure and causes little to no visible scars. This is very important for a person like Stallone, who lives in the public eye. FUE also has a much shorter recovery period, which would allow minimal downtime between movies and celebrity engagements.
The FUE operation is very straightforward; the surgeon extracts healthy hair follicles from the donor area (usually the sides and back of the head). They will then implant them directly into bald areas of your scalp.
Stallone would not have chosen the FUT procedure (Follicular Unit Transplantation) because it is much more invasive. This kind of hair transplantation operation often leaves visible scars on your scalp.
The operation is also more extensive; the surgeon will remove a strip of flesh from the donor area. Follicles are separated into tiny pieces and transplanted into incisions along the balding area. One of the core benefits of choosing FUT is that it helps correct large areas of balding hair, but we don't think that was something Stallone needed at the time.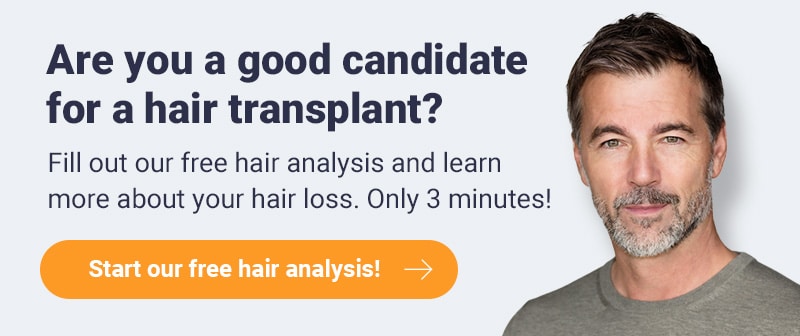 Can you have the same hair transplant that Sylvester Stallone had?
A hair transplant is now more accessible and affordable than ever. You don't have to be Hollywood actor Sylvester Stallone to regain a full head of hair again.
In fact, many men and women from all walks of life are ideal candidates for hair transplants. So long as you're in good health, have enough donor hairs, and your hair loss has reached a period of stagnation – you likely qualify.
If we're right about our assumptions, the Sylvester Stallone hair transplant is simply a Fue procedure, one of the most popular and readily available procedures in hair transplant clinics. You, too, can get it done in nearly any hair clinic.
But there are also several other procedures, each of which can suit the needs of different hair types, goals, and budgets. You will only know what type of hair transplantation is right for you by attending a consultation at a hair clinic with an experienced specialist. During an examination, you will be told how many grafts are required to treat your balding areas.
At HairPalace, we offer in-depth patient consultations, where you can meet with an expert, ask questions, and make an informed decision about your future hair transplantation.
And because we offer free consultations, you can find out everything you need without committing to anything.
Achieve the rich hairline of your dreams – book your free HairPalace consultation now!
Other celebrity hair transplants:
It's not just Sylvester Stallone who may have undergone hair transplantation. Several other high-profile men have decided to restore their scalps. These include: