Rafael Nadal Hair Transplant Story: Success or Failure?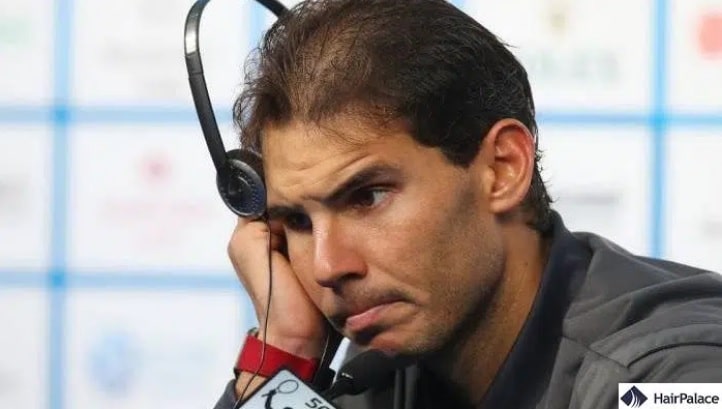 Rafael Nadal's hair transplant has been intriguing fans and the media for years.
And the great interest is not surprising – the Spaniard is one of the most well-known tennis players in the world, with an amazing string of achievements to his name.
He has won 20 Grand Slam men's singles titles and 13 French Open titles and is classed as one of the Big Three (along with Novak Djokovic and Roger Federer) in tennis.
Nadal was also known for his good looks and his luscious dark locks — he was often seen sporting a headband to keep them under control while playing.
Unfortunately, over the years, Nadal started to experience hair loss like millions of other men. And this made headlines and sparked rumours that the star underwent a hair transplant to restore growth on his scalp.
Are the stories of Rafael Nadal's hair transplants true? And if so, were they a success?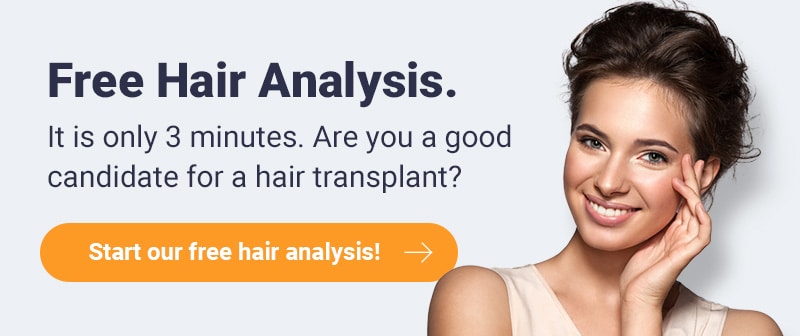 Rafael Nadal hair
Several news websites published photos of Nadal to highlight the clear shedding on top of his scalp, where the hair had previously been denser.
But how exactly did the Rafel Nadal hair loss story begin?
Early career
Between 2006 around the early 2010s, Nadal was sporting a long, luscious mane. Many people envied his beautiful locks at this stage, but sadly the Rafael Nadal long hair phase was short-lived.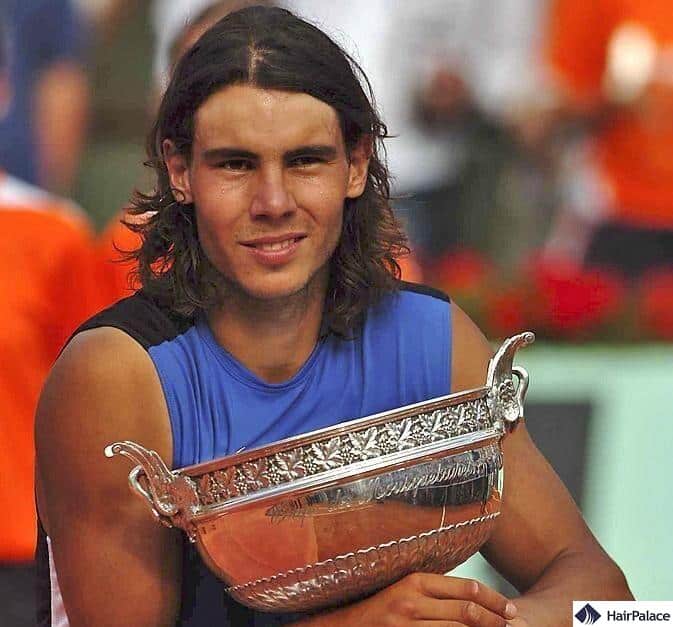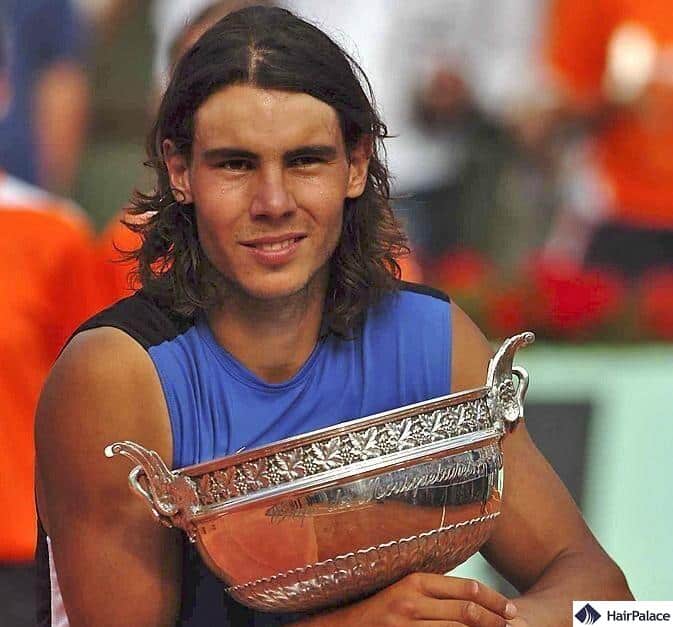 Late 20s
As Nadal approached the age of 30, his hairline went through a noticeable change. His mid part began to slowly thin out, and he preferred to keep his hair short instead of a longer hairstyle.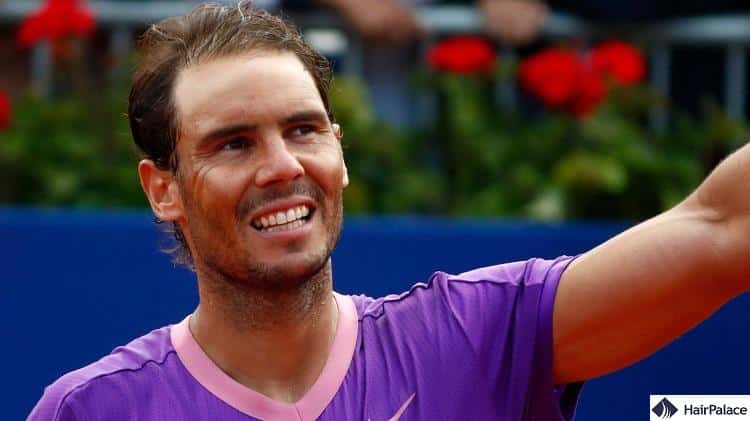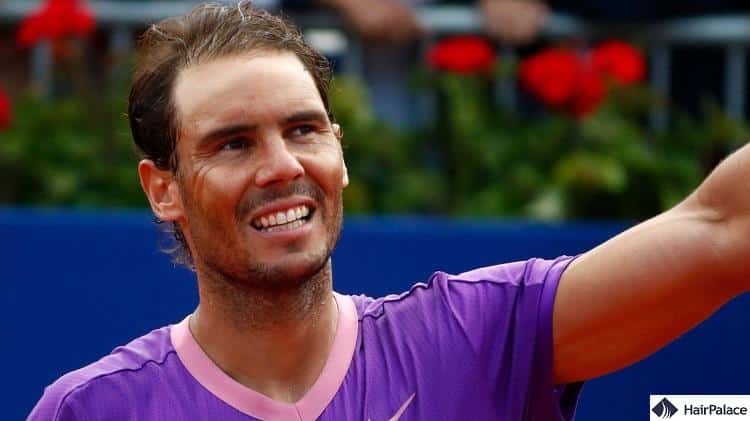 In fact, around the time when the Rafael Nadal hair transplant rumours started, he began to wear baseball caps more and more often.
Many people theorized that he did so in an attempt to either hide his bald spots or cover up the early phases of recovery after his surgery.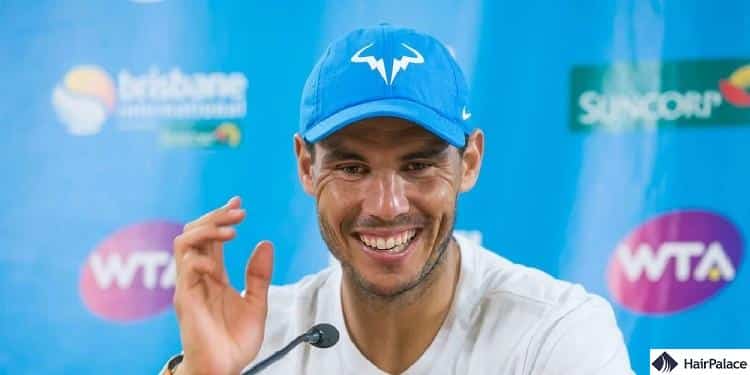 Mid-2010s to present day
Nadal achieved stunning hair growth for a number of years after 2016. However, his male pattern baldness kept getting more severe and some Rafael Nadal hair-thinning photos surfaced again.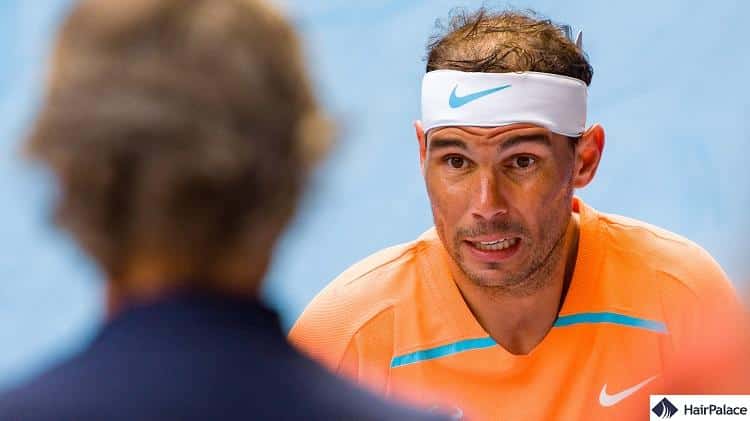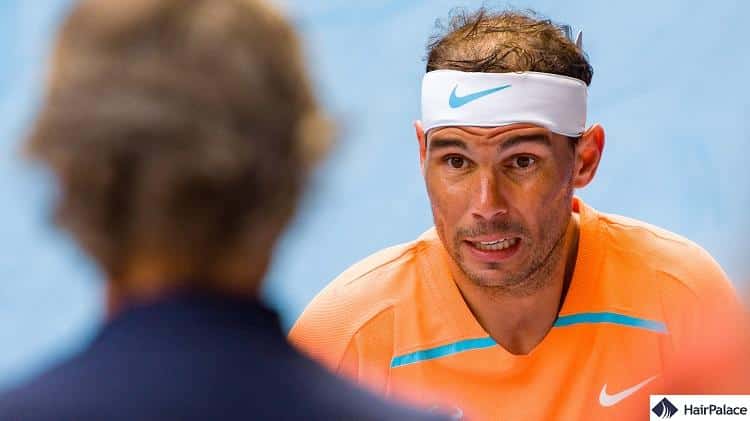 When did he decide to have a hair transplant?
In November 2016, The Mirror reported that Rafael Nadal had undergone a 10-hour operation at a clinic in Madrid.
The surgery is believed to have involved transplanting 4,500 follicles into the top of his scalp to start new growth.
The Rafael Nadal hair transplant – which method was used?
Nadal's hair transplant surgery was a Follicular Unit Extraction (FUE) according to The Mirror's 2016 article.
During an FUE treatment, the surgeon removes donor follicles from the back and sides of the head and then implants them into the areas affected by hair loss. New hairs grow during the following 12 – 18 months.
How much did his hair transplant cost?
The Olive Press claimed in 2016 that Nadal spent €9,000 (around £7,770 at the time of writing) on his FUE surgery. It's likely that he chose the clinic carefully and researched his options before he committed to FUE.
The cost of hair transplants varies from country to country and clinic to clinic. The average cost of a 4,000-hair procedure in the UK is more than £6,300.
Clinics offer a range of packages to suit your personal hair restoration needs and goals. Mild thinning in one or more areas may require a minor procedure involving 1,000 or 2,000 hairs. This can add extra density to the hairline or crown.
More advanced hair loss would call for an extensive transplant. And the more hair follicles are required to restore growth, the more the treatment will cost.
But more cost-effective options are available outside the UK. HairPalace specializes in cutting-edge FUE hair transplants in Budapest at highly competitive prices — offering savings of up to 70% against UK costs.
Was his hair transplant successful and was he satisfied with the outcome?
Rafael Nadal has kept quiet about his hair loss and apparent transplant, so there's no way to know whether he was happy with the results.
But his hair did appear noticeably thicker in the time since his procedure is alleged to have taken place.
For example, Nadal's hair looks much denser on top and more youthful overall in the picture below. This is consistent with the results patients tend to achieve after a successful hair transplant.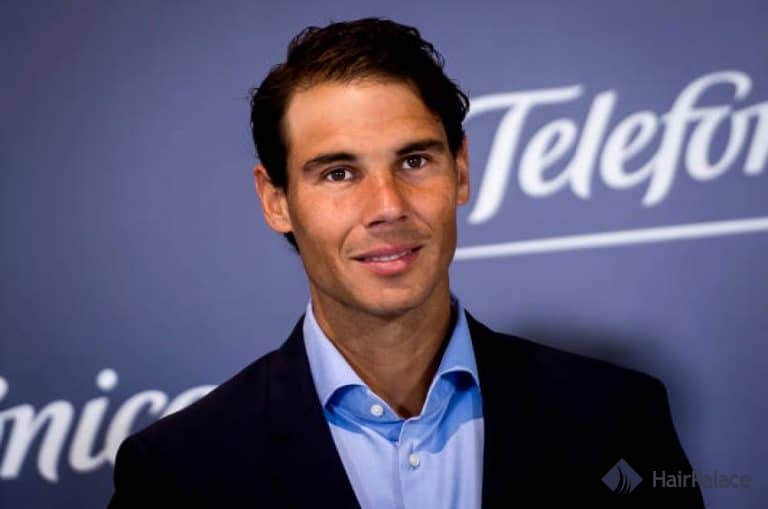 Another photo from 2018 (below) offers a clear view of Nadal's hair during a tennis match. You may notice that a small area of his scalp is visible through his hair, but it's less so than in previous images. Sweat could also have matted his hair to his scalp and increased its visibility.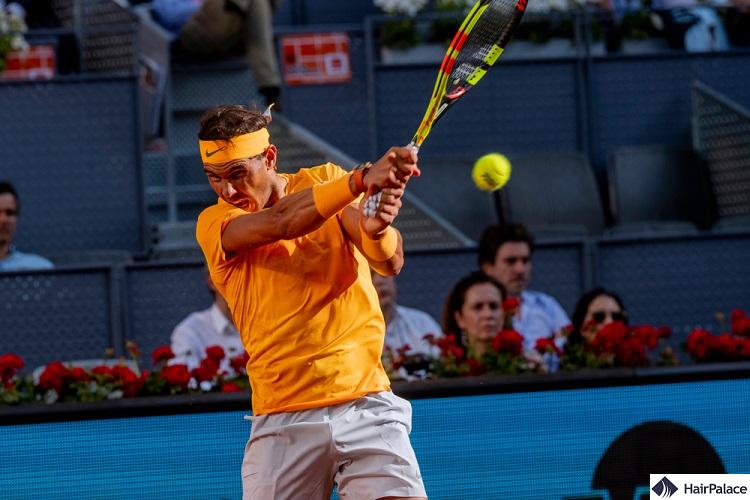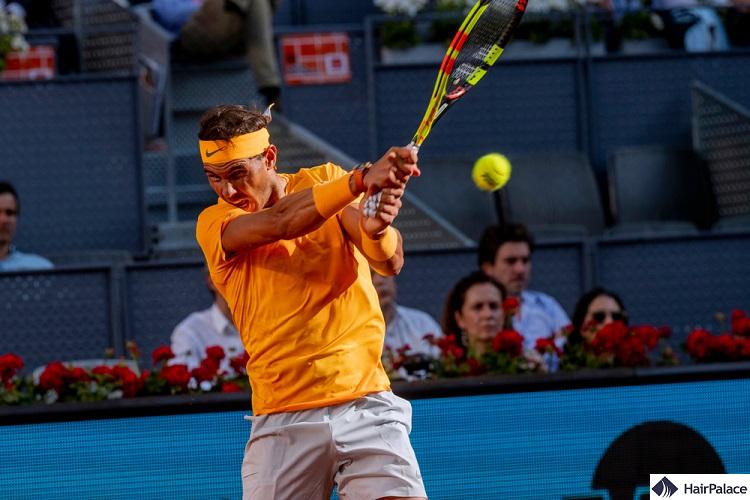 Nadal's hair looks strong, healthy, and thick in the below picture from the 2020 French Open final.
It may be that he wears his hair in a slightly different style than before to cover the thinning more effectively — a common technique that countless men use. But this Rafael Nadal new hair photo suggests that the hair restoration surgery rumours could be true.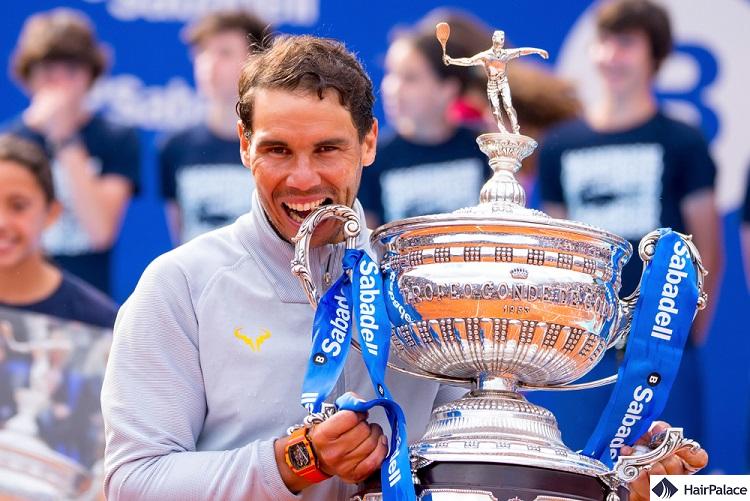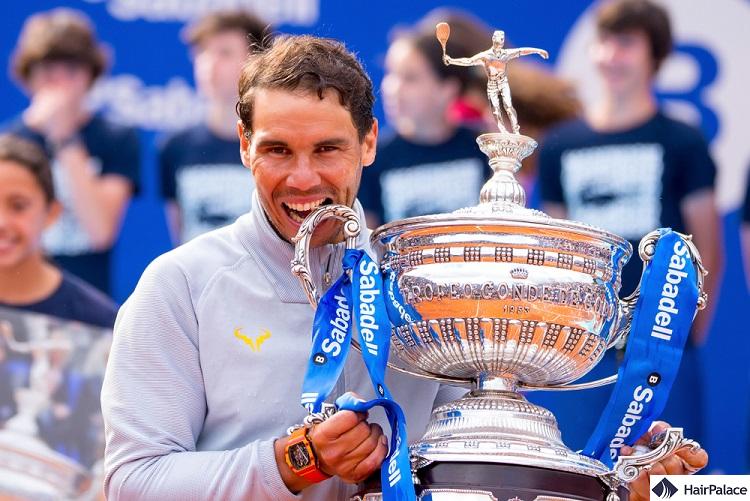 Rafael Nadal hair transplant rumours: Did he have a second procedure?
Rumours about a second Rafael Nadal's hair transplant have circulated online, but there's no evidence to suggest they're accurate.
However, some patients do book follow-up treatments if they continue to lose their hair. For example, Wayne Rooney has undergone multiple hair transplants to combat his persistent balding.
Many articles (including The Sun) have chronicled his struggles against hair loss and his repeat treatments.
Patients are sure to be disappointed if their hair loss persists after they hope that a hair transplant will permanently restore their growth, and this may be a possibility for some men affected by male pattern baldness (though certain health conditions and medications may be the cause too).
With male pattern baldness, new hairs can continue to fall out after transplantation due to the excess dihydrotestosterone (DHT) that shrinks the hair follicles and eventually halts the growth of fresh strands.
That means some men could benefit from waiting until baldness on the top of their scalp is complete before they undergo surgery.
Nadal is still balding in 2023
During his matches at the Australian Open in 2023, it became evident that Nadal is losing hair again.
While there are no bald patches, his hair is visibly thin around his parting and at the frontal area, behind the hairline.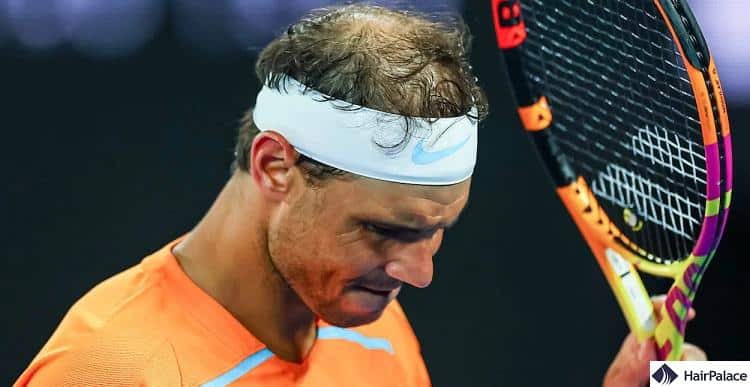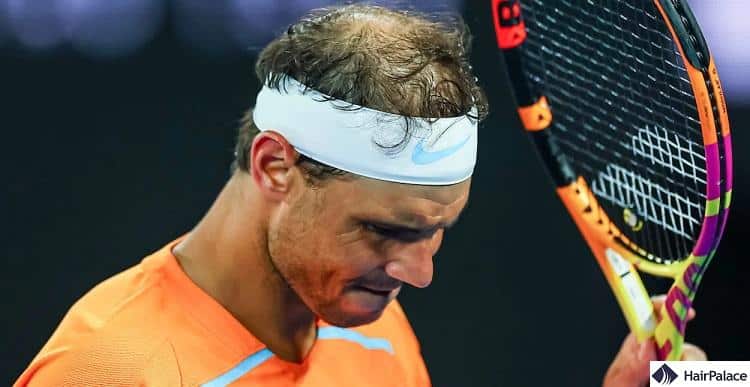 But does Nadal losing his hair in 2023 mean his surgery was a failure?
Not necessarily, the first Nadal hair transplant achieved great success at first, but sadly his baldness was progressing too fast.
Furthermore, the progress of hair loss caused by male pattern baldness can accelerate under stressful conditions.
So, it is possible that the pressure of professional sports could have contributed to Rafa's current look.
Hair transplants aren't capable of preventing further hair loss, they simply redistribute your existing hair to create a more even hairline.
This is why it is crucial to have a stabilized hair loss pattern before you undergo surgery. This way you can prevent suffering the same fate as Rafael Nadal.
Fan reactions to Nadal's recent hair loss
During the recent Wimbledon tournament, many on social media have been wondering about Rafael Nadal's recent hair loss.
The tennis legend was always known for his flowing dark hair, wearing his signature sweatband. However, his look was noticeably different this time.
On the court, Nadal's hair could be seen clearly, and his thinning hair was on full display. Fans on social media instantly caught wind of this too and shared their comments.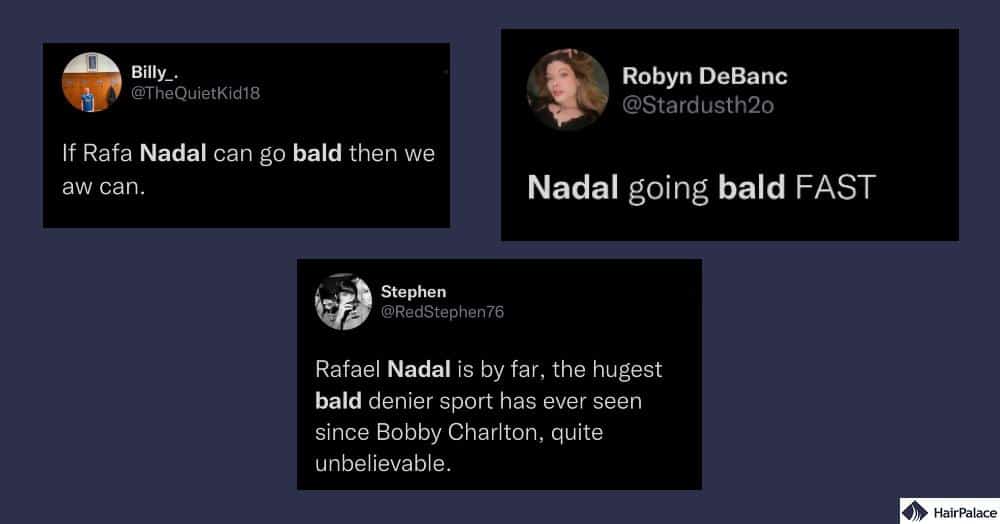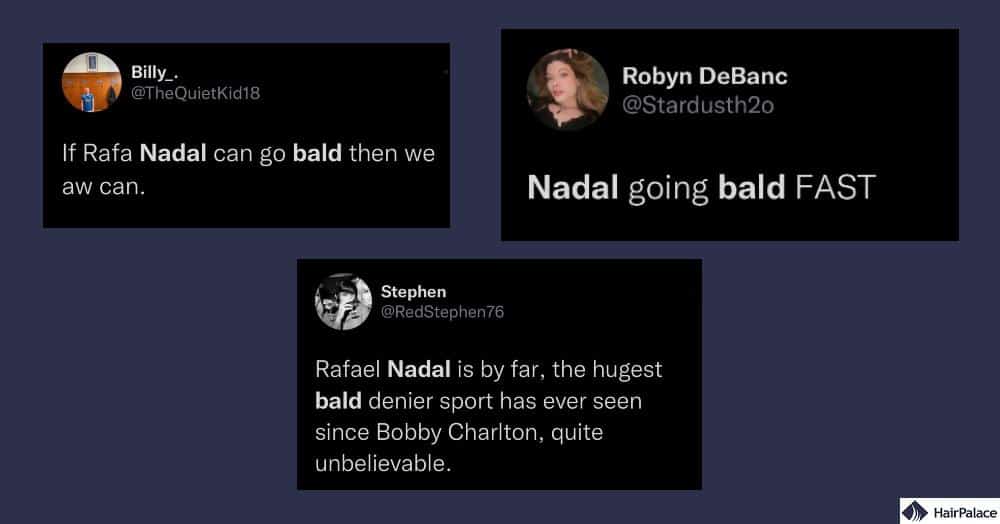 Can you undergo the same hair transplant?
The good news for anyone affected by hair loss is that treatments are more accessible and affordable than ever.
Cutting-edge technologies and techniques empower surgeons to perform successful hair transplants on patients across various age groups.
However, it's vital to determine whether you're a suitable candidate for surgery and what results you can expect before you commit yourself to treatment.
A consultation with a hair restoration specialist is ideal to learn more about your options, the process, and the potential outcome.
Want to find out how HairPalace can help you restore your hair? Book your free consultation now!
Other celebrities who underwent hair transplantation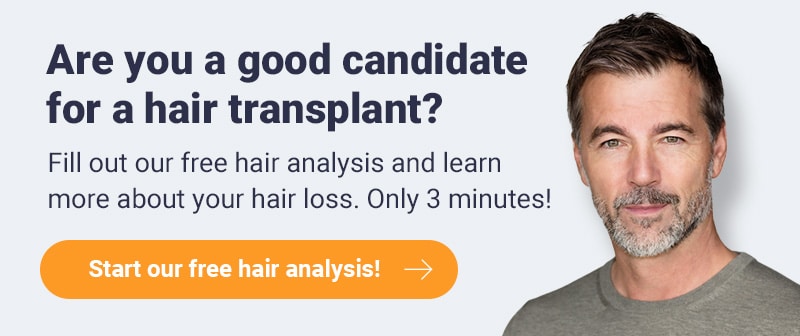 FAQ
Has Rafael Nadal had a hair transplant?
Nadal supposedly had an FUE hair transplant in 2016 at a clinic in Madrid.
HairPalace relies on scholarly sources, including peer-reviewed articles, as well as publications of medical associations and academic & research institutions. We follow strict sourcing guidelines and avoid tertiary references. Read our editorial policy for further information on how we keep our content up-to-date and accurate.