Paul's Jaw-dropping Result with 7134 Hairs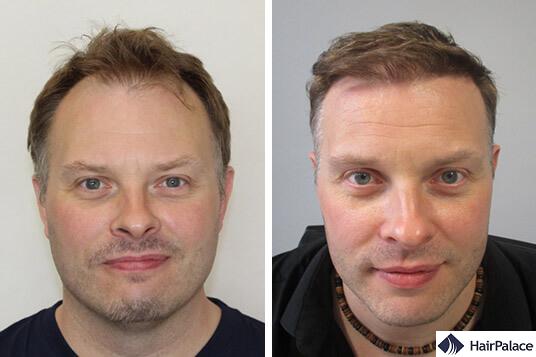 Researching his options to permanently restore his thinning hair, Paul contacted us to find out more about our services.
To determine how many hairs are needed for a good result, and thus, how much the surgery would cost, we always need to see the condition first.
Our 20-minute assessment will worth your while:
you can discuss your expectations with an expert
we assess the extent of your hair loss and the quality of your hair
you get all information about the procedure and the post-op care
you receive a treatment plan and quote tailored to your needs
Paul opted for our free consultation on the 20th of March 2018. Content with the details he discussed with our colleagues, he started arranging his treatment with us shortly after.
Paul's surgery
Paul arrived in Budapest on the 26th of April 2018 to have his blood tests done on the 27th.
We require blood tests before every surgery, and we also offer to arrange them in Budapest. This option is available only if the patient's medical history does not indicate otherwise.
After taking the samples, the laboratory needs around 12 hours to get back to us with the results.
This is why patients choosing our blood test package have to arrive two days before the surgery.
Naturally, the package includes the additional night and the transfers between the accommodation and the laboratory.
After his blood tests, Paul's hair transplant surgery was carried out on the 28-29th of April 2018.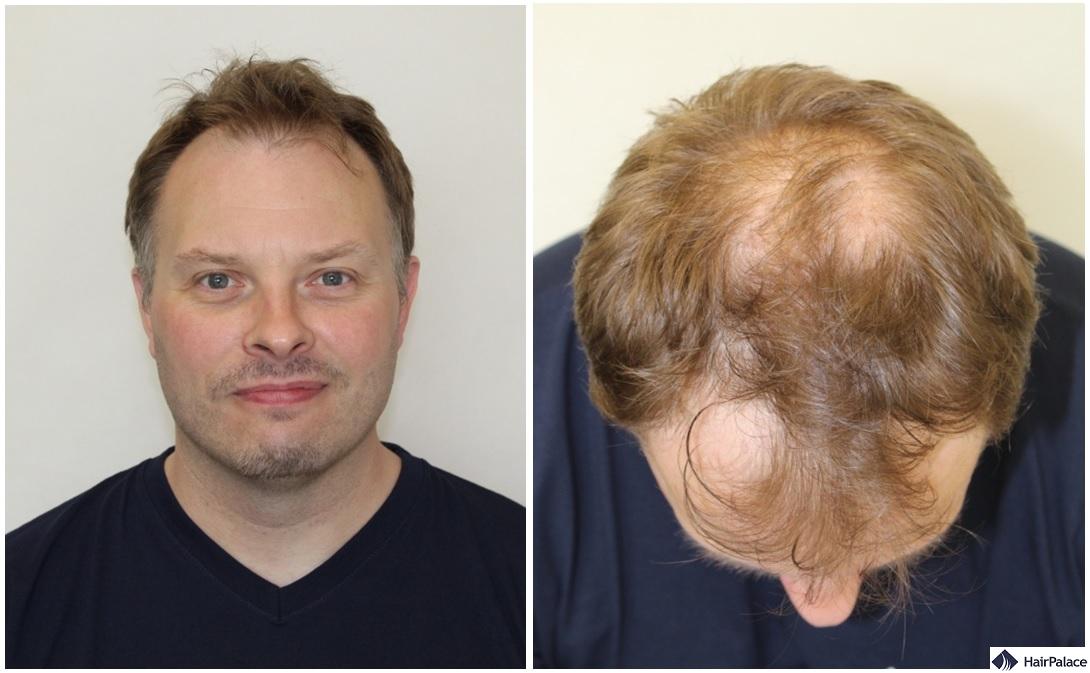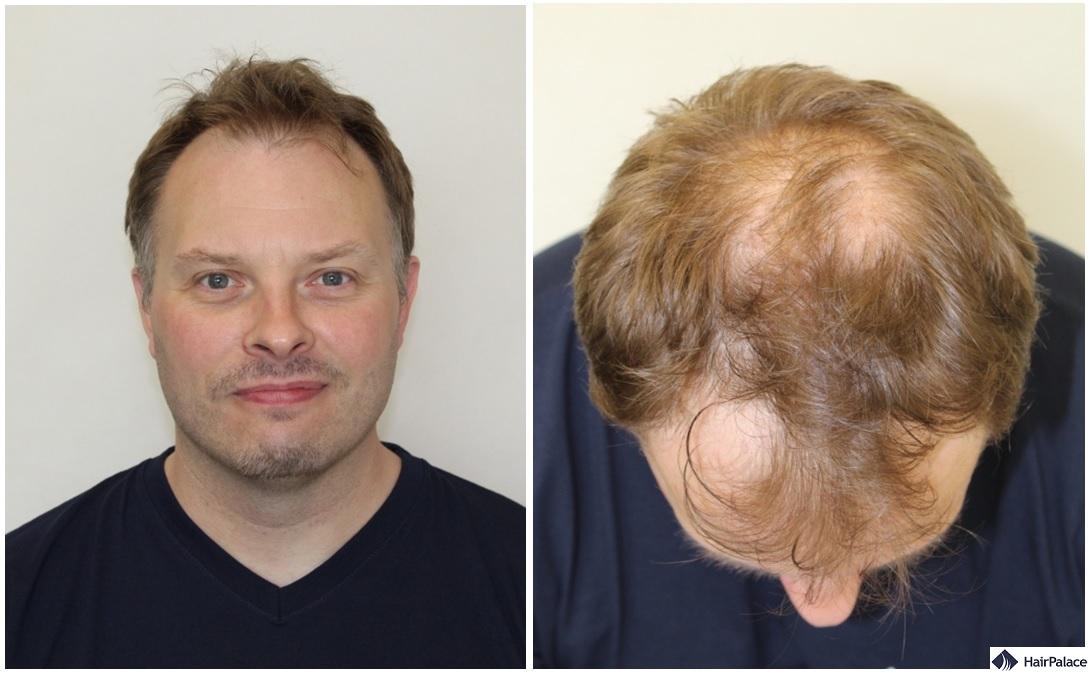 Even with a good, dense donor area, the upper limit of the transplant is usually around 6000 hairs.
This limit prevents over-extraction, allows the proper healing of the scalp, and ensures that the patients can take the surgery well.
Originally, we proposed Paul 5-6000 hairs. But as his donor area was even better than we anticipated, we could push the limit and extract more on the day.
The surgeon could safely transplant 7134 hairs in total – 6234 to the front and 900 hairs to the crown: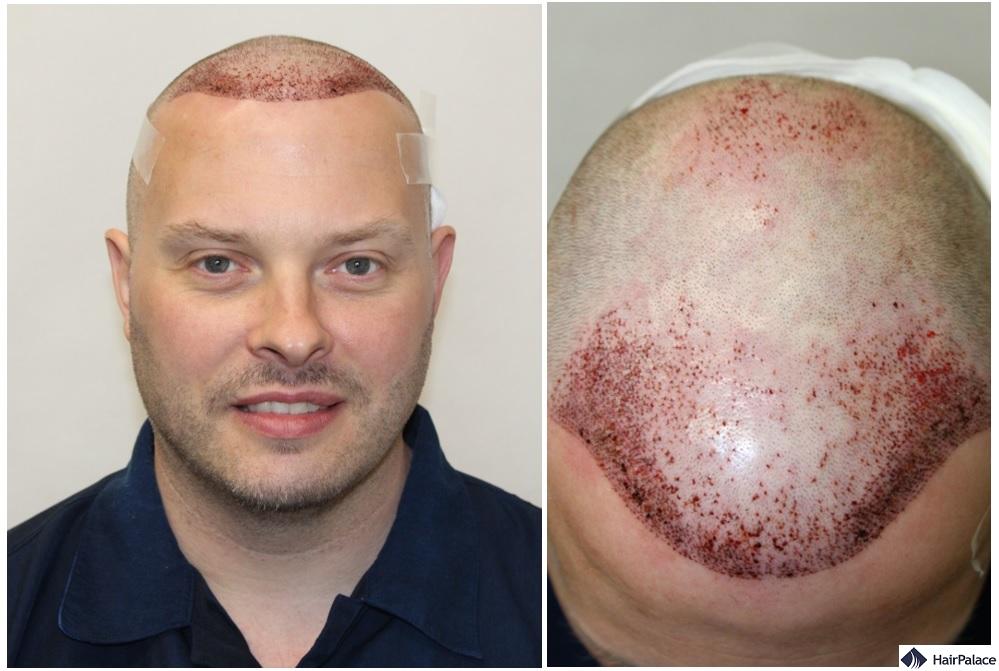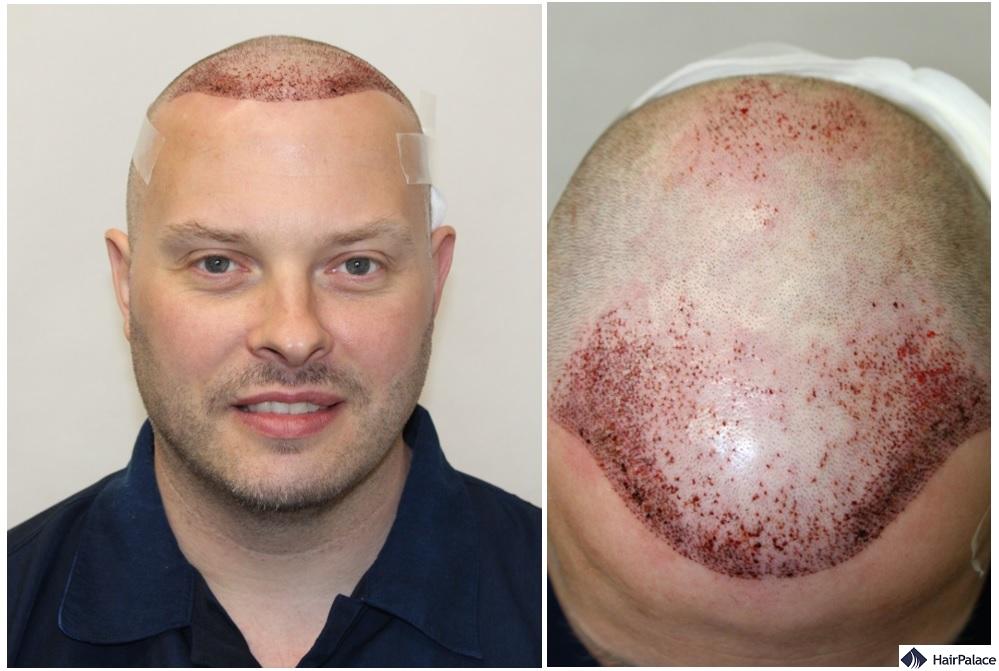 Post-op recovery
The hair transplant is quick; it takes 1 or 2 days to complete. However, recovery takes a few weeks, while the regrowth will be complete in several months.
In this period, proper aftercare is crucial, so we are always available to answer questions that arise.
Additionally, we have check-ups at the main milestones to ensure you get the result you are looking for.
Take a look at the change Paul's hair went through in the first 6 months after the hair restoration:
The final result
The regrowth of the implanted hairs happens gradually; it ends 12-15 months after the hair transplant.
For his final check-up, Paul contacted us again a year after his surgery.
His surgeon was in attendance, who was just as satisfied with the outcome as Paul himself.
His new hairline looks great, and the overall density at the top was evened out too: