Rafael Nadal Hair Transplant Story: Success or Failure?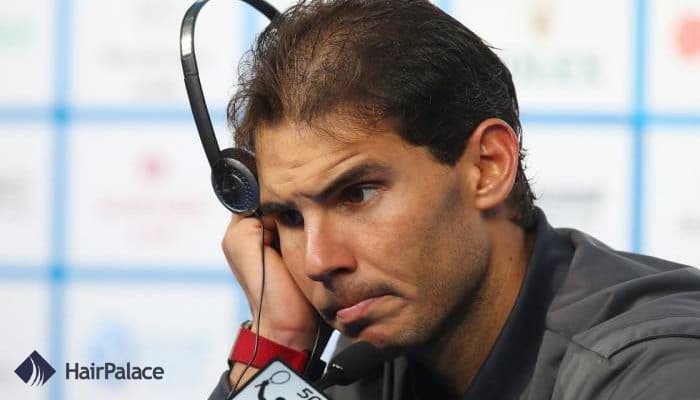 Rafael Nadal is one of the most well-known tennis players in the world, with an amazing string of achievements to his name. He has won 20 Grand Slam men's singles titles and 13 French Open titles, and is classed as one of the Big Three (along with Novak Djokovic and Roger Federer) in tennis.
Nadal was also known for his good looks and his luscious dark locks — he was often seen sporting a headband to keep them under control while playing.
Sadly, over the years, Nadal started to experience hair loss like millions of other men. And this made headlines and sparked rumours that Nadal underwent a hair transplant to restore growth on his scalp.
Are the Rafael Nadal hair transplant stories true? And if so, were they a success?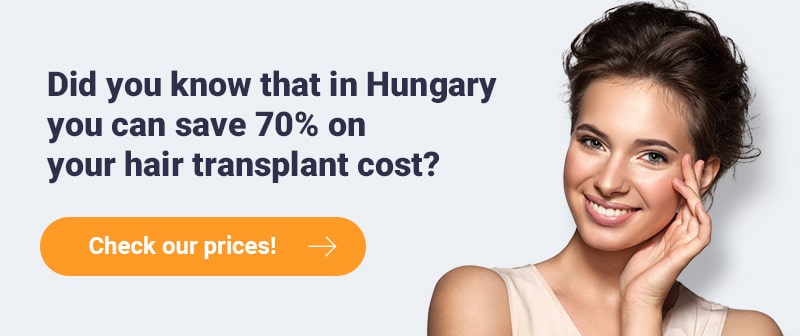 What kind of hair problems did Rafael Nadal suffer from?
The Rafael Nadal hair loss stories began to appear in early 2016, after he appeared at an event in Melbourne with noticeably thinner hair. Several news websites published photos of Nadal to highlight the clear shedding on top of his scalp, where the hair had previously been denser.
Other pictures (see above) show increased scalp visibility through his hair — a common sign of hair loss. It's unclear whether this was caused by male pattern baldness or another condition, though the hairline appears unaffected.
When did he decide to have a hair transplant?
In November 2016, The Mirror reported that Rafael Nadal had undergone a ten-hour procedure at a clinic in Madrid. The surgery is believed to have involved transplanting 4,500 follicles into the top of his scalp to start new growth.
What kind of hair transplant did Rafael Nadal have?
According to The Mirror's 2016 article, the Rafael Nadal hair transplant was a Follicular Unit Extraction (FUE).
During an FUE treatment, the surgeon removes donor follicles from the back and sides of the scalp then implants them into the areas affected by hair loss. New hairs grow during the following 12 – 18 months.
How much did his hair transplant cost?
The Olive Press claimed in 2016 that Nadal spent €9,000 (around £7,770 at the time of writing) on his FUE hair transplant. It's likely that he chose the clinic carefully and researched his options before he committed to FUE.
The cost of a hair transplant varies from country to country, and from clinic to clinic. The average cost of a 4,000-hair procedure in the UK is more than £6,300.
Clinics offer a range of packages to suit your personal hair restoration needs and goals. Mild thinning in one or more areas may require a minor procedure involving just 1,000 or 2,000 hairs. This could add extra density to the hairline or crown.
More advanced hair loss would call for an extensive transplant. And the more hair follicles required to restore growth, the more the treatment will cost.
But more cost-effective hair transplant options are available outside the UK. HairPalace specializes in cutting-edge FUE hair transplants in Budapest at highly competitive prices — offering savings of up to 70% against UK costs.
Was his hair transplant successful and was he satisfied with the outcome?
Rafael Nadal has kept quiet about his hair loss and apparent transplant, so there's no way to know whether he was happy with the results.
But his hair did appear noticeably thicker in the time since his procedure is alleged to have taken place. For example, Nadal's hair looks much denser on top and more youthful overall in the picture below. This is consistent with the results patients tend to achieve after a successful hair transplant.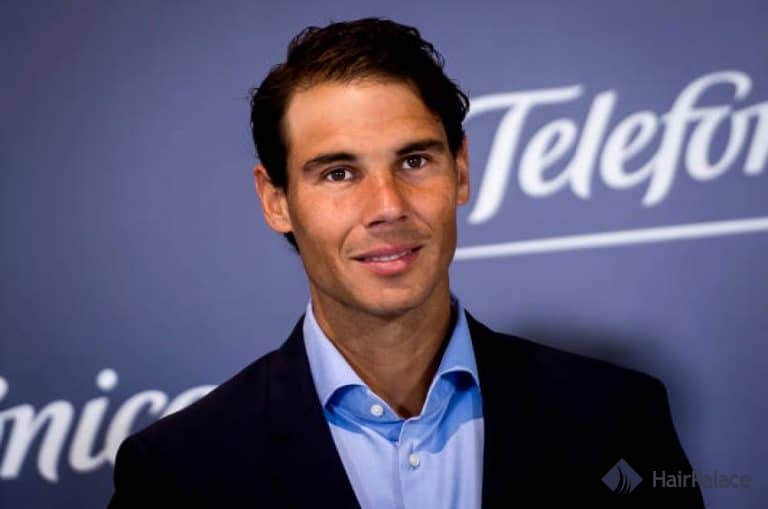 Another photo from 2018 (below) offers a clear view of Nadal's hair during a tennis match. You may notice that a small area of his scalp is visible through his hair, but it's less so than in previous images. Sweat could also have matted his hair to his scalp and increased its visibility.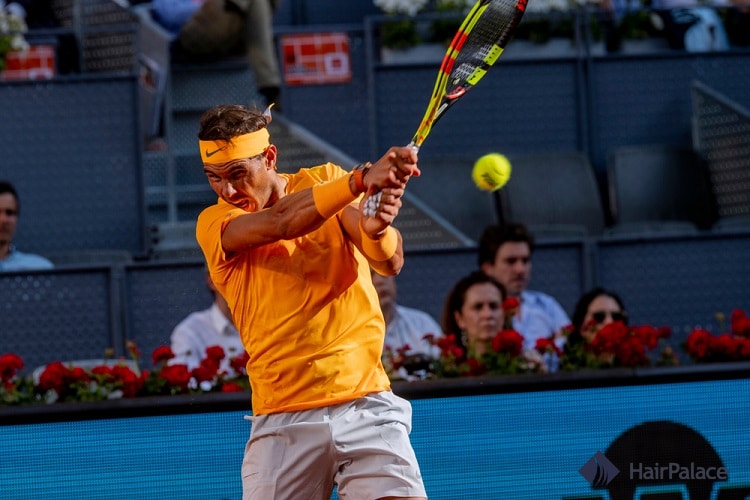 Nadal's hair looks strong, healthy, and thick in the below picture from the 2020 French Open final.
It may be that he wears his hair in a slightly different style than before to cover the thinning more effectively — a common technique that countless men use. But pictures like these suggest that the hair restoration procedure rumours could be true.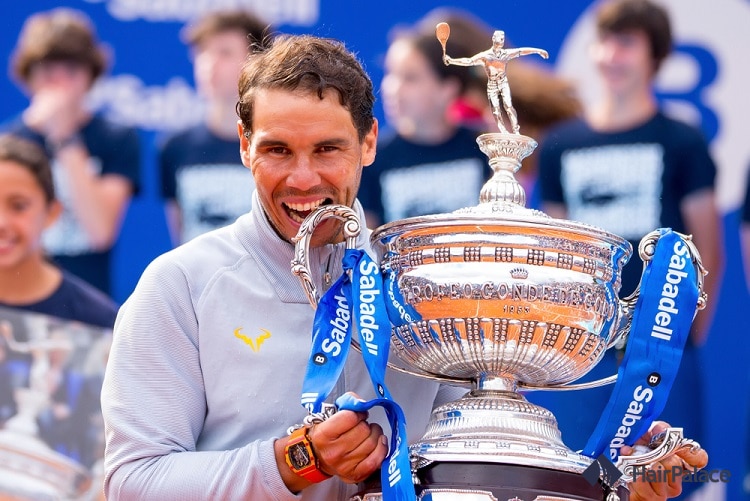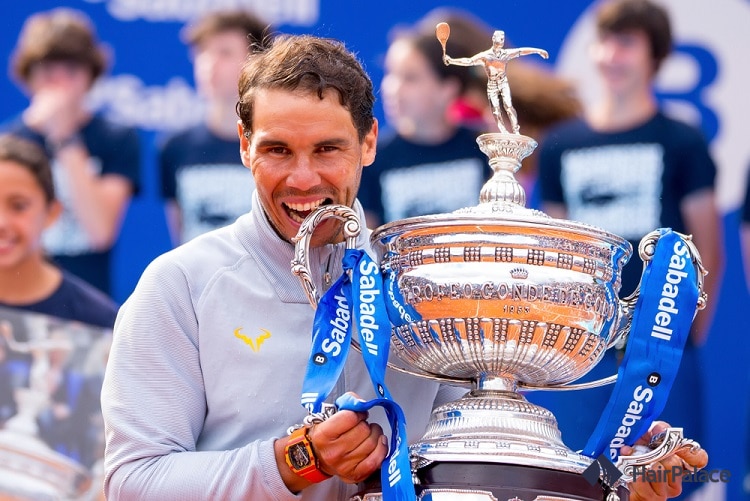 Nadal hair rumours: Did he really have a second transplant?
Rumours about a second Rafael Nadal hair transplant have circulated online, but there's no evidence to suggest they're accurate.
However, some patients do book follow-up treatments if they continue to lose their hair. For example, Wayne Rooney has undergone multiple hair transplants to combat his persistent balding. Many news sites (including The Sun) have chronicled his struggles against hair loss and his repeat treatments.
Patients are sure to be disappointed if their hair loss persists after they hope that a hair transplant will permanently restore their growth, and this may be a possibility for some men affected by male pattern baldness (though certain health conditions and medications may be the cause too).
With male pattern baldness, new hairs can continue to fall out after transplantation due to the excess dihydrotestosterone (DHT) that shrinks the follicles and eventually halts the growth of fresh strands.
That means some men could benefit from waiting until baldness on top of their scalp is complete before they undergo surgery.
Can you undergo the same hair transplant?
The good news for anyone affected by hair loss is that treatments are more accessible and affordable than ever. Cutting-edge technologies and techniques empower surgeons to perform successful hair transplants on patients across various age groups.
However, it's vital to determine whether you're a suitable candidate for a procedure and what results you can expect before you commit yourself to treatment. A consultation with a hair restoration specialist is ideal to learn more about your options, the process, and the potential outcome.
Want to find out how HairPalace can help you restore your hair? Book your free consultation now!