Do you have to get a haircut before a hair transplant?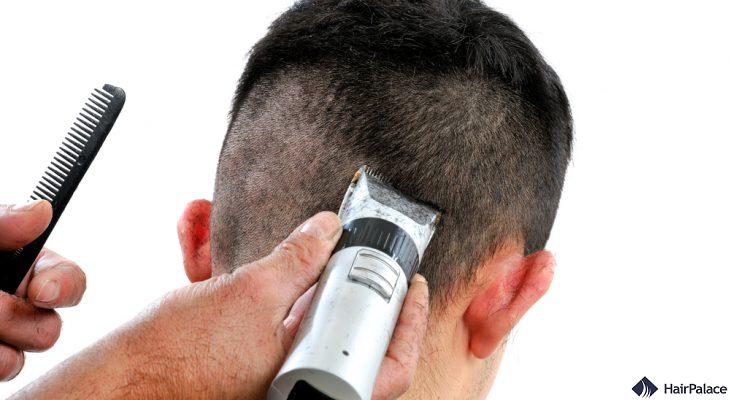 The decision to undergo a hair transplant is a significant step toward restoring confidence and reversing the effects of hair loss.
However, many patients are unaware that in order to regain their hair, they must first give up their current hair length.
In this article, we will explore why clinics ask for a haircut before a hair transplant, and provide tips and tricks to make this transitional period as stress-free as possible.
Join us as we explore the reasoning behind hair transplant haircuts, and find out the answers to some of the most common post-operative questions!
Why do you need a haircut before hair transplant?
Before the surgery, hair transplant patients must have their hair cut to about 2-3 mm short.
The hairs must be extracted from the donor area, and then they have to be implanted in the recipient area.
The procedure is extremely delicate, and great precision is essential in both phases for the transplanted follicles to survive.
A short haircut means the surgery can be performed:
without damaging the hairs during the extraction;
without damaging the existing hairs in the recipient area;
with maximal control over the duration of the surgery and consequently, over the amount of medication necessary;
in a way that prevents a handful of problems that might arise with the newly transplanted grafts during the healing period.
It is not possible to carry out the hair transplant procedure safely and effectively without a haircut before a hair transplant.
Why is it frightful for many to cut their hair 3mm short?
Some patients find the haircut before the hair transplant surgery problematic, or even frightful.
Both of these reactions are understandable.
Since our hair is an integral part of our style and identity, going for a buzz cut or a completely shaven head can be frightful, especially when it has to be considered in connection with hair loss.
While a well-chosen cut can camouflage some of the initial signs of hair loss, it is a temporary fix.
Sooner or later, as the hair loss progresses, the effectiveness of these attempts will decrease and simultaneously, the friendly bits of advice to just shave off your normal hair will start to pour in.
Overall we find that people are not afraid of cutting their hair short, but rather of changing their looks, and being different than usual.
However, looking slightly different for a few weeks is well worth it for the lifelong change and stunning hair growth that hair transplants can provide.
How can you prepare for getting your hair cut to 3mm short?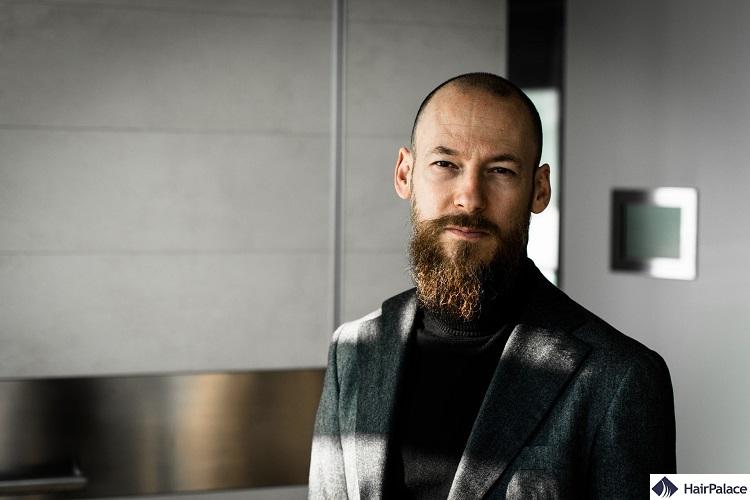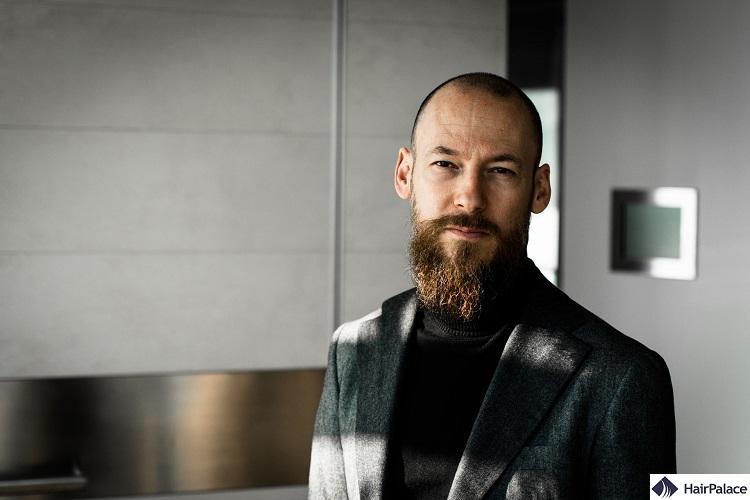 Growing some facial hair before the big chop can ease adjusting to our new look. It can function as an anchor – something that remains the same, lowering the impact of the new cut and the sudden change.
In addition, facial hair provides plenty of room for exploration – going for a bald head or a buzz cut does not mean one must sacrifice their style or play around with their looks.
Today beards, in particular, are gaining popularity and a well-chosen and neatly groomed beard can elevate any hairstyle – even the bald or the buzzed look!
There are hundreds of styles to choose from, but it is important to consider first the face shape, the density of the facial hair and the amount of time we would like to spend with maintenance.
When can you get a haircut after hair transplant surgery?
Your first haircut after a hair transplant can happen after the first month of your hair transplant aftercare has concluded.
However, it's essential to limit this haircut to using only scissors so as not to damage the transplanted area and affect the health of your fresh hair grafts.
But once the shock hair loss has passed and your hair grows in after about three months, you can cut your hair however you like.
Although you must remember that the growth speed of your new hair may be slightly different than the hairs in your donor area in the first 6 months of your recovery.
Can I dye my hair after a hair transplant?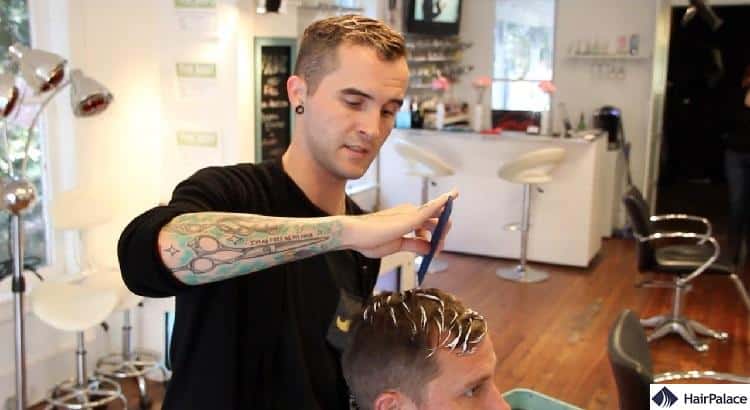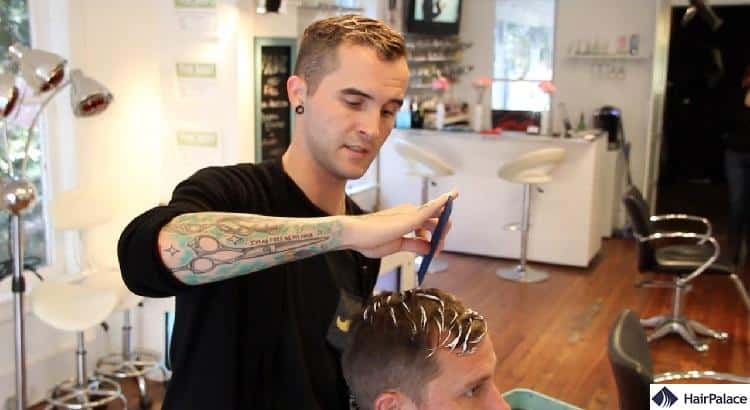 Yes, you can, but only about 4 months after your hair transplant. Hair dyes contain various chemicals that can easily damage your hair grats and ruin their chances of survival.
Therefore, it's best to wait at least 4 months or even longer before you decide to dye your hair.
However, when it comes to natural hair dyes without any chemicals or additives you may dye your hair after only 3 months.
What's the best haircut after hair transplant?
The most popular haircut after a hair transplant is a simple buzz cut, which is excellent for hiding the early phases of recovery.
Mainly the difference between the growth rates, and hair length across your scalp. You can also opt for a fade or a crew cut as these are also excellent at hiding the signs of healing.
Generally speaking, the best course of action is to inform your barber about the procedure and ask them for advice on which hairstyle would suit you best.
This way they can take special measures when cutting your hair and ensure that the haircut has no effect on your final result.
Why do you have to wait before cutting your hair after a hair transplant?
The answer is rather simple and has to do with safety reasons. Cutting your hair too early can easily dislodge the transplanted hair follicles and ruin your new hair.
Additionally, getting a haircut too early can also increase the chances of infection, bleeding and may result in an irritated or itchy scalp.
So the reason you must wait before cutting your hair is to ensure your grafts can anchor into the scalp properly and that you can achieve the density you're looking for.
Summary
Cutting the hair 2-3 mm short before the hair transplant surgery is imperative for a good result. As sometimes it means a big change, it is natural to feel somewhat anxious about it, but this anxiety can be eased.
Overall we can say that choosing and wearing a beard in any style can ease the fear of change and can help patients consciously prepare for the haircut before the procedure.
HairPalace relies on scholarly sources, including peer-reviewed articles, as well as publications of medical associations and academic & research institutions. We follow strict sourcing guidelines and avoid tertiary references. Read our editorial policy for further information on how we keep our content up-to-date and accurate.
Mysore V, Kumaresan M, Garg A, Dua A, Venkatram A, Dua K, Singh M, Madura C, Chandran R, Rajput RS, Sattur S, Singh S. Hair Transplant Practice Guidelines. J Cutan Aesthet Surg. 2021 Jul-Sep;14(3):265-284. doi: 10.4103/JCAS.JCAS_104_20. PMID: 34908769; PMCID: PMC8611706.https://pubmed.ncbi.nlm.nih.gov/34908769/
Jimenez F, Alam M, Vogel JE, Avram M. Hair transplantation: Basic overview. J Am Acad Dermatol. 2021 Oct;85(4):803-814. doi: 10.1016/j.jaad.2021.03.124. Epub 2021 Apr 24. PMID: 33905785.https://pubmed.ncbi.nlm.nih.gov/33905785/
Sharma R, Ranjan A. Follicular Unit Extraction (FUE) Hair Transplant: Curves Ahead. J Maxillofac Oral Surg. 2019 Dec;18(4):509-517. doi: 10.1007/s12663-019-01245-6. Epub 2019 May 28. PMID: 31624428; PMCID: PMC6795649.https://pubmed.ncbi.nlm.nih.gov/31624428/