Why Does Cancer Cause Hair Loss?
Hair loss can be devastating at any stage in life. But when faced with it while receiving cancer treatment, it can feel even worse, stressful, and debilitating.
Although life-saving, cancer treatment often has the unfortunate side-effect of making hair fall out.
Whether it's chemotherapy, targeted therapy, radiation, or a stem cell (bone marrow) transplant, these treatments can attack mistakenly attack healthy cells we need for hair to grow.
Symptoms can be different for every patient. Some might experience small patches of hair loss, or hair becomes dry, brittle, and thin.
Sadly, some may experience extreme or total hair loss on their scalp, arms, legs, pubic areas, and facial hair.
Losing your hair at any time can be stressful – and we're here to help you through this difficult time. In this article, we'll highlight how you can manage the side effects of chemotherapy.
We'll highlight ways to support your hair, mind yourself, and cope better with potential hair loss.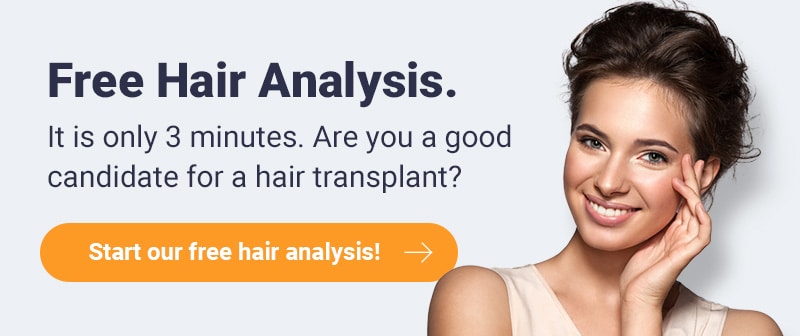 What causes hair loss in cancer patients?
Hair loss and cancer are often linked together. This is because many cancer treatments, like chemotherapy, and radiation therapy, cause damage to hair roots, leading to prematurely losing hair or stagnation in hair growth.
Certain cancers, like Hodgkin's lymphoma, can also cause hair thinning.
Below we will explore four of the principal causes of why cancer hair loss occurs.
1. Chemotherapy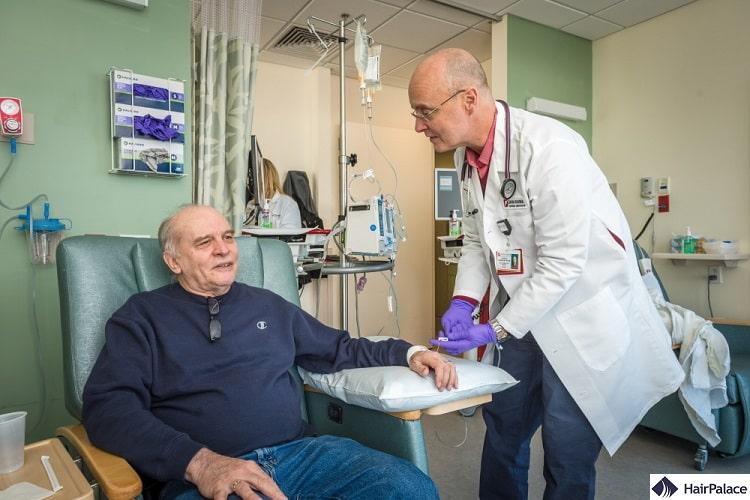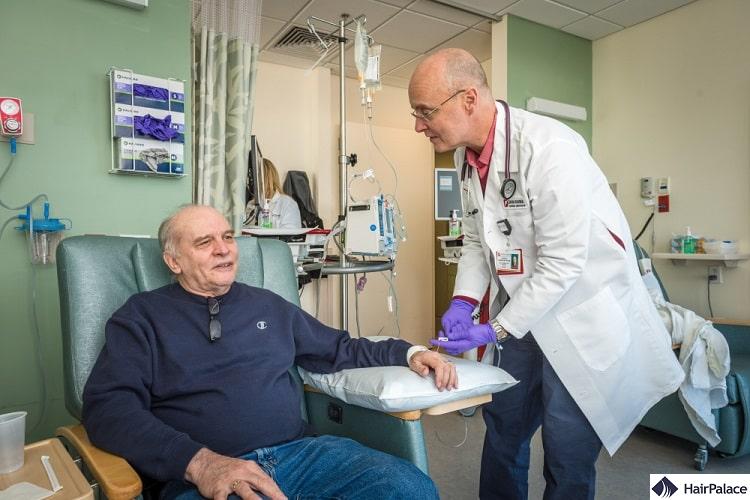 Every patient's treatment and experience with chemotherapy are unique. Some drugs may not impact hair or only cause slight thinning.
Others, unfortunately, may have a huge impact on hair quality and lead to premature hair loss.
Most cancer patients will not lose their hair immediately once commencing treatment; it may take a few weeks or multiple courses of treatment for hair to fall out.
Drugs that are likely to cause hair loss include:
Altretamine (Hexalen)
Carboplatin (Paraplatin)
Cisplatin (Platinol)
Cyclophosphamide (Neosar)
Docetaxel (Taxotere)
Doxorubicin (Adriamycin, Doxil)
Epirubicin (Ellence)
Fluorouracil (5-FU)
Gemcitabine (Gemzar)
Idarubicin (Idamycin)
Ifosfamide (Ifex)
Paclitaxel (multiple brand names)
Vincristine (Marqibo, Vincasar)
Vinorelbine (Alocrest, Navelbine)
It is important to note that these drugs can affect patients differently. Two people on the same course of treatment may experience different levels of hair loss.
How does chemotherapy cause hair to fall out?
Simply put, chemotherapy drugs attack cancer cells which are rapidly growing in your body. At the same time, it also attacks other healthy cells in the crossfire, including various parts of the hair.
Most patients will be able to grow their hair back in one to 3 months after treatment has finished. But it may take up to six months for you to regain all of your hair.
During this time, regrown hair may change in appearance, texture, and color – this is only temporary.
2. Radiation therapy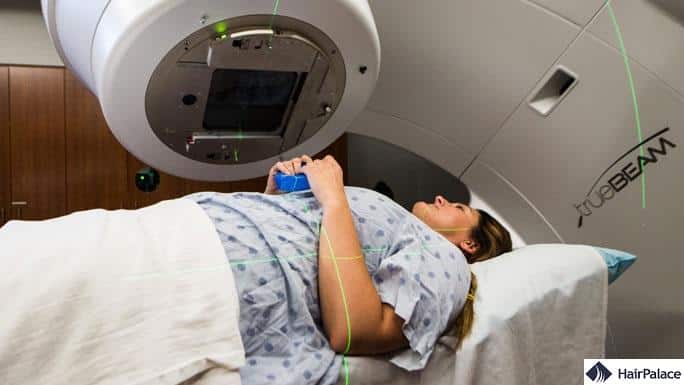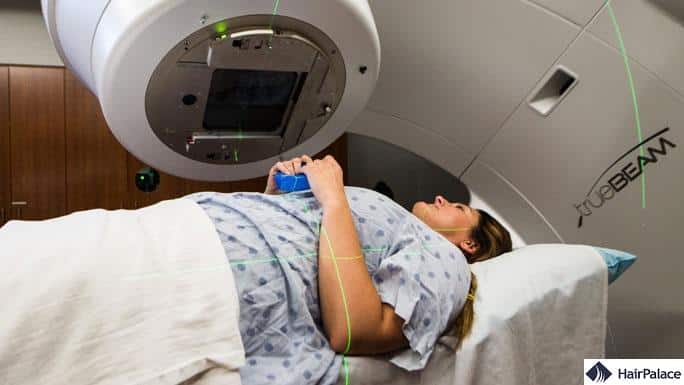 Radiation treatment uses high-energy radiation to kill cancer cells in the body and stop them from diving further. It will only affect hair on the part of the body receiving treatment.
So, for example, if you are receiving radiation therapy on your pelvis, you may lose pubic hair from the area. Like chemotherapy, eventually, hair grows back after a couple of months following treatment.
New hair may look and feel different and may initially be thinner. Receiving very high doses of radiation may result in permanent hair loss.
3. Targeted therapy
Targeted therapy is a treatment that targets proteins that control how cancerous cells may divide and spread. They don't cause complete hair loss but may lead to hair thinning or a curlier texture to your hair.
These therapies include:
Afatinib (Gilotrif)
Cetuximab (Erbitux)
Dabrafenib (Tafinlar)
Dasatinib (Sprycel)
Erlotinib (Tarceva)
Ibrutinib (Imbruvica)
Imatinib (Gleevec, Glivec)
Nilotinib (Tasigna)
Panitumumab (Vectibix)
Sonidegib (Odomzo)
Sorafenib (Nexavar)
Trametinib (Mekinist)
Vemurafenib (Zelboraf)
Vismodegib (Erivedge)
4. Hormonal therapy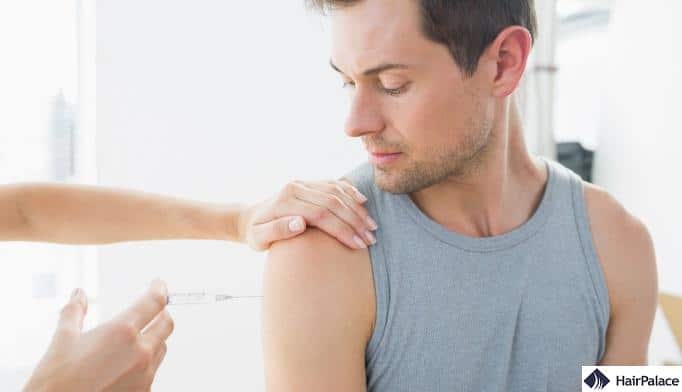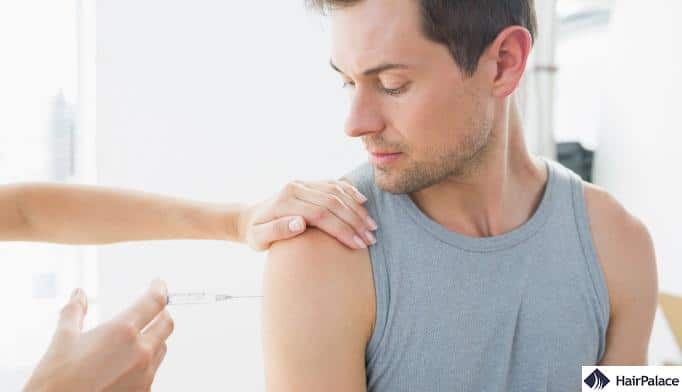 Hormonal therapy treats cancers that use hormones to grow and divide, including prostate and breast cancers. They can sometimes cause cancer hair loss and may happen several months into treatment.
That said, hormonal therapies rarely lead to long-lasting hair loss. Once you stop treatment, all your hair will gradually recover.
Hormonal therapies which may cause hair loss include:
Anastrozole (Arimidex)
Fulvestrant (Faslodex)
Letrozole (Femara)
Octreotide (Sandostatin)
Tamoxifen (Nolvadex)
Who experiences hair loss?
Experiences with cancer treatments can vary between patients. Therefore, you cannot confidently say if you will or won't lose your hair.
While specific treatments are more likely to cause hair loss than others, you must also consider the dosage and how often you receive treatment to predict its effect on how your hair grows.
Some people may experience thin hair. Others may suffer clumps or complete hair loss across their body. Additionally, your scalp may feel incredibly sensitive, itchy, and irritated throughout treatment.
In most cases, you will recover hair after your treatment ends. This can be anywhere from three to six months.
Regrown hair may differ slightly in colour and texture at first, but will soon return to normal as you recover.
5 options to manage cancer hair loss
Cancer hair loss can be a stressful thing to experience, and it's important to highlight several ways to manage, cope and recover from this unwelcome side effect before, during, and after your treatment.
You may cope better by sharing your feelings with close friends, family members, or with people also undergoing treatment who may understand your worries.
Professional counseling may also be able to offer invaluable support.
Some people choose to cut their hair short ahead of their treatment to reduce the severity of sudden hair loss and thinning.
You may also consider hair extensions, a wig, or a head scarf to cover your hair during treatment.
Cancer Research UK has excellent advice on how to afford a high-quality wig, including using government funding and your own health insurance.
That said, there is no right or wrong way to prepare – you must do whatever it takes to make yourself comfortable and at ease during this challenging time.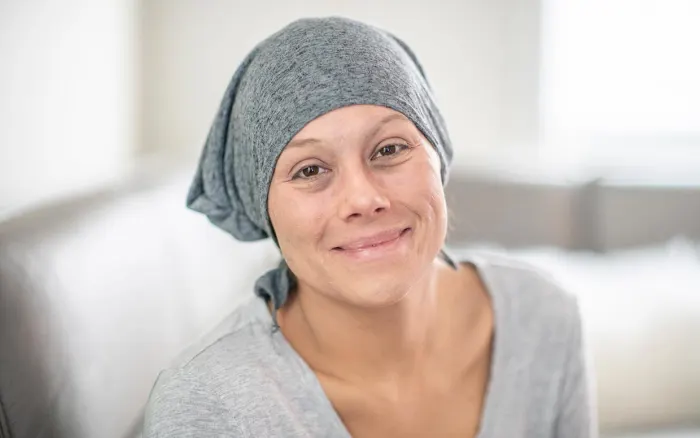 1. Scalp cooling cap therapy
A scalp cooling cap helps cool the scalp, narrow blood vessels, and decrease blood flow. This limits the amount of chemotherapy drugs reaching hair follicles and help prevent hair loss.
Additionally, cooler hair becomes inactive and thus less susceptible to the side effects of treatment.
Also known as scalp cryotherapy, you can wear a cold cap before, during, and after treatment to help support and protect hair follicles. Consult your cancer care team to see if this is a suitable therapy.
2. Medications
Certain hair medications may help alleviate symptoms of certain cancer treatments, though their efficacy is not proven to be consistent.
Drugs like minoxidil can, however, be useful ways to help restore hair post-chemotherapy or radiation.
As always, seek professional advice on potential medications that can support hair before, during, and after cancer treatment.
3. Hair and scalp care
Simple changes may reduce the severity of losing your hair to your regular haircare routine. Avoid using harsh shampoos and conditioners that may damage vulnerable hair.
Wash your hair gently, and avoid applying heat-styling products and devices like straighteners; these can cause incredible stress and pressure to hair roots.
Instead, you should use a hair dryer or pat dry your hair. For maintenance, use a soft brush or wide-toothed comb, and remember to use only gentle strokes.
Apply sun protection to protect your scalp from sun damage and irritation when outside. You can also wear a soft cap or scarf for maximum comfort and protection.
Always consult your doctor or nurse on what lotions and ointments suit you.
4. Wigs and hairpieces
A wig or hairpiece can help maintain your confidence during and after treatment. If you have long hair, it can be helpful to find a suitable wig to find the perfect match before your hair starts falling out.
Our advice is only to visit shops that specially cater to cancer patients, as you want material that will not irritate your sensitive scalp.
Additionally, they may be able to cut and style the wig relevant to your own hair's appearance.
Other heading coverings like a hair net or soft cap can also be worn at nighttime to catch fallen hair and help you cope.
5. Caring for hair that grows back
Once you finish treatment, hair may begin to grow back – albeit slowly. Regrown hair may look thinner and feel more fragile than before, so you must protect it while it restores itself.
Avoid washing your hair too much. Once or twice a week is enough. Choose a gentle shampoo and gently massage your scalp to remove flakes and dry skin.
Where possible, avoid hair dryers and hair straighteners. Use a simple brush to style your hair.
Furthermore, avoid using harsh chemicals or dyes on your hair for at least two to three months post-treatment to give your scalp the best possible chance of healing.
Takeaway
Undergoing cancer treatment is in and of itself a demanding task. And some treatments like chemotherapy and radiation have the unfortunate side-effect of causing you to lose hair, adding to your growing stress levels.
There are several ways you can help your hair during this period, including simple changes to your hair care routine and avoiding direct sunlight and heat.
A cold cap, wig, and certain medications may also help alleviate symptoms.
Remember that people react differently to cancer treatment. Some people may only experience partial hair loss or thinning – others may lose most or all of their hair.
The most important thing to do is take care of yourself. Consult with your care team on what options are available to you to help keep your confidence in check.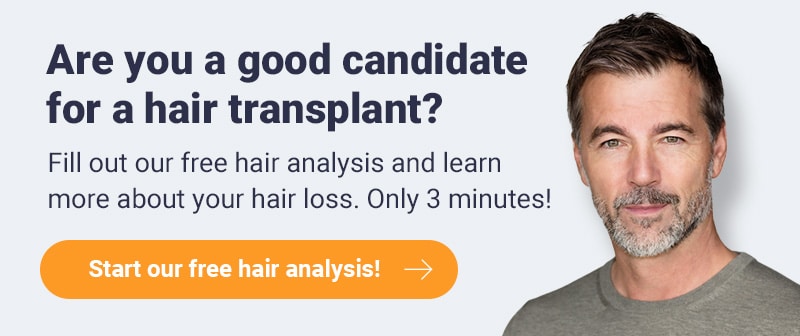 FAQ
What makes you lose your hair when you have cancer?
A side effect of chemotherapy is hair loss. This is because chemotherapy drugs are powerful medications used to attack harmful cells.
But the treatment also attacks other cells in your body, including hair root cells. This can result in losing hair across your scalp, eyebrows, eyelashes, armpits, and other body parts.
Does everyone who has cancer lose their hair?
Every patient is unique, and treatments affect people differently. One person may stand to lose some or all of their hair, while another patient's hair is unaffected.
How many cancer patients lose their hair?
Up to 65% of patients undergoing chemotherapy treatment will experience hair loss. That said, this hair loss is often temporary, and thinning hair will begin to recover once treatment stops.
Does cancer change hair? 
Both cancer and the medication used to treat it may change hair and skin, including your natural hair color, texture, growth, and patterns. Your scalp may feel itchy and sensitive as hair falls out.
HairPalace relies on scholarly sources, including peer-reviewed articles, as well as publications of medical associations and academic & research institutions. We follow strict sourcing guidelines and avoid tertiary references. Read our editorial policy for further information on how we keep our content up-to-date and accurate.