Scalp Massage for Hair Growth: Benefits and Techniques
Nothing can compare to that calm, relaxed feeling after a scalp massage.
Not only does it relieve tension built up around your head and improve blood circulation, but there's growing evidence that it can help improve the quality and quantity of your hair.
So whether you're suffering from hair loss or noticed some thinning around your scalp, a scalp massage could be your solution.
But, like any cosmetic treatment, you undoubtedly have questions and concerns. Does it actually work? And what kind of results might you expect?
Today we'll explore everything you need to know about a scalp massage. We'll cover essential topics like how to perform one correctly, what research says about the treatment, recommended essential oils to consider, and alternative options you might consider.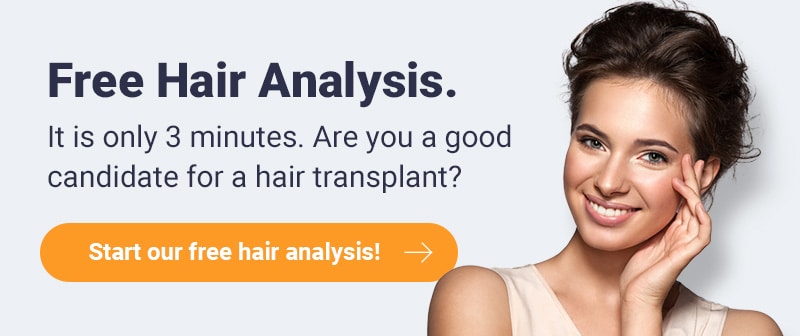 What is a scalp massage?
As you might know already, a body massage can be a wonderful, refreshing experience. Whether it's on your back, neck, hands, or feet, your muscles are relaxed, comforted, and nurtured.
A trained masseuse can help destress and untangle the tightest knots in our bodies.
A scalp massage relies on the same principles but with slight variations and even more health benefits. Using only the fingertips, the masseuse will apply light pressure to your scalp, moving their tips in circles.
Slowly they will cover your entire scalp. Oils are optional but can help hydrate and nourish your scalp further.
The result? Tension in your head is released and muscles are relaxed. Your stress has been reduced and your hair has just been stimulated to regrow again.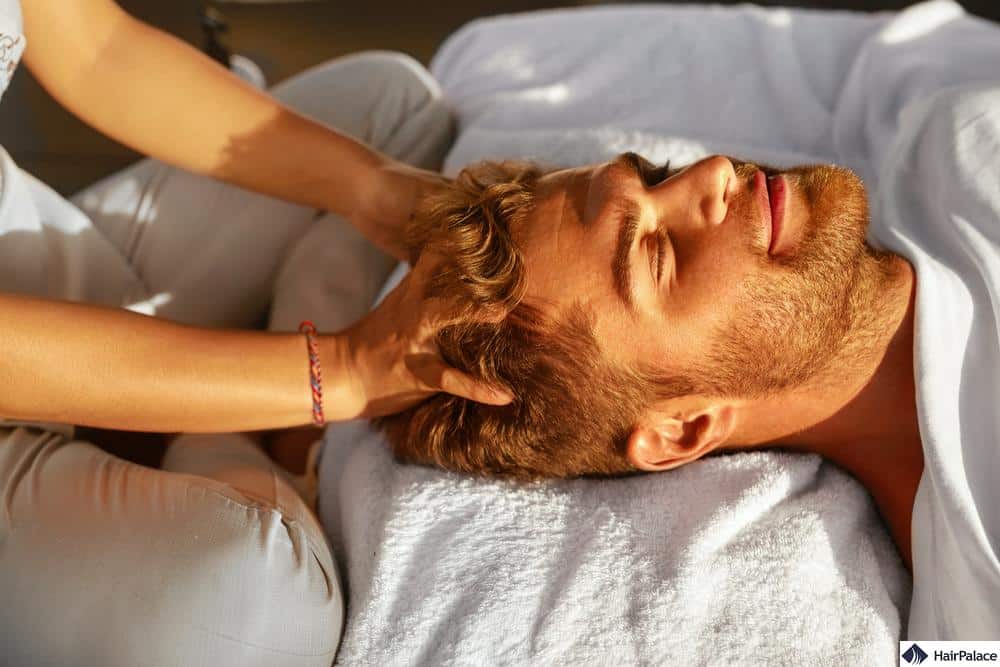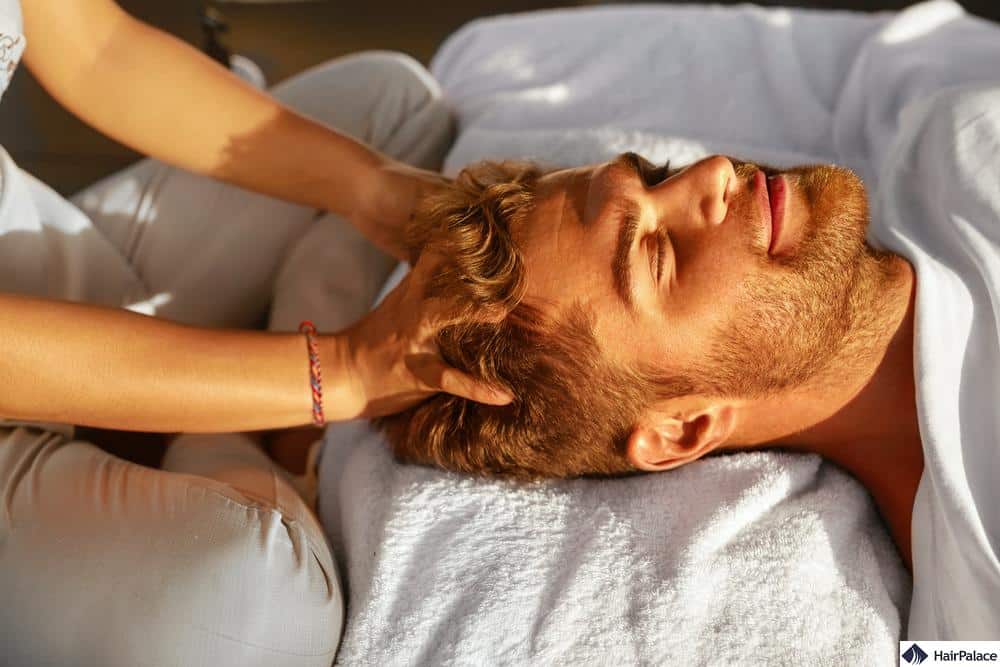 Benefits of a scalp massage
To have a healthy scalp and strong, thick hair, you need to nourish and support it. This type of massage is ideal for people looking to improve their hair condition.
Firstly, the light pressure applied to your scalp helps stimulate blood circulation in both the head and neck area. Hair follicles receive all the nutrients required to produce stronger strands with better blood flow.
Additionally, applying warm oil to the scalp during the massage can help condition skin and prevent flakes, dandruff and itchiness from taking hold.
Finally, a scalp massage can help relax muscles in and around the neck, drastically improving comfort if you are going through a stressful period. Too much stress negatively affects hair growth, and any stress reduction is beneficial.
4 scalp massage techniques to try to promote hair growth
As simple as a massage seems, certain techniques that you incorporate can yield better results. Below are four methods we recommend you try:
1. Traditional massage technique
You only need 5 minutes to perform this traditional massage on your scalp.
Gently use your fingertips from both hands to massage the scalp, applying light to medium pressure. Move fingertips in circular motions, starting on the front of the scalp and slowly working your way to the back.
2. Massage while you wash your hair
We all live busy lives, and finding the time for massage therapy can be challenging. But you can still reap the benefits of this therapy in your everyday life – when washing your hair.
Simply apply your shampoo and conditioner with your fingertips, moving in slow, circular motions. After 5 minutes, rinse your hair thoroughly.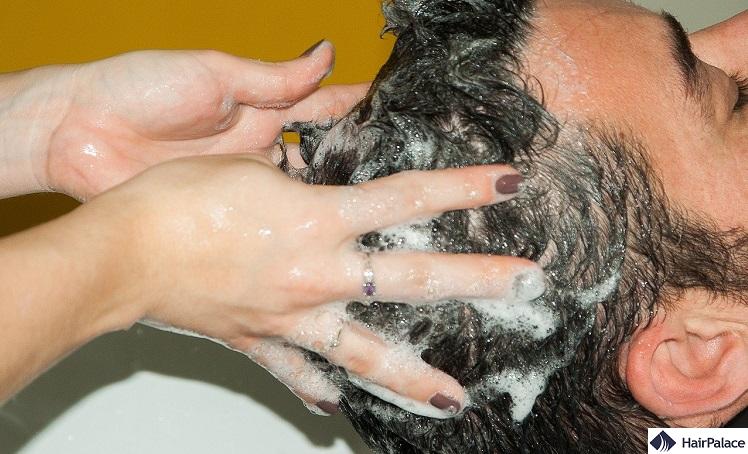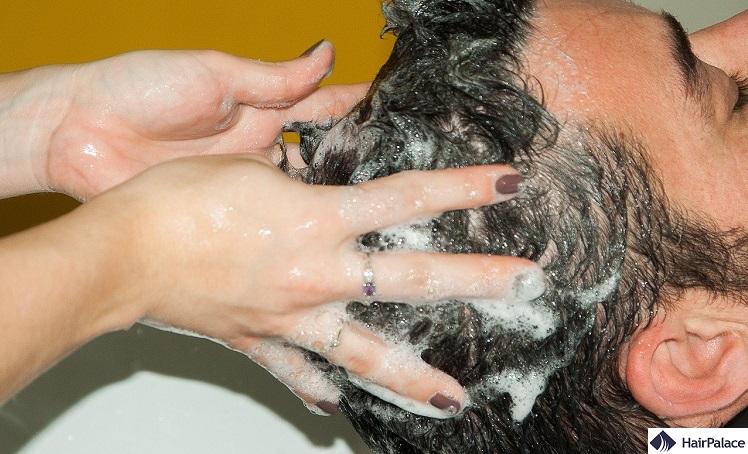 3. Use massage tools
Although dermatologists may question their effectiveness, some hair accessories and tools can enhance the effectiveness and results you get.
Some handheld scalp massagers and brushes use rubber materials to help gently massage hair follicles. As with any cosmetic device, you must carefully read your product's instructions before use.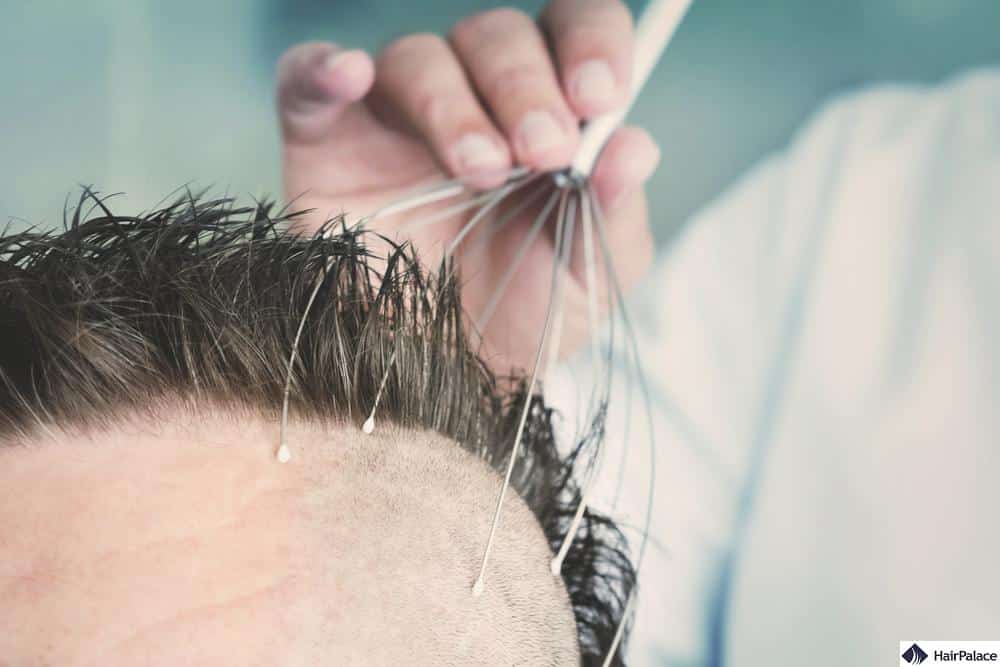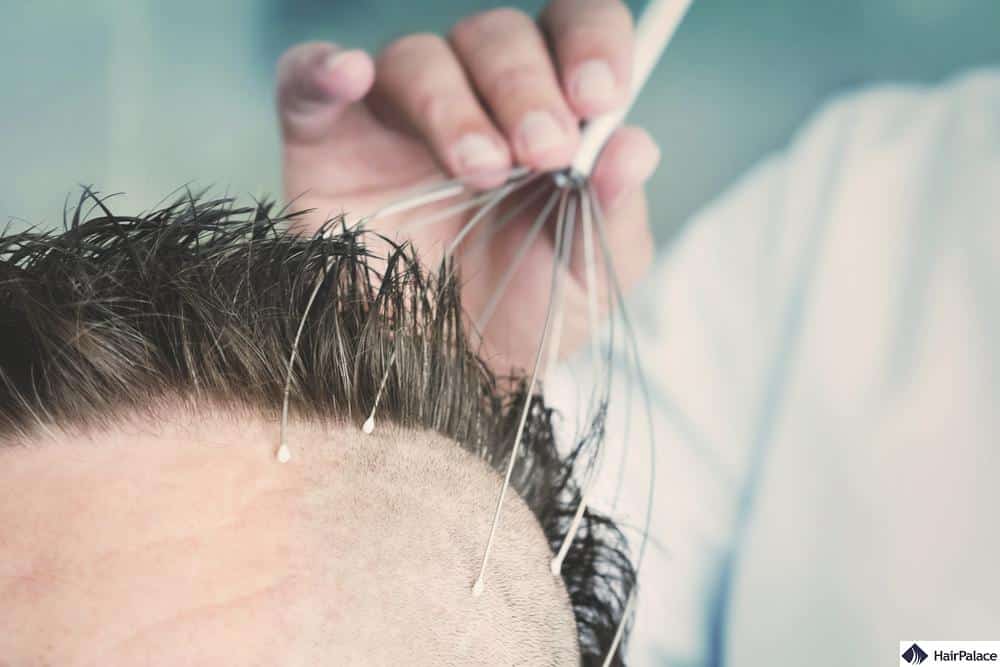 4. Experiment with essential oils
Numerous studies have shown that essential hair oils such as peppermint and lavender can improve hair growth. But how do you incorporate them into your scalp massage?
First, mix a few tablespoons of your preferred oil with hot water. Please wait until it cools enough that you can comfortably touch the oil.
Dip your fingers into the oil, allowing your finger pads to massage in small, circular motions. By massaging fast, you can help improve blood flow to the area; moving slowly can help destress and open muscles up.
Unlike other massage techniques that only last 5 minutes, make sure to leave essential oils in your hair for at least 30 minutes for maximum results.
Afterward, wrap your hair in a moist towel to gently soften and hydrate hair. You can of course, leave the oil to set in your hair overnight. When you're ready, rinse the oil out with natural shampoo.
Before using essential oils, it's recommended that you apply a small amount of oil onto your scalp to see if you suffer a bad reaction. Look out for potential irritation or redness in the area.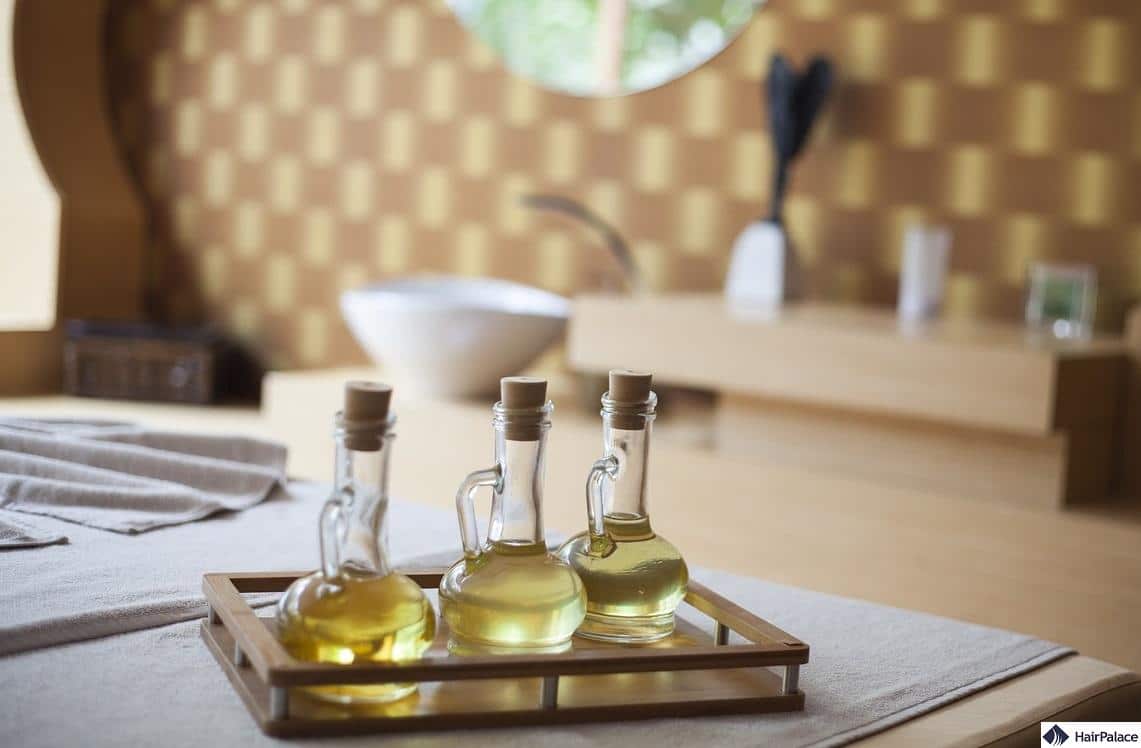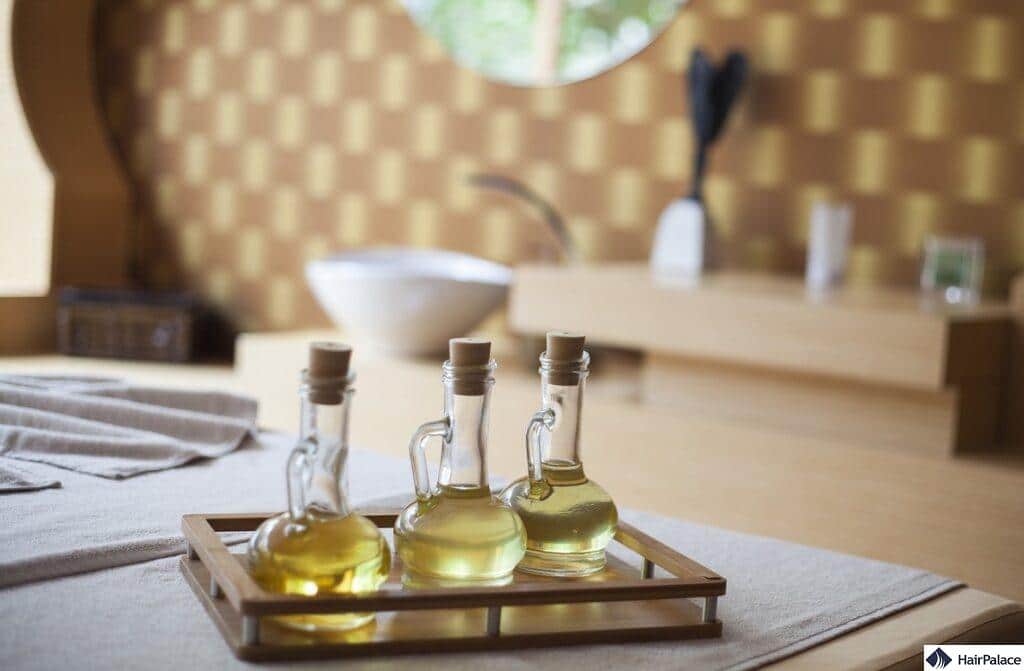 Which essential oil should you use for a scalp massage?
Essential oils stimulate growth by entering the hair shaft and follicle, normalizing and supporting normal functions. There are, of course, some oils that you should prioritize using in your hair care regime. They are:
Coconut oil has anti-bacterial and anti-fungal properties. You must warm it up before use as it solidifies at room temperature.
Sweet almond oil helps strengthen hair and relieve scalp tension, reducing blood pressure around your hair.
Rosemary essential oils have anti-inflammatory properties, which ensure healthy blood flow to hair follicles.
Jojoba oil helps dissolve sebum around hair follicles, which unlocks pores and promotes a healthy environment for hair to regrow.
Avocado and olive oil are rich in vitamins that can help nourish ailing hair while stimulating hair growth across your scalp.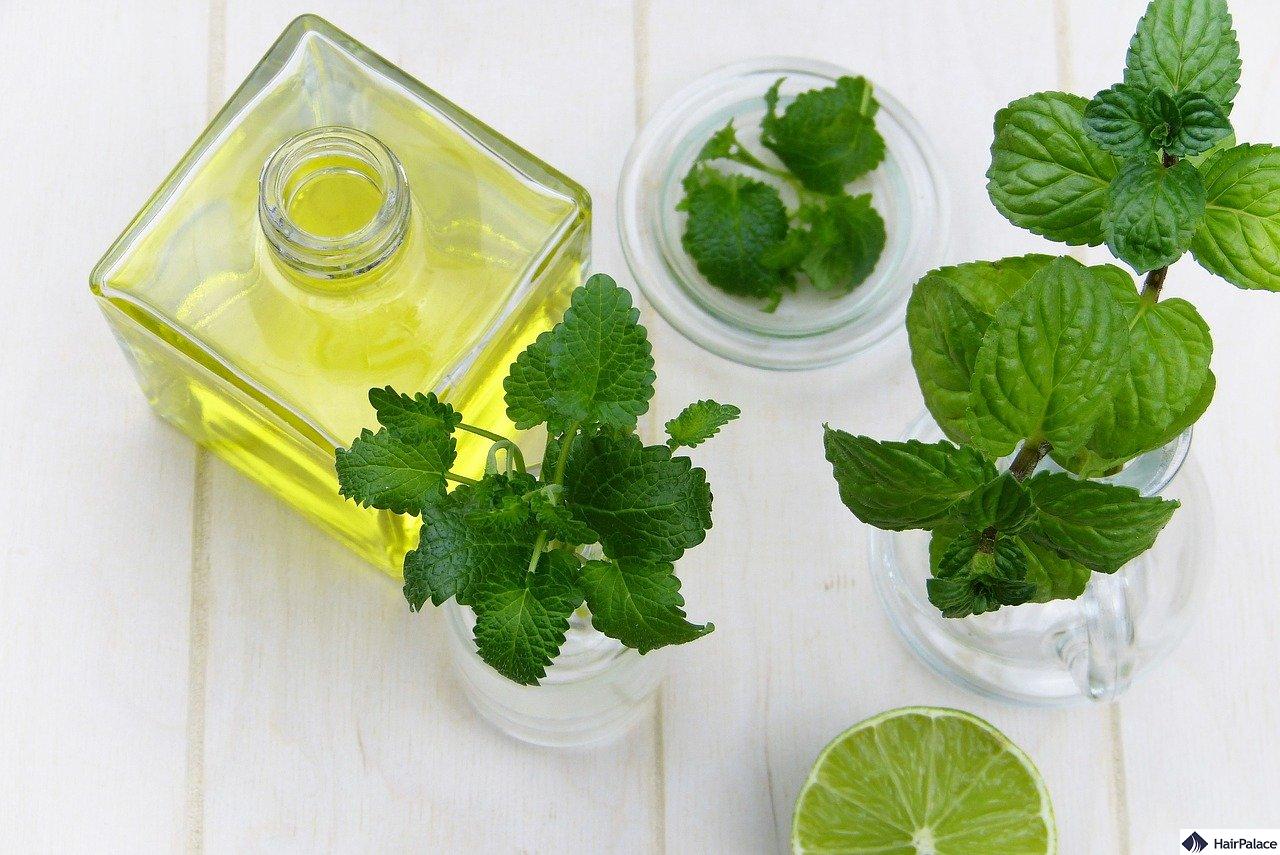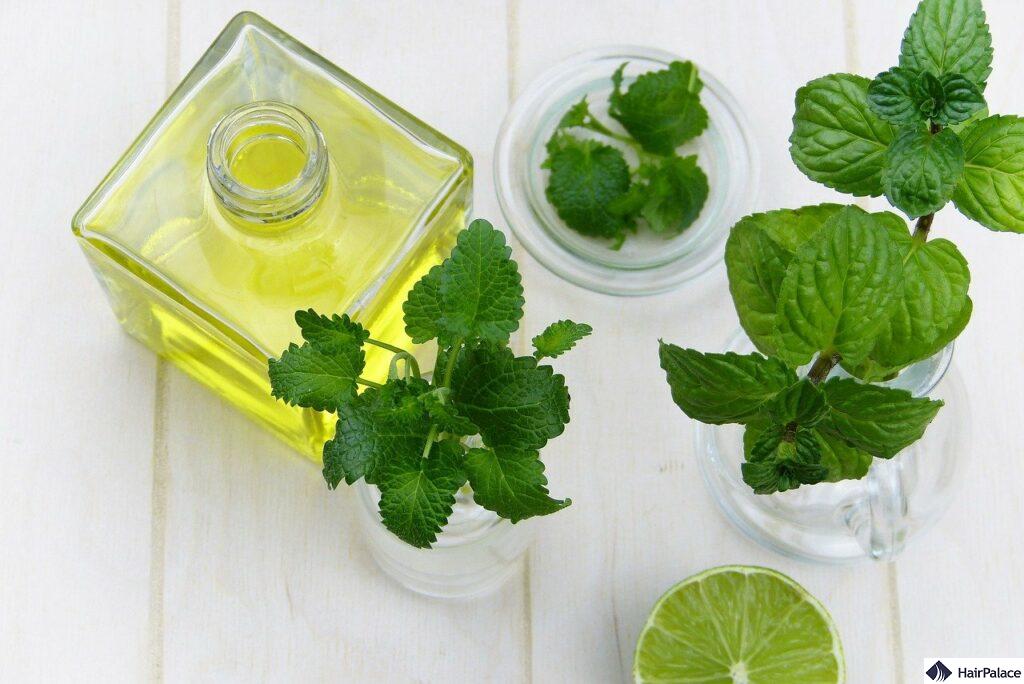 How often should you massage your scalp?
If you are not using an essential oil, aim to massage your scalp with your fingers at least twice daily to achieve the best results.
Of course, gently massaging your scalp whenever you feel a build-up of tension is recommended. You can also incorporate a gentle massage whenever you are washing your hair.
If you are going to use essential oil, aim to massage your scalp once a week.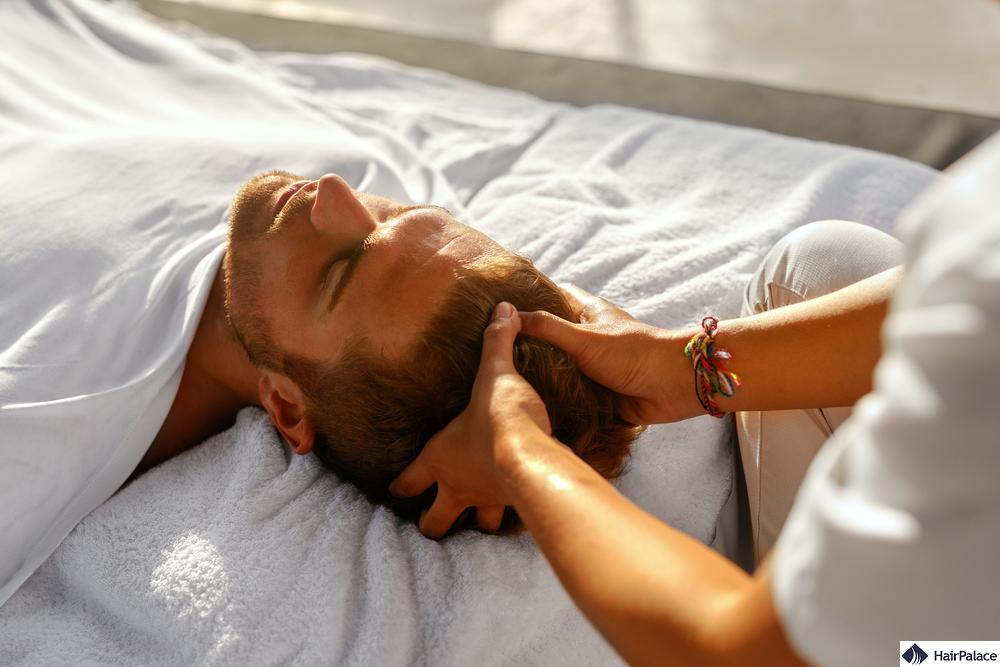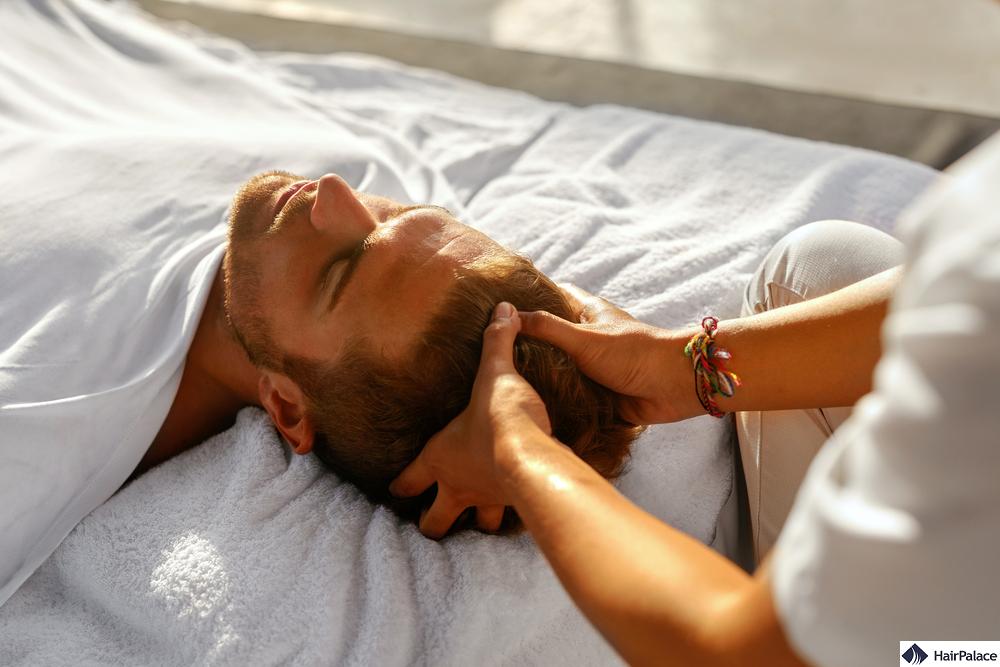 Does scalp massage work?
As with hair care treatments, people often wonder if scalp massages are over-hyped and if they can help restore hair.
The good news is that several studies have found that scalp massages can be used to treat various hair loss conditions. A study in 2019, for example, examined 327 people suffering from androgenetic alopecia. It found that 69% of participants reported that their alopecia had improved due to increased regular scalp massages.
But how exactly does it work?
Massages work by concentrating on the hair follicle. Gentle pressure in a circular motion can stretch cells, increasing hair thickness. This pressure may also help widen blood vessels found under the skin, improving blood flow and helping to support the follicle as strands grow.
That said, more research is needed to measure scalp massages' effectiveness on hair regrowth conclusively. But so far, studies show promising results.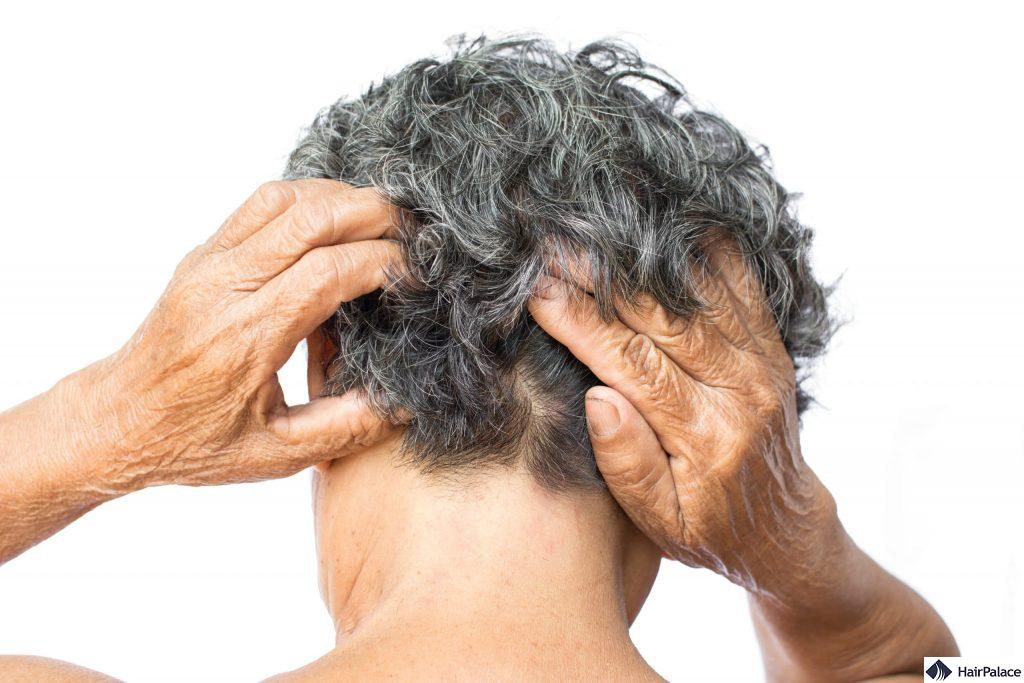 A relaxing scalp massage may halt hair loss
As well as promoting new hair growth, scalp massages may be a preventative measure against further hair loss.
One study examined the relationship between a scalp massage and hair loss and concluded that results were "dose-dependant"; the best results came from more time spent massaging over a prolonged period.
Studies have found it generally can take up to 36 hours of massage to yield results. These hours can, of course, be spread out over a long period of 4 to 5 months. People with more hair loss saw more significant results than those with milder forms of hair loss.
One of the only things that dampen studies over scalp massage is that results are often self-reported. Only with more research with more objective results gathering can we say for sure of a massage's effectiveness.
Tips to stimulate healthy hair growth
Scalp massaging is but one technique you can utilize to achieve thicker hair. Other simple ideas and tips include:
1. Improve nutrition with your doctor
If you have an unhealthy diet, this can negatively affect hair growth. Your body, particularly your hair, needs a variety of things to keep it in good order, including protein and specific minerals.
You can devise a plan to improve your health by chatting with your doctor. You may need to take hair vitamins and supplements or change your diet to sustain new growth.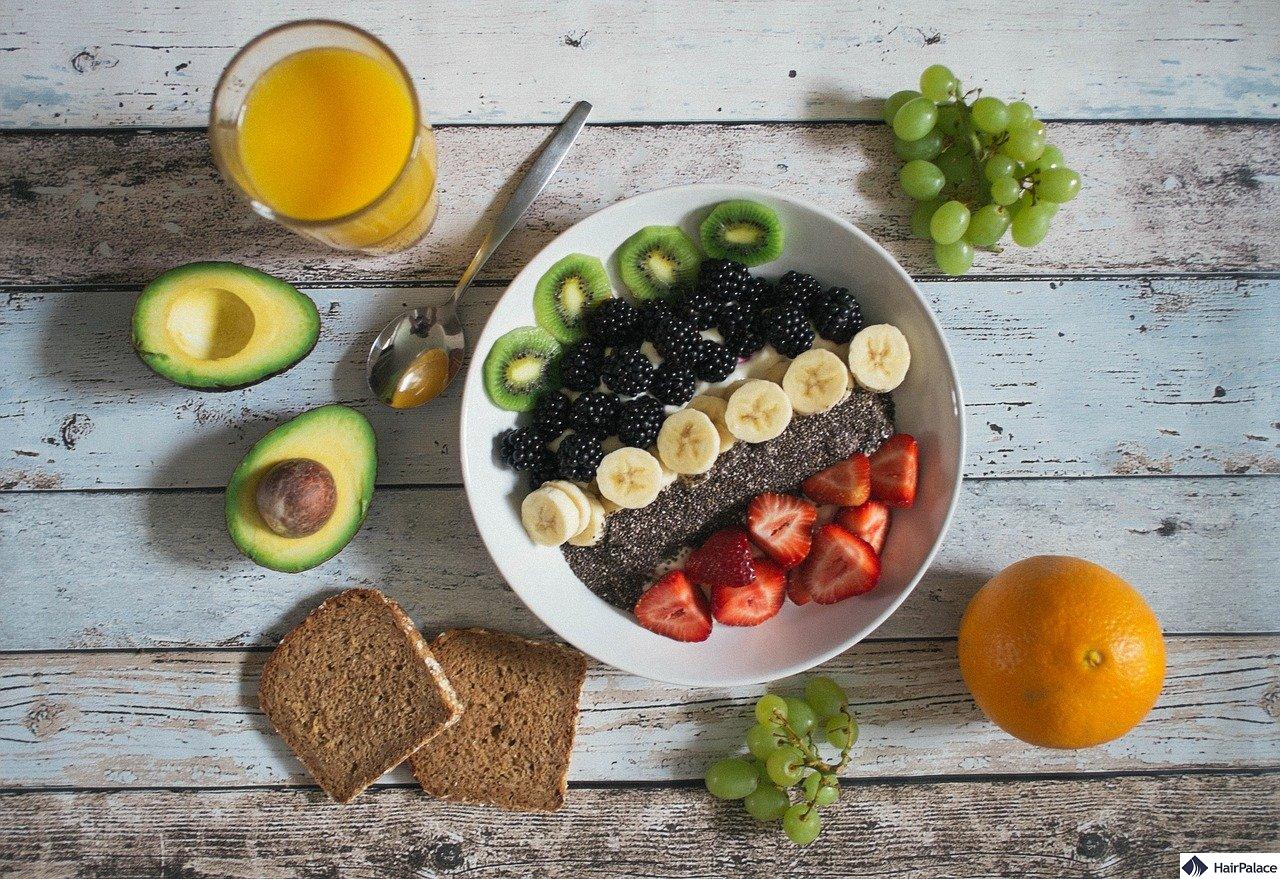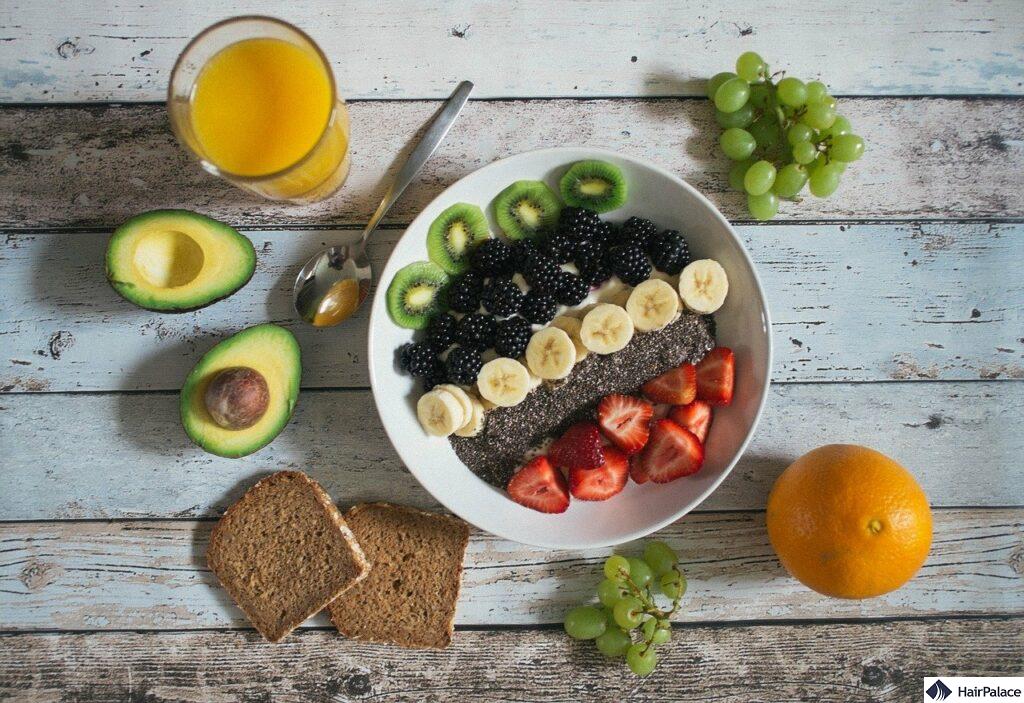 2. Avoid over-styling and treating your hair
Some hair dyes, shampoos, and conditioners have harsh ingredients that can damage your hair, stripping it of natural oils and making it more susceptible to falling out.
Additionally, over-styling your hair with tools like hair straighteners or curling tongs can add unnecessary stress to strands, leading to breakage and falling out earlier than expected.
3. Medication
Some medications can help treat hair loss. Arguably the two most popular are finasteride and minoxidil. One of the downsides to medicine is that any results you achieve will only stay with you by continuing your prescription. Once you stop, your hair will fall out again.
Another consideration is that some hair care medications have side effects; consult with your doctor on the pros and cons and if this is a viable treatment route.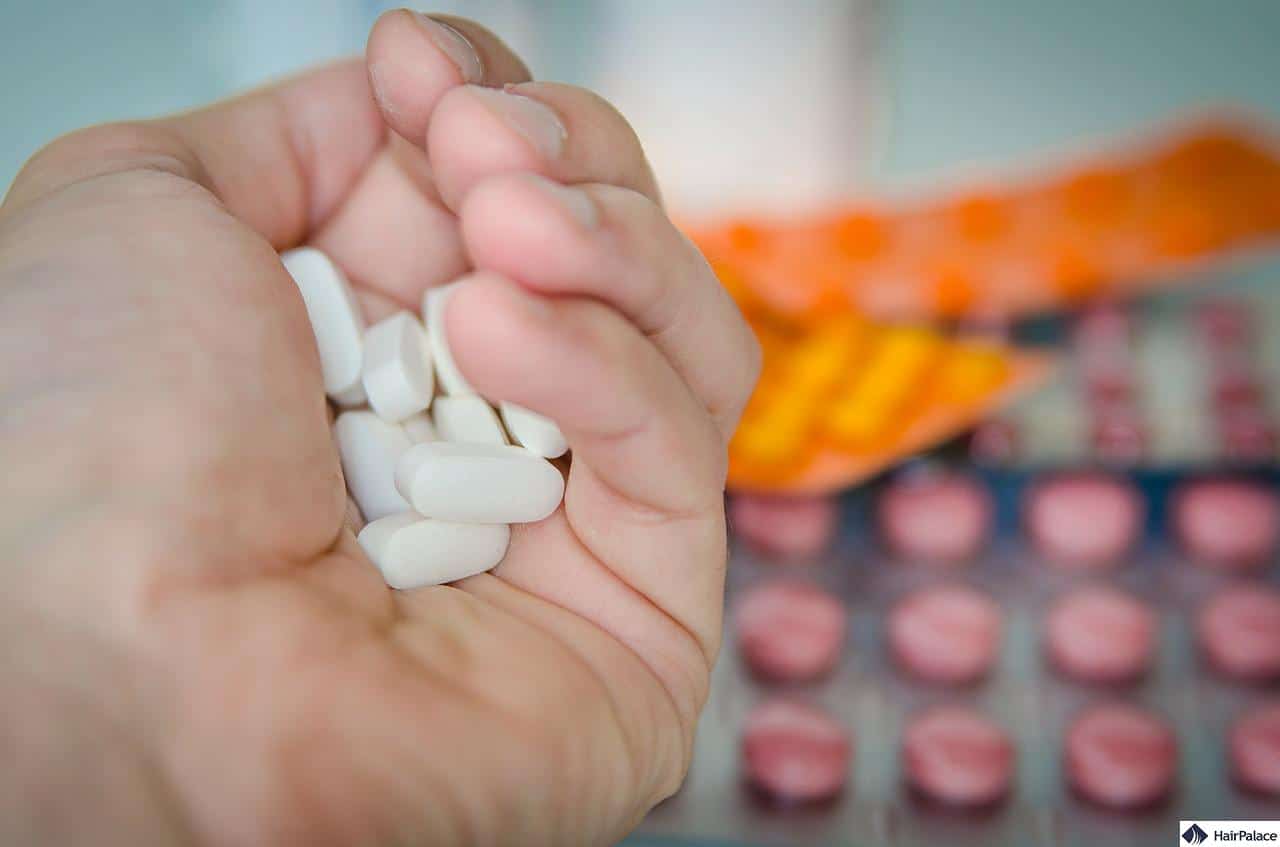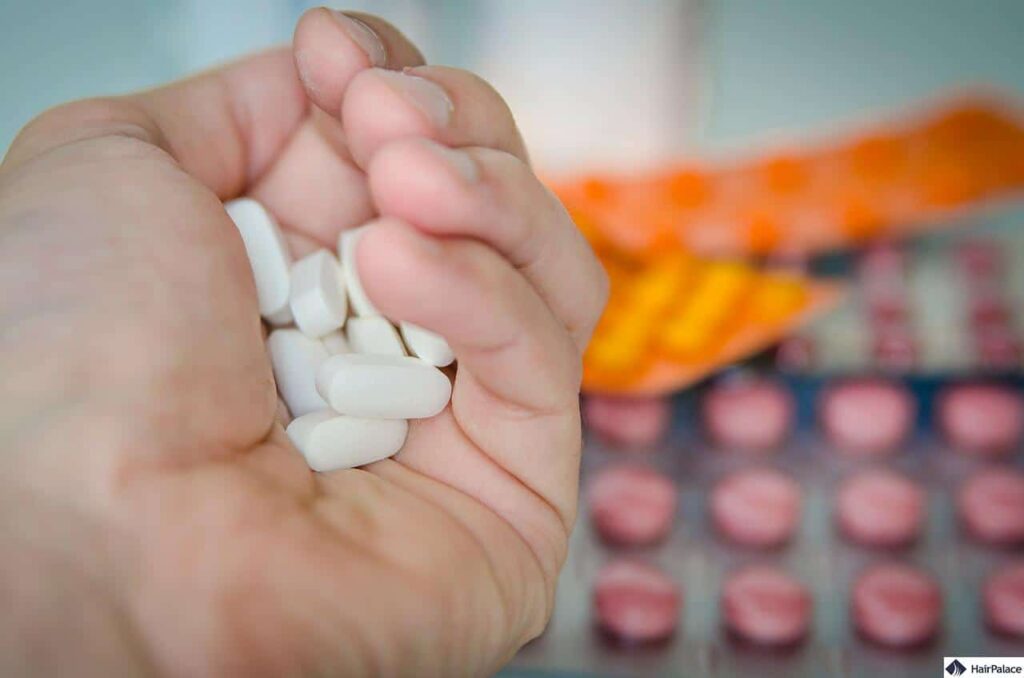 4. Explore hair transplant options
A hair transplant offers you a permanent solution to hair loss troubles. This simple operation involves transplanting healthy hair follicles from the back and sides of your head and strategically placing them into balding areas. The most advanced technique, FUE2, promises a high success rate with minimum recovery time.
Takeaway
Research around scalp massage is still developing, but the evidence to date is reassuring. While this physical therapy can't cure hair loss, it can help stimulate hair growth and improve the overall health of your scalp.
What's more, scalp massages are straightforward to do. All you need are your fingertips and five or so minutes to spare. A host of massage tools and accessories can also help improve the quality of the treatment and ensure you feel at your best afterwards.
But as always, for the most effective treatment and to achieve the goals you have in mind, consult your doctor to monitor your progress.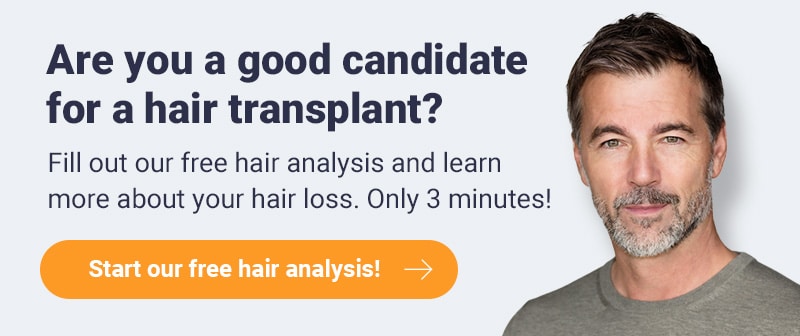 FAQ
Is it good to massage the scalp?
It can benefit your hair in a variety of ways. Because it stretches the hair follicle, this stimulates more growth and denser hair to take hold. Additionally, a massage can improve blood flow, increasing the number of nutrients that reach your hair.
Is it okay to massage your scalp everyday?
A daily massage is perfectly fine. The only thing you must be mindful of is that the person massaging you has clean hands, including fingertips. Use oils to help moisturize the scalp, and wash hair after the massage.
Can a scalp massage regrow your hair?
This treatment can help thicken hair and encourage and stimulate regrowth of your hair. It can especially be effective at treating thinning hair by improving circulation and supporting ailing hair during its growth phase.
How long should a scalp massage last?
Generally, it should be at least 5 minutes in length. When washing your hair, for example, this length of time ensures shampoo and conditioner build-up is prevented around hair roots.
HairPalace relies on scholarly sources, including peer-reviewed articles, as well as publications of medical associations and academic & research institutions. We follow strict sourcing guidelines and avoid tertiary references. Read our editorial policy for further information on how we keep our content up-to-date and accurate.