10 Best Essential Oils for Hair Growth
Essential oils for hair growth can be a great addition to your hair care routine.
Not only do they smell great like the plant, but they also have inherited their beneficial properties, too. And many are used in promoting hair growth and protecting vulnerable hair follicles.
They do this in various ways, including improving blood circulation in your scalp, cleaning your hair of dandruff, and keeping your hair moisturized.
Research suggests that when inhaled, essential oils can also reduce anxiety, improve sleep, and have a host of other benefits.
But with so many essential oils on the market, finding the best one for your hair loss can be difficult. We're here to help.
Today, we're going to highlight ten of the best essential oils you can use to combat any of your hair problems.
We'll highlight their unique benefits, including our top tips on using them in your weekly haircare routine.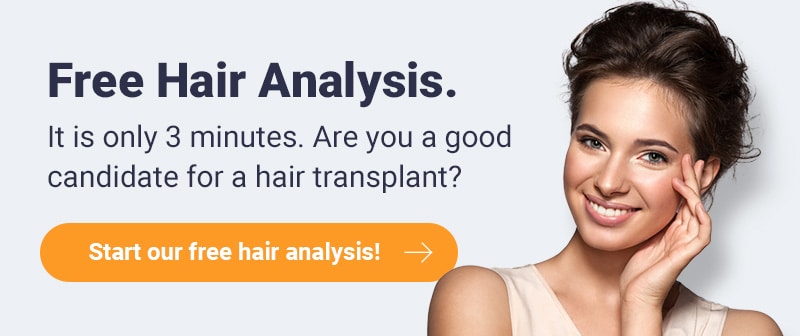 What is the Best Essential Oil for Hair Growth?
Essential oils are compounds from pressed plant extracts and are highly concentrated. A considerable amount of plant is required to produce a small quantity of oil.
For example, over 220 lbs of lavender flowers are used to make a single pound of lavender oil.
There are many essential oils on the market, each with its own unique properties and health benefits. Below are 10 of the best you can use to promote hair growth:
1. Rosemary
Rosemary oil may be an effective oil for you to consider if you're suffering from both hair loss and thinning hair. It stimulates cell development when applied, resulting in increased hair density and improved texture and appearance.
Numerous studies have attempted to define Rosemary's effectiveness. One such study claims that it can achieve results similar to the medication minoxidil (Rogaine), a topical agent known to increase blood flow around the scalp.
The added benefit of Rosemary is that it doesn't cause unpleasant side effects to the body like minoxidil does, including an itchy scalp and unwanted facial hair growth.
Applying Rosemary oil is relatively easy, too, and it is suitable for all hair types. Simply add a few drops of coconut or jojoba oil twice a week to your scalp. Leave for 10 minutes, then shampoo and wash your hair as you usually would.
2. Lavender
Another essential oil that can promote hair growth is Lavender oil. It has antibacterial and antimicrobial properties, ensuring that hair becomes cleaner, fresher, and free from toxins. This can help stimulate hair follicles to reach their full growth potential.
Additionally, many people take lavender because it can benefit several other parts of your life, including boosting your mood, reducing anxiety and symptoms of depression, as well as helping improve your sleep hygiene.
Incorporating lavender into your hair regime is easy. Simply mix several drops with olive oil or carrier oil, and apply them to your scalp. Leave for 10 minutes before washing off with shampoo. You can repeat these applications numerous times throughout the week.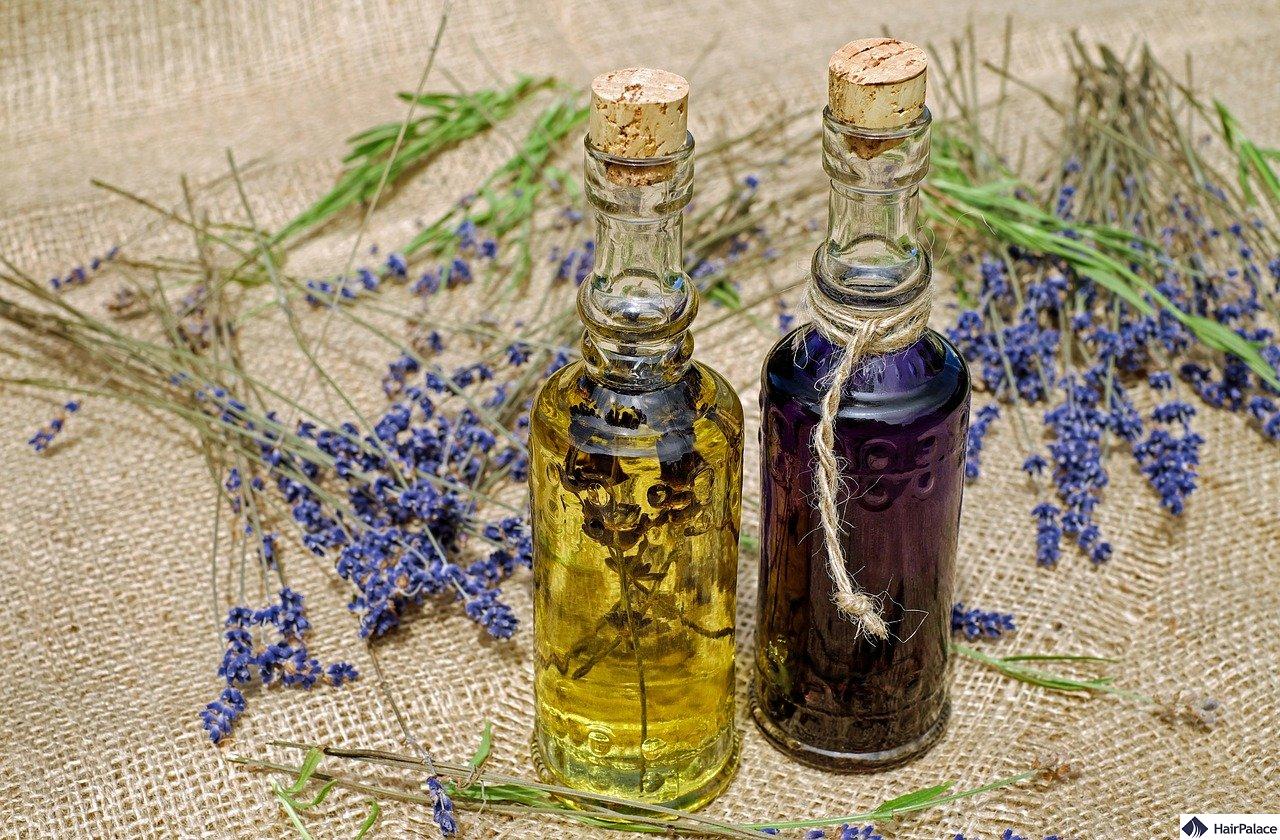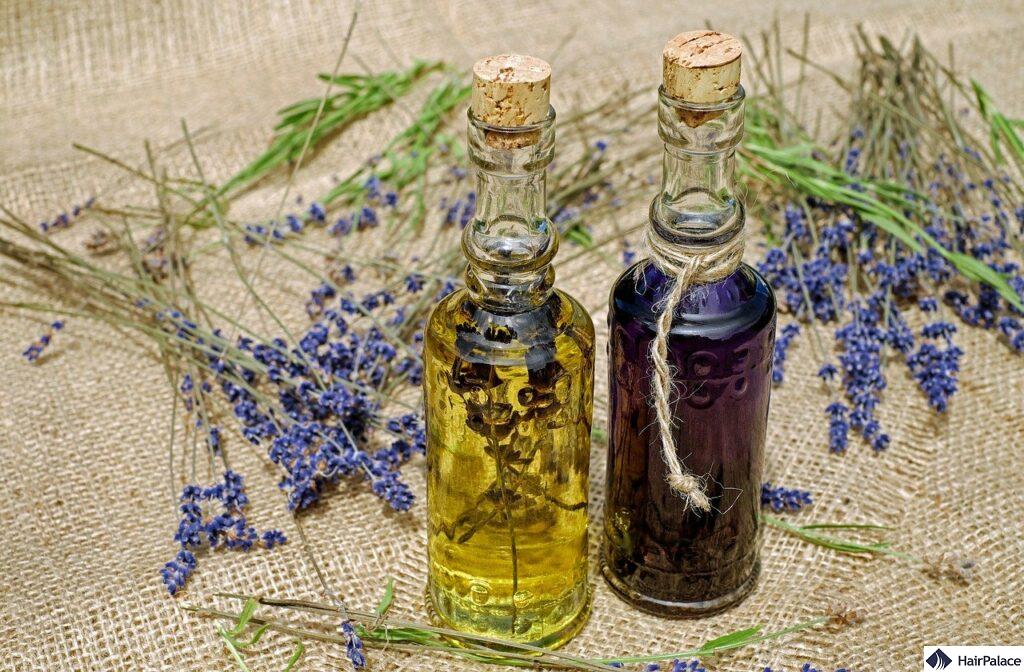 3. Cedarwood oil
Many believe cedarwood oil promotes hair growth by helping glands in your hair follicles produce oil, lubricating strands, and preventing dehydration. Like lavender, it also has antibacterial and antifungal properties, dramatically reducing dandruff and harmful debris on your scalp.
Cedarwood may be particularly interesting to people suffering from alopecia areata, as several studies have found it can help retain hair for longer and improve the appearance of thinning hair patches.
Add a few drops to your desired carrier oils (e.g., coconut or almond oil), and apply directly to your scalp. After ten or so minutes, shampoo out. You can use cedarwood 3 to 4 times each week.
4. Peppermint oil
Peppermint essential oil certainly packs a punch, as it produces a strong physical sensation on your scalp. This "tingling sensation" is thought to be the oil helping skin glands produce more oil and improve blood circulation directly to the hair follicles.
Peppermint is particularly effective in extending the anagen (hair growth) phase; hair will grow stronger and longer. Additionally, researchers have found that peppermint oil can encourage more hair follicles to form, increasing hair volume and density.
Simply add two drops of peppermint essential oil to your carrier oils, massage directly into the scalp, and wash out after 5 minutes. Apply three times a week for optimal results.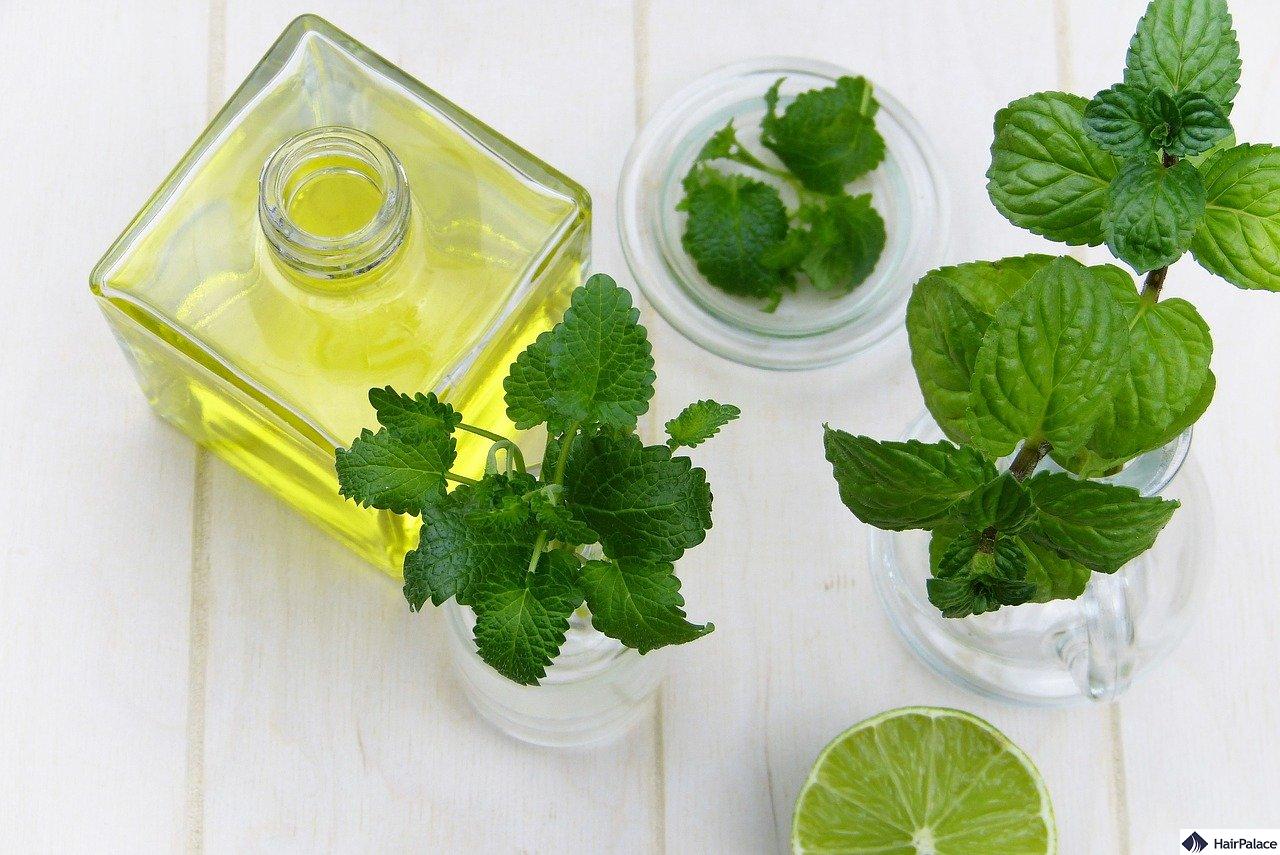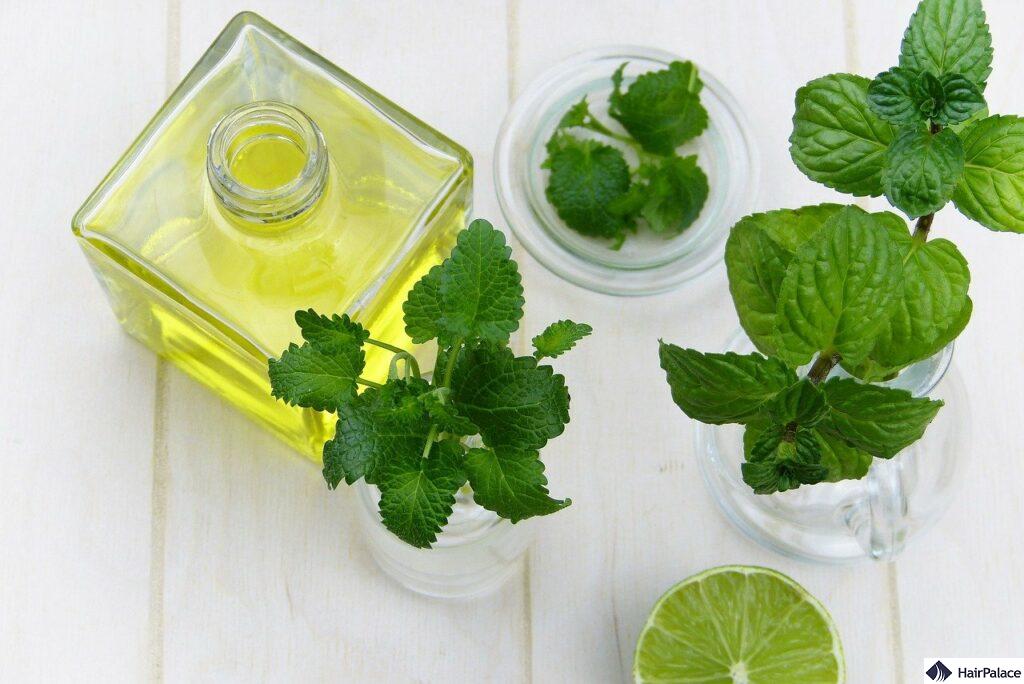 5. Tea tree
With its sweet aroma and powerful antiseptic capabilities, tea tree oil is a natural favorite for many people with a wide range of health problems. But when it comes to hair loss, it can be a practical support for treating various hair conditions and help stimulate hair growth.
Because of its famous antibacterial properties, it can help unclog follicles and moisturize hair strands. Additionally, researchers have found that tea tree oil can support other medications like minoxidil, boosting its effectiveness.
That said, tea tree oil is potent, and you must take care of how much you use each time. Follow instructions carefully. On average, add ten drops to your favorite shampoo or conditioner to make a practical, easy-to-use hair tonic.
On the other hand, you can add tea tree oil to your favorite carrier oil and wash it out after fifteen minutes from the application.
6. Clary sage
If you want thicker hair, then clary sage oil should be of interest to you. It bolsters the natural defenses of hair follicles, preventing them from breaking easily and falling out. This is because it contains linalyl acetate, a naturally occurring phytochemical known to slow the growth of microorganisms.
Add three drops to your usual conditioners or a tablespoon of carrier oil a couple of times per week to enjoy all of its hair growth benefits.
7. Ylang ylang
Hailed as an essential oil that helps boost mood, reduce anxiety and decrease heart rate, yalgn ylang can also help rejuvenate your hair and combat hair loss. It does so by encouraging sebum production, increasing the moisture in your hair, and preventing a dehydrated, brittle appearance.
Add three drops to your usual conditioners or a tablespoon of carrier oil a couple of times per week to enjoy healthy hair growth.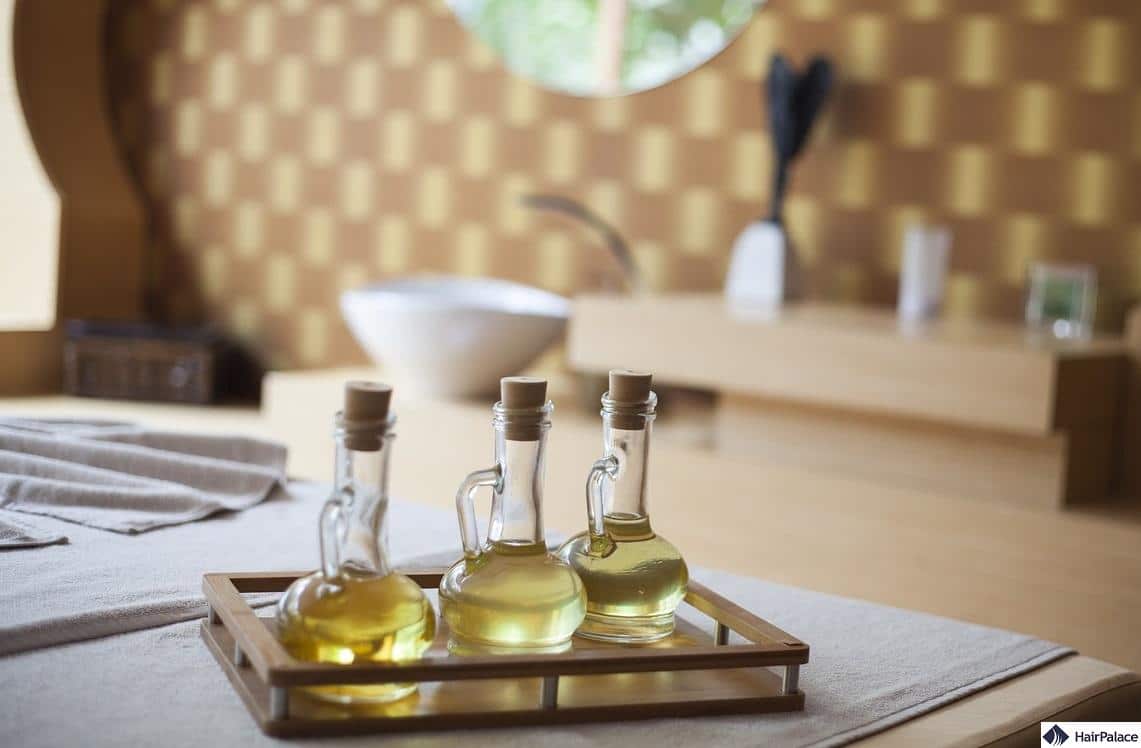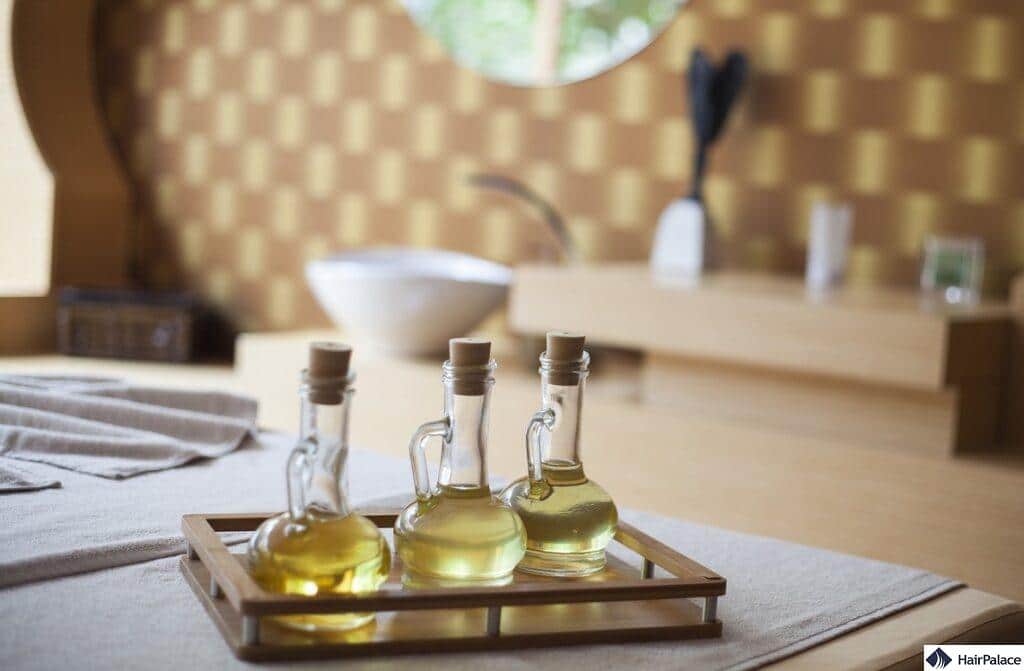 8. Thyme
Although often used in cooking, thyme is also a highly effective essential oil that fights hair loss in proven ways.
Researchers have found that adding thyme to your haircare regime can significantly help people suffering from alopecia areata. How? Thyme oil reduces inflammation, helping improve your hair follicles' health and well-being.
That said, thyme is one of the most potent essential oils, so you must adhere to the instructions on the packaging. But if in doubt, two tiny drops of any carrier oil can be more than enough. Gently massage your hair and scalp, and wash out after ten minutes.
9. Lemongrass
Dandruff is a common problem for many people and not only looks unappealing but can lead to fungal infections or inflammatory conditions like lichen planopilaris.
For that reason, keeping dandruff off your scalp should be a priority. Lemongrass can be an effective treatment for this, reducing the amount of dandruff by up to 74% after two weeks of use, preventing any future hair loss from developing.
Simply put two drops into your shampoo or conditioner and wash your hair normally to rid yourself of a troubling condition and stimulate new hair growth.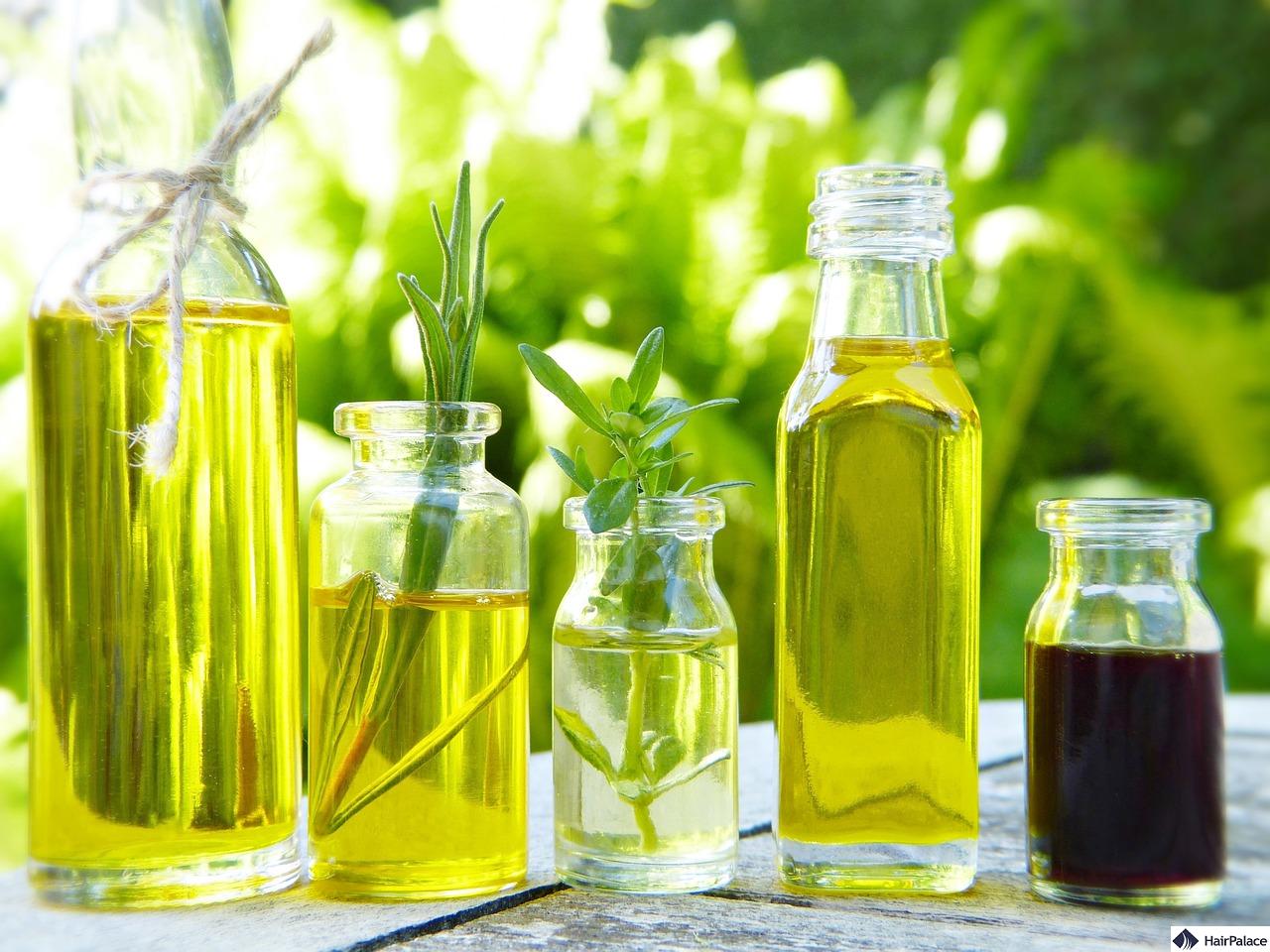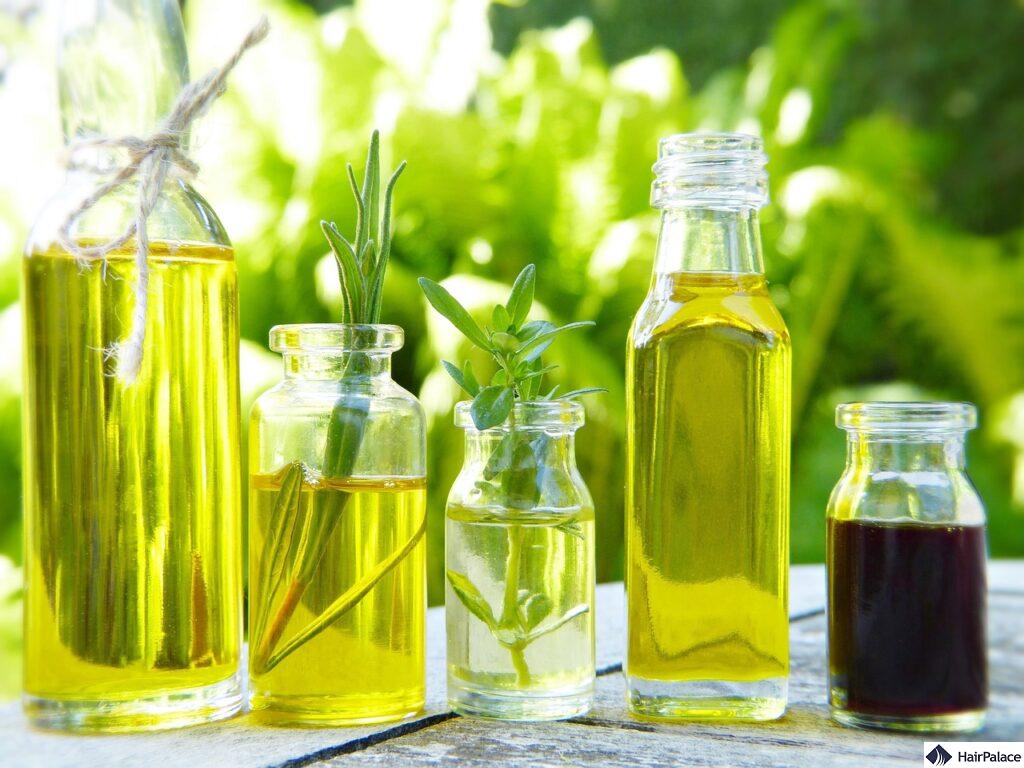 10. Chamomile oil
Another essential oil that combats hair loss is chamomile, which has anti-inflammatory and antifungal properties. This not only improves the appearance of thinning hair but can also strengthen hair follicles' natural defenses.
Additionally, chamomile oil has been known to help reduce stress, a known contributing factor to hair loss. Simply add a few drops to your regular shampoo or conditioner, massage it gently into your scalp, and rinse off. Another alternative is mixing the oil with water and apple cider vinegar, leaving hair glistening.
Bonus oil: Horsetail plant
Horsetail plant extracts earn a spot on our list because of the ingredient silica. It is thought that silica can help bolster the natural strength of hair and the speed at which it grows.
Some studies have also shown that women who experience temporary hair loss enjoyed improved hair growth when taking tablets containing horsetail plant oil.
Carrier oils
Carrier oils are a crucial part of using essential oils; they help dilute the oil's potency, literally "carrying" them onto your skin.
There is a wide variety to choose from, each bringing its own additional benefits.
Below are our recommended ones to use in conjunction with essential oils:
Coconut oil: Helps soften hair and improves its appearance
Almond oil: Improves hair moisture, helps soothe the scalp, and combat hair loss.
Olive oil: Helps improve skin elasticity and prevents split ends from developing
Jojoba oil: Adds nutrients, moisturizes hair, and stimulates hair follicles into action
How to use essential oils for your hair
Essential oils are incredibly easy and practical to use.
All you need to do is mix a few drops into your carrier oil. Afterward, massage your hair and cover it in a towel or shower cap.
Wash out the mixture from your hair after thirty or so minutes. Depending on the oil, you might leave it overnight and wash it with shampoo in the morning. Experiment and update your techniques accordingly.
Do remember, though, that certain essential oils can be potent and may cause skin and scalp irritation.
Read the labels on the bottle thoroughly, dilute your mixture, and never use more than recommended amounts – no matter the severity of your hair loss.
You may want to conduct a patch test on a small area of your skin or scalp to see if you develop a reaction or not.
What are the Potential Risks of Using Essential Oil for Hair Growth?
Despite treating hair loss, essential oils have potential side effects and risks. The two most common and severe are skin irritation and an allergic reaction.
For skin irritation, symptoms include:
An uncomfortable tingling or burning sensation
Dermatitis, including itchiness and skin dryness
Redness
Discomfort
For an allergic reaction, symptoms include:
Breathing difficulties
Swelling of the tongue, or feeling as if your throat is narrowing
Blisters and rashes
Extreme dermatitis
You can often avoid problems by properly diluting the essential oil in a carrier oil or with your shampoo and conditioner.
Also, conduct a patch test on a small area of your skin with the essential oil, and see if a potential reaction develops.
Often, essential oils are safe for adults and teenagers to use. With children, speaking to a pediatrician will help you assess if they are suitable.
What Else Can You Do To Improve Hair Growth?
Our top ten essential oils can help revitalize your ailing hair and stop developing hair loss. But if they are not for you, you can use other treatments and methods to promote hair growth.
You can try specially designed shampoos for hair loss, physical therapies like scalp massages, or vitamins that promote healthy hair.
But if you want one simple, straightforward, and permanent solution to hair loss – you should speak to a specialist about hair transplantation.
A hair transplant is a highly effective procedure that sees a skilled surgeon restore thinning hair or balding areas of your scalp.
They create a seamless, natural look that lasts a lifetime. You only need to wait 12 to 18 months to see your hair looking fuller and healthier.
At HairPalace, our experienced surgeons use the latest, cutting-edge techniques, like the FUE2 method, to conduct the safest hair transplant surgery possible. With success rates of 90-95%, we can help you achieve all of your hair restoration goals.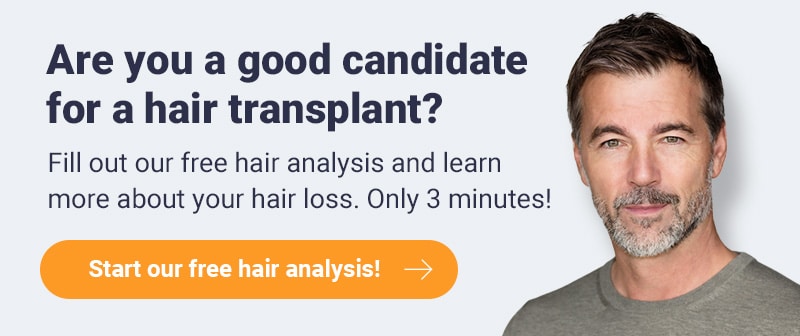 FAQ
What oils can boost hair growth and thickness?
Coconut oil is one of the best essential oils to improve your hair's voluptuousness. Massage it gently into your scalp, and rinse after thirty minutes. Never leave coconut oil in your hair for longer; it is a potent oil that can do more harm over extended periods.
How often should I use essential oils for hair?
Most people can benefit from using these oils once or twice a week. If you do it more than this, you could be potentially robbing your hair of its own natural oils and, in fact, attract harmful side effects and dirt and contribute to hair loss.
Is overnight oiling good for hair?
Yes, hair oil can make your hair shafts much stronger, especially if you suffer from dehydrated hair, have a frizzy texture, or suffer from sudden hair loss. Ensure you do a patch test beforehand to rule out potential allergic reactions.
HairPalace relies on scholarly sources, including peer-reviewed articles, as well as publications of medical associations and academic & research institutions. We follow strict sourcing guidelines and avoid tertiary references. Read our editorial policy for further information on how we keep our content up-to-date and accurate.