Nutrafol: Products, Reviews and Results in 2023
Supplements are often hailed as the miracle cure for various hair loss conditions. Whether it's thicker hair, stronger strands, or a shiny glow to your hair, there's a supplement for every person.
Arguably one of the most popular supplements is Nutrafol. Many beauty bloggers, doctors, and dermatologists are singing its praises, citing it as one of the best supplements for mild to moderate hair loss.
This article will explore everything you need to know about Nutrafol. We'll talk about how the supplement works, the likely results you can expect, and possible side effects.
We'll also highlight alternative treatments you might consider so that you can make an informed decision about your hair needs.
What is Nutrafol?
Simply put, Nutrafol is an over-the-counter hair growth supplement. It can be an effective product for people suffering from mild to moderate hair thinning and hair loss due to stress, age, or poor genetics.
Nutrafol works by rebalancing stress and androgen hormones in the body, both of which impact hair quality and quantity.
It contains various helpful active ingredients commonly found in haircare products, including Biotin, Sensoril ashwagandha, collagen, curcumin, Indian ginseng, kelp, and more.
Co-founded by Giorgos Tsetis, Nutraceutical Wellness Inc. is one of the fastest-growing supplements in the industry, with some clinical studies proving its effectiveness in improving hair regrowth by an impressive 80%.
The FDA regards Nutrafol as a food supplement, not an official medication.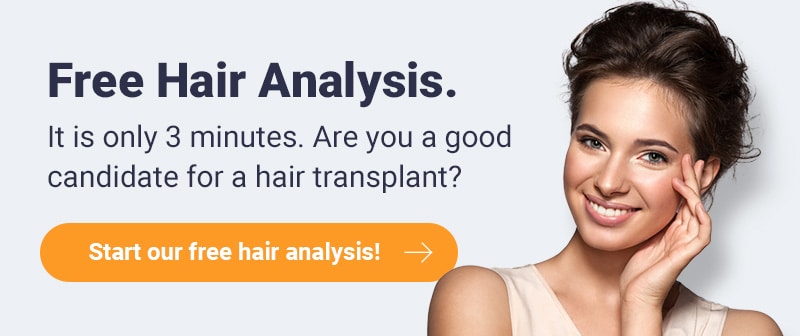 How does Nutrafol work?
Nutrafol helps restore hair growth in three ways: by reducing the harmful effects of androgen hormone levels in the body, reducing the overall stress we suffer from, and finally, by neutralizing harmful molecules in our system.
1. For hormonal hair loss
Androgens are male sex hormones that negatively affect hair follicle health and growth in both men and women. Limiting their impact is thought to indirectly help your hair grow for longer.
Dihydrotestosterone (DHT) is commonly attributed as one of the main culprits of hormone-related hair loss.
It's derived from testosterone, and men generally have higher levels of it than women, but both genders can fall victim to its hair loss side effects.
DHT shrinks hair follicles as it binds to receptors in the scalp. Over time, this miniaturization process prevents hair follicles from producing new hair.
One of Nutrafol's active ingredients, saw palmetto, is thought to reduce the body's sensitivity to DHT by inhibiting specific hormone receptors.
Nutrafol's Women's Balance supplement helps women combat hormonal changes often experienced during menopause and postpartum.
It contains maca, an excellent source of fibre, Vitamin C, and iron that helps regulate hormones to help support recovering hair.
2. For stress-related hair thinning
One of this supplement's active ingredients, Sensoril ashwagandha, has been shown to safely reduce stress and anxiety levels.
It does so by balancing cortisol, a hormone that forces follicles into stagnation.
By balancing this stress hormone, the supplement helps preserve the hair's natural growth cycle, leading to longer, thicker and stronger hair.
Nutrafol also contains Vitamin E, which has neuroprotective, anti-cancer, and cholesterol-lowering properties that promote hair growth.
Vitamin E also reduces oxidative stress in the body, reducing your chances of developing harmful conditions like high blood pressure, diabetes, and heart disease while promoting healthy hair growth and strengthening hair strands.
3. For metabolism-induced hair loss
Your body's cellular metabolism nourishes your hair to reach its full potential.
Hormone imbalances, and several conditions around inflammation, can negatively affect your metabolism, preventing hair from receiving the necessary energy for cell reproduction, growth, and defense.
Inflammation, for example, restricts blood flow to your hair follicle, reducing the amount of oxygen and nutrients able to reach their goal, leading to thinning hair.
Nutrafol contains curcumin, which anecdotal records suggest has anti-inflammatory properties that aid hair growth.
It may also act as a preventative against developing other metabolic syndromes and disorders.
Personalized advice
Several factors can vary between people in relation to hair health, including hormonal changes, stress levels, diet, and age.
We recommend taking Nutrafol's Hair Wellness Quiz, as then you'll be able to hone in on areas you need to improve on.
By subscribing to Nutrafol, you'll gain access to the company's wide range of wellness professionals to get support and information on the best hair growth techniques.
Regardless of your decisions or what's truly affecting hair health, discuss your symptoms and goals with qualified professionals before trying anything new.
They will be able to highlight appropriate products and lifestyle changes you can make to improve your outcomes.
Pros and cons of Nutrafol
Pros
All natural: Using 100% natural ingredients, many holistic doctors recommend this supplement.
Clinically studied: A range of clinical studies have claimed the supplements' hair-stimulating properties, with promising results.
Versatile payment plans: A variety of price plans allows for flexibility in how customers pay.
Cons
Not effective with severe hair loss: This supplement is mainly used to treat mild to moderate hair loss.
Side effects: Though it varies between patients, some users have reported unwelcome side effects, including skin rashes, cramping, and nausea.
Lack of data: Although positive studies have supported the supplement, we still need more data and research to prove its efficacy in hair growth.
Price: Despite the flexible price plans, single bottles cost upwards of $88, one of the most expensive on the market.
Nutrafol UK
Nutrafol for Women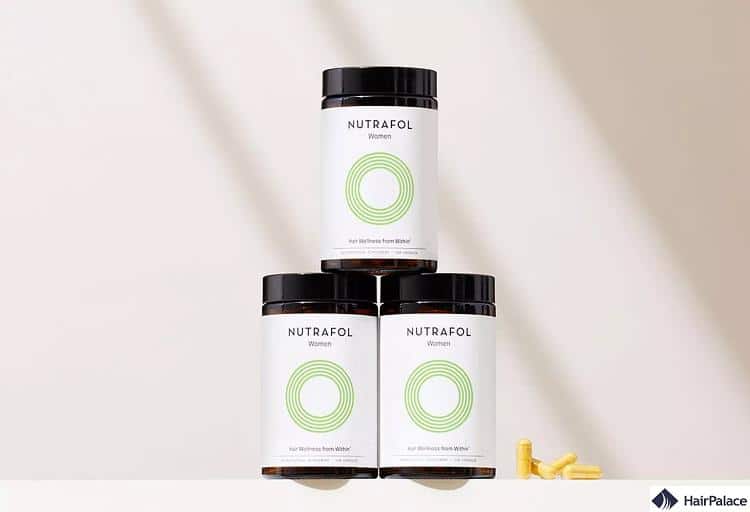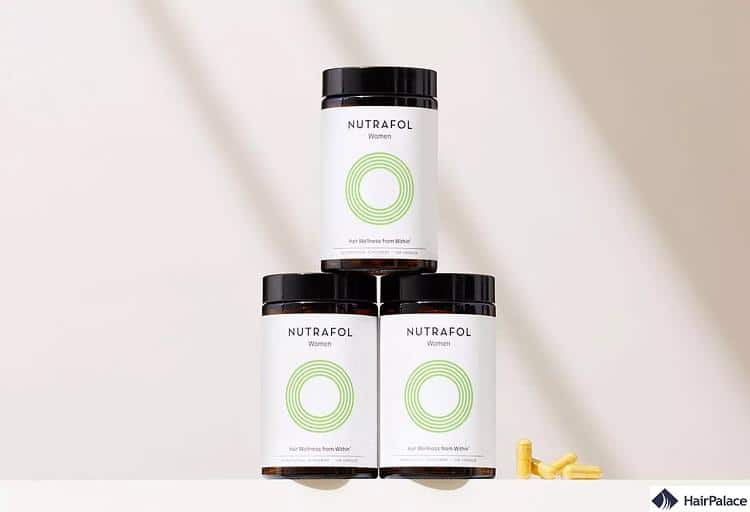 Cost: £75 per bottle
Rating:

based on more than 12000 Amazon reviews.
Formulated with 18-44-year-olds in mind, this Nutrafol supplement for women promises thicker, stronger hair and an end to thinning hair.
Although missing some key ingredients in their signature Women's Balance supplement, this bottle contains collagen, which has the added benefit of improving your skin, teeth, and bones.
Protein may also help hair growth by boosting strength and bolstering your hair's natural resilience. As a result, hair repels breakage and lasts for longer.
This oral supplement also contains other active ingredients like Sensoril ashwagandha, astaxanthin, and maca, which help fight free radicals in hair and support your immune system for a healthier metabolism.
Nutrafol for Men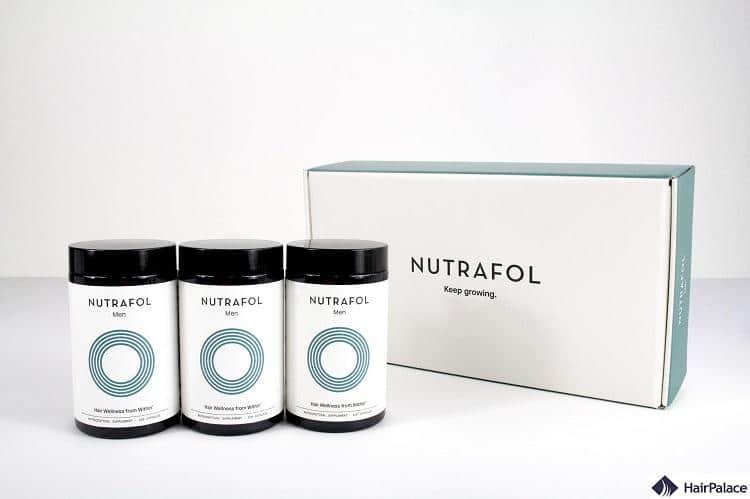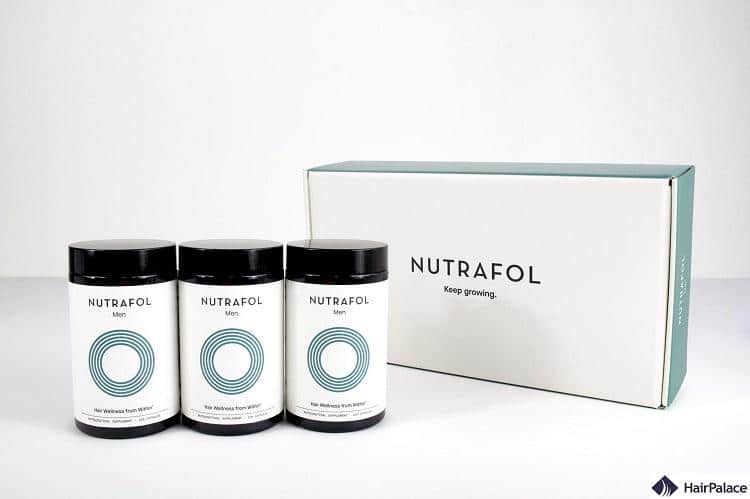 Cost: £75 per bottle
Rating:

based on more than 2000 Amazon reviews.
Specially formulated for men with self-perceived thinning hair, this bottle aims to restore hair thickness and promote better scalp health in as little as 3 to 6 months of consistent use.
With nearly 83% of customers reporting improved hair quality in clinical studies, this specially formulated bottle for men promises to restore hair thickness and improve scalp health.
It does so by regulating your body's stress hormones, preventing harmful cortisol from negatively affecting the hair growth cycle.
This supplement can also help improve and balance your nutrition and diet and regulate your metabolism.
However, you should familiarize yourself with the Nutrafol for men side effects before taking this supplement.
Nutrafol Postpartum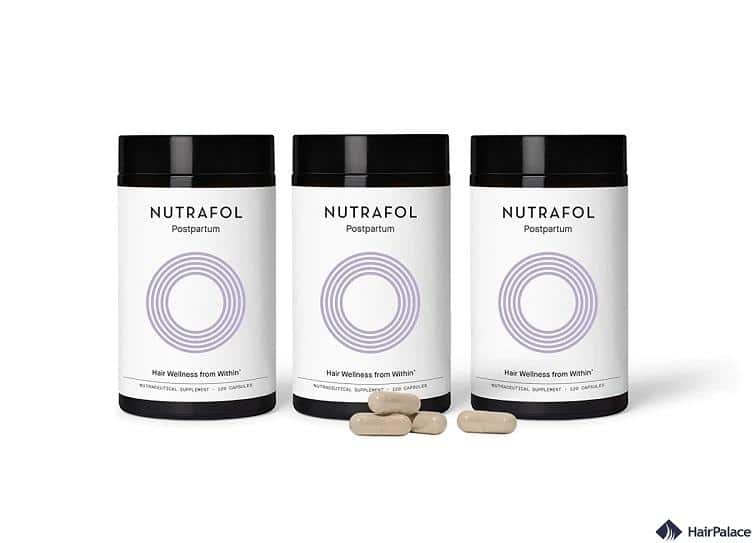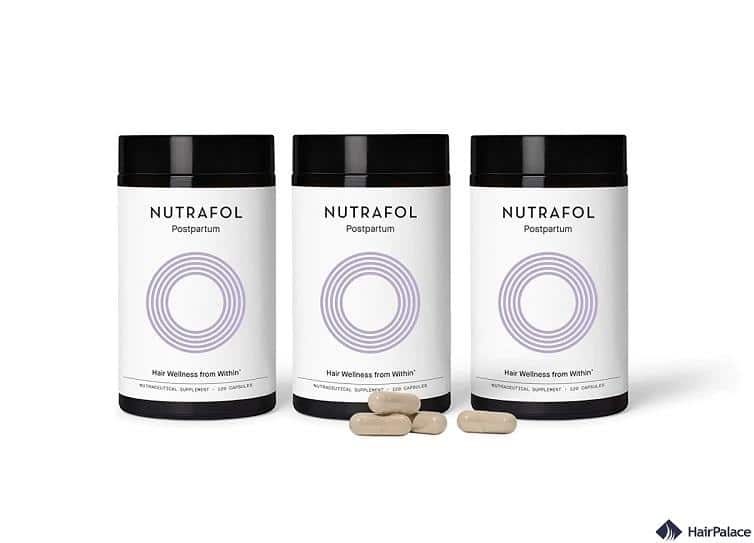 Cost: £75 per bottle
Rating:

based on 243 Amazon reviews.
If you've just given birth, no doubt you're still suffering both physical and emotional stress, and all your hormones are in flux.
It can take up to 2 to 4 months for your hair loss to materialize. Increased hair shedding can look and feel alarming.
This supplement uses theanine and other protein-building amino acids to help maintain a healthy mood and reduce stress and anxiety following pregnancy.
This formula contains valuable antioxidants such as marine collagen and DHA omega 3, pivotal in promoting and establishing a healthier hair growth cycle.
Although Nutrafol claims this bottle is breastfeeding-friendly, it does not recommend the supplement for pregnant women. If in doubt, consult with your doctor about your eligibility.
Nutrafol Women's Balance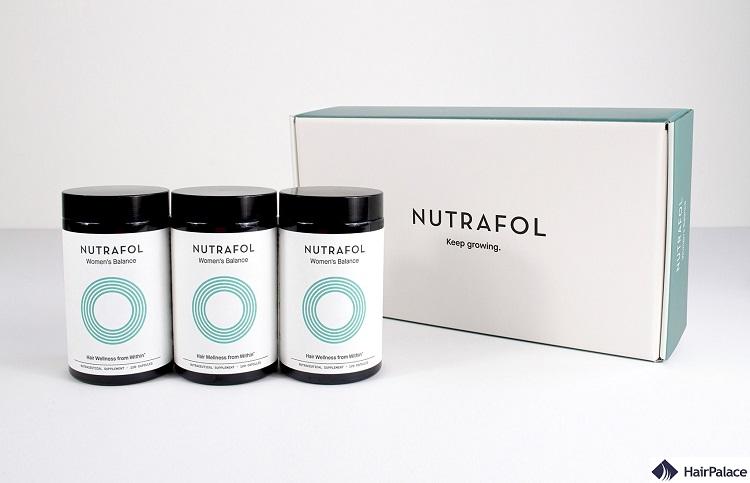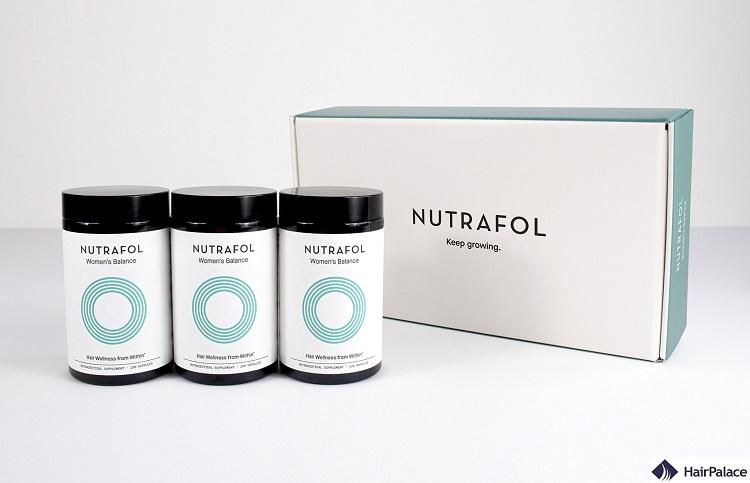 Cost: £75 per bottle
Rating:

based on more than 5000 Amazon reviews.
Women's Balance is specially formulated to help support women going through menopause and perimenopause. It contains over 21 natural ingredients to provide a broad, varied diet for your hair to grow from.
It's also a useful supplement for patients undergoing hormone replacement therapy, as it contains maca, astaxanthin, and saw palmetto to boost estrogen production and progesterone levels within the body.
Ideally, this bottle is best suited for women 45 years and older, but it can be helpful too for mild forms of hair loss, including widening hair parts or hair thinning by younger women.
Nutrafol Hair Boosters
After completing the Hair Wellness Quiz, the Nutrafol website may recommend what's known as hair boosters.
These provide additional resources and support for your ailing hair and promise extra hair regrowth for suitable patients.
Some of the most popular boosters include:
DHT Inhibitor: This supplement aims to decrease levels of the harmful hormone DHT in the body.
Vitamin B Booster: Improve hair growth by encouraging cell repair and rejuvenation.
Liver Support: By helping your liver stay healthy, this booster reduces oxidative stress levels in the body and can help support hair growth.
Digestive Enzyme: With over 16 enzymes, this booster improves both digestion and absorption of essential nutrients, ensuring hair receives everything it needs to grow strong.
Hairbitioic: This supports microbiome and healthy digestion within the body, improving several areas of your lifestyle.
Sugar Balance: This booster improves metabolism, helping you to gain energy and nourishment from food faster.
Stress Adaptogen: Suffering from increasingly high stress? This booster improves and regulates your body's response to stress.
Nutrafol reviews
One of the best ways of finding out the value of haircare products is by reading from the experts themselves – the customers and patients prescribed them!
Overall, Nutrsfol scores very highly with customers across many of its products. Of the 2,500 global reviews for Nutrafol Men, 77% gave the product a 4-star review.
They highlighted the efficiency of the bottle and that they were impressed by the results.
Similarly, over 82% of people gave Nutrafol Women a 4-star rating or above from 10,000 customers.
Highlights included increased hair volume and a reduction in hair thinning.
Like any cosmetic product, there are, of course, negative reviews, and these offer keen insight into the realistic expectations of using Nutrafol.
Common complaints included little to no hair volume or thickness change and unwanted facial hair growth.
Some customers also complained about customer service and their difficulty in canceling subscriptions, which has led to Nutraceutical Wellness Inc. coming to the attention of the Better Business Bureau (BBB).
Nutrafol results
Take a look at these Nutrafol before and after photos to get a better idea of the results you can expect from the treatment.
How much does Nutrafol cost?
Sadly, Nutrafol does not have a specific UK site, so converting prices may change based on the exchange rates of that particular day.
But as a guide, you can expect the following from their three flexible payment plans:
Per bottle: Each bottle can cost upwards of £75 on the official website, plus any shipping and delivery fees.
Monthly delivery: Agreeing to a monthly subscription can reduce the price per bottle to £67. You'll also receive free consultations and can pause or cancel your subscription anytime.
3-Month delivery: A 3-month prescription of products can set you back £190, charged four times per year. This tier can also be paused or canceled at any time.
A list of vitamins and supplements found in Nutrafol
What makes Nutrafol a truly impressive brand is the use of their patented Synergen Complex.
This unique blend uses various plant-based ingredients to help reduce stress hormones,m while also correcting any metabolic imbalances inside your body.
Although active ingredients vary between specific products, the following ingredients may be found:
Sensorial Ashwagan
Maca
Saw Palmetto
Horsetail
Kelp minerals
Tocotrienol Complex
Vitamins A, C, and D
Marine collagen peptides
Resveratrol
B vitamins
Curcumin
Biotin
Black pepper
Selenium
Zinc
Keratin
Cysteine
Lysine
Astaxanthin
Stinging nettle
Capsicum
Sea buckthorn
Pea sprout extract
Potential side effects of Nutrafol
Nutrafol side effects are typically mild and tame compared to the side effects of medications such as finasteride or minoxidil.
However, it stands to reason that anything that can help you in the ways Nutrafol claims may have some unwanted side effects. Below we'll discuss some things well worth your attention.
One of the key ingredients to Nutrafol is kelp, and clinical studies found that people who take excessive amounts may develop hyperthyroidism or hypothyroidism.
Kelp may also contain harmful metals like cadmium, lead, and aluminum.
Nutrafol also contains biotin, which according to the company's website, may lead to nausea, diarrhea, or cramping,
Finally, this supplement also contains saw palmetto, which may lead to increased headaches and digestive issues.
Doctors recommend that pregnant women or those currently breastfeeding should avoid using saw palmetto.
Safety considerations
Like other supplements, Nutrafol is not regulated by the FDA and may not follow strict measures as other haircare treatments.
Before using this product, talk to your doctor, especially if you are pregnant, breastfeeding, trying to conceive, or have any potential allergies to Nutrafol's active ingredients.
Who should use Nutrafol?
Nutrafol is an effective hair care supplement for people experiencing minimal hair loss from select causes, including poor genetics, age, or stress.
Although studies have shown its potency, Nutrafol is best suited for people with minimal to mild hair loss.
If you're suffering from conditions such as telogen effluvium, for example, where hair loss is stress-induced, Nutrafol can help alleviate symptoms and nourish hair back to its former glory.
Some customers use this supplement to promote healthier hair and have reported shinier, more vibrant hair after continued use.
Unfortunately, Nutrafol is not ideal for people suffering hair loss due to active diseases, illnesses, or cancers.
Nutrafol's ingredients are not equipped to counteract these conditions. You should avoid using Nutrafol if pregnant or breastfeeding until you've stopped nursing.
Additionally, if you are on blood-thinning medication, you should discuss with your doctor your eligibility to use the supplement.
It is important to note that Nutrafol is slow-acting. A declaration on their website admits that continued and regular use is essential to seeing the supplement's benefits.
But no matter how long you use a supplement, it is only a temporary remedy to hair loss. Once you stop using it, your progress may disappear.
Only hair transplantation offers a permanent solution. It's a straightforward surgical technique that sees a highly-trained surgeon strategically use your hair follicles to restore your hairline to its former glory.
Nutrafol vs Competitors
Nutrafol
Keeps
Hims
Ingredients
Saw Palmetto
Tocotrienol Complex
Sensoril® Ashwagandha
Finasteride
Finasteride
Type of hair loss
Androgenic alopecia +
stress-related
Androgenic alopecia +
stress-related
Androgenic alopecia
Dosage
4 capsules daily
1 pill daily
1 pill daily
Prescription-only?
Cost
£75
£22,30
£25,30
Money-back guarantee?
for 30 days
No
for 90 days
Other products
Growth Activator Hair Serum

Stress AdaptogenHairbiotic

DHT Inhibitor

Vitamin B-Booster
Minoxidil Foam & Solution

Thickening Shampoo & Conditioner

2% Ketoconazole Shampoo
Topical Finasteride & Minoxidil Spray

Minoxidil Foam & Solution

Biotin gummies

Shampoos & Conditioners
Hims
With several formulated products aimed at restoring hair, stimulating growth, improving skin health, and reducing stress levels, Hims is one of the most popular Nutrafol alternatives in the industry.
You must create an account on their website to buy from this company. This process includes a tailored questionnaire asking you about your current hair loss and the products you've tested.
After a day, a qualified doctor will give you a prescription for finasteride which you order directly through Hims. The prescription will vary depending on the stage and extent of your hair loss condition.
What's more, Hims offers a variety of other hair loss treatments, some of which don't require a prescription to order.
You can order one product to try or purchase a subscription plan for a varied, extensive treatment from specialized shampoos, thickening conditioners, and other topical scalp treatments.
Keeps
Keeps is a company that specializes in preventing and reversing hair loss's devastating effects.
An online hair quiz ensures the best course of hair loss treatment is flagged for you, and the ability for you to attach photos of your hair loss will enable their qualified doctors to offer the best diagnosis.
There are three key solutions they offer;
Finasteride: This is the generic version of Propecia and requires a prescription to buy and use.
Minoxidil: This is a generic version of Rogaine and is sold as either a liquid or foam applied directly on the scalp. It does not require a prescription.
Ketoconazole: An antiandrogen and antifungal medication offered in a topical shampoo.
As specific treatments require a prescription, you will need a doctor's approval from Keeps to make certain purchases. Keeps is a subscription service that will send out your order every three months. They only ship within the USA.
When should you see a doctor about your hair loss?
No one can deny the utter devastation hair loss can cause someone, and if you're suffering from thinning hair or are developing bald patches, you should consult your doctor as soon as possible.
There is a multitude of factors that can be causing your problems, including hormone levels, stress, diet, and genetics. But only by discussing your health with a qualified professional can you find the answers.
Hair loss isn't just a cosmetic nightmare. Sometimes, it can be a sign of something more sinister playing out. Consult your doctor if you experience any of the following:
Sudden or excessive hair loss
Itchy or red scalp
Rash or pain across your scalp
Hair loss alongside fatigue or swollen lymph nodes
Takeaway
As you know, hair loss can dramatically affect a person's self-confidence, mental health, and stress levels.
It can also be a signal that there's something amiss in your general health and well-being and a cause for concern if you're suffering from other debilitating symptoms
Nutrafol is an effective hair loss supplement known to increase hair growth and combat further thinning. Through continued use, hair can become thicker and more resilient.
That said, like any supplement, it can affect people differently. Some customers swear that Nutrafol improved their scalp; others say it had no discernible effect on them.
If in doubt, talking to a qualified dermatologist and your doctor can help guide you on the most appropriate treatment relevant to your condition.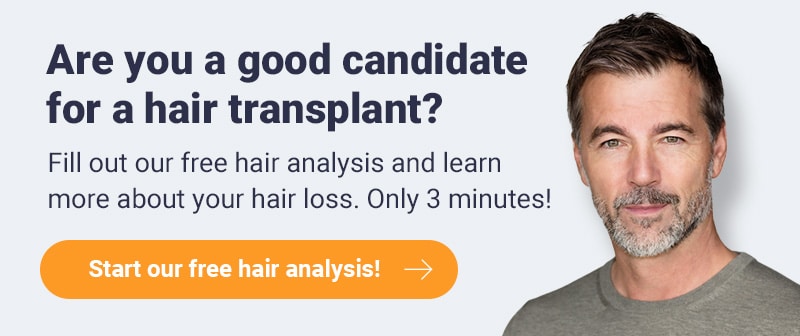 FAQ
Does Nutrafol work for men?
Clinical trials have supported Nutrafol's claims of being an effective hair loss supplement. Nutrafol is an ideal treatment for people experiencing mild, sudden hair loss, as their products aim to improve hair fibres' thickness. If hair thinning is substantial, these products may not be worth your time and effort.
Can Nutrafol cause hair loss?
Only medical-grade ingredients are used to make Nutrafol; no drugs, hormones, or artificial additives should cause you concern. Products are tested for harsh chemicals, pesticides, metals, and microbiological elements to ensure safety concerns are always met. So the short answer is no.
Does taking Nutrafol lead to new hair growth?
Results vary between customers. Some studies have demonstrated that Nutrafol leads to healthy hair growth and reduced hair thinning. That said, anecdotal accounts from some unhappy customers suggest it may not work equally for everyone.
How long does it take for Nutrafol to start working?
According to their website, Nutrafol may reduce hair thinning and, in turn, produce thicker hair after three months of continual use.
Do you have to take Nutrafol forever?
If you want to maintain results with Nutrafol, continuous use is recommended. Stopping may result in a return to the previous hair growth or loss pattern.
What happens if you stop taking Nutrafol?
If you stop taking Nutrafol, any hair growth or improvement you experienced may revert to your previous condition.
HairPalace relies on scholarly sources, including peer-reviewed articles, as well as publications of medical associations and academic & research institutions. We follow strict sourcing guidelines and avoid tertiary references. Read our editorial policy for further information on how we keep our content up-to-date and accurate.