Caffeine Shampoos: The 5 Best Products by Amazon Ratings in 2023
Caffeine shampoo is designed and marketed to help your hair stay healthy, reduce hair loss, and boost new growth.
But does caffeine shampoo work?
Below, we'll explore how effective these hair growth shampoos are, how to create your own at home, and the potential risks.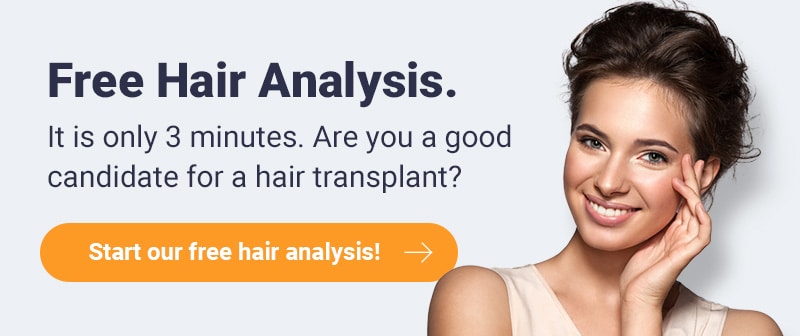 Does Caffeine Shampoo Work?
At present, there's a lack of evidence to support brands' claims that caffeine-based shampoos can make hair healthier.
A study from 2007 revealed that caffeine encouraged follicles to regrow in a laboratory environment, yet there isn't enough research to demonstrate that caffeine can achieve a similar result with hair on the scalp.
A study into caffeine's effect on hair involved two groups of participants, and participants in both had a shampoo containing 1% caffeine applied to their chests. However, in one group, a solution was also applied to close the follicles and block follicular pathways. The other group's follicles were left open. After two minutes, the shampoos were removed and participants provided blood samples regularly over the following three days.
For participants whose follicles were closed, caffeine levels were detected in the blood after just five minutes. But it took around half an hour for caffeine levels to be detected in the other group's blood. As a result, the researchers found that the body can absorb caffeine via hair follicles.
However, further studies are required before these shampoos can be recommended as a genuinely effective solution for hair fall. Brands can offer proof that their shampoos do what they're supposed to, but research may be privately funded without support from the scientific community.
As a result, it's crucial that you remain cautious when using caffeine shampoo to avoid disappointment.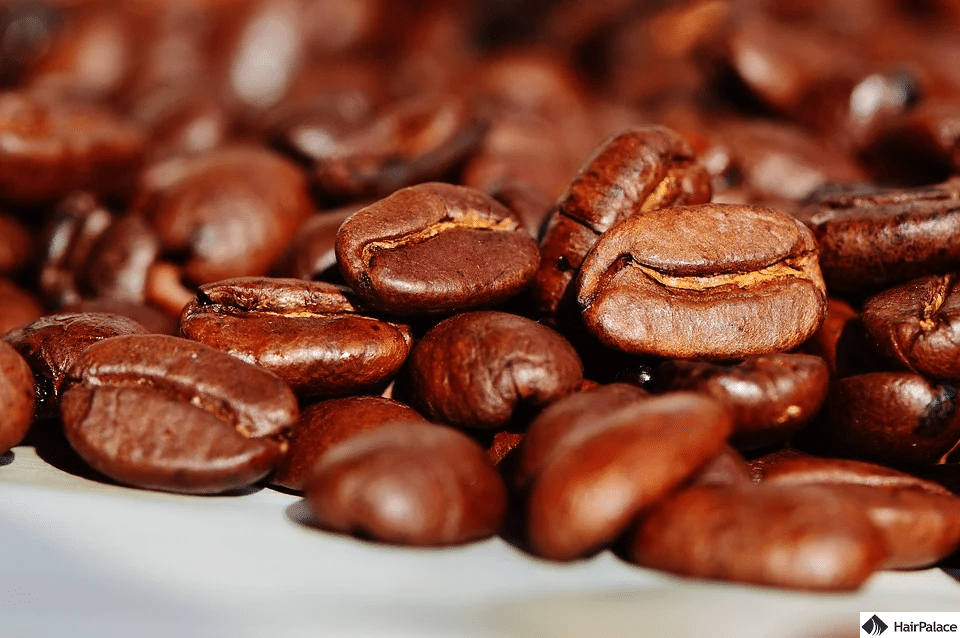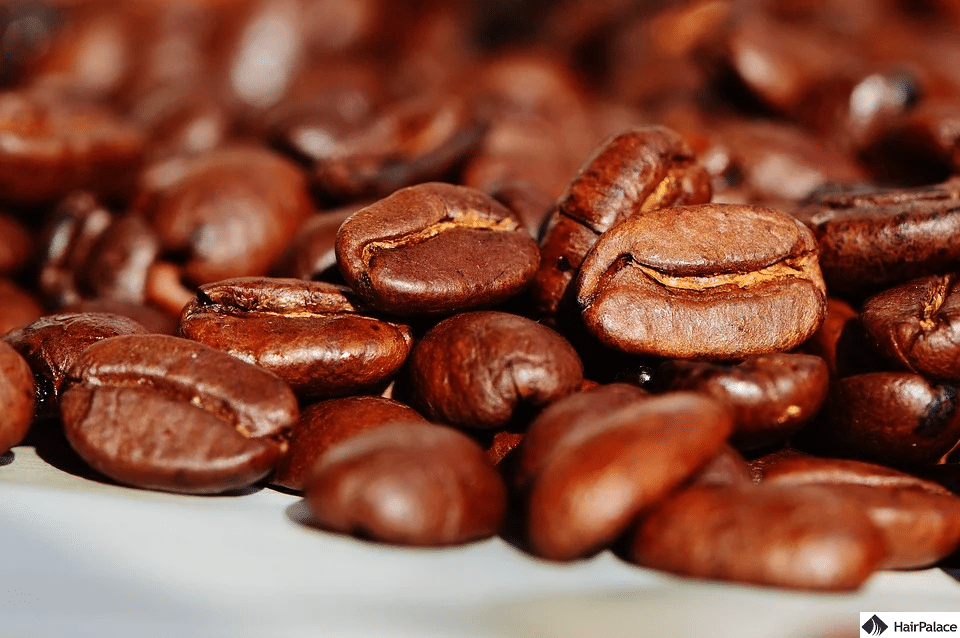 Is Caffeine Shampoo Good for Hair Loss?
While caffeine shampoo may help with temporary hair loss, there is no scientific evidence that it can be used as a long-lasting treatment for baldness.
Hair loss/thinning is most treatable when diagnosed early, before physical or psychological distress occurs. Using caffeine-containing shampoo may be a support treatment in addition to proven medications, such as topical minoxidil or finasteride.
Advantages
Research suggests that caffeine can keep hair healthy by:
Stimulating hair growth
Suppressing dihydrotestosterone
Promoting growth of longer hair strands
Let's take a closer look at each:
Growth Stimulation
Coffee contains antioxidants that can make the hair healthier, and using caffeine shampoo on hair regularly may help repair damaged or weak strands. It could also remove buildup created by other products, soften dry hair, and achieve a better balance of pH levels.
Suppressing the Hair Loss Hormone
DHT hormone can cause hair follicles on the scalp to shrink and produce thinner, weaker hair. DHT plays a significant part in the development of male pattern baldness (or androgenic alopecia, AGA), a condition that affects around 50% of men aged 50+. However, DHT can also cause hair loss in women with higher levels of the hormone.
Research has found that caffeine could fight AGA by counteracting the hormone's effect on hair growth.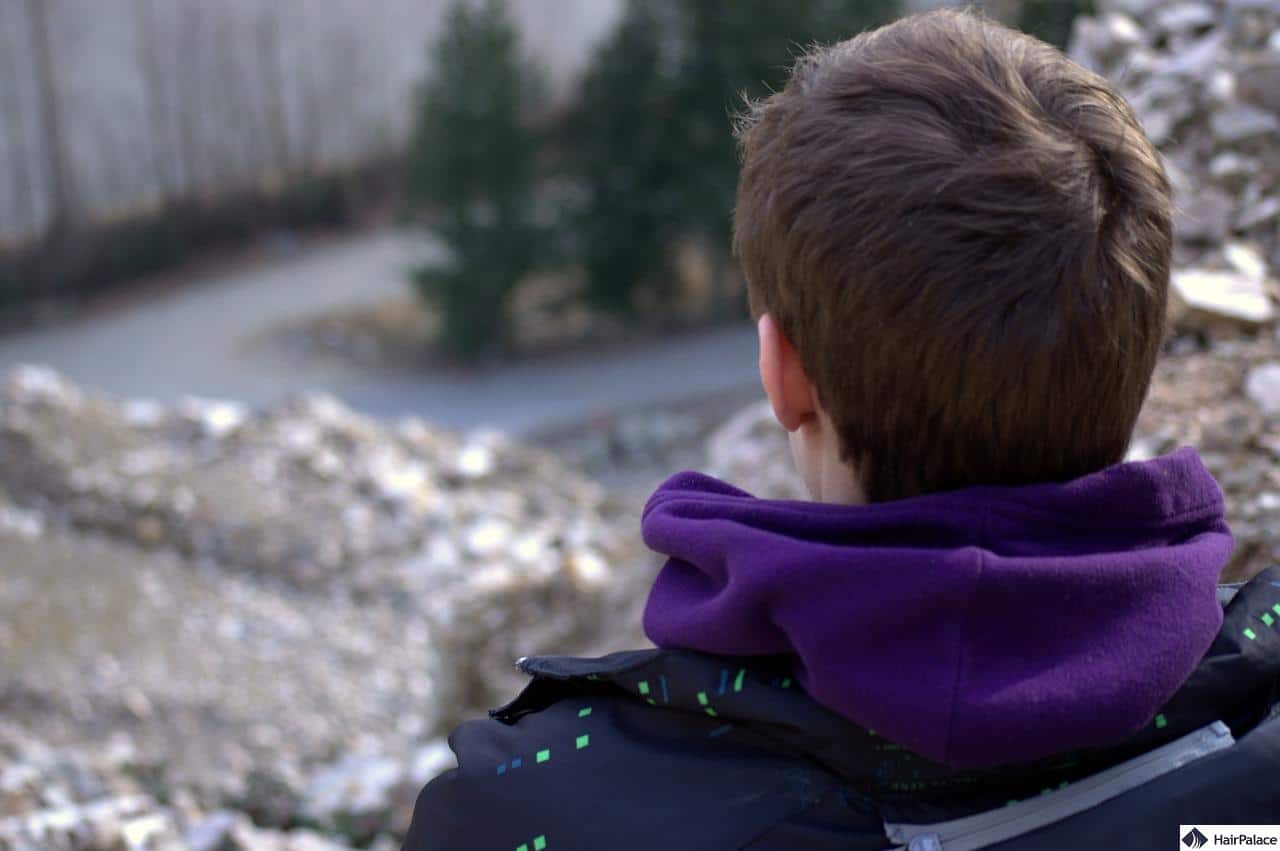 Cultivating Longer Hair
A study revealed that caffeine may block DHT's effects in men's hair follicles and encourage hair to grow longer, as participants' hair roots increased in width and length.
Researchers took biopsies from men with hair loss at the third or fourth stage on the Norwood hair scale, and concluded that hair shafts continued to grow longer as they were exposed to caffeine. Subsequent research found that caffeine can cause hair shafts to increase in length even when follicles are exposed to testosterone.
Caffeine Shampoo Side Effects
It's unlikely that you would experience harmful side effects after washing your hair with a caffeine-based shampoo.
However, potential risks include discolouration of the hair, reduced quality of results over time, and scalp irritation. Always check the ingredients to check for potential irritants before you use a new product for the first time.
5 Best Caffeine Shampoos by Amazon Reviews in 2023
You may have seen caffeine shampoos advertised on television or for sale at a local store. Some of the most common options include:
Product
Price
Amazon reviews
Alpecin
£ 8 (375 ml)
4.5
based on 4335 Amazon reviews
PURA D'OR
£ 35 (473 ml)
4.1
based on 19886 Amazon reviews
Terez & Honor
£ 23 (250 ml)
4.3
based on 477 Amazon reviews
UltraX Labs Hair Surge
£ 116 (236 ml)
4.0
based on 10539 Amazon reviews
TruePure
£ 24 (240 ml)
4.2
based on 790 Amazon reviews
1. Alpecin caffeine shampoo
Cost: £ 8 (375 ml)
Rating: 4.5

based on 4335 Amazon ratings
Alpecin has been selling hair care products since the early 1900s, and released the first caffeine shampoo. As well as caffeine, Alpecin shampoo contains the following ingredients:
Biotin
Zinc
Castor oil
Niacin
However, the Advertising Standards Authority (ASA) ordered the brand to stop claiming that its shampoo could fight hair loss in 2018. The ASA argued that there was no evidence to support Alpecin's claims.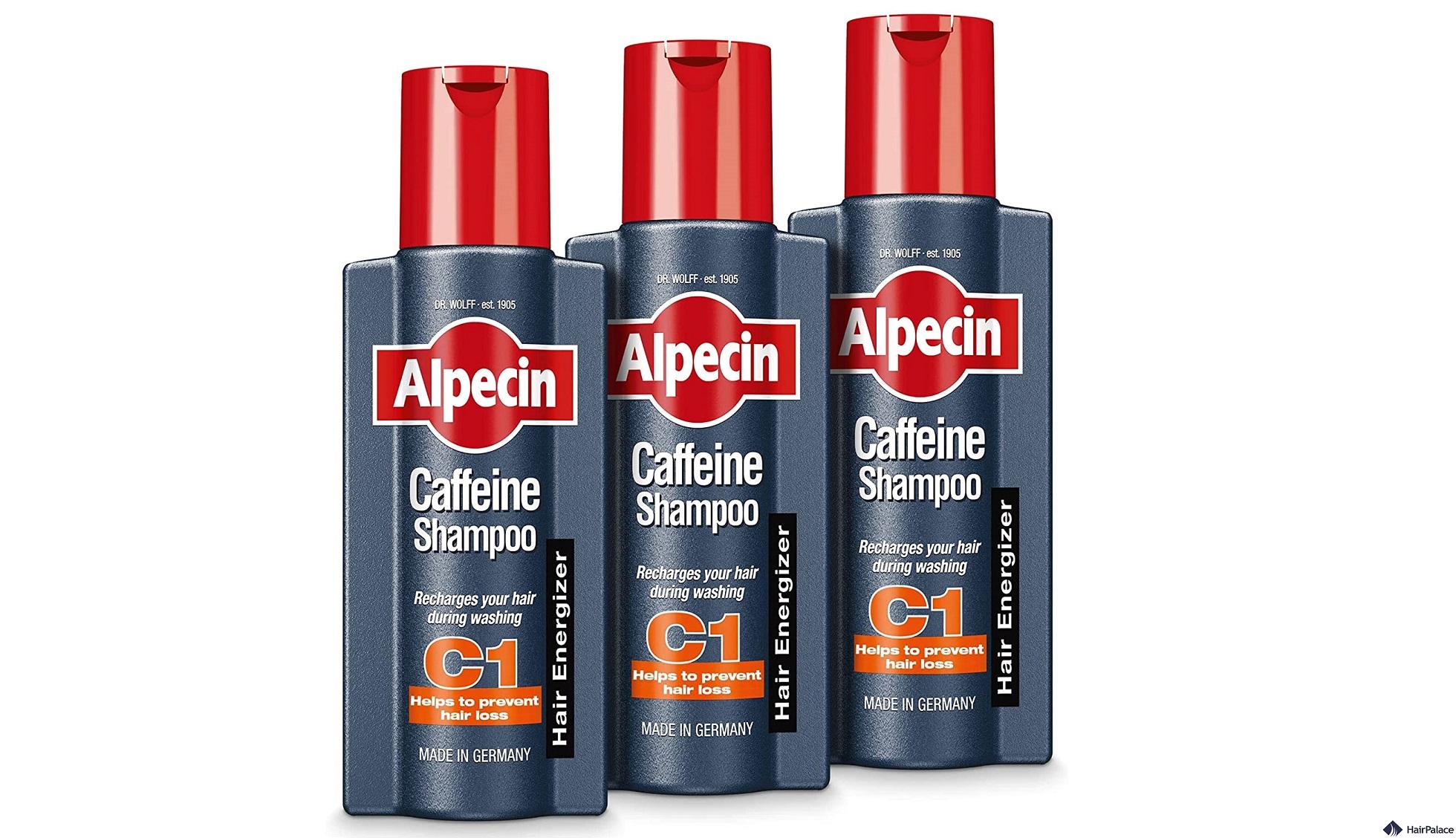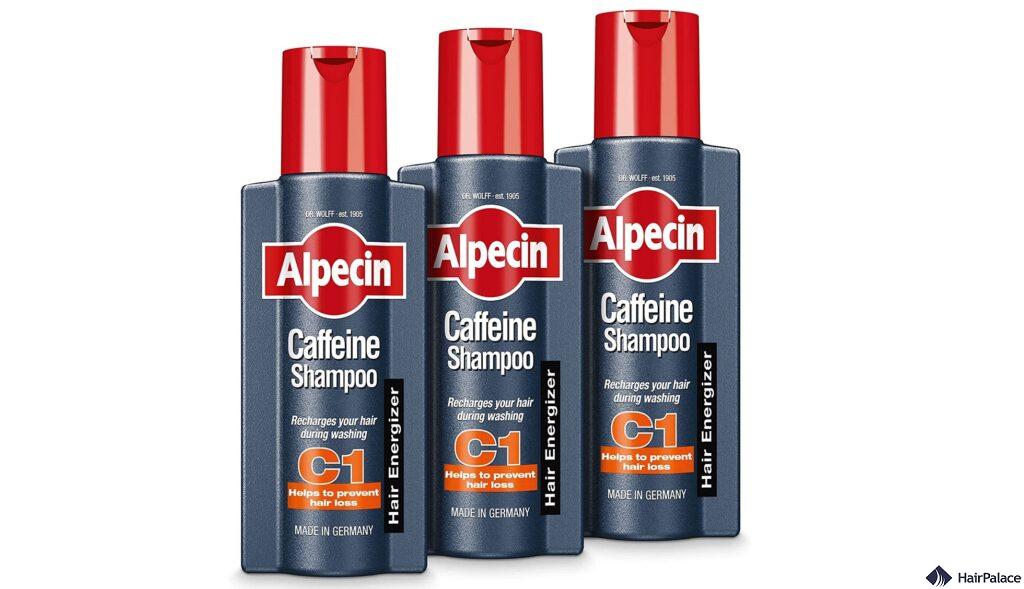 2. PURA D'OR
Cost: £ 35 (473 ml)
Rating: 4.1

based on 19886 Amazon ratings
PURA D'OR is made with biotin, is vegan-friendly, and cruelty-free. It also includes a herbal DHT blend designed to promote stronger hair. It's the ultimate answer to how to get thicker hair.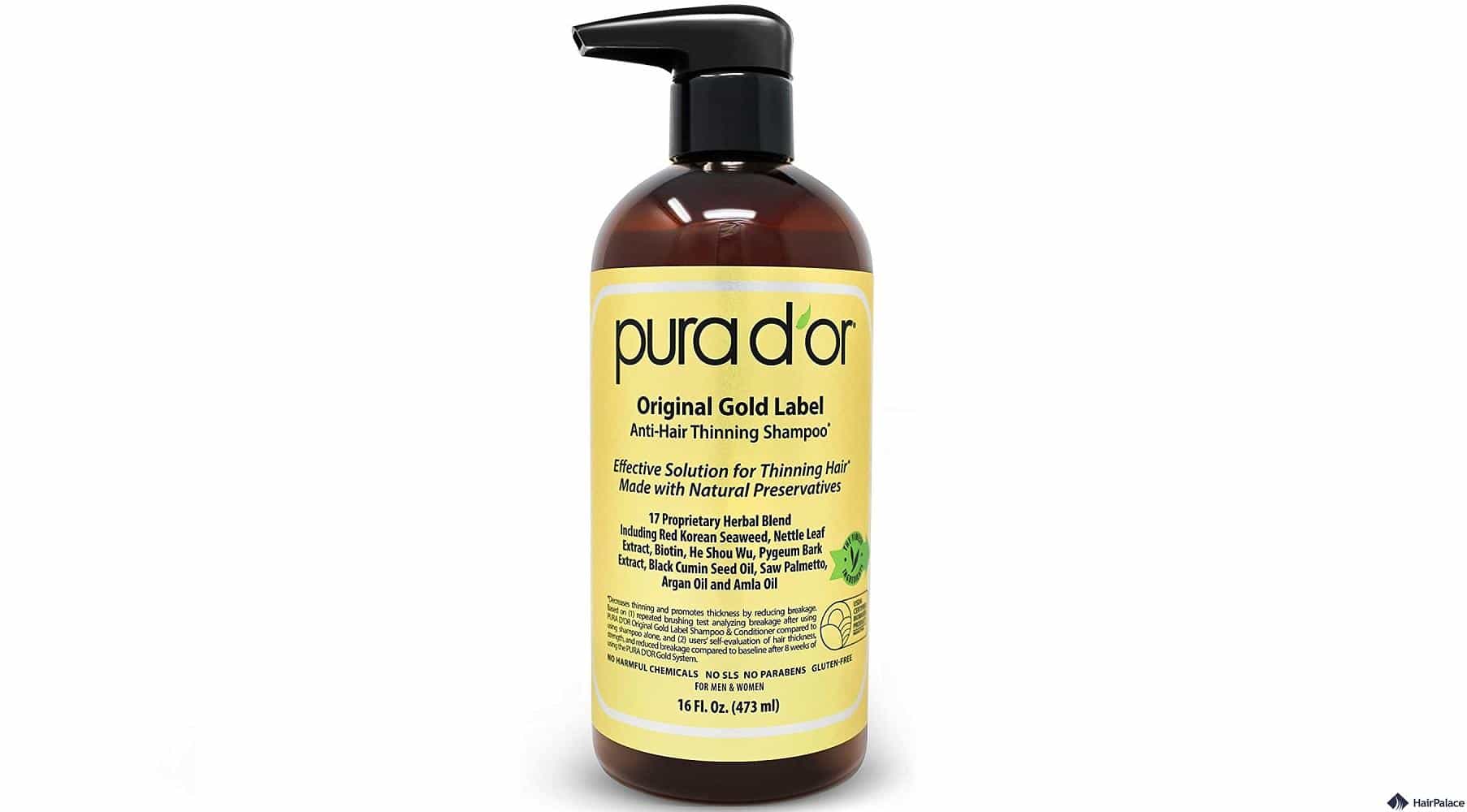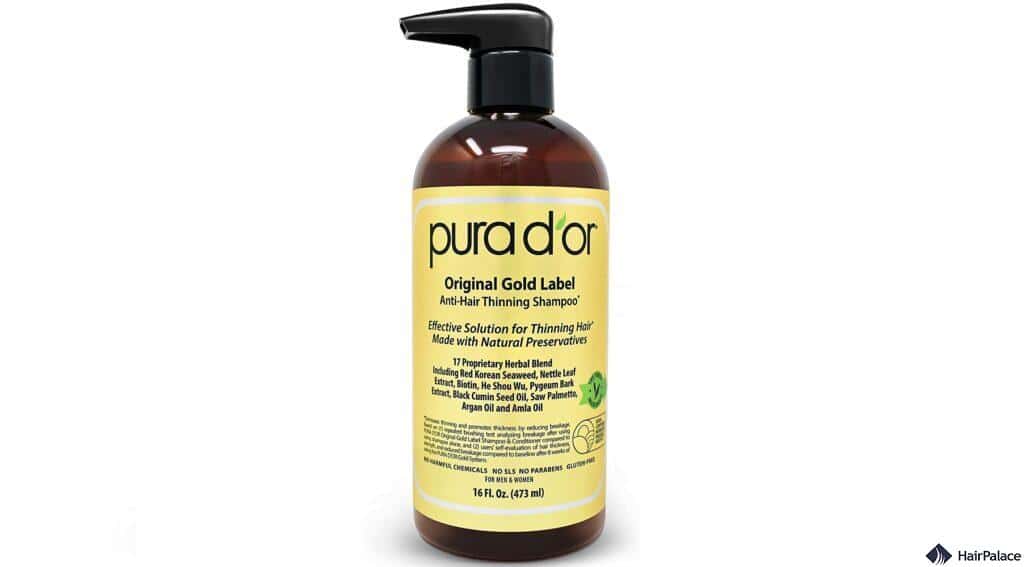 3. Terez & Honor
Cost: £ 23 (250 ml)
Rating: 4.3

based on 477 Amazon ratings
This shampoo is made with all-natural ingredients, such as acacia, caffeine, and black sesame seeds.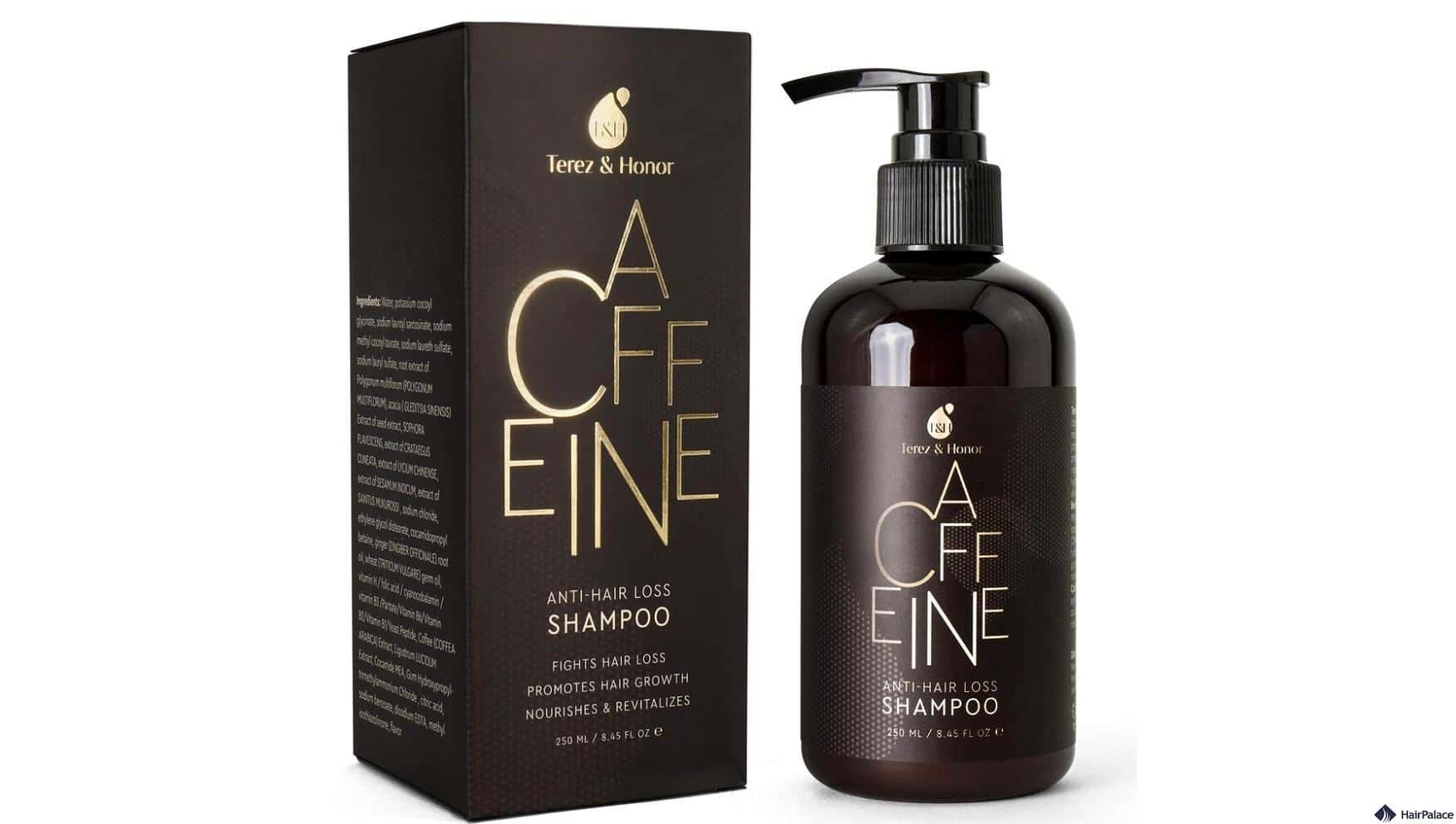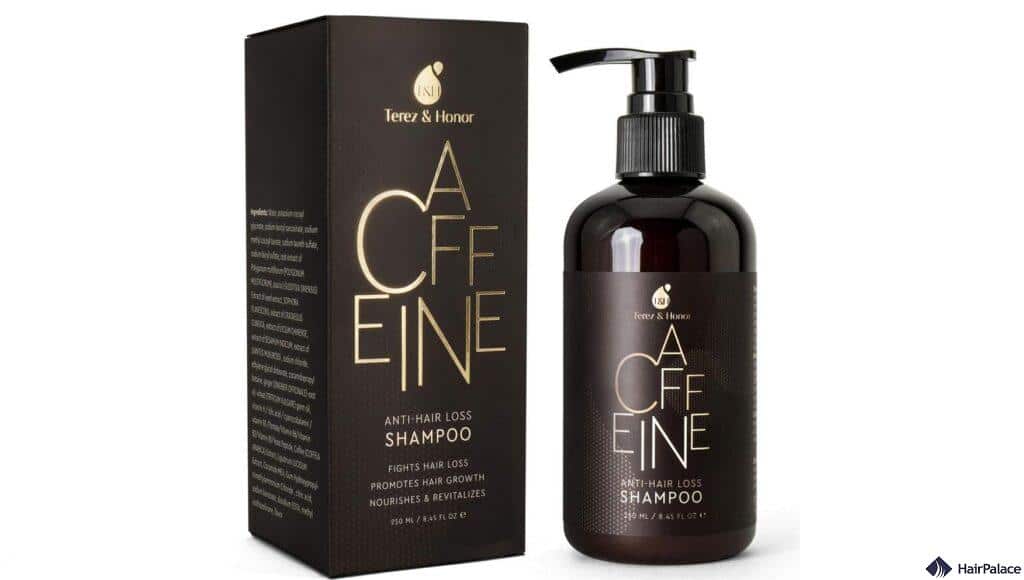 4. UltraX Labs Hair Surge
Cost: £ 116 (236 ml)
Rating: 4.0

based on 10539 Amazon ratings
The UltraX Labs shampoo is made in the U.S. and is formulated with strong caffeine compounds.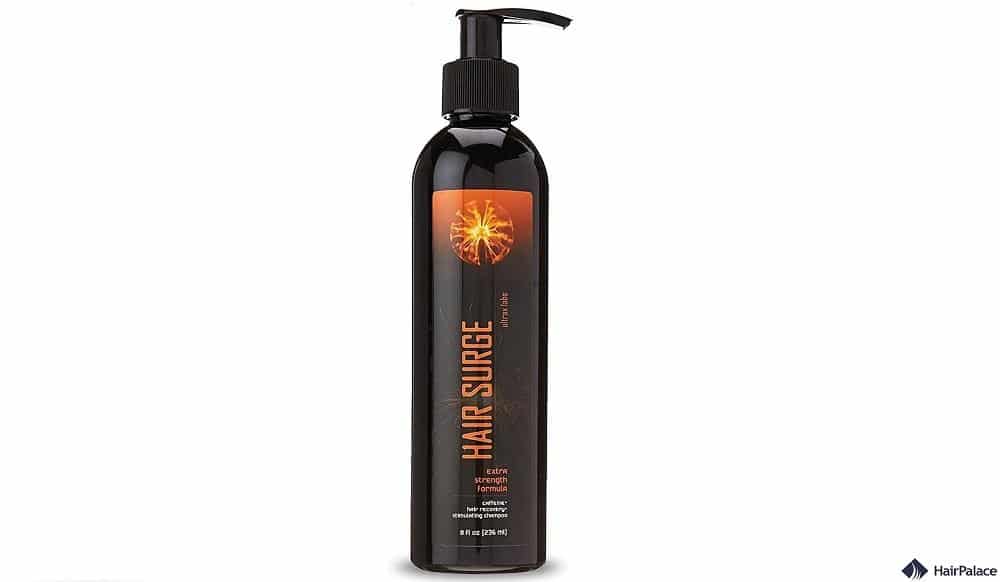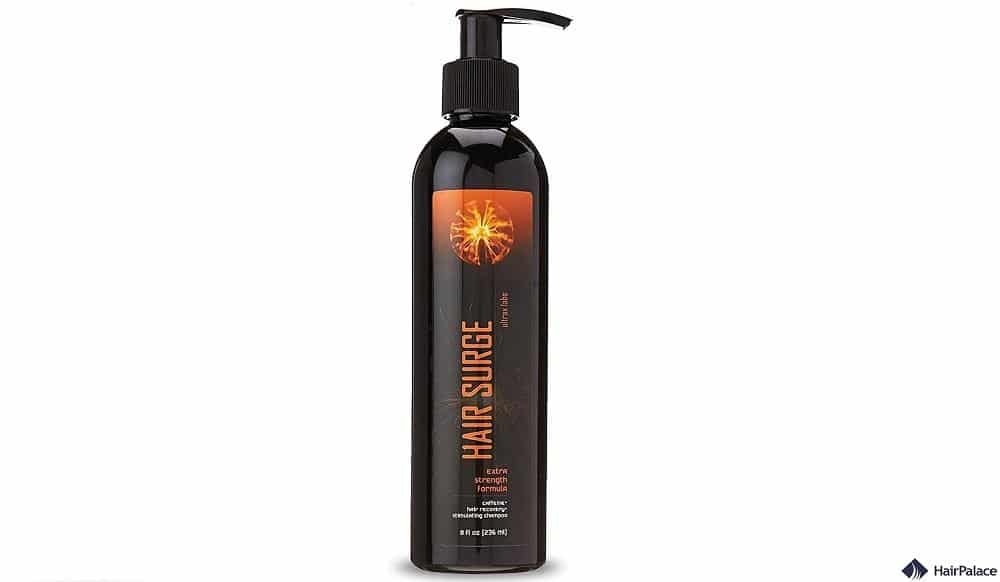 5. TruePure
Cost: £ 24 (240 ml)
Rating: 4.2

based on 790 Amazon ratings
This shampoo contains a mixture of niacin, caffeine, and red clover to help encourage hair growth. It also features a DHT blocker to prevent hair from shedding along with aloe vera to moisturise the scalp.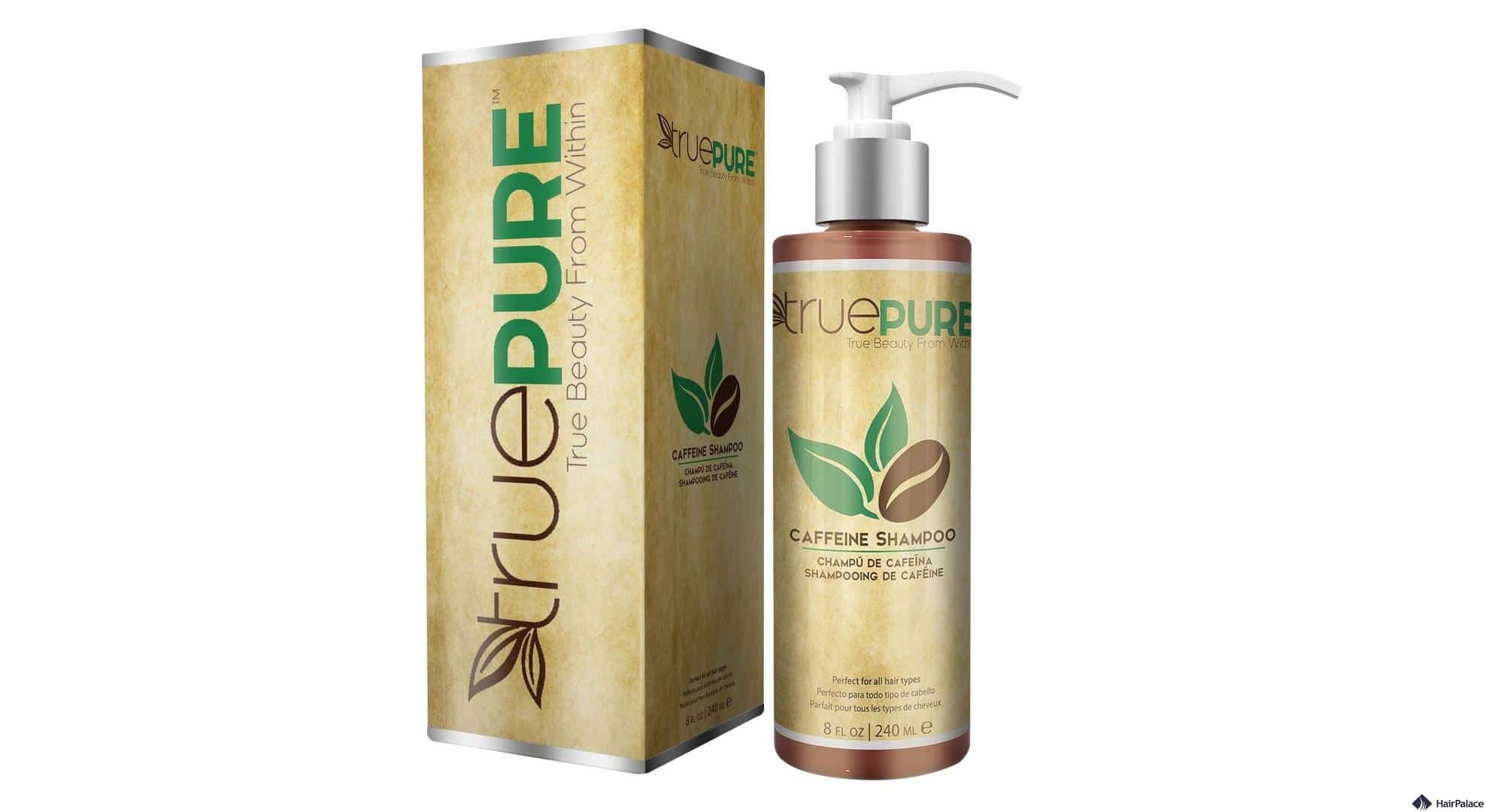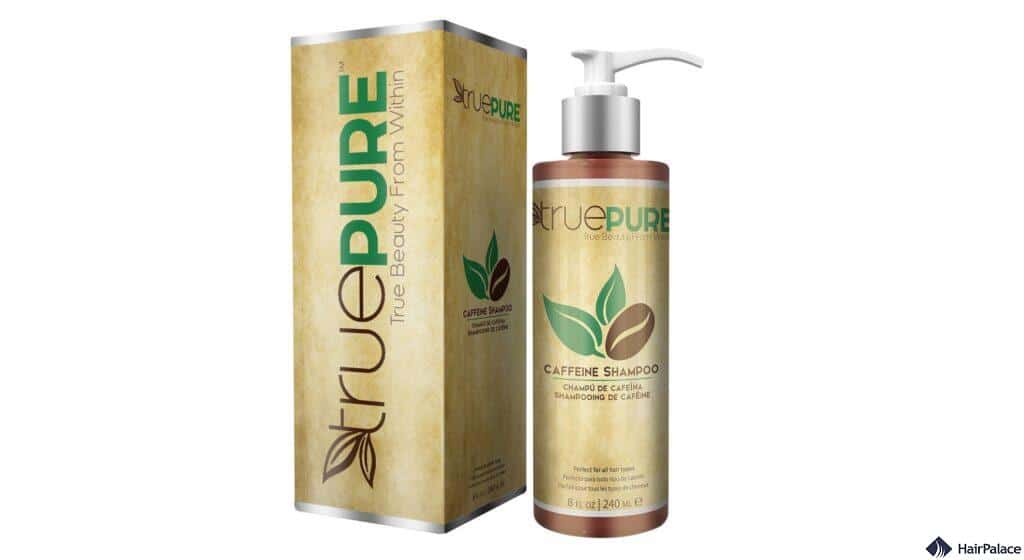 Similar products are available. As with any shampoo, though, read the list of ingredients and follow directions carefully when using a caffeine-based product for the first time.
How Should You Wash Your Hair with Caffeine Shampoo?
You should massage your scalp with a caffeine-based shampoo into your hair and scalp thoroughly to achieve potential benefits. The scalp will absorb the caffeine even after you rinse the shampoo away, and the caffeine will make its way through the hair to the follicles. Apply the shampoo for at least two minutes for the best results.
You may be able to use a caffeine-based shampoo every day if you want to. However, take your time when trying it initially to ensure your scalp doesn't have a bad reaction.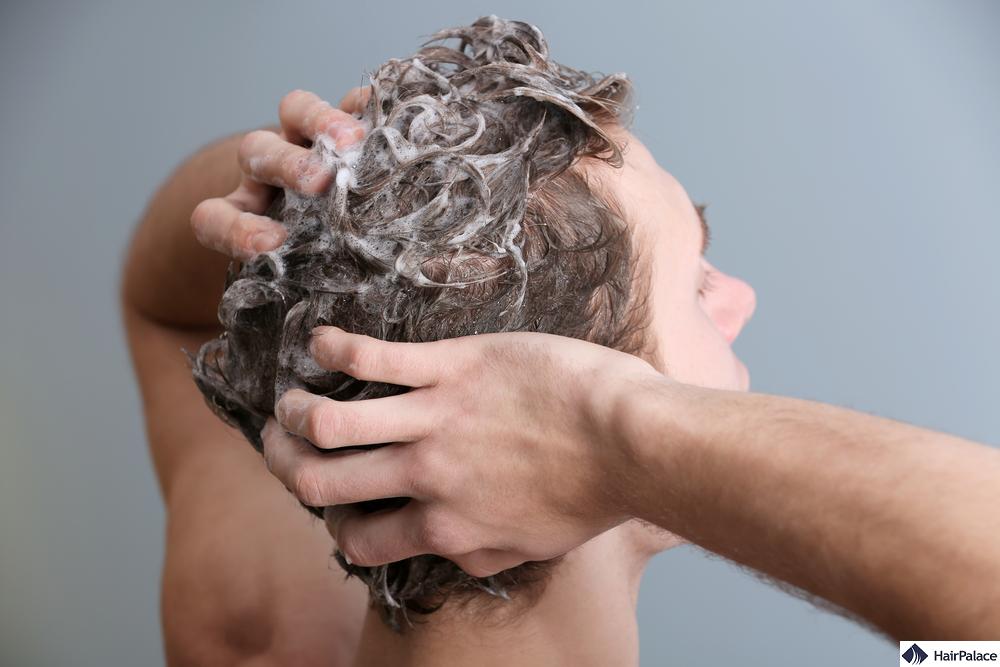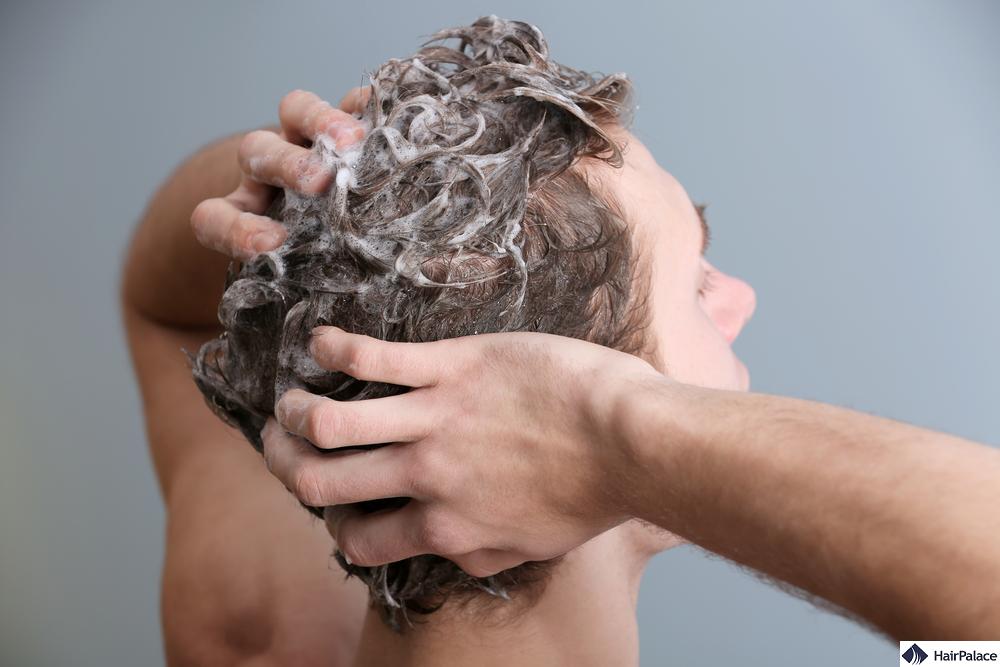 Can You Make Your Own Caffeine Shampoo at Home?
You can prepare your own caffeine-based shampoo at home if you'd rather not buy one. Try the following recipes:
Homemade Shampoo 1
Start by infusing three ounces of dry coffee grounds in three cups of coconut oil in a slow cooker. Cook this mixture for around five or six hours, stirring every half hour (if possible). Strain the beans and separate them from the oil.
Apply the oil directly to the scalp or combine it with your favourite shampoo and conditioner.
Homemade Shampoo 2
You can make your own shampoo more easily with this recipe. Add two tablespoons of coffee grounds to three or four tablespoons of shampoo into a bowl. Add half a teaspoon of baking soda, mix well, and apply to your hair.
How Else Can You Improve Your Hair Growth
Further investigation is needed before brands can legitimately claim caffeine shampoo is an effective way to achieve stronger, thicker, healthier hair. It's unlikely to harm your hair or scalp if you use it, but you're not guaranteed to experience positive results either.
If you're starting to lose your hair, or have already experienced extensive hair loss, a state-of-the-art hair transplant is the best way to restore growth. HairPalace's surgeons use the FUE2 method to transplant follicles from areas of healthy growth on your scalp to bald or thinning spots. This leads to natural, seamless growth, with success rates of 90 – 95%.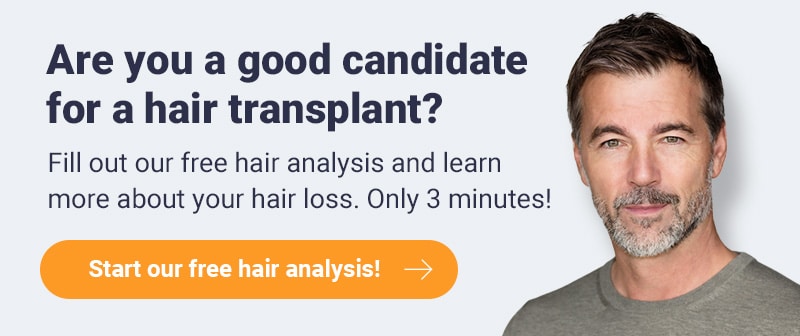 FAQ
Is caffeine shampoo good for your hair?
Caffeine shampoo has become more popular and may offer a number of benefits. For example, it could stimulate hair growth by helping to suppress dihydrotestosterone (DHT), a hormone known to shrink follicles on the scalp.
What does caffeinated shampoo do?
Washing your hair with caffeine shampoo may encourage growth. The caffeine extract is believed to promote hair growth and reduce shedding. 
Can I use caffeine shampoo every day?
Certain caffeine shampoos may be suitable for everyday use. For example, Alpecin (one of the most well-known products) can be used daily.
Is caffeine for hair safe?
It is. Research shows that caffeine found in coffee may promote hair growth and prevent hair loss. One study revealed that caffeine was able to stop DHT from affecting men's hair follicles.
HairPalace relies on scholarly sources, including peer-reviewed articles, as well as publications of medical associations and academic & research institutions. We follow strict sourcing guidelines and avoid tertiary references. Read our editorial policy for further information on how we keep our content up-to-date and accurate.