Alpecin Shampoo: Benefits, Reviews and Prices in 2023
Alpecin shampoo is one of the most well-known on the market specializing in caffeine-based hair care products.
Caffeine-based shampoos have become quite popular recently over the long-held belief that they can help stimulate hair growth, strengthen fine and weakened hair, and prevent further thinning.
But are they the real deal?
Today we'll explore each Alpecin product, their average prices, and most importantly, what they can potentially do for your hair care.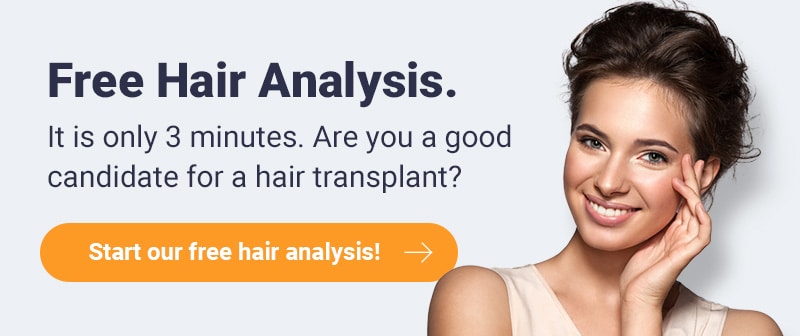 How does Alpecin shampoo work?
The central ingredient in Alpecin shampoo is caffeine. Studies show that caffeine can stimulate hair follicles and promote new hair growth in people suffering from hair loss and male pattern baldness (androgenic alopecia).
Shampoos are a helpful way to apply caffeine because they can penetrate hair follicles quickly on application. The shampoo can also help your scalp's overall health by countering Malassezia globosa, the fungus responsible for dandruff.
Let's take an in-depth look at what Alpecin can do for your hair.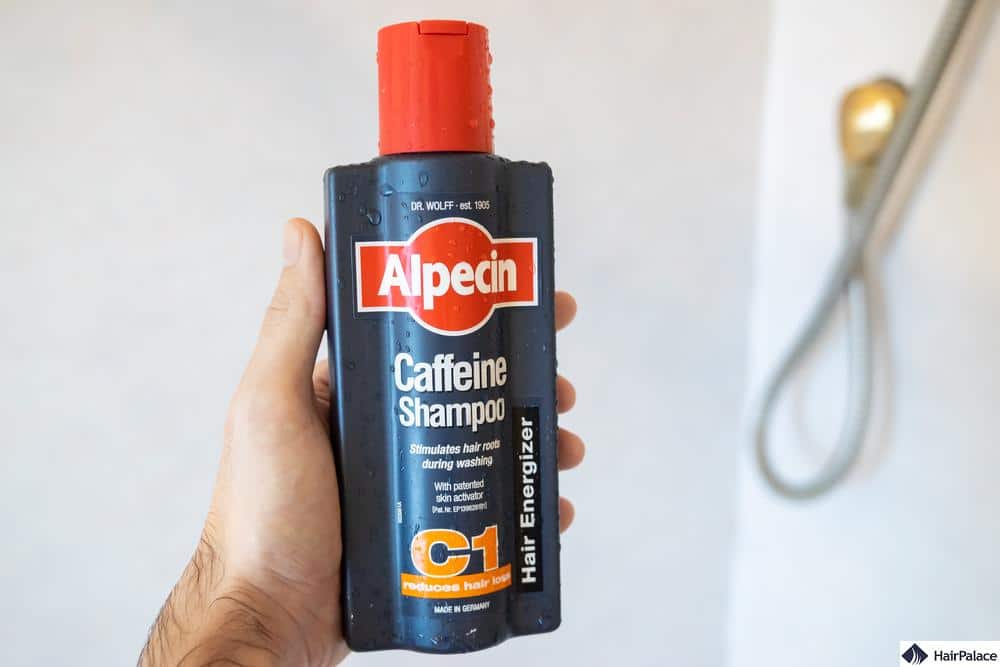 Does Alpecin work?
There are a lot of claims that caffeine is an effective treatment for male pattern baldness – but is it fact or fiction?
Well, the jury is still out. Lab studies are showing promising results, but without in-depth world studies, we can't say its effectiveness for sure. There is no clinically viable evidence – yet.
For this reason, the UK Advertising Standards Authority ruled that Alpecin could not advertise products as reducing hair loss. They came under scrutiny for only using male patients in studies who suffered from androgenic alopecia and for using unorthodox measuring practices. Some studies also did not have control groups for comparison.
That said, there is still so much we do not fully understand about the relationship between baldness and caffeine. Perhaps in time, and with more research, we can say for certain if it's an effective treatment. But for now, we are cautiously optimistic.
The benefits of using Alpecin shampoo
Promotes hair growth
One of the core reasons to use Alepcin Shampoo is its active ingredient, caffeine. It is thought to stimulate new hair growth. Again, concrete evidence is lacking to say this definitively.
Strengthens and protects healthy hair roots
Caffeine may also strengthen hair structure, including the roots and hair shaft, reducing the amount of breakage on your scalp.
Improves scalp health
Dandruff not only looks unpleasant but feels unpleasant too, and if left unchecked, it can be a destructive force on your scalp. Dandruff leaves our scalp feeling itchy, and when we scratch, our nails can injure massive amounts of follicles. Alpecin may reduce dandruff-causing fungus in our hair. It can also moisture our scalp to reduce irritation, dryness, and itchiness.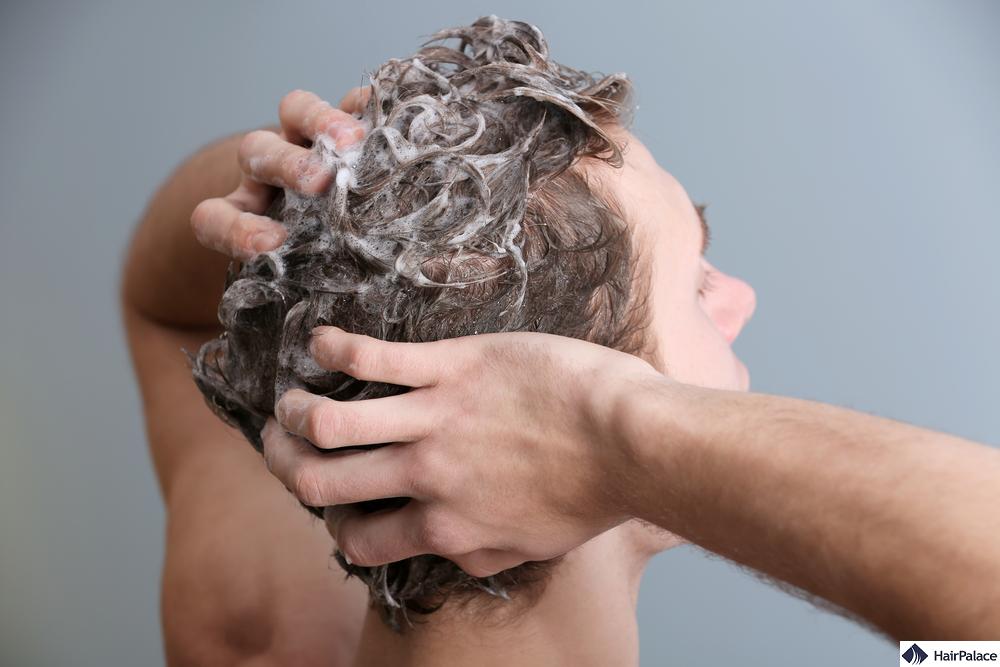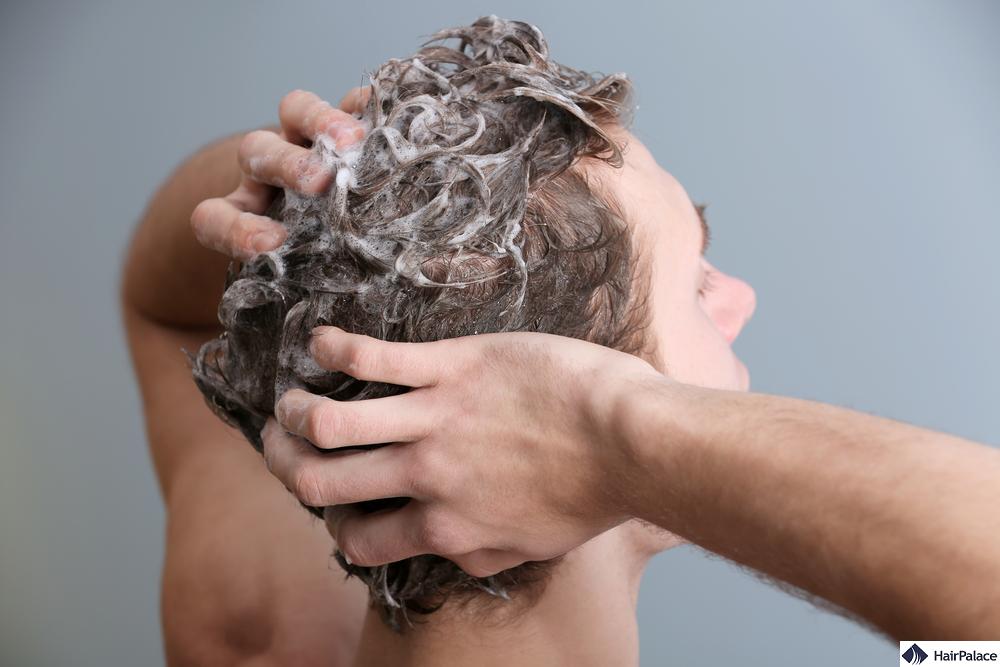 Does Alpecin caffeine shampoo have any side effects?
Although Alpecin has helped improve thousands of people's hair density, there are some side effects customers have reported that you should be mindful of.
These include:
Hair fall and hair thinning
Some people have reported increased hair fall and thinning after using Alpecin products. A possible cause of this is the presence of synthetic preservatives. These include propylparaben, methylparaben, sodium citrate, and sodium chloride.
These preservatives can cause scalp irritation and lead to increased itching and redness. You may also suffer an allergic reaction to caffeine.
Discolouration
Long-term use of Alpecin may also fade your hair colour or turn it brownish. Especially if you use colourings in your hair, you may want to avoid using caffeine-based shampoos.
Reduced efficacy over long periods
Although there is no scientific basis for this, we feel it's important to highlight that many customers report a reduction in results when using caffeine shampoos over long periods. Effects may eventually fade away, even with continued use.
Alpecin shampoo reviews
To help you make an informed decision about what the best shampoo is for you, we've looked at verified Alepcin shampoo reviews.
Here are our findings:
Product
Volume
Amazon reviews
Alpecin Caffeine Shampoo C1
250 ml
4.3
based on 916 Amazon reviews
Alpecin Caffeine Shampoo C1 Black Edition
250 ml
4.3
based on 310 Amazon reviews
Alpecin Caffeine Liquid
200 ml
4.7
based on 185 Amazon reviews
Alpecin Hybrid Caffeine Shampoo
250 ml
4.4
based on 168 Amazon reviews
Sport Caffeine Shampoo CTX
250 ml
4.4
based on 575 Amazon reviews
Double-Effect Caffeine Shampoo
200 ml
4.3
based on 947 Amazon reviews
Alpecin Tuning Shampoo
200 ml
4.3
based on 1388 Amazon reviews
Alpecin PowerGrey Shampoo
200 ml
4.4
based on 254 Amazon reviews
Alpecin shampoo products and prices
Curious to know more about a specific Alpecin caffeine shampoo? We've got you covered.
Below are different caffeine shampoos, what they are used for and how much they cost at a local pharmacy or online. With our research, you can pick the best treatment suited to your needs, and avoid overpriced shampoo.
1. Alpecin C1 Caffeine Shampoo 250ml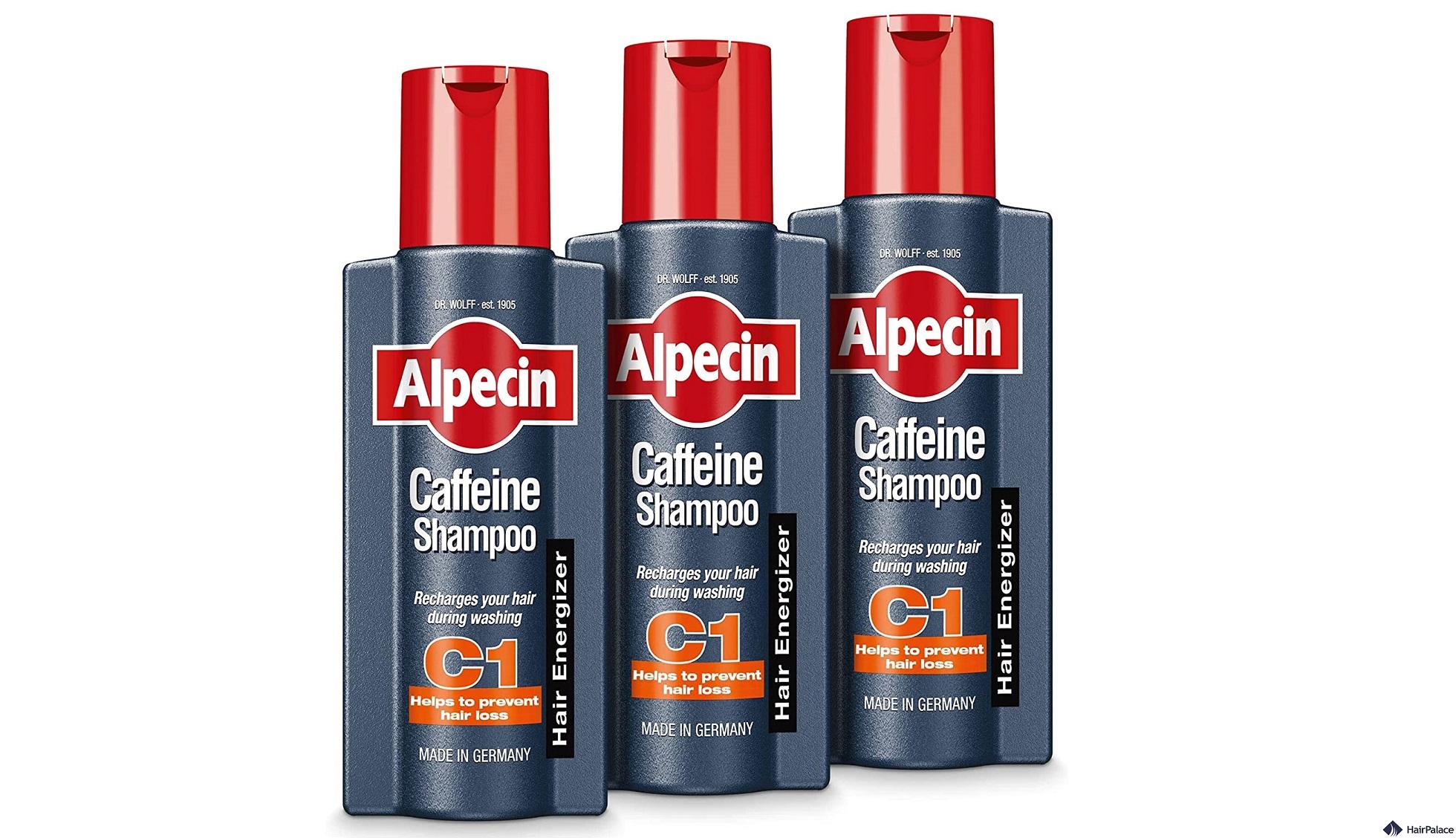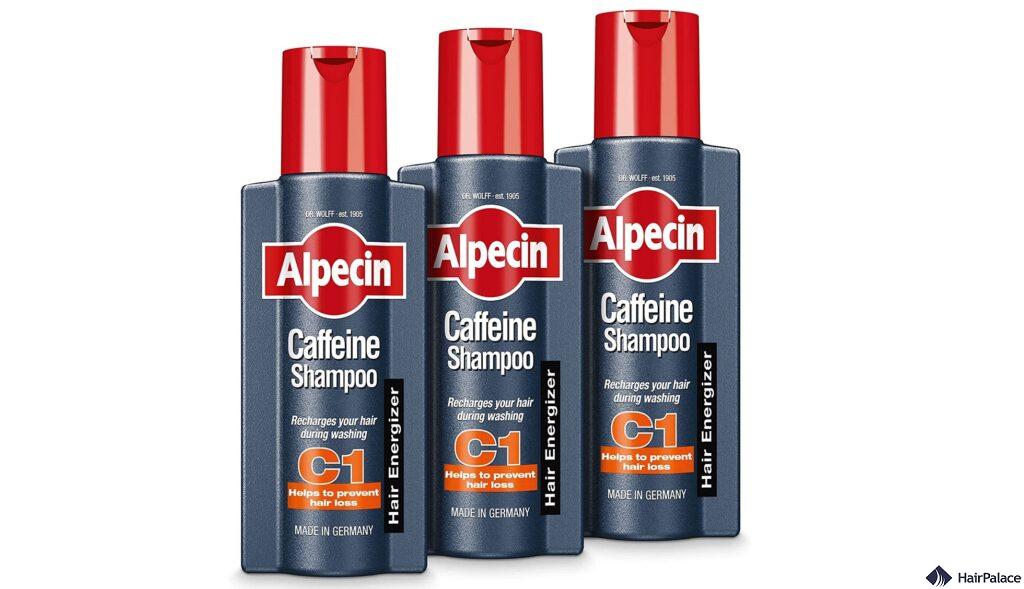 Price: £6.20
Rating: 4.3

based on 916 Amazon ratings
Strengthen and support weakened hair with this caffeine shampoo from Alpecin. It claims to help hair by stimulating growth. It does this by targetting roots and takes only 120 seconds to activate on the application.
Leave the shampoo on your hair and scalp for over 2 minutes for the active ingredients to take form. It contains sodium laureth sulfate, which helps the shampoo remove oil and dirt from hair as well as nourish it. Added sodium lauroyl glutamate ensures hair becomes soft, shiny, and manageable after treatment.
The shampoo may also improve the structure of your hair, appearing healthy and vibrant, and making it easier to style and maintain. It also has hydrolyzed wheat protein, which revives weakened hair by hydrating the hair shaft directly.
Special active ingredients: Caffeine, Zinc, and niacin.
Application: Let it sit on your hair for two minutes, then rinse it.
2. Alpecin Caffeine Shampoo C1 Black Edition 250ml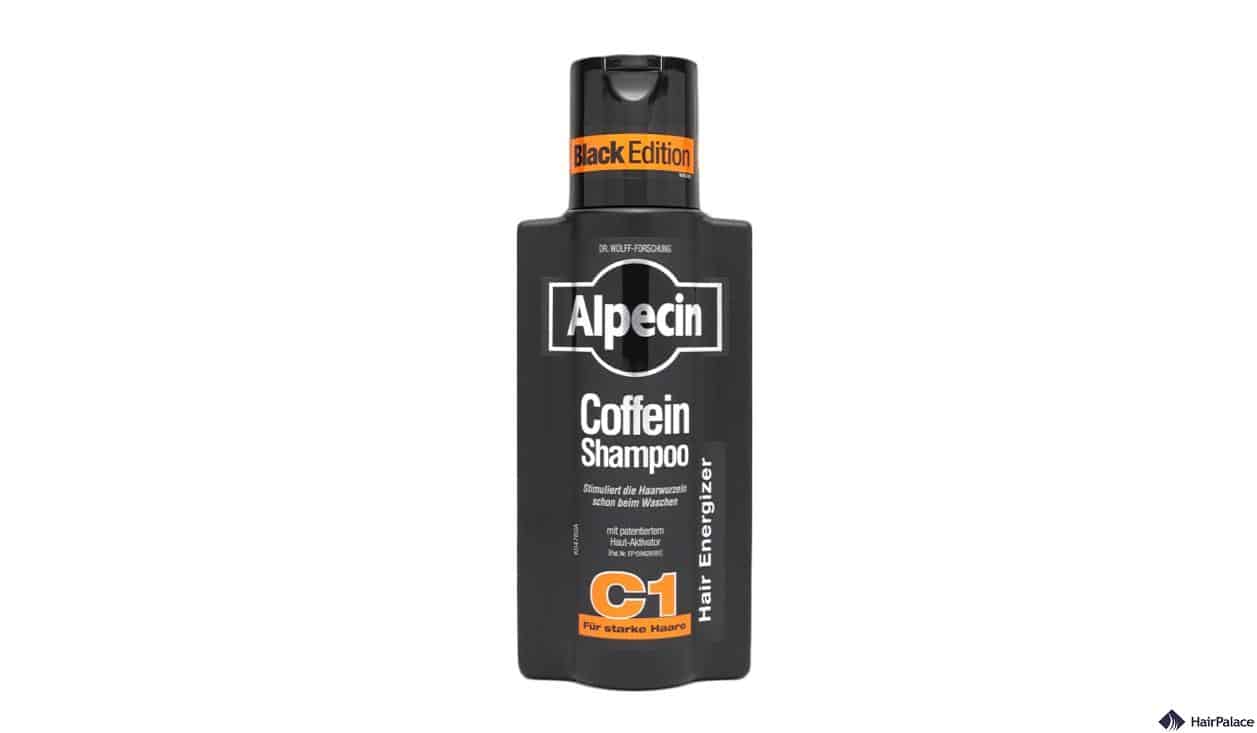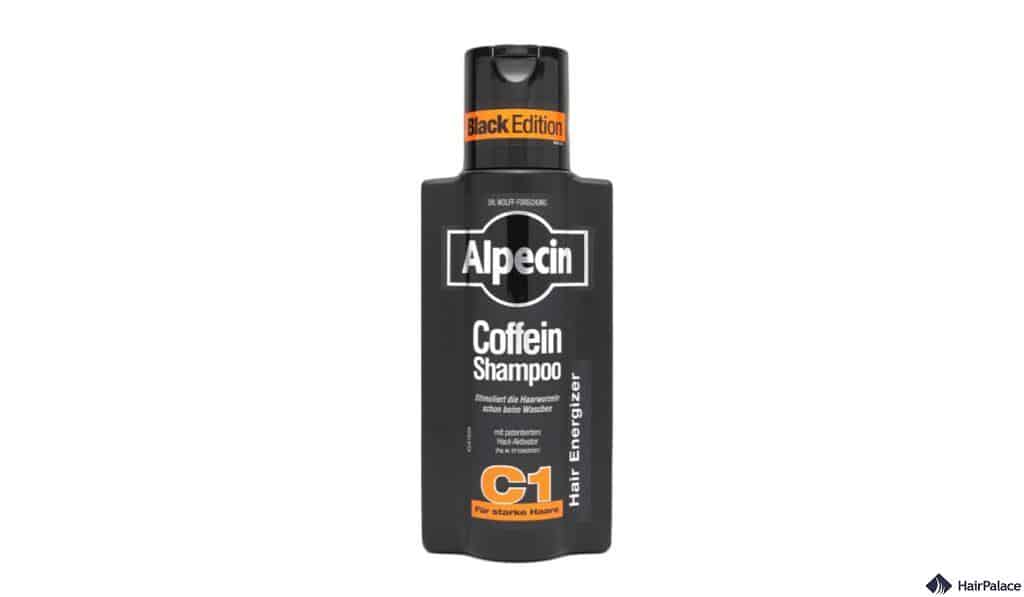 Price: £7.99
Rating: 4.3

based on 310 Amazon ratings
As one of Alpecin's best-selling products, the Black Edition Caffeine Shampoo claims to fight thinning hair before it becomes visible. Similar to other products in the range, it works by applying caffeine directly into the hair root. This product, however, adds more grip and texture and has an improved scent. It also contains potassium sorbate, which helps keep the shampoo fresh and free from harmful microbes.
Special active ingredients: Caffeine, Zinc, and Niacin.
Application: Leave for 2 minutes, and then rinse out. Use this product daily for over 3 months for the best results.
3. Alpecin Caffeine Liquid 200ml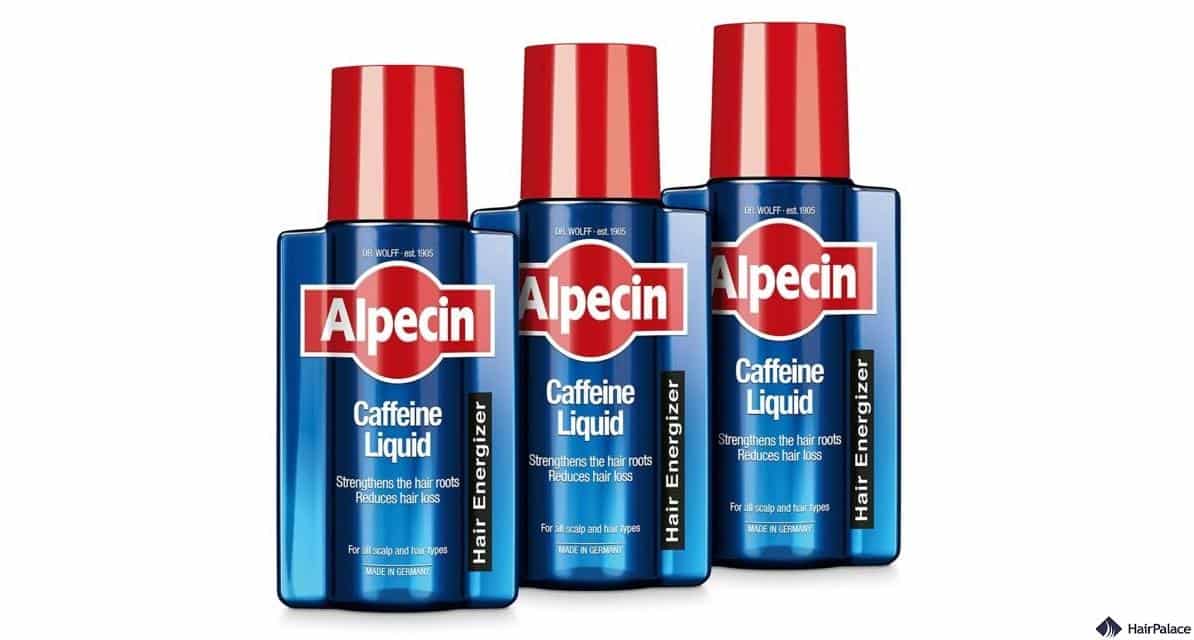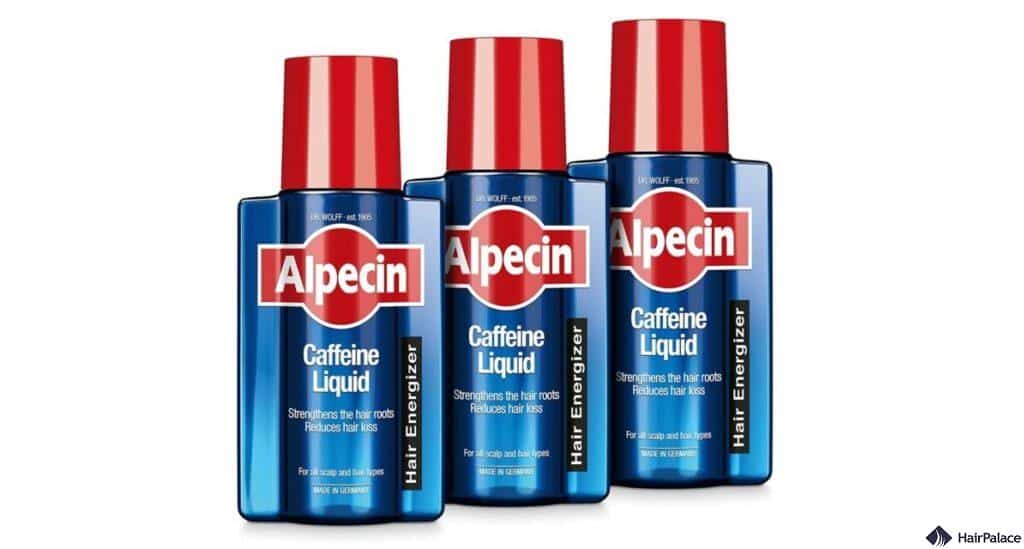 Price: £8.50
Rating: 4.7

based on 185 Amazon ratings
This Alpecin Caffeine liquid solution stimulates hair roots, extending their natural growth phase. The result? Potentially longer, stronger hair, as well as counteracting premature hair loss.
Because you do not rinse the product out, it has a long activation period. It may cause a tingling sensation on your scalp as it travels across hair shafts for up to 24 hours after application.
Head of research at Alpecin, Dr. Klenk, said, "With hereditary hair loss, a scalp massage with Alpecin Caffeine Liquid is a must each morning as it helps to normalize the growth phases of the hair roots."
Special active ingredients: Caffeine, Zinc, and Niacin.
Application: Apply to towel-dried hair. Do not rinse out; let it dry and style your hair as you usually would. Avoid contact with eyes.
4. Alpecin Hybrid Caffeine Shampoo 250ml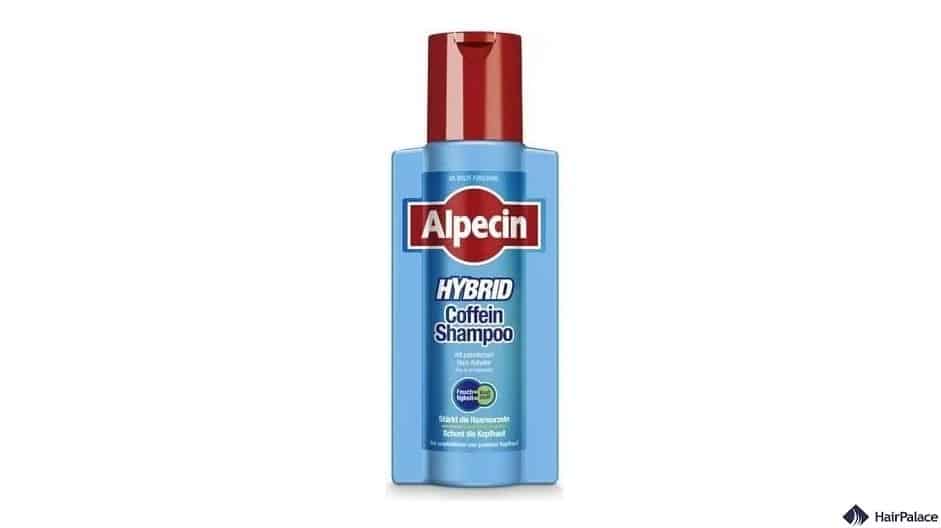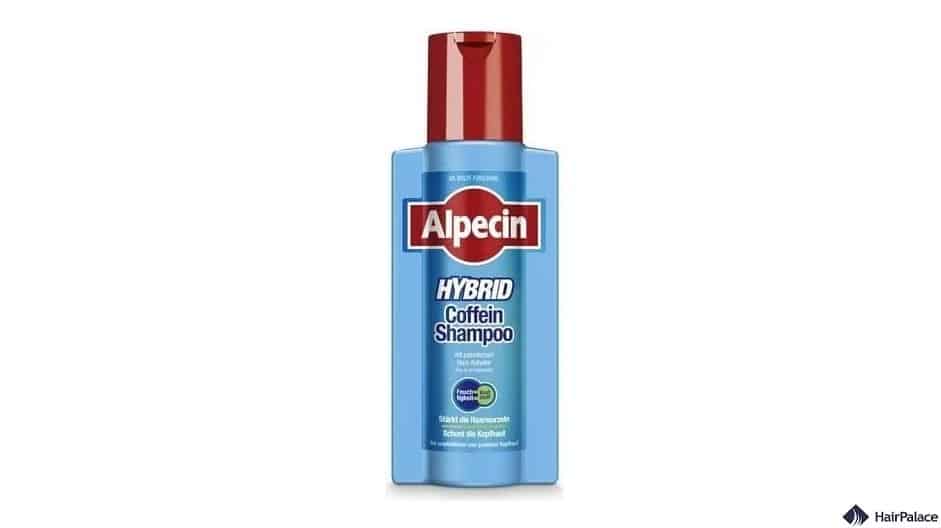 Price: £5.99
Rating: 4.4

based on 168 Amazon ratings
This product can be an effective solution for people who suffer from dry, itchy, or red scalps. It works in two ways. Firstly, it has a signature moisturizing effect that soothes the scalp and reduces sensitivity and itchiness.
Secondly, it aims to prevent hair loss by stimulating the roots, restoring their vitality and strengthening them. Altogether, this shampoo can help restore hair's natural balance through its active ingredients.
Special active ingredients: Caffeine, Zinc, and Niacin.
Application: Let it sit on your scalp for 2 minutes, then rinse. Daily use is recommended.
5. Alpecin Sport Caffeine Shampoo CTX 250ml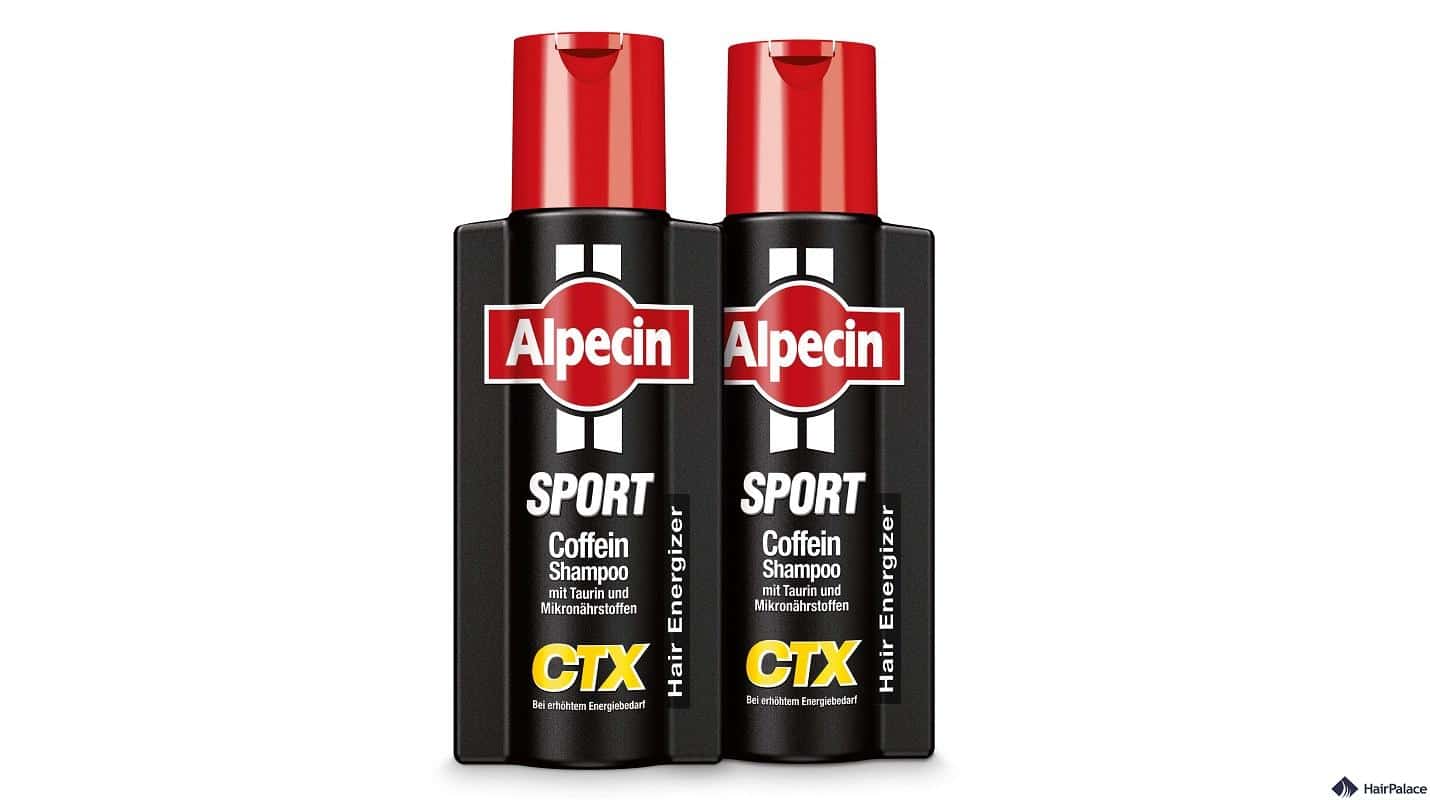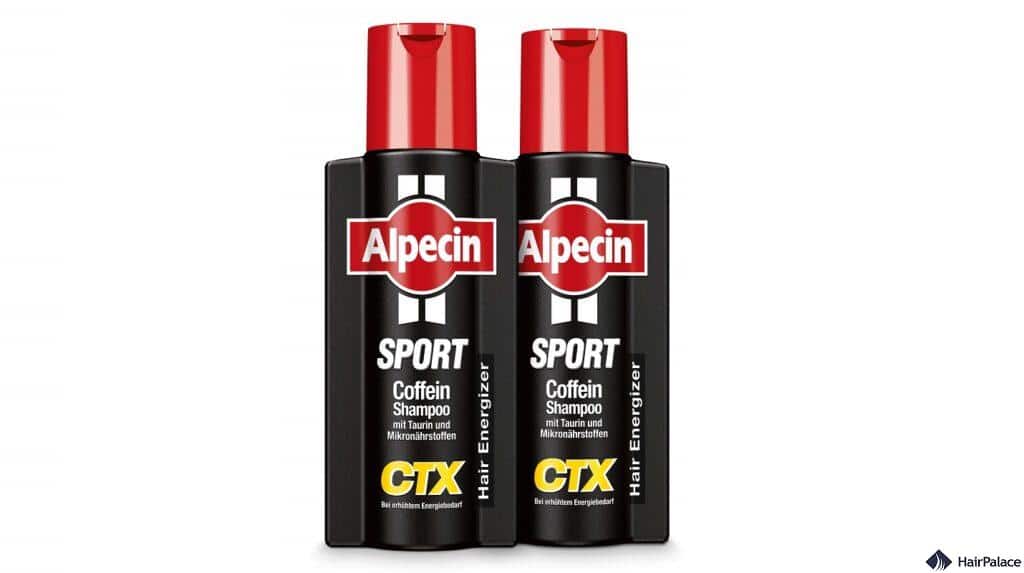 Price: £6.20
Rating: 4.4

based on 575 Amazon ratings
Competitive athletes demand a lot from their bodies, especially during intense exercise and high-level sports. Their bodies, trying to cope with the high-octane activity, draw energy and resources from various places, including your hair.
This shampoo has been developed with athletes in mind and aims to recharge your hair roots after exercise. It contains a host of active ingredients, including taurine, biotin, zinc, magnesium, and calcium, which aim to prevent further loss by bolstering the strength and structure of your hair follicles.
Special active ingredients: Caffeine, Biotin, Magnesium, Calcium, Taurin, Zinc, and Niacin.
Application: Apply to your scalp for 2 minutes, then rinse. Use daily.
6. Alpecin Double-Effect Caffeine Shampoo 200ml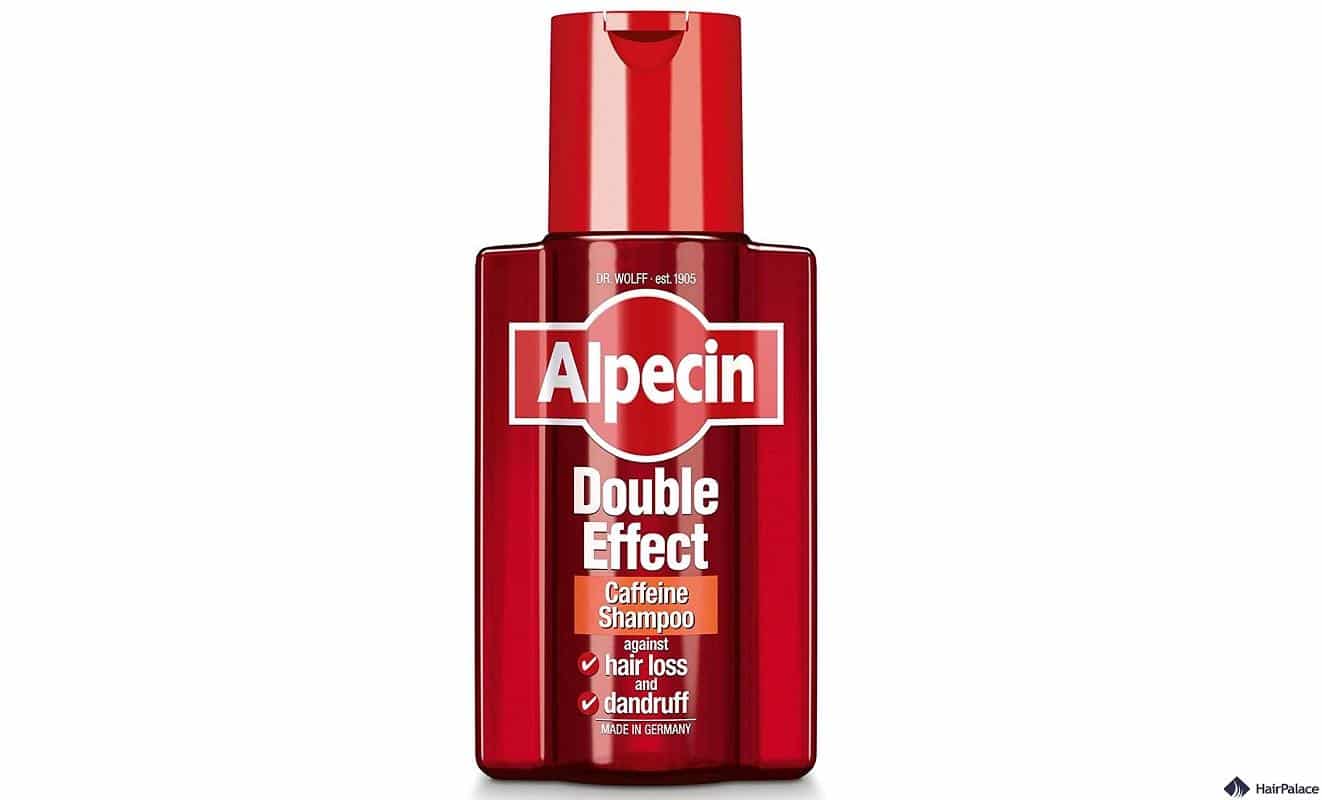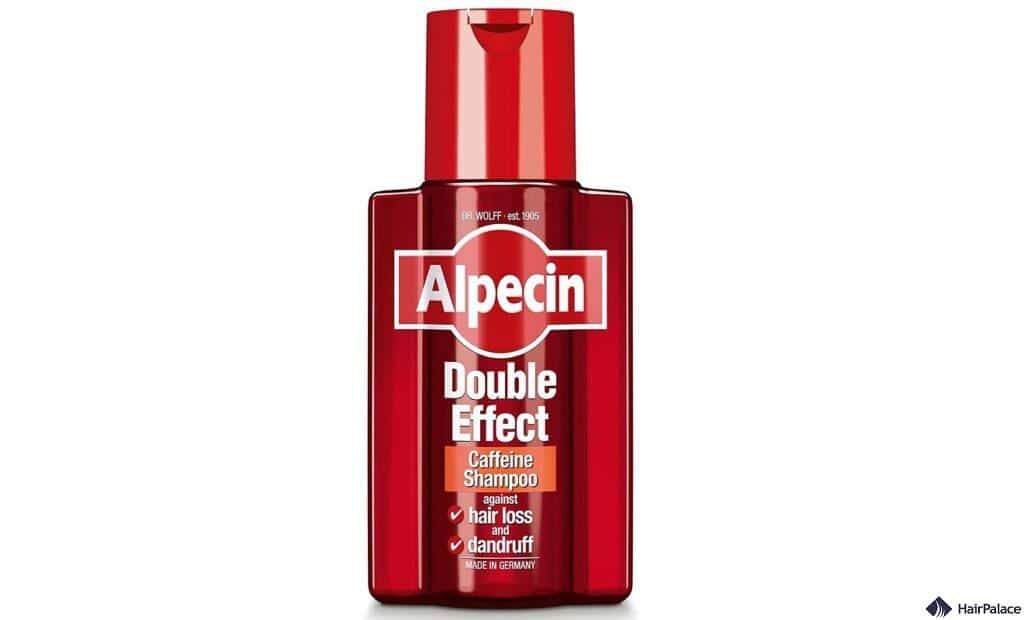 Price: £8.50
Rating: 4.3

based on 947 Amazon ratings
This shampoo is advertised to deal with two main issues – the first of which is combating dandruff. It does this through its extensive ingredients. The shampoo contains salicylic acid, which helps remove the top layer of dandruff from your head.
It also contains sodium benzoate and piroctone olamine, both of which have antimicrobial properties that prevent future dandruff from developing. The shampoo also has citric acid, which has antioxidant properties that help strengthen follicles and give them an undeniable shimmer.
Its second effect relies on its signature caffeine makeup, which is claimed to prevent hair loss by forming a 24-hour depot, which nourishes, enriches, and protects hair roots from premature inactivity.
Special active ingredients: Salicylic acid, piroctone olamine, and Caffeine Complex
Application: Let it sit for two minutes, then rinse it out.
7. Alpecin Tuning Shampoo 200ml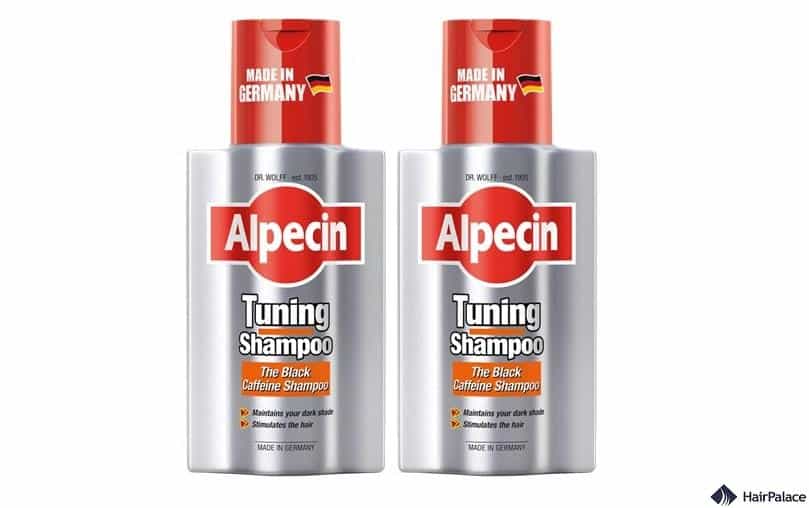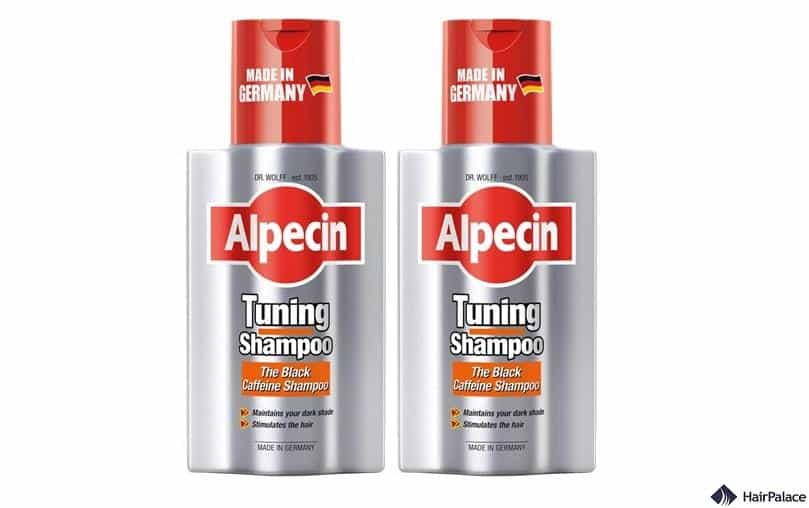 Price: £8.50
Rating: 4.3

based on 1388 Amazon ratings
This tuning shampoo is especially effective at treating dark hair. It's said to slow down the greying process, and with regular use each day, it helps preserve your natural color for longer.
It also has properties similar to other Alepcin products. It claims to fight hereditary balding by revitalizing the roots and making them more resistant to falling out and breaking.
Special active ingredients: Caffeine Complex
Application: Leave it on your scalp for 2-5 minutes, then rinse it. Use daily to retain results. Only suitable for dark or black hair.
8. Alpecin PowerGrey Shampoo 200ml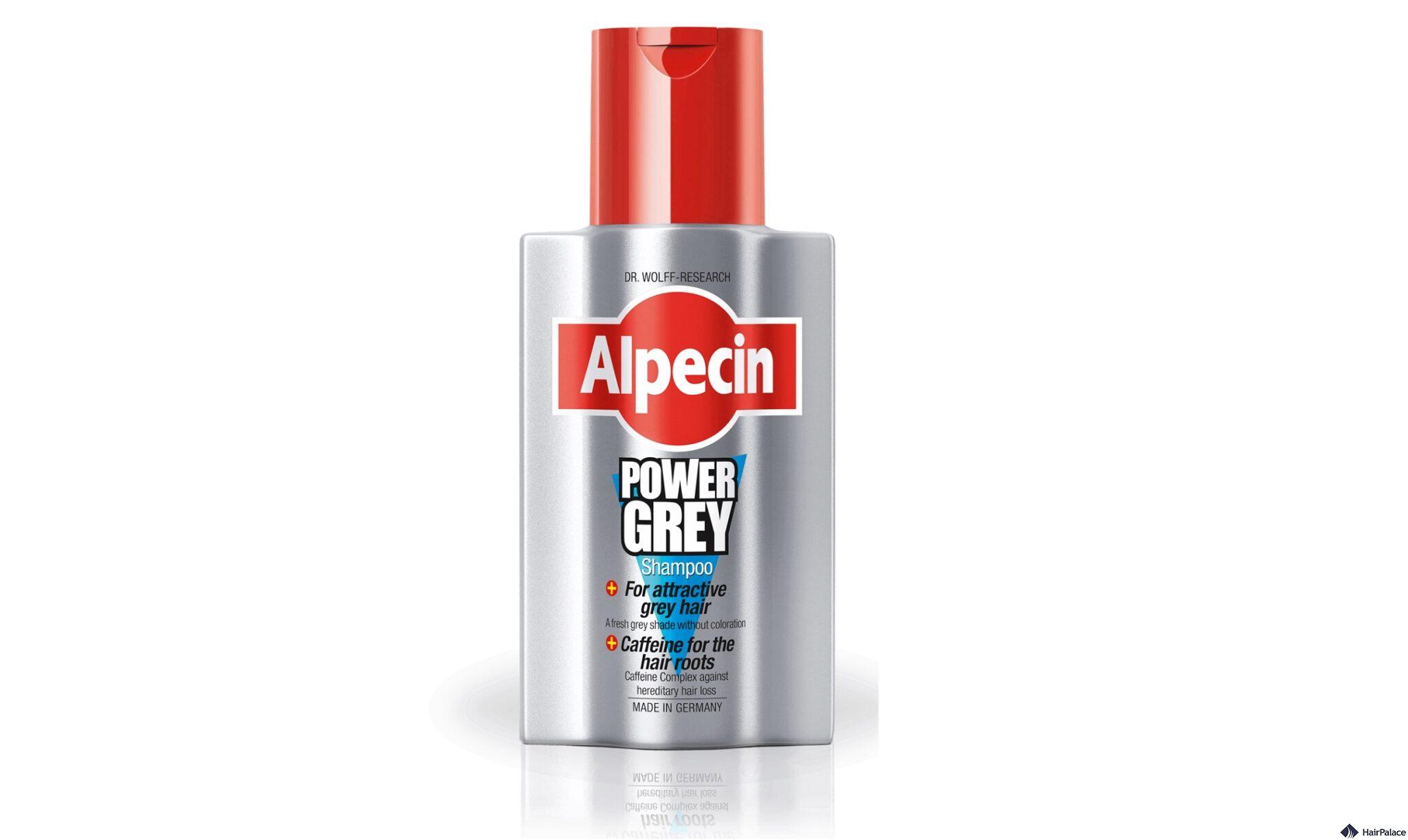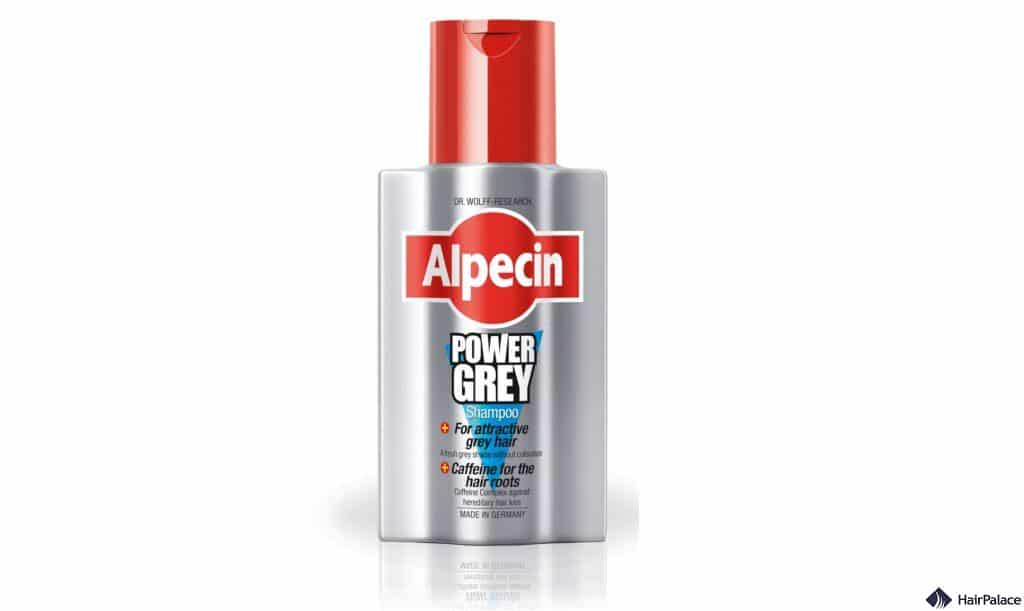 Price: £10.25
Rating: 4.4

based on 254 Amazon ratings
Are you embracing grey hair? And want to maintain it, all the while combating baldness? This Power Grey combination is tailor-made to enhance naturally older hair while protecting it.
It contains a special purple pigment that helps prevent the discoloration or yellowing of hair. Using the shampoo daily can create a slight purple hue on hair – only use it every fourth wash.
The shampoo contains a potent caffeine complex to revitalize hair roots. With continued use, hair may grow stronger, be reinvigorated, and won't fall out as quickly.
Special active ingredients: Caffeine Complex
Application: It should only be used for grey or white hair. For white hair, use every fourth wash.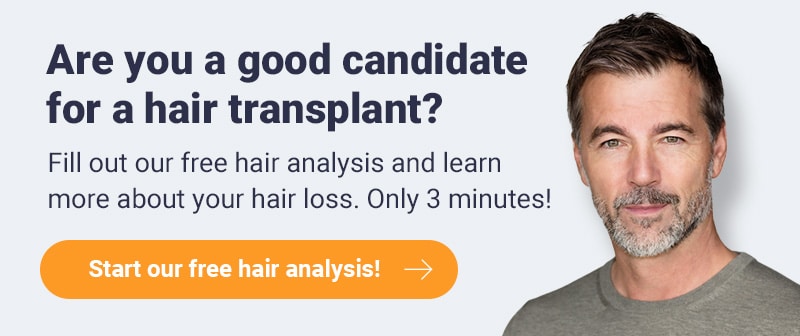 Other products to consider
You have many choices besides Alpecin when it comes to preventing hair loss. Below are some products and areas of treatment you might consider:
HairPalace relies on scholarly sources, including peer-reviewed articles, as well as publications of medical associations and academic & research institutions. We follow strict sourcing guidelines and avoid tertiary references. Read our editorial policy for further information on how we keep our content up-to-date and accurate.