Gareth Bale's Balding Story: His Famous Man Bun and Hair Transplant Rumours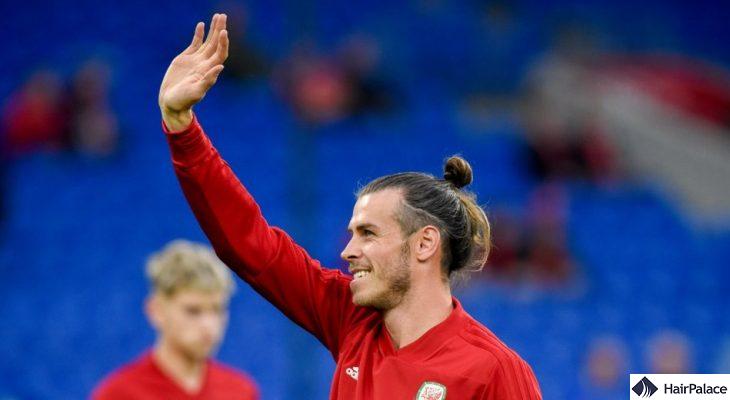 Many male celebrities have openly discussed their hair transplants, such as Cold Feet star James Nesbitt, footballer Wayne Rooney, and Made in Chelsea personality Jamie Laing.
But other celebs are less upfront about their hair loss and potential treatments, which can lead to rampant media speculation.
And that's the case with Gareth Bale.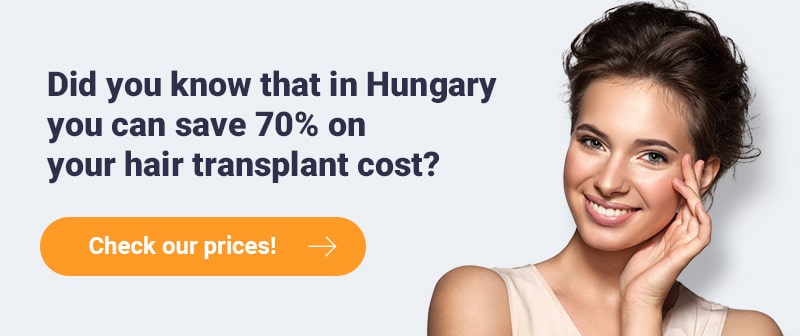 Who is Gareth Bale?
Gareth Bale is a popular Welsh footballer. He made his professional debut at Southampton in 2006 before transferring to Tottenham Hotspur the following year and the legendary Real Madrid in 2013. He also frequently plays for the Welsh national team.
Bale has racked up some amazing achievements during his career (so far): he achieved a high ranking on ESPN's list of the most well-known athletes in the world and has been titled Welsh Footballer of the Year on six occasions to date.
Did Gareth Bale show signs of balding?
Bale's changing hair has sparked much speculation and various rumours in the media. A 2017 Daily Mail article suggested that he had been "stung" when Twitter users discussed his apparent hair loss during the Euro 2016 tournament.
The Daily Star and The Sun also reported on the Gareth Bale balding situation. An undisclosed source was quoted as saying that Bale was keen to get his hair loss "sorted" in the wake of those jibes on social media.
Both publications shared photographs to highlight Bale's supposedly thinning hair. The image below offers a clear glimpse of what appears to be a bald spot on the footballer's head: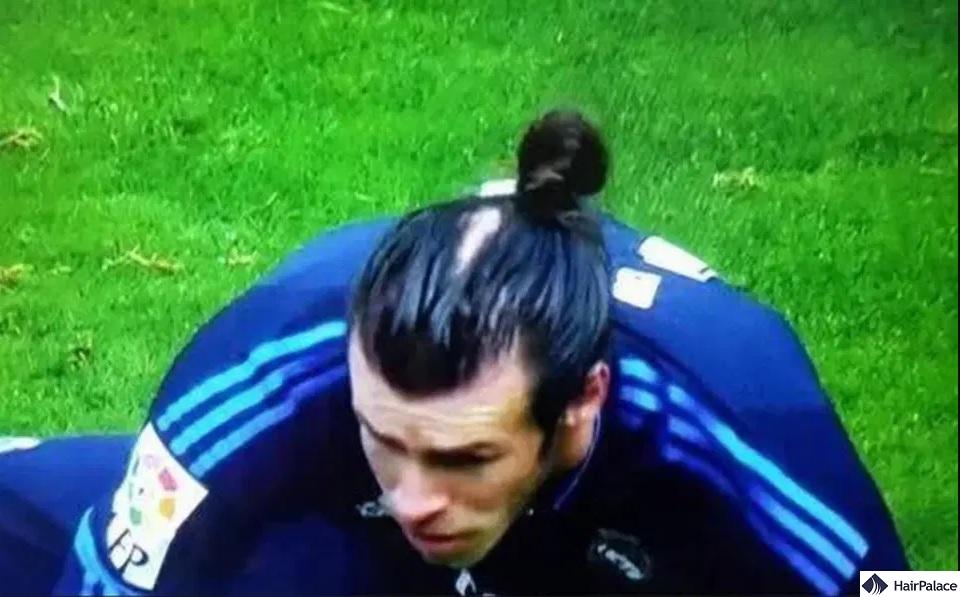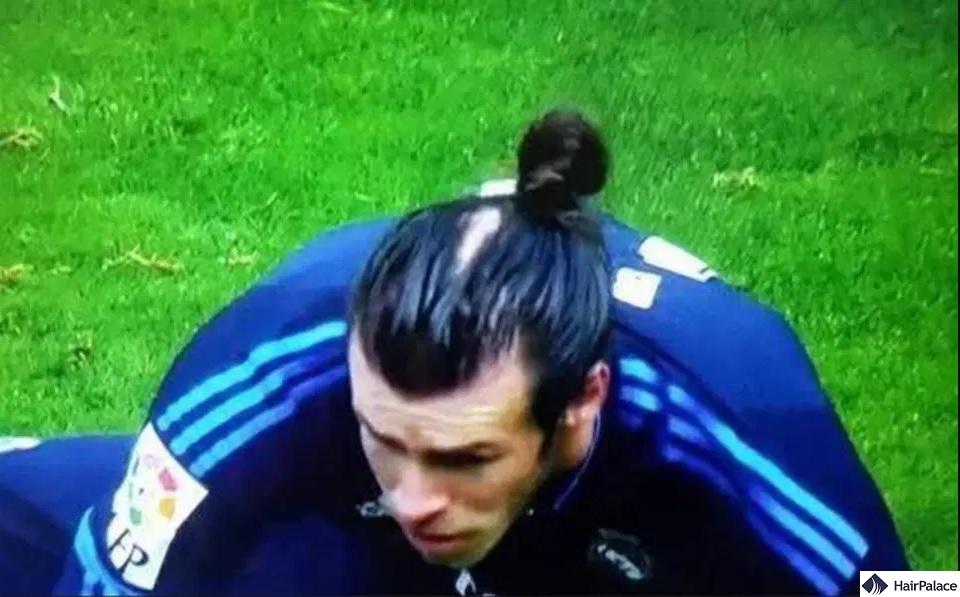 So, is Gareth Bale bald? A large area of his scalp is visible through the gap in his long hair, so it's possible that he has been affected by minor hair loss. But it's unclear whether or not the thinning is restricted to this single area.
Other pictures also show that bale has a mature hairline caused by natural recession around the front of his scalp and temples. This is particularly visible with Bale's hair tied back into a "man bun".
Bale may be affected by male pattern baldness, the most common type of hair loss in males. This condition is caused by dihydrotestosterone (DHT), a sex hormone responsible for the development of certain male characteristics (e.g., a deep voice and extra body hair).
DHT adheres to the hair follicles and causes them to shrink. Affected hairs become thinner and take longer to grow — until they stop growing entirely.
Male pattern baldness can take years to affect the entire scalp. It's possible that Gareth Bale has this condition but has covered it strategically with longer hair (as media speculation suggests). His hair also appears damp with sweat in the above image, which makes the hair look thinner and sparser.
Did he use his famous man bun to cover his bald spot?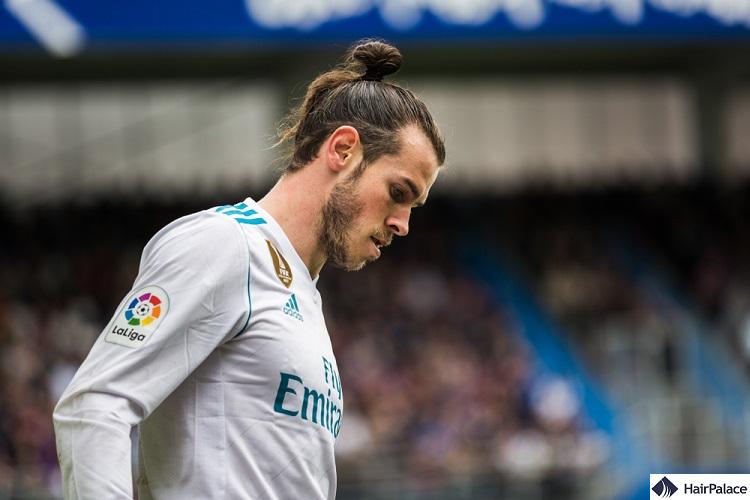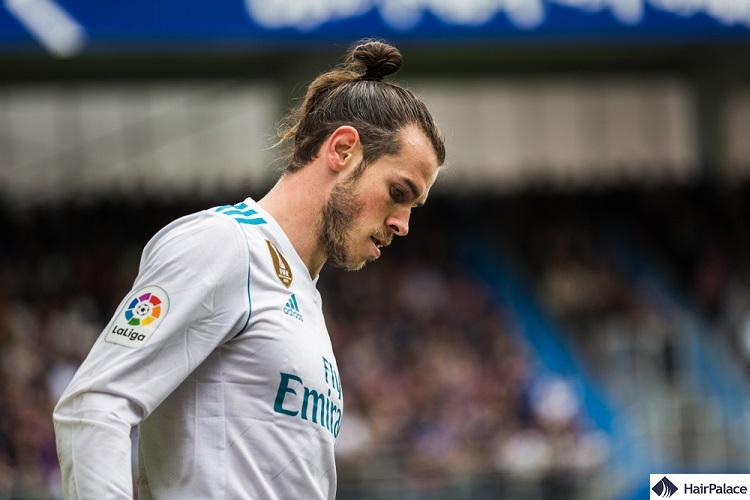 The Sun's article from March 2017 quoted an anonymous source who claimed that Gareth Bale wore his hair in a fashionable bun as a way to "cover his bald patch".
It's unknown if this is the real reason that Bale grew his hair long. But many men experiencing the early stages of baldness use their remaining hair to cover their scalp, whether with a traditional "comb over" or a bun like Bale.
This longer style was a significant departure from his previous choices. Gareth Bale wore his hair in a variety of shorter styles over the years: images from early in his career show Bale with side-swept hair (see below), a trendy faux hawk, and a more traditional side-part.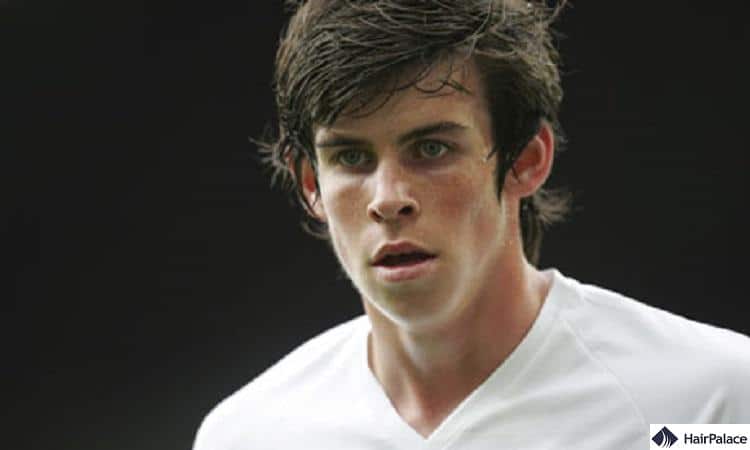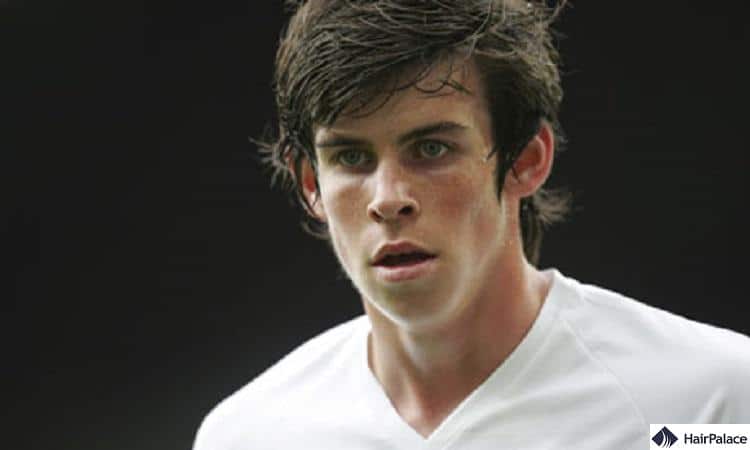 Did Gareth Bale consider having a hair transplant?
Gareth Bale has never confirmed nor denied that he has considered a hair transplant (at the time of writing).
However, an anonymous source told The Sun that Bale was considering a hair transplant to restore his thinning locks. The source also claimed that Bale had spoken to Joe Ledley, another footballer, about the issue.
Did he have a hair transplant?
Again, Gareth Bale has remained tight-lipped about a possible hair transplant. Fellow footballers like Wayne Rooney and Antonio Conte have transformed their appearance with noticeable hair restoration procedures, but it's harder to identify whether or not Bale has had treatment.
It's likely that Bale would choose a Follicular Unit Extraction (FUE) hair transplant if he wanted to try surgery. This involves transplanting healthy hair follicles from the back and sides of the scalp into the balding areas. New hairs grow in 12 to 18 months, creating a denser and more youthful look.
Hair transplant prices are available at highly competitive today, with packages to suit various degrees of hair loss. The latest technologies and techniques can achieve incredible results that stand the test of time.
How does his hair look today?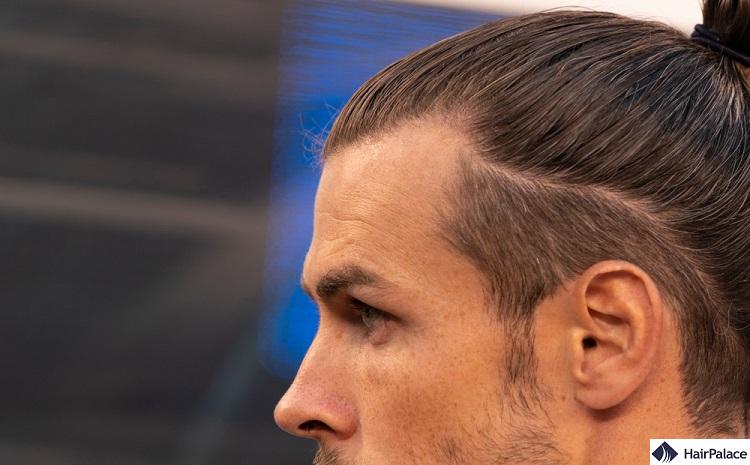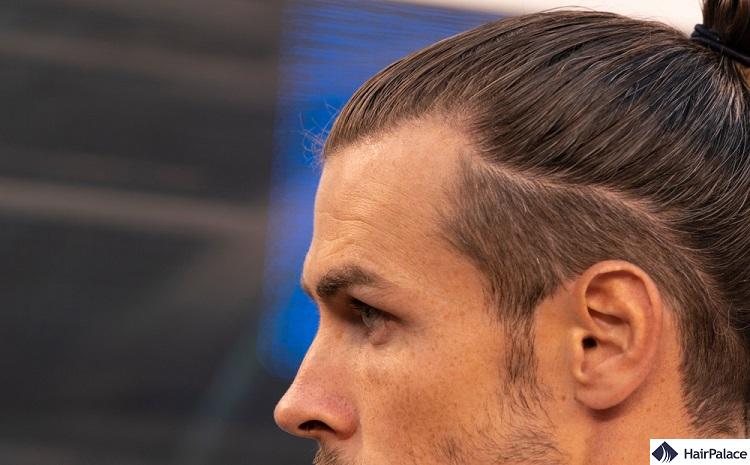 Gareth Bale's hair looks strong and healthy today, though it's unclear whether or not he's had a hair transplant.
His mature hairline is still visible with his hair pulled back from his face: he appears to have a "widow's peak" or a slight "V" growth pattern. Bale tends to wear his hair in a "man bun", either for its fashionable aesthetic or to hide his bald spot (as The Sun's source suggests).
It's possible that the Gareth Bale balding story will continue if he has male pattern baldness or another condition that causes shedding. And it's particularly likely if he continues to wear his hair in a tight bun — this can lead to hair loss or make thinning worse.
Why? Because tight hairstyles place unnecessary strain on the hair and may cause traction alopecia.