Elon Musk Hair Transplant: The Secret of His Amazing Result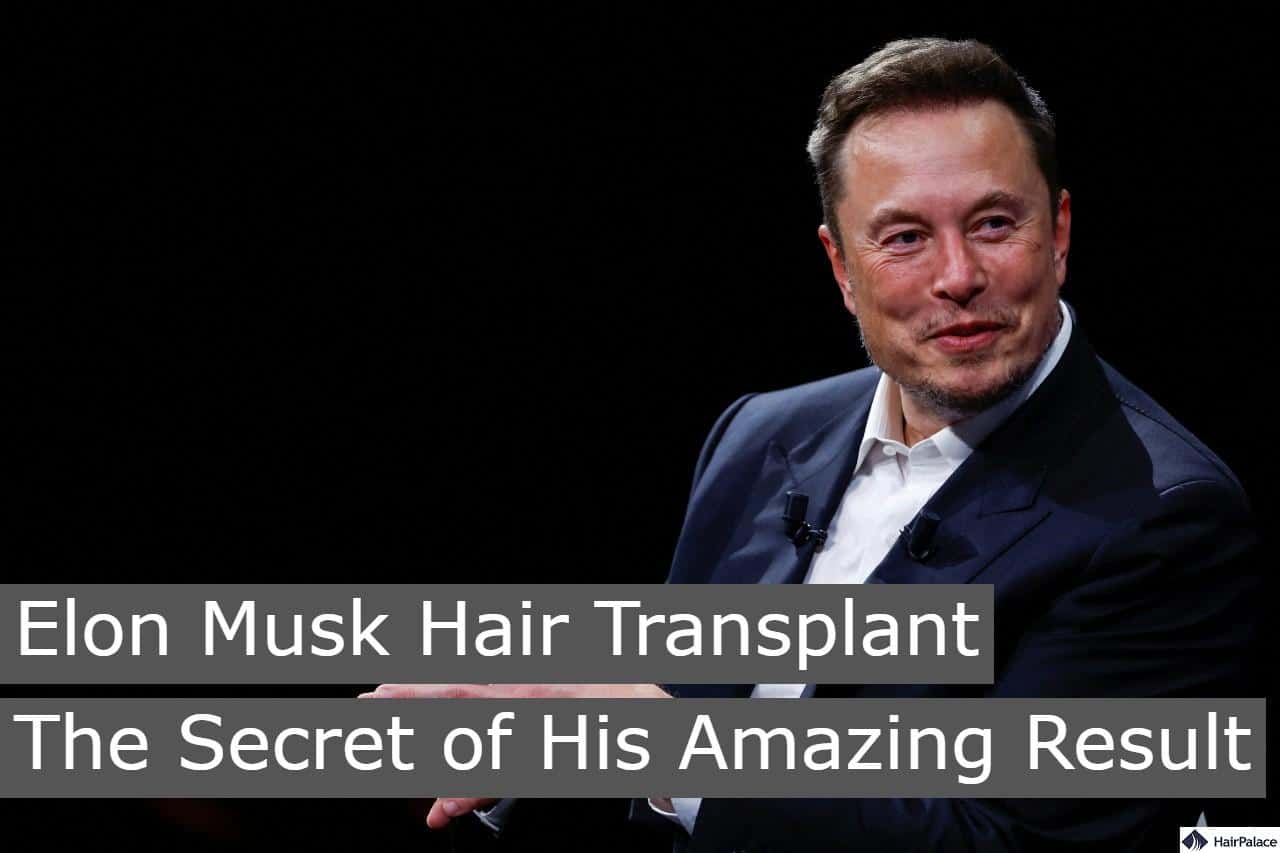 Elon Musk is one of the most successful entrepreneurs in history. He's known for a number of incredible ventures, including Tesla, Inc. and the revolutionary SpaceX project.
With a net worth in excess of $180 billion (yes, really), at the time of writing this article Musk is the richest person in the world.
But Elon Musk isn't perfect: he's experienced problems throughout his life, just like everyone else.
Including his battle with hair loss.
When did he start to go bald? How did he restore his hair? And how can you get the same treatment?
Join us as we explore the Elon Musk hair loss story…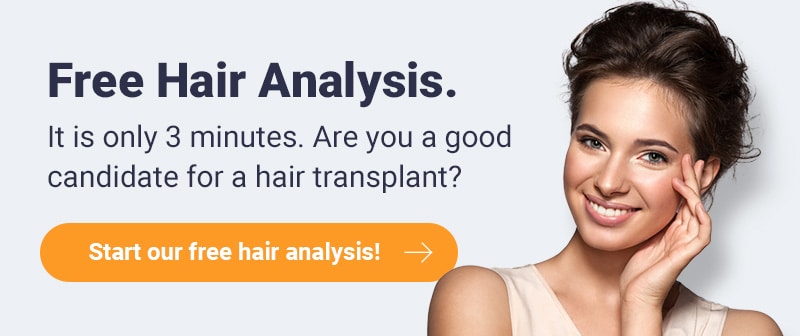 How it all started: Elon Musk's road to success
Elon Reeve Musk was born in 1971, and raised in Pretoria, South Africa. He stepped into the business world in 1995, when he launched Zip2 with his brother and the late Greg Kouri.
They built this small software enterprise into a successful company and sold it in 1999 for a staggering $307 million. Musk walked away with $22 million, which he used to co-found X.com (later rebranded PayPal).
Further success came, and Musk launched the highly innovative SpaceX in 2002. He also became chairman of Tesla in 2004, before becoming CEO several years later. He's overseen the company's ongoing production of electric and self-driving vehicles since.
Elon Musk hair loss patterns over the years
Elon Musk as a teen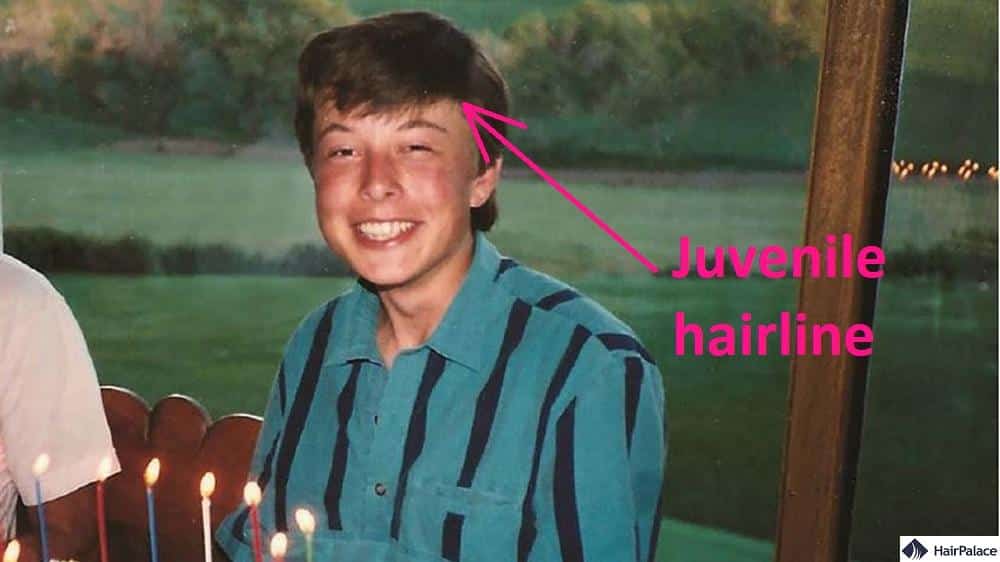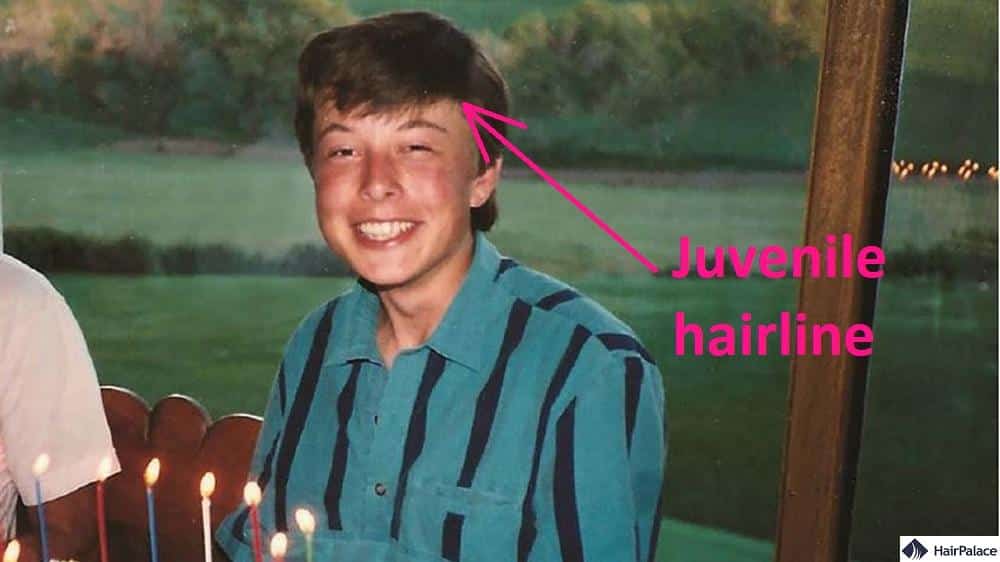 In his teenage years, the hair of Elon Musk looked like the hair of any other average teen. There's no hair loss to speak of and he didn't appear to lose hair anywhere on his scalp.
In fact, Musk seemingly had thick hair with no noticeable signs of the thinning he was about to undergo.
Dawn of a new millenium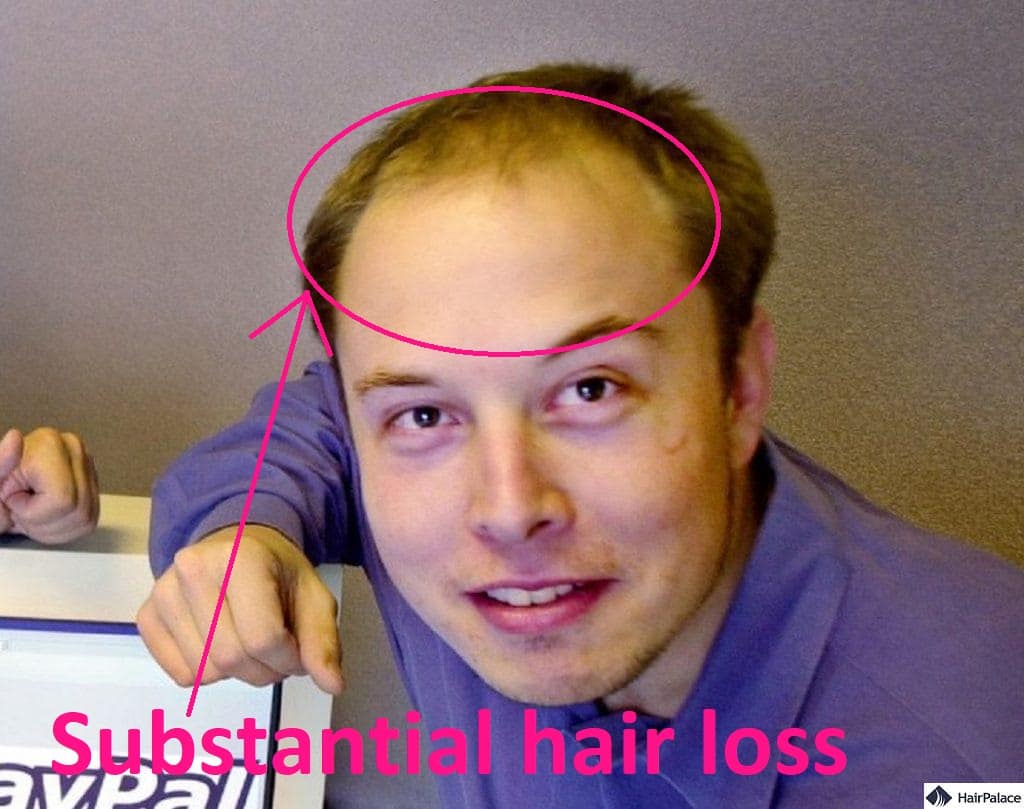 Jump ahead to the turn of the millennium, and Musk's hairline has basically disappeared. The culprit was most likely male pattern hair loss, a condition most men are all too familiar with.
In fact, nearly 80% of men undergo some degree of hair loss throughout their life. We can see that Elon experienced significant hair loss at the frontal region, appearing to be at stage 4 or perhaps even 5 on the Norwood scale.
First hair transplant in the early 2000s?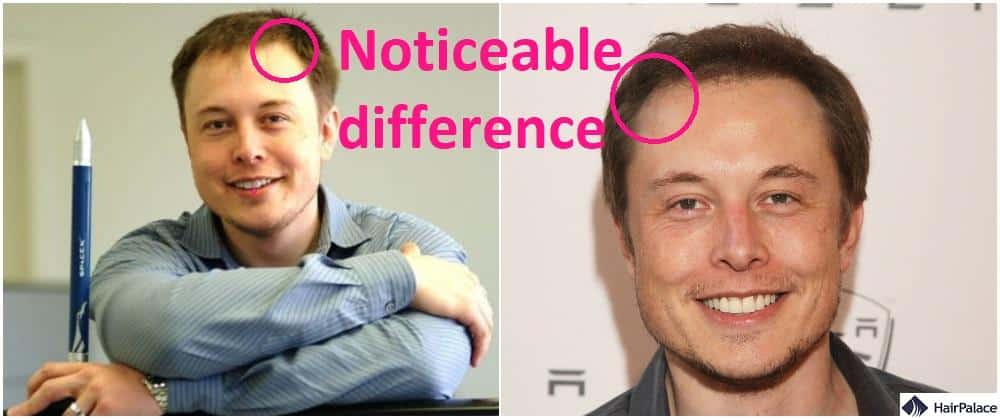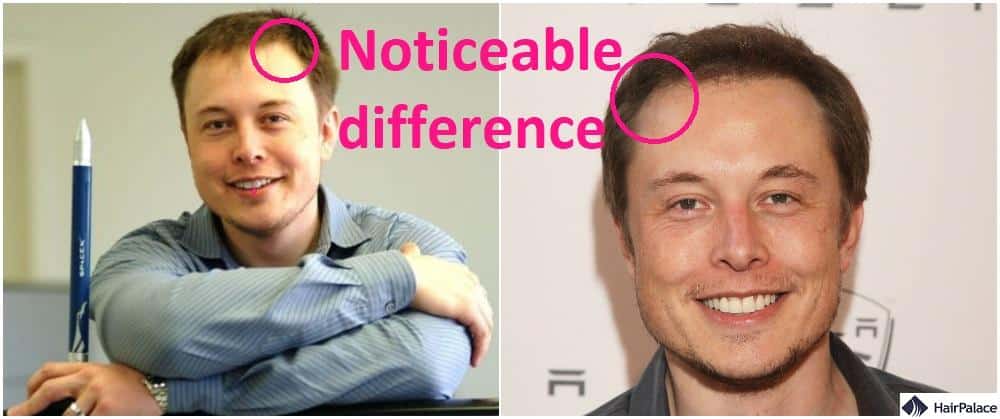 By taking a look at some photos of Elon Musk pre hair transplant it's clear that he was experimenting with a hair restoration technique. But does this mean he had a hair transplant?
Not yet, he most likely tried some medical therapy treatments such as finasteride or minoxidil.
This is the right approach for younger patients as you need a stabilized hair loss pattern to have a chance at a successful hair transplant that provides a permanent solution to your hair loss.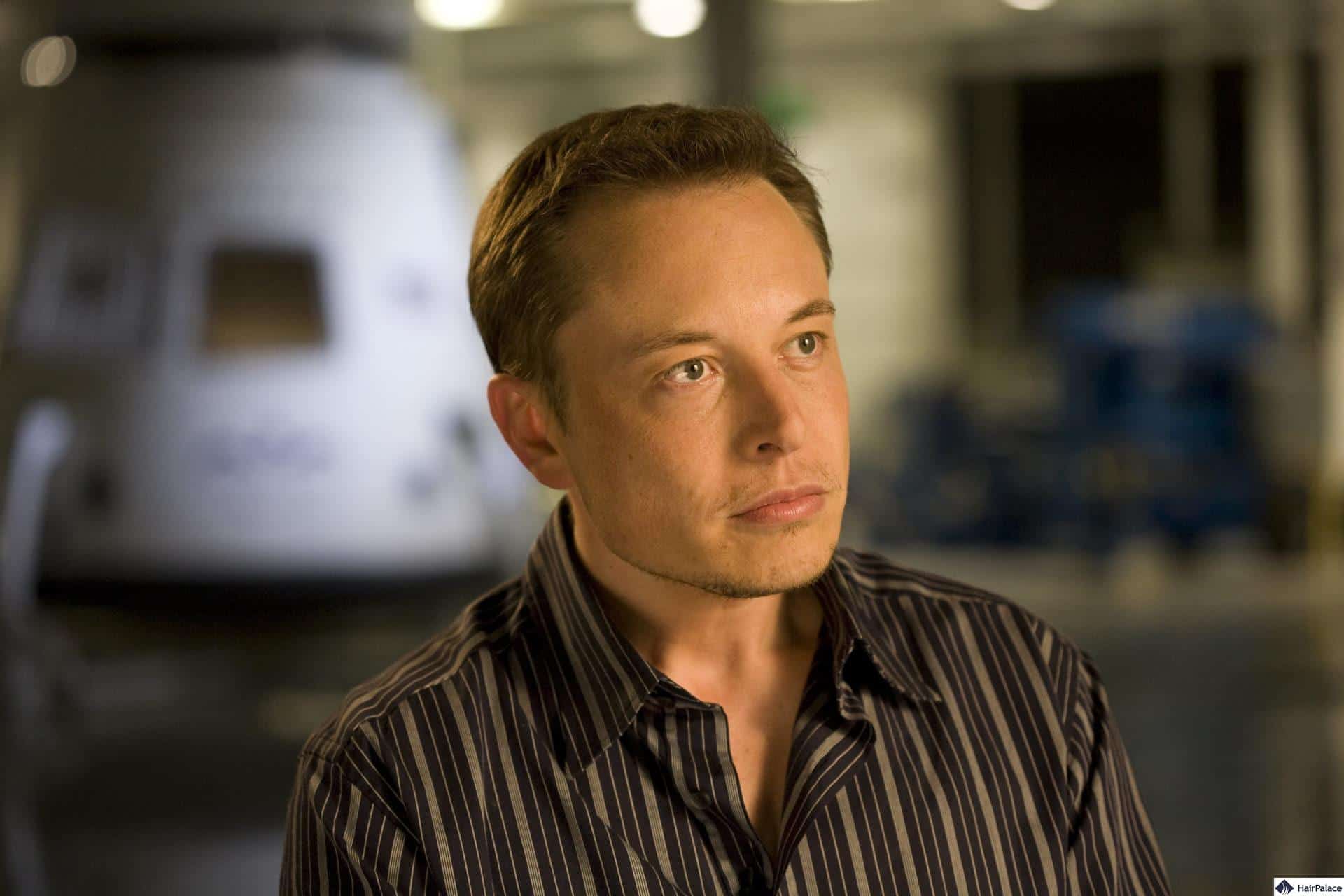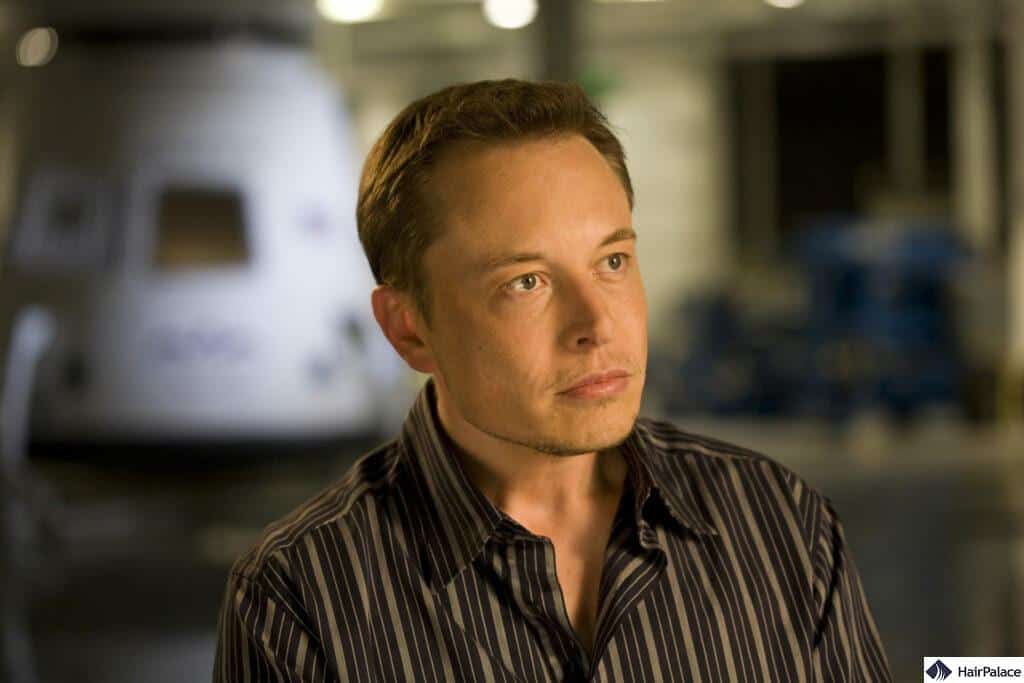 However, when it comes to the contrast between Elon Musk pre hair transplant, and the photo shown above the change is too significant to have been caused by a medical treatment.
So it's very likely that the first Elon Musk hair transplant took place somewhere around this time.
Modern-day Elon Musk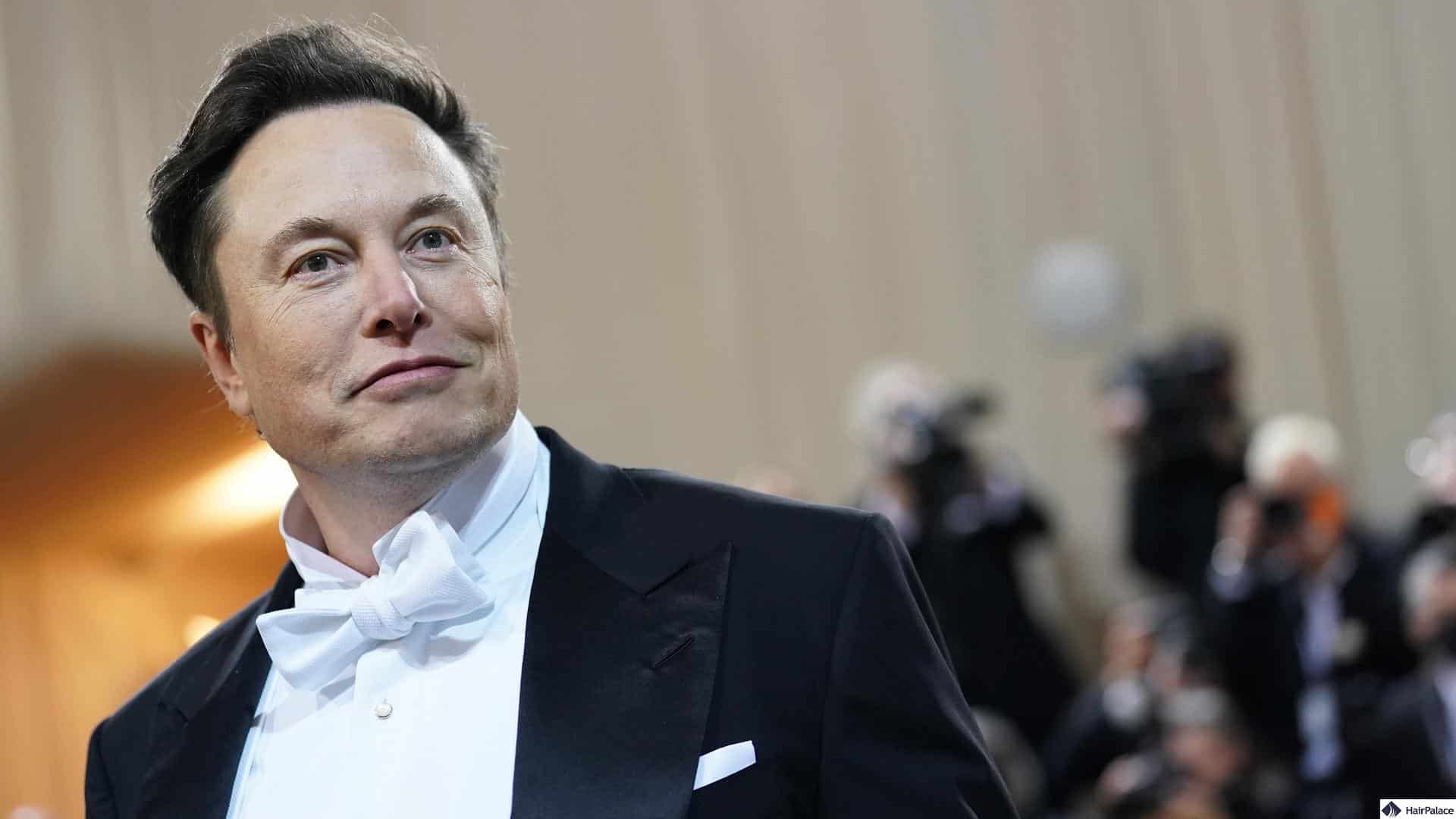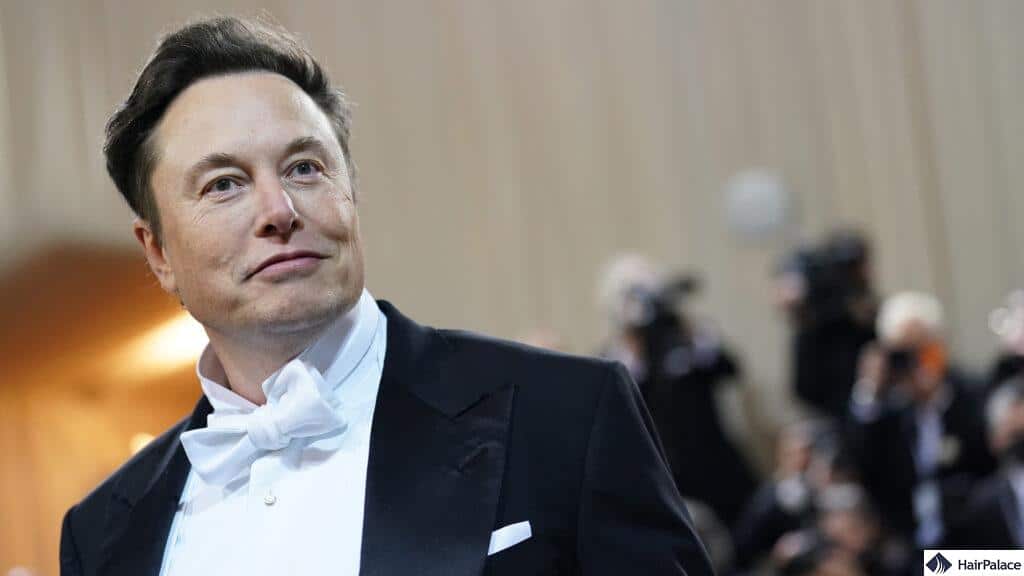 Elon Musk before and after hair transplant photos show a major difference. The billionaire has more hair today than he ever did. This leads us to believe that he had hair transplant surgery multiple times.
However, according to our hair transplant surgeon Zsolnai Ljubov, it's entirely possible that aside from the Elon Musk hair surgery he also kept using medical treatments.
What technique was used for Elon Musk's hair transplant?
It's surprising that, with all of his unbelievable wealth and creativity, Elon Musk didn't invent a new form of hair loss treatment unlike any seen before. But the truth is, he really didn't need to.
The latest hair transplant technology is a fantastic solution for any man or woman struggling with their hair loss. Two types of hair transplant techniques are available:
Follicular Unit Transplantation (FUT)
Follicular Unit Extraction (FUE)
When we take a look at the pictures taken of his donor area after his hair transplant procedure it's obvious that Musk went for the outdated FUT hair transplant method.
Hair transplantation is mostly carried out with the FUE technique these days as it is by far the best method, leading to better overall results with less scarring and minimal downtime.
So why was the Elon Musk hair transplant done with the FUT technique?
FUT vs FUE: Which treatment is best?
During an FUT procedure, a surgeon will remove a strip of flesh from the back of the scalp and dissect it into tiny pieces to harvest the hair follicles. Next, they will insert these into numerous incisions on the scalp's bald spot(s).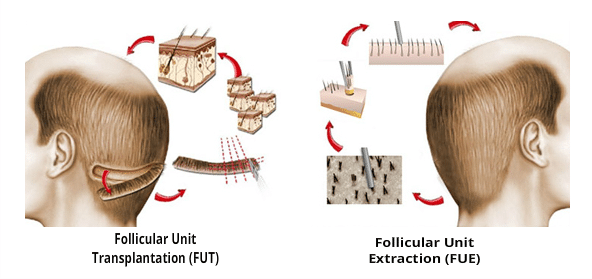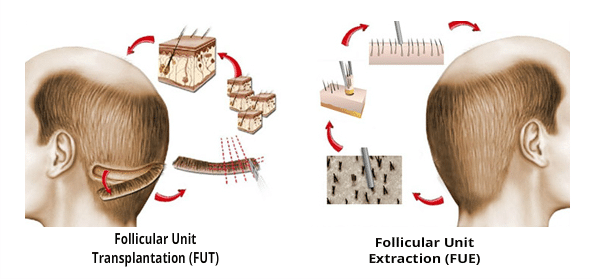 Over time, these follicles will create new growth across the regions affected by thinning or baldness.
However, the invasive nature of the FUT treatment leaves a visible scar on the back of the head that requires the patient to wear their hair in a longer style if they want to keep the scarring hidden.
FUE hair transplants bring much more freedom. Hair follicles are extracted one at a time from the back and sides of the head, in a staggered pattern to prevent telltale thinning of the donor areas. No visible scars are created by this type of hair transplant procedure.
These follicles are prepared in a special solution, before being implanted into the balding parts of the scalp. This is a fairly straightforward, painless hair loss treatment.
How much did Elon Musk's hair transplant cost?
Experts speculate that Musk spent anywhere from $20,000 to $30,000 on his hair restoration surgery. And the results speak for themselves — Musk looks more youthful now, approaching 50, than he did two decades ago.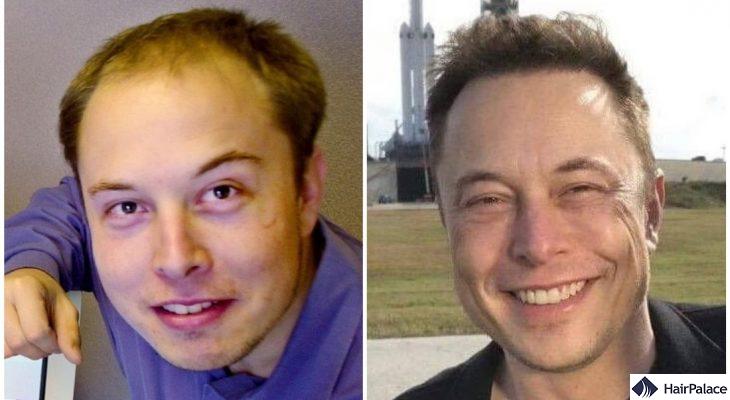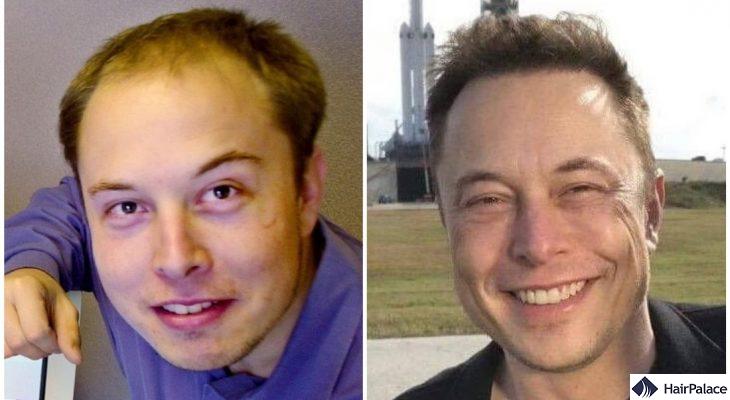 How can you get the Elon Musk hair transplant?
Although Elon Musk underwent the outdated FUT method and did so at a significant markup you can receive the superior FUE hair transplant for a fraction of what Elon Musk's hair cost.
How? By choosing HairPalace.
We offer the latest FUE hair transplant treatment at our clinic in Hungary.
We use the latest in hair restoration technology: the FUE2 Safe System. This provides our surgeons with the highest precision to achieve stunning results.
Packages at our Budapest hair clinic are available at highly competitive rates — you can restore your hair for less than 70% on standard UK prices!
To book your own online hair transplant consultation, contact our experts today!
Discover other celebrity hair transplants!
Did you know that Elon Musk is not the only one who went through a hair restoration procedure? Check out more amazing celebrity hair transplant stories!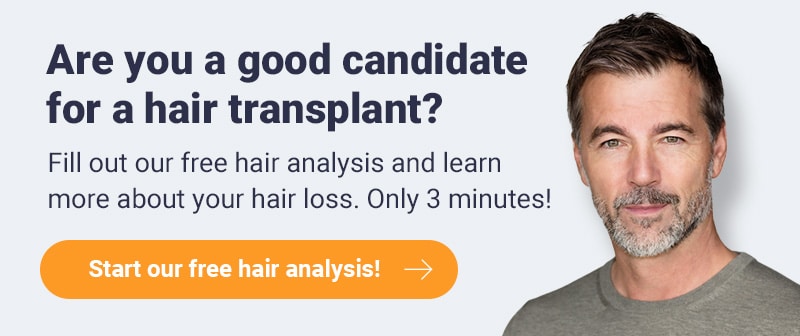 FAQ
What is Elon Musk's natural hair colour?
The original Elon Musk hair colour appears to be dark brown, with no hints of grey.
How old was Elon Musk when he started to go bald?
Elon Musk started to go bald in his 20s, based on photographs from the early 2000s. His baldness continued for a number of years, before he was seen with thicker, healthier hair in the 2010s.
Did Elon Musk get a hair transplant?
It appears that, yes, Elon Musk did get a hair transplant. As he always had healthy hair growth on the back and sides of his head, he would have been a suitable candidate for a hair transplant.