Hair transplant in Geneva: Costs and Services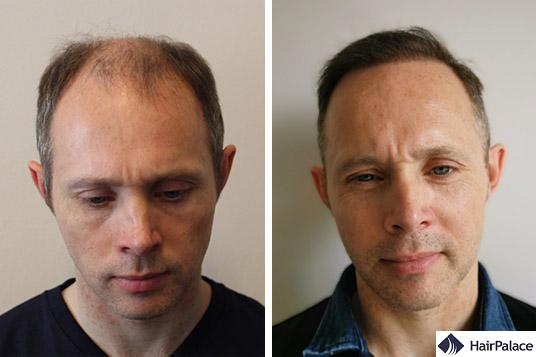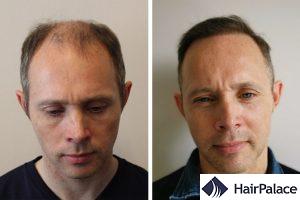 Tom
Number of hair transplants: 2
Total number of implanted hairs: 6983 hairs
With two FUE2 hair transplants, we have restored Tom's hair at the front and top of the scalp. His hair transplant result is dense and natural-looking.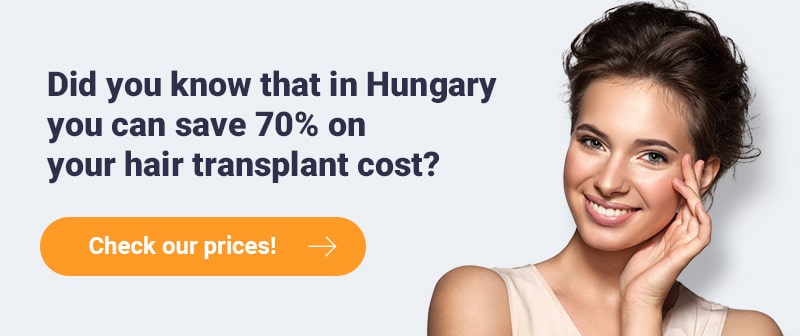 Visit our office in Geneva for a free hair transplant consultation!
A hair transplant in Geneva can offer a permanent solution to your hair loss problems. The first step you need to make is to attend a free consultation, to ensure that your procedure can be performed safely and effectively.  At the same time, you will receive your treatment plan and your personalized quote.
You have the option of meeting our hair transplant specialists for a free consultation in our Geneva office.
Our doctor will examine your hair and scalp, using a digital hair camera to make sure the procedure can be done.  We will check your donor area to see if you have enough hair and if your scalp is in good condition.  We will discuss your needs and expectations, and we will determine the number of hairs needed to achieve the result you have in mind.
During the assessment, our expert will give you precise medical advice, and, together with a coordinator, they will answer all your questions regarding the hair transplant. The free consultation takes approximately 20 minutes. 
At the end of the examination, you will receive your treatment plan, which will include all the details you need to know about the hair transplant at our clinic.
Book an appointment on +44 20 7131 0229, and meet us to discuss your hair transplant in Geneva!
How much is a hair transplant in Geneva?
Hair transplants have become much more affordable in recent years. However, there are significant differences between the prices, as several factors are at play. 
Among others, the number of hairs required, the technique of your choice, and the location of your clinic will all influence the price of your procedure. The prices for a hair transplant in Geneva typically range between 3200 CHF-22000 CHF per session.
HairPalace has hair clinics in Liestal, Geneva, London, Paris and Budapest as well. Whether you choose our clinic in Switzerland, France or Hungary, we offer the same FUE2 hair transplants and exceptional treatments at all clinics.
However, as there are economic differences, our prices vary. An exclusive private hair clinic in Geneva, Paris or Budapest has vastly different running costs. And, this is reflected in our prices as well: our hair transplant prices in Budapest are between 2100 CHF and 2590 CHF.
To get an accurate price and a treatment plan tailored to your needs, don't hesitate to contact us to book a consultation!
Which hair transplant method do we recommend?
At HairPalace, we use the developed version of the FUE method: the FUE2 SafeSystem. The most important difference between traditional FUE and FUE2 is the punch used for the intervention. During FUE2 treatments, the specialist uses a blunt micro-punch that features a blocking system too.
This prevents the doctor from cutting too deep into the scalp, so the punch cannot damage the grafts.
At the moment, this is the most effective hair transplant technique available. With its help, up to 90 – 95% of the implanted hairs grow back in 12 months after the transplant.
Our hair transplant experts in Geneva
The hair transplant is a delicate procedure that requires extensive and specialized training, and a subtle aesthetic sense.
We work with 6 surgeons who have vast experience in hair transplantation, and they have the know-how to achieve the best possible results. They are dedicated to providing tailored solutions and smooth-running procedures!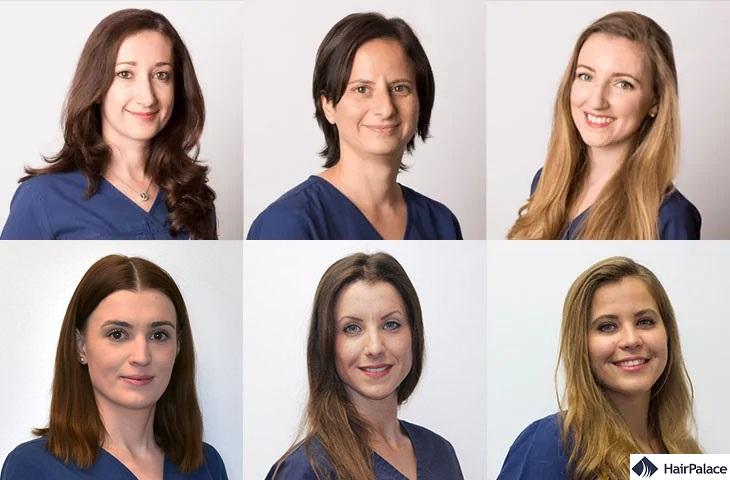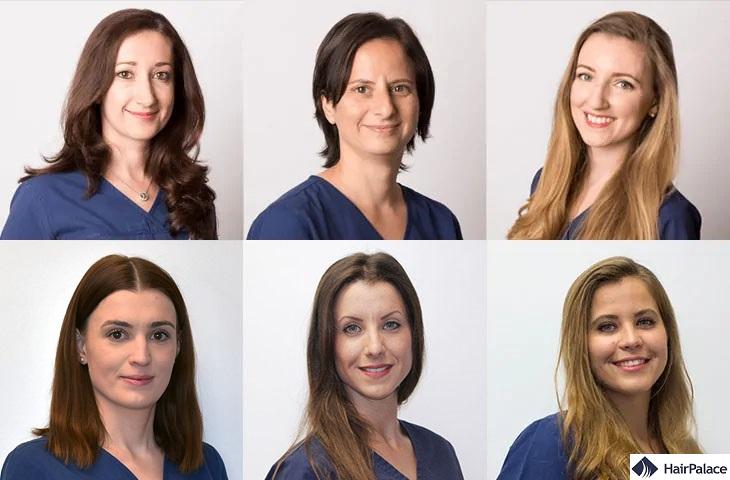 Why choose HairPalace?
Our clinic has over 10 years of experience in surgical hair restoration, and we have helped thousands of patients regain the density of their hair. We work with experienced and well-qualified doctors who only perform hair transplants.
In all HairPalace clinics, we use the most modern FUE2 method to carry out transplants that are pain-free and leave no visible scars. We give a written guarantee on all transplants. To make sure that everything is going in the right direction, there will be regular check-ups throughout the post-op period.
So, your specialist will continue to guide you after your surgery to achieve the best hair transplant results.
For check-ups, you can meet your doctor in Geneva, or you can send us photos.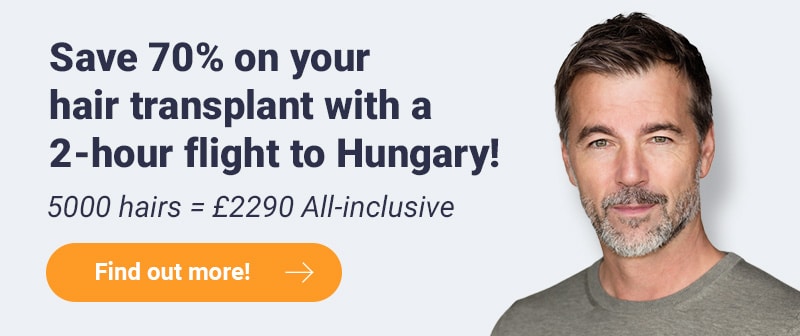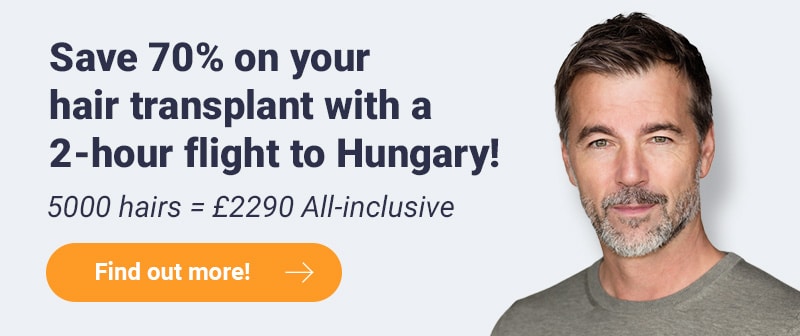 Are you looking for the best hair transplant clinics close to you?
Learn about more options across Switzerland and abroad. Check out the following pages to find out more about the best hair restoration clinics!
Geneva hair transplant reviews
Every year, hundreds of patients choose us for their hair transplants. Their reviews on Facebook, Trustpilot and Google are invaluable for us as these help us maintain our standards. Additionally, they are great resources if you want to learn more about the transplant and the results we achieve. Check out some hair transplant reviews from our Geneva patients!
I just had my transplantation one week ago and I'm really grateful that I chose HairPalace. The team and the doctor were absolutely friendly and professional! Special thanks to my doctor Katalin Sereny who did an awesome job, my translator who explained all steps of the procedure and the whole HairPalace team for the excellent organization! Furthermore, I'm certainly thankful for the support and care after the surgery!
The apartment was clean and included everything you need during your stay. It takes only 15 minutes to walk to the clinic and you can find a shopping centre near the apartment. I also took a friend with me, who could stay in the apartment for free. All in all I highly recommend the HairPalace clinic and I absolutely don't regret my decision.
   Thomas | Nov 23, 2019