Hair transplant in France: Costs and Services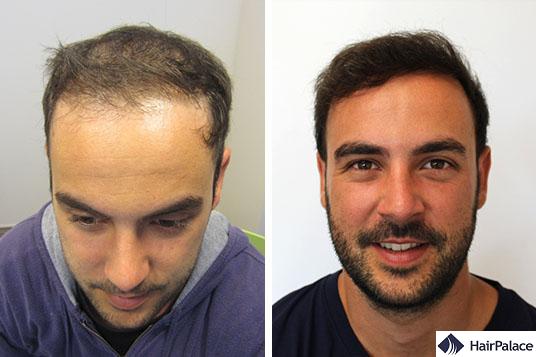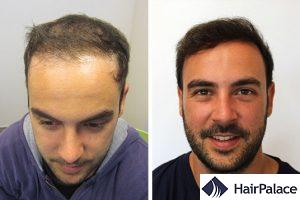 Cyril from Bordeaux
Number of hair transplants: 2
Total number of implanted hairs: 6000+ hairs
Cyril met the team of our hair clinic in Bordeaux. He had a FUT treatment previously; with his 2nd hair transplant at HairPalace, we could build out the hairline he dreamt of.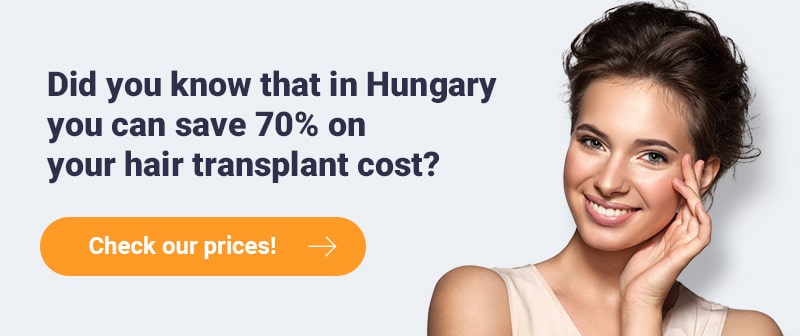 Visit our hair transplant clinic in France for a free consultation
A hair transplant in France requires a customized approach, as every patient, every head of hair is different.
To accurately assess your condition and unique needs, we'd like to invite you to a free hair transplant consultation with our surgeons. During the assessment, we will thoroughly examine you with a digital hair density and scalp camera, discuss the traits of your hair loss and the result you would like to achieve.
Then we will make you a detailed treatment plan and a quote that fits your needs. The in-person meetings are available at our Paris hair clinic, as well as in our offices across France.
Advance reservation is required – contact us on +44 20 7131 0229 or info@hairpalace.co.uk for available appointments!
How much is a hair transplant in France?
Recent years saw a growing interest in male hair transplant, which somewhat reduced the previously stellar prices. 
However, in Western European countries, such as in the UK or France, the cost of an FUE hair transplant can still be prohibitive for many. While the number of hairs you need will greatly impact the price, you should pay attention to the technique as well.
Hair clinics in France charge more for a procedure performed with more modern techniques. We carry out FUE hair transplant in France, in the UK and in Hungary as well. We have set the same standards and policies to ensure we provide the same quality and experience in all of our locations. However, having our clinics in various countries allows us to offer our services at a wider price range, making the treatments affordable for a wider public.
Our hair transplant prices in France and in Hungary with the FUE2:
Package
Number of hairs to be implanted
Cost of hair transplant in France
Cost of hair transplant in Hungary
Package 2000
2000
3490 €
2490€ 

2190€

Package 3000
3000
4889 €
2590€ 

2290€

Package 4000
4000
6289 €
2690€ 

2390€

Package 5000
5000
7690 €
2790€

2490€
For an accurate quote fitting your condition, an examination is necessary.
Please contact our team for further information on +44 20 7131 0229!
Which hair transplant method do we use?
At HairPalace, we use the latest hair transplantation method, called the FUE2 SafeSystem.
It extracts the hairs from the donor area one by one, with a special micro punch. However, as the drill's head is rounded, it minimizes the risks of damaging them during the process. Healthier roots have better chances to anchor in and grow hairs after the implantation.
As a result, FUE2 provides the highest success rates in the industry. We have been using the FUE2 exclusively for several years now and recommend it to our patients for the following benefits:
the procedure is minimally invasive and pain-free

the hair transplant doesn't leave visible scars

natural, dense results can be achieved

up to 90-95% of the implants grow out

we take out only as many hairs as we need, preserving the donor area for future procedures

short recovery period
Our hair transplant experts in France
Hair restoration surgery is a very delicate procedure that requires polished skills. We work with 6 qualified and highly experienced hair transplant surgeons.
They perform FUE hair transplants exclusively and are equipped to offer you outstanding care and excellent results. From your first examination at our hair clinic in France to your last check-up, they will guide you through your treatments with us!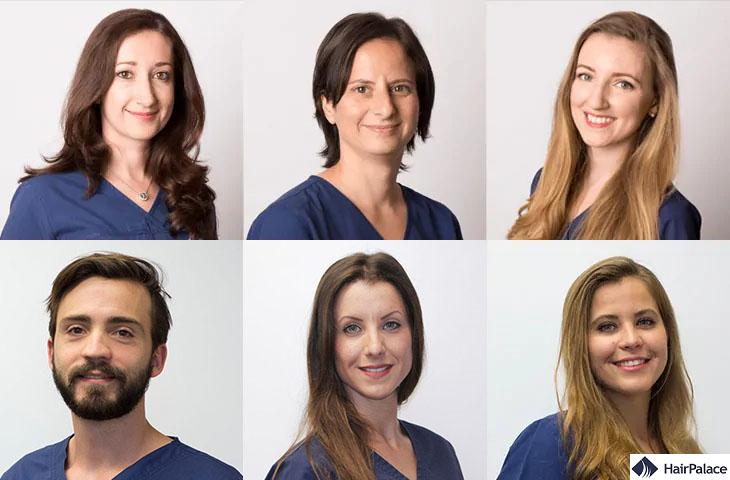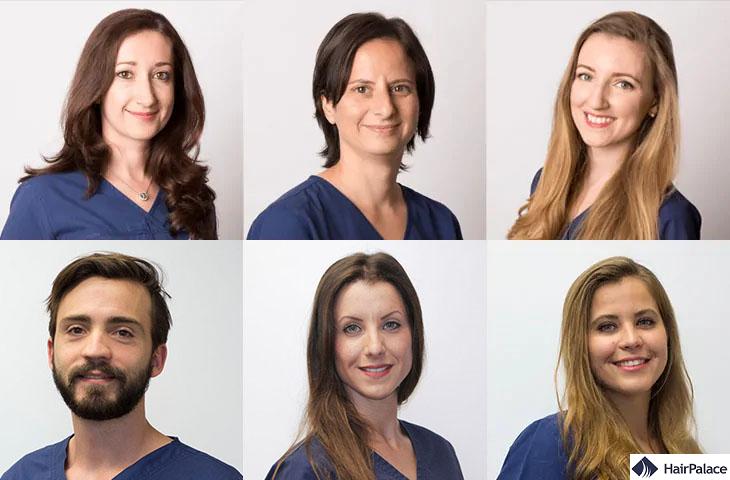 Why choose us?
Finding the clinic that will provide you with the best hair transplant in France is not an easy task. At HairPalace, we have more than 10 years of experience in FUE hair transplants. We believe that with our expertise and state of the art facilities we can help you restore your thinning hair.
What can you expect from us?
Experienced surgeons

At HairPalace, every surgery is carried out by an experienced  and skilled hair transplant surgeon

Natural hair transplant results

Using the most modern FUE2 technique, our doctors can achieve dense and natural-looking hair transplant results.

Written guarantee

As our seasoned experts are equipped with a technique that helps them achieve exceptional success rates, we provide a written guarantee on the hair transplants.

No visible scars

The FUE2 is a minimally invasive technique that features a blunt micro punch. As a result, this type of FUE hair transplantation will not leave visible scars.

Postoperative care

You can see the final result of your hair transplant 12-15 months after the procedure. Your surgeon will track your progress through 6 check-ups and will help you achieve the result you are looking for.

Affordable price

We offer great hair transplant prices in France, the UK and Hungary. Our comprehensive treatment packages make the permanent solution to your thinning hair affordable.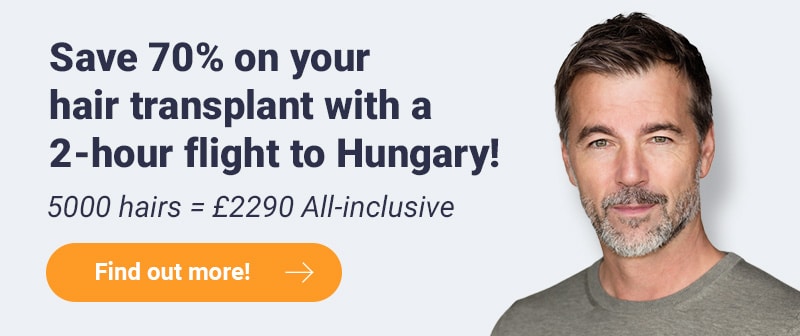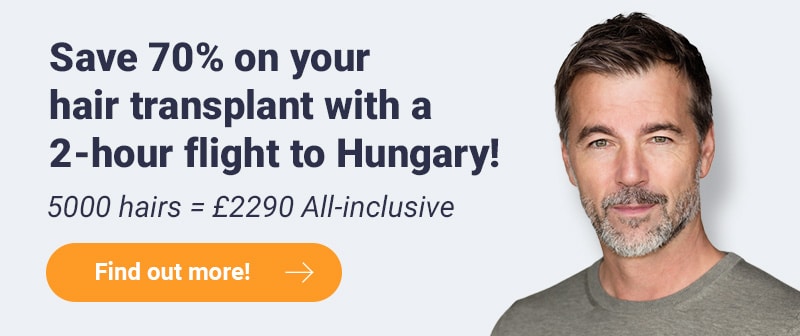 Find the best hair transplant clinics close to you
Learn about more options across the country and abroad. Check out the following pages to find out more about the best hair restoration clinics!
Hair transplant reviews from France
Every year we carry out the treatment for more than 500 patients. We are grateful to see more and more of them sharing their honest, in-depth account of their experience at our clinics.
While their feedback helps us to maintain the high quality of our services, we believe that they are an invaluable resource for those who are just contemplating their own. Take a look at some reviews on our hair transplants and find out what you can expect from us!
2nd transplant now completed at Hair Palace.
Now home from my 2nd hair transplant at the Hair Palace in Budapest. I decided to have my first transplant two years ago, of around 6,000 hairs which was the perfect amount to add to the current hair I already had at the time & to give me confidence for our wedding, with the spotlight on us all day & professional photos we will keep forever.
I always knew that in time I would most probably need another procedure, as my particular hair loss pattern was not receding, just sheer loss of hairline and general thinning from front to back. So the time had come to get in touch with Hair Palace again to plan my 2nd and hopefully final transplant.
The staff there are brilliant, from the moment you land in Budapest you are picked up with a personal driver and taken to your apartment which has everything you need for a comfortable stay. There are plenty of supermarkets within walking distance as well as the clinic only being a 10 minute stroll away. I would like to thank Valentine for being my interpreter & being there for anything you need, providing lunch off a menu, water & general care for his patients.
Thank you to my doctor Csilla Kelemen & her assistants for being so professional & making the surgery a stress free experience. The only slight pain are the initial injections to numb the areas that need harvesting or implanting, other than that you only need to relax, watch a film and gain new hair. I have now had well over 12,000 new hairs implanted across two procedures, which if I had attempted the same in London at a different clinic, would cost me upwards of 30 thousand pounds.
Now I'm excited to get the next few months out of the way and look forward to a full head of hair once again. Thanks Hair Palace! Joe
   Joe | Jan 4, 2020
I'm just heading back from my hair…
I'm just heading back from my hair Transplant at the Hair Palace in Budapest. What a fantastic professional group of people, who looked after me from start to finish. Every detail was taken care of, right down to drawing a map how to get the apartment for the overnight stay.
Everything was explained properly and I was very clear on what to expect. I had 6000 hairs implanted and the excitement now awaits! Would recommend this to anyone who is thinking about it. Malachy
  Mal Barritt | Mar 5, 2019