Antonio Conte Hair Transplant: All The Secrets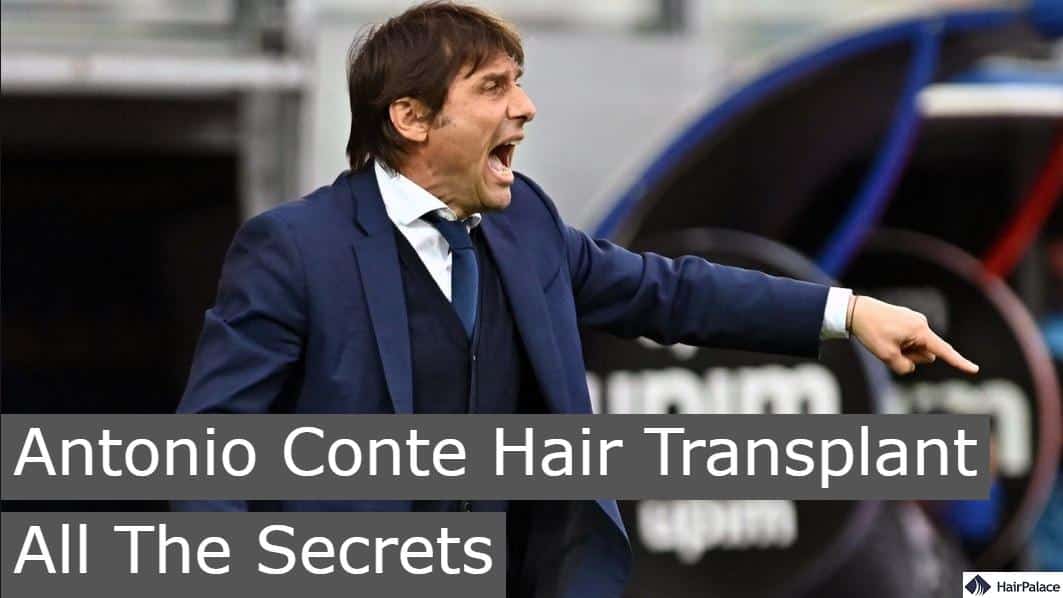 What do footballer Wayne Rooney, actor James Nesbitt, and former NSYNC star Joey Fatone have in common?
They've all restored their hair with cutting-edge hair transplant surgery.
The latest hair transplant procedures have the power to bring healthy, youthful growth back to areas affected by thinning or baldness. And these three celebrities have clearly enjoyed impressive results after their respective treatments.
For example, James Nesbitt has praised his restored hair for helping him land more leading roles, such as his star turn in Stan Lee's Lucky Man. By sharing their personal success stories, major celebrities like Nesbitt and Rooney can inspire others affected by hair loss to try a treatment for themselves.
According to the latest statistics, almost 1/3 of all hair transplant patients undergo the procedure to further their professional careers.
In fact, Conte was one of the first soccer stars to undergo a procedure, but his journey to healthy hair growth wasn't easy.
Let's take a closer look at Antonio Conte's hair transplant story.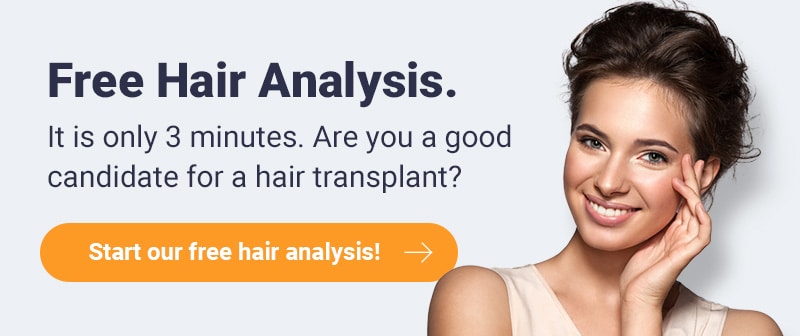 Who is Antonio Conte?
Antonio Conte is a football manager and former player, born in Lecce, Italy, in 1969. He became known for his incredible skill on the field during his years at Juventus, where he played in midfield.
As Captain, Conte led Juventus to win the UEFA Champions League ('92 – '93), five Serie A titles, the '96 UEFA Super Cup, and more.
He also played for Italy's national football team during the '94 FIFA World Cup, UEFA Euro 2000, and more. But he's gone on to achieve considerable success as a football manager since 2006, working with Bari, Siena, and the Italian national team.
But during his time as a midfielder, the discussion focused on more than just his formidable talent — he was photographed with severe hair loss on numerous occasions in the '90s, despite only being in his twenties.
Antonio Conte's hair loss over the years
Early career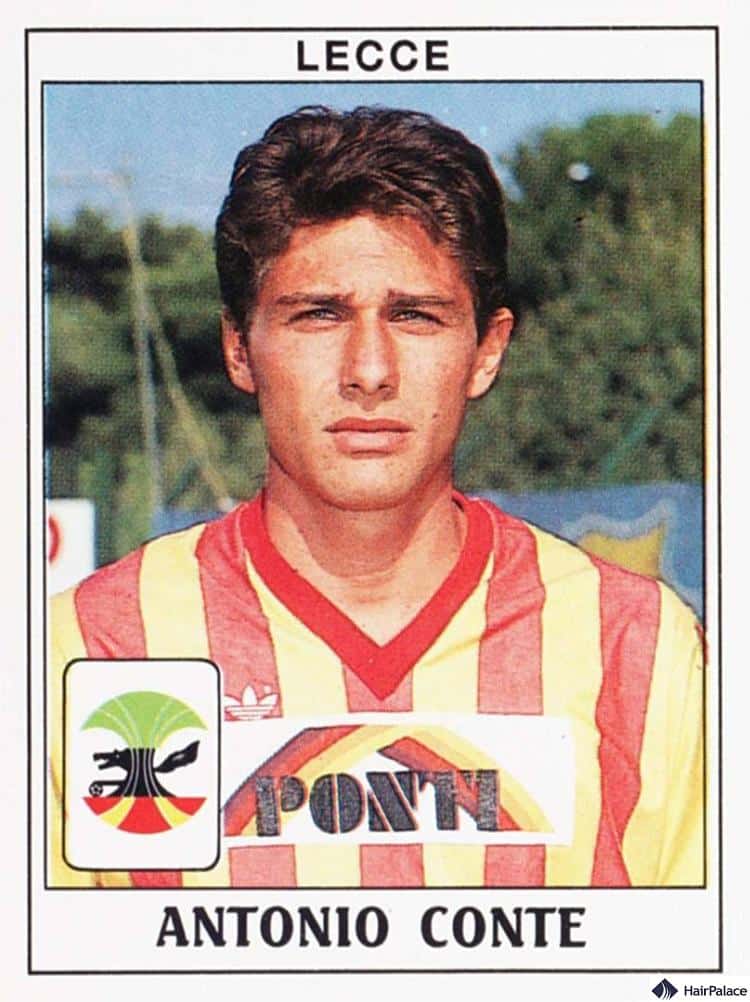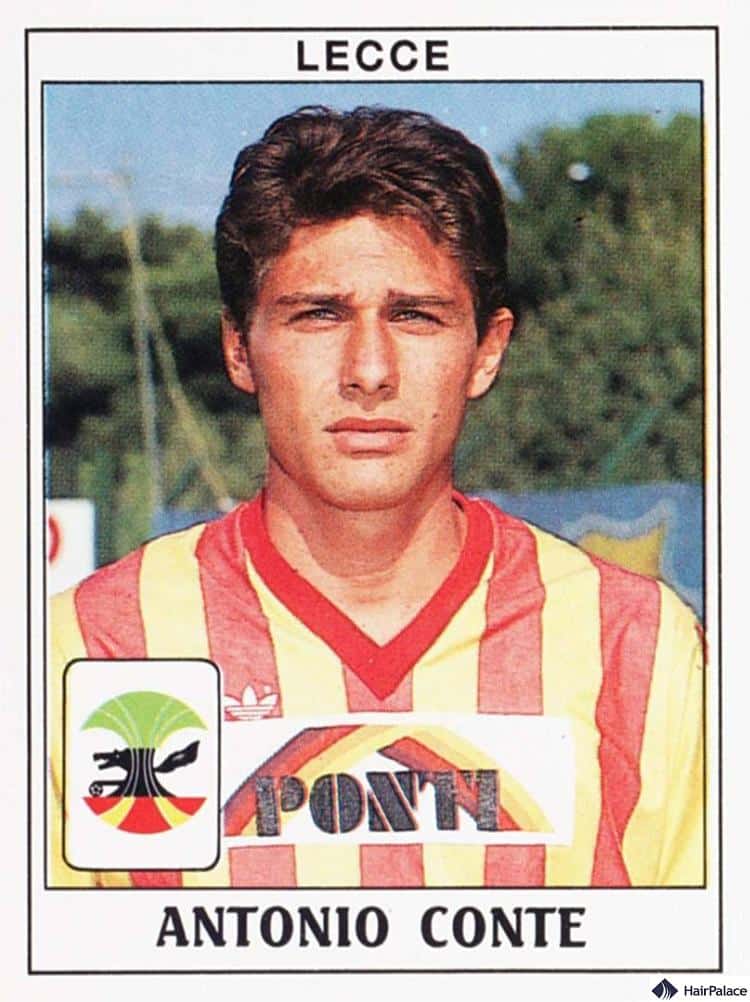 During his debut with Lecce in 1988, he had no signs of hair loss. Antonio Conte's hair looked thick and luscious, but sadly this will quickly take a turn for the worst.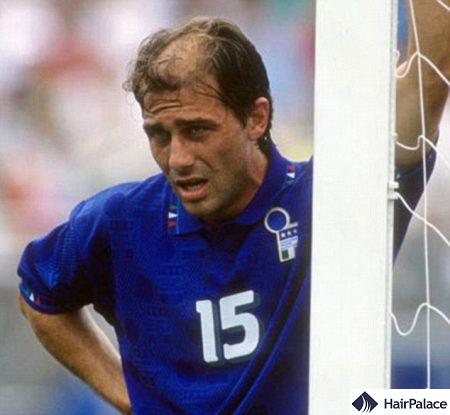 Fast forward to the mid 90's and the situation already looks dire. Conte's head already exhibits signs of widespread male pattern baldness, and it's clear that he has rapidly thinning hair.
It's almost as if he was trying to speedrun through the Hamilton-Norwood scale, going from stage 1 to almost stage 6 in a matter of a few years.
Conte is quite unlucky, as he happened to fall into the quarter percentile of men who already show signs of hair loss in their early twenties.
His time at Juventus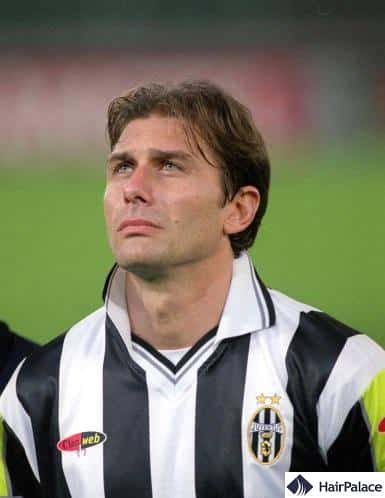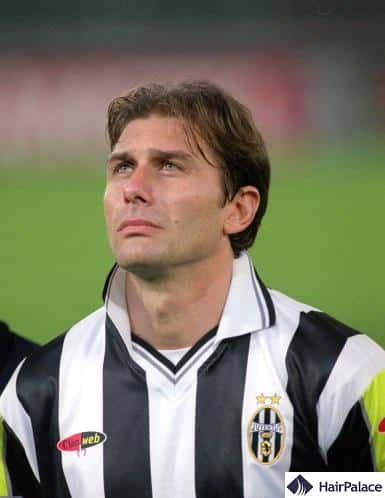 As we arrive closer to the dawn of the new millennium, Conte's hair density seems to have gone through a miraculous comeback.
This period from 1996 to the early 2000s marks the first possible time he underwent a hair transplant.
While it is possible that he decided to finally find a permanent solution to his hair loss, the image is a little tricky.
By taking a deeper look at his earlier pictures, his hair loss mainly affected the crown area, so he might just be hiding his bald spots with this long hairstyle.
First managerial job at Arezzo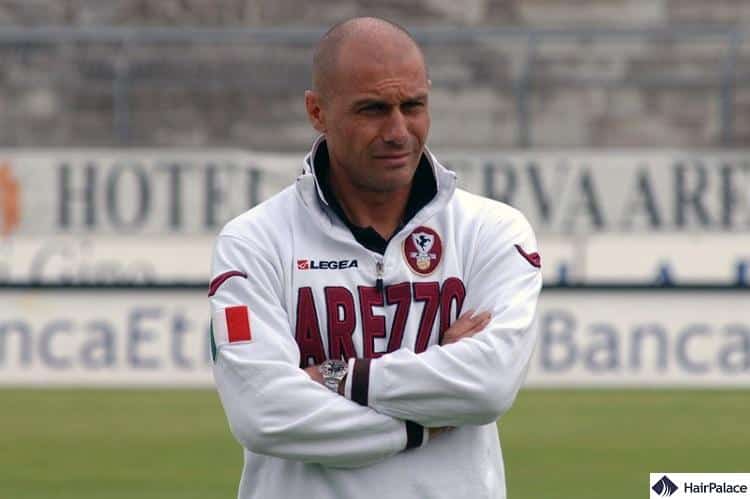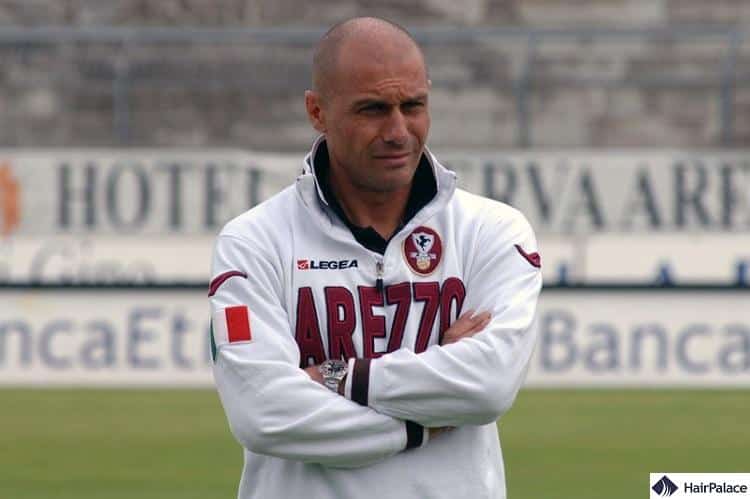 He landed his first major job in 2007 when he became a manager of Arezzo. By this point, he seems to have come to terms with his faith and opted for a fully shaved head.
However, this could also be the aftermath of another FUE hair transplant. If we take a closer look at his scalp, there are signs of new hair follicles seemingly appearing out of nowhere.
There is no sign of permanent scarring, so he likely opted for an FUE procedure instead of a more invasive FUT hair transplant.
The rumours were true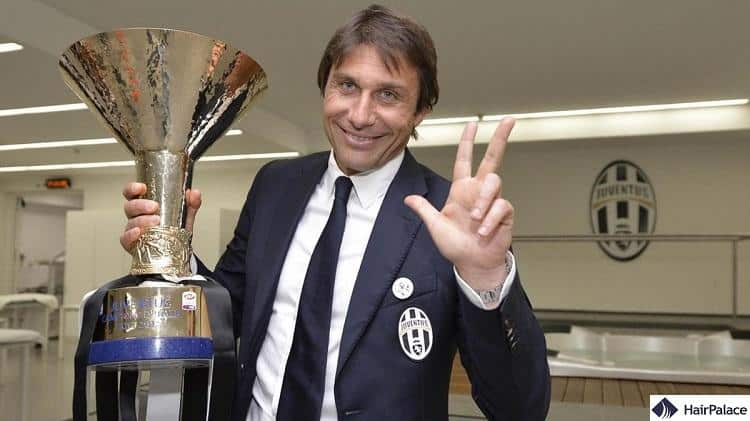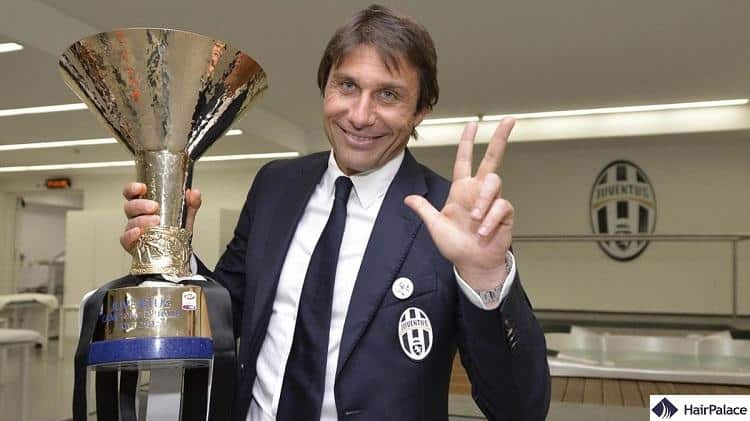 By 2012 it was clear that Conte has had a hair transplant. He can be seen with beautiful, thick hair that is a big shift from the way he looked in the 90s.
In fact, he seems to have more hair close to the age of 40 than he did when he was in his early twenties.
This is undeniable proof of hair transplant surgery, as there's simply no other way to achieve such noticeable hair regrowth in just a couple of years.
Antonio Conte hair transplant: What is the truth?
Find out every intriguing detail of the Antonio Conte hair loss saga from our video below.
Conte was clearly unhappy with losing his hair and turned to hair transplant surgery.
Antonio Conte is believed to have undergone his first hair transplant in 2000. His hair appeared thicker and healthier during that year's UEFA European Football Championship.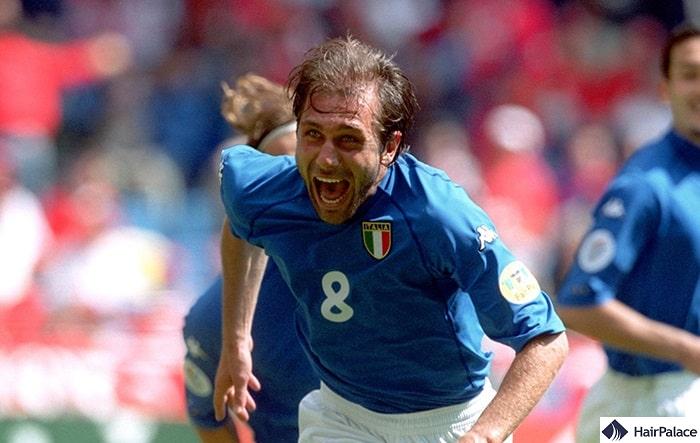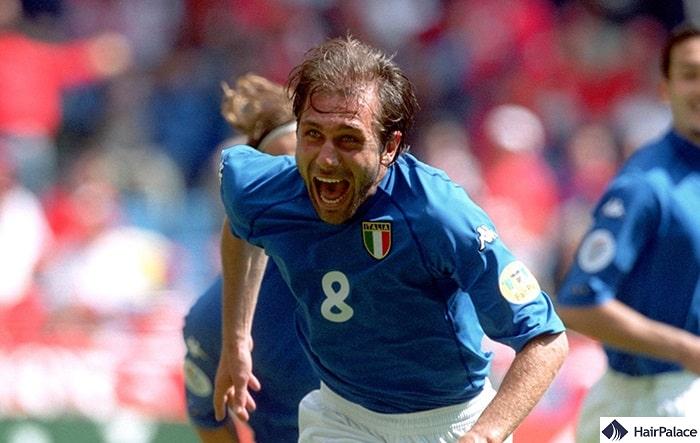 But hair transplants were still an emerging technology at that time, and his hair loss had returned within several years.
How many hair transplants did he have?
Conte is believed to have undergone three hair transplants in the past 20 years. His early transformation was impressive, but the results (sadly) didn't last.
The most recent transplant, though, has left Antonio Conte with hair that's dense, stylish, and flattering.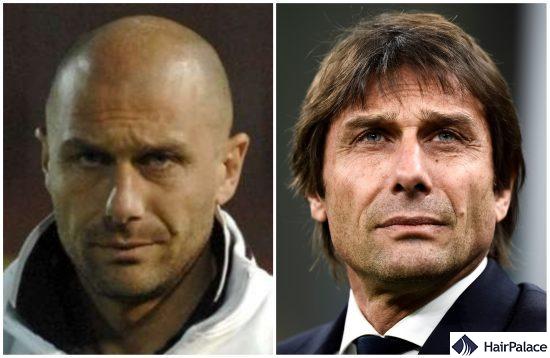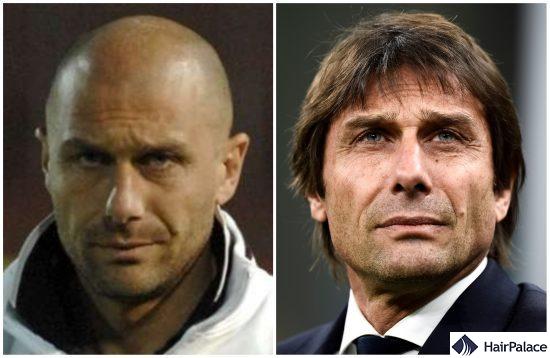 Why did Conte need to undergo multiple procedures? Various issues may be to blame.
Male pattern baldness: This condition causes the hair to recede along the top of the scalp. It's crucial to let the hair loss run its course before opting for a transplant, as implanted hairs may fall out over time.
Ineffective treatment: As one of the first celebrities to sport restored hair, Conte's initial treatments may simply have been less effective than they would be today. The surgeons responsible might have lacked the right training, experience, and/or technology to achieve successful hair growth.
Poor aftercare: Quality aftercare is vital to monitor a patient's progress following hair restoration surgery. The clinic's team must assess the scalp, the transplanted follicles, and hair growth frequently. Otherwise, they may miss signs of infection or other issues that could interfere with the procedure's success.
Whatever caused the subsequent Antonio Conte hair loss problems, it appears that he's finally found a definitive solution.
Which technique was used for the Antonio Conte hair transplant?
Antonio Conte is believed to have had his first two hair transplants in his native Italy but found the long-term results significantly less impressive than he expected.
Next, he travelled to Canada to try a hair clinic in Vancouver. Clearly, this brought the lasting hair restoration Conte hoped for.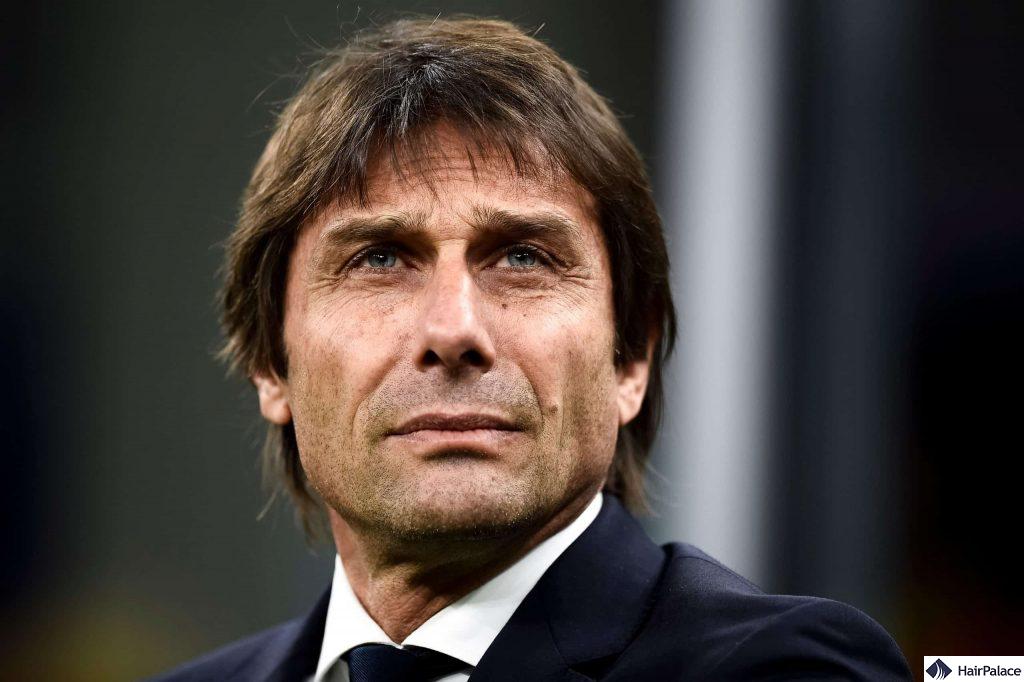 Those early transplants may have been performed using the FUT (Follicular Unit Transplantation) technique.
This is one of the two hair transplant technologies available, alongside FUE (Follicular Unit Extraction), and is generally considered the least desirable.
Mainly because the FUT method involves removing a strip of flesh from the back of the head. This is dissected into tiny pieces under a microscope and implanted into incisions in the area of the scalp affected by hair loss. The space from which the strip was removed is stitched up.
But it's likely that the third Antonio Conte hair transplant was an FUE procedure.
FUE is a minimally invasive alternative to FUT, especially the revolutionary FUE2 Safe System. This innovative technology involves using a highly-precise micro punch device to extract one graft at a time from the back and sides of the head (usually unaffected by hair loss).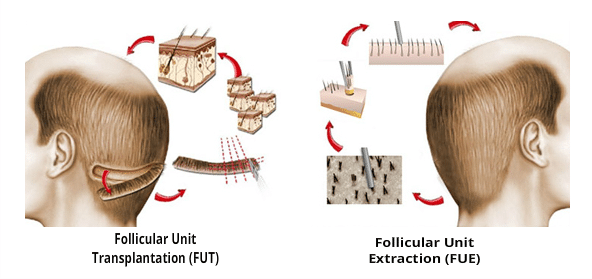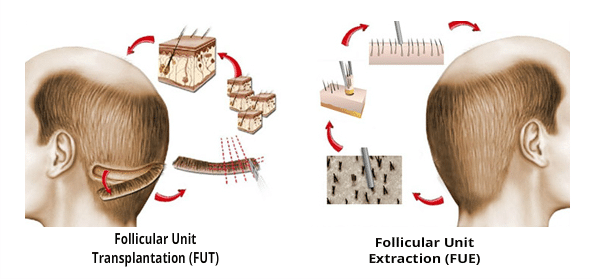 FUE transplants leave no visible scars in the back and sides of the head. This offers patients unbridled freedom to choose any hairstyle once they're fully healed and their hair growth is complete.
People are sure to notice the difference in the hair's density, but they won't be able to tell that a patient has had surgery without visible scarring.
How can you get the Antonio Conte hair transplant?
Has the Antonio Conte hair restoration story and his outstanding results inspired you to try a procedure?
HairPalace is here to make the process simple for you.
We utilise the most advanced FUE method available, the FUE2 Safe System, to provide patients with lasting hair restoration. The procedure is painless and performed in a safe clinic with state-of-the-art facilities.
Multiple packages are available based on the number of follicles you need for effective growth across thinning/bald areas, from 2000 to 6000.
But you need to schedule a consultation with one of our seasoned specialists to determine if you're a suitable candidate. They'll take the time to assess your scalp, identify the number of follicles required, and discuss the procedure in detail.
HairPalace offers FUE2 Safe System transplants at highly-competitive rates at our Budapest hair clinic. You can expect to pay up to 50% less than you would in the UK — for the same exceptional service, treatment, and results!
Discover other celebrity hair transplants!
Did you know that Antonio Conte is not the only one who went through a hair restoration procedure? Check out more amazing celebrity hair transplant stories!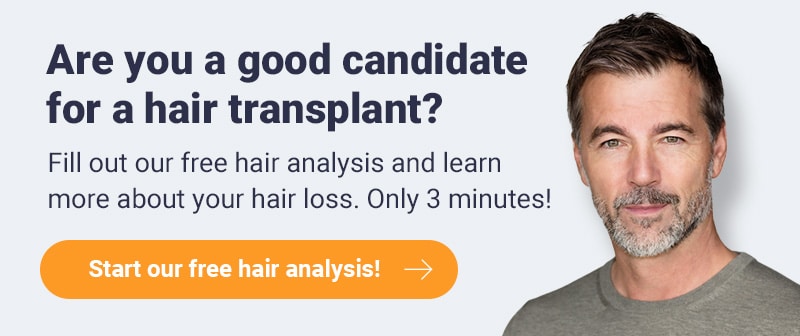 FAQ
Who is Antonio Conte?
Antonio Conte is a football manager and former player. As captain at Juventus, Conte led his team to success in multiple tournaments and leagues, including five Serie A titles. As a manager and head coach, Conte has worked with Chelsea, Inter Milan, and other successful teams.
When did he have his first hair treatment?
The Antonio Conte hair transplant journey is believed to have begun in 2000. His hair appeared to be much thicker and healthier than it had done for years during the Euro 2000 tournament.
How many hair transplants did he have?
While Antonio Conte's first hair transplant brought impressive results, they didn't last. He underwent a second hair restoration treatment, apparently in his home country of Italy, but this failed to achieve the long-lasting growth he expected. It wasn't until he flew to a hair clinic in Vancouver, Canada, that Conte finally got the restoration he had been chasing for so long.