How Do I Know if I Need a Hair Transplant?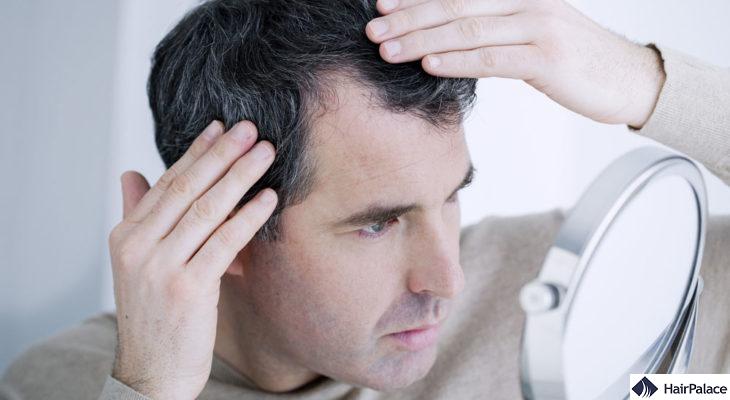 Choosing to undergo a hair transplant is a big decision, and you have to be sure it's what you really want before you agree.
Celebrities like Wayne Rooney, Joey Fatone, James Nesbitt and numerous others have all been open about their positive experiences with hair transplants, inspiring others to seek a solution for their own baldness.
But while a cutting-edge Follicular Unit Extraction (FUE) procedure offers real benefits with lasting growth, it still demands consideration and planning.
You may notice your hair's a little thinner than usual, but that doesn't necessarily mean you need a hair transplant — at least, not yet.
In this post, our experts explore the signs to watch out for, how the procedure works and other key details you have to know.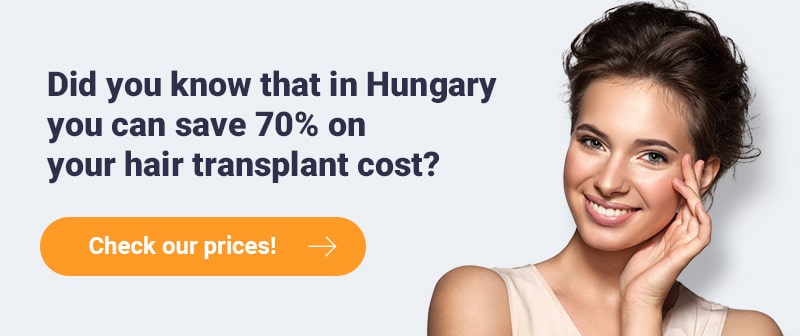 Signs you Need a Hair Transplant
Hair loss has impacted your self-confidence
Men who take pride in their hair and enjoy styling it are most likely to experience a change in self-confidence as baldness sets in.
For some of us, the hair is a key element of your personality: when you can't wear it exactly as you want to, you may feel you're not the same person.
Your entire life could suffer as a result, impacting your ability to socialise, your performance at work, and your relationships.
If you find yourself upset by the person facing you in the mirror every day, and simply can't accept your hair loss, a transplant could be right for you.
Your hair loss has stopped
Your hair loss should have run its course before you sign up for a transplant. Why?
Because it will only improve growth in the treatment area, leaving other parts of the scalp to still shed hair in the future.
You could be required to undergo another procedure to restore growth in other areas.
That's why it's always best to wait until your hair loss is complete ahead of your surgery.
You still have hair on the back and sides of your head
If you're unhappy with your hair loss but still have some decent growth on your scalp, now could be the right time to try a hair transplant.
Follicular Unit Extraction involves transplanting healthy hair follicles from the back and sides of your head to balding zones, to create new growth. This ensures the highest degree of authenticity, making a perfect match in texture, colour and pattern.
You must have hair on the donor sites to make a transplant viable. If your entire scalp is bald, sadly, FUE won't work for you.
Your expectations are realistic
A hair transplant may help you feel like your old self and improve your confidence — but there are no guarantees.
This is a physical process, not a mental or emotional one.
If you're feeling depressed or upset by your appearance, be aware that there may be more reasons for this than simple hair loss.
Ideal candidates for hair transplants do their research, ask all the right questions and have realistic expectations for their results.
Our team is here to provide honest information before, during and after your procedure, so please don't hesitate to come to us if you're uncertain what to expect.
So, now we've looked at four signs you may need a hair transplant, let's delve into the procedure itself.
How Does a Hair Transplant Work?
Two of the most common types of hair transplant are Follicular Unit Transplantation (FUT) and Follicular Unit Extraction (FUE).
HairPalace uses FUE only. What's the difference between the two procedures?
FUT involves removing a long, thin strip of tissue from the donor area on the back and sides of the patient's scalp.
This is dissected and the follicles are taken out, ready for implantation into the target areas.
The wound created by this process is closed, leaving a visible scar behind. Such a potent visual trace is enough to put some men off, particularly those who prefer a short style.
In FUE hair transplants, the surgeon takes healthy follicles from multiple parts of the donor area and cleans them.
A special punch with a fine needle is used during FUE, to remove follicles with a high degree of safety and caution.
The pattern of extraction is kept scattered, to maintain discretion.
The donor follicles are inserted into the target areas using another punch.
HairPalace's experts utilise the FUE 2 Safe Scribe device for maximum precision, preserving the condition of the follicles and surrounding tissue to a higher standard.
We were one of the first clinics in Hungary to embrace the FUE SafeSystem, and have seen fantastic results since.
It is an advanced, reliable tool that continues to impress ourselves and our patients.
The visibility of remaining scars is reduced significantly with FUE, leaving men with more freedom in choosing their styles.
Recovery times are kept short and the lasting effect of FUE is natural, as new hairs blend in perfectly with the rest.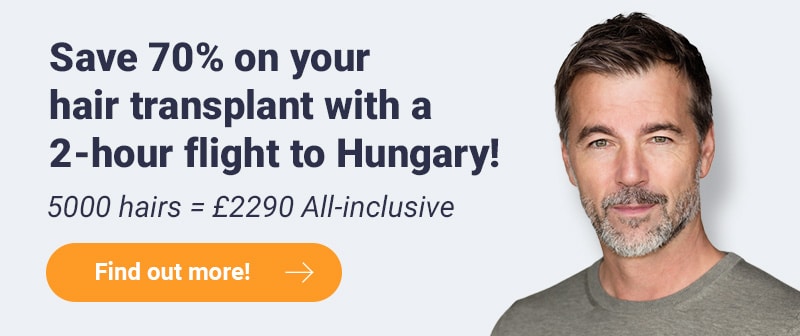 How Many Hairs will be Transplanted?
You have a number of packages to choose from when undergoing a hair transplant, depending on the extent of your hair loss. These include:
2000 hairs
3000 hairs
4000 hairs
5000 hairs
6000 hairs
We'll advise you which package suits your hair loss and desired growth best, to help you get the results you dream of.
Regardless of your choice, our hair transplants are incredibly cost-effective and more affordable than most at UK clinics.
Why? Because all of our procedures are undertaken in Hungary, where salaries are lower but the quality of treatment and care are more than a match for British clinics.
You can receive a free online consultation before you agree to your procedure too.
We know just how daunting a hair transplant may be, but we'll provide all the information you need for complete peace of mind.
You can get in touch for a free quote now, and take your first step towards a fuller, healthier head of hair.