Hairline Transformation: Real Life Photos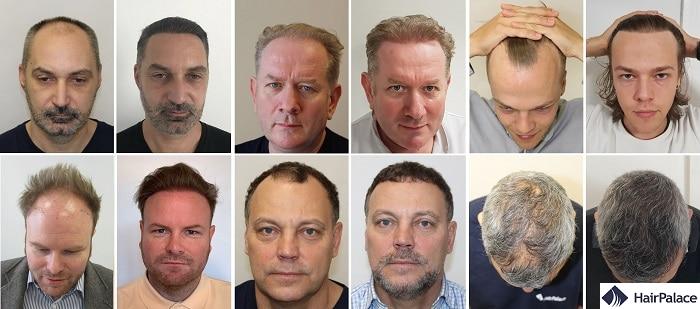 How Hair Restoration Transforms Hairlines
Hair restoration surgery is a popular solution for any man struggling with baldness.
While some of us accept hair loss as just another part of the ageing process, others find it incredibly difficult to handle (especially if it's caused by another factor, such as illness or extreme stress). And that makes the prospect of a complete hair transplant, offering permanent results, irresistible.
Yet it's natural to have questions and concerns before undergoing your hair transplant, particularly if you've never had any form of cosmetic treatment before. We understand that. And that's why HairPalace is committed to giving you transparent insights into our work.
In this post, we take a look at some of our patients' before and after photos to demonstrate just how effective a professional hair transplant procedure can be.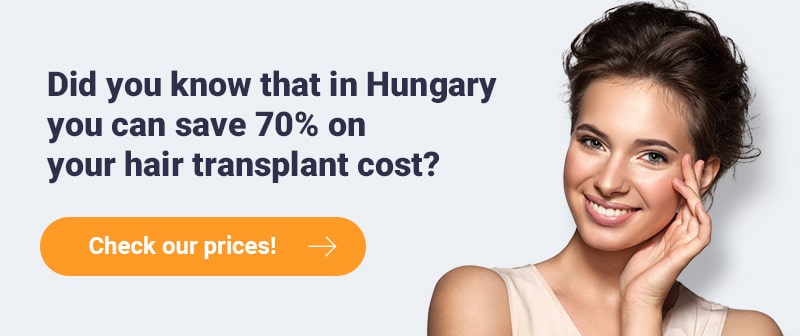 Guillaume: 2000 Hairs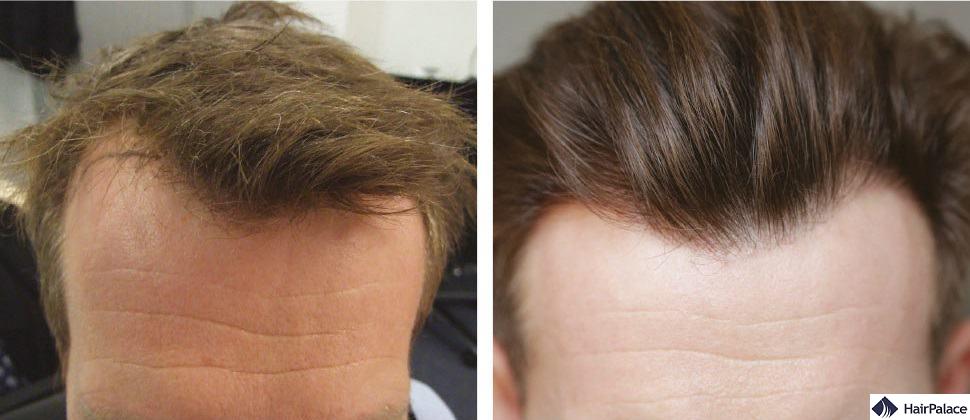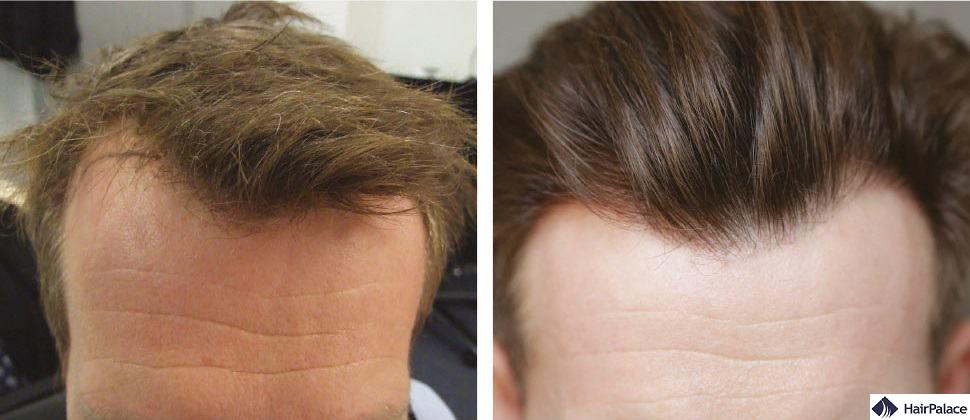 Hair transplants are available in various packages, catering to different degrees of baldness. If you've noticed your hairline receding only a tiny amount, a small hair restoration procedure is probably the best option.
HairPalace's expert surgeons can perform hair transplants with just 2000 hairs, restoring a more youthful shape and growth to your hairline in a brief treatment. This is the same FUE 2 SafeSystem process as all our transplants, in which donor follicles are removed from areas of healthy hair growth and implanted into spots affected by thinning.
As you can see from the pictures below, 2000 hairs can make a massive difference to the hair's appearance, no matter its colour or density.
Guillaume's receding hairline was subtle, with just mild loss occurring. He was by no means bald, but there was a noticeable difference between the way his hair used to look and how it had changed over the years.
For many men, even the smallest shift in the hairline is enough to affect their self-confidence and leave them unsatisfied with their appearance. Guillaume's before and after photos showcase the impact HairPalace's treatments make with even 2000 hairs involved.
Paul: 3000 Hairs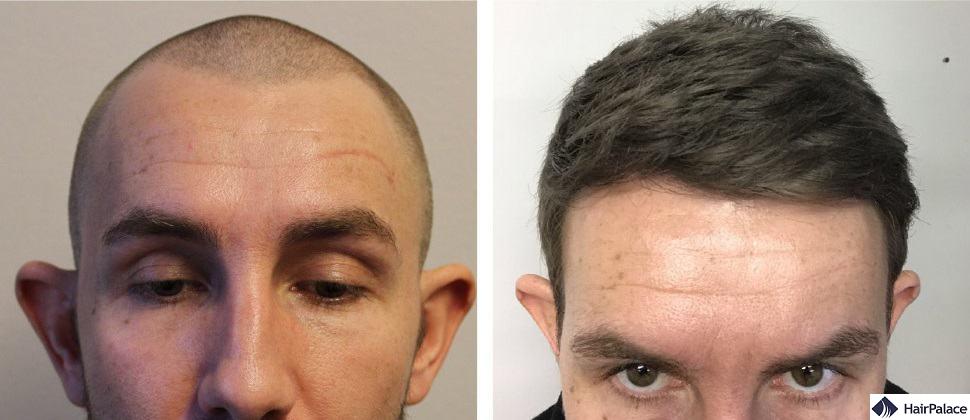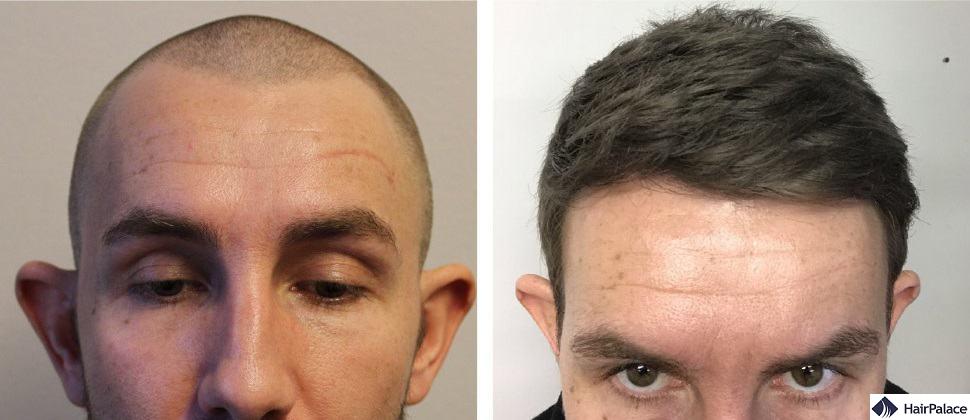 Paul's hair transplant package was for 3000 hairs only, but we can all agree the transformation is astounding.
In the pictures captured before Paul's procedure, his hair is cut close enough to the scalp to display how far his hairline had receded. His hair had taken on a widow's peak shape, creeping back in a v formation.
The pictures taken after Paul's hair transplant present a radical transformation — you could even believe this is a different man altogether. But it's not: Paul's hair restoration takes years off his age and softens his facial features considerably.
The hairline is much more even and fuller overall.
Christophe: 4000 Hairs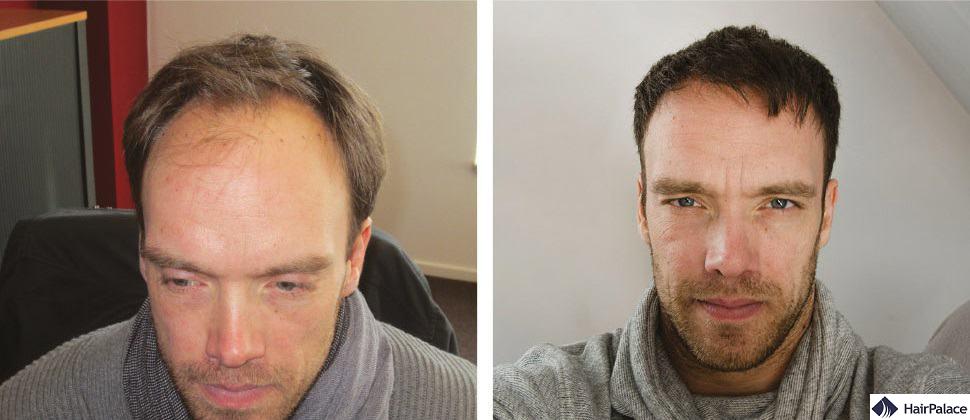 When Christophe came to HairPalace for a consultation, his hair had receded back across the top of his scalp, though he still had plenty of healthy growth around the sides and rear of his head.
By choosing a hair transplant package of 4000 hairs, Christophe was able to change his looks and, as with Paul, made himself look much younger. He's able to wear a different hairstyle without worrying about scars, which is another advantage of the FUE2 SafeSystem.
The FUE2 SafeScribe our doctors use is incredibly efficient, removing healthy hair follicles for transplantation with almost no risk of damaging them during the process. No scars remain (unlike with FUT), leaving you with the freedom to choose any hairstyle you like.
Josh: 5000 Hairs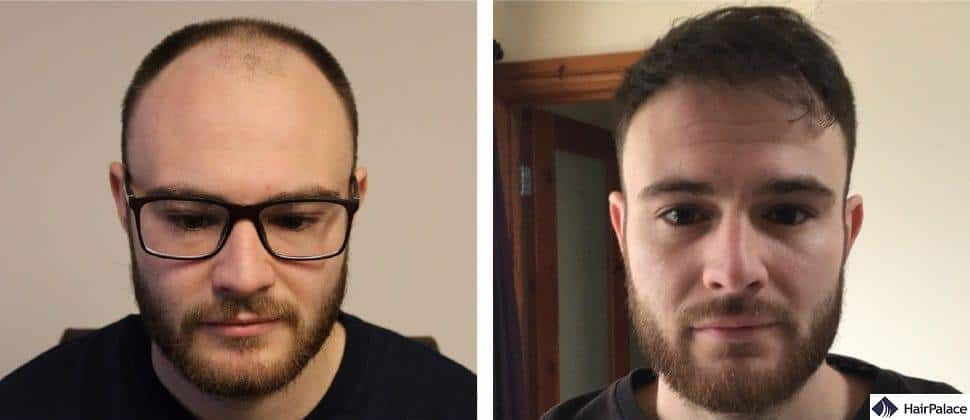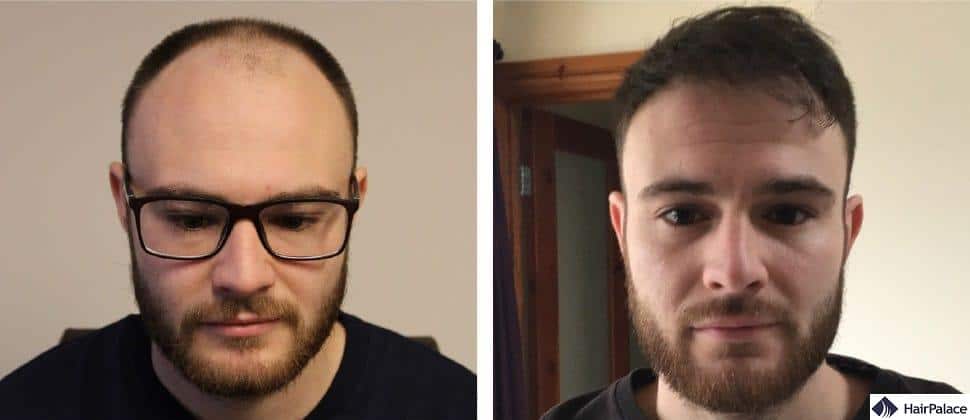 Our next patient, Josh, underwent a more extensive hair transplant involving 5000 hairs.
In the photos captured before Josh's hair restoration procedure, it's clear his hair had receded substantially, leaving him with little growth on the top of his scalp at all.
More comprehensive coverage was required to restore his hairline, so our surgeons got to work transplanting 5000 hairs. And the results speak for themselves: Josh looks like a new man.
Again, he now has the flexibility to wear many different hairstyles and show his new locks off however he likes.
Tom: 6000 Hairs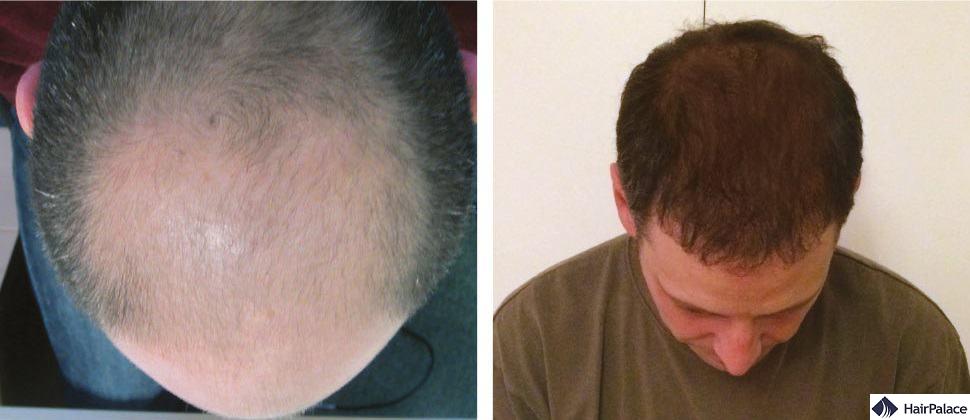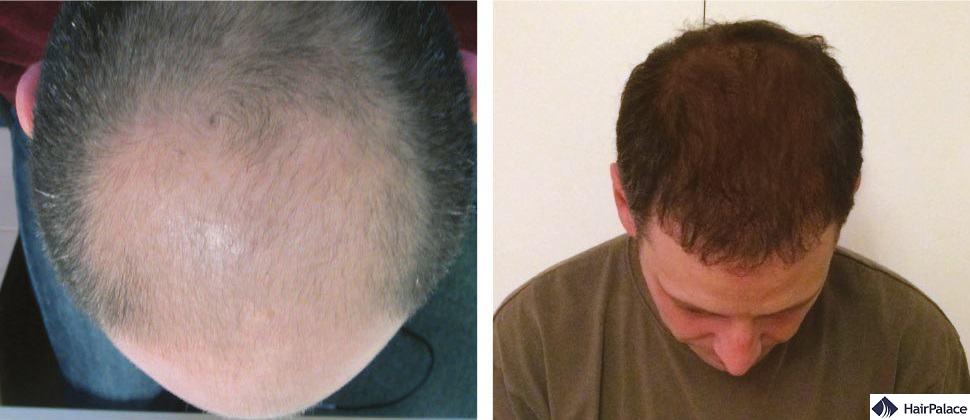 For significant degrees of hair loss, we may recommend a hair transplant for 6000 hairs. This is likely to be the most appropriate amount to provide the growth you're looking for, achieving a fuller head of hair for the future.
Tom's before and after photos reveal the difference a 6000-hair transplant is capable of making on men affected by baldness. His scalp had been subject to massive amounts of hair loss over the years, with his hairline receding quite far.
His hair restoration procedure returned his hair to a much fuller growth and accommodated his naturally-high forehead. The results are completely natural — if you didn't know Tom had chosen to undergo hair restoration surgery, you wouldn't be able to guess just by looking at him.
Hair growth after a transplant is permanent, provided all hair loss is complete.
Christoph: 7000 Hairs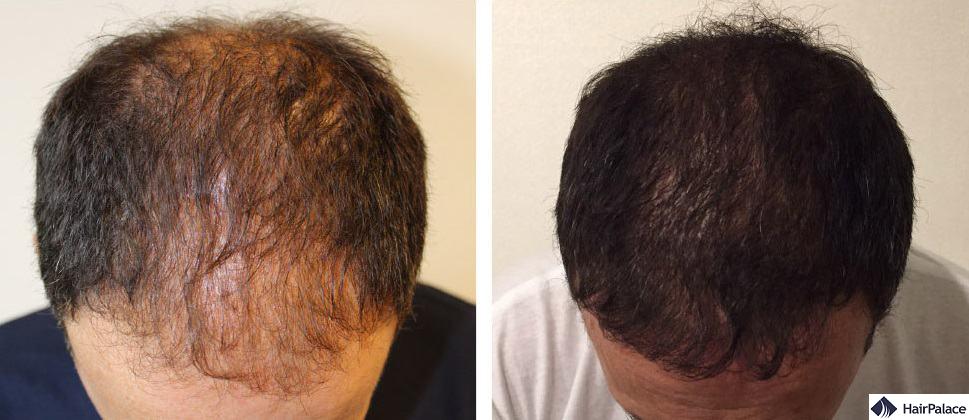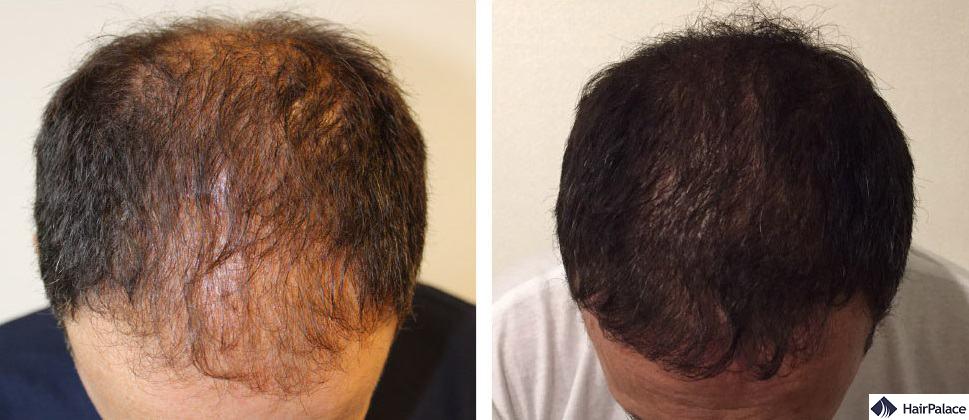 Finally, let's talk about hair transplants for 7000 hairs.
One of our patients, Christoph, had a 7000-hair procedure to restore healthy growth on the top and back of his scalp. Though he had thick hair, he had lost substantial amounts across the years.
Christoph's procedure was available at a much more competitive rate than is available in the UK. HairPalace's patients are invited to fly out to Budapest, Hungary, for each treatment, though this is no compromise on quality — our doctors are just as qualified and highly-trained as their counterparts in the UK.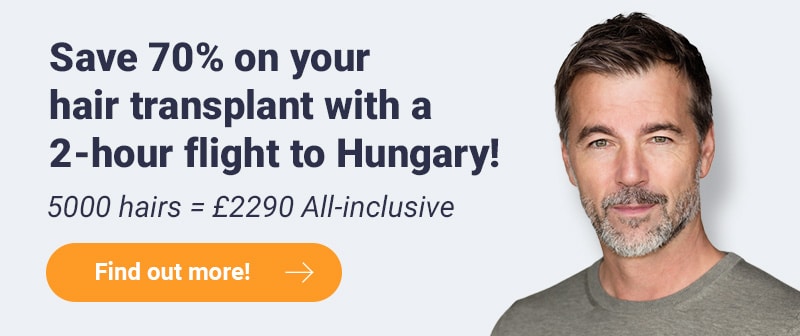 Booking Your Own Hair Transplant
Regardless of the number of hairs you choose for your hair transplant, you can enjoy complete peace of mind with our professional team: we provide dedicated, exceptional service from the moment you first reach out to us. Your consultation will be in-depth and provide you with all the answers you need to make an informed decision.
Our specialists utilise only the most cutting-edge equipment to deliver outstanding results in every treatment. We'll perform follow-up consultations to monitor your hair growth and development at set intervals after your procedure.
Want to book your own hair transplant with HairPalace? Please don't hesitate to get in touch with our friendly experts and schedule your own free consultation right now!