Free Online FUE Hair Transplant Consultation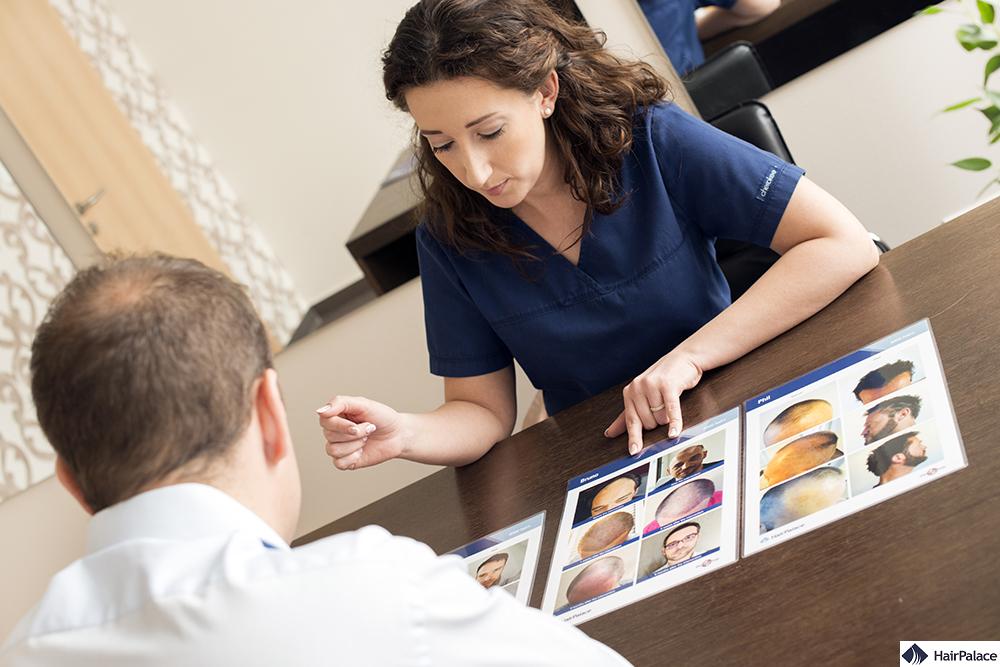 Get a personalised treatment plan from our surgeons in 24h!
Book an appointment for an online hair transplant consultation, and learn how much you can save on your hair transplant cost compared to the prices of UK and Ireland based hair clinics.
The advantages of the online consultation:
It takes only 30 minutes and it's free
Available via WhatsApp, Zoom, Skype and Facetime
There are no obligations
It's the perfect opportunity to meet one of our doctors
You can discuss with our experts what result you can expect from your FUE hair transplant
A hair transplant surgery has contraindications that make the treatment impossible.

During the assessment, our doctor can exclude these to achieve the best results.
Fill in our contact form to book an appointment!
How to prepare for the online consultation?
Send us 5 photos of your head and hair to info@hairpalace.co.uk, so the doctors can prepare
Find a quiet place for the video call
Check your internet connection
Make sure that you're well visible on your camera
Sign in on the chosen platform 3 minutes before your appointment
To book an appointment, give us a call on +44 20 71 31 02 29!
What do you get out of the consultation?
Following the consultation, our colleagues will draw up your treatment plan tailored to solve your hair problem.
The treatment plan includes all costs; there are no hidden charges. This way, you can easily calculate how much you can save with us, compared to UK hair clinics.
Our all-inclusive packages contain:
2 PCR tests (if needed)
The organisation of your entry to Hungary
Airport transfers
2 nights of accommodation at our premium apartment
Personal consultation with the surgeon
Implantation with the FUE2 SafeSystem
Local anaesthesia
Clothing for the treatment
Medication package after the intervention
5 check-ups
English speaking coordinator
Only the price of your flight is not included in the treatment plan; patients have to arrange the tickets individually in all cases.
Fill in our contact form to book an appointment!
Why is a consultation recommended before you travel to Hungary?
There are several cases when hair restoration is not possible or is not worthwhile. These cases can be filtered out prior to any travel, so you do not come to Hungary in vain.
We think it is important to inform you about the process of the treatment, the conditions of the guarantee, and our services before you travel to our clinic, so you will not be surprised by any unexpected circumstances.
It's also important for us that you travel to Hungary for your treatment only if you are aware of the total costs. So you can take everything into account in advance.
To book an appointment, give us a call on +44 20 71 31 02 29!
FAQ
Are hair transplant consultations free?
Our hair clinic offers free consultations. During a hair transplant consultation, you'll learn about the procedure, the surgeon's professionalism, the clinic's quality of service, and more.
What happens at a hair transplant consultation?
A doctor will examine the scalp, specifically those areas experiencing hair loss and healthy donor sites. They will discuss the procedure, the likely results, and your medical history. You should feel confident in your chosen clinic and surgeon by the end of your consultation.

How long does a hair transplant consultation take?
The hair transplant consultation will last for around 30 minutes. HairPalace is committed to providing honest information and advice during our no-obligation consultations.