Hair Transplant Surgery: The Perfect Solution for Your Baldness
Hair loss affects men in different ways, physically and emotionally.
For some, baldness is nothing to worry about. They might look in the mirror and see their thinning hair as just another part of growing old, no different to those wrinkles around their eyes or the extra grey in their beard.
For others, though, baldness is a serious concern. Over a quarter of men below 35 years of age experience severe emotional difficulties due to losing their hair.
The most common cause of baldness is male pattern hair loss (MPHL, otherwise known as androgenetic alopecia), affecting around 50% of men over 50 years old.
Other factors — stress, illness, medication, poor diets, wearing tight hairstyles too often — can all lead to hair loss too.
The most effective solution for baldness is a hair transplant, and cutting-edge technology makes the perfect hair transplant accessible for men on a wide range of budgets. Let's take a closer look.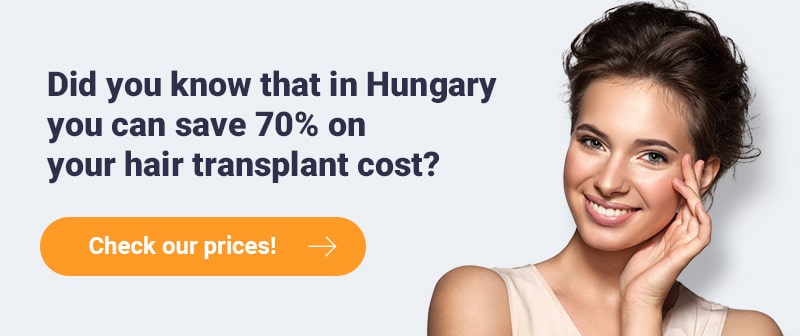 What Hair Transplant Cost can I Expect to Pay?
It's natural to be worried about hair transplant cost in the UK when you decide to undergo surgery.
Many high-profile clinics, particularly those in London, charge incredibly high rates for their hair transplants. This limits their accessibility to a small audience and may make men believe they'll never be able to afford the perfect hair transplant they're looking for.
But that's just not true.
You can take advantage of effective hair transplant surgery at far more affordable prices than the UK's average.
HairPalace makes a smaller hair transplant cost in the UK available by offering the procedure in a clinic abroad: the same highly-trained, experienced staff, the same outstanding facilities, and the same amazing results. All at a lower rate.
How much lower? You can save up to 50% on the average hair transplant cost in the UK.
Our rates are so competitive because Hungarian doctors earn lower salaries than their UK colleagues — creating savings that are passed on to you.
A Lasting Alternative to Hairpieces
Wigs and hairpieces have long been a simple option for bald men, but they're often impractical.
Unsecured hairpieces may slip out of place in a strong breeze or during physical activity. They may be itchy and uncomfortable to wear for long periods too. And, perhaps most importantly, wigs and hairpieces can look unnatural.
Hair transplant surgery is a completely different solution for baldness: it's not about covering the hair loss up. It's about actually regrowing hair in the scalp to replace those missing patches — cultivating a stronger, healthier hairline that lasts.
Permanence is a fundamental benefit of perfect hair transplants performed by reliable professionals: there's no need for ongoing maintenance to maintain your restored growth once the recovery period is complete and all implanted hair follicles are working as they need to.
You're simply free to relax and enjoy a more youthful head of hair.
What's Involved in Perfect Hair Transplant Surgery?
Perfect hair transplant surgery is performed using the very best technology and techniques available: the FUE2 SafeScribe.
This remarkable handheld device empowers trained surgeons with amazing precision and control. They can remove healthy hair follicles from the scalp's donor areas safely and securely, as the FUE2 SafeScribe significantly reduces the risk of healthy hair units getting damaged during transplantation.
That makes the entire process far more reliable and effective.
HairPalace's hair transplant services provide you with access to an experienced team subject to the same medical regulations as other reputable clinics across EU countries.
Avoiding visible scars in hair transplant surgery
The perfect hair transplant leaves you with no visible scars to cover up or worry about in the future too. Scarring is a common fear for anyone undergoing a surgical procedure, especially in an area of the body often exposed for others to see.
The scalp is obviously easy to cover up with longer hair, but you want the freedom to choose any style you like after paying the hair transplant cost (even when it's so competitive). The FUE (Follicular Unit Extraction) technique our team uses is far less invasive than the alternative — FUT (Follicular Unit Transplantation) — and creates no visible scarring.
An FUT involves cutting a strip of flesh from the scalp to harvest the hair follicles within it. That process leaves you with a section of skin missing from the back of your head and means wearing a shorter hairstyle will show your scar off to the world.
That's not a problem if you don't care about people recognising you've had hair transplant surgery, but if you want to keep it discreet or just avoid scars altogether, a FUE procedure is the only way to go.
Wear your hair in any way you like after a cutting-edge FUE2 SafeScribe procedure. Crew cut, fade, faux hawk, undercut — the choice is yours.
Taking Advantage of an Affordable Hair Transplant Cost in the UK
An essential element of preparing for your perfect hair transplant is a comprehensive consultation.
This gives you the chance to:
ask any questions you may have about your hair transplant surgery
address concerns related to the procedure itself and set your mind at ease
discuss your goals and expectations
identify the best package and hair transplant cost for you
make sure your hair loss is at a suitable stage for hair transplant surgery
A thorough consultation benefits you and our team alike. You'll have the reassurance you need to relax during your trip to Budapest and put your trust in our team. They're fluent in English too, so you can expect personal, engaging service during your time at the clinic.
We provide you with comfortable facilities and offer beautiful accommodation for your stay in Budapest.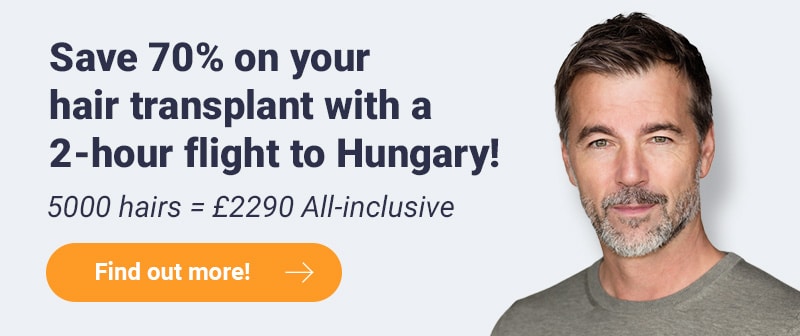 Booking Your Hair Transplant Consultation
Do you feel ready for hair transplant surgery? Want to know how you can save on the average hair transplant cost in the UK?
Get in touch with HairPalace's friendly team for a free quote now. We're here to give you the most professional, courteous, transparent service at every stage of your journey with us.