Hair transplant in Budapest: Costs and Services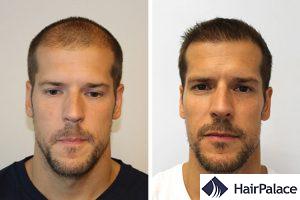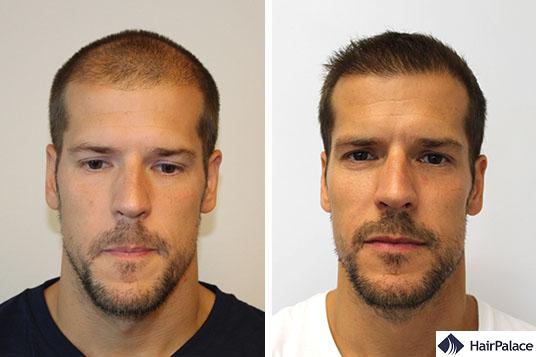 Sam from Budapest
Number of hair transplants: 1
Total number of implanted hairs: 5056 hairs
Sam had experienced thinning at the front and the crown for years. With the procedure, we achieved even density at the top of the head.
Visit our hair transplant clinic in Budapest
A hair transplant in Budapest is a great alternative to a costly procedure in the UK.
While we maintain the highest standards of care you would find at Harley Street, our prices are significantly lower, thanks to the lower local wages and running costs. Our hair clinic in Budapest is fully equipped so we can offer our expertise throughout your whole hair transplant journey.
Whether you are looking to get your hair transplant in Budapest, or you would like to stop by later on for a post-op check-up, we can accommodate you.
HairPalace Hair Clinic Budapest:
Castrum ház
Lechner Ödön fasor 3/A
Budapest, 1095
Hungary
Phone: +44 20 7131 0229
Open hours :
| | |
| --- | --- |
| Monday | 10:00-16:00 |
| Tuesday | 10:00-16:00 |
| Wednesday | 10:00-16:00 |
| Thursday | 10:00-16:00 |
| Friday | 10:00-16:00 |
How much is a hair transplant in Budapest?
If you have been researching hair transplant options, you have surely come across some extortionate prices in the UK.
Depending on the method and the number of hairs or grafts you need, hair transplant prices in the UK can be £15000 per session. If you prefer not to break the bank with your procedure, having your hair transplant in Budapest might be an ideal option for you. The hair transplant cost in Budapest is considerably lower due to economic differences. In Hungary the wages, living expenses are significantly lower than in the UK or other Western European countries.
Consequently, running a well-equipped, modern private clinic in Budapest allows us to offer more affordable prices. At our Budapest hair clinic, package prices range between £1390 and £2190, in light of the number of transplanted hairs.
By having your hair transplant in Budapest, you do not sacrifice quality for the more attractive price tag. At HairPalace, we provide hair transplants in an exclusive, comfortable setting, with our team and facilities meeting the highest international standards.
And thanks to having the advanced FUE2 technique in our seasoned experts' hands, we guarantee the success of your hair restoration procedure.
To determine how many hairs you need and thus, how much your FUE hair transplant would cost with us, our doctors would need to see your current condition.
Meet us for a free consultation in Budapest
As the first step in your hair transplant journey, we invite you for a personal consultation in Budapest. The free hair transplant consultation takes roughly 30 minutes and is carried out by one of our surgeons.
We will explore your hair loss and discuss what your expectations are about the result.

The doctor will thoroughly

examine your hair and scalp with a digital hair density and scalp camera.

In light of your condition and need the doctor will

prepare a detailed treatment plan

and quote.
This way we can discuss the details of the treatment specific to your case, and you can consider all aspects. Advance reservation is required – contact us on +44 20 7131 0229 or info@hairpalace.co.uk for available appointments!
Our hair transplant experts in Budapest
At HairPalace's hair clinic in Budapest, we work with 6 excellent doctors who possess the skills and the experience required to achieve the best hair transplant results.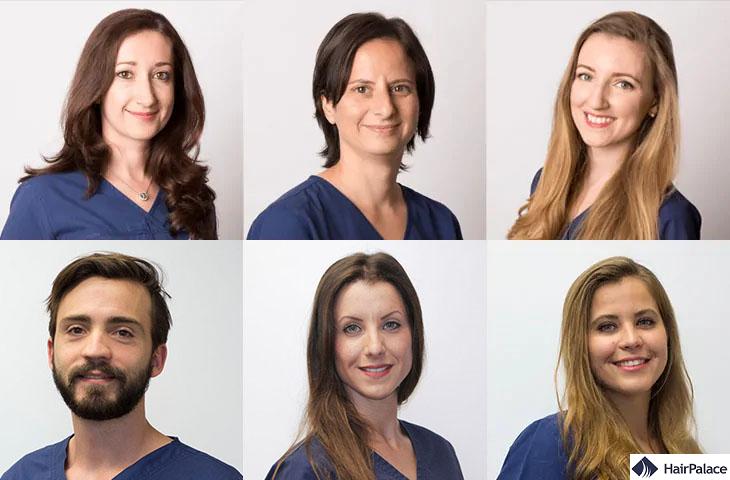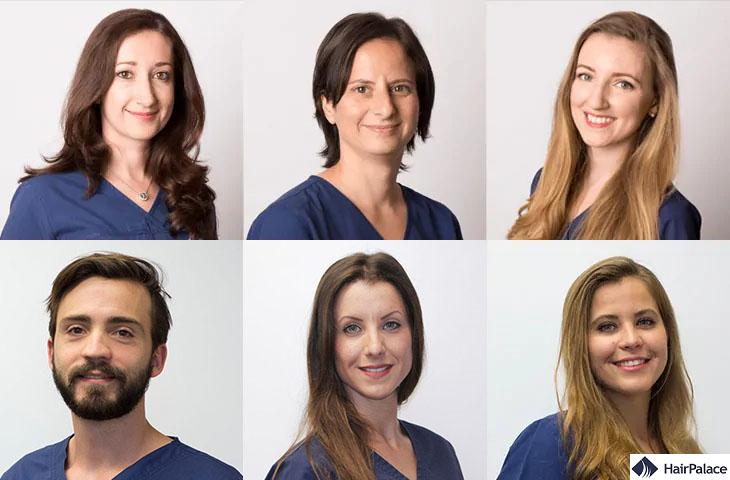 Why choose us?
With the vast number of hair transplant clinics and methods available, the decision is not easy. At HairPalace, we are committed to helping you find the best solution to restore your hair. What can we offer you?
Experienced doctors

Our surgeons have 5-10 years of experience in hair restoration procedures. Together with our team, they are dedicated to providing you with a tailored solution to achieve the best hair transplant results.

Natural hair transplant results

The FUE2 hair transplant method allows us to reach exceptional success rates and natural, dense results.

Written guarantee

With the most effective hair transplant method in our seasoned experts' hands, we provide a written guarantee on your hair transplant. If less than 80% of the transplanted hairs grow out, we reimplant the missing amount free of charge.

No visible scars

The FUE2 technique extracts the grafts one by one with a micro punch. As a result, the hair transplant procedure leaves no visible scars on the donor area.

Postoperative care

In our experience, proper aftercare is essential to reach the best hair transplant result. There will be 6 check-ups after the surgery to ensure that everything goes well. We will accompany you throughout your journey and our team will be at your disposal if you have any questions along the way.

Excellent price

We offer competitive hair transplant prices in London and in Budapest. Our comprehensive packages cover all costs, there are no hidden charges.
If you have any questions about our services, or if you would like to get a detailed treatment plan, we offer no-obligation consultations with our surgeons in our London hair clinic.
Which hair transplant method do we use?
At HairPalace clinic, we use the state-of-the-art FUE2 technique. It is practically the perfected version of the standard FUE, correcting its shortcomings to offer higher success rates and more natural results. With years of experience in its use, our doctors recommend the FUE2 for the benefits it offers for the patients:
leaves no visible scars

painless procedure

success rates can be up to 90-95%

short recovery

minimally invasive

effective in preserving the donor area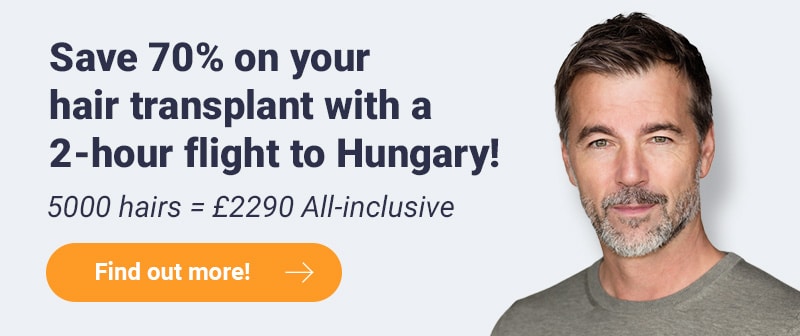 Discover the best hair transplant clinics near you
Learn about more options across the country and abroad. Check out the following pages to see more!
Budapest hair transplant reviews
Every year, more than 500 patients entrust our experts with their hair restoration procedures.
At HairPalace, we aim to provide everyone with the same top quality treatment and care. We receive lots of feedback publicly, on Facebook, Trustpilot, and Google  – we believe that our patients' first-hand testimonials can help you find out more about what you can expect! Take a look at some of our hair implantation reviews from patients from Budapest!
Excellent and very professional service from initial consultation in London to final surgery in Budapest. Highly recommended. Many thanks.
   Miguel Feb | 28, 2020
Ultra professional and a great team of staff. No issues from start to finish. Contactable day and night. The whole procedure was smooth and easy, couldn't be happier and guarantee great results. Really clear information and guidance throughout the whole procedure. Would recommend to anyone who is thinking of getting a hair transplant.
  Kurtis Sandlan | Oct 17, 2019
Last medically reviewed on May 2nd, 2022