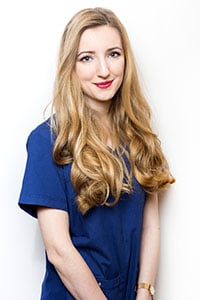 My name is Dr Erika Gucsi. During my high school studies I chose biology and chemistry as a specialty and afterwards I went to Semmelweis University in Budapest, where I graduated as a General Practicioner.
During my university studies I had specialised courses in micro-surgery and dermatology and I tried to get the most knowledge possible in these fields. I believe that best practices can only be studied in practice, so I tried to spend a lot of time in clinics and hospitals where I could learn the newest methods. Hair transplantation is the best specialization for me, as in this field I can practice my knowledge in micro-surgery and dermatology.
Nowadays I work as a consultant and a hair transplant specialist at our clinic. I help British and French patients by preparing treatment plans and giving advices during our evaluations, and by doing hair surgeries using the FUE Safe System method. I love about my work that I can help patients finally solve their problems!