What Would I Look Like Bald? The 7 Best Apps to Check Out
If you've ever wondered "what would I look like bald?", you're not alone. It's a common concern: hair loss affects almost 40% of men and around one-third of women, due to a variety of causes.
Why is it good to check what you would look like bald?
Baldness can be difficult to accept, but numerous apps designed to show how you might look bald are available for Android and iOS devices.
These can help you decide whether you want to explore hair restoration treatments, such as a hair transplant, before (or if) you start to experience hair loss.
And we've picked seven of the best apps to help you get started.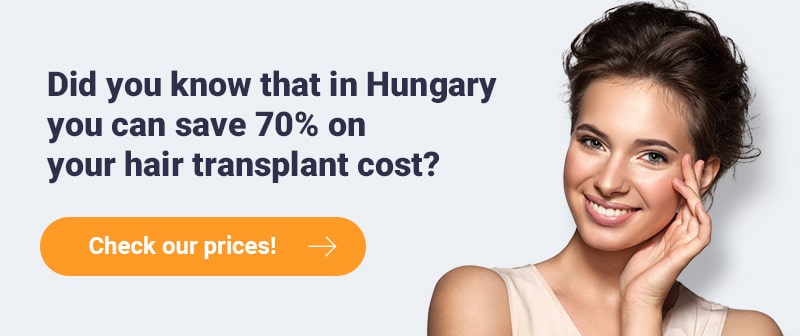 The 7 best apps that show what you would look like bald
Make Me Bald
Make Me Bald is a fun app designed to help you visualise how you'll look without your hair. But there's more to it than that: you can also experiment with various hair styles, from the generic to the outlandish. And you can even add facial hair to refine your look further.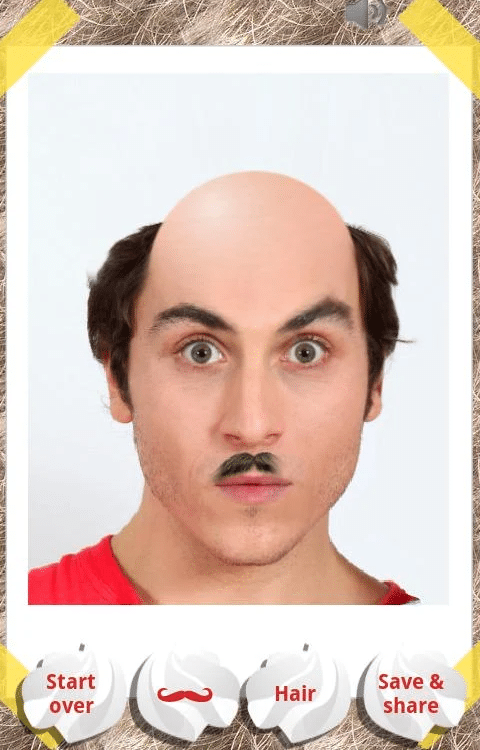 Just take a photo of yourself and guide the clippers to remove hair in almost any pattern you like. You can also import photos from your own photo gallery or other apps. Once you're done, share them to gather feedback from friends and family.
You can download Make Me Bald on the Google Play Store.
BaldBooth
BaldBooth hails from the team behind AgingBooth, FatBooth, and more. You can answer "what would I look like bald?" within moments, and try it on photos of your friends too.
This bald app works with images captured with your own device's camera, in your gallery, or from Facebook. You can also choose to work on one face amongst multiple in a picture, and auto-crop photos using face detection technology.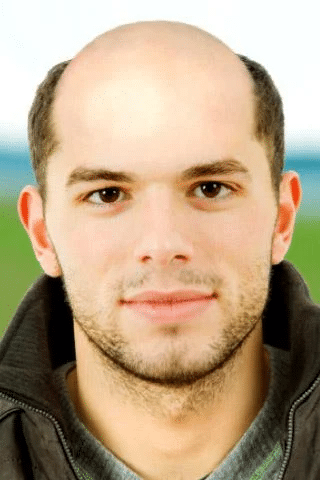 One of the best features is being able to view before and after pictures by shaking your device. You can share the results of your experiments via email, Facebook, Twitter, and MMS.
You can download BaldBooth on the App Store and Google Play Store.
Face/Facial Hair Changer for Men and Women
Explore the effect baldness will have on your look — and try on various types of facial hair at the same time!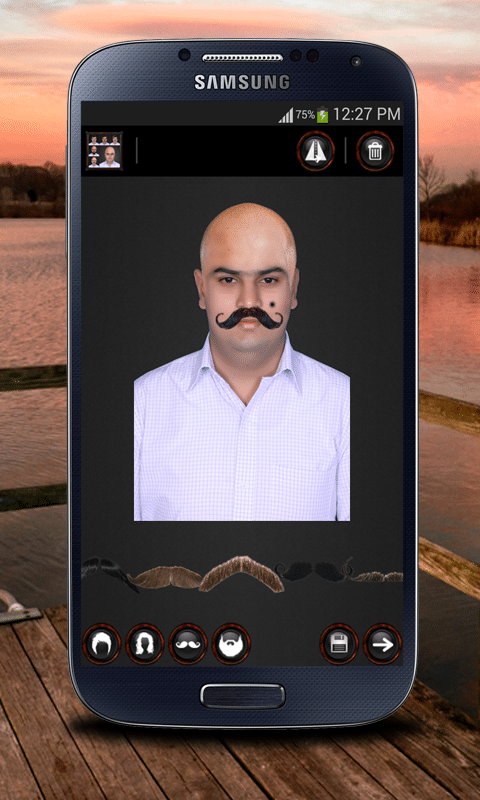 With Face/Facial hair Changer for Men and Women, you can take photos on your device or import those from your gallery. Crop and cut any part of an image, and play with numerous facial hair styles to discover how a moustache or beard could complement your changing hairline.
You can wear different hair cuts and styles to assess how you might look with a particular length or colour. That's ideal for planning a big change after a hair transplant.
Face/Facial Hair Changer for Men and Women is downloadable on the Google Play Store.
Baldify
Baldify was created by the developers of Oldify, Zombify, and other apps. The aim of Baldify is to answer "what would I look like bald?" with just a few taps of your screen, whether you want to find out how you might look with male pattern baldness, a mild receding hairline, or other types of hair loss.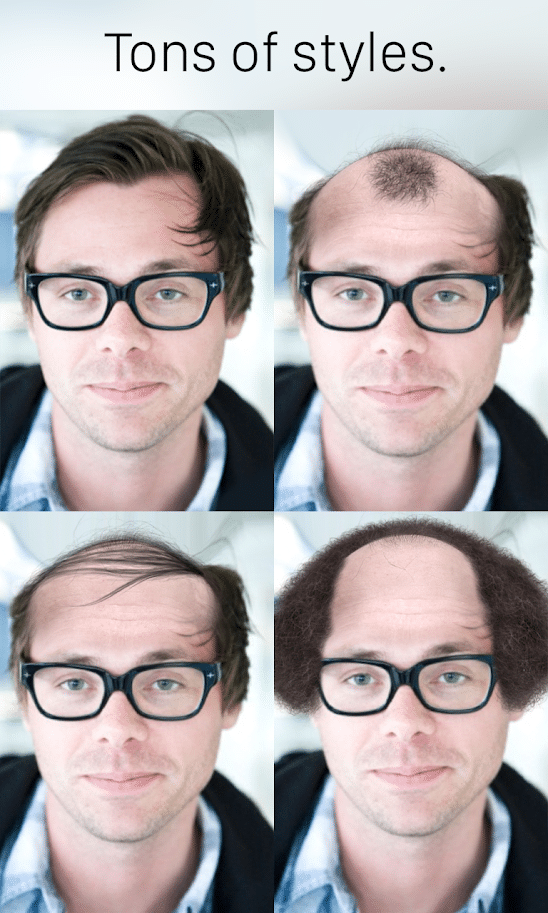 One of the big differences between Baldify and other baldness apps is that the image on screen can yawn, blink, and perform other realistic actions.
You can share the results of your experiments on Twitter, Instagram, Skype, Gmail, and more. This can be combined with other apps from the Apptly LLC team, including Beardify or Oldify.
Baldify is available on the Google Play Store and the App Store.
Bald Me Booth
Bald Me Booth can be applied to a photo of yourself or anyone else, and uses AI face detection technology to achieve accurate results. Interactive animations bring your pictures to life.
Share your images and find out what others think of you with a bald scalp. They may offer advice on your hair loss, and recommend potential hair restoration options.
You can download Bald Me Booth from the App Store.
Bald Face
Bald Face automatically crops photos using face detection technology, and completes transformations instantly with no need for an internet connection.
You can shake your device to view before and after pictures, and save them to your gallery when finished. Share them with friends or relatives on Twitter, Facebook, or via email.
You can download Bald Face from the Google Play Store.
Face Changer
Face Changer is a more tongue-in-cheek app than some of the others we've picked, but it still offers an accurate baldness filter.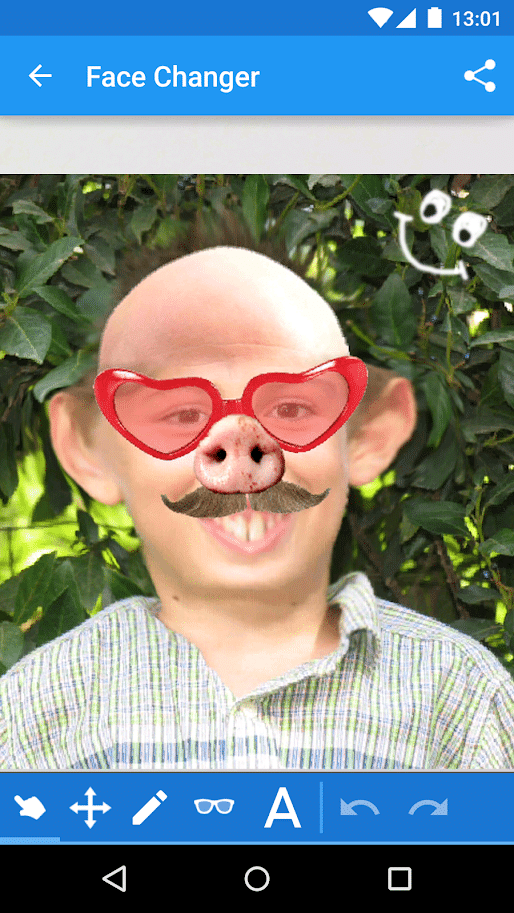 While Face Changer enables you to experiment with hair loss in your photos, it features numerous personalisation options too. For example, try on glasses, adjust ear size, add text — add a touch of humour to your pictures before you share them.
Face Changer is available on the Google Play Store.
Important information about baldness
What causes baldness?
If you're starting to lose your hair, one or more factors may be responsible.
Male pattern baldness
Male pattern baldness (MPB) is one of the most common causes of hair loss: it's an inherited condition that leaves men with a receding hairline and/or a thinning crown. This is due to a hormone known as dihydrotestosterone (DHT). Hair follicles tend to be particularly sensitive to this in men affected by MPB.
The follicles will become smaller over time, and hairs in the affected area(s) will stop growing eventually. If you want to speak with others experiencing male pattern baldness, you may find it helpful to share your experience on one of the many hair loss forums available online.
Telogen effluvium
Another cause of hair loss is telogen effluvium. This may occur around two to three months after a shock or extremely stressful situation (such as an accident, illness, etc.). The hair could grow back within two to six months of the occurrence.
Lack of nutrition
Failure to eat nutritious foods, or to get certain vitamins and minerals through other means, can be responsible for hair loss.
Protein, iron, zinc, vitamin A, and vitamin D are all important for hair growth.
Medication
Certain medications can trigger hair loss and eventual baldness. These include:
immunosuppressants
acne medications
antidepressants
blood pressure medications
However, hair loss may not always occur when taking these medications.
Alopecia areata
Alopecia areata is a condition causing the immune system to target healthy hair follicles by mistake. Hair may fall out in patches on the scalp, and possibly other areas of the body (such as the eyelashes).
Is it a normal occurrence?
Baldness can be a normal part of aging when a condition is inherited (e.g. male pattern baldness). It may be a family trait affecting most of the men or women in your family.
If baldness is the result of another cause, such as a medical condition or lack of nutrition, certain treatments may be able to help. If you're concerned about changes in your hair growth, speak with a doctor to set your mind at ease.
What are the most common misconceptions about baldness?
Only men go bald
Women can experience hair loss and baldness too. Nine in 10 people looking for help with hair loss today are women, with stress highlighted as a common cause. The menopause, pregnancy, and polycystic ovary syndrome may be responsible too.
Baldness only affects older people
Baldness can affect men and women throughout their life, not just in old age. Male pattern baldness, for example, can start to develop during a man's twenties or earlier.
Shampooing too much causes it
Washing your hair frequently does not cause baldness. But make sure you use quality products suited to your hair type, and try to cut back on heat-based styling tools.
How can baldness be treated?
Baldness can be treated in numerous ways. Minoxidil and finasteride are two of the most well-known options. However, these can be ineffective and require patients to use them consistently to maintain any resulting hair growth.
A hair transplant is the most effective hair restoration method, particularly the FUE (Follicular Unit Extraction) technique.
FUE involves extracting hair follicles from the scalp and implanting them into balding areas, whether on the crown or closer to the hairline. HairPalace's surgeons use the FUE2 Safe System — the most advanced hair transplant technology available.
During FUE2 hair transplant procedures, a surgeon will transplant follicles using a high-precision micro punch. Between 95 – 100% of implanted hairs will grow back, and results look incredibly natural.
Want to learn more about our hair transplants? Book a consultation today!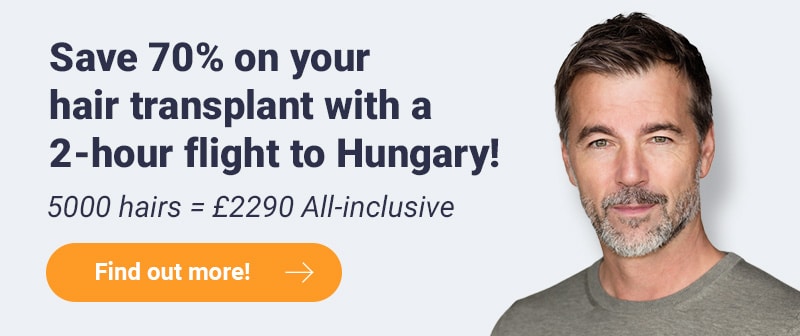 FAQ
Is there any app that shows you what you would look like bald?
If you're wondering "what would I look like bald?", several apps are available to help you find out. Apps such as Baldify and BaldBooth enable you to experiment with photos, and explore how you would look with a bald scalp.
How trustworthy are these apps?
Take the time to read reviews from other users to find out how trustworthy any baldness app is. This will help you make the right decision.
What should you do if you are starting to go bald?
You can experiment with a baldness app to see how you might look if your hair loss continues. You may also want to speak with others experiencing hair loss online, ask your doctor for advice, or visit a hair clinic for a hair transplant consultation.