Rob Holding Hair Transplant: Cost & Results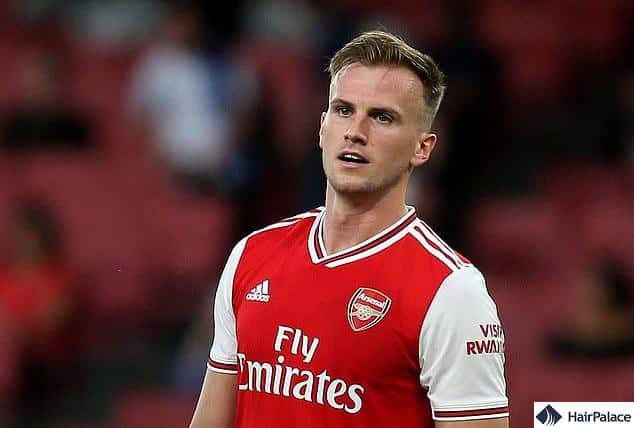 Robert Samuel Holding made his professional debut in April 2015 while being on loan at Bury from Bolton Wanderers.
His big breakthrough came when Arsenal took notice of his stellar performance in Bolton's first team, he has since won the FA cup and the FA Community Shield on three occasions. He's also represented England on the U21 level on numerous occasions.
However, the amount of hair on his head, similar to his playing time has significantly decreased over the years.
But, he was recently seen sporting a full head of hair once more. So what happened?
How did he solve his hair loss issues? and could you follow the same path?
Find out from this article!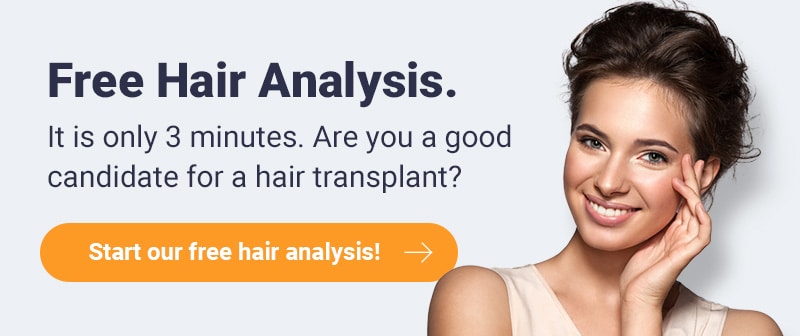 Who is Rob Holding?
Before becoming an Arsenal player, Rob Holding was playing in League 1, at Bolton Wanderers football club. He only appeared in 30 games but his impact on the field garnered a lot of attention from Premier League sides. In the end, it was Premier League club Arsenal who won the race for his signature.
In his own words, the Arsenal signing was a dream come true. "It's something you dream of as a kid – I can't wait to get started". He was only 20 years old at the time of his signing.
Since then, he appeared in more than 150 games for Arsenal and has won several trophies with the club.
This number is only likely to increase further, as it was recently announced that he signed a long-term contract lasting until 2024.
Rob Holding's battle with hair loss
In his early twenties, he seemed to have no real issues with hair loss. At the time of his debut with Bolton Wanderers, he had a healthy hairline.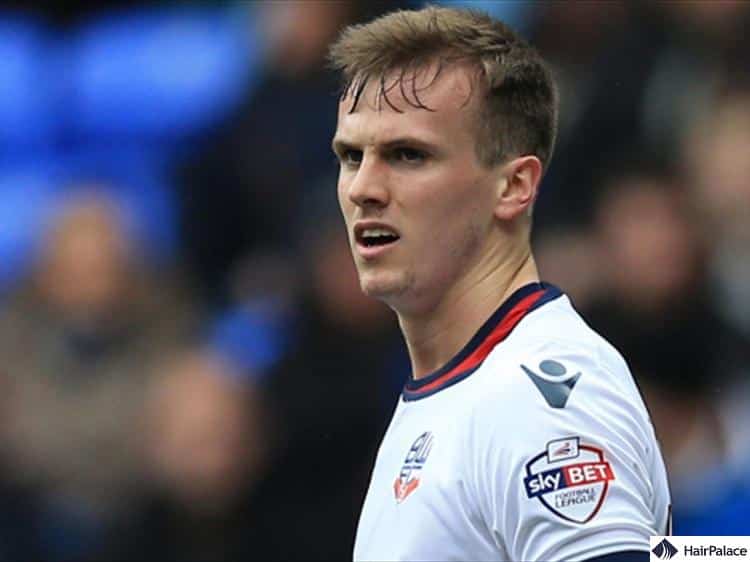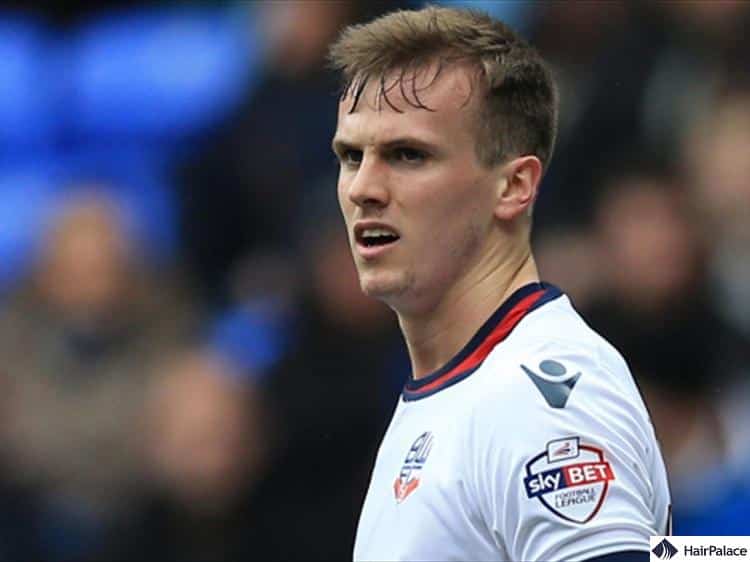 But over the years, the FA cup winning Arsenal defender started to lose more and more hair, which led to substantial hair loss by his mid-20s.
He most likely suffered from male pattern hair loss, a condition that affects nearly 90% of men by the time they reach 50.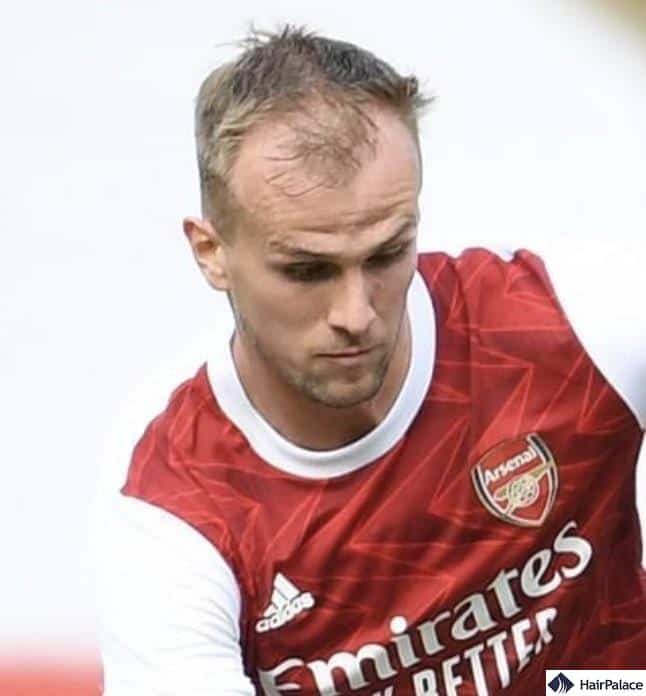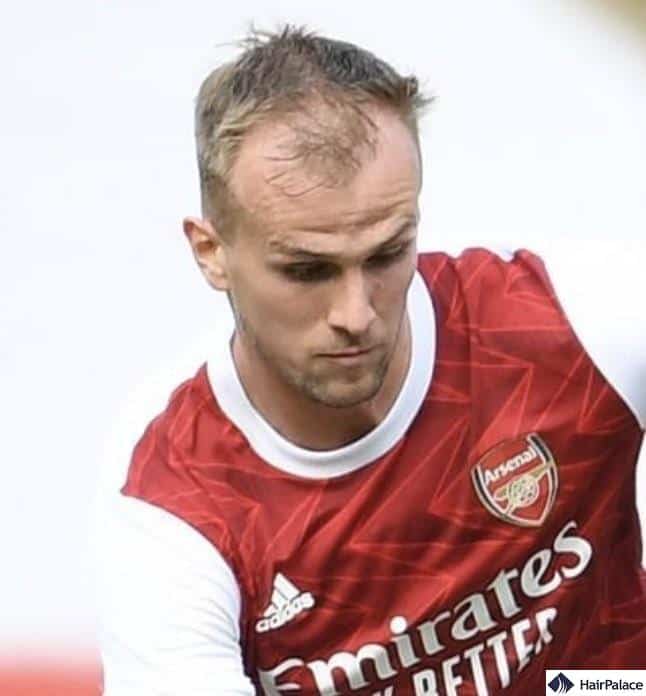 Although, only 16% of men aged 18-29 suffer from extensive hair loss. Unfortunately, Rob fell into this minority.
On world mental health day he shared a message on his Instagram account, Rob said, "I struggled so much with my hair and self-confidence.
I have had so many messages about where I had my procedure. The Wimpole Clinic in London treated me so well and I am so happy with the results."
"I've had so many messages of other people affected by [similar] mental health issues and self-confidence issues, I couldn't recommend this place enough!"
A couple of months later, Rob Holding was seen with a completely new head of hair at Arsenal training in their London Stadium. His hair grew slowly, but steadily throughout the course of the 2021/2022 Premier League season.
Rob Holding's hair transplant was scoring goals on and off the pitch, as he scored his first Premier League goal with a header against West Ham.
Rob Holding was mercilessly ripped by his teammate Aaron Ramsdale. After the win, Holding said: "I've scored a few Carabao Cup goals but it's nice to get my first Premier League goal, and hopefully I can build on that and get some more. "The arsenal goalkeeper interrupted him saying "'It's only taken six years and a new hairline!"
Where did Rob Holding's hair transplant take place?
Just like Wayne Rooney, Rob also opted for a London-based clinic on the famous Harley Street. His surgery was carried out by the Wimpole clinic.
The Rob Holding hair transplant rumours started circulating last year when the defender was seen with a shaved head during pre-season.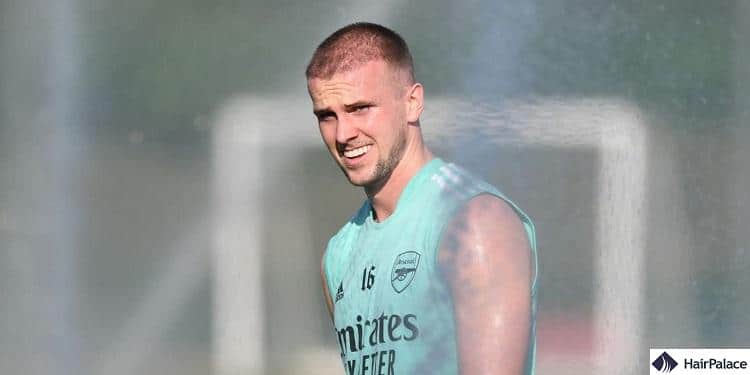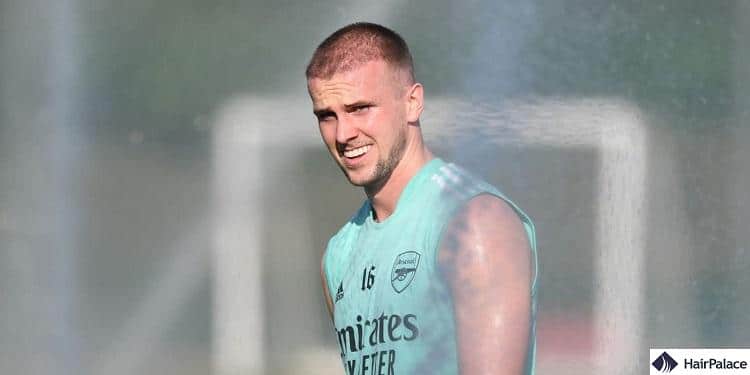 The photos clearly indicate a big change, but there aren't any photos where we can see the fresh grafts. So he most likely had his procedure done around this time.
By the end of 2021, his receding hairline was a thing of the past, and his hair looked closer to that of David Beckham. He had his hair restoration surgery at the young age of 25.
Generally speaking, it isn't advised to have a hair transplant at such a young age.
Pattern baldness can often take decades before the hair loss stabilizes, so Rob may need additional surgeries to keep up with his hair loss.
Rob Holding before and after hair transplant
He achieved stunning results, which is evident by looking at the Rob Holding hair transplant before and after photos.
How many grafts did he get implanted?
As he was mostly losing hair in Zone 1-3, by this, we can calculate a rough estimate of how many grafts were needed for the Rob Holding hair transplant.
According to our estimation, he probably needed around 2500 grafts.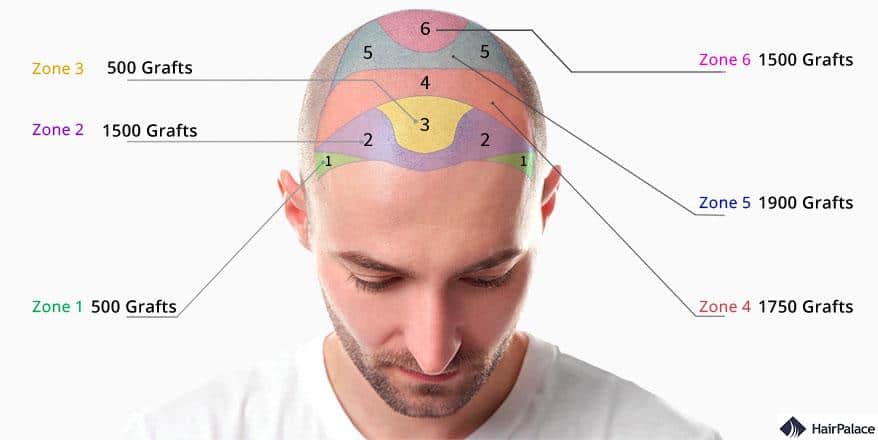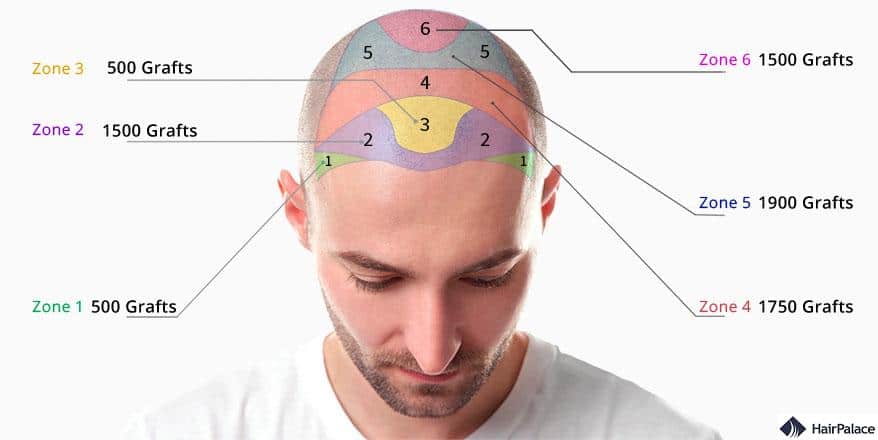 Which method was used for the Rob Holding hair transplant?
By looking at Rob's freshly shaved photos, we can easily tell that he had an FUE procedure. There is no linear scar on the back of his head, which rules out FUT.
The FUE method only leaves tiny micro-wounds that tend to heal over time.
Rob Holding confirmed our assumptions in October of 2021 when he revealed that he had an FUE hair transplant surgery to solve the issues with his hairline and self-esteem. He improved his mental health and regained his full head of hair by choosing an experienced, reputable clinic.
How much did his hair transplant cost?
While it's almost impossible to tell how much his surgery actually cost. The base price of an FUE procedure at the Wimpole clinic starts at £3499, and the cost of a hair transplant may reach as much as £10,000 pounds at a London clinic.
The true cost of his procedure likely falls somewhere in between. According to the Wimpole clinic, the average price of a hair transplant in the UK is £4,820.
Was his hair transplant a success?
Rob Holding's hair transplant was definitely a success. He completely transformed his appearance and seems to have regained his self-confidence now that his widow's peak is totally gone.
However, it's important to keep in mind that it takes around 1 year to see results. It's even harder to adhere to the after-care instructions as a professional footballer.
The additional wear and tear that the body is exposed to due to constant training can easily damage grafts and hinder results. However, Rob managed to keep his new barnet safe, and he looks better than ever.
The new hair even improved his performance on the pitch, as he won 100% of his areal duels, along with having 7 clearances and three blocked shots while also scoring his first goal.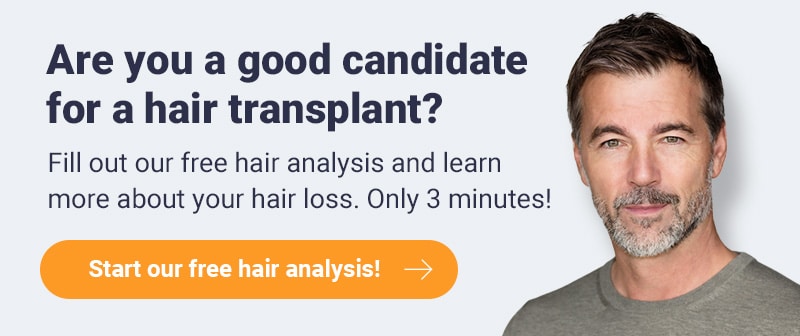 Other celebrity hair transplant success stories
HairPalace relies on scholarly sources, including peer-reviewed articles, as well as publications of medical associations and academic & research institutions. We follow strict sourcing guidelines and avoid tertiary references. Read our editorial policy for further information on how we keep our content up-to-date and accurate.