Hair Transplant Surgery Clinics: London VS Hungary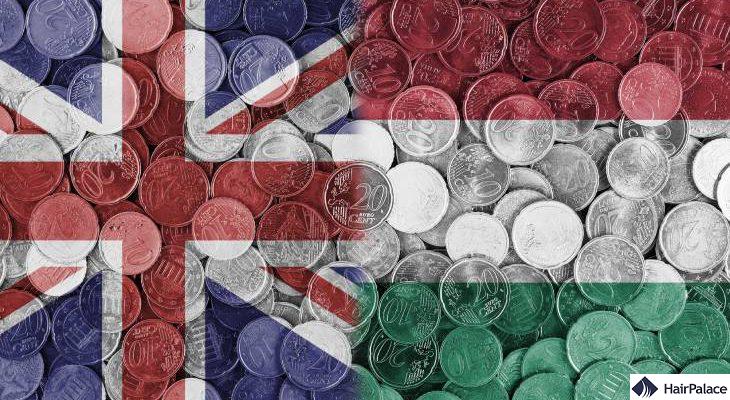 London's top hair transplant surgeons command high prices. The average cost of a cutting-edge 6000-hair procedure in the capital city is a staggering £8,000+.
This rate applies to treatments using the FUE2 SafeSystem: an innovative method offering unparalleled precision and outstanding results. But the expense puts it beyond many candidates' budget.
London rates remain high even if you choose a less-advanced option, such as FUT (Follicular Unit Transplantation) or standard FUE (Follicular Unit Extraction).
How high? London clinics charge more than £5,000 for FUT and over £7,000 for FUE on average (again, both based on the 6000-hair package).
Top London surgeons feel justified charging these prices because of their quality service and state-of-the-art facilities. And they cater to a fairly exclusive clientele willing and able to pay such astronomical rates.
So, what can you do if you want to try hair transplant surgery but feel concerned about costs?
The Hungary Solution: Cost-effective, Reliable, Permanent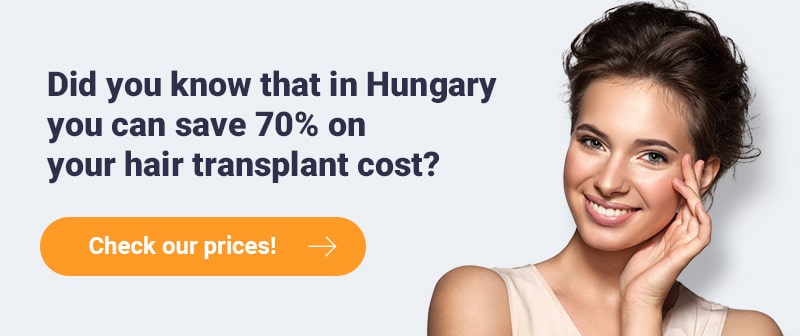 You'll save money if you travel to Hungary for a hair transplant — that's a fact.
But don't worry if you've heard horror stories of people flying halfway around the world for botched surgery. Such problems typically occur in clinics with poor hygiene, unqualified staff, and outdated equipment.
You can avoid all of these risks by choosing HairPalace's team of Hungarian surgeons. They're subject to the same high standards as their British colleagues and have access to equally-amazing facilities. They deliver outstanding patient care and guarantee lasting, natural results.
How are our rates so competitive? It's simple: Hungarian doctors' salaries are lower than those of top London surgeons. And this creates substantial savings for you.
High Quality at Low Costs
HairPalace's pricing structure offers savings of up to 60% against UK prices. You'll spend less than you would on top London surgeons whilst achieving the same amazing hair growth.
The price of your hair transplant surgery depends on your goals and the extent of hair loss. The smallest package we offer covers 2000 hairs. The biggest is for 6000 hairs.
What can you expect to pay for these (and other) HairPalace procedures?
2000 hairs — £1390
3000 hairs — £1990
4000 hairs — £2290
5000 hairs — £2590
Deciding the Right Hair Transplant Cost for You
All patients are invited to attend a free online consultation with one of our doctors before committing to hair transplant surgery. This is your chance to speak to an expert, discuss your aims, explore pricing, and understand what to expect.
The doctor will examine your scalp in detail to assess your hair loss and determine the best package for you. The procedure's goal is to restore growth in bald/thinning areas of the scalp and create a natural effect that blends with your existing hair. The doctor will recommend the package most likely to achieve this.
While you may find the prospect of undergoing surgery daunting, we do everything we can to keep it simple, comfortable, and even enjoyable. Our clinic is equipped with the latest entertainment facilities to help you relax on the day of treatment. You're free to read a book, listen to music, or even watch a movie during your transplant.
Our team has helped many men rediscover the joys of revitalised, thicker hair. Browse our before and after pictures to see the difference an effective hair transplant makes.
An Innovative, Affordable Solution for Hair Loss
HairPalace's surgeons perform transplants using the FUE2 SafeScribe. This incredible handheld device allows for much greater precision, control, and efficiency than older tools.
Your doctor will harvest healthy follicles from your scalp and implant them into the target area safely. The FUE2 SafeScribe removes follicular units with great care, minimising their risk of harm during transplantation. More new hairs should grow as a result.
This is in stark contrast to FUT. As an older hair transplant method, this requires surgeons to cut a strip of flesh from the back of the patient's head before dissecting it to harvest the follicular units.
As you can imagine, FUT is much more invasive than the cutting-edge FUE2 SafeSystem method. A large, visible scar remains on the scalp, restricting patients' choice of haircuts in the future. Especially if they wish to keep their surgery discreet. The recovery period for FUT procedures tends to be longer too, which can be disruptive to busy schedules.
Fortunately, there's no need for the FUT method when FUE2 SafeScribe hair transplants are so affordable now. You can fly to Budapest, Hungary, stay in a premium apartment, and explore the city (as time permits) at a far lower cost than those top London hair transplant surgeons demand.
Enjoy Dedicated, Personal Hair Transplant Service
Top London hair transplant surgeons may not have the time or inclination to provide patients with personal service. The busiest clinics in such a bustling city might focus on simply completing their work without ensuring they meet your individual needs.
We do it differently. Our team is committed to helping you feel relaxed, comfortable, and at ease from the moment we connect. We want you to know you're in the safest hands every step of the way. Our Hungarian colleagues are fluent in English, so you can speak to them as easily and naturally as you would with staff at a London clinic.
There really is no need to pay top London surgeons to perform your hair transplant when such an affordable, effective alternative exists. You'll save money, achieve your hair restoration goals, and enjoy a relaxing visit to Budapest — a breathtaking city.
Preparing for Your Hair Transplant Surgery
As you can see, choosing HairPalace offers many benefits. If you want to know more about them or take the first step to organising your hair transplant procedure, please don't hesitate to contact us.
Our team is available to help you and answer any questions you may have.