Hair Transplant in Sunderland: Costs and Services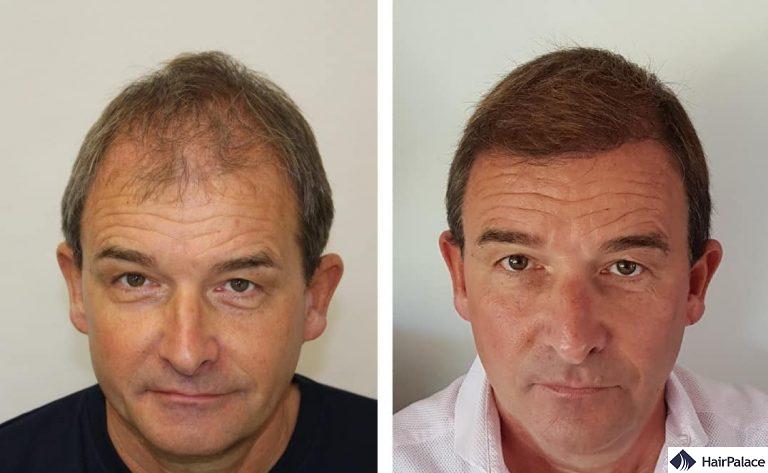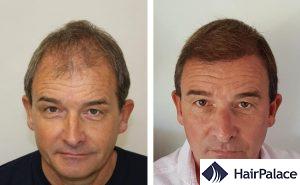 Oliver
Number of hair transplants: 1
Number of transplanted hairs: 4035
Oliver visited us in the autumn of 2017 to get a FUE hair transplant. The procedure went really successful. He even told us his experience was enjoyable and relaxing.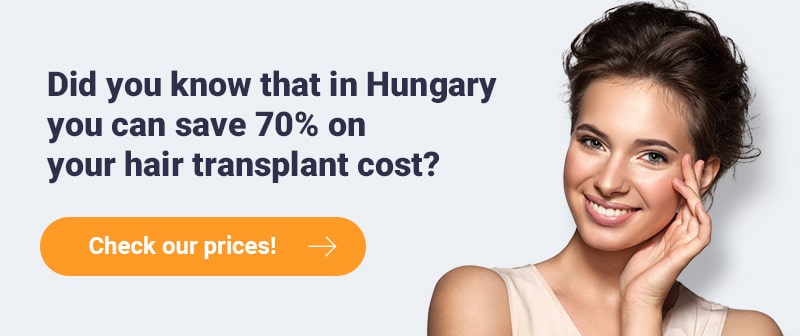 Visit our Sunderland office for your free consultation
Begin your hair restoration journey with a free consultation at our Sunderland office.
During your visit, our experts will use a state-of-the-art digital microscope to examine your hair density and scalp closely.
We will assess your unique needs and discuss what you want to achieve with your hair transplant procedure.
Once we know more about your hair, scalp and goals, we'll build a tailored treatment plan. This will contain all the essential information on your transplant, including an accurate price for your peace of mind.
Our specialists will be happy to answer any questions you may have during your free, no-obligation consultation, and offer professional insights into the results you can expect to see.
This will last approximately 20 minutes. Advance reservation is essential.
You can book your appointment with our colleagues on +44 20 7131 0229 today.
HairPalace Hair Clinic Sunderland:
4 Admiral Way
Sunderland
Tyne and Wear
SR3 3XW
United Kingdom
Phone: +44 20 7131 0229
How much does a hair transplant in Sunderland cost?
Hair transplant costs depend on a variety of factors, such as the number of follicles required for restoration and your chosen method.
You can expect to pay the same rate for a hair transplant in Sunderland as in any other city or town in the UK: usually £2 to £4 per graft.
At HairPalace's London clinic, we offer hair transplant surgery procedures for between £1989 and £9042.
Want to undergo the best hair transplant in Sunderland at more affordable rates?
HairPalace has the solution.
Our Budapest clinic offers the same outstanding FUE2 hair restoration procedures available at our London clinic, but for a significantly lower rate.
Hungary's lower living expenses and wages mean you can expect the exceptional service you would receive in a hair transplant clinic in Sunderland or London, at a more affordable price point.
Our Budapest hair transplant prices range from just £1390 to £2590 — take a look at our page covering hair transplant prices in Budapest to learn more!
Which hair transplant method is available at HairPalace?
Experts at every HairPalace clinic utilize the cutting-edge FUE2 hair restoration technique.
This is an enhanced version of the traditional FUE procedure, and is the most advanced technology available today.
As a result, we can ensure that you'll receive the same incredible service and astounding restoration whether you visit our UK or Hungary hair clinic.
Our doctors boast years of experience using FUE2, and recommend it due to the following benefits:
no visible scarring
the procedure is painless
success rates reach as high as 90 – 95%
the recovery period is short
FUE2 is minimally invasive
donor areas are preserved effectively
Our hair transplant specialists in Sunderland
HairPalace works with six reliable doctors, each with the skills and experience to achieve the finest hair transplant results.
You will have the opportunity to meet one of our specialists during your free hair transplant consultation in Sunderland.
They will give you all the details you need for total peace of mind, and help you make an informed decision.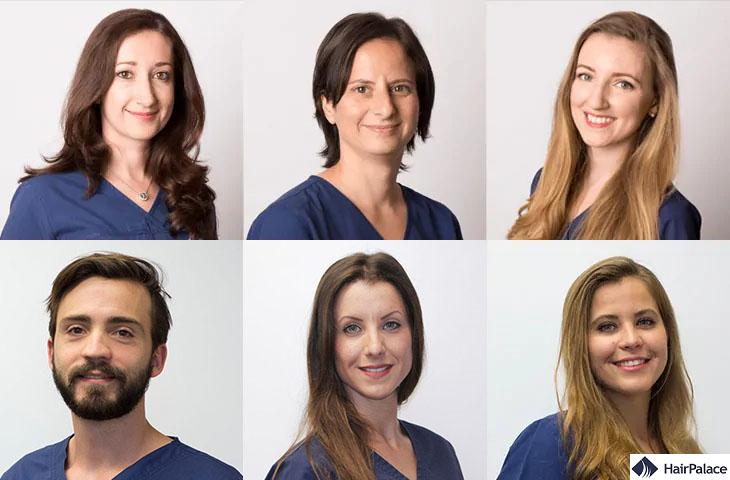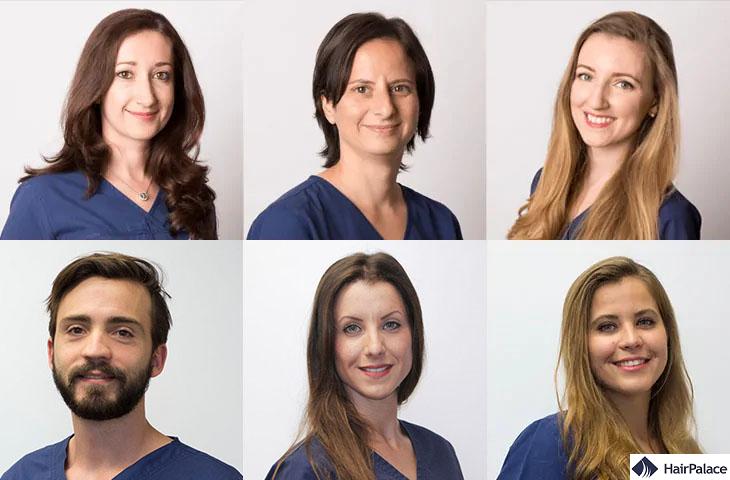 Why should you choose HairPalace?
Choosing from the many hair transplant clinics and treatments available can be difficult. We know that.
That's why HairPalace is dedicated to helping you understand your options and find the right one to restore your hair.
What do we offer?
Doctors with invaluable experience

HairPalace's surgeons have between five and 10 years' experience of performing hair restoration procedures.

Along with our team, these specialists are committed to delivering a bespoke solution for the most amazing results.

Natural results

We use the FUE2 technique to achieve extraordinary success rates and dense, natural hair restoration results.

Written guarantee

We're so confident in our experts' skills, tools, and techniques, we provide a written guarantee on your hair transplant procedure.

If less than 80% of the hairs transplanted grow out, we'll reimplant the missing amount for free!

No visible scarring

As the FUE2 procedure involves extracting one graft at a time via a micro punch, no visible scars will remain on the donor area.

Post-treatment care

We believe effective aftercare is vital to achieve the finest hair transplant results.

That's why we'll schedule six post-surgery check-ups and monitor your progress. We'll be at your side during your journey, ready to answer your questions honestly.

Unbelievable prices

HairPalace offers highly-competitive hair transplant prices in Sunderland.

Our packages cover all costs, and there are no nasty hidden charges to worry about.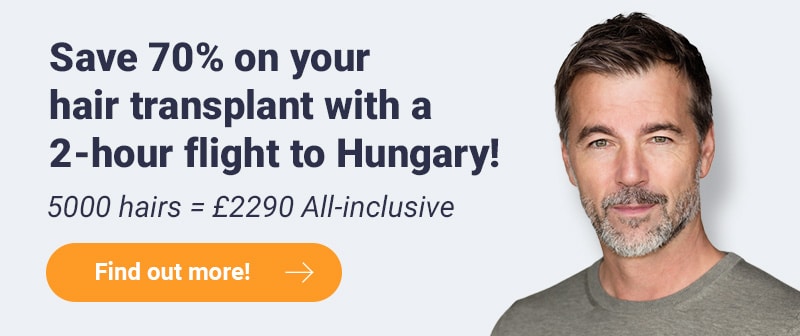 Hair restoration reviews from Sunderland patients
Hundreds of patients pick HairPalace for hair transplants each year, and you can read genuine testimonials across Google, Trustpilot, or Facebook.
These inspire us to keep working at our best, and offer you an insight into the quality results you can expect.
Browse our hair transplant reviews from Sunderland patients now!
The implantation took place at the end of 2020, thanks to the whole team, organization, professional teamwork characterized both days (it flew quickly, was painless), special thanks to the Doctor (Erika), the contact Mariann and the assistants, could not have been created with their precise, quick help.
I recommend everyone (absolutely awesome) to start Rock'n'Roll ….
   Bus Gyula | Jan 7 2021
Just back to the UK. Wonderful experience from start to finish.
Met at airport when landed, accommodation with views of the Danube.
Clinic was 5 mins walk from hotel and was beautiful spacious and spotlessly clean and modern. Everyone friendly and professional Marianna was a wonderful interpreter (not that this was really needed as Dr Kaitlan Serney spoke and understood English.
I had a previous FUE transplant in UK and decided to go to Hair Palace on the recommendation of a friend after seeing his results after a year.
For me the whole experience was enjoyable and smooth, with first class level of quality and service.
 Murfwaites | Dec 12, 2020