Hair Transplant in Southampton: Costs and Services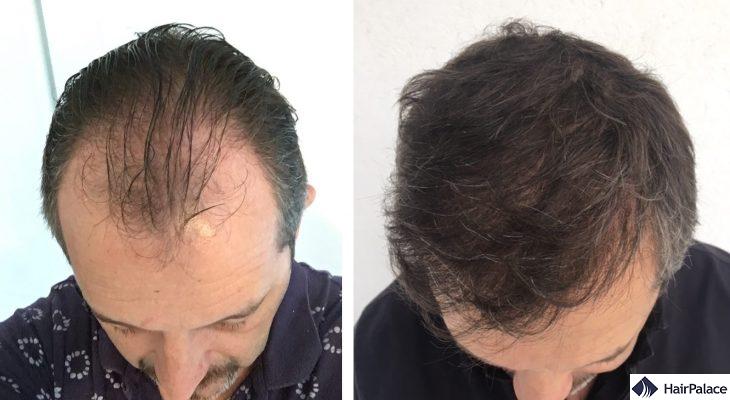 How much is a hair transplant in Southampton?
Lately hair restoration procedures became more and more widely available. However, opting for a hair clinic in Southampton can still cost you up to £15000 for a single session.
The total cost of the hair transplant will be affected by how many hairs you need, and the hair transplant method you choose.
With us, you can have your hair transplant carried out in London or in Budapest. At our clinics, we have set the same standards and policies to ensure that you get the same quality and care.
At our London hair clinic, FUE2 procedures are available between £1989 to £9042.
However, by purchasing a flight ticket to Budapest instead of a railcard to London,  you can see a substantial drop in the price.
Why?
Because of the economic differences between the UK and Hungary, the upkeep of a private clinic in central London is considerably higher than in Budapest. 
The lower expenses allow us to offer more affordable prices for the same services. As a result, our hair transplant prices in Budapest range between £1390 to £2590.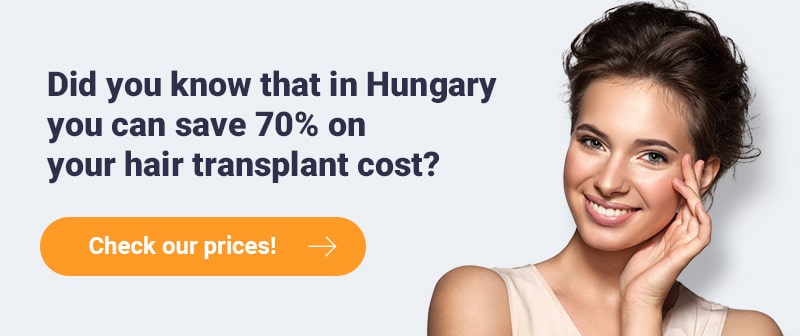 Visit us for a free hair transplant consultation
Surgical hair restoration requires a customized approach – every head of hair, every hair loss is different.
As such, whether you are looking for a hair transplant in Southampton or London, your surgery must start with a comprehensive examination.
We would like to invite you to a free hair transplant consultation. This way, our specialists can assess your current condition and needs, and determine the best course to restore your hair.
The appointment takes 20 minutes and involves a thorough examination with a digital hair density and scalp camera.
You can discuss your expectations and concerns with our experts and you would receive your treatment plan and quote. 
Advance reservation is necessary – please give us a call on +44 20 7131 0229 for the available appointments!
HairPalace Hair Clinic Southampton:
Cumberland House
Grosvenor Square
Southampton, SO15 2BG
United Kingdom
Phone: +44 20 7131 0229
Which hair transplant method do we use?
The latest breakthrough in hair transplantation was the FUE2 SafeSystem method – we use this technique at each of our clinics.
This refined version of the FUE (Follicular Unit Extraction) extracts and implants the hairs individually. However, as it utilizes a blunt incision needle it prevents harm to the follicles upon extraction. The healthier roots produce better regrowth, without requiring the doctors to overharvest the donor area.
Furthermore, the FUE2 SafeSystem method is:
completely pain-, and scar-free

provides the highest success rate in the hair transplant field

provides natural-looking results

reduces the recovery period

minimally invasive
Our hair transplant experts in Southampton
Every successful hair transplant requires a hair restoration expert. 
All of our surgeons are fully certified, obtained their degrees in the most prestigious medical universities. 
They work exclusively in the hair transplant field and have 5-10 years of experience. With our skilled team, they strive to provide patient-focused care and excellent results for our patients.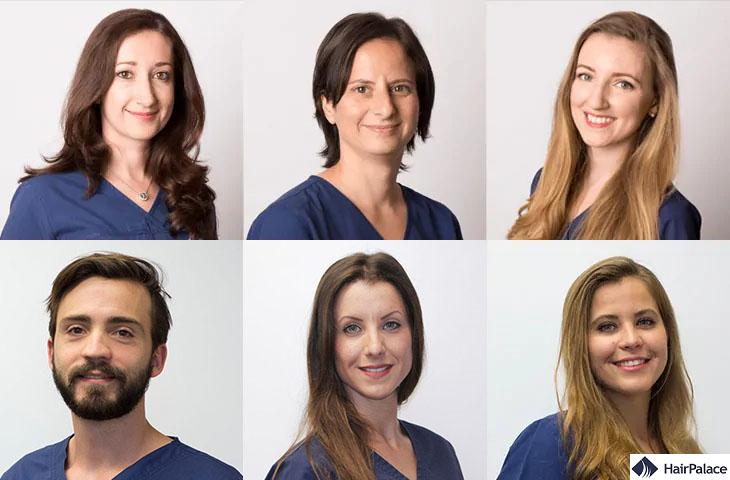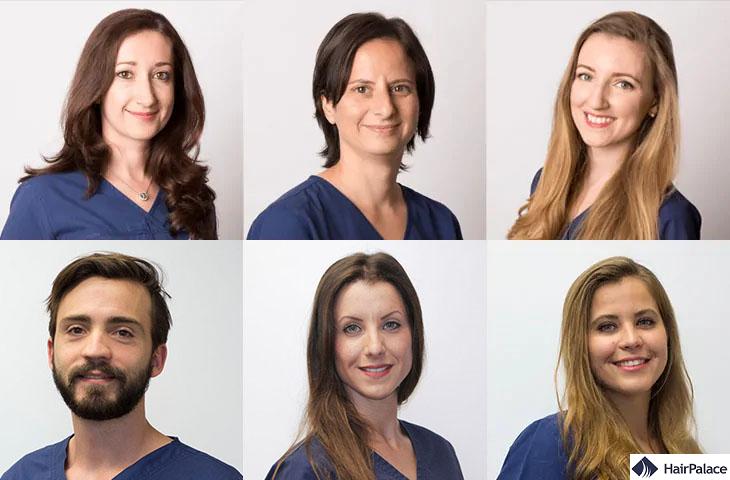 Why choose HairPalace?
Every year, we welcome more than 500 patients from the UK and France, and we are dedicated to providing them with customized, patient-focused care and service.
There is a range of reasons why they entrust us with their hair restoration procedures.
Take a look at what we can offer for you:
Experienced surgeons

The surgeries are carried out by qualified and experienced doctors who specialize in surgical hair restoration. They possess the skills and know-how to deliver quality care and excellent results.

Natural-looking hair transplant results

Every head of hair is different. Our experts customize the treatments to ensure that the result is natural-looking and dense.

Written guarantee

We offer a written guarantee on the implanted hairs. After the FUE2 procedures, seeing 90-95% regrowth within a year's time is not unprecedented.

Scar- and pain-free procedure

The FUE2 surgeries are minimally invasive and leave no visible scars on the scalp. In addition, the entire treatment is carried out under local anaesthesia, which keeps the experience pain-free.

Post-op care

Expert advice will remain at your fingertips, as our team will guide you through the post-op period. Your surgeon will track your recovery through regular follow-ups to help you reach the result you are looking for.

Excellent price

At HairPalace, we make high-quality hair transplants and outstanding results more affordable. Our comprehensive treatment plans cover all costs, from the surgery, through the medication and accommodation, to your airport transfers.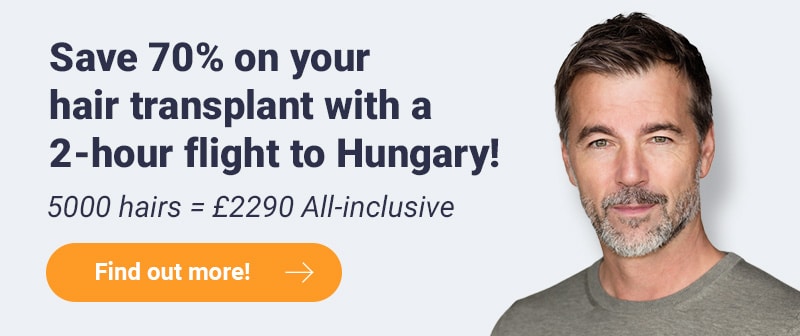 Southampton hair transplant reviews
Curious about the hair transplant in Southampton? Would you like to know how the surgery day goes?
We carry out 500+ surgeries every year – and we are proud to see more and more of our patients sharing their experiences with others.
Browse our reviews and see what our patients say about our hair transplant services!
U guys were brilliant I'm glad I came all the way from the UKI would like to say Thank you Dita the co-ordinator For being so brilliant.
I would like to say a big big thank you to Dr Csilla Kelemen for providing such an advance fue2 operation procedure.
The interpreter for his comfort and professional approach and the whole team at hair palace.
Thank you and god bless
Shaz
   customer | Updated Mar 4, 2020
Having previously had treatment in London UK some seven years ago, I was slightly concerned with the outcome from Hair Palace and travelling to Budapest, however the liaison between them reassured me that this would be a good result and it surely was.
On the day of the surgery the staff at the clinic were fantastic and immediately made me feel relaxed. They were friendly and helpful and nothing was too much trouble. The actual procedure was straightforward and easy and everything went smoothly with minimal discomfort.
The result was brilliant and I was overwhelmed with the result and would certainly recommend them to anyone wishing to have a hair transplant. The treatment and end result was much better than in the U.K.
Keep up the good work!
  Jeffrey Tuck | Feb 1, 2018