Hair Transplant in Sheffield: Costs and Services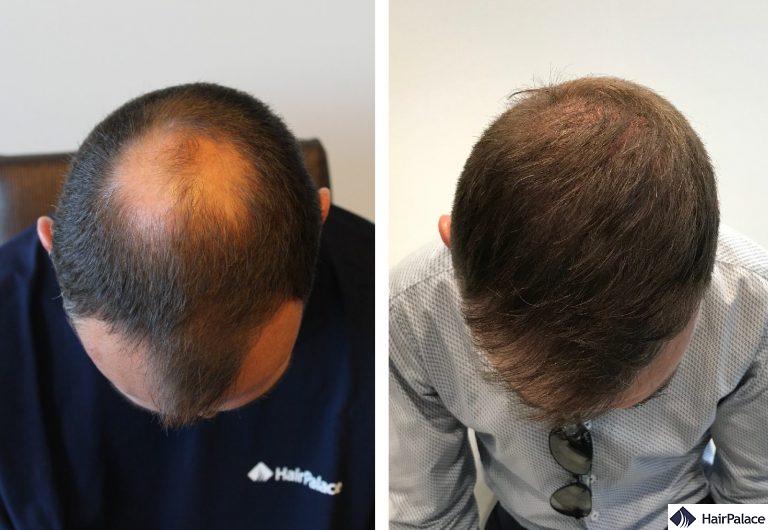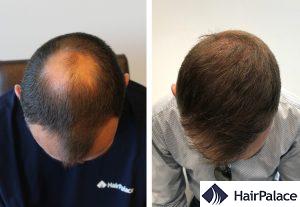 Fabien
Number of hair transplants: 1
Total number of implanted hairs: 6110
Due to male pattern hair loss, Fabien's crown and hairline thinned out. With the hair restoration, we could even out the density of his hair all across the scalp.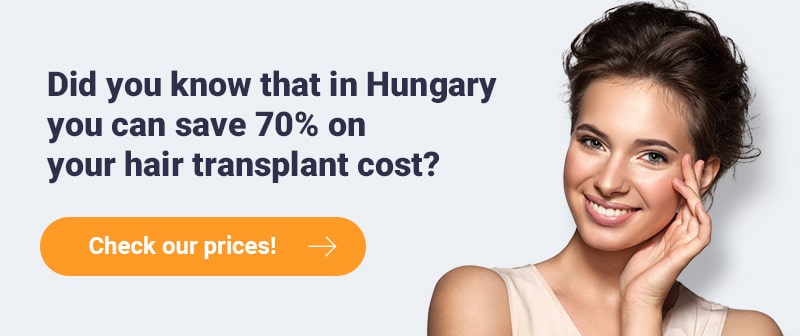 Visit us in Sheffield for a free hair transplant consultation
Every head of hair and every hair loss is unique, thus every patient requires customized treatment.
Thus the first step to restoring your thinning hair is always a thorough assessment.
At HairPalace, we provide multiple options for you to get accurate advice from in-person consultations to online assessments.
Personal appointments take 20 minutes and are carried out by one of our hair transplant surgeons. The doctor would examine you with a digital hair density and scalp camera to accurately assess your condition and ensure that the procedure can be carried out. Naturally, we will also discuss your expectations and all questions you have.
After examining your current condition, the doctors will be able to make you a detailed treatment plan and quote to solve your hair loss problem.
For appointment reservation and further information, please feel free to contact us on +44 20 7131 0229.
HairPalace Hair Clinic Sheffield:
2 Pinfold Street
Sheffield, S1 2G
United Kingdom
Phone: +44 20 7131 0229
How much is the hair transplant in Sheffield?
Recent years saw an increased interest in aesthetic procedures and somewhat reduced the stellar prices of hair restoration procedures too.
Yet the cost of a hair transplant in Sheffield can still be prohibitive. With clinics charging £2-4 per hair, a single session can be up to £15000.
Naturally, the total cost depends on how many hairs you need, and which hair transplant technique you choose.
In addition, the location will impact the price too. Thus, if you are willing to travel for your treatment, you can further lower the prices.
HairPalace has hair clinics in London, Paris and in Budapest. We have the same protocols and policies in place ensuring that your hair transplant experience will be the same at all of our locations.  
Our clinics are equipped with the latest technologies allowing our teams to offer you the highest standards in hospitality and know-how, with spectacular results.
The local salaries and running costs dictate higher prices in the UK. As a result, hair transplant costs at our London clinic range from £1989 to £9042.
Due to economic reasons, providing the same standards costs us much less in Hungary. Consequently, we can offer you much more affordable prices. 
Our comprehensive treatment packages – including the FUE2 surgery, the accommodation and the transfers – are available between £1390 and £2590.
For an accurate quote, please feel free to reach out to our experts!
What hair transplant method do we use?
We use the FUE2 SafeSystem method for such procedures which happens to be the most advanced one to date offering the highest success rate possible.
Similarly to the FUE (Follicular Unit Extraction) method, with this technique the surgeon is able to extract and implant the hairs one by one. However, thanks to its blunt punch and depth-regulating device, it exposes the hair to less damage than before. 
We recommend the FUE 2 SafeSystem method for the numerous benefits it offers:
minimally invasive

completely pain-, and scar-free

provides the highest success rate, with up to 90-95% of the implants growing out

provides high density and natural-looking results

short recovery
Our hair restoration specialists in Sheffield

Good results could not be achieved without our superb hair restoration specialists.

Our 6 highly trained doctors perform FUE hair transplants exclusively. Their fine skills, patient-focused approach and vast experience make them masters of the field.

Together with our team, they are committed to providing customized care to solve your hair loss problems from the first examination to the last check-up.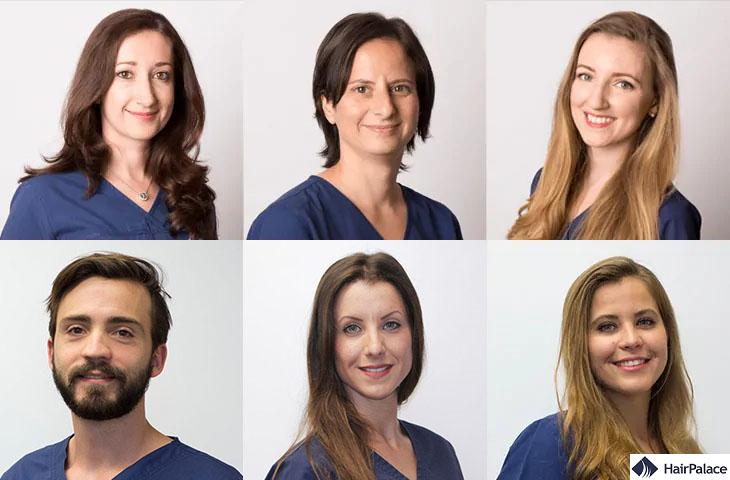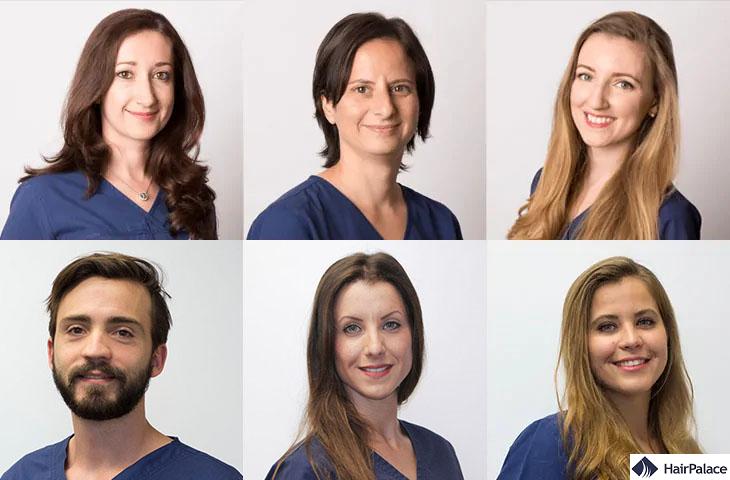 Why choose HairPalace?
More and more people are keen to do a hair transplant, as current methods are promising a stellar success rate and results. Yet, finding the best option is not always easy.
What do we offer you?
Experienced doctors

Each of our FUE hair transplants is carried out by a seasoned surgeon. Our doctors have 5-10 years of experience in hair restoration and they possess the skills and know-how to deliver great results.

Natural hair transplant results

With the FUE2 technique in our experts' hands, we can achieve high density and natural-looking results.

Written guarantee

We offer a written guarantee on every hair transplant. If less than 80% of the transplanted hairs grow out, we reimplant the missing amount free of charge.

No visible scarring

The FUE2 is minimally invasive. Its blunt punch is less than 1mm in diameter. As a result, the procedure leaves no visible scars on the donor area.

Postoperative care

We will provide you with post-op care to help you reach the result you are looking for. There will be 6 check-ups, so your surgeon can monitor your progress in the year after the surgery.

Excellent price

We offer competitive hair transplant prices in Sheffield. Our treatment packages are comprehensive and include accommodation and transfers as well, there are no hidden charges.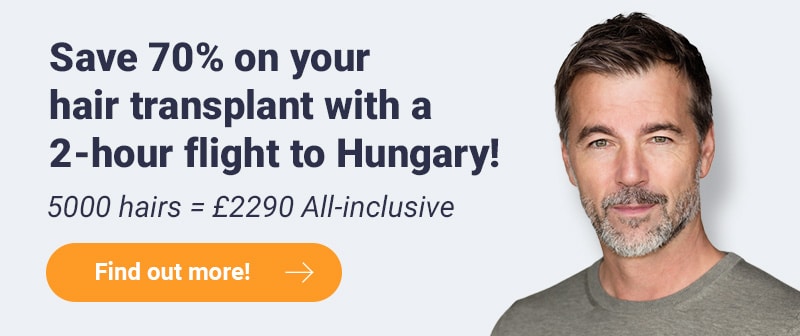 Browse real Sheffield hair transplant reviews
Hair transplantation can be a life-changing experience whether you go for it at a hair clinic in Sheffield, or at one of our centres in London or Budapest. 
We take pride in maintaining high standards while providing our patients with customized treatments and outstanding results.
But don't just take our word for it.
Feel free to browse the reviews from our already satisfied patients!
Best in class
I recently visited HairPalace in Budapest, Hungary and I would highly recommend them to anyone who is thinking of hair transplantation. I did my due diligence and looked at several options before I chose HairPalace and I have to say I did not regret. They are the best from a quality, price, location and customer service point of view.
The entire HairPalace facility, including the patient room, truly five stars. Their customer service is outstanding, the staff is very nice and friendly. Their doctors and assistants are amazing and the whole procedure went well from the very first consultation to all the way through the surgery. Now, after few month post-procedure, I already see the result and I am more than satisfied. Highly recommended clinic!
 SamKal | Jan 28, 2019
Was very anxious going into this procedure, however that was quickly over with as all the staff are very calming and welcoming. I had 4000 hairs and I could not be happier with the result. My hairline is perfect and I'm so glad I chose Hair Palace. Big thank you to the lovely staff for making the experience so easy.
 Samuel | Sep 10, 2017