Hair Transplant in Plymouth: Costs and Services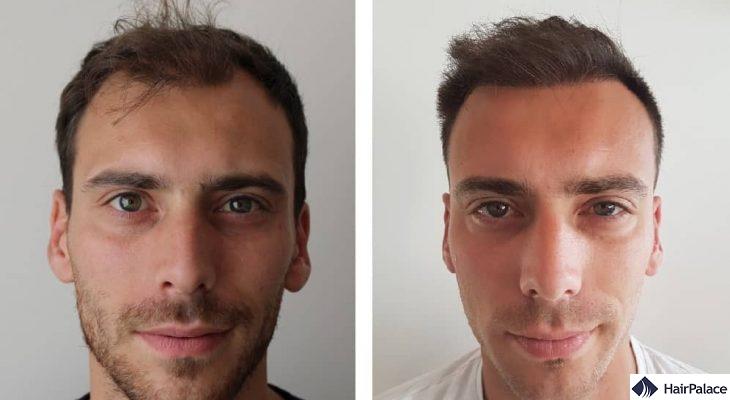 What will a hair transplant in Plymouth cost?
Hair transplant prices are based on a variety of factors, such as the number of follicles required and your chosen restoration technique.
You can expect to pay the same price for a hair transplant in Plymouth as you would anywhere throughout the UK. Typically, this would be £2 to £4 per graft.
HairPalace operates popular hair transplant clinics in both London and Budapest, with prices at the former ranging from £1989 to £9042.
Want to have the best hair transplant in Plymouth but at a price you can afford?
We can help you.
To keep our hair restoration services accessible to all patients, our Budapest team offers the same FUE2 procedures available at our London clinic at a much lower rate.
We're able to do this because of Hungary's lower wages and living expenses.
You'll receive the same dedicated service and amazing results at our Budapest hair clinic as you would in Plymouth or London.
But you'll be paying a fraction of the cost instead: from just £1390 to £2190.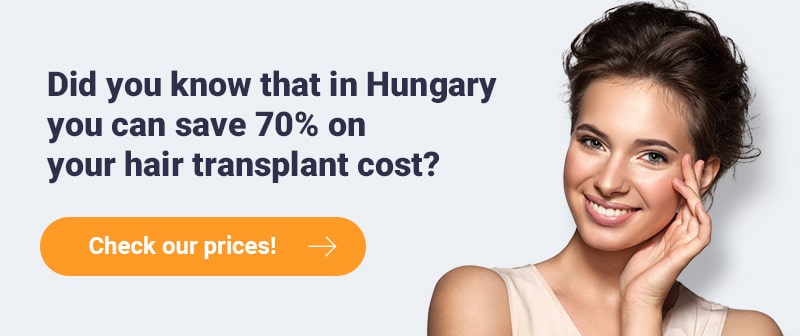 Visit our Plymouth office for a free consultation with hair transplant experts
Start your hair restoration journey with a free consultation at our office in Plymouth.
Our hair transplant specialists will examine your hair density and scalp closely, using a state-of-the-art digital microscope for maximum precision.
We'll explore your needs and discuss what you aim to achieve with your hair restoration procedure. Once we know more about your hair and scalp, we'll create a tailored treatment plan just for you.
This will include key information about your hair transplant, such as an accurate price.
Our experts will be happy to answer questions and offer advice during your one-to-one, private consultation in Plymouth. This will take around 20 minutes.
Advance reservation is vital — book your appointment with our colleagues on +44 20 7131 0229 now.
HairPalace Hair Clinic Plymouth:
Drake Circus, Plymouth
Devon PL1 1EA
United Kingdom
Phone: +44 20 7131 0229
Which hair transplant technique does HairPalace offer?
The team at every HairPalace clinic uses the FUE2 hair transplant method.
This is an enhanced version of the standard FUE technique, and is the most advanced technology available to today's surgeons.
As a result, you'll receive the same exceptional service and results whether you choose our clinic in the UK or Hungary.
Our doctors have years of invaluable experience performing hair transplants with the FUE2 technology, and recommend it for numerous reasons:
it leaves no visible scarring
the procedure is painless
success rates can be as high as 90 – 95%
recovery is short
it's a minimally invasive method
donor areas are preserved effectively
Meet our Plymouth hair transplant specialists
We're proud to work with 6 fantastic doctors, each with the right experience and skills to achieve the best hair restoration results.
You'll have a chance to meet with one of our experts during your free, no-obligation hair transplant consultation in Plymouth.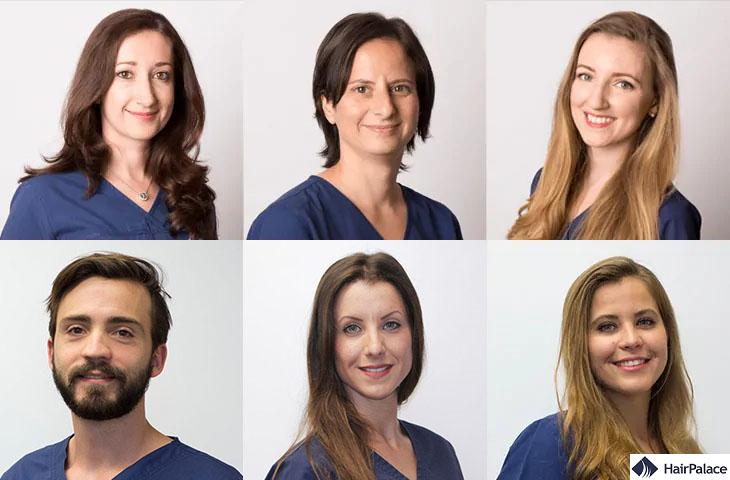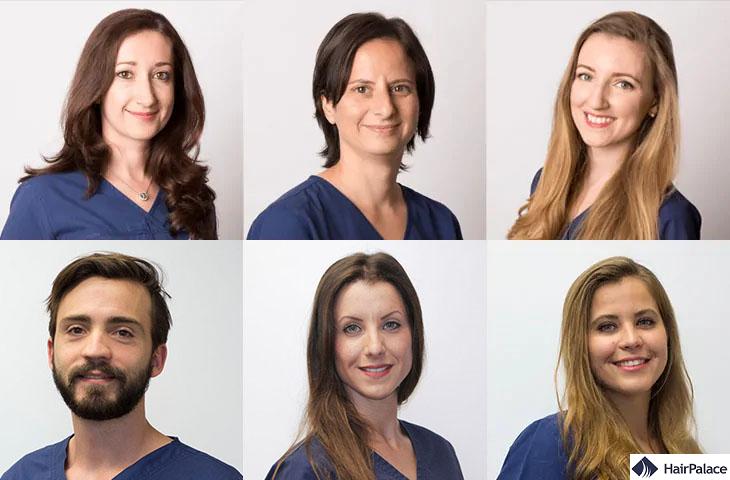 Why should you choose HairPalace for your procedure?
Choosing from so many hair clinics and restoration treatments isn't easy.
But HairPalace is committed to helping you find the ideal hair transplant option for you, based on an in-depth consultation.
We offer you:
Surgeons with years of hands-on experience

HairPalace's doctors have between five and 10 years of experience performing hair transplants. They work with our highly-trained team to bring you tailored solutions and the best results.

Amazing natural results

Using the FUE2 method enables our doctors to achieve high success rates and natural results.

A written guarantee on your hair transplant

We'll provide you with a written guarantee on your hair restoration procedure, as we utilise the most effective technology.

If less than 80% of transplanted hairs grow out as expected, we'll reimplant the missing amount — completely free of charge!

No visible scarring in donor areas

The FUE2 method involves using a cutting-edge micro punch to extract one graft at a time. This leaves no visible scarring in the donor area.

Dedicated post-surgery care

We know proper post-surgery care is crucial to reach the best hair transplant results for each patient.

That's why we'll book you in for six check-ups to make sure your restoration progresses well.

Unbelievable rates

HairPalace offers highly-competitive hair transplant rates in Plymouth, and all costs are covered in our comprehensive packages. Don't worry about hidden charges — there are none.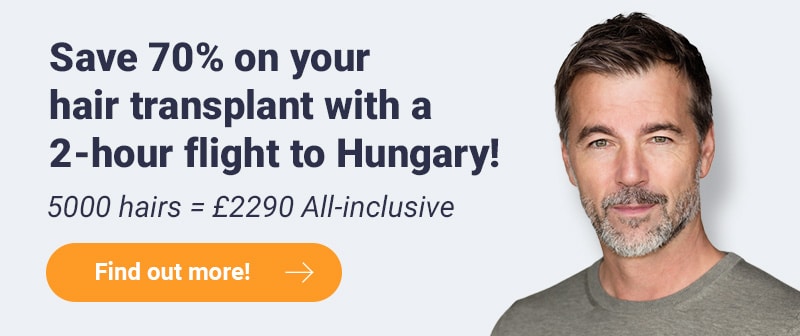 Authentic hair transplant reviews from Plymouth patients
Hundreds of people opt for hair restoration surgery with HairPalace every year.
We've amassed many public testimonials from patients on Google, Facebook, and Trustpilot, which inspire our team to maintain the highest standards of service.
Check out hair transplant reviews from patients in Plymouth to learn more about the results you can expect!
When searching for a suitable surgery to have my hair transplant I had struggled to avoid the many shifty sales people that were coming my way, offering £2-5k discounts within seconds of meeting me.
This gave me such a low amount of confidence with the procedures they were offering.
As soon as I met the team at HairPalace I could see that they not only had confidence with themselves and the procedure but with the price they were offering as well, which was a vast improvement on the prices I received in the UK I might add even when including flights/ transfers and accommodation.
I knew that these were the right people to conduct the surgery and I wasn't wrong.
From the initial consultation to the aftercare spanning 12months after the transplant, I am unbelievably happy with my hair and I am so glad that I had the surgery done at HairPalace.
I would recommend the team at HairPalace over and over and if I were to ever need further surgery I would 100% be using these guys.
Thank you HairPalace!
 Joey Worden | Oct 18, 2020
I liked the entire staff of the clinic, they were helpful in any possible way and very attentive the patients asks.
The entire treatment was thoroughly guided and explained. The doctor in charge of the treatment was professional and empathetic.
The support stuff did an amazing job as well.
Well done!
 Nikolay Tretyakov | Mar 5, 2020