Hair Transplant in Huntingdon: Costs and Services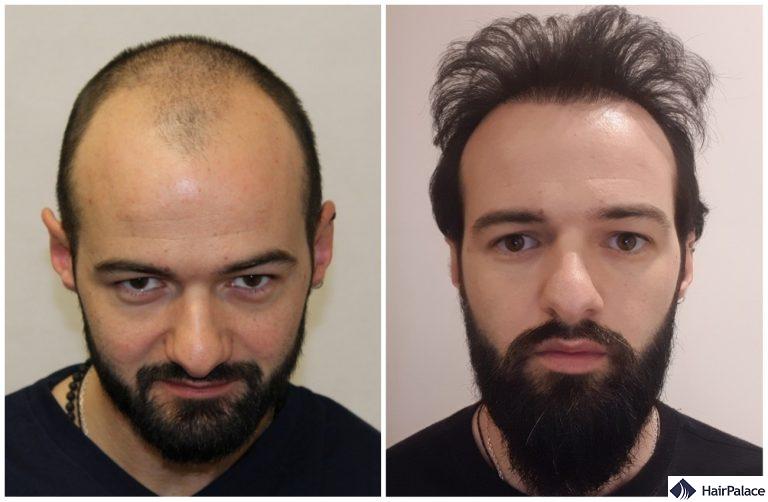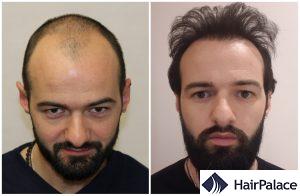 Emilien
Number of hair transplants: 1
Number of transplanted hairs: 6203
Emilien contacted us in 2017, because he wanted to regain the density of his frontal hairline. The revolutionary FUE2 hair transplant method made his wish become true. He was glad to see the dense result!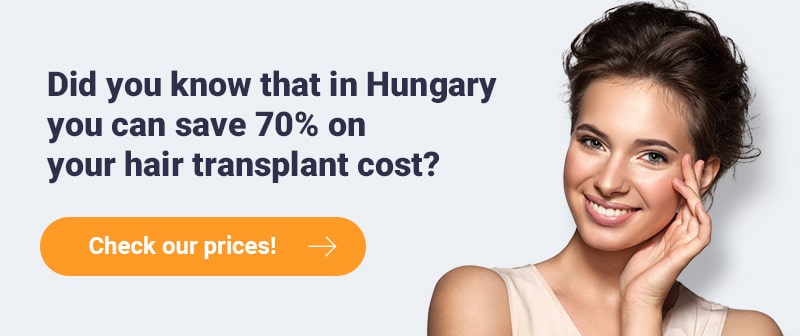 Free hair transplant consultations available at our Huntingdon office
Meet hair restoration experts and learn more about our procedures with a free consultation at our office in Huntingdon.
First, HairPalace's specialists will examine your hair density and scalp using a digital microscope.
We'll explore your personal hair needs, and discuss what you would like to achieve with your treatment. Gathering this information enables our experts to create a treatment plan tailored to you.
This will include all the essential details about your procedure, such as the price.
During your consultation, we'll also answer any questions you may have regarding hair transplants, results, pricing, and more.
Your no-obligation, free hair transplant consultation in Huntingdon will take approximately 20 minutes.
Advance reservation is required — book your appointment with our colleagues on +44 20 7131 0229 today.
HairPalace Hair Clinic Huntingdon:
Ermine Business Park Gibson House
Huntingdon, Cambridgeshire PE29 6XU
United Kingdom
Phone: +44 20 7131 0229
What does a hair transplant in Huntingdon cost?
Hair transplant costs are based on several factors, from your chosen technique to the number of follicles necessary for satisfactory growth.
You'll pay the same amount for a hair transplant in Huntingdon as you would anywhere across the UK: usually from £2 to £4 per graft.
We operate hair transplant clinics in London and Budapest, with our prices in London ranging from £1989 to £9042.
Do you want to get the best hair transplant in Huntingdon for a more affordable price?
We have the solution.
To keep our hair restoration procedures as affordable as we can, our Budapest clinic offers the same cutting-edge FUE2 technique as our London team, but at a substantially lower rate.
Hungary's lower wages and living expenses enable us to maintain such competitive pricing.
You can still expect to experience the same outstanding service and results as you would at a hair transplant clinic in Huntingdon or London. You'll just pay much less for it.
Our Budapest clinic's FUE2 hair transplants range from just £1390 to £2590.
Which hair transplant method do we use?
Surgeons at every HairPalace clinic undertake hair transplants using the latest FUE2 method.
This is an improved version of the standard traditional FUE technique, and is the most advanced in the industry.
As a result, you can rest assured that you'll receive the finest patient care and incredible results, no matter which HairPalace clinic you decide to visit.
Our hair transplant surgeons have vast experience of performing FUE2 procedures, and are happy to recommend it for the benefits it offers:
no visible scarring
it's painless
success rates are up to 90 – 95%
short recovery period
FUE2 is minimally invasive
effectively preserves the donor area
Meet our hair transplant doctors in Huntingdon
HairPalace works with a team of six hair restoration surgeons. They have the experience and skills to achieve stunning results, using the most advanced technology.
You'll be able to chat with one of our experts during your free hair transplant consultation in Huntingdon. They'll discuss your procedure in detail and answer all of your questions.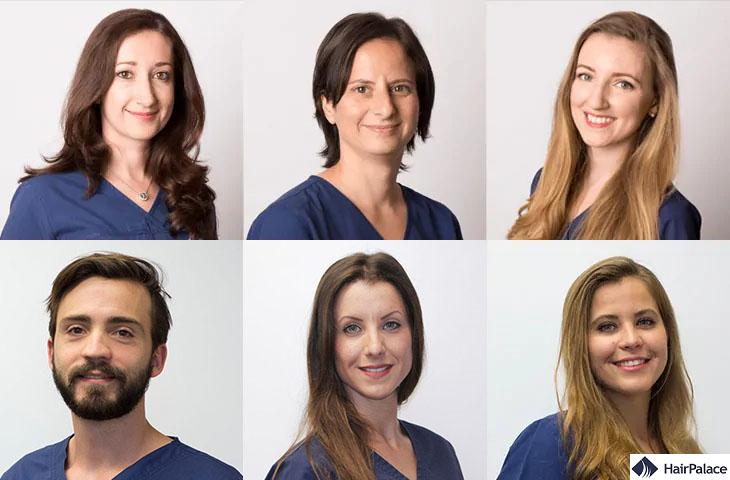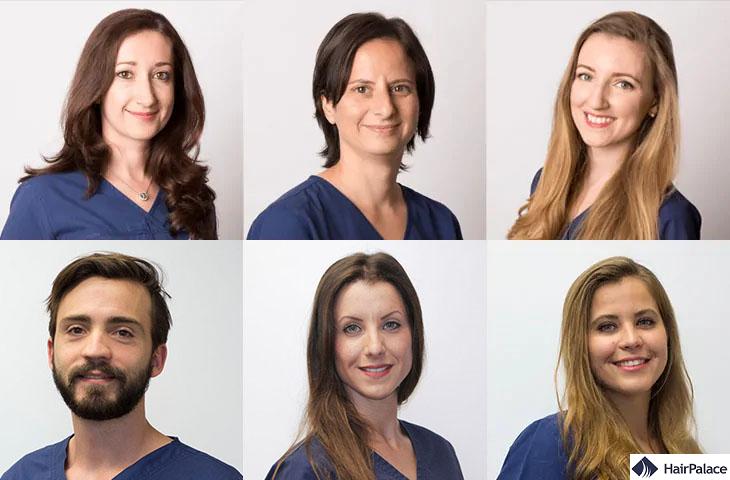 Why should you visit HairPalace for your hair transplant?
With so many hair restoration clinics and treatments available, you might struggle to choose just one. But HairPalace's team is committed to giving you the information you need to find the ideal solution.
What can we offer?
Surgeons with extensive experience

Our surgeons have five to 10 years of experience in hair restoration. They're dedicated to achieving the best results for every patient, working closely alongside our team.

Natural, seamless results

Our doctors utilise state-of-the-art FUE2 technology to achieve incredible success rates and provide natural, dense hair restoration results.

Written hair transplant guarantee

As the FUE2 procedure is so effective, HairPalace offers a written guarantee on your treatment. If less than 80% of the transplanted hairs grow out, we'll reimplant the missing amount — completely free of charge.

We leave no visible scars


Our doctors extract a single graft at a time using an innovative micro punch. This leaves no visible scarring in donor areas.

Proper aftercare

We know that good postoperative care can help to achieve the best hair transplant results. So, we'll schedule six check-ups to examine your progress and monitor your hair growth.

Affordable rates

We offer highly-competitive hair transplant prices in Huntingdon. Our FUE2 packages cover all costs, with no hidden fees.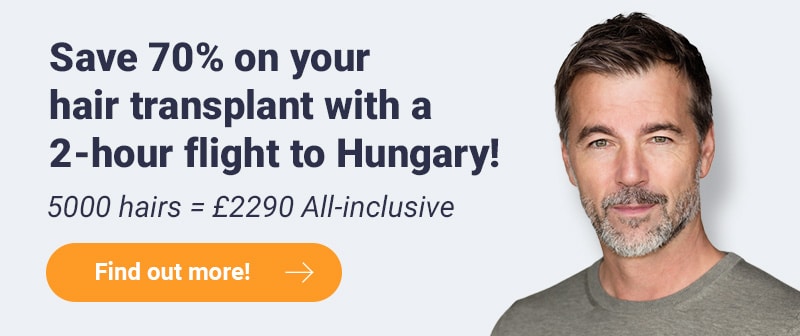 Hair transplant reviews from Huntingdon patients
Every year, HairPalace deals with hundreds of patients looking for the best hair transplants.
We have earned a large library of public patient testimonials on Trustpilot, Google, and Facebook.
These patient reviews can give you a better idea of what to expect when you choose HairPalace for your hair restoration treatment.
They also encourage our team to continually provide every patient with service of the highest standard. Read our genuine hair transplant reviews from Huntingdon patients now!
Its now 6 days since my surgery at the Hair Palace Clinic Budapest, and i honestly and truly cannot thank Dr Attilla and his team enough for the whole procedure, was very apprehensive at the begining, about going to another country to have this surgery, but any worries i had soon disappeared after meeting Dr Atilla and his team.
They are the upmost professionals , and make you feel like you are one of there family, the team made the whole procedure quite an enjoyable experience, its virtually pain free, you can feel the first couple of injections, but from then on the whole process is completely pain free.
Hair Palace have everything organised for your visit to there clinic in Budapest, from picking you up promptly from the airport and taking you directly to your excellent accommodation, were you have everything you need for your stay, there.
I would 100% recommend Hair Palace to anyone who is looking to have a hair transplant, the whole team really are true professionals, and make you feel totally comfortable for your entire stay in Budapest, i had 6100 grafts, and cant wait to go back there next year for another 1000 grafts.
I wholeheartedly believe that Hair Palace is one of the finest hair transplant clinics in Europe, if not the very best in Europe, i rate them 10/10.
Alan | Nov 26, 2019