Hair Transplant in Horsham: Costs and Services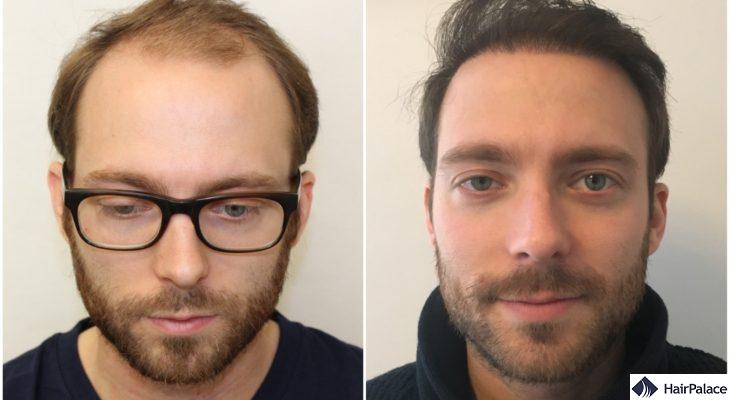 What does a hair transplant in Horsham cost?
Multiple factors determine the price of a hair transplant, including your chosen technique and the number of follicles required to achieve effective growth.
You can expect to pay the same price for a hair transplant in Horsham as you would in other cities across the UK. Typically, this ranges from £2 and £4 per graft.
We operate hair clinics in London and Budapest, with our London packages priced between £1989 to £9042.
Want to find the best hair transplant in Horsham for a more affordable price?
We have the ideal solution.
At our hair clinic in Budapest, our hair restoration doctors provide the same innovative FUE2 procedures as the team at our clinic in London. But you'll pay a far lower rate.
Hungary's lower living expenses and wages enable us to offer such competitive deals. You'll still receive exceptional service and amazing results, just as you would at any hair transplant clinic in Horsham or London. The only difference is the cost.
You'll pay just £1390 to £2190 for a hair transplant with our surgeons in Budapest.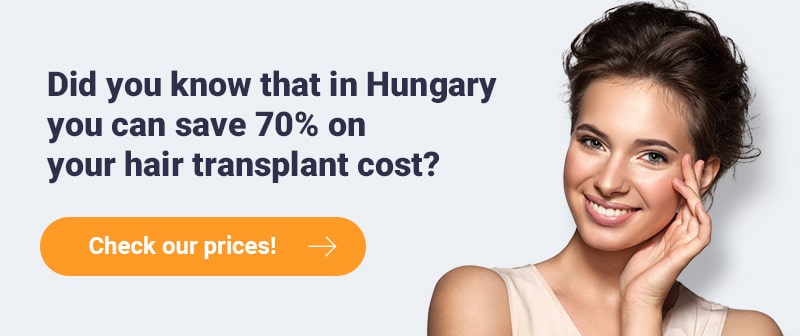 Get your free hair transplant consultation at our Horsham office
Visit our office in Horsham for a free, no-obligation consultation with our hair restoration experts. We'll examine the condition of your hair and scalp using a state-of-the-art digital microscope.
Next, we'll perform a thorough assessment of your hair transplant needs and discuss what you would like to achieve with your treatment.
Once we have this key information, we'll create a tailored treatment plan for you. You'll find essential details about your hair transplant within this plan, including an accurate price.
Your consultation will last around 20 minutes, so feel free to ask any questions you might have about your procedure.
Advance reservation is necessary for all consultations — speak with our colleagues and book your appointment on +44 20 7131 0229 today.
HairPalace Hair Clinic Horsham:
Worthing Road Afon Building
2nd Floor Worthing Road
Horsham, West Sussex RG12 1TL
United Kingdom
Phone: +44 20 7131 0229
What hair transplant method does HairPalace offer?
Our experienced doctors utilise the cutting-edge FUE2 hair restoration procedure for the best results. This is an improved version of the traditional FUE method, and is the most advanced transplant option available to our surgeons today.
Every HairPalace clinic team is driven to deliver the best hair transplant experience, so you'll receive unparalleled service and results whether you visit our UK or Hungary clinic.
Our hair restoration doctors have years of experience of performing FUE2 treatments. They recommend this for patients based on several major benefits:
no visible scarring in the donor area
the treatment is painless
success rates reach as high as 90 – 95%
short recovery periods
FUE2 is minimally invasive
effective preservation of donor areas
Working with Horsham's best hair transplant specialists
HairPalace works with six experienced hair restoration doctors. They have the right skills and knowledge of the latest transplant technology to achieve amazing results.
You can discuss your procedure with one of our specialists during your private, free consultation at our Horsham office. Book yours today!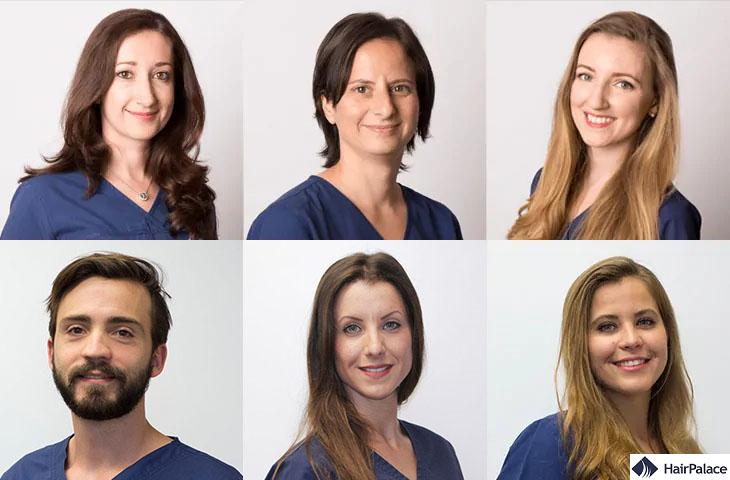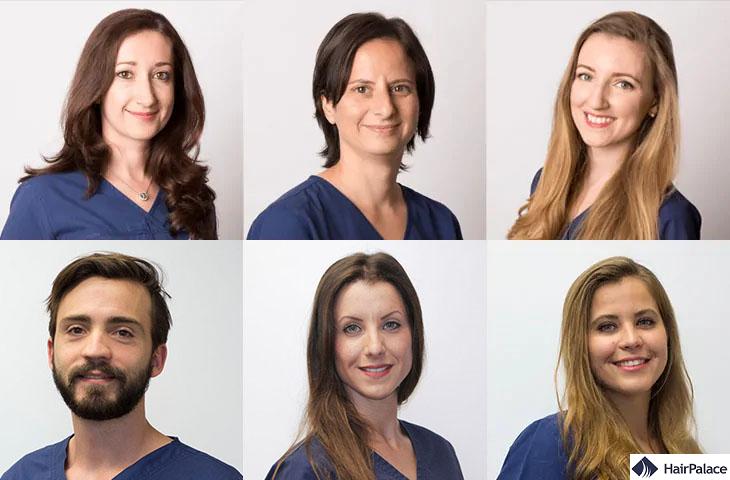 Why choose HairPalace for your hair restoration?
The variety of hair transplant clinics and treatments available can make picking a package harder than you might expect. But we'll help to make your decision easier by providing all the advice you need.
What can we offer you?
Hair transplant doctors with valuable experience


HairPalace's surgeons have from five to 10 years of experience providing patients with the best hair transplants. They work closely with our highly-trained team to tailor packages to every patient.

Dense, natural hair restoration results

HairPalace's doctors can reach remarkable success rates and achieve stunning, natural hair transplant results.

Written guarantee on your treatment


As we use the latest FUE2 technology, we offer a written guarantee on our procedures. So, if less than 80% of your transplanted hairs grow out, we'll reimplant the missing amount for free!

Donor areas free of visible scars


HairPalace's doctors extract grafts one at a time during FUE2 transplants, using a highly-accurate micro punch. As a result, your donor area will be entirely free of visible scarring.

Dependable aftercare


We understand that good post-surgery care is vital for achieving the best hair transplant results. So, HairPalace will arrange six check-ups to examine your progress and answer your questions.

Affordable rates


Our hair transplant in Horsham rates are highly competitive. And as our packages cover all costs, you have no hidden charges to worry about!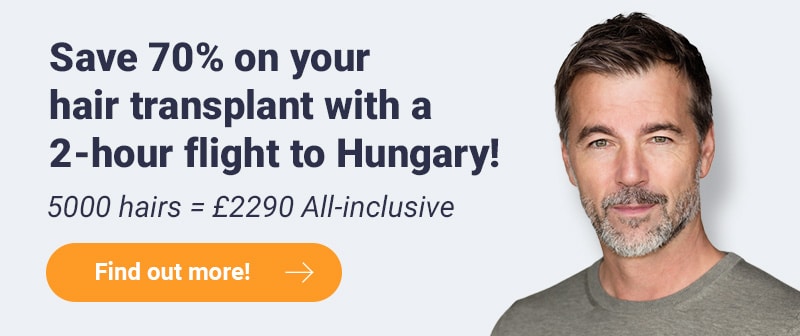 Real hair transplant reviews from our Horsham patients
Hundreds of people choose HairPalace for hair transplants every year. This means we have a vast selection of public patient testimonials across Trustpilot, Facebook, and Google for you to read.
Take a look to learn more about the service and results you can expect when you choose HairPalace. This feedback also motivates us to work at our best and achieve the finest results for each of our patients.
Check out real hair restoration reviews from our Horsham patients now!
I am 2 weeks post-op and feeling better every day. My surgery was stretched over 2 days and I received 5000 hairs. Before the surgery I spent a lot of time researching various options and clinics and I am glad I did.
The communication with this place was fast and professional from start to finish. Everything was well organised, pick up from the airport, hotel reservation, reception at the clinic. Upon arrival I first had a chat with the coordinator who walked me through all the steps. She was kind of like a personal assistant and available at all times throughout the 2 days. Then I spoke with the doctor who reevaluated my hair situation in person.
She concluded that instead of 6000 (which was suggested after evaluation of my photos), only 5000 were needed. My overall impression of the clinic: Professional. A modern office building, clean and modern equipment.
Same goes for the doctor. The same doctor was with me for both days, she was supported by 2 assistants. The treatment itself was less uncomfortable than expected. The harvesting part I couldn't really feel at all, the local anesthesia took care of that. On the 2nd day the transplantation part was more noticeable but I just kept asking the doctor for more anesthesia when needed. Overall the time pretty much flew by, it was about 3-4 hours each day but they let me watch a movie and listen to music. As mentioned in the beginning, I am only 2 weeks post-op so I can't talk about any results at all.
I can say however that I felt well taken care off as a patient of this clinic. The surgery went smoothly while the staff was nice and knowledgable.
Here are some personal tipps when you head out to get this surgery done (at Hairpalace or at any other place):
1. Bring one of those neck-pillows (as thick as possible!) that people use for flying. In the 1st week you won't be able to sleep otherwise. You will also want to have your own bed and not share it with someone because sleeping is very odd for the first days.
2. You'll look really weird up to 7 days post-op. Especially the hairline in the front and the harvesting area in the back are very visible. And since you can't wear a hat, being in public isn't great. So consider that when you fly home, maybe a couple of extra days in Budapest?
3. If you don't want people at work to know that you had surgery, take 2 weeks off. That's how long it takes for it to be almost not noticeable anymore.
4. Get some aloe vera spray for the harvesting area in the back (I think you'll need to wait a week to apply it but you better ask the doctor. I started using it after a week and it really helped with the dryness and itching).
Las | Aug 6, 2018