Hair Transplant in Chelmsford: Costs and Services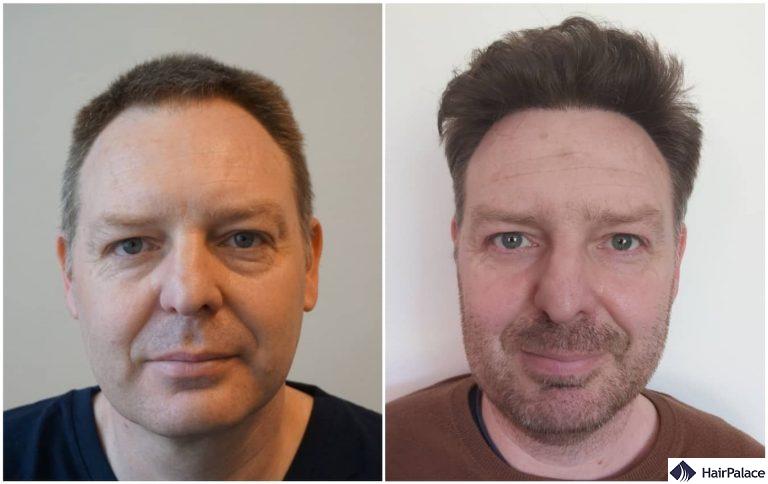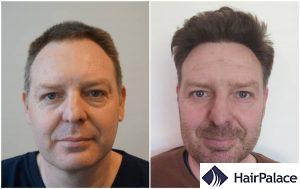 Alain
Number of hair transplants: 1
Number of transplanted hairs: 5308
Alain visited our clinic back in 2019. He told us he had been suffering from hair loss  since years. The outstanding FUE2 hair transplant method made it possible for him to regain the density of his hair!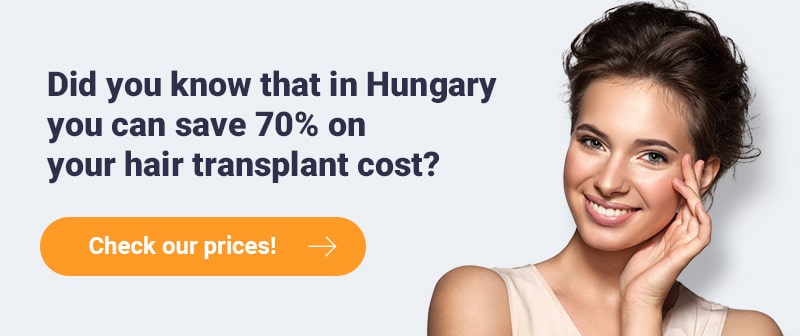 Chelmsford office for a free hair transplant consultation
Begin your hair restoration journey with an expert consultation at our Chelmsford office. Our specialists will start by examining your hair density and scalp carefully, using a high-end digital microscope.
They'll assess your hair growth needs and explore what you want to achieve with your procedure.
Once we have this information, we'll build a unique treatment plan just for you. This will feature crucial information about your hair transplant, including the price.
We'll answer your questions and offer honest advice during this free, no-obligation consultation. It will last around 20 minutes.
Advance reservation is necessary for all consultations — book your appointment with our colleagues on +44 20 7131 0229.
HairPalace Hair Clinic Chelmsford:
Victoria House
4th Floor Victoria Road
Chelmsford, Essex CM1 1JR
United Kingdom
Phone: +44 20 7131 0229
How much is a hair transplant in Chelmsford?
Hair transplant costs vary depending on the number of follicles required for effective restoration, the chosen technique, and other key factors.
You will pay the same amount for a hair transplant in Chelmsford as you would in any other UK town or city: from £2 to £4 per graft.
We have popular hair restoration clinics in Budapest and London. At our London-based clinic, hair transplant prices range from £1989 to £9042.
But what if you want the best hair transplant in Chelmsford at a lower rate?
We have a simple solution.
Our Budapest team offers the same FUE2 hair restoration procedures as we do in London, but for a much more affordable price.
This is just one advantage of Hungary's lower living expenses and wages.
You'll still receive exceptional service and results, just as you would at a hair transplant clinic in Chelmsford or London, without the expense.
You'll pay just £1390 to £2590 for a procedure at our Budapest clinic.
Which hair transplant method is available at HairPalace?
Specialists at every HairPalace clinic use the state-of-the-art FUE2 method.
This improved version of the standard FUE technique represents the best hair transplant technology available.
So, you'll receive incredible service and results whether you choose our hair clinic in Hungary or the UK.
Our surgeons boast years of experience in FUE2 hair restoration treatments, and recommend it to patients for the following reasons:
no visible scarring
the treatment is painless
its success rates reach as high as 90 to 95%
recovery is short
it's minimally invasive
donor areas are preserved effectively
Meet our Chelmsford hair transplant experts
HairPalace works with a team of six doctors specializing in hair restoration procedures.
They have vast experience performing hair transplants, and are committed to achieving the best results for every patient.
You'll have an opportunity to meet one of your surgeons during your free hair transplant consultation at our Chelmsford office.
They'll help you make an informed decision.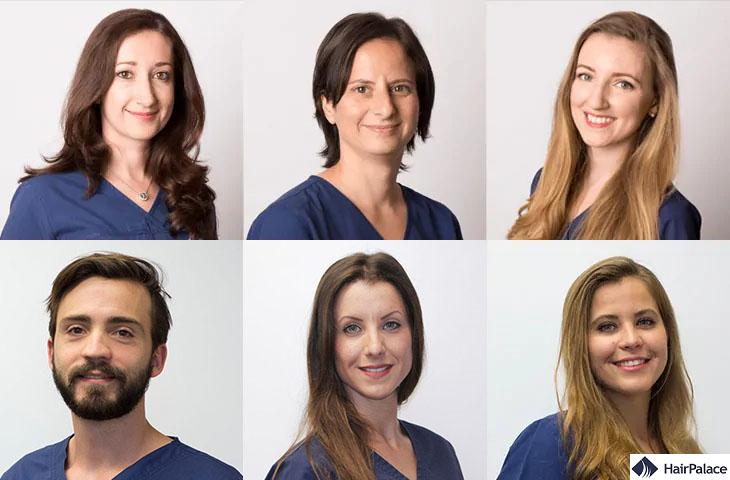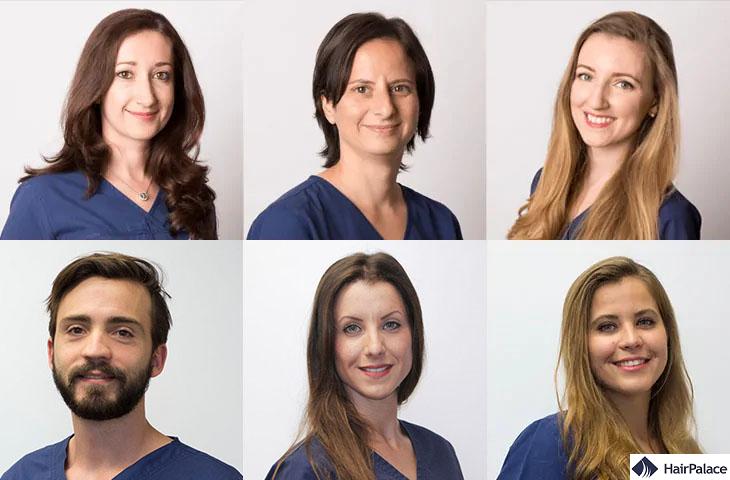 Why should you choose HairPalace for your procedure?
Finding the right hair clinic and treatment for you can be difficult with so many to choose from. But HairPalace is committed to helping you pick the ideal procedure for your hair restoration goals.
What does HairPalace offer?
Doctors with the right experience


Our surgeons have five to 10 years' experience of hair transplants. They work closely with HairPalace's team to provide tailored hair restoration treatments and the best results.

Outstanding, natural results

Using the FUE2 technique enables our doctors to reach amazing success rates and create dense, natural results.

Written treatment guarantee


As we have access to the most effective hair restoration technology, we offer a written guarantee on our procedures. So, if less than 80% of the transplanted hairs grow out, we'll reimplant the missing amount — totally free of charge!

FUE2 leads to no visible scarring


During FUE2 treatments, doctors extract grafts one by one with a highly accurate micro punch. This leaves no visible scars on donor areas.

Committed post-surgery care


We know effective aftercare is a must for cultivating the best hair transplant results. That's why we'll invite you to join us for six check-ups following your procedure, and evaluate your progress carefully. We'll also be here to answer any of your questions.

Competitive rates


HairPalace's hair transplant prices in Chelmsford are incredibly competitive. Our packages cover all of your costs — there are no hidden charges.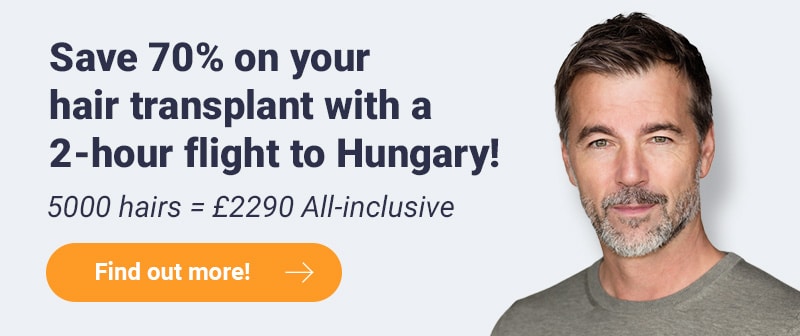 Hair transplant reviews from Chelmsford patients
Hundreds of people visit HairPalace for the latest hair transplants every year.
As a result, we have a vast range of public patient testimonials on Google, Facebook, and Trustpilot.
These can help you understand our services and the results you can expect a little better. They also motivate us to maintain the highest standards of service at every HairPalace clinic.
Browse our hair transplant reviews from Chelmsford patients to learn more now!
Only just completed my procedure today but leading up to the op pretty much everything has been 5Star, from the communication prior to my intervention, the transport driver who was friendly and hotel accommodation which was situated in a very good location. The day of the procedure itself ran smoothly, the staff explain everything you need to know, you are given a decent meal to choose from and entertainment options to watch during the second phase of the actual implantation of the grafts. Of course I'll have to wait and see how my implanted hairs grow in the next coming months but going from previous reviews I am really looking forward to my results and hopeful the procedure worked well for me. As my natural hairline has not receded as severe as other patients I am aware there may be further hair loss which was explained to me, so there is a possibility I could be back in the future.
 John S | Nov 8, 2019
This is my second time here and the service is brilliant and last result i had was really good and that was the front. This second time they made the crone area and so far it looks likes, its going to be a very good result. I would definitely recomend hairpalace. They actually did both crone area and a little more at the front. Thanks Hairpalace 🙂. Brian from Denmark.
 Brian | Oct 18, 2019