Hair Transplant in Cardiff: Costs and Services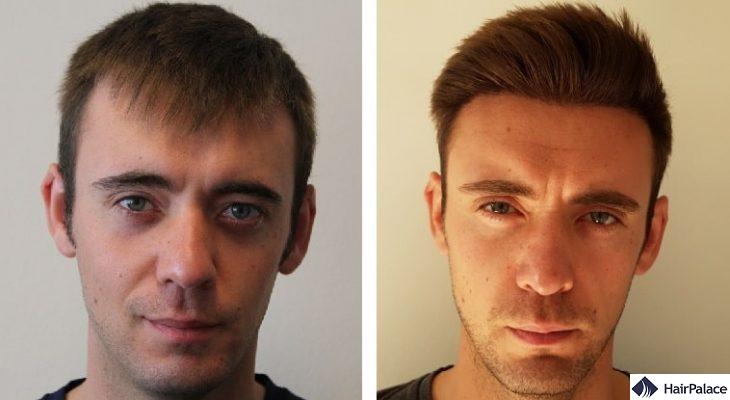 Hair transplant costs in Cardiff
One of the first things that come to people's mind about hair transplant costs is that if Rooney had one, the price must be stellar. 
While such aesthetic treatments have become more affordable, quotes from a hair clinic in Cardiff, Manchester, or London will still show relatively high prices.
The number of hairs you need and the technique will affect the total cost, however, the economic situation also plays an important role.
We carry out hair transplants in London, Paris and Budapest. But no matter the location, you will have the same experience. 
We have set the same standards and protocols, and our clinics are eager to host you in an exclusive environment with caring staff.
At our London clinic, FUE hair transplants cost between £1989 to £9042.
As the running costs of a private hair loss clinic are much lower in Hungary, at our flagship clinic in Budapest you can find even better prices.
Our comprehensive treatment packages – including the surgery, accommodation and airport transfers – range from £1390 to £2190.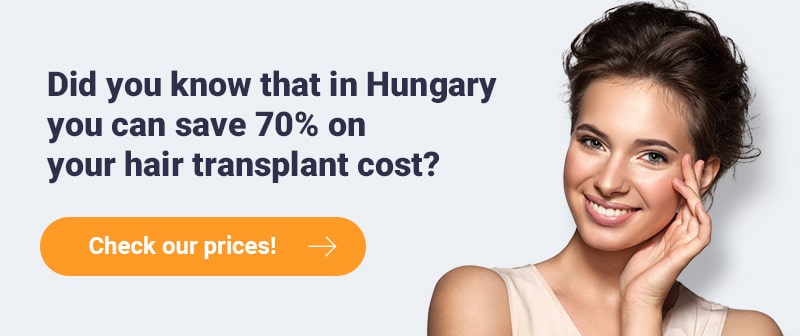 Visit us for a free hair transplant consultation
Making a decision about your hair transplant in Cardiff is not easy. 
As the first step in your journey, we recommend a free consultation with our hair restoration experts to get all your questions answered.
The personal assessment takes 20 minutes – one of our surgeons would examine you with a hair density and scalp camera. This way we can determine if you have the donor area to achieve great results in the area of your concern.
Then, knowing your expectations and the quality of your hair, the doctor will be able to tailor the treatment to your needs. 
Additionally, you will have a treatment plan and quote on you, that elaborates on the procedure to solve your hair loss problem.
If you have any questions, or you'd like to book an appointment, please give us a call on +44 20 7131 0229!
HairPalace Hair Clinic Cardiff:
Falcon Drive
Cardiff
CF10 4RU
United Kingdom
Phone: +44 20 7131 0229
Which hair transplant method do we use?
Nowadays, looking for a hair transplant in Cardiff, you can choose from 3 techniques: FUT, FUE or FUE2. 
At HairPalace clinic we use the most modern FUE2 method to restore your thinning hair. It is the result of years of rigorous development to further refine the FUE (follicular unit extraction).
Similarly to its predecessor harvests the follicular units individually from the donor area at the back of the head.  However, thanks to its blunt-headed drill it offers the higher success rate, with usually 90-95% of the implants growing back.
Furthermore, the FUE 2 SafeSystem method is:
completely pain-free

doesn't leave visible scars

provides the highest success rate in the hair transplant field

the results will look more natural as the surgeon can mimic the natural density

decreases recovery time 
If you have any questions about the procedure, do not hesitate to contact our office and ask for a consultation appointment. Our consultants would be happy to answer all of your questions.
Our hair transplant experts in Cardiff
At HairPalace, the entire procedure is performed by highly trained doctors. They have 5-10 years of experience and specialise in surgical hair restoration.
Together with our seasoned assistants, they are committed to delivering outstanding care and excellent hair transplant results.
Their expertise is available from the consultation through the post-op period to ensure that you experience the optimal hair growth.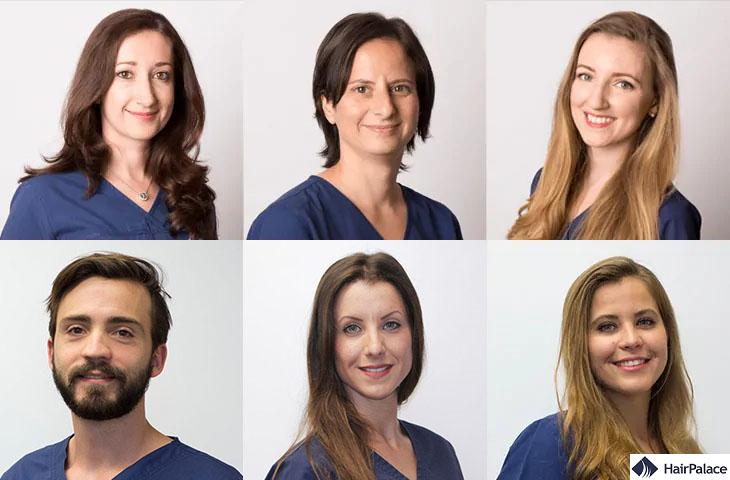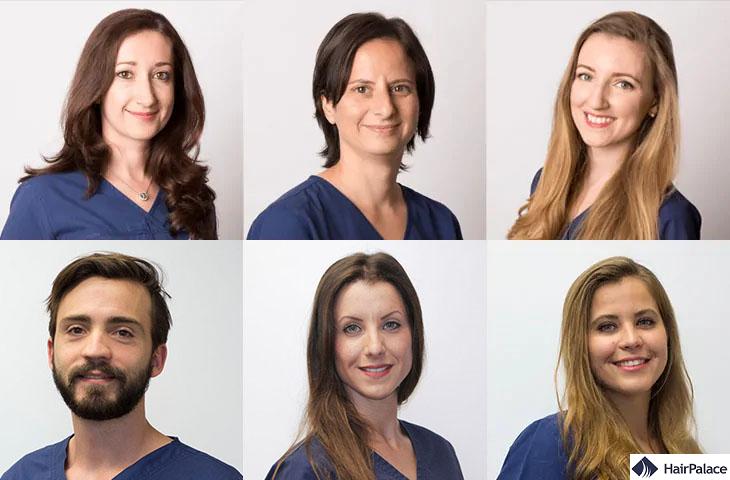 Why choose HairPalace?
Choosing the best hair clinic in Cardiff will surely take a lot of consideration.
HairPalace has been offering high quality yet affordable options for patients from all across Europe for more than 10 years.
Here is what we can offer for you:
Experienced surgeons

We only work with skilled and qualified doctors who have the necessary experience to provide excellent care and results.

Natural-looking results

The FUE2 technique allows us to build up high density and create a natural look that patients expect and deserve.

Written guarantee

Thanks to the combination of the FUE2's high success rates and our doctors' skill and experience, we give a written guarantee on the hair transplants.

Scar-free, painless procedure

We use local anaesthesia to make the hair transplant painless. In addition, thanks to the blunt micro punch used for the extraction, the procedure will not leave visible scars.

Post-op care

After the surgery, it takes 1 year for all the implanted hairs to grow back. It is only natural to have questions at one point or the other. There will be 5 check-ups (available in-person or online) and your doctor and team will remain available to help you.

Excellent price

We offer quality care and service, meeting the highest standards of this industry. With our comprehensive treatment packages, you don't need a football legend's paycheck to afford hair transplantation.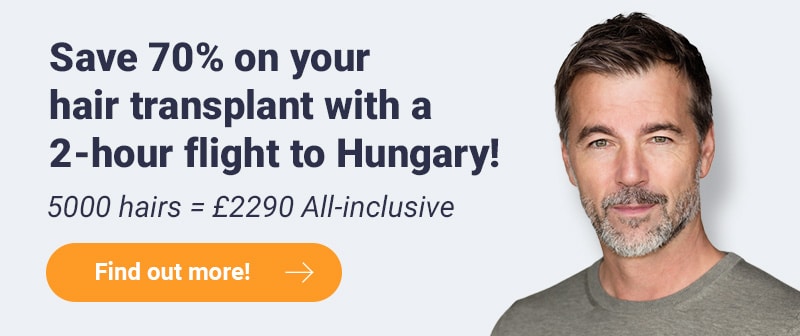 Hair transplant reviews from Cardiff
We are dedicated to providing excellent service whether you are looking for a hair transplant in Cardiff, London or Budapest.
But don't just take our word for it.
Many of our satisfied patients did not hold their opinion back, take a look at some of their reviews:
Very friendly, polite and professional team. Clearly highly competent and experienced in their field of expertise. Every effort was made to make the treatment as comfortable and pleasant as possible. A prerequisite before commencing treatment is to undertake a blood test package at a local clinic to make sure that the treatment is suitable and safe to offer, this inspires great confidence in their responsible approach to medical surgical treatment provision. I didn't have to do this at my other first transplant clinic.
Even the lunchtime food and choice on their menu is excellent.
Finally perhaps most importantly, the cost. Not too many people have many, even tens of thousands of pounds available to afford such treatment. To put things into perspective, I very strongly advise you get a quote from HairPalace because their pricing is simply in a different league.
I Very highly recommend HairPalace to anyone even vaguely considering looking at having a hair transplant procedure, you don't need to look any further than here!
   Chris | Jan 29 2020
From getting picked up at the airport, to simply getting a blood test and then the procedure I was dealt with in a professional manner! English interpreter was first class made me feel comfortable. Walked me through everything I needed and wanted to know. Doctor was gentle and relaxed which builds your confidence!! Apartment was 5star in cleanliness and close to the clinic. Highly recommendable for anyone in doubt.
   Adam Hull | Aug 16 2019