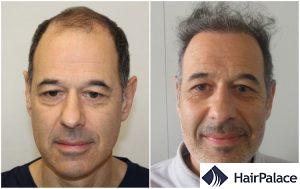 Vincent
Number of hair transplants: 1
Number of transplanted hairs: 4122
Vincent was highly satisfied with the dense result of his FUE hair transplant. With transplanting more than 4000 hairs, we restored his hair's frontal zone. After a year, he told our doctors that he successfully regained his self-confidence too.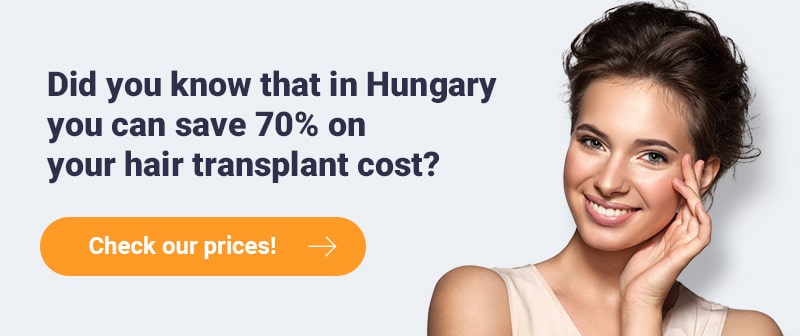 Visit our office in Bracknell for a free hair transplant consultation
Learn more about our hair transplants with a one-to-one consultation at our Bracknell office.
Our experts will use a state-of-the-art digital microscope to examine your scalp and hair density. We'll explore your unique hair growth requirements and discuss what you want to achieve in detail.
Once we have the information we need, we'll prepare a treatment plan tailored to you. This will contain all the must-know details, including the price.
We'll also answer your questions and offer insights into the results you can expect to see. Your no-obligation consultation will take around 20 minutes.
Advance reservation is required — arrange your free consultation with our colleagues on +44 20 7131 0229.
HairPalace Hair Clinic Bracknell:
Venture House, Downshire Way
Bracknell, Berkshire RG12 1WA
United Kingdom
Phone: +44 20 7131 0229
What will a hair transplant in Bracknell cost?
The price of a hair transplant is based on various factors, such as the number of hair follicles required and the technique chosen. Generally, you can expect to pay the same for a hair transplant in Bracknell as you would elsewhere in the UK. This will be from £2 and £4 per graft.
We operate hair transplant clinics in London and Budapest, Hungary. Our London team offers packages for between £1989 and £9042.
Would you like to undergo the best hair transplant in Bracknell at a more competitive rate?
HairPalace has the solution.
Our Budapest hair clinic provides the same cutting-edge FUE2 hair restoration method as our specialists in London — just at a fraction of the cost.
We can do this due to Hungary's lower wages and living expenses. But there's no compromise on quality: you'll still receive the incredible service you would at a hair transplant clinic in Bracknell or London.
Our Budapest hair transplants are available for only £1390 to £2590.
What hair transplant procedure do we use?
Surgeons at every HairPalace clinic use the FUE2 hair transplant method. This is a more effective version of the standard FUE procedure, and is the most advanced option available today.
So, you know you'll receive the best hair transplant results and unparalleled service whether you visit our hair clinic in the UK or Hungary.
Our surgeons have plenty of experience in the latest hair restoration procedures. They're happy to recommend the FUE2 method for patients as it has remarkable advantages over others:
it causes no visible scarring
FUE2 is a painless treatment
its success rates are up to 90 – 95%
it requires short recovery periods only
FUE2 is minimally invasive
donor areas are preserved well
Working with the top hair transplant specialists in Bracknell
HairPalace is thrilled to work with six exceptional hair restoration surgeons. Their vast experience and skills empower them to achieve the best results for our patients.
During your free consultation at our Bracknell office, you can speak with one of our doctors and ask questions about our treatments.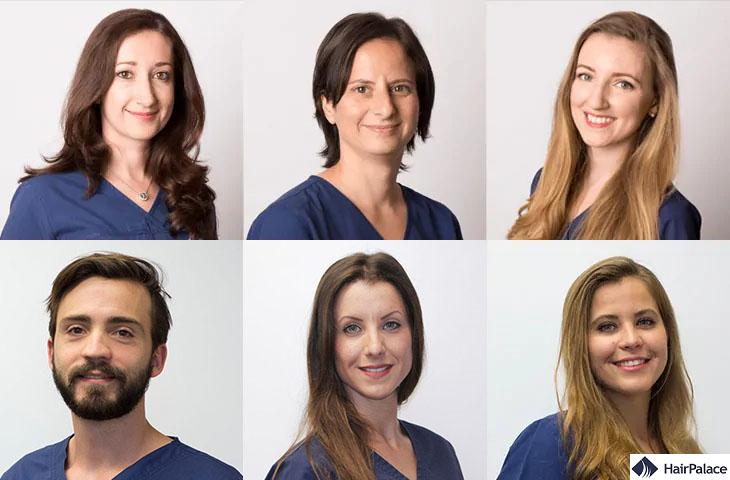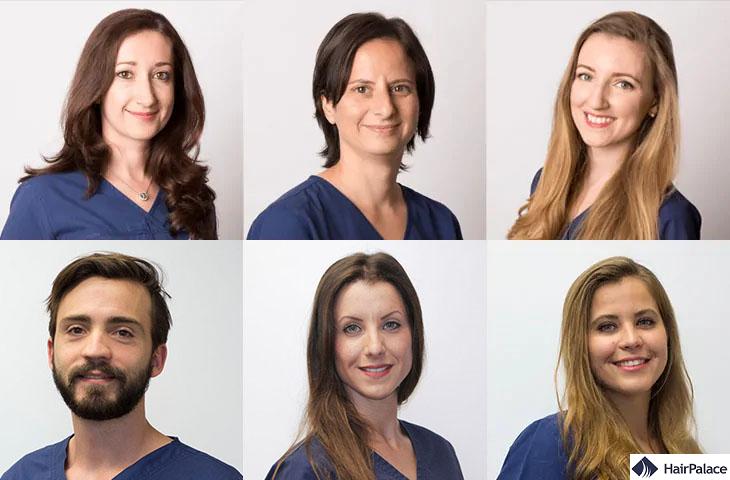 Why choose HairPalace?
Choosing a hair clinic and a restoration method can be difficult with such a huge range of options to consider. But at HairPalace, we want to give you all the information you need to find the ideal solution.
What does HairPalace offer you?
Experienced surgeons


Our doctors have performed the latest hair transplant procedures for between five and 10 years. Alongside our team, they work hard to deliver an unbeatable patient experience.

Natural results

The state-of-the-art FUE2 technique allows us to achieve amazing success rates and natural results for our patients.

Written guarantee on procedures


As we use the most advanced hair transplant technique, we're happy to provide you with a written guarantee on your procedure. If less than 80% of the transplanted hairs grow out, we will reimplant the missing amount — free of charge!

No visible scarring


During innovative FUE2 treatments, our surgeons extract one graft at a time with a precise micro punch. This highly-accurate device leaves no visible scarring on the donor area.

Quality aftercare


In our considerable experience, dedicated post-treatment care is required to achieve the best hair transplant results. We'll schedule six check-ups for you, and monitor your hair growth closely. Our experts will be here to answer questions and offer advice throughout your journey.

Affordable prices


We provide the best hair restoration treatments for highly-competitive prices. All costs are covered in our comprehensive packages, so there are no hidden fees.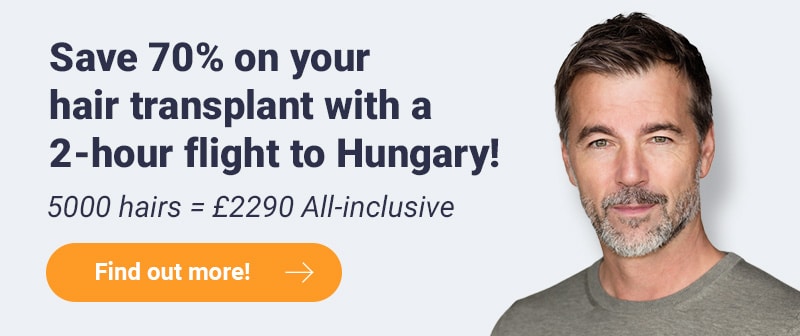 Honest hair transplant reviews from our Bracknell patients
Hundreds of people choose HairPalace for hair transplants every year. You can browse some of the many public patient testimonials available on Facebook, Google, and Trustpilot for honest insights into our treatments.
Our team also finds these reviews hugely inspiring: they encourage us to maintain the excellent standards we're known for.
Want to know more? Check out our hair transplant reviews from real Bracknell patients today!
Hey just wanted to give an update since I had my procedure back in Nov 17. It's been just over 4 months now since the op and I still don't think it's sunk in how smoothly the whole experience has been and how great the results are. I'm still only in month four but tbh even if the current stage of my hair growth was the end result I would be happy. Knowing that my hair is still growing and continuing to get thicker just amazes me . I will be honest I did struggle abit after the procedure but this was nothing to do with hair palace just with my confidence. My biggest fear for years was that sooner or later I would have to shave my head and everyone would see my receding hair. It was basically my biggest insecurity on full show for everyone to see but I just thought about the end result and it got easier . I suffered with low confidence because of my hair for years and would always envy the guys who didn't have to constantly style their hair in a certain way to hide the bald bits and I would also envy the guys who were confident enough to just shave it off and not care what people thought but unfortunately this wasn't me. I truly believe this is the best thing I've ever done it feels like a weight has been lifted off my shoulders and I want to thank all the staff at hair palace for literally changing a big part of my life and giving me the confidence back I lost If anyone reads this who is affected by hairloss I would really recommend a hair transplant with hair palace you really won't regret it
Ryan Dowdeswell | Mar 16, 2018
This is my second hair transplant, my first was fUT in 2013, Then I went with Ziering, results weren't good and they actually tried to extract 400 Euro extra off me juring the procedure, which I gave after one of them marched me to hotel to hand over, but got it back when I complained once home, this time I went with FUE, amazing experience and constantly looked after from very friendly staff, from the start even before flying out to Budapest I was told exactly how things would go, from the taxi waiting for me at the airport the night before, I was met by friendly staff, I had a choice of 4 types of menus from around the world for lunch, amazing food, procedure was over 2 days from 8am-2pm, everything was of high standard, they answered any worries I had, everything was pain free and I am so glad I chose this company. I would recommend 100%
 stephen mcgennity | Mar 2, 2018