Essential Hair Care Tips for Men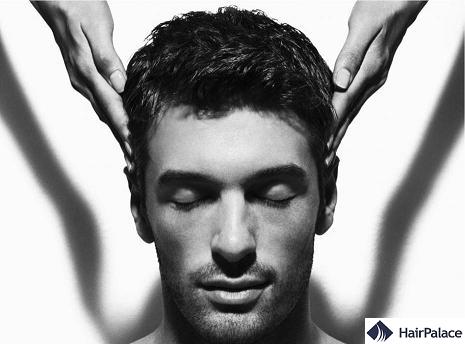 A strict hair care routine is a must for men looking to keep their hair healthy for years to come.
Hair loss can be an incredibly tough thing for any man to face at any stage in life, but an effective routine will maintain the hair's appearance and strength. However, there's so much information and so many products out there, how do you know where to start?
Below, we'll explore the best ways to look after your hair, scalp, and more!
How do I know my hair type?
Though each scalp is different, your hair belongs to a specific type: your hair may be dry, oily, thin or thick.
If you have dry hair, common problems are a dry scalp and dandruff. An effective way to treat dry hair is to use shampoos formulated for your type, which will nourish the scalp and add moisture.
For oily hair, try washing it less frequently: this will help to decrease the greasiness, as washing too much stimulates the scalp's oil glands.
Have thin hair? Requesting a one-length haircut from your stylist can help to add volume, and it may become stronger when cut short. On the other hand, thick hair can be cut in layers to reduce its bulkiness.
How do I take care of my scalp?
You can follow a few easy steps to maintain a healthy scalp and combat potential dryness or balding.
First and foremost, you have to choose your shampoo wisely. There are plenty of shampoos on the market, many of which are made from natural ingredients only, though not every single one will suit your scalp.
Pay attention to the type of hair the shampoo is made for (dry, oily, fine etc.). Don't just grab anything off the shelf — take the time to study the ingredients and intended hair type.
Avoid experimenting with too many different shampoos too, especially those containing chemicals. Too much exposure to these can contribute to hair loss and unhealthy hair.
Another key step is to reduce the water temperature when washing your hair. Having the water too hot can strip the hair's essential oils, causing extreme dryness and exacerbating dandruff.
Once you've washed your hair, be careful with your towel: being too vigorous may be harmful. Your hair is even more vulnerable to damage when wet, and can break under excessive force.
Take care to stroke your hair with a towel in the direction in which it grows, gently. Avoid blow drying too, which can leave hair and the scalp overly dry.
How do I choose the right hairstyle?
Choosing the right haircut and style for your everyday life is a key part of your hair care routine.
Picking a look that demands much more maintenance than you can make time for, or that is impractical, is a big mistake. Speak to your stylist about your face shape and creating a cut that will highlight your best features. Going too short or too long could be unflattering and unsuited to your overall look.
For example, if you won't have time to wash longer hair as thoroughly as you should, or would want to cover it with chemical-based products, opt for a shorter style instead.
If you start to experience hair loss that cannot be helped by changing your hair routine, diet or lifestyle, hair transplant surgery is the ideal solution. HairPalace's FUE procedures are safe, effective and permanent.
Want to learn more? Give us a call to book your consultation today!