Hair transplant in Switzerland: Costs and Services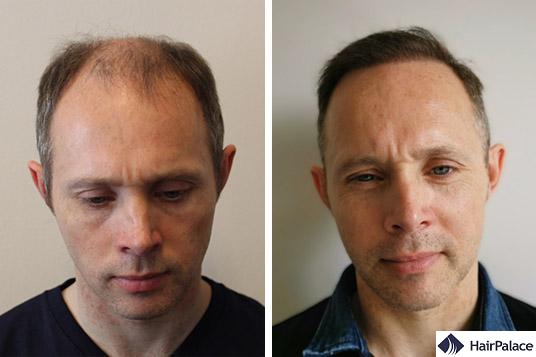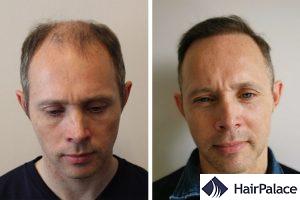 Tom
Number of hair transplants: 2
Total number of implanted hairs: 6983 hairs
With two FUE2 hair transplants, we have restored Tom's hair at the front and top of the scalp. His hair transplant result is dense and natural-looking.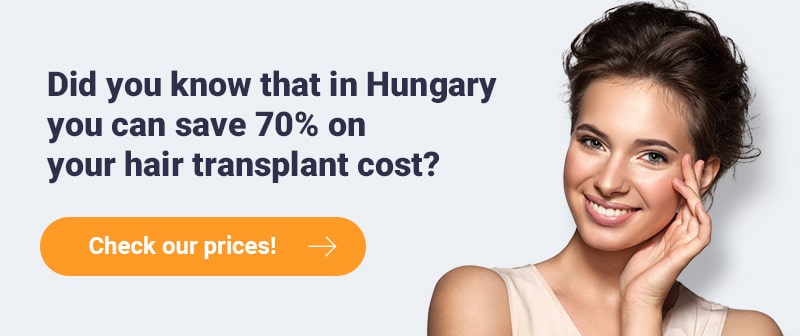 Visit us in Switzerland for a free consultation!
A successful hair transplant in Switzerland will require an approach tailored to your unique needs.
As such, we encourage you to attend an online consultation first from Zürich, Geneva or Liestal. During the online assessment, one of our surgeons would examine your condition. Then, the doctor will discuss your expectations and the available options with the hair transplantations.
Naturally, you will also get all information about the proper aftercare. At the end of the consultation, you will receive a detailed treatment plan and quote tailored to your needs. The examination is free of charge and takes 20 minutes.
For available appointments and further information, please contact us on +44 20 7131 0229.
How much is the hair transplant in Switzerland?
Exploring your options, you will find that the hair transplant cost in Switzerland depends on a handful of factors.
The number of hairs you need, the method, and even the surgeon's person will affect the hair transplant price. On average, a hair transplant in Switzerland costs 5000-9000 CHF.
But many overlook that the clinic's location also heavily affects the prices. HairPalace has a hair transplant clinic in Switzerland, France, the UK and in Hungary too.  While we offer the exact same quality and services, running a high-end private clinic involves vastly different expenses in these countries.
This is reflected in our prices as well:
| Package | Number of hairs to be implanted | Cost of hair transplant in Liestal | Cost of hair transplant in Budapest |
| --- | --- | --- | --- |
| Package 2000 | 2000 | 3490 CHF | 2290 CHF |
| Package 3000 | 3000 | 4889 CHF | 2390 CHF |
| Package 4000 | 4000 | 6289 CHF | 2490 CHF |
| Package 5000 | 5000 | 7690 CHF | 2590 CHF |
Whether you choose our hair clinic in Liestal, London, Paris or Budapest, you can expect excellent care, high-quality treatment and the best hair transplant results.
For an accurate quote and treatment plan tailored to your needs, our specialists need to assess your current condition.
Please feel free to reach out on +44 20 7131 0229 for the available consultation options and further information.
Which hair transplant method do we recommend?
Looking for a hair transplant in Switzerland, you have several techniques to choose from. At HairPalace, we work with the latest method, the FUE2. 
With this technique, the surgeons extract the hairs one by one, without leaving large, linear scars on the scalp. The FUE2 features a blunt punch and a blocking device to ensure that the hairs are unharmed during the procedure. 
Thanks to these innovations, our patients can enjoy the following benefits:
no visible scars

pain-free surgery

success rates are up to 90-95% 

quick recovery

minimally invasive procedure
Why choose us?
The hair transplant is a long term investment into yourself, with permanent results. As such, there is a lot to consider before you make a decision.
What do we offer for you at HairPalace?
Experienced hair transplant specialists

We work with 6 excellent surgeons, who have the necessary skills, training and 5-10 years of experience in FUE procedures. They will assist you through the hair transplant in Switzerland from the first assessment to the final result.

Natural hair transplant results

Each case is unique. We consider the qualities of the hair, the density and the direction of the hair growth to achieve natural, dense results.

Written guarantee

We offer a written guarantee on the hair transplants we perform. If less than 80% of the implanted hairs grow out, we do a follow-up surgery to transplant the missing amount free of charge.

No visible scars

The procedure will not leave visible scarring. The FUE2 method employs a special blunt punch that is less than 1mm in diameter.

Aftercare and check-ups

The proper aftercare is just as crucial as the high quality of the surgery itself. Your surgeon will monitor your progress through 6 check-ups and will help you achieve the best hair transplant result in the post-op period too.

Excellent price

We offer high-quality service and care and affordable hair transplant prices in Switzerland. Our comprehensive treatment packages include all costs.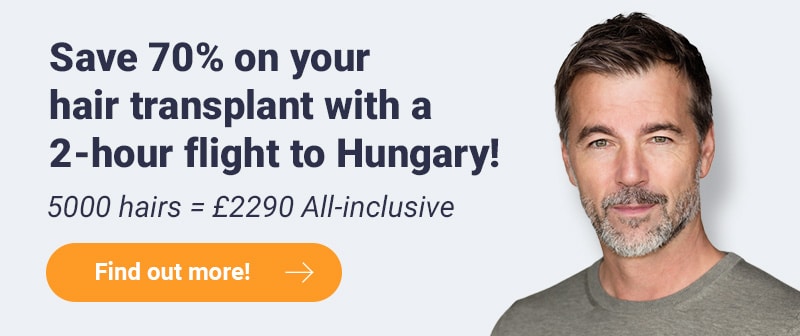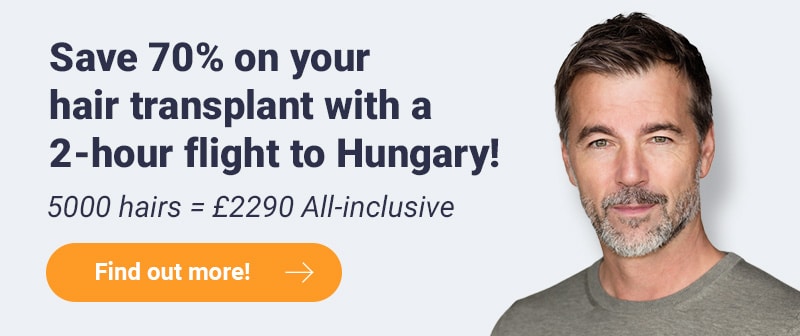 Our hair transplant experts in Switzerland
Besides the quality of your hair and the hair transplant method used, your surgeon's skill will play the largest role in the success of your procedure.
At HairPalace hair clinics, we work with highly skilled and trained hair transplant specialists.  Our doctors have 5-10 years of experience in FUE hair transplants.
From the first examination to the last check-up, they provide patient-focused care to help you achieve the best hair transplant results.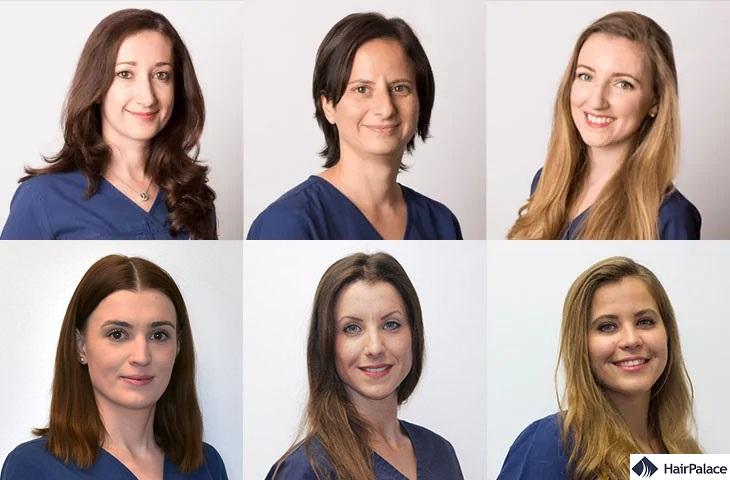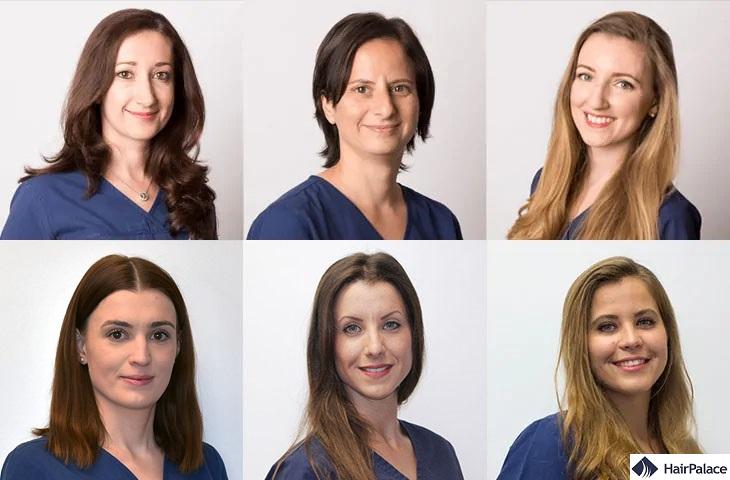 Are you looking for the best hair transplant clinics close to you?
Learn about more options across Switzerland and abroad. Check out the following pages to find out more about the best hair restoration clinics!
Switzerland hair transplant reviews
Every year more than 500 patients entrust us with their hair restoration procedures.  We strive to provide them with excellent service and care in and out of our surgery rooms, and their feedbacks help us to ensure that we maintain our high standards. 
We believe that the insight of the patients who already had their hair transplant in Switzerland, France, the UK or in Hungary with us can help you get to know us more. Check the hair transplant reviews they've left, and find out what you can expect at HairPalace!
HairPalace is a professional hair transplant clinic. The staff is informative, supportive and helpful in general. The entire procedure was well explained and everything ran smoothly. I have researched quite a few hair transplant clinics in surrounding countries and the entire package from HairPalace seemed the best for me.
   Uros | Oct 11, 2020
The team at Hairpalace are ultra professional. Right from the first engagement their customer service is first class. The facilities are modern and are to the highest clinical standards. I would highly recommend their services.
  Declan | Oct 17, 2019