Hair Transplant Edinburgh – TOP 3 Hair Clinics in 2023
Going to a hair loss clinic in Edinburgh can be a life-changing decision, giving you a much-needed confidence boost and restoring your hairline to its former glory.
Edinburgh is home to some of the best hair transplant clinics in the world. With highly skilled surgeons, doctors, nurses, and a wide array of procedures available, you'll be able to find solutions to any state of hair loss you're going through.
But there are a lot of choices, and it can be hard to make a decision on which Edinburgh hair transplant clinic is the best for you. Only the best clinics can offer natural-looking transplants at affordable prices.
At HairPalace, we're here to help. We've researched all the hair loss specialists in Edinburgh, comparing them across price, patient care, staff, and more.
We've found the TOP 3 clinics which are an ideal choice for a future procedure. With our recommendations, your hair is in safe hands.
Hair transplants in Edinburgh at a glance
| | |
| --- | --- |
| Available methods | FUT, FUE and DHI |
| Duration of surgery | 6-8 hours |
| Anaesthesia | local |
| Return to work | in 2-5 days |
| Recovery | around 7 days |
| Exercise | allowed after 2-3 weeks |
| Final result | in 12-15 months |
Hair transplant cost Edinburgh: Price comparison
The price of the hair transplant can be one of the deciding factors on what type of procedure you get, and where.
We've researched all the hair transplant clinics in Edinburgh, and our TOP 3 recommendations offer the most versatile packages at the most affordable prices.
The prices are based on information provided by doctors, users or other portals. The actual prices can only be determined after a medical consultation, taking into account the physical requirements and individual wishes.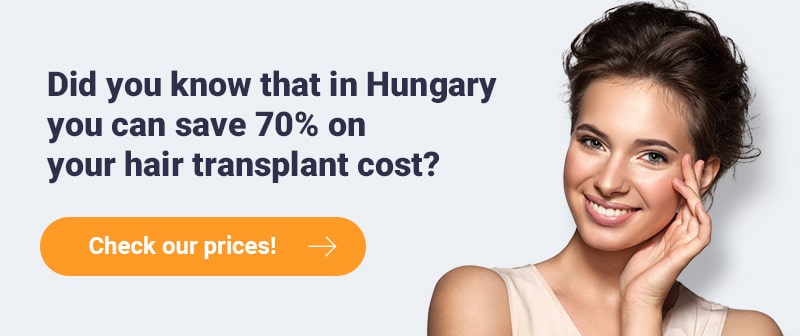 Hair transplant Edinburgh: The TOP 3 clinics
To help you make an informed decision about your hair restoration surgery, we've reviewed all of the hair transplant clinics in Edinburgh across patient care, price, and available treatments.
We've whittled our recommendations down to the TOP 3 below:
1. UK Hair Transplant Clinics
Location:
83 Princes St,
Edinburgh EH2 2ER,
United Kingdom
Treatments: Follicular Unit Extraction (FUE), Follicular Unit Transplantation (FUT)
Costs: 3000 hairs = £ 4500, 5000 hairs = £ 7500
Treatments performed by: Hair transplant surgeons
Rating: 5.0

based on 1 Google review
Website: www.ukhairtransplantclinics.co.uk/edinburgh-clinic
For the past 5 years, the UK Hair Transplant Clinic has been transforming the hairlines of Edinburgh and has fast become one of the leading clinics in the U.K.
It's easy to see why. Firstly, the clinic has a team of highly specialized surgeons with extensive experience in the industry. This high calibre of expertise ensures every treatment, surgery, and recovery program is handled with the highest standards.
The clinic is registered and regulated by the Care of Quality Commission, assuring patient safety and comfort.
A trained surgical assistant will assess you and explore all appropriate treatments for you during your consultation. These include popular hair implant surgeries like FUT and FUE, scalp micro-pigmentation, and beard and eyebrow transplants.
The clinic can also offer non-surgical treatments for both male pattern baldness and female hair loss like finasteride, hair growth vitamins, and specialized hair loss shampoos. This ensures that everyone can benefit from a trip here.
And to sweeten the deal, the clinic offers a patient guarantee; if you aren't satisfied with your hair recovery, they will retreat you again, at no extra cost!
2. Hair Transplant Edinburgh
Location:
93 George St,
Edinburgh EH2 3ES,
United Kingdom
Treatments: FUE, FUT DHI
Costs: 3000 hairs = £ 3100, 5000 hairs = £ 4100
Treatments performed by: Hair transplant surgeons
Rating: 5.0

based on 85 Google reviews
Website: www.hairtransplantedinburgh.org
The Hair Transplant Edinburgh Clinic is part of the illustrious Harley Street Hair Transplant chain and excels in quality procedures, accessibility, and affordability.
Firstly, the clinic offers a host of cutting-edge treatments that will guarantee high-quality, natural-looking hair restoration.
These include FUE, FUT, and DHI transplants, as well as beard and eyebrow transplants, platelet-rich plasma therapy, and scalp micro-pigmentation.
The clinic employs a team of highly-skilled surgeons, all of whom can be found in the GMC register. Some, like Dr Harpreet Kalra, are especially well-regarded within the hair transplant industry.
And because the clinic offers free consultations, they are often the first choice for many curious patients interested in restoring their hair to its former glory.
But don't take our word for it – trust past patients. The clinic has an impressive score of 4.6/5 on Trustpilot. Customers have paid particular credit to the exceptional patient care and great, natural-looking hair results.
3. Vinci Hair Clinic
Location:
7 N St David St,
Edinburgh EH2 1AW,
United Kingdom
Treatments: FUE, Direct Hair Implantation (DHI)
Costs: 3000 hairs = £ 3700, 5000 hairs = £ 6300
Treatments performed by: Hair transplant surgeons
Rating: 4.9

based on 499 Google reviews
Website: www.vincihairclinic.com
With a team of surgeons with over 18 years of combined industry experience, the Vinci Hair Clinic in Edinburgh is one of the most well-regarded and most popular in Scotland, but also in the U.K. too.
This clinic is especially effective at treating advanced hair loss, offering a combination of both FUE and FUT techniques. This signature mixture can remedy larger areas of baldness over 3 days.
The clinic offers a range of smaller, equally effective therapies that are also suitable for female pattern baldness.
These include micro-pigmentation, beard, eyebrow, eyelash, and body hair transplantation. Hiding scars is a forte of surgeons, and they offer corrective procedures to improve the look and feel of past operations.
They provide a free consultation in Edinburgh along with a complete evaluation of your current hair loss.
And as part of the Vinci chain, the Edinburgh hair transplantation clinic offers state-of-the-art operating rooms, equipment, doctors, and specialists, as well as exceptional patient aftercare services.
TOP 3 techniques for an Edinburgh hair transplant
Edinburgh is at the forefront of the most advanced techniques in the industry. Clinics offer a range of treatments, including FUT, FUE, and the DHI method.
While all 3 yield a natural hairline, industry statistics show the most popular option by far is FUE, with over 75% of patients choosing it.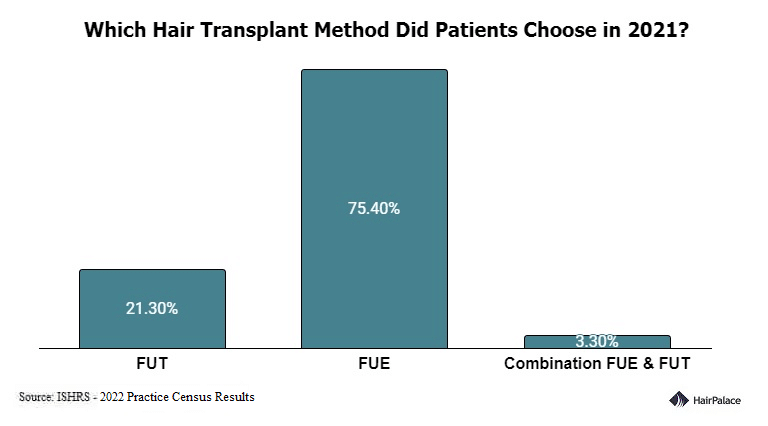 The procedure involves the removal of individual hair follicles with the help of a special micro punch tool.
It's no surprise that FUE is the most popular among patients and hair transplant clinics alike. It's the least invasive procedure with a quick recovery. On top of that, it leaves virtually no signs of scarring.
That said, the doctor during your consultation will examine your scalp and recommend the most suitable procedure for you.
Are you an ideal candidate for a hair transplant?
More and more people are deciding to boost their confidence and restore their har to its former glory. So what makes someone an ideal candidate for a hair transplant?
By examining some key statistics, we can see that the most common age for patients is between 30 and 50 years old. People outside this bracket can still be ideal candidates, so long as you're in good health and your hair loss has reached a period of stagnation.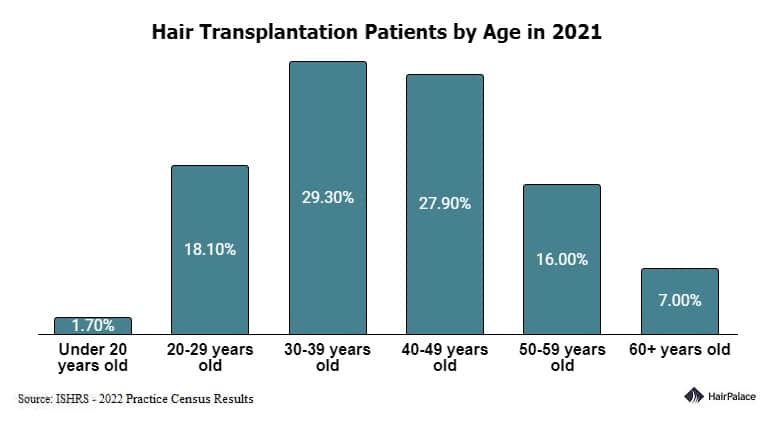 Other factors include:
The extent of your hair loss
Quality of existing hair
Condition of your scalp
Results you're looking for
Your overall health
Wondering about the extent of the surgery you might require?
Our diagram below showcases the most common areas for hair restoration, as well as the number of hair follicles typically required.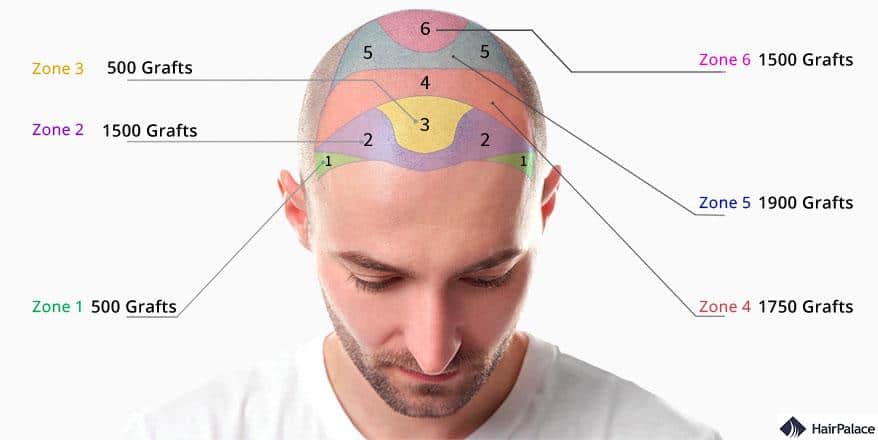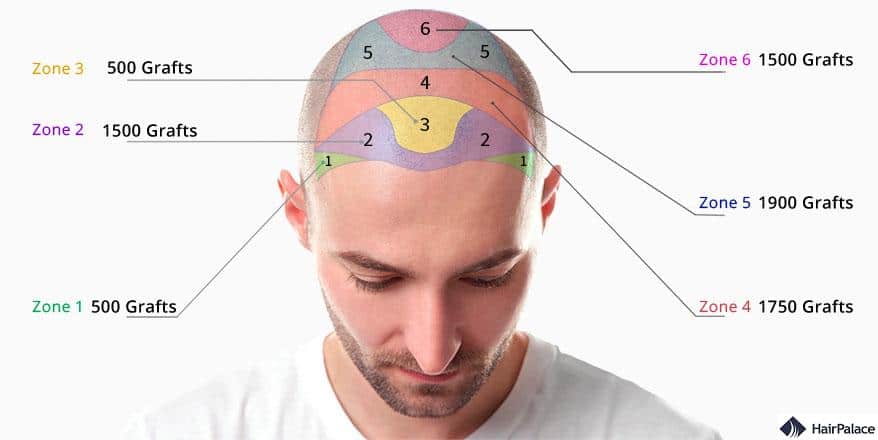 Is a hair transplant in Edinburgh worth it?
Edinburgh is arguably one of the most popular destinations for hair transplant surgery. Its clinics offer highly advanced procedures which yield exceptional results.
It's no wonder over 90% of patients who underwent surgical hair restoration experienced an overall positive emotional impact.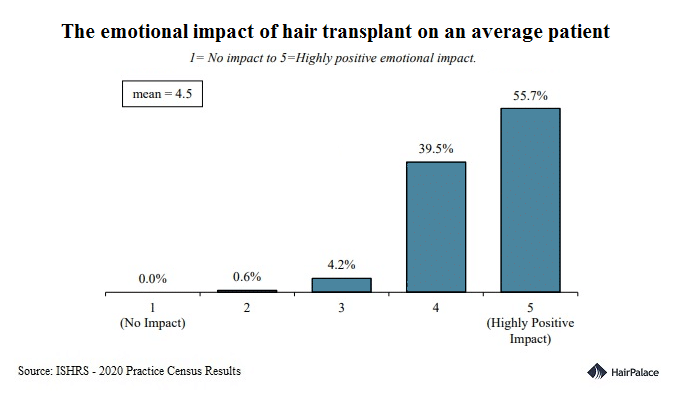 But nowadays, with more and more clinics offering exceptional prices and new techniques, is a hair transplant in Edinburgh the best option for you?
Let's take a quick look at the pros and cons:
Pros
Cons
Wide variety of clinics to choose from
Often more expensive
Well-regulated industry
Some packages may not be all-inclusive
In-person consultations
Longer waiting lists
Minimal travel required
The same quality of care can be
much cheaper abroad
Hair transplant Edinburgh results
Hair transplant Edinburgh reviews comparison
Wondering which Edinburgh hair transplant clinic offers the best results? We've done the hard work for you – by conducting extensive research to find the TOP 3 best hair transplant clinics in the Scottish capital.
Using reviews, you can see which clinic rose to the top and yielded the best results for male and female pattern hair loss patients.
Clinic name
City
Google rating
UK Hair Transplant Clinics
Edinburgh
5.0
based on 1 Google review
Hair Transplant Edinburgh
Edinburgh
5.0
based on 85 Google reviews
Vinci Hair Clinic
Edinburgh
4.9
based on 499 Google reviews
HairPalace Hungary
Budapest
4.9
based on 244 Google reviews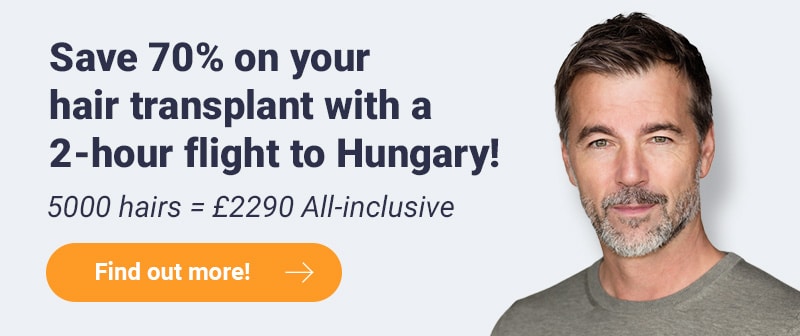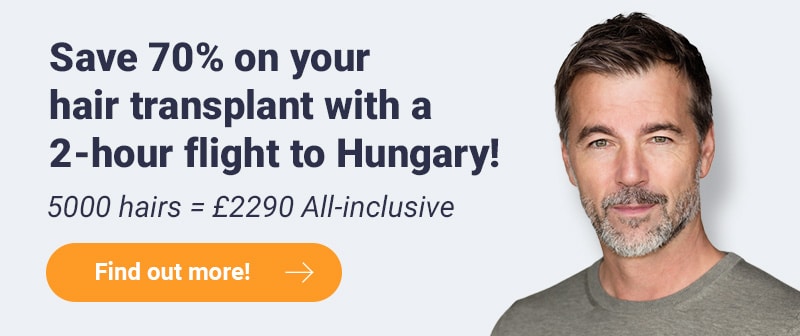 Find the best hair transplant clinic
Our goal at HairPalace is always simple – to help you make the best decision over your future hair transplant.
We've extensive lists of the best clinics in your area, but chances are you might still have some questions about your options.
We have the answers. Our clinic in Budapest provides cutting-edge FUE transplants at a fraction of the cost of most UK-based clinics, with savings of up to 70% and more.
You can book a free online consultation today, and discuss your options with our high-skilled team of experts.
HairPalace relies on scholarly sources, including peer-reviewed articles, as well as publications of medical associations and academic & research institutions. We follow strict sourcing guidelines and avoid tertiary references. Read our editorial policy for further information on how we keep our content up-to-date and accurate.