Caffeine Shampoo Against Hair Loss: Does It Really Work?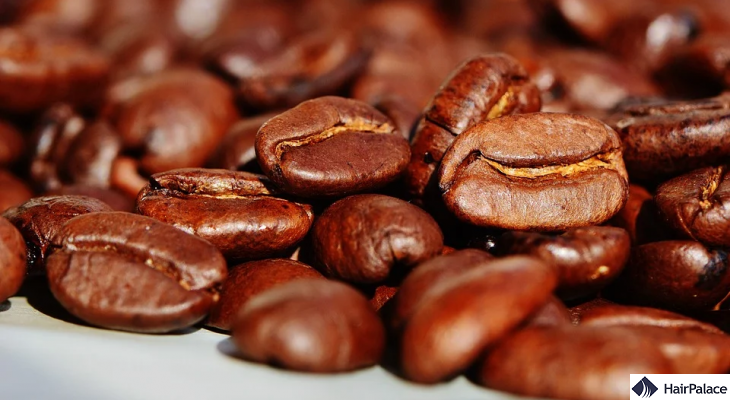 Hair loss can be traumatic, whether it manifests as a receding hairline, male pattern baldness, alopecia areata, or any other form.
But the market for hair loss treatments is bigger than ever, and consumers have a diverse range of options. Hair transplants, medications, and specialist products are all available — including caffeine shampoo.
Brits may drink around 95 million cups of coffee each day in the UK, but the prospect of washing your hair with a caffeine-based product could seem odd (to say the least).
Unusual or not, the important issue here is the effect. Does caffeine shampoo really help to prevent hair loss? And if so, how?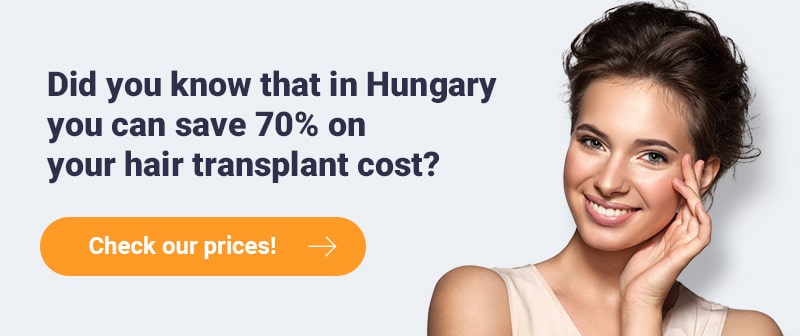 How does a caffeine shampoo work?
Caffeine shampoos contain caffeine extract. They're formulated to stimulate hair growth and reduce thinning/loss.
Massaging the shampoo into the scalp, and getting it into the roots, is believed by some to have a positive impact on hair loss.
The aim is to provide the scalp with that same jolt of energy that a strong coffee may give you first thing in the morning: you might feel more alert and energised after a cup or two of your favourite brew.
However, any noticeable change in hair loss or growth would not be instant.
It's highly likely that consumers would need to use a caffeine shampoo for a matter of weeks or even months to see a benefit (if any occurred).
Is caffeine shampoo really effective?
It's still unclear whether or not caffeine shampoo can stop hair loss and encourage growth. And certain brands have come under fire for claiming their products can do just that.
In 2018, the company behind Alpecin Caffeine Shampoo was banned from promoting their shampoo with the claim that it could reduce hair loss, after a watchdog ruled there was no suitable evidence to support it.
In its defence, the brand highlighted several studies that purported to show caffeine's ability to stimulate hair growth, but the Advertising Standards Authority found they couldn't support the claims.
How does the medical community view caffeine shampoos?
It appears not to endorse the use of caffeine shampoo as an effective way to combat hair loss.
Still, certain studies do hint at caffeine's positive effect on thinning hair. For example, research from 2007 revealed that caffeine helped to block the effects of dihydrotestosterone (DHT) in men's hair follicles. (DHT is the hormone responsible for hair loss.)
Roots appeared to become longer and wider, while the anagen (hair growth) stage of the hair growth cycle seemed to be lengthened.
Similar effects were seen in female hair.
Despite this, there is still a lack of proof that caffeine shampoo can help to prevent hair loss, encourage growth, and restore hair overall.
Further research on patients is required to determine how effective caffeine-based products can be.
Are there any side effects?
Certain side effects have been linked to caffeine shampoos, though nothing too serious.
Scalp irritation is one potential outcome amongst those sensitive to certain ingredients, specifically the caffeine. However, this may vary from one user to another.
What alternative treatments exist?
Anyone experiencing hair loss is much more likely to reduce hair loss and restore growth through hair transplants, rather than caffeine shampoos.
Minoxidil and finasteride are common alternatives, though their effects are variable.
Their results are also temporary: you would need to keep applying them to the scalp for the rest of your life to maintain any positive results.
The best hair transplants, though, provide lasting growth.
Numerous celebrities have benefited from hair transplants, such as Jamie Laing and Antonio Conte.
Two types are available:
Follicular Unit Transplantation (FUT)
Follicular Unit Extraction (FUE)
They may appear the same, but they're significantly different.
FUT hair transplant
FUT procedures involve cutting a strip of flesh from the back of the head.
The surgeon will dissect this into tiny pieces to harvest healthy hair follicles, which are implanted into incisions across the scalp.
The cut on the back of the head will be closed, but the patient will have a visible scar.
If they want to keep their surgery discreet, the patient will need to wear their hair long enough to hide the scar.
This can severely limit their choice of hair cuts and styles.
FUE hair transplant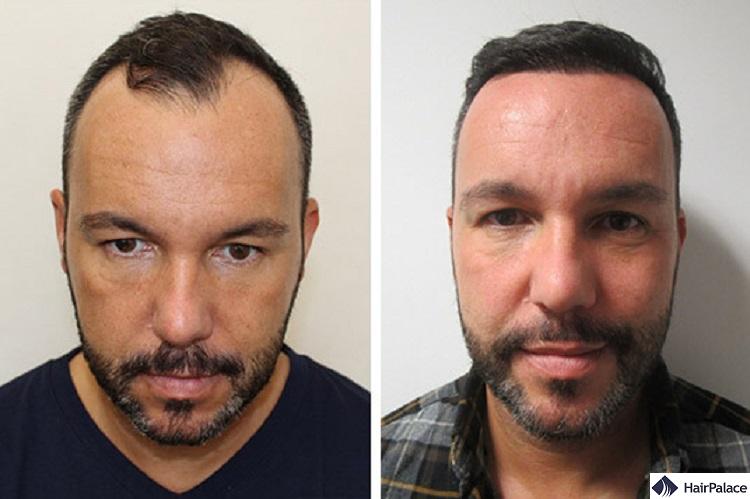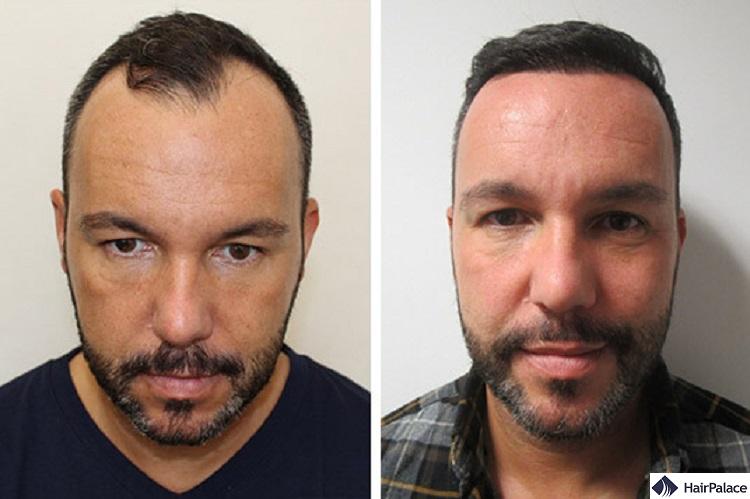 FUE is a more effective hair restoration option, and a minimally invasive alternative to FUT.
There's no need to cut a section of flesh for harvesting follicles during an FUE hair transplant: the surgeon will extract grafts using a needle with a 1mm diameter instead.
The patient will have no visible scarring on the back or sides of the head (the donor areas).
The hair follicles will be implanted into the target zones on the scalp, usually at the crown or hairline.
The most advanced form of FUE hair transplant is the FUE2 Safe System technique.
Surgeons use an innovative micro punch to remove grafts without making incisions, and 90 to 95% of implanted hairs grow back.
The healing process is also 50% shorter than with a traditional FUE hair transplant.
This can create natural, seamless hair growth over a period of 12 to 18 months (in the majority of cases).
You can view some of our hair transplant before and after photos in our gallery.
Caffeine shampoo simply can't compete.
If you want to book a hair transplant consultation, or find out the cost of a hair transplant, contact HairPalace now!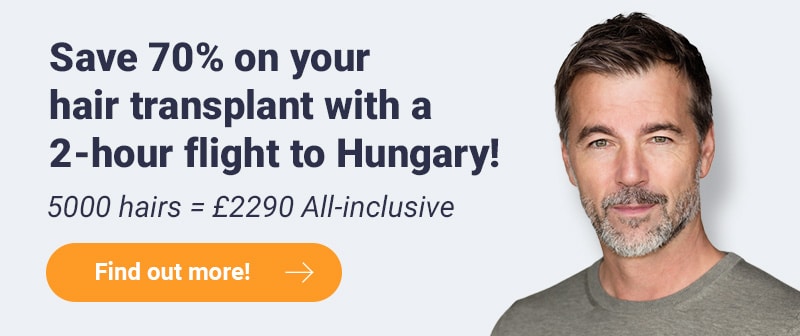 FAQ
How can caffeine help hair growth?
Caffeine is believed to stimulate hair growth by targeting DHT, the hormone responsible for hair loss.
Is it clinically proven that these shampoos work?
No: certain studies indicate that caffeine may be effective in isolated cases, but there is no evidence that caffeine shampoos can consistently stop hair loss and stimulate hair growth.
What other treatments for hair loss exist?
Minoxidil and finasteride are common treatments, but patients must keep using them if visible effects actually occur. FUE hair transplants can provide lasting, natural hair restoration, targeting specific areas of the scalp.