A. Townsend Hair Transplant Story: Behind the Spectacular Result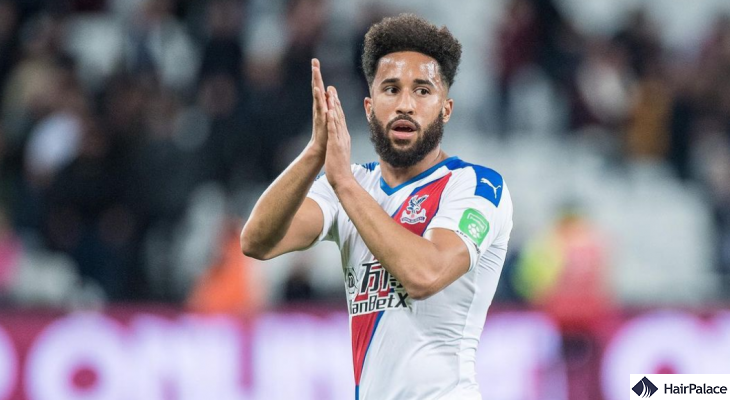 The name Andros Townsend will be familiar to most football fans. His skills on the pitch have wowed spectators worldwide and earned him frequent media coverage.
But news stories don't always focus on Townsend's sporting prowess — sometimes, they speculate on the cause of his remarkable hair transformation instead.
Is there any truth to the Andros Townsend hair transplant rumours? And if so, what type of procedure did he choose?
Join us as we take a closer look at this fascinating story!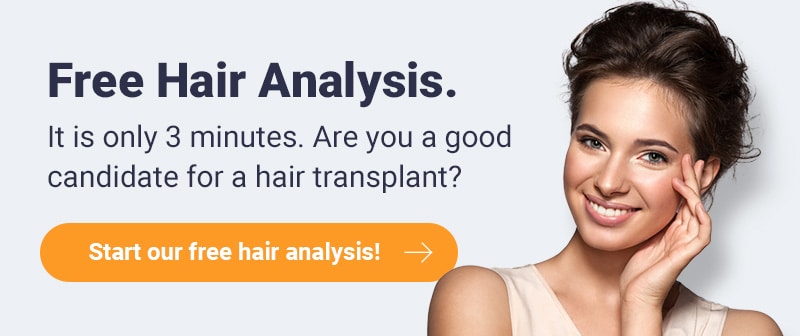 Who is Andros Townsend?
Andros Townsend is a footballer from Leytonstone, in Greater London. He made his Premier League debut in 2012, and has gone on to play for such major teams as Queens Park Rangers, Tottenham, Newcastle United, and Crystal Palace.
Townsend has also joined England's national team more than a dozen times since 2013. He is well known for having tall afro hair, and a well kept stylish beard which, along with his talent on the field earned him a spot in the hearts of many football fans.
One of his most famous goals was a 30-yard volley in a match between Crystal Palace and Manchester City, in December 2018. This stunning feat was named Premier League Goal of the Season.
Did Andros Townsend suffer from male pattern baldness?
Townsend clearly suffered from hair loss for a number of years, starting around his early 20's.
According to the American Hair Loss Association, experiencing hair loss before the age of 21 is rather rare, only about 1 out of every 4 men experience thinning at this age.
Unfortunately for Andros, this was the case for him. We can clearly see the infamous "M" shape already taking form in his early years as a professional football player.
His temples and hairline are visibly receding in older photos, such as this one from 2016: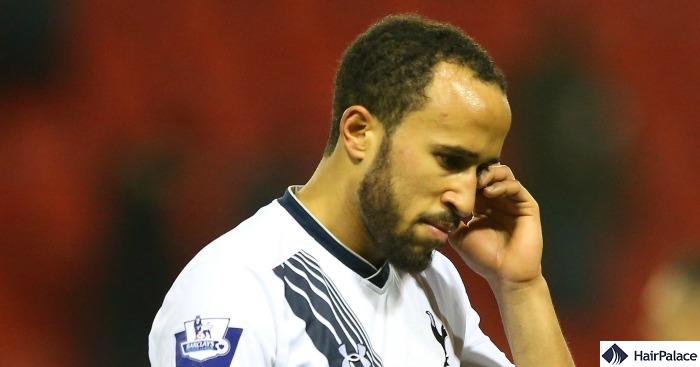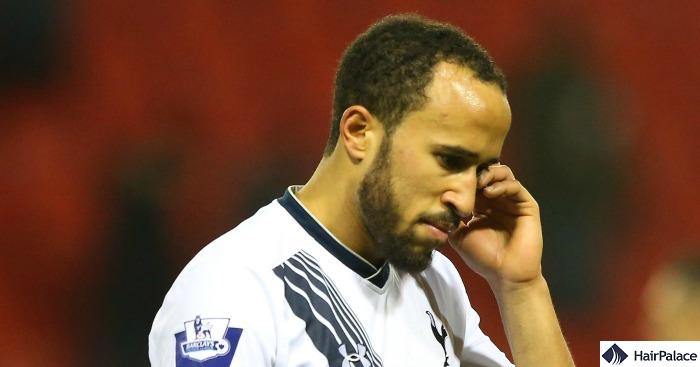 Townsend's hair loss is a classic case of male pattern baldness, a condition that affects millions of men all over the world. It leads to a receding hairline, a bald spot on the crown, or both simultaneously.
More and more of the scalp becomes visible as thinning grows increasingly severe over time. However, hair on the back and sides of the head remains unaffected.
The condition is triggered by excess DHT (dihydrotestosterone), a hormone responsible for the development of specific "male" characteristics during puberty (e.g. increased muscle mass, a deep voice, extra body hair).
But DHT can attach to the hair follicles on the scalp and cause them to shrink. New hairs become thinner and weaker — until they stop growing entirely.
Andros Townsend Scalp Micropigmentation (SMP): Rumour or Truth?
Reportedly, Andros Townsend had scalp micropigmentation (SMP) before his hair transplant surgery.
During SMP, the practitioner tattoos small dots on the scalp to mimic the look of hair follicles. Applied properly, scalp micropigmentation can conceal scars, and visually thicken up thinned-out areas.
While these treatments do not regrow follicles, they can give the illusion of a full head of hair.
In Townsend's case, the signs of SMP are noticeable at the frontal area. His previously receding, 'M' shaped hairline is gone; instead, he has a straighter hairline that makes him look years younger: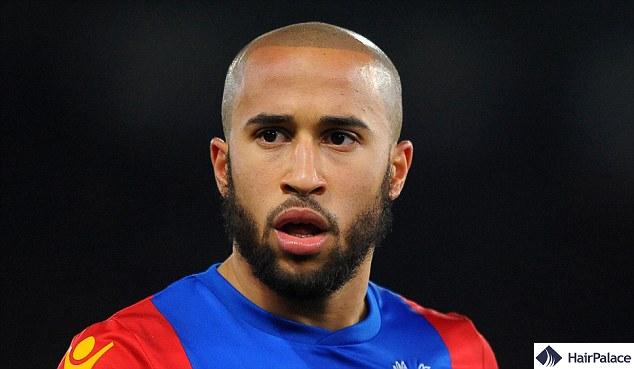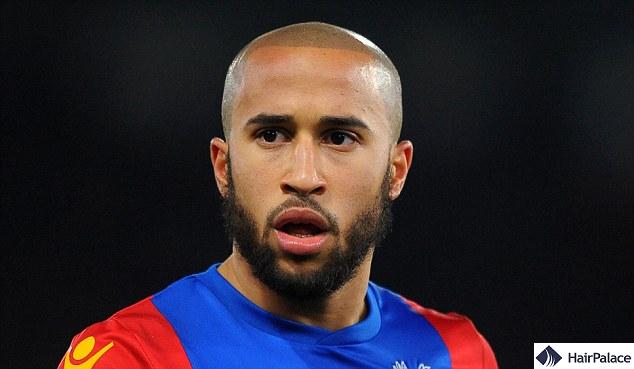 Andros Townsend hair transplant: Did he have one?
The Andros Townsend hair transplant speculations began to appear online in 2018, after the footballer was seen with much denser hair than before.
And it's not surprising that people began to question where Townsend's revitalised head of thicker hair had come from — he looked like a new man.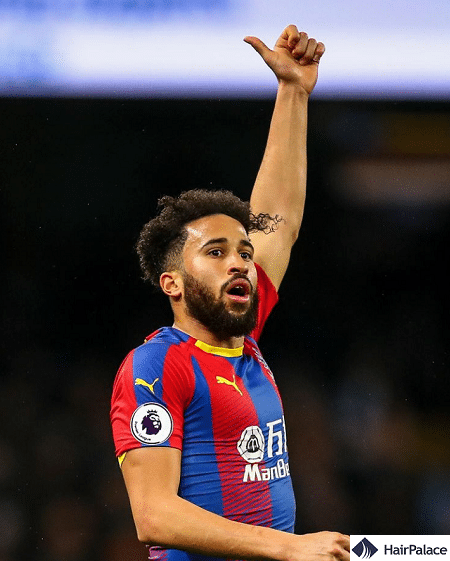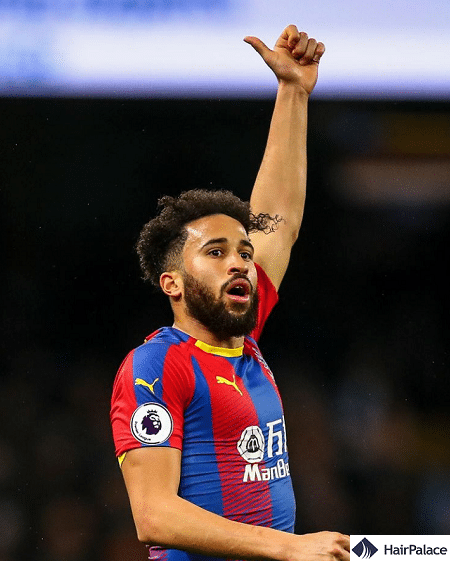 In the picture above, Townsend's hairline is visibly lower and he appears to have thicker hair at the front. His decision to wear a longer style also suggests that Townsend was happier with its condition than he used to be, and wanted to make the most of it.
And we can see further possible evidence that the Andros Townsend hair transplant rumours are true in this picture from 2017: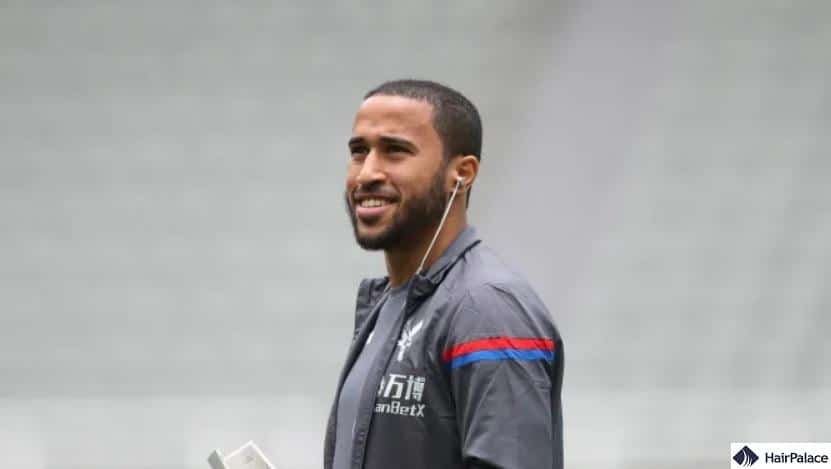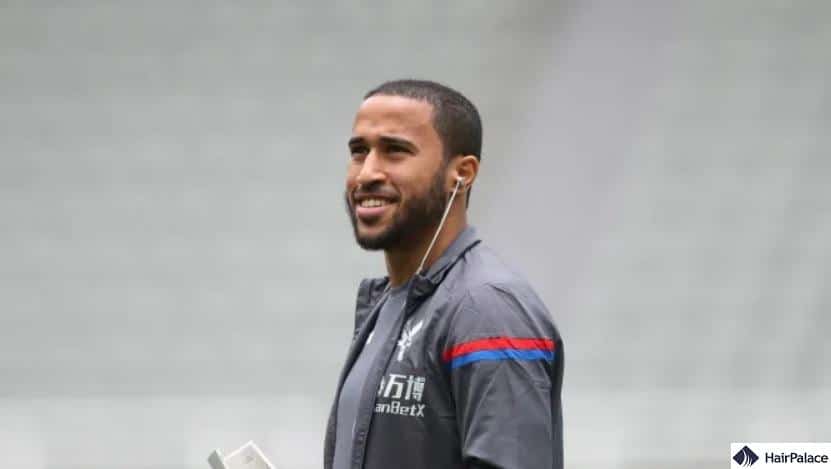 His appearance in the above is consistent with that of other men following a hair transplant surgery: the hair has been shaved shorter but the hairline is visibly lower, neater, and runs in a perfect line. He also has more hair around his temples.
It's fair to say that if Townsend did undergo a hair transplant, his surgeon did a fantastic job. The results may inspire other men experiencing hair loss to consider a surgery.
And hair transplants are more accessible to patients on diverse budgets today, due to highly competitive pricing.
Was Andros Townsend's hair transplant successful?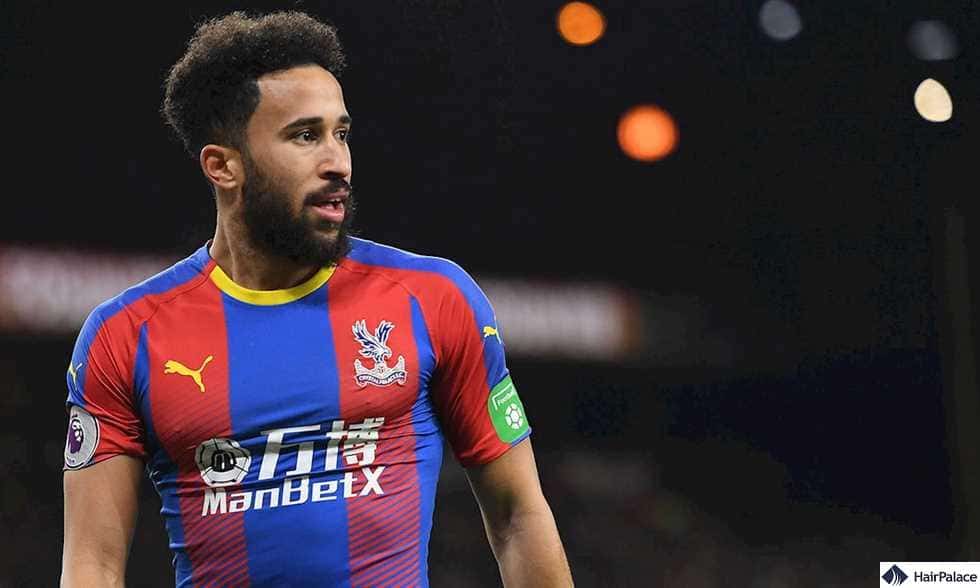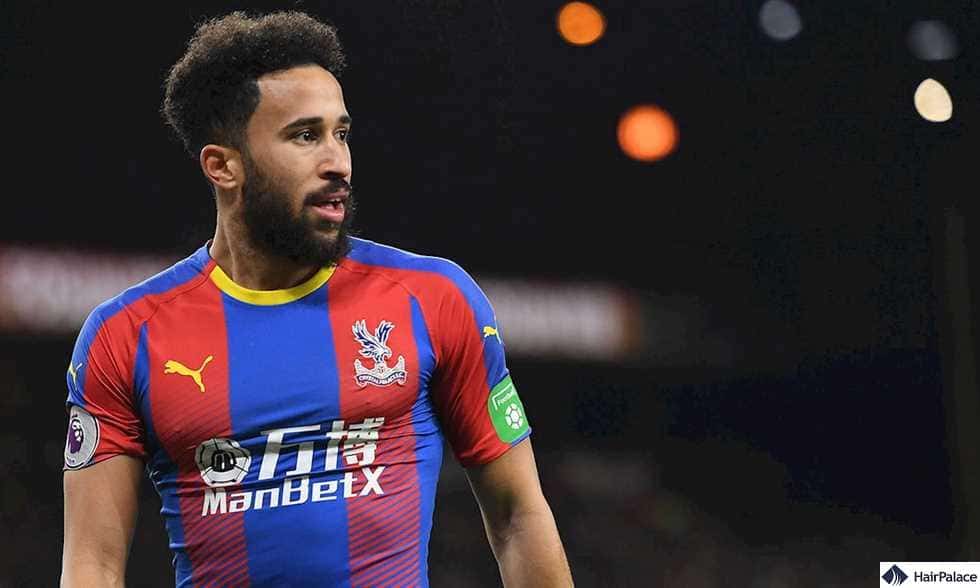 If the Andros Townsend hair transplant speculation is true, the surgery was incredibly successful.
His hair density is much stronger, healthier, and thicker today than it was before the rumours began. He looks significantly younger with his full head of hair, and it complements his beard beautifully.
Additionally, the treatment left him with a healthy and dense donor area, which is crucial in case he will need follow-up procedures later on.
FUE hair transplants can achieve amazing results for patients experiencing different types of hair loss. Even a mildly receding hairline can be corrected with a simple surgical procedure, restoring growth and creating a more youthful appearance.
And full baldness on the top of the scalp can easily be covered with new hair too. Numerous hair transplant packages are available to suit hair loss of varying degrees, with prices based on the number of grafts required.
Andros Townsend hair transplant before-afters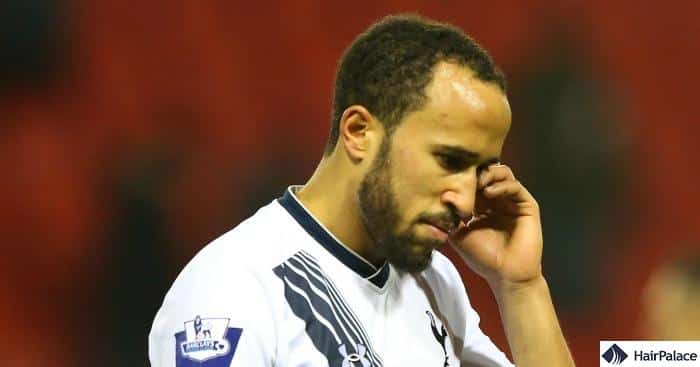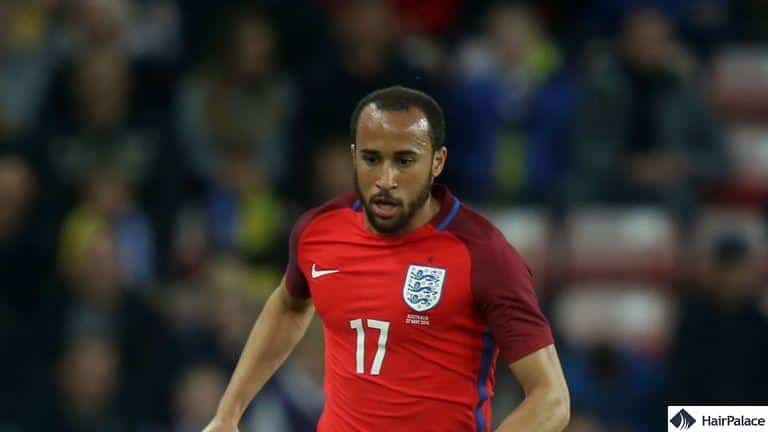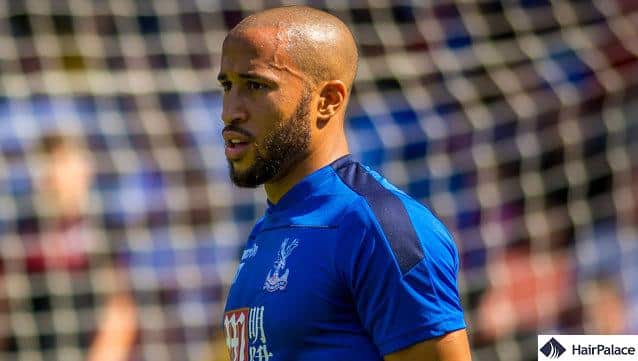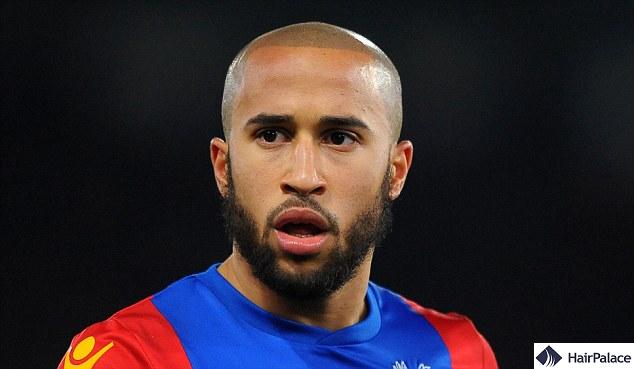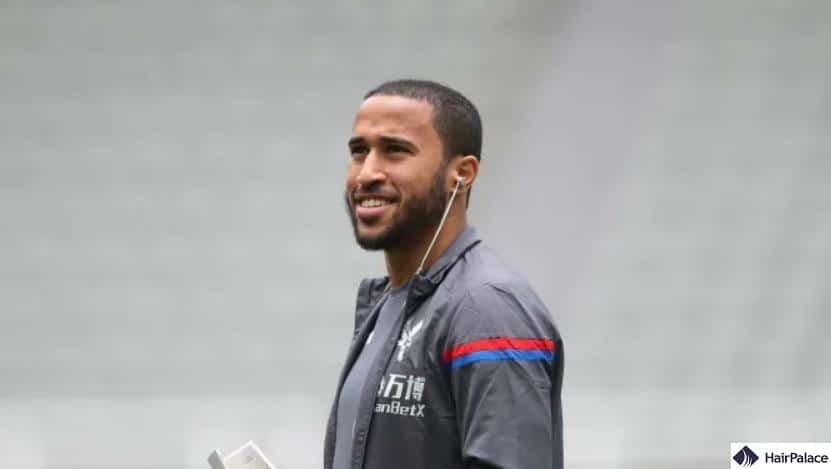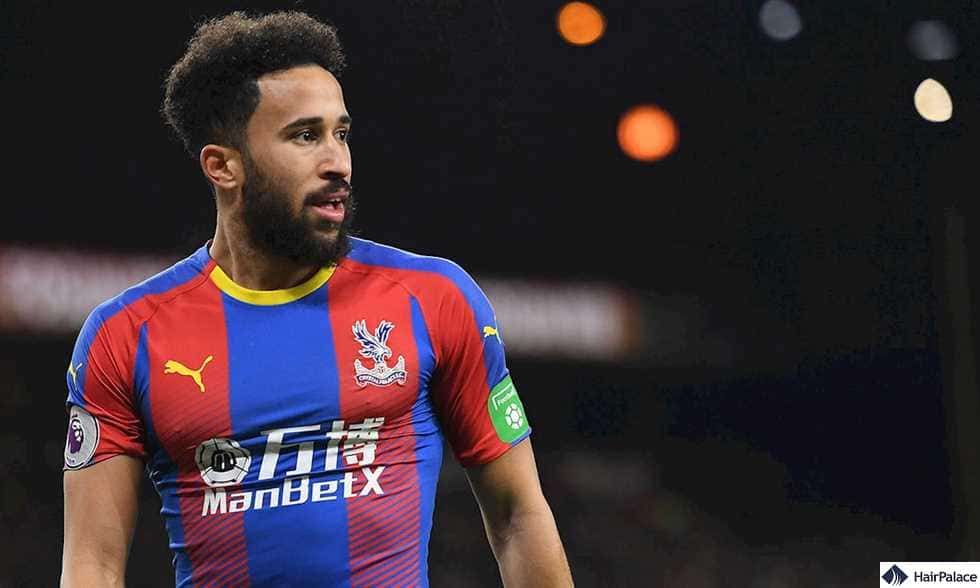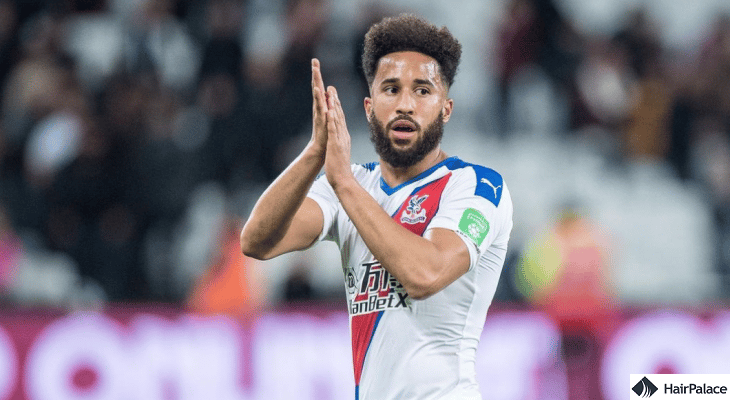 Did he have an FUE or FUT hair transplant?
If the Andros Townsend hair transplant rumours are true, it's likely that he chose an FUE (Follicular Unit Extraction) treatment.
What does this involve?
It's more straightforward than you might expect. A surgeon removes healthy hair follicles from the back and sides of the head and implants them from the donor areas into the areas affected by hair loss.
In Townsend's case, follicles from the donor area would have been inserted into the hairline and surrounding spaces to encourage fuller growth.
The best hair restoration specialists implant donor follicles into thinning/bald areas carefully to ensure new hairs look entirely natural and seamlessly blend with the rest.
Opting for a hair transplant is a huge decision, even for footballers. Patients typically meet with a surgeon for a consultation to discuss their options and have their hair examined in depth.
Townsend has yet to confirm or deny that he had a hair transplant, but if the rumours are true, he wouldn't be the first footballer with a receding hairline to seek treatment.
Wayne Rooney is one of the most well-known examples of celebrity hair transplants. The Manchester United star has undergone multiple hair transplants to combat his hair loss and admitted that he was "delighted" with the results after his first in 2011.
However, Rooney's condition progressed and caused him to have bigger balding areas. He since had additional hair grafts implanted to address the issue.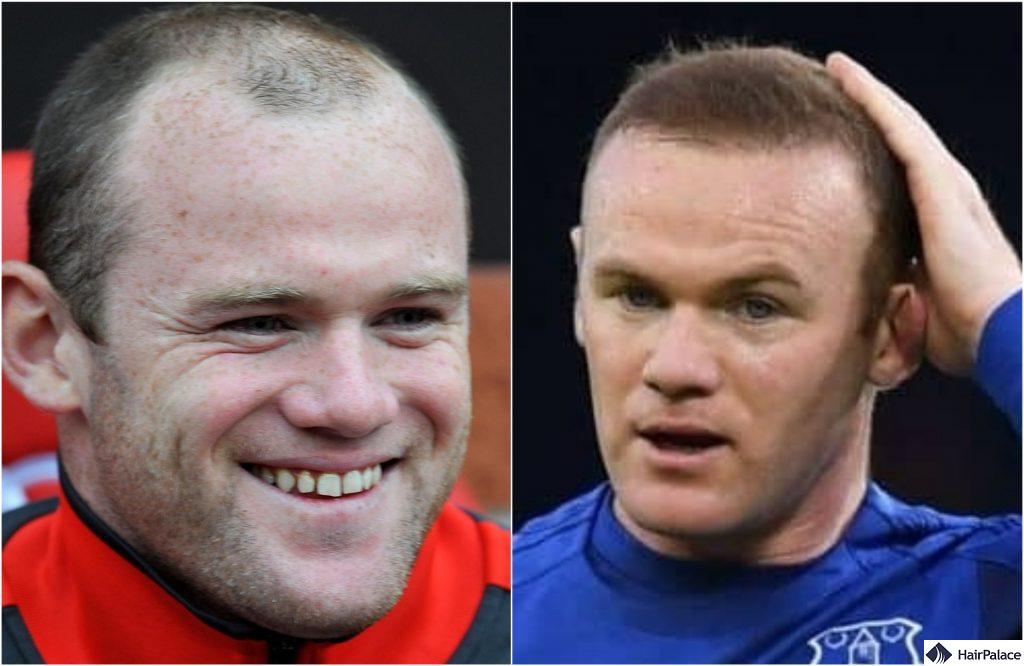 Antonio Conte, the famed Juventus player and accomplished manager, has also transformed his hairline with surgery in recent years.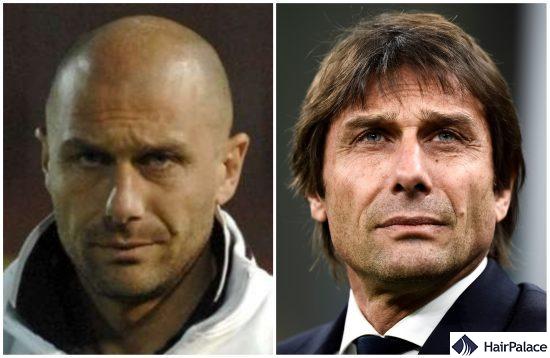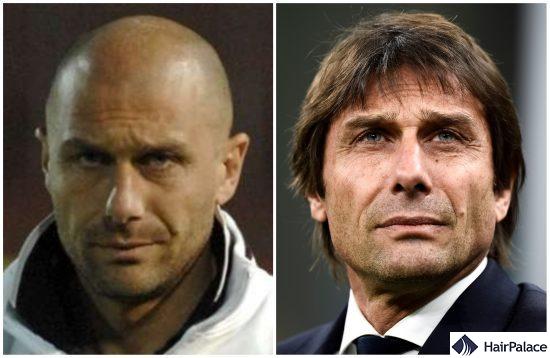 Has Andros Townsend confirmed the hair transplant rumours?
Whether the rumours of Andros Townsend's hair transplant surgery are true, is yet to be confirmed by the footballer.
Despite his silence about the topic, many treat the vast amount of photos taken over the years as evidence.
The pictures do show the changes, however, the nature and scope of his treatments are difficult to trace accurately.
Can you have the same treatment?
Has the Andros Townsend hair transplant story inspired you to consider a restorative procedure?
You could transform your own hair with an FUE or FUT surgery, whether you want to address minor thinning or advanced baldness.
HairPalace's Budapest clinic offers cutting-edge hair transplants at affordable rates — you could save up to 70% against UK prices.
Contact our friendly team to learn more about HairPalace hair transplants!
Other celebrity procedures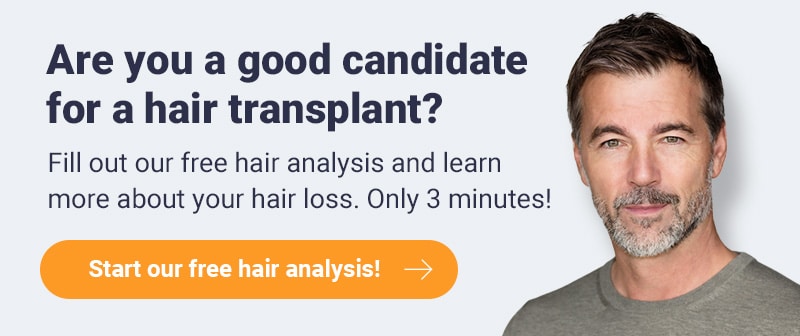 HairPalace relies on scholarly sources, including peer-reviewed articles, as well as publications of medical associations and academic & research institutions. We follow strict sourcing guidelines and avoid tertiary references. Read our editorial policy for further information on how we keep our content up-to-date and accurate.